Grand Canyon Stretch of the Colorado River Threatened by Mercury Pollution
Aug. 25, 2015 01:38PM EST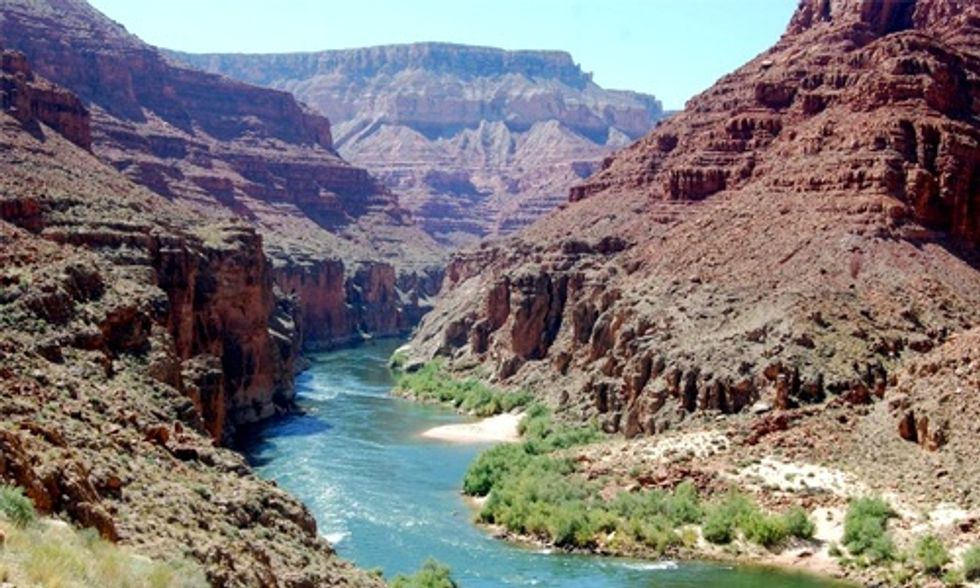 Even one of America's most iconic landmarks is not immune from pollution. The Grand Canyon segment of the Colorado River is suffering from exposure to toxic chemicals, including mercury, according to a study from the U.S. Geological Survey (USGS).
In Grand Canyon reach of CO River, some fish have toxic mercury levels http://t.co/CDXzmAtpS9 @caryinstitute @USGS pic.twitter.com/18lZ7IsUmJ

— Cary Institute (@caryinstitute) August 19, 2015
"Concentrations of mercury and selenium in Colorado River food webs of the Grand Canyon National Park regularly exceeded risk thresholds for fish and wildlife," the USGS team said in a statement. The concentrations of toxins in some fish were so high that they could be harmful if consumed by wildlife or humans. The researchers noted that their findings build further evidence that even extremely remote ecosystems, such as this stretch of the Colorado River, are "vulnerable to long-range transport and bioaccumulation of contaminants."
"Managing exposure risks in the Grand Canyon will be a challenge because sources and transport mechanisms of mercury and selenium extend far beyond Grand Canyon boundaries," said Dr. David Walters, lead author of the study.
Researchers took samples from six sites along the nearly 250 miles of the Colorado River downstream from Glen Canyon Dam within Glen Canyon National Recreation Area and Grand Canyon National Park in the summer of 2008. They found that "mercury and selenium concentrations in minnows and invertebrates exceeded dietary fish and wildlife toxicity thresholds."
Mercury finds its way into Grand Canyon. http://t.co/c9e9a0iSZR pic.twitter.com/WWhc02nDNb

— Clean Air Plus (@cleanairplus) August 25, 2015
Though researchers point out that the number of samples was relatively low, bigger trout did not seem to be as affected.
"The good news is that concentrations of mercury in rainbow trout were very low in the popular Glen Canyon sport fishery, and all of the large rainbow trout analyzed from the Grand Canyon were also well below the risk thresholds for humans," said co-author of the study Dr. Ted Kennedy.
This made for some surprising findings because "biomagnification usually leads to large fish having higher concentrations of mercury than small fish," says the researchers. "But we found the opposite pattern, where small, three-inch rainbow trout in the Grand Canyon had higher concentrations than the larger rainbow trout that anglers target." Why this happened has to do with the unique ecology of the Grand Canyon.
"Insect food sources for fish are quite limited in the Colorado River below Glen Canyon Dam, most likely due to temperature and flow regimes of the regulated river," Kennedy told The Arizona Daily Sun. "While smaller fish can satisfy their caloric needs by eating just insects, there aren't enough of the invertebrates to make up the entire diet of larger fish, forcing them to feed on other less calorie-dense organic matter like algae."
But one of those insects, the black fly—a major food source for trout—is also a prime source of mercury contamination because it consumes a kind of algae that contains large amounts of a bioavailable form of mercury. "We think [the mercury] is getting picked up by that algae in Lake Powell and exported into Grand Canyon," Kennedy said.
Another interesting finding was that the fish they sampled had none of the deformities often associated with mercury poisoning.
"That finding is evidence of a well-documented relationship between selenium and mercury whereby, in the right concentrations, selenium protects animals from mercury toxicity," Kennedy said. "If both of these things are at high levels together, it can mitigate effects of having just one of them in a high concentration."
The researchers believe most of the mercury isn't coming from Lake Powell, though. They blame airborne transport and deposition for most of the mercury pollution in the Grand Canyon. This is a common way for remote ecosystems to become contaminated, says the USGS team. As for the selenium, they believe pollution from upstream sources is the culprit. "Irrigation of selenium-rich soils in the upper Colorado River basin contributes much of the selenium that is present in the Colorado River in Grand Canyon," say researchers.
Though environmental groups have honed in on the Navajo Generating Station and other coal-fired power plants around Lake Powell for their mercury pollution, David Gay of the National Atmospheric Deposition Program, points out "Linking mercury contamination in Lake Powell, or in the Colorado River Basin, to specific sources is difficult because it remains in the atmosphere for up to six months after it is initially emitted. That's long enough for mercury emitted in one place to waft up into the atmosphere and then get carried hundreds or thousands of miles." He points to studies which show that mercury pollution in the area can come from as far away as California and even Asia.
"Mercury is a global pollutant," Gay said. "Everybody is in it together."
No human consumption advisories have been put in place yet, but researchers plan to do further studies to assess the potential risks to humans that may consume fish from this area. Selenium and mercury exposure has been linked to lower reproductive success, growth, and survival of fish and wildlife, say the researchers.
Experts warn people of all ages, but in particular pregnant women and children, to monitor their seafood intake due to high levels of mercury in some species. Consumer Reports even found that the U.S. Food and Drug Administration was advising people to consume fish at levels for which its own data indicated elevated risks. And last year, consumer protection and environmental advocates sued the U.S. Food and Drug Administration for failing to give consumers clear, accurate and accessible information about toxic mercury in the seafood they eat.
YOU MIGHT ALSO LIKE
Consumer Reports Finds Fecal Matter in Ground Beef
Fiction Takes on Big Ag in Feature Film RUNOFF
EcoWatch Daily Newsletter