This website uses cookies to ensure you get the best experience while browsing it. By clicking 'Got It' you're accepting these terms.
Extremely Disturbing Video Shows Pilot Whale Being Tied and Drowned by Taiji Hunters
Nov. 28, 2015 10:47AM EST
Animals
Sea Shepherd Conservation Society's Cove Guardian volunteers have captured extremely disturbing video of the horrific tethering and drowning of a pilot whale by hunters in Taiji's infamous cove and the organization's supporters are reacting with outrage on social media. The graphically violent video, which thus far has been viewed more than 250,000 times on Facebook, can be seen below.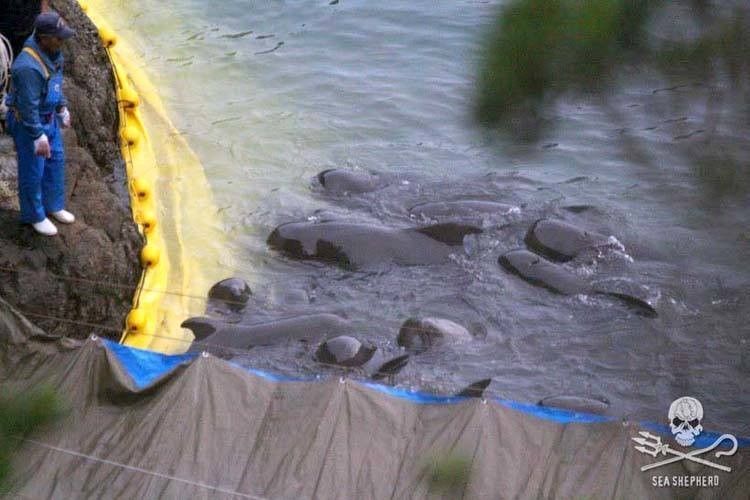 The pilot whale was among an estimated 69-74 members of a large pod driven into the cove on Nov. 19 (Japan time). Following the long and stressful drive to the shallow waters—during which time the pilot whales fought for their freedom and were at first split into two separate groups as they tried in vain to escape the hunting boats—the pod was to face three days confined in the cove without food or shelter. After each grueling day, Sea Shepherd's Cove Guardians remained at the cove, monitoring the pilot whales throughout the night. On Nov. 20 (Japan time), the violent captive selection and slaughter process began, as the protective matriarch of the pod was tied up to keep her from interfering with the brutal killing of her family. After three hours, 11 pilot whales had been slaughtered and one captive was forcibly dragged under the tarps for captive selection and later taken to the Taiji Harbor pens.
After staying huddled close together through the night, the pod faced continuing horror on Nov. 21 (Japan time), when over the course of four hours, 21 more pilot whales were killed. One whale is seen and heard by Sea Shepherd's Cove Guardians crying out loudly as it swims through the water that had turned red with the blood of its family, but these pleas were ignored by the ruthless hunters, who continued the prolonged torture of these highly intelligent and social cetaceans once again the following day.
On the morning of Nov. 22 (Japan time), Sea Shepherd witnessed bodies of several pilot whales floating along the nets that lined the cove, as at least five pod members had apparently succumbed overnight to the violence and the trauma of witnessing the brutal deaths of their family, and drowned. Still, the hunters continued their torturous deeds and exceeded their own brutality of the previous two days. One pilot whale—who appeared to have already been "pithed" by the hunters (stabbed by inserting a metal rod through the spinal cord, just behind the blowhole), visibly bleeding and barely able to stay above the water's surface—somehow managed to briefly break away from under the tarps and tried to find a way out by the rocks alongside the cove, but was dragged through the water and back to the boats by a heartless hunter in a wetsuit.
The video captured by Sea Shepherd's Cove Guardians reveals the horrific actions of the hunters and the heartbreaking desperation of the dying pilot whale, who was tied by its flukes to the side of one of the hunting vessels and mercilessly left to drown, further dispelling the myth that Taiji's hunters want the public to believe that the killing of these animals is quick and humane.
Fourteen pilot whales were killed on the final day of Nov. 22, 46 members of the pod in total. One pilot whale was taken captive, and the remaining members of the shattered family were transported back out to sea in slings. These small whales, likely juveniles, were abandoned at sea by the hunters because they would not produce much meat. Though they are left with little chance of survival on their own, they will not be counted in this season's self-imposed quota which allows for a total of 1,873 cetaceans (including 101 short-finned pilot whales) to be slaughtered or captured.
Sea Shepherd's supporters are calling upon U.S. Ambassador to Japan Caroline Kennedy, U.S. Secretary of State John Kerry, the United Nations, the Convention on Migratory Species and other officials and regulatory bodies in regular contact with Japan to intervene to bring sanctions against the nation for allowing this extreme cruelty to continue.
"Short-finned pilot whales are listed as 'data deficient' on the IUCN Red List of Threatened Species. There is simply not enough information known about their remaining wild populations," said Sea Shepherd Founder, Captain Paul Watson. "Migrating dolphins and whales are not infinite 'resources;' they are living and vital parts of the ocean eco-system that the nations and government agencies of the world must take action to protect before it is too late. As Taiji continues to ruthlessly wipe out entire pods—multiple generations at a time—of wild migratory pilot whales from the sea, they may very well be driving pilot whales to extinction."
Watch here, but forewarned it is extremely disturbing:
YOU MIGHT ALSO LIKE
Landmark Ruling Finds Japanese Whalers Guilty of Contempt of Court
Huge Victory: U.S. Government Slams Door on Invasive Experiments on Chimps
Only 3 Northern White Rhinos Left on Earth After Death of Nola at San Diego Zoo
Stopping Illegal Logging Will Protect Endangered Species While Saving American Jobs
EcoWatch Daily Newsletter
Pexels
By Marlene Cimons

Scientist Aaswath Raman long has been keen on discovering new sources of clean energy by creating novel materials that can make use of heat and light.
Attendees seen at the Inaugural Indigenous Peoples Day Celebration at Los Angeles Grand Park on Oct. 8, 2018 in Los Angeles. Chelsea Guglielmino / Getty Images
Young activists and their supporters rally for action on climate change on Sept. 20 in New York City. Drew Angerer / Getty Images
By Jeff Turrentine
More than 58 million people currently living in the U.S. — 17 percent of the population — are of Latin-American descent. By 2065 that percentage is expected to rise to nearly a quarter. Hardly a monolith, this diverse group includes people with roots in dozens of countries; they or their ancestors might have arrived here at any point between the 1500s and today. They differ culturally, linguistically and politically.
Thu Thai Thanh / EyeEm / Getty Images
Commonly consumed vegetables, such as spinach, lettuce, peppers, carrots, and cabbage, provide abundant nutrients and flavors. It's no wonder that they're among the most popular varieties worldwide.
Petrochemical facilities in the Houston ship channel. Roy Luck / CC BY 2.0
By Tara Lohan
Prigi Arisandi, who founded the environmental group Ecological Observation and Wetlands Conservation, picks through a heap of worn plastic packaging in Mojokerto, Indonesia. Reading the labels, he calls out where the trash originated: the United States, Australia, New Zealand, United Kingdom, Canada. The logos range from Nestlé to Bob's Red Mill, Starbucks to Dunkin Donuts.
The trash of rich nations has become the burden of poorer countries.