This website uses cookies to ensure you get the best experience while browsing it. By clicking 'Got It' you're accepting these terms.
European Agency Finds Insecticide Unacceptable Danger to Bees
Jan. 17, 2013 07:47AM EST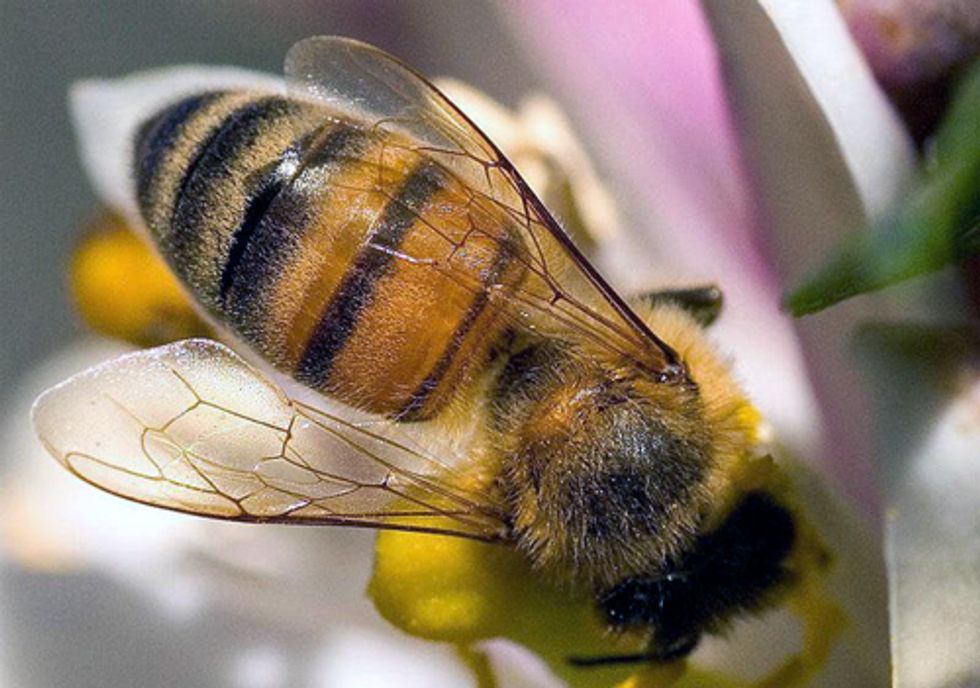 The European Food Safety Authority (EFSA) yesterday presented its report which finds that the neonicotinoid class of insecticides poses unacceptable hazards to bees. The report concludes that certain crops treated with neonicotinoid chemicals—imidacloprid, clothianidin and thiamethoxam—are of "critical concern" for bee health. Beekeepers and environmental activists welcome these recent scientific findings that they say support a U.S. ban on these chemicals.
According to Jay Feldman, executive director of Beyond Pesticides, "The EFSA report confirms what we have been asking EPA to recognize. Clothianidin and other neonicotinoids are highly toxic to bees, and should be banned by EPA and removed from the environment."
In its investigation, EFSA, which was tasked with assessing the risks associated with these chemicals to bee colony survival and development, found that systemic contamination of neonicotinoid-treated crops and contamination via dust place honey bees and the hives they return to at high risk. Exposure to contaminated dust pose a high risk to honey bees for all three neonicotinoids used on corn and certain other crops, as well as exposure to residues in nectar and pollen. High risks were also identified from exposure to guttation fluid from corn for thiamethoxam.
EFSA considered acute and chronic effects on bee larvae, bee behavior and the colony as a whole, and the risks posed through various exposure pathways e.g. nectar, pollen, guttation fluid and soil, and found numerous data gaps that do not support the safety of these chemicals.
Clothianidin is of particular concern as the vast majority of corn grown in the U.S. is treated with the chemical, which is taken up by the plant's vascular system and expressed through pollen, nectar and guttation droplets from which bees then forage and drink. Like other neonicotinoids, it has cumulative, sublethal effects on insect pollinators that correspond to Colony Collapse Disorder symptoms—namely, neurobehavioral and immune system disruptions.
Considering recent research has indicated that 9.5 percent of the total economic value of agricultural production for human consumption comes from insect pollination globally, the EFSA conclusion that neonicotinoids marks an important turning point in the pesticide dialogue. In 2012, beekeepers, Beyond Pesticides, the Center for Food Safety, and Pesticide Action Network North America filed an emergency legal petition with the EPA to suspend the use of clothianidin that is linked to honey bee deaths, urging the agency to adopt safeguards. The petition is supported by over one million citizen petition signatures, targets the pesticide for its harmful impacts on honey bees. The legal petition cites that EPA failed to adequately review relevant data to support the "no unreasonable adverse effects" standards for pollinators. EPA has failed to act.
Visit EcoWatch's BIODIVERSITY page for more related news on this topic.
EcoWatch Daily Newsletter
The Visible Infrared Imaging Radiometer Suite on the Suomi NPP satellite acquired this image of forest fire smoke hovering over North America on Aug. 15, 2018. NASA Earth Observatory
New York City isn't known for having the cleanest air, but researchers traced recent air pollution spikes there to two surprising sources — fires hundreds of miles away in Canada and the southeastern U.S.
If temperatures continue to rise, the world is at risk from global
sea-level rise
, which will flood many coastal cities as seen above in Bangladesh. NurPhoto / Contributor / Getty Images
The mounting climate emergency may spur the next global financial crisis and the world's central banks are woefully ill equipped to handle the consequences, according to a new book-length report by the Bank for International Settlements (BIS), as S&P Global reported. Located in Basel, Switzerland, the BIS is an umbrella organization for the world's central banks.
Two ice fishers with a truck cut a hole in the ice near an ice fishing hut on frozen Lake Winnebago.
Richard Hamilton Smith / Corbis NX / Getty Images
By Susan Cosier
Come February in Wisconsin, almost everything will be covered in ice and snow. In little shanties on frozen Lake Winnebago, a 30-by-13-mile lake in the eastern part of the state, fishers will keep watch over rectangular holes cut into the ice with a chainsaw. When they spot a fin passing below, they'll jab their spears down deep. The lucky ones will earn themselves a lake sturgeon, a species that has prowled the earth's waters for more than 150 million years.
Fresno, California, seen above, is receiving $66 million for walking trails, sidewalks, bike lanes, and more. DenisTangneyJr / iStock / Getty Images
Grecia Elenes grew up in Fresno, California. She says some parts of the city have been neglected for decades. When she moved back after college she realized nothing has changed.
People are seen embracing at Numeralla Rural Fire Brigade near the scene of a water tanker plane crash on Jan. 23 in Cooma, Australia. Three American firefighters have have died after their C-130 water tanker plane crashed while battling a bushfire near Cooma in southern NSW this afternoon. Jenny Evans / Getty Images
Three U.S. firefighters gave their lives battling Australia's historic wildfires Thursday when their airborne water tanker crashed.