This website uses cookies to ensure you get the best experience while browsing it. By clicking 'Got It' you're accepting these terms.
Eastern Monarch Butterflies at Risk of Extinction
Mar. 21, 2016 01:05PM EST
Animals
By U.S. Geological Survey
Long-term declines in the overwintering Eastern population of North American monarch butterflies are significantly increasing their likelihood of becoming extinct over the next two decades, according to Scripps Institution of Oceanography at UC San Diego and U.S. Geological Survey (USGS) research published today.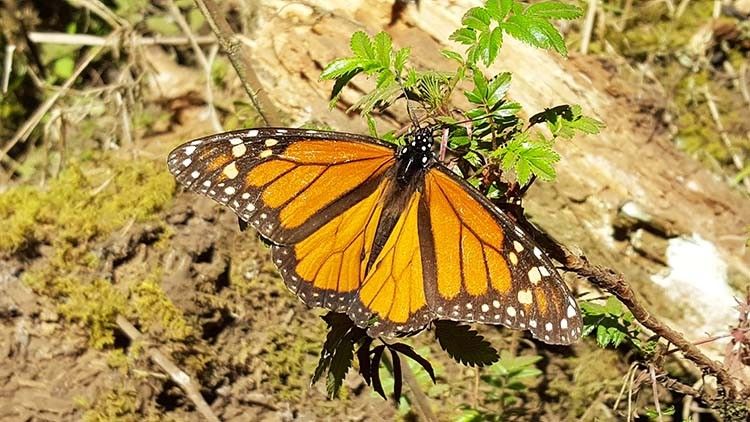 The new study, available in the journal Scientific Reports, found that the Eastern migratory monarch population declined by 84 percent from the winter of 1996-1997 to the winter of 2014-2015. Using this information, the study demonstrated that there is a substantial chance—11 to 57 percent—of quasi-extinction over the next 20 years. A quasi-extinct population is one with so few remaining individuals left that recovery is impossible. While the remaining individuals may survive for a short time, the population as a whole will inevitably go extinct.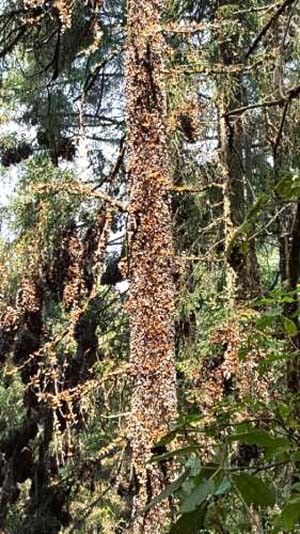 "Because monarch numbers vary dramatically from year to year depending on weather and other factors, increasing the average population size is the single-most important way to provide these iconic butterflies with a much-needed buffer against extinction," Brice Semmens, the lead author of the study and a scientist at Scripps, said.
Semmens said that as an example of this variability, just after the analysis concluded, the World Wildlife Fund Mexico and partners reported a large increase in monarch numbers since last year. However, this increase was followed by a recent winter storm that may have adversely affected the population. The authors emphasized that although one good winter—as occurred this year—is positive news, higher average monarch numbers are necessary for reducing the long-term risk of quasi-extinction.
Because counting individual monarchs is challenging, scientists measure population size based on the geographic area that their colonies cover while spending the winter in Mexico. The U.S., Mexico and Canada aim to increase the number of Eastern monarchs wintering in Mexico so that they occupy about six hectares or about 15 acres, by 2020. This year's population size increased substantially to about four hectares or close to 10 acres. The population was 1.13 hectares (about 2.8 acres) during the winter of 2014-2015 and at its lowest, 0.67 hectares (about 1.7 acres) during the 2013-2014 winter.
The Scripps and USGS) scientists found that if the Eastern population reaches the six-hectare goal announced in last year's national pollinator strategy, the quasi-extinction risk over 20 years would decrease by more than half.
"Previously published research suggested that the most effective way to increase monarch numbers is to focus on the restoration of their breeding habitat," said USGS scientist Darius Semmens, a coauthor of the report. "Over the previous two winters, Eastern monarch populations were very low, indicating a higher risk of losing the species. If their numbers continue to grow, as they did this year, the risk will decrease."
Scripps and the USGS collaborated with scientists from the University of Arizona, Iowa State University, University of Minnesota and the University of Kansas on the study. The research was conducted as part of the Monarch Conservation Science Partnership, a team of scientists and resource managers working together to help inform the management of monarch butterflies. The partnership was hosted by the USGS Powell Center for Analysis and Synthesis in Fort Collins, Colorado.
YOU MIGHT ALSO LIKE
Shocking Footage of Illegal Fishing in the Indian Ocean
Great Bear Landmark Agreement Protects World's Largest Temperate Rainforest
First New Butterfly Species Found in Alaska in 28 Years: Is it an Ancient Hybrid?
Love Wildlife? Check Out These 11 Stunning Photos From Yellowstone National Park
EcoWatch Daily Newsletter
Tuna auctions are a tourist spectacle in Tokyo. Outside the city's most famous fish market, long queues of visitors hoping for a glimpse of the action begin to form at 5 a.m. The attraction is so popular that last October the Tsukiji fish market, in operation since 1935, moved out from the city center to the district of Toyosu to cope with the crowds.

gmnicholas / E+ / Getty Images
Kristan Porter grew up in a fishing family in the fishing community of Cutler, Maine, where he says all roads lead to one career path: fishing. (Porter's father was the family's lone exception. He suffered from terrible seasickness, and so became a carpenter.) The 49-year-old, who has been working on boats since he was a kid and fishing on his own since 1991, says that the recent warming of Maine's cool coastal waters has yielded unprecedented lobster landings.
Aerial view of lava flows from the eruption of volcano Kilauea on Hawaii, May 2018. Frizi / iStock / Getty Images
Hawaii's Kilauea volcano could be gearing up for an eruption after a pond of water was discovered inside its summit crater for the first time in recorded history, according to the AP.
The Eqip Sermia Glacier is seen behind a moraine left exposed by the glacier's retreat during unseasonably warm weather on Aug. 1 at Eqip Sermia, Greenland. Sean Gallup / Getty Images
hadynyah / E+ / Getty Images
By Johnny Wood
The Ganges is a lifeline for the people of India, spiritually and economically. On its journey from the Himalayas to the Bay of Bengal, it supports fishermen, farmers and an abundance of wildlife.
The river and its tributaries touch the lives of roughly 500 million people. But having flowed for millennia, today it is reaching its capacity for human and industrial waste, while simultaneously being drained for agriculture and municipal use.
Here are some of the challenges the river faces.
By Jake Johnson
As a growing number of states move to pass laws that would criminalize pipeline protests and hit demonstrators with years in prison, an audio recording obtained by The Intercept showed a representative of a powerful oil and gas lobbying group bragging about the industry's success in crafting anti-protest legislation behind closed doors.
Reposted with permission from our media associate Common Dreams.

DESIREE MARTIN / AFP / Getty Images
Wildfires raging on Gran Canaria, the second most populous of Spain's Canary Islands, have forced around 9,000 people to evacuate.