This website uses cookies to ensure you get the best experience while browsing it. By clicking 'Got It' you're accepting these terms.


The best of EcoWatch, right in your inbox. Sign up for our email newsletter!
Consensus on Consensus: 97% of the World's Climate Scientists Say Humans Are Causing Climate Change
Apr. 13, 2016 11:19AM EST
Climate
A new study confirms the expert consensus that humans are causing climate change, with a meta-analysis of research showing a convergence on the 97 percent agreement figure among climate scientists. We know how much deniers love questioning the scientific consensus, so we can only imagine how they will react to a consensus on the consensus.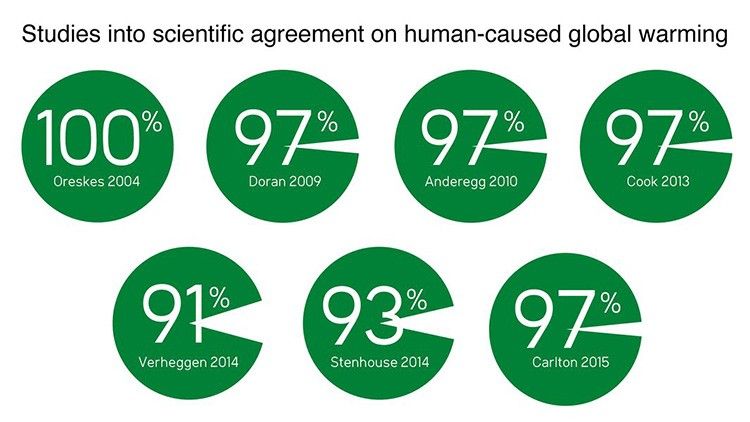 After years of attacks on John Cook's 2013 paper finding a 97 percent consensus among climate change papers and experts, Cook pulled together a dream team of other consensus paper authors to reaffirm their collective findings. This new paper was actually written in response to the latest attack that (like previous ones) misrepresents the various consensus studies in order to portray Cook's 97 percent as an outlier.
This brief history, as well as some "on the street" interviews with the public about what percentage of climate scientists they think agree on the cause of climate change, are described by Cook in a short video while his post at the Bulletin of Atomic Scientists also discusses some motives for attacking the consensus.
For over a decade, there has been a consensus among climate scientists that climate change is man-made. While fossil-fuel funded propagandists worked to cast doubt on the reality of climate change, legitimate researchers published papers to debunk denier claims and educate the public on the state of consensus among climate scientists.
A variety of denier sources attacked these papers, clouding the public perception about the degree to which climate scientists are sure humans are causing climate change. One of those attacks spurred this particular paper, which shows the consensus between studies looking at the scientific consensus. So thanks to the constant denier attacks, we've reached Inception-esque levels of consensus.
Welcome to Consenception.
YOU MIGHT ALSO LIKE
Top Climate Denier Turns Down $20k Bet From Bill Nye
Coal Companies' Secret Funding of Climate Science Denial Exposed
Greenland's Ice Melt Breaks Record, Starting Nearly Two Months Early
Is the World Bank Snatching Climate Defeat From the Jaws of Victory?
EcoWatch Daily Newsletter
Sesame, three months old, at Seal Rescue Irleand.
Screenshot / Seal Rescue Ireland Instagram
On Friday, Seal Rescue Ireland released Sesame the seal into the ocean after five months of rehabilitation at the Seal Rescue Ireland facility. Watch the release on EcoWatch's Facebook.

Beer packs of Guinness will now come in a cardboard box. Diageo

By Jordan Davidson
Guinness is joining the fight against single use plastic. The brewer has seen enough hapless turtles and marine life suffering from the scourge of plastic.
fstop123 / iStock / Getty Images Plus
At EcoWatch, our team knows that changing personal habits and taking actions that contribute to a better planet is an ongoing journey. Earth Day, happening on April 22, is a great reminder for all of us to learn more about the environmental costs of our behaviors like food waste or fast fashion.
To offer readers some inspiration this Earth Day, our team rounded up their top picks for films to watch. So, sit back and take in one of these documentary films this Earth Day. Maybe it will spark a small change you can make in your own life.
Maskot / Getty Images
People of all ages are spending more of their day looking at their phones, computers and television screens, but parents now have another reason for limiting how much screen time their children get — it could lead to behavioral problems.
Rapper and comedian Lil Dicky released a 7-minute climate change awareness song and video today, ahead of Earth Day on Monday, with proceeds going to the Leonardo DiCaprio Foundation.
Pexels
By Eoin Higgins
The New York City Council passed the world's "largest single carbon reduction effort that any city, anywhere, has ever put forward" on Thursday afternoon, marking a major milestone in the fight against the climate crisis.
Jason Momoa speaking at the 2018 San Diego Comic Con International, for "Aquaman" on July 21, 2018.
Gage Skidmore / Flickr
From Khal Drogo in Game of Thrones to Aquaman, some of actor Jason Momoa's most iconic roles have been linked to the beard he has worn since 2012.
But on Wednesday he decided it was "time to make a change," for himself and for the planet. A video posted on Instagram showed him beginning to shave his beard in a bid to raise awareness about plastic pollution, the Huffington Post reported.
IMF Managing Director Christine Lagarde (L) and broadcaster and natural historian David Attenborough take part in a discussion on nature and the economy in Washington, DC, April 11. MANDEL NGAN / AFP / Getty Images