This website uses cookies to ensure you get the best experience while browsing it. By clicking 'Got It' you're accepting these terms.


The best of EcoWatch, right in your inbox. Sign up for our email newsletter!
Consensus on Consensus: 97% of the World's Climate Scientists Say Humans Are Causing Climate Change
Apr. 13, 2016 11:19AM EST
Climate
A new study confirms the expert consensus that humans are causing climate change, with a meta-analysis of research showing a convergence on the 97 percent agreement figure among climate scientists. We know how much deniers love questioning the scientific consensus, so we can only imagine how they will react to a consensus on the consensus.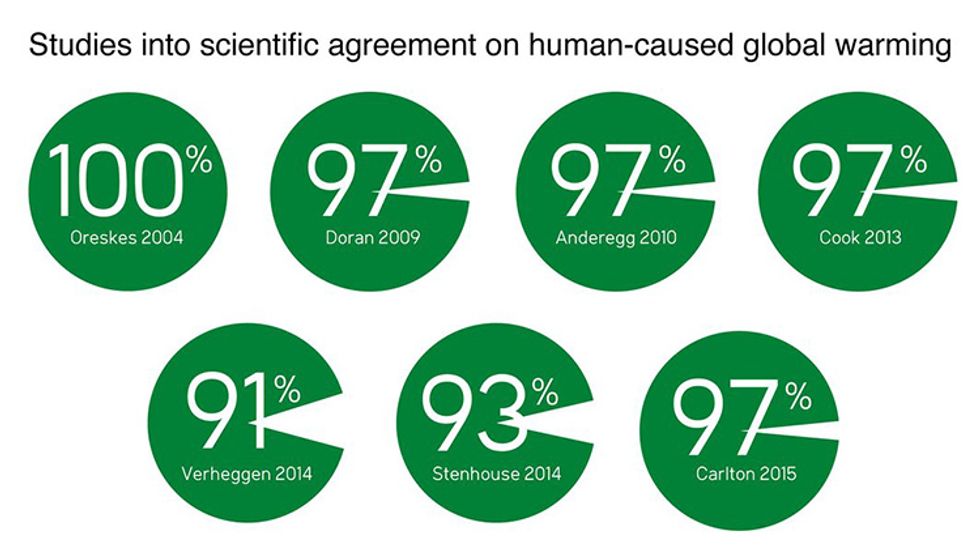 After years of attacks on John Cook's 2013 paper finding a 97 percent consensus among climate change papers and experts, Cook pulled together a dream team of other consensus paper authors to reaffirm their collective findings. This new paper was actually written in response to the latest attack that (like previous ones) misrepresents the various consensus studies in order to portray Cook's 97 percent as an outlier.
This brief history, as well as some "on the street" interviews with the public about what percentage of climate scientists they think agree on the cause of climate change, are described by Cook in a short video while his post at the Bulletin of Atomic Scientists also discusses some motives for attacking the consensus.
For over a decade, there has been a consensus among climate scientists that climate change is man-made. While fossil-fuel funded propagandists worked to cast doubt on the reality of climate change, legitimate researchers published papers to debunk denier claims and educate the public on the state of consensus among climate scientists.
A variety of denier sources attacked these papers, clouding the public perception about the degree to which climate scientists are sure humans are causing climate change. One of those attacks spurred this particular paper, which shows the consensus between studies looking at the scientific consensus. So thanks to the constant denier attacks, we've reached Inception-esque levels of consensus.
Welcome to Consenception.
YOU MIGHT ALSO LIKE
Top Climate Denier Turns Down $20k Bet From Bill Nye
Coal Companies' Secret Funding of Climate Science Denial Exposed
Greenland's Ice Melt Breaks Record, Starting Nearly Two Months Early
Is the World Bank Snatching Climate Defeat From the Jaws of Victory?
EcoWatch Daily Newsletter
Pexels
Up to 20% of people may have a food addiction or exhibit addictive-like eating behavior.
Spiced hot chocolate. Lilechka75 / iStock / Getty Images
Food is the cornerstone of the holiday season. It brings friends and family together to share memories, cultural traditions, and great flavors.
Solar panels at the Renewable Hydrogen Fueling and Production Station on Joint Base Pearl Harbor-Hickam. U.S. Navy / Mass Communication Specialist 2nd Class Daniel Barker / Released
By Tara Lohan
Three years into the Trump administration, its anti-climate and anti-science agenda is well established. Despite dire warnings from the world's leading scientists about the threats from rising greenhouse gas emissions, the administration has stubbornly continued to deny climate change, obstructed and undermined efforts to curb it, and moved again and again to roll back existing regulations that help reduce emissions.
Pexels
Rye bread tends to have a darker color and stronger, earthier taste than regular white and wheat bread, which is one reason why many people enjoy it.
Elva Etienne / Moment / Getty Images
By Ketura Persellin
Gift-giving is filled with minefields, but the Environmental Working Group's (EWG) got your back, so you don't need to worry about inadvertently giving family members presents laden with toxic chemicals. With that in mind, here are our suggestions for gifts to give your family this season.