This website uses cookies to ensure you get the best experience while browsing it. By clicking 'Got It' you're accepting these terms.


The best of EcoWatch, right in your inbox. Sign up for our email newsletter!
Climate Deniers Mock 'Feminist Glaciology' Study
Mar. 09, 2016 09:41AM EST
Climate
There's a study that's been floating around lately, causing condescending eye-rolls among the climate deniers and raised eyebrows among even a couple more mainstream voices. The paper is a look at "Glaciers, gender and science" that applies "a feminist glaciology framework" to research, and in light of yesterday being International Women's Day, we decided it deserves a little defending from the mockery it's received in pretty much all the coverage except a blog post by the researcher's university and one story from Oregon's Register-Guard.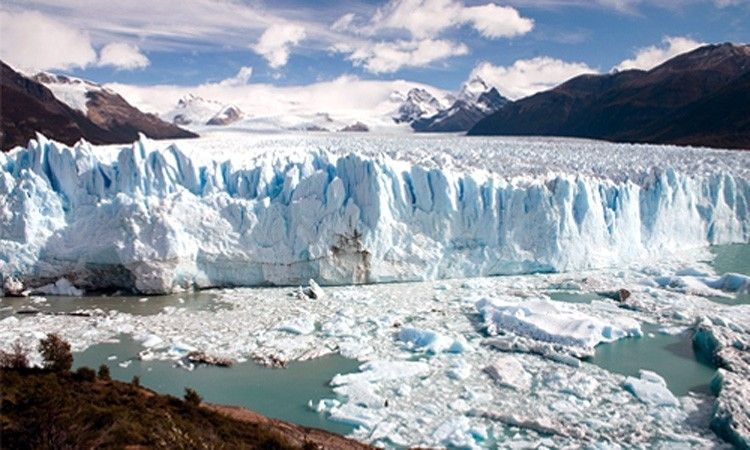 First, some of the coverage is focusing on the National Science Foundation (NSF) grant that funded the research, but that line of attack ignores the fact that the  paper is just one small part of a larger body of glacier research. So while some attempt to make it sound like the study cost taxpayers over $700,000, that's actually the amount the lead researcher has gotten in total from the NSF throughout his career, not the cost of this study alone. Similarly, $400,000 was for the larger grant from the NSF for the entire glacial science history project, so again that's way more than was spent on this single study.
Now that the pearl-clutching over the sticker shock has been dealt with, the content of the study can be looked at. As the larger grant is for constructing a history of glaciology, this particular paper looks at how gender has influenced the science of glaciers, finding that women's voices have not been sufficiently represented. And since the impacts of climate change and glacial retreat fall disproportionately on women through factors like causing women to have to travel further for fresh water as glaciers retreat, those voices are especially important in helping society determine the best ways to adapt to changing conditions.
The paper draws on the literature of feminist political ecology and geography, which examines how resources are used and distributed through a gender-sensitive lens. It then lays out the four aspects of "feminist glaciology:" how gender influences those gathering data and producing knowledge of glaciers, how glacier science is influenced by gender, how historical power dynamics like colonialism coincide with male-centered ways of thinking, and finally the alternative methods that can be employed to provide a more robust and culturally comprehensive understanding of glaciers.
It provides examples of female explorers dating back to the 1770's, who were hidden from the public and excluded from history, and more recent examples of 20th century female geologists facing marginalization. It wasn't until the 1990s, for example, that the British allowed women to spend the winter in Antarctica. It also broaches the uncomfortable subject of the widespread sexual harassment of women in science, citing a 2014 finding that 64 percent of women in science had experienced sexual harassment, a rate 3.5 times greater than their male counterparts.
While people like Anthony Watts may be happy leaving the analysis at the level of stereotypes about how "millions of husbands and wives battle over the home thermostat," this paper is actually an in-depth and well-researched look at how this specific scientific discipline has, like most others, historically ignored the female perspective.
Given how often they complain about being an ignored demographic, deniers might have been better off embracing this study as evidence of the potential for bias in science, instead of dismissing it as wasted funds.
YOU MIGHT ALSO LIKE
Fossil Fuel Industry Set to Argue for Dismissal of Landmark Climate Change Lawsuit Brought by 21 Youth
Dear President Obama, The Clean Energy Revolution Is Now
Endangered Species Found Dead, Likely Result of Illegal Fishing
EcoWatch Daily Newsletter
Climate change activists gather in front of the stage at the Extinction Rebellion group's environmental protest camp at Marble Arch in London on April 22, on the eighth day of the group's protest calling for political change to combat climate change. TOLGA AKMEN / AFP / Getty Images
Pexels
By Alina Petre, MS, RD (CA)
Veganism refers to a way of living that attempts to minimize animal exploitation and cruelty. For this reason, vegans aim to exclude all foods containing meat, poultry, fish, eggs, dairy and honey from their diet (1).
American farmers use chlorpyrifos, a pesticide tied to brain and nervous system issues, on crops such as apples, broccoli, corn and strawberries. Stephanie Chapman / Flickr / CC BY 2.0
By Jessica Corbett
In a ruling welcomed by public health advocates, a federal court on Friday ordered the Trump administration to stop stalling a potential ban on a pesticide linked to brain damage in children, giving regulators until mid-July to make a final decision.
fstop123 / iStock / Getty Images Plus
At EcoWatch, our team knows that changing personal habits and taking actions that contribute to a better planet is an ongoing journey. Earth Day, happening on April 22, is a great reminder for all of us to learn more about the environmental costs of our behaviors like food waste or fast fashion.
To offer readers some inspiration this Earth Day, our team rounded up their top picks for films to watch. So, sit back and take in one of these documentary films this Earth Day. Maybe it will spark a small change you can make in your own life.
NASA
By Shuchi Talati
Solar geoengineering describes a set of approaches that would reflect sunlight to cool the planet. The most prevalent of these approaches entails mimicking volcanic eruptions by releasing aerosols (tiny particles) into the upper atmosphere to reduce global temperatures — a method that comes with immense uncertainty and risk. We don't yet know how it will affect regional weather patterns, and in turn its geopolitical consequences. One way we can attempt to understand potential outcomes is through models.
Maria Gunnoe Flight, courtesy of southwings.org
By Julia Conley
Green groups on Saturday celebrated the latest federal ruling aimed at preventing President Donald Trump from rolling back environmental regulations that were put in place by his predecessor.
NASA scientists flew over the Kuskokwim river in southwest Alaska in 2017 to investigate how water levels in the Arctic landscape change as permafrost thaws. Peter Griffith, NASA
Youtube screenshot
A woman has been caught on camera dumping a bag of puppies near a dumpster in Coachella, California, CNN reported Sunday.