This website uses cookies to ensure you get the best experience while browsing it. By clicking 'Got It' you're accepting these terms.
Climate Deniers Mock 'Feminist Glaciology' Study
Mar. 09, 2016 09:41AM EST
Climate
There's a study that's been floating around lately, causing condescending eye-rolls among the climate deniers and raised eyebrows among even a couple more mainstream voices. The paper is a look at "Glaciers, gender and science" that applies "a feminist glaciology framework" to research, and in light of yesterday being International Women's Day, we decided it deserves a little defending from the mockery it's received in pretty much all the coverage except a blog post by the researcher's university and one story from Oregon's Register-Guard.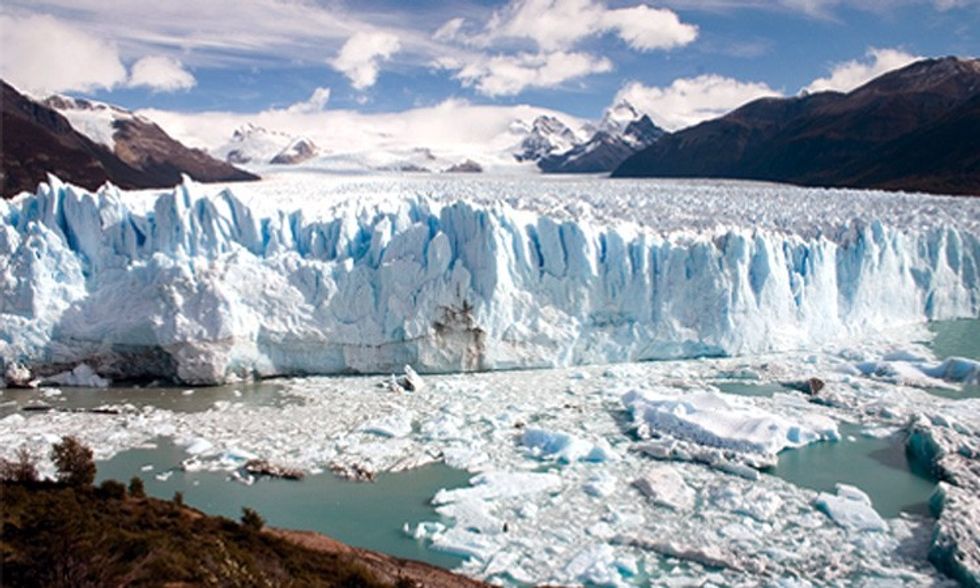 First, some of the coverage is focusing on the National Science Foundation (NSF) grant that funded the research, but that line of attack ignores the fact that the  paper is just one small part of a larger body of glacier research. So while some attempt to make it sound like the study cost taxpayers over $700,000, that's actually the amount the lead researcher has gotten in total from the NSF throughout his career, not the cost of this study alone. Similarly, $400,000 was for the larger grant from the NSF for the entire glacial science history project, so again that's way more than was spent on this single study.
Now that the pearl-clutching over the sticker shock has been dealt with, the content of the study can be looked at. As the larger grant is for constructing a history of glaciology, this particular paper looks at how gender has influenced the science of glaciers, finding that women's voices have not been sufficiently represented. And since the impacts of climate change and glacial retreat fall disproportionately on women through factors like causing women to have to travel further for fresh water as glaciers retreat, those voices are especially important in helping society determine the best ways to adapt to changing conditions.
The paper draws on the literature of feminist political ecology and geography, which examines how resources are used and distributed through a gender-sensitive lens. It then lays out the four aspects of "feminist glaciology:" how gender influences those gathering data and producing knowledge of glaciers, how glacier science is influenced by gender, how historical power dynamics like colonialism coincide with male-centered ways of thinking, and finally the alternative methods that can be employed to provide a more robust and culturally comprehensive understanding of glaciers.
It provides examples of female explorers dating back to the 1770's, who were hidden from the public and excluded from history, and more recent examples of 20th century female geologists facing marginalization. It wasn't until the 1990s, for example, that the British allowed women to spend the winter in Antarctica. It also broaches the uncomfortable subject of the widespread sexual harassment of women in science, citing a 2014 finding that 64 percent of women in science had experienced sexual harassment, a rate 3.5 times greater than their male counterparts.
While people like Anthony Watts may be happy leaving the analysis at the level of stereotypes about how "millions of husbands and wives battle over the home thermostat," this paper is actually an in-depth and well-researched look at how this specific scientific discipline has, like most others, historically ignored the female perspective.
Given how often they complain about being an ignored demographic, deniers might have been better off embracing this study as evidence of the potential for bias in science, instead of dismissing it as wasted funds.
YOU MIGHT ALSO LIKE
Fossil Fuel Industry Set to Argue for Dismissal of Landmark Climate Change Lawsuit Brought by 21 Youth
Dear President Obama, The Clean Energy Revolution Is Now
Endangered Species Found Dead, Likely Result of Illegal Fishing
EcoWatch Daily Newsletter
A harbour seal on an ice floe in Glacier Bay, Alaska. A new study shows that the climate crisis has warmed waters, changing ecosystems and crippling sea ice growth. Janette Hill / robertharding / Getty Images Plus
Doctors report that only 1 in 4 children are getting the recommended 60 minutes of physical activity per day. Ronnie Kaufman / DigitalVision / Getty Images
By Dan Gray
Pediatricians are being urged to start writing "exercise prescriptions" for the children they see in their office.
A First Nations protester walks in front of a train blockade in Tyendinaga, near Belleville, Ontario, Canada on Feb. 21, 2020. LARS HAGBERG / AFP via Getty Images
An indigenous rail blockade that snarled train travel in Canada for more than two weeks came to an end Monday when police moved in to clear protesters acting in solidarity with another indigenous community in British Columbia (B.C.), which is fighting to keep a natural gas pipeline off its land.
A rainbow snake, a rare reptile spotted in a Florida county for the first time in more than 50 years, seen here on July 5, 2013.
Kevin Enge / FWC Fish and Wildlife Research Institute / Flickr
A Florida hiker recently stumbled across a slithering surprise — a rare snake that hadn't been spotted in the area for more than 50 years.
We need our government to do everything it can to stop PFAS contamination and exposure from wreaking havoc in communities across the country. LuAnn Hun /
Unsplash
By Genna Reed
The EPA announced last week that it is issuing a preliminary regulatory determination for public comment to set an enforceable drinking water standard to two of the most common and well-studied PFAS, PFOA and PFOS.
This decision is based on three criteria:
PFOA and PFOS have an adverse effect on public health
PFOA and PFOS occur in drinking water often enough and at levels of public health concern;
regulation of PFOA and PFOS is a meaningful opportunity for reducing the health risk to those served by public water systems.