This website uses cookies to ensure you get the best experience while browsing it. By clicking 'Got It' you're accepting these terms.
Celebrate 50+ Green Holidays
May. 01, 2014 03:10PM EST
Did you know there are more than 50 green holidays?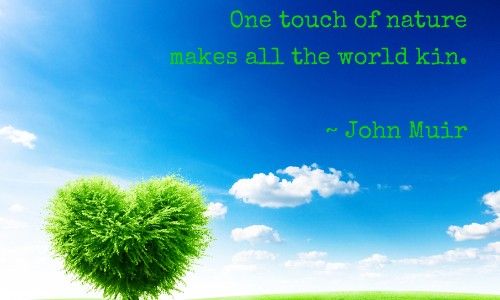 Earth Day is considered somewhat of a "Hallmark Holiday" for most environmentalists. We're all about living our lives as sustainably as possible—some more than others—on a daily basis. It's not about perfection, though, it's about doing our best with what we've got. Take me, for example: It makes no sense for me to buy a hybrid car when I already own a somewhat decent 2003 VW station wagon with less than 80,000 miles. If we could afford solar panels, they'd be on my roof right now. I do, however, buy organic food and limit my family's meat consumption whenever possible. You'll find absolutely no plastic baggies or storage containers in my house, but you'll see the environmental-disaster-waiting-to-happen keurig single-cup coffee machine on my kitchen counter (a gift to my son purchased by my hubby, despite my pleading against it). Fortunately, they drink the coffee only on weekends.
I'm happy there's an Earth Day—it's important to remind the world that the Earth is worth celebrating and that there are things we can do to help make the world safer for future generations. What better day than Earth Day to kick off a new eco-resolution, whether it's switching to eco-friendly home cleaning products and organic food or adding solar panels to your roof. Or maybe you're ready to go meatless on Mondays. Or use reusable shopping bags every time you go shopping.
However, Earth Day isn't the only environmental holiday.
Here's a list of more than 50 green holidays you could celebrate virtually every day.
Green New Year's Resolution – Jan. 1 (a made up holiday, but why not participate?)

World Wetlands Day – Feb. 2

World Sparrow Day – March 20

World Forestry Day – March 21

World Water Day – March 22

World Meteorological Day – March 23

Earth Hour – Last Saturday of March

Earth Day – April 22

Chemists Celebrate Earth Day – April 22

Arbor Day – Last Friday in April (each state also has its own observation based on best tree planting time)

Green Up Day – first Saturday of May in Vermont

International Migratory Bird Day – Second Saturday in May in the U.S. and Canada

Greenery Day – May 4 in Japan (previously April 29)

International Day for Biological Diversity (World Biodiversity Day) – May 22

Bike-to-Work Day – Third Friday in May

National Trails Day – First Saturday in June

World Environment Day – June 5

World Oceans Day – June 8

Global Wind Day – June 15

World Day to Combat Desertification and Drought – June 17

World Population Day – July 11

International Tiger Day – July 29

National Wildlife Day – Sept. 4

International Day for the Preservation of the Ozone Layer – Sept. 16

Clean Up the World Weekend – Third weekend in September

Zero Emissions Day – Sept. 21

International Day of Peace – Sept. 21

World Car Free Day – Sept. 22

Ecological Debt Day (Earth Overshoot Day) – Aug. 20 in 2013 but changes. It's the (claimed) approximate calendar date on which humanity's resource consumption for the year exceeds Earth's capacity to regenerate those resources that year. Since 2001, Overshoot Day has moved ahead by an average of three days per year.

World Rivers Day – Every last Sunday in September

World Habitat Day – First Monday in October

World Vegetarian Day – Oct. 1

World Animal Day – Oct. 4

International Day for Natural Disaster Reduction – Second Wednesday in October

World Planting Day – Oct. 22

International Day of Climate Action – Oct. 24

World Vegan Day – Nov. 1

International Day for Preventing the Exploitation of the Environment in War and Armed Conflict – Nov. 6

America Recycles Day – Nov. 15(ish)

World Soil Day – Dec. 5

International Mountain Day – Dec. 11
Here are special week-long, year-long and even decade-long environmental/ earth related events. Keep in mind, the actual dates vary by year.
National Park Week – April 19-27

Dark Sky Week – April 20-26

Bike to Work Week Victoria

National Clean Beaches Week – July 1-7

Conservation Week

European Mobility Week – Sept. 16-22

Bike Week – Second week in June

Recycle Week – June 20-26

Junk Mail Awareness Week – First week of October

European Week for Waste Reduction (EWWR) – Nine days, last complete week in November

No Car Day – Week of Sept. 22 in China

United Nations Decade of Education for Sustainable Development – 2005-2014

Water for Life Decade – 2005-2015

United Nations Decade on Biodiversity – 2010-2020
Did I miss any?
——–
YOU MIGHT ALSO LIKE
Go Green With a DIY Waste Audit
How to Teach Kids About Sustainability
——–
EcoWatch Daily Newsletter
A man spreads pesticides on a plantation of vegetables in Rio de Janeiro Brazil. Ze Martinusso / Moment Open / Getty Images
By Jessica Corbett
Pointing to the deaths of more than half a billion bees in Brazil over a period of just four months, beekeepers, experts and activists are raising concerns about the soaring number of new pesticides greenlighted for use by the Brazilian government since far-right President Jair Bolsonaro took office in January — and the threat that it poses to pollinators, people and the planet.
SHEALAH CRAIGHEAD
By Elliott Negin
On July 19, President Trump hosted Apollo 11 astronauts Buzz Aldrin and Michael Collins and their families, along with the family of their deceased colleague Neil Armstrong, at a White House event to commemorate the 50th anniversary of the first manned landing on the moon.
The study looked at three groups of diverse lizards from South America. Daniel Pincheira-Donoso
Cold-climate lizards that give live birth to their offspring are more likely to be driven to extinction than their egg-laying cousins as global temperatures continue to rise, new research suggests.
Sean Gallup / Getty Images
A stock photo of fire in the Amazon; a record number of fires have burned there this year. Brasil2 / E+ / Getty Images
Tuna auctions are a tourist spectacle in Tokyo. Outside the city's most famous fish market, long queues of visitors hoping for a glimpse of the action begin to form at 5 a.m. The attraction is so popular that last October the Tsukiji fish market, in operation since 1935, moved out from the city center to the district of Toyosu to cope with the crowds.

gmnicholas / E+ / Getty Images
Kristan Porter grew up in a fishing family in the fishing community of Cutler, Maine, where he says all roads lead to one career path: fishing. (Porter's father was the family's lone exception. He suffered from terrible seasickness, and so became a carpenter.) The 49-year-old, who has been working on boats since he was a kid and fishing on his own since 1991, says that the recent warming of Maine's cool coastal waters has yielded unprecedented lobster landings.