This website uses cookies to ensure you get the best experience while browsing it. By clicking 'Got It' you're accepting these terms.


The best of EcoWatch, right in your inbox. Sign up for our email newsletter!
Boyan Slat's 'Mega Expedition' Shows 'Our Oceans Are Riddled With Plastic'
Aug. 24, 2015 09:29AM EST
A few years ago, when then-17-year-old Boyan Slat claimed he could rid the world's oceans of plastic, many thought it was just a nice idea. But flash forward four years and what appeared to be merely youthful idealism has turned into concrete action. Yesterday, Slat's nonprofit The Ocean Cleanup returned from a 30-day voyage through the Great Pacific Garbage Patch.
Congratulations @BoyanSlat on arriving with the great expedition in San Francisco! Thank you for cleaning our oceans. pic.twitter.com/sQIxqJir8o

— Marc Benioff (@Benioff) August 23, 2015
The team was on a reconnaissance mission to determine just how much plastic is floating in the Great Pacific Garbage Patch, "a swirling mass of human-linked debris spanning hundreds of miles of open sea where plastic outnumbers organisms by factors in the hundreds."  
Researchers sample enormous #oceanic trash vortex ahead of clean-up proposal http://t.co/1ihz4QW5C7 #ZippedNews http://t.co/4W12Dzcv0f

— News in Summary (@news_in_summary) August 24, 2015
The researchers collected samples ranging from microscopic to as large as a 2,000-pound fishing net in what the group claims is "the largest ocean research expedition in history." Using a series of measurement techniques, including trawls and aerial surveys, the fleet of close to 30 vessels sampled the concentration of plastic—all in preparation for the largest clean up of the area set to begin in 2020.
The team's findings confirm the well-documented fact that our oceans are riddled with plastic.
"I've studied plastic in all the world's oceans, but never seen any area as polluted as the Great Pacific Garbage Patch," Dr. Julia Reisser, lead oceanographer at The Ocean Cleanup, said.
"With every trawl we completed, thousands of miles from land, we just found lots and lots of plastic." In so-called "hot spots" of the garbage patch, "there were hundreds of times more plastics ... than there were organisms," Reisser told Reuters.
Although the samples collected during the expedition still have to be analyzed, preliminary findings indicate a higher-than-expected volume of large plastic objects floating in the ocean.
Filling container number 2 with ocean trash right now pic.twitter.com/D24sICEtPv — Boyan Slat (@BoyanSlat) August 23, 2015
We caught this monster ghost net in one of our trawls earlier this week #MegaExpedition pic.twitter.com/FwRDBi6UPc

— The Ocean Cleanup (@TheOceanCleanup) August 13, 2015
"The vast majority of the plastic in the garbage patch is currently locked up in large pieces of debris, but UV light is breaking it down into much more dangerous microplastics, vastly increasing the amount of microplastics over the next few decades if we don't clean it up," says Slat. "It really is a ticking time bomb."
The next phase begins in 2016 when the team will test out a one-mile barrier of its ocean-cleaning system near Japan. The system will contain "floating stationary booms tethered to the ocean floor and linked in a V shape intended to skim and concentrate surface plastics floating on top of ocean currents," according to Reuters. Ultimately, Slat's goal is to develop a 60-mile barrier in the middle of the Pacific.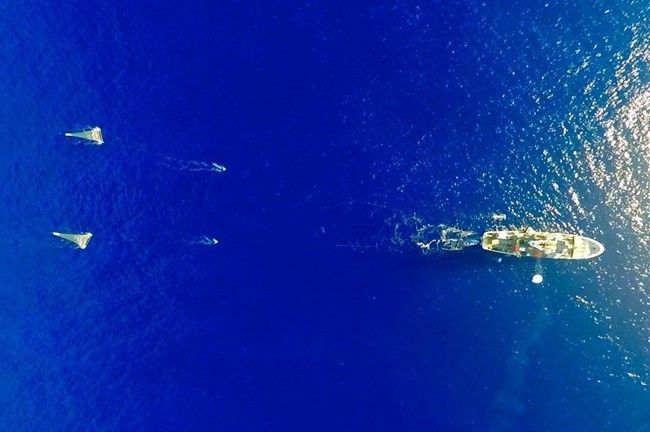 Some have criticized the effort as being too costly and ineffective, but one of the project's financial backers, Salesforce chairman, CEO and founder Marc Benioff had this to say: "Protecting the oceans should be a priority for all of Earth's citizens. The Ocean Cleanup is taking an innovative approach to preserving one of our most critical resources and raising visibility of this global challenge."
YOU MIGHT ALSO LIKE
Boyan Slat to Deploy 'Longest Floating Structure in World History' to Clean Ocean Plastic
Bill McKibben: Picturing the End of Fossil Fuels
EcoWatch Daily Newsletter
Sesame, three months old, at Seal Rescue Irleand.
Screenshot / Seal Rescue Ireland Instagram
On Friday, Seal Rescue Ireland released Sesame the seal into the ocean after five months of rehabilitation at the Seal Rescue Ireland facility. Watch the release on EcoWatch's Facebook.

Beer packs of Guinness will now come in a cardboard box. Diageo

By Jordan Davidson
Guinness is joining the fight against single use plastic. The brewer has seen enough hapless turtles and marine life suffering from the scourge of plastic.
fstop123 / iStock / Getty Images Plus
At EcoWatch, our team knows that changing personal habits and taking actions that contribute to a better planet is an ongoing journey. Earth Day, happening on April 22, is a great reminder for all of us to learn more about the environmental costs of our behaviors like food waste or fast fashion.
To offer readers some inspiration this Earth Day, our team rounded up their top picks for films to watch. So, sit back and take in one of these documentary films this Earth Day. Maybe it will spark a small change you can make in your own life.
Maskot / Getty Images
People of all ages are spending more of their day looking at their phones, computers and television screens, but parents now have another reason for limiting how much screen time their children get — it could lead to behavioral problems.
Rapper and comedian Lil Dicky released a 7-minute climate change awareness song and video today, ahead of Earth Day on Monday, with proceeds going to the Leonardo DiCaprio Foundation.
Pexels
By Eoin Higgins
The New York City Council passed the world's "largest single carbon reduction effort that any city, anywhere, has ever put forward" on Thursday afternoon, marking a major milestone in the fight against the climate crisis.
Jason Momoa speaking at the 2018 San Diego Comic Con International, for "Aquaman" on July 21, 2018.
Gage Skidmore / Flickr
From Khal Drogo in Game of Thrones to Aquaman, some of actor Jason Momoa's most iconic roles have been linked to the beard he has worn since 2012.
But on Wednesday he decided it was "time to make a change," for himself and for the planet. A video posted on Instagram showed him beginning to shave his beard in a bid to raise awareness about plastic pollution, the Huffington Post reported.
IMF Managing Director Christine Lagarde (L) and broadcaster and natural historian David Attenborough take part in a discussion on nature and the economy in Washington, DC, April 11. MANDEL NGAN / AFP / Getty Images