This website uses cookies to ensure you get the best experience while browsing it. By clicking 'Got It' you're accepting these terms.
Alaskan Entrepreneur Wants to Sell Bulk Water Shipments to Drought-Stricken California
Apr. 30, 2015 10:02AM EST
Climate
An entrepreneur attempting to pioneer the shipment of large volumes of water from an Alaskan town to thirsty global markets claims his company is a step closer after signing a contract to deliver 10 million gallons per month to a buyer in dry California.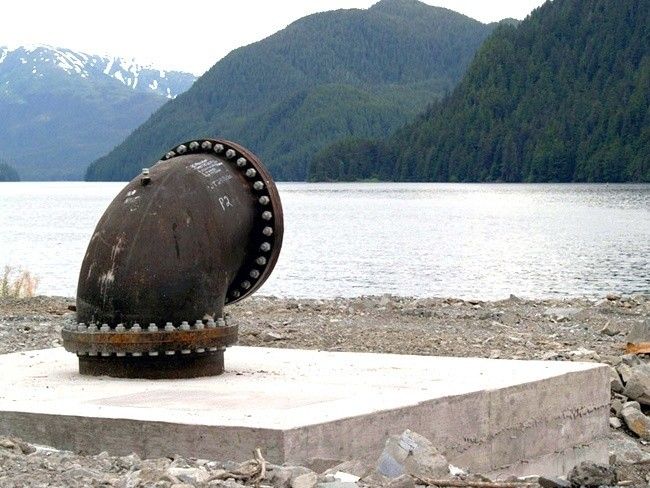 Terry Trapp, chief executive of Alaska Bulk Water Inc., announced the deal in a March 25 letter to officials in Sitka, an island town of 9,000 people, which has offered to sell surplus water from a reservoir also used for hydroelectric power generation. Alaska Bulk Water's goal is to ship water by tanker or barge by July, according to the letter.
After working with the company and its predecessors for nearly a decade and seeing numerous delays, cancellations, and contracts that were not fulfilled, Sitka officials are both skeptical and hopeful that the deal comes to fruition.
"They have told us for years that they have contracts signed, but that does not mean we've shipped any water," Garry White told Circle of Blue. White is the executive director of Gary Paxton Industrial Park, which manages Sitka's bulk water agreements. "Moving water is the true test of whether this happens," he added.
Trapp would not discuss the details of the contract or the business operation with Circle of Blue, saying only that the company is working out the economics and logistics of the water trade.
"We're trying to haul water from Alaska to California, and we're looking for the most cost-efficient way to get that done," Trapp said.
Economics Drives the Market
Cost has always been a primary obstacle for bulk water. Premium products such as the angular bottles from Fiji sell for hundreds of times the price of tap water. But bulk water is sold in large volumes, not in single-serving bottles.
Sitka is offering water from Blue Lake for one penny per gallon, which is much higher than what municipal water costs in most American cities. Nestle Waters North America, for instance pays Sacramento, California, one-tenth of a cent per gallon for its 50-million-gallon-per-year bottling plant. Alaska Bulk Water must pay Sitka for the raw product, then add the dollars needed to lease a tanker ship, plus the cost of fuel and loading facilities. The price quickly becomes uncompetitive.
These are not normal times in California, however. With the state in the fourth year of a drought emergency, a stop-gap solution such as tankers full of water might be attractive for a desperately dry coastal town. The Catalonia region of Spain, for instance, purchased tankers of water from France during a drought in 2008 as an interim measure until a desalination plant came online. That same year, Cyprus bought water from Greece and ferried it across the Mediterranean Sea.
Ten million gallons in the California contract could be a significant source of water for a small community. It equals one-quarter of the monthly summer use of Morro Bay, California, a coastal town of 10,000 people.
But without more details about the Alaska Bulk Water contract, it is difficult to assess the likelihood of a deal being completed. Neither White nor Mark Gorman, Sitka's municipal administrator, has seen the contract that Trapp announced in his letter, they told Circle of Blue.
Gorman, nonetheless, sees evidence that Alaska Bulk Water is serious about breaking open this market. The company will lose a $1 million down payment if it does not move at least 50 million gallons by December 8. Before any shipments take place, the company must connect a 36-inch-diameter pipeline from Blue Lake to a tanker-loading facility in the middle of the harbor. The pipeline currently ends at the shore. White said that he has seen Alaska Bulk Water's construction permit that was issued by the Army Corps of Engineers for a floating mooring system.
"Alaska Bulk Water is putting real money in the game now, so that is an indication that the deal will go through," Gorman told Circle of Blue.
City officials are eager for the results. "It would be great for us," White said about selling water to the world. "We're up here in the middle of nowhere with a limited ability to earn revenue. Water is one resource we have in abundance that we can leverage to fund the city government."
YOU MIGHT ALSO LIKE
Help Save One of America's Most Pristine and Endangered Rivers from Proposed Coal Mine
This Is What Epic Drought Looks Like: Lake Mead Hits Historic Low
EcoWatch Daily Newsletter
Artist's conception of solar islands in the open ocean. PNAS
Millions of solar panels clustered together to form an island could convert carbon dioxide in seawater into methanol, which can fuel airplanes and trucks, according to new research from Norway and Switzerland and published in the Proceedings of the National Academy of Sciences journal, PNAS, as NBC News reported. The floating islands could drastically reduce greenhouse gas emissions and dependence on fossil fuels.
Marcos Alves / Moment Open / Getty Images
More than 40 percent of insects could go extinct globally in the next few decades. So why did the U.S. Environmental Protection Agency (EPA) last week OK the 'emergency' use of the bee-killing pesticide sulfoxaflor on 13.9 million acres?
EcoWatch teamed up with Center for Biological Diversity via EcoWatch Live on Facebook to find out why. Environmental Health Director and Senior Attorney Lori Ann Burd explained how there is a loophole in the The Federal Insecticide, Fungicide, and Rodenticide Act under section 18, "that allows for entities and states to request emergency exemptions to spraying pesticides where they otherwise wouldn't be allowed to spray."
Simple swaps that cut down on kitchen trash.
Sponsored
By Kayla Robbins
Along with the bathroom, the kitchen is one of the most daunting areas to try and make zero waste.
View of downtown Miami, Florida from Hobie Island on Feb. 2, 2019.
Michael Muraz / Flickr
The Democratic candidates for president descended upon Miami for a two-night debate on Wednesday and Thursday. Any candidate hoping to carry the state will have to make the climate crisis central to their campaign, as The New York Times reported.
By Sharon Kelly
On Monday, the Wall Street Journal featured a profile of Scott Sheffield, CEO of Pioneer Natural Resources, whose company is known among investors for its emphasis on drawing oil and gas from the Permian basin in Texas using horizontal drilling and hydraulic fracturing, or fracking.
Pexels
By Craig K. Chandler
The federal government has available to it, should it choose to use them, a wide range of potential climate change management tools, going well beyond the traditional pollution control regulatory options. And, in some cases (not all), without new legislative authorization.
Denis Poroy / Getty Images
By Dan Gray
Processed foods, in their many delicious forms, are an American favorite.
But new research shows that despite increasing evidence on just how unhealthy processed foods are, Americans have continued to eat the products at the same rate.
By Sarah Steffen
With a profound understanding of their environmental surroundings, indigenous communities around the world are often cited as being pivotal to tackling climate change.