This website uses cookies to ensure you get the best experience while browsing it. By clicking 'Got It' you're accepting these terms.
Alaskan Entrepreneur Wants to Sell Bulk Water Shipments to Drought-Stricken California
Apr. 30, 2015 10:02AM EST
Climate
An entrepreneur attempting to pioneer the shipment of large volumes of water from an Alaskan town to thirsty global markets claims his company is a step closer after signing a contract to deliver 10 million gallons per month to a buyer in dry California.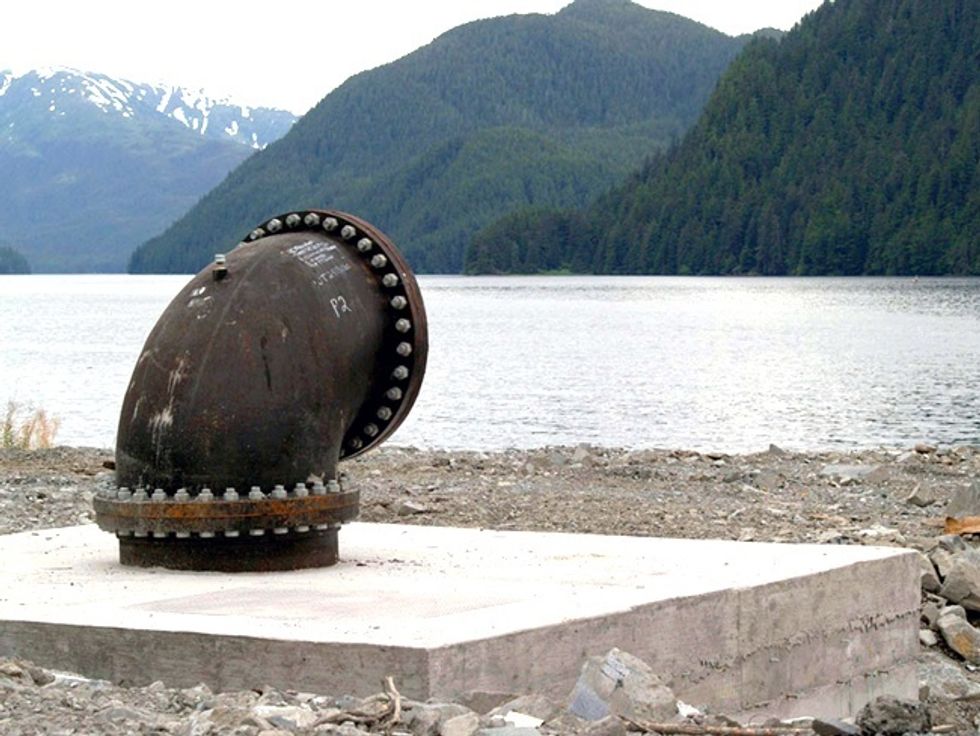 Terry Trapp, chief executive of Alaska Bulk Water Inc., announced the deal in a March 25 letter to officials in Sitka, an island town of 9,000 people, which has offered to sell surplus water from a reservoir also used for hydroelectric power generation. Alaska Bulk Water's goal is to ship water by tanker or barge by July, according to the letter.
After working with the company and its predecessors for nearly a decade and seeing numerous delays, cancellations, and contracts that were not fulfilled, Sitka officials are both skeptical and hopeful that the deal comes to fruition.
"They have told us for years that they have contracts signed, but that does not mean we've shipped any water," Garry White told Circle of Blue. White is the executive director of Gary Paxton Industrial Park, which manages Sitka's bulk water agreements. "Moving water is the true test of whether this happens," he added.
Trapp would not discuss the details of the contract or the business operation with Circle of Blue, saying only that the company is working out the economics and logistics of the water trade.
"We're trying to haul water from Alaska to California, and we're looking for the most cost-efficient way to get that done," Trapp said.
Economics Drives the Market
Cost has always been a primary obstacle for bulk water. Premium products such as the angular bottles from Fiji sell for hundreds of times the price of tap water. But bulk water is sold in large volumes, not in single-serving bottles.
Sitka is offering water from Blue Lake for one penny per gallon, which is much higher than what municipal water costs in most American cities. Nestle Waters North America, for instance pays Sacramento, California, one-tenth of a cent per gallon for its 50-million-gallon-per-year bottling plant. Alaska Bulk Water must pay Sitka for the raw product, then add the dollars needed to lease a tanker ship, plus the cost of fuel and loading facilities. The price quickly becomes uncompetitive.
These are not normal times in California, however. With the state in the fourth year of a drought emergency, a stop-gap solution such as tankers full of water might be attractive for a desperately dry coastal town. The Catalonia region of Spain, for instance, purchased tankers of water from France during a drought in 2008 as an interim measure until a desalination plant came online. That same year, Cyprus bought water from Greece and ferried it across the Mediterranean Sea.
Ten million gallons in the California contract could be a significant source of water for a small community. It equals one-quarter of the monthly summer use of Morro Bay, California, a coastal town of 10,000 people.
But without more details about the Alaska Bulk Water contract, it is difficult to assess the likelihood of a deal being completed. Neither White nor Mark Gorman, Sitka's municipal administrator, has seen the contract that Trapp announced in his letter, they told Circle of Blue.
Gorman, nonetheless, sees evidence that Alaska Bulk Water is serious about breaking open this market. The company will lose a $1 million down payment if it does not move at least 50 million gallons by December 8. Before any shipments take place, the company must connect a 36-inch-diameter pipeline from Blue Lake to a tanker-loading facility in the middle of the harbor. The pipeline currently ends at the shore. White said that he has seen Alaska Bulk Water's construction permit that was issued by the Army Corps of Engineers for a floating mooring system.
"Alaska Bulk Water is putting real money in the game now, so that is an indication that the deal will go through," Gorman told Circle of Blue.
City officials are eager for the results. "It would be great for us," White said about selling water to the world. "We're up here in the middle of nowhere with a limited ability to earn revenue. Water is one resource we have in abundance that we can leverage to fund the city government."
YOU MIGHT ALSO LIKE
Help Save One of America's Most Pristine and Endangered Rivers from Proposed Coal Mine
This Is What Epic Drought Looks Like: Lake Mead Hits Historic Low
EcoWatch Daily Newsletter
Yulia Lisitsa / iStock / Getty Images Plus
Collagen is the most abundant protein in your body.
It is the major component of connective tissues that make up several body parts, including tendons, ligaments, skin, and muscles.
Greenpeace activists unfurl banners after building a wood and card 'oil pipeline' outside the Canadian High Commission, Canada House, to protest against the Trudeau government's plans to build an oil pipeline in British Colombia on April 18, 2018 in London. Chris J Ratcliffe / Getty Images
By Jessica Corbett
In an open letter to Canadian Prime Minister Justin Trudeau and Deputy Prime Minister Chrystia Freeland, 42 Nobel laureates implored the federal government to "act with the moral clarity required" to tackle the global climate crisis and stop Teck Resources' proposed Frontier tar sands mine.
Mapping Urban Heat through Portland State University /
video
Concrete and asphalt absorb the sun's energy. So when a heat wave strikes, city neighborhoods with few trees and lots of black pavement can get hotter than other areas — a lot hotter.
The Rio San Antonio, in the headwaters basin of the Rio Grande in New Mexico, will lose federal protections under a new rule. Bob Wick / BLM California
By Tara Lohan
The Santa Fe River starts high in the forests of New Mexico's Sangre de Cristo mountains and flows 46 miles to the Rio Grande. Along the way it plays important roles for wildlife, irrigation, recreation and other cultural uses, and provides 40 percent of the water supply for the city of Santa Fe's 85,000 residents.