Food
Oct. 25, 2013 02:47PM EST
5 Reasons You Should Buy Fair Trade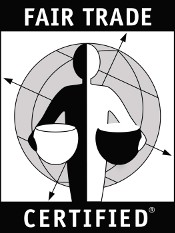 Purchasing products that are fair trade certified can reduce poverty, encourage environmentally friendly production methods and safeguard humane working conditions. Simply look for the fair trade label on products such as coffee, chocolate or clothing.
The fair trade label means an organization such as Fair Trade USA has certified that farmers and other producers adhere to fair trade standards. The organization audits the product's supply chain to ensure fair trade prices have been paid. The importer and the processor pay the costs of acquiring a license, which begins the process.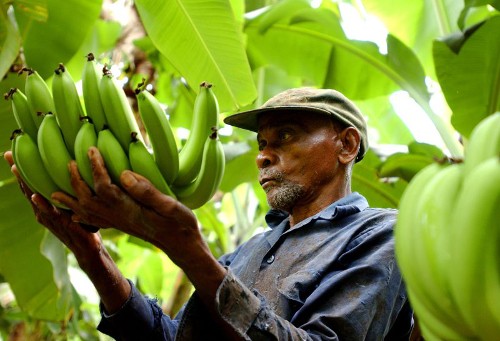 Here's five reasons why buying certified fair trade is important:
1. "Fair trade makes free trade work for the world's poor," said Paul Rice, Fair Trade USA's founder, president and CEO. Free trade leaves small-scale producers behind when large subsidized companies start to take over their industries. Large contracted farms can afford to sell commodities at lower prices but local farmers, who have traditionally supplied these products, are driven into debt. The only way these farmers can compete with subsidized farms is to lower their product prices to the point where labor is free and quality of life is unsustainable.
2. Products certified as fair trade ensure equitable trade practices at every level of the supply chain. This entails a high level of transparency and traceability in global supply chains. Democratically organized farming groups receive a guaranteed minimum floor price (or the market price if it's higher) and an additional premium for certified organic products. Farming organizations also are eligible for pre-harvest credit.
3. The fair trade license fees generate funds, which are given to the fair trade communities. This money is specifically designated for social, economic and environmental development projects such as scholarships, schools, quality improvement and leadership training and organic certification. Each community determines how their funds will be used through democratic systems.
4. Workers on fair trade farms enjoy freedom of association, safe working conditions and sustainable wages. Forced child and slave labor are strictly prohibited.
5. Fair trade certified products are free of genetically engineered ingredients, and must be produced with limited amounts of pesticides and fertilizers and proper management of waste, water and energy.
This video from Fair Trade USA explains why every purchase matters.

Oil in the Niger Delta. Amnesty International Canada
By Andy Rowell
The decades-long struggle for social and environmental justice in the Niger Delta continues, largely unseen by the wider world.
On Aug. 11, hundreds of people from the Niger Delta stormed the Belema flow station gas plant owned by Shell in the Rivers State region of the Delta. The plant transports crude oil to the Bonny Light export terminal, from where it is shipped overseas.
Keep reading...
Show less
Rainforest Action Network / Flickr

The National Academy of Sciences, Engineering and Medicine said in a statement the Interior Department has directed it to cease its study on the potential health risks for people living near surface coal mines in Central Appalachia.
The Interior Department, which committed more than $1 million to the study last year, has begun an agency-wide review of grants over $100,000 because of the "Department's changing budget situation."
Keep reading...
Show less
California Energy Commission
California and North Carolina's electricity grids faced no disruptions during Monday's solar eclipse, which many saw as a test for the future when solar power will command a greater share of the energy mix.
"It bodes well for renewable energy on the grid during an event like this," said Eric Schmitt, a vice-president at California Independent System Operator that delivers most of the state's electricity.
Keep reading...
Show less
Bob Wick / Bureau of Land Management
Keep reading...
Show less
www.youtube.com
Are you ready to watch the Great American Eclipse of 2017? Will you be in the path of totality? Do you have your safety glasses ready?
Well, however you decide to watch the solar eclipse today, NASA TV will be showing the "Eclipse Across America" with live video of the celestial event. The feed is already live with lots of handy information about today's unprecedented eclipse. So be sure to watch above.
Enjoy!
Energy
Aug. 21, 2017 08:43AM EST
www.youtube.com
"One out of three Americans lives within 50 miles of high-level nuclear waste, some of which, like Plutonium, is lethally dangerous and will be around for an incredible longtime," John Oliver explained last night on Last Week Tonight.
According to the Nuclear Energy Institute, there is more than 71,000 tons of nuclear waste stranded at 104 reactors. "It was a problem we should have solved in the 1980s," Oliver said, "much like a Rubik's Cube."
Despite years of using nuclear energy, the country still doesn't have a permanent facility for its storage, the comedian said. Oliver proposed what the U.S. really needs is some kind of "nuclear toilet."
Watch above.
Popular
Aug. 21, 2017 10:55AM EST
C: Gage Skidmore
By Andy Rowell
As Trump's presidency spirals like a toxic vortex from one crisis to another, and with the global news media reacting to one venomous tweet after another, it is easy to miss the slow assault against science and the environment that continues below the radar.
The crisis for Trump could get a whole lot worse, with his ex-Chief of Staff, Steve Bannon, who was sacked last week, promising that he was "prepared to go to war with his adversaries in the White House."
Keep reading...
Show less
Coal power is getting buried in China—both literally and figuratively.
Earlier this week, a new floating solar farm went live in the Chinese city of Huainan above a retired coal mine, China Daily reported.
Keep reading...
Show less