This website uses cookies to ensure you get the best experience while browsing it. By clicking 'Got It' you're accepting these terms.


The best of EcoWatch, right in your inbox. Sign up for our email newsletter!
5 Reasons You Should Buy Fair Trade
Oct. 25, 2013 02:47PM EST
Food
Purchasing products that are fair trade certified can reduce poverty, encourage environmentally friendly production methods and safeguard humane working conditions. Simply look for the fair trade label on products such as coffee, chocolate or clothing.
The fair trade label means an organization such as Fair Trade USA has certified that farmers and other producers adhere to fair trade standards. The organization audits the product's supply chain to ensure fair trade prices have been paid. The importer and the processor pay the costs of acquiring a license, which begins the process.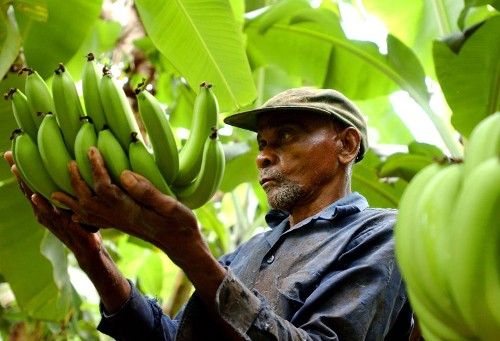 Here's five reasons why buying certified fair trade is important:
1. "Fair trade makes free trade work for the world's poor," said Paul Rice, Fair Trade USA's founder, president and CEO. Free trade leaves small-scale producers behind when large subsidized companies start to take over their industries. Large contracted farms can afford to sell commodities at lower prices but local farmers, who have traditionally supplied these products, are driven into debt. The only way these farmers can compete with subsidized farms is to lower their product prices to the point where labor is free and quality of life is unsustainable.
2. Products certified as fair trade ensure equitable trade practices at every level of the supply chain. This entails a high level of transparency and traceability in global supply chains. Democratically organized farming groups receive a guaranteed minimum floor price (or the market price if it's higher) and an additional premium for certified organic products. Farming organizations also are eligible for pre-harvest credit.
3. The fair trade license fees generate funds, which are given to the fair trade communities. This money is specifically designated for social, economic and environmental development projects such as scholarships, schools, quality improvement and leadership training and organic certification. Each community determines how their funds will be used through democratic systems.
4. Workers on fair trade farms enjoy freedom of association, safe working conditions and sustainable wages. Forced child and slave labor are strictly prohibited.
5. Fair trade certified products are free of genetically engineered ingredients, and must be produced with limited amounts of pesticides and fertilizers and proper management of waste, water and energy.
This video from Fair Trade USA explains why every purchase matters.

EcoWatch Daily Newsletter
Climate change activists gather in front of the stage at the Extinction Rebellion group's environmental protest camp at Marble Arch in London on April 22, on the eighth day of the group's protest calling for political change to combat climate change. TOLGA AKMEN / AFP / Getty Images
Pexels
By Alina Petre, MS, RD (CA)
Veganism refers to a way of living that attempts to minimize animal exploitation and cruelty. For this reason, vegans aim to exclude all foods containing meat, poultry, fish, eggs, dairy and honey from their diet (1).
American farmers use chlorpyrifos, a pesticide tied to brain and nervous system issues, on crops such as apples, broccoli, corn and strawberries. Stephanie Chapman / Flickr / CC BY 2.0
By Jessica Corbett
In a ruling welcomed by public health advocates, a federal court on Friday ordered the Trump administration to stop stalling a potential ban on a pesticide linked to brain damage in children, giving regulators until mid-July to make a final decision.
fstop123 / iStock / Getty Images Plus
At EcoWatch, our team knows that changing personal habits and taking actions that contribute to a better planet is an ongoing journey. Earth Day, happening on April 22, is a great reminder for all of us to learn more about the environmental costs of our behaviors like food waste or fast fashion.
To offer readers some inspiration this Earth Day, our team rounded up their top picks for films to watch. So, sit back and take in one of these documentary films this Earth Day. Maybe it will spark a small change you can make in your own life.
NASA
By Shuchi Talati
Solar geoengineering describes a set of approaches that would reflect sunlight to cool the planet. The most prevalent of these approaches entails mimicking volcanic eruptions by releasing aerosols (tiny particles) into the upper atmosphere to reduce global temperatures — a method that comes with immense uncertainty and risk. We don't yet know how it will affect regional weather patterns, and in turn its geopolitical consequences. One way we can attempt to understand potential outcomes is through models.
Maria Gunnoe Flight, courtesy of southwings.org
By Julia Conley
Green groups on Saturday celebrated the latest federal ruling aimed at preventing President Donald Trump from rolling back environmental regulations that were put in place by his predecessor.
NASA scientists flew over the Kuskokwim river in southwest Alaska in 2017 to investigate how water levels in the Arctic landscape change as permafrost thaws. Peter Griffith, NASA
Youtube screenshot
A woman has been caught on camera dumping a bag of puppies near a dumpster in Coachella, California, CNN reported Sunday.