This website uses cookies to ensure you get the best experience while browsing it. By clicking 'Got It' you're accepting these terms.
40 Dead Tiger Cubs Found in Freezer at Thai Buddhist Temple
Jun. 02, 2016 09:47AM EST
Animals
A day after Thai officials found the bodies of 40 tiger cubs frozen in a freezer inside the country's infamous tiger temple, more disturbing news has emerged from the Buddhist monastery.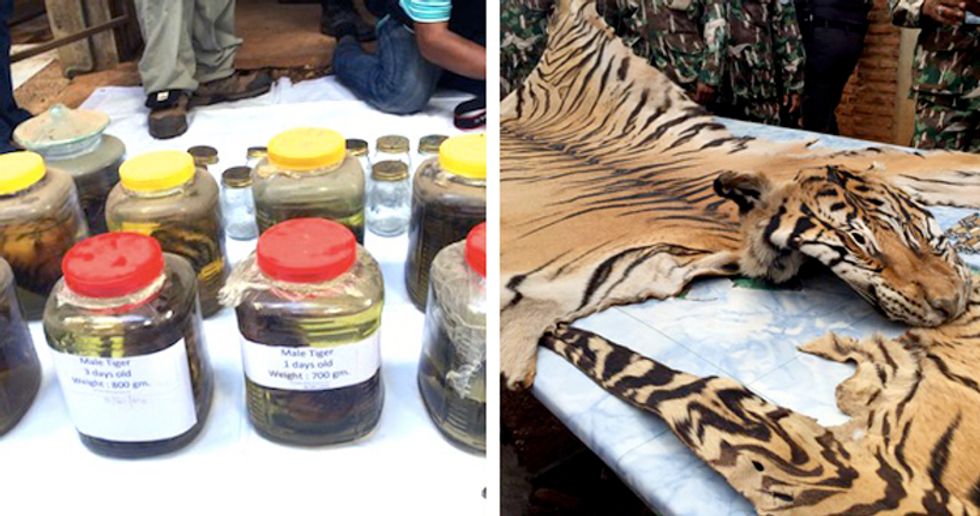 Three Buddhist monks and two devotees of the Wat Pha Luang Ta Bua temple, located in Thailand's Kanchanaburi Province, were charged under wildlife laws Thursday after one monk was caught trying to smuggle tiger skins and charms made from tiger parts out of the temple, Reuters reported.
"Today we found tigers skins and amulets in a car which was trying to leave a temple," Adisorn Nuchdamrong, the deputy director-general of the Department of National Parks, said.
According to The Guardian, tiger body parts, including two full-body tiger skins, about 10 fangs and dozens of pieces of tiger fur were found after authorities searched several monks' quarters.
They also uncovered 20 glass jars containing baby tigers and tiger organs in the temple's "laboratory," prompting suspicions that the tiger parts are being used to make traditional Chinese medicine on site as a side business.
"The jars have labels, so I think they've made medicine here," Adisorn told Reuters. "We will discover more as we search on."
Following the discovery, the Foreign Department posted a message on the temple's Facebook page:
The recent discovery of the tiger skins and necklaces comes as a shock to us as well as the rest of the world. We are disgusted at this discovery and we don't condone this. We are looking forward to the authorities bringing the culprits to justice.
The temple, which promotes itself as a wildlife sanctuary for the endangered animals, has become a well-known tourist trap in which visitors pay roughly $20 to take tiger selfies and bottle feed cubs.
Following longstanding allegations from animal rights groups against the temple—such as abuse of the tigers, sedating the predators with drugs to make them more docile to breeding the prized species for illicit wildlife trafficking—Thai officials took action with a court order and a 1,000-strong police raid.
Earlier this week, authorities raided the temple and confiscated at least 40 of the temple's 137 captive tigers and took them to a government wildlife sanctuary. Then on Wednesday, authorities discovered 40 dead tiger cubs in a freezer.
Staff at the temple have long denied any wrongdoing.
Workers posted a statement on Facebook to hit back the numerous allegations:
There are rumours and allegations constantly being spread on the internet about Tiger Temple. For years many were left unanswered, as the Buddhist way is to keep silent and not engage a fight. However now with a lot more focus on the Temple, it is time to respond. There have been a lot of recent posts about missing tiger cubs which accuse Tiger Temple of selling them to the black market. This is not true. The general mortality rate of captive newborn tiger cubs has by some researchers been documented to be as high as 40%; the temple mortality rate is therefore comparatively low. However as happens in life, cubs do occasionally die for various reasons, most often when a new mother lacks the experience to properly care for them. In the past, as per Buddhist customs, these tiger cubs were cremated.
In 2010, the ex-vet of Tiger Temple changed this policy. Instead of cremation, the deceased cubs were preserved in jars or kept frozen. We have documented all the deaths from 2010 and have photographic evidence of them still being within the Temple.
By Thursday, the Department of National Parks had confiscated a total of 84 tigers from the temple and relocated them to  government animal shelters elsewhere, Reuters reported.
YOU MIGHT ALSO LIKE 
Leading Primatologist Weighs in on Controversy Surrounding Shooting and Killing of Harambe
Rare Gorilla Shot Dead After 4-Year-Old Boy Slips Into Animal's Enclosure at Cincinnati Zoo
They're Back: 17-Year Cicadas to Blanket Northeastern U.S.
Could Pixar's 'Finding Dory' Have an Adverse Effect on Coral Reefs?
EcoWatch Daily Newsletter
Coldplay is releasing a new album on Friday, but the release will not be followed by a world tour.
Ash dieback is seen infecting a European ash (Fraxinus excelsior) in Bottomcraig, Scotland, UK on Aug. 10, 2016.
nz_willowherb / Flickr
Scientists have discovered a genetic basis to resistance against ash tree dieback, a devastating fungal infection that is predicted to kill over half of the ash trees in the region, and it could open up new possibilities to save the species.
Truth in Action is a day-long global conversation on the climate crisis and how we solve it. The Climate Reality Project
Former Vice President Al Gore kicked off 24 hours of climate talks in the U.S. and 77 other countries around the world Wednesday night.
Activists highlighted the climate emergency outside Scottish Government headquarters at St Andrew's House in Edinburgh on Oct. 13, 2017. Usage of the term "climate emergency" spiked in 2019, according to Oxford Dictionaries.
By Jessica Corbett
Climate advocates and experts celebrated Oxford Dictionaries' announcement Wednesday that "climate emergency" is the Oxford Word of the Year 2019.
By Kieran Cooke
There could be a way of countering one key aspect of the climate emergency by making much greater use of a widely-available plant: bamboo building.