This website uses cookies to ensure you get the best experience while browsing it. By clicking 'Got It' you're accepting these terms.
16 Eco-Friendly Ways to Clean With Baking Soda
Oct. 30, 2013 11:37AM EST
You don't need strong household cleaners with toxic chemicals to keep your house tidy. Try using baking soda instead.
In its natural form, baking soda is called nahcolite, which is part of the natural mineral natron. Natron, which contains large amounts of sodium bicarbonate, has been used since ancient times to clean, according to mercola.com. It is one of the most inexpensive and safe health products around—you can buy a box of baking soda for about $1.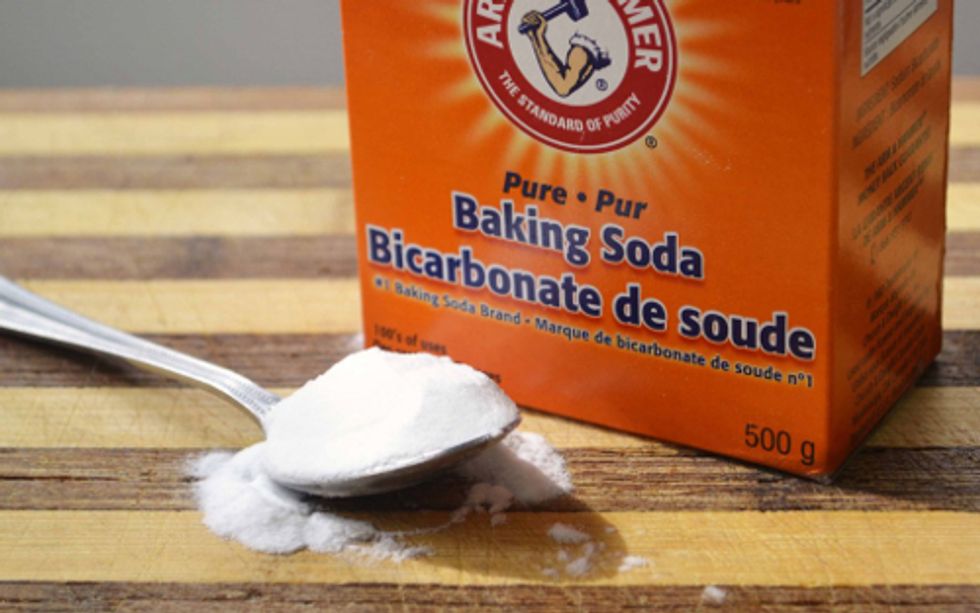 Here are 16 ways you can use baking soda to keep your house fresh and clean-smelling, courtesy of blogger Allison Foster:
Remove grime from pet toys and bowls. Make a paste with four tablespoons of baking soda and one tablespoon of water and then scrub away with a small brush or just your fingers. Rinse well for smooth and clean bowls and toys for your pet without any harmful chemical residue.
Deodorize baby bottles safely by filling the bottle with warm water and adding a teaspoon of baking soda. Swish the combo around and let it sit for a minute or too. Then rinse well.
Cleaner hair is just a step away with the addition of baking soda. Sprinkle a dash or two into your daily shampoo to remove residue build up and keep your hair smelling fresh longer.
Clean stuffed animals without water. Dust a handful of baking soda onto the animals and let it sit for fifteen minutes. Then dust or vacuum it off.
Use as a natural alternative to denture or retainer cleaner. Fill a glass with warm water and mix in two teaspoons of baking soda. Let the dentures or retainer sit for a few hours or overnight to get clean.
Stinky shoes? Sprinkle the inside of your shoes with baking soda to remove odor and wetness. Let it sit overnight and then knock out the extra powder.
Degrease hairbrushes and combs by soaking overnight in a solution of warm water and baking soda. Remove hair from the brushes, then fill the sink with warm water and add a teaspoon or two of baking soda. In the morning let them air-dry.
Clean your whole car, inside and out, without a scratch or scum build up. Mix a quarter cup of baking soda with a quart of warm water and wash chrome rims, vinyl seats, floor mats, upholstery, tires, windows and everything else!
Remove oil or grease stains on cement, such as in the garage or on the driveway. Cover the stain with a thick layer and scrub with a wet brush.
Wash your dog without water. Sprinkle on a bit of baking soda and then brush it in.
Keep outdoor furniture looking great. Sprinkle on some baking soda and use a damp brush and to remove stains. Add a bit of vinegar to this scrub before storing for the season for mildew-free, new-looking furniture when the warm days roll around again.
Remove scum from pool and bath toys by adding a quarter-cup of baking soda to a quart of warm water, then scrub away the slime.
Clean grills by creating a paste of four parts baking soda to one part water, then scrub the grill with a wire brush. Rinse well before firing it up again.
Keep clothes brighter and softer by adding a cup to your wash.
Remove stains from coffee and tea pots by soaking the pot in a solution of a quarter-cup of baking soda in a quart of warm water overnight. Also works great for stained coffee mugs.
Make your dishes sparkle by adding two tablespoons of baking soda to your dishwashing soap.

EcoWatch Daily Newsletter
A Starbucks barista prepares a drink at a Starbucks Coffee Shop location in New York. Ramin Talaie / Corbis via Getty Images
By Cathy Cassata
Are you getting your fill of Starbucks' new Almondmilk Honey Flat White, Oatmilk Honey Latte, and Coconutmilk Latte, but wondering just how healthy they are?
By Sharon Kelly
Back in April last year, the Trump administration's Environmental Protection Agency decided it was "not necessary" to update the rules for toxic waste from oil and gas wells. Torrents of wastewater flow daily from the nation's 1.5 million active oil and gas wells and the agency's own research has warned it may pose risks to the country's drinking water supplies.
Swedish climate activist Greta Thunberg takes part in a "Friday for Future" youth demonstration in a street of Davos on Jan. 24, 2020 on the sideline of the World Economic Forum annual meeting. FABRICE COFFRINI / AFP via Getty Images
Treasury Secretary Steven Mnuchin pretended not to know who Greta Thunberg is, and then he told her to get a degree in economics before giving world leaders advice, as The Guardian reported.
The Visible Infrared Imaging Radiometer Suite on the Suomi NPP satellite acquired this image of forest fire smoke hovering over North America on Aug. 15, 2018. NASA Earth Observatory
New York City isn't known for having the cleanest air, but researchers traced recent air pollution spikes there to two surprising sources — fires hundreds of miles away in Canada and the southeastern U.S.
If temperatures continue to rise, the world is at risk from global
sea-level rise
, which will flood many coastal cities as seen above in Bangladesh. NurPhoto / Contributor / Getty Images
The mounting climate emergency may spur the next global financial crisis and the world's central banks are woefully ill equipped to handle the consequences, according to a new book-length report by the Bank for International Settlements (BIS), as S&P Global reported. Located in Basel, Switzerland, the BIS is an umbrella organization for the world's central banks.