This website uses cookies to ensure you get the best experience while browsing it. By clicking 'Got It' you're accepting these terms.
12 Ways to Green Your Thanksgiving
Nov. 21, 2013 05:16PM EST
Take these small steps to make your Thanksgiving celebration more environmentally friendly:
1. Use the good dishes and cloth napkins. Disposable dishes and plastic utensils create a ton of waste. If reusable won't work, choose disposable plates, cups, napkins and utensils made from 100 percent post-consumer waste recycled paper, sugarcane and corn—they are compostable, too.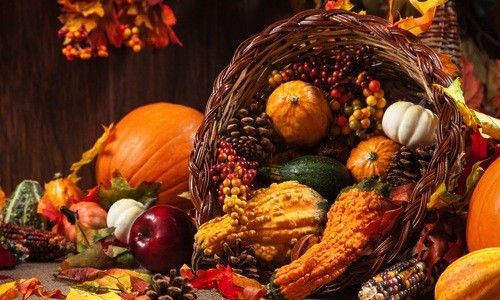 Shutterstock
2. Decorate with nature. Forget the petroleum-based plastic and synthetic decorations and adorn your table with natural and homemade festive decor. Fill clear vases with pinecones, acorns and colorful leaves. Popped open your organic wine bottles already? Carve a small slit in the corks, and slide in a piece of paper with a guest's name to create unique, upcycled place settings.
3. Use reusable or borrow rather than buy. Choose reusable leftover containers and cookware or borrow extra dishes, platters and special bakeware. If you're going to someone else's house, bring your own reusable container for leftovers.
4. Take a look at your energy use. If you have several dishes that need to be in the oven at the same temperature, put them in at the same time to reduce energy use and prep time. Start some of your ingredients, like butter, at room temperature to reduce stove-top melting time.
5. Stay close to home or carpool. There's no way around it: traveling miles and miles to share a single meal with family and friends is not the greenest of ways to spend a Thanksgiving. Sticking closer to home means a smaller carbon footprint. If you are attending a large family gathering for Thanksgiving, carpool with other family members. Make sure your tires are inflated properly.
6. Prepare less food. Everybody feels compelled to put a huge turkey in the oven and prepare numerous courses. Choose a smaller bird and skip some of the less-popular dishes to reduce food waste.
7. Use smaller plates for less food waste. Kids tend to eat small amounts and then leave to play while adults tend to fill their plate with everything that looks appealing. A smaller plate means your guests will choose less in the first place.
8. Shop local and organic. Why not pay your local farmer a visit? Buying local and sustainable food can help create jobs and grow our rural and urban economies, preserve farmland and improve the environment and provide fresh and healthy food to our family and friends. Use the Natural Resources Defense Council's buy local app to find a farmers market near you and check out what is in season ahead of time.
9. Compost your kitchen scraps. Composting kitchen scraps can have a big impact. Twenty-four percent of the waste Americans send to landfills is organic waste, meaning kitchen scraps. Keeping that waste out of landfills doesn't just save space, it also reduces greenhouse gas emissions, as decomposition in landfills creates methane, a greenhouse gas 21 times more potent than carbon dioxide.
10. Serve tap water. Bottled water creates plastic waste, isn't safer than tap water, is expensive to buy and is often just tap water in a bottle.
11. Use candles made from soy or vegetable wax. Soy wax is clean-burning, without soot or harmful emissions, and has a low melting point so it burns at a cooler temperature.
12. Bring a local or organic bottle of wine for your hosts. Many wineries, such as Fetzer, are making efforts to be a sustainable business. You can also look for the Eco Glass label on many different bottles of wine. Eco Glass uses 25 percent less glass than traditional wine bottles, saving materials and shipping weight, which saves delivery truck fuel use.

EcoWatch Daily Newsletter

georgeclerk / E+ / Getty Images
By Jennifer Molidor
One million species are at risk of extinction from human activity, warns a recent study by scientists with the United Nations. We need to cut greenhouse gas pollution across all sectors to avoid catastrophic climate change — and we need to do it fast, said the Intergovernmental Panel on Climate Change.
This research should serve as a rallying cry for polluting industries to make major changes now. Yet the agriculture industry continues to lag behind.
Edwin Remsburg / VW Pics / Getty Images
Botswana, home to one third of Africa's elephants, announced Wednesday that it was lifting its ban on the hunting of the large mammals.
"The Ministry of Environment, Natural Resources Conservation and Tourism wishes to inform the public that following extensive consultations with all stakeholders, the Government of Botswana has taken a decision to lift the hunting suspension," the government announced in a press release shared on social media.
Pxhere
By Richard Denison
Readers of this blog know how concerned EDF is over the Trump EPA's approval of many dozens of new chemicals based on its mere "expectation" that workers across supply chains will always employ personal protective equipment (PPE) just because it is recommended in the manufacturer's non-binding safety data sheet (SDS).
By Grant Smith
From 2009 to 2012, Gregory Jaczko was chairman of the Nuclear Regulatory Commission, which approves nuclear power plant designs and sets safety standards for plants. But he now says that nuclear power is too dangerous and expensive — and not part of the answer to the climate crisis.
A lake in Rocky Mountain National Park. Brett Walton / Circle of Blue
By Brett Walton
When Greg Wetherbee sat in front of the microscope recently, he was looking for fragments of metals or coal, particles that might indicate the source of airborne nitrogen pollution in Rocky Mountain National Park. What caught his eye, though, were the plastics.
Gabriele Holtermann Gorden / Pacific Press / LightRocket / Getty Images
In a big victory for animals, Prada has announced that it's ending its use of fur! It joins Coach, Jean Paul Gaultier, Giorgio Armani, Versace, Ralph Lauren, Vivienne Westwood, Michael Kors, Donna Karan and many others PETA has pushed toward a ban.
This is a victory more than a decade in the making. PETA and our international affiliates have crashed Prada's catwalks with anti-fur signs, held eye-catching demonstrations all around the world, and sent the company loads of information about the fur industry. In 2018, actor and animal rights advocate Pamela Anderson sent a letter on PETA's behalf urging Miuccia Prada to commit to leaving fur out of all future collections, and the iconic designer has finally listened.
Amer Ghazzal / Barcroft Media / Getty Images
If people in three European countries want to fight the climate crisis, they need to chill out more.
That's the conclusion of a new study from think tank Autonomy, which found that Germany, the UK and Sweden all needed to drastically reduce their workweeks to fight climate change.
Amazon Employees for Climate Justice held a press conference after the annual shareholder meeting on May 22. Amazon Employees for Climate Justice