This website uses cookies to ensure you get the best experience while browsing it. By clicking 'Got It' you're accepting these terms.
12 Ways to Green Your Thanksgiving
Nov. 21, 2013 05:16PM EST
Take these small steps to make your Thanksgiving celebration more environmentally friendly:
1. Use the good dishes and cloth napkins. Disposable dishes and plastic utensils create a ton of waste. If reusable won't work, choose disposable plates, cups, napkins and utensils made from 100 percent post-consumer waste recycled paper, sugarcane and corn—they are compostable, too.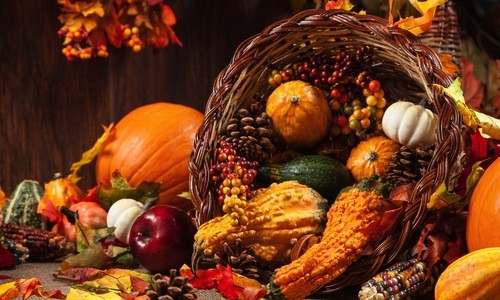 Shutterstock
2. Decorate with nature. Forget the petroleum-based plastic and synthetic decorations and adorn your table with natural and homemade festive decor. Fill clear vases with pinecones, acorns and colorful leaves. Popped open your organic wine bottles already? Carve a small slit in the corks, and slide in a piece of paper with a guest's name to create unique, upcycled place settings.
3. Use reusable or borrow rather than buy. Choose reusable leftover containers and cookware or borrow extra dishes, platters and special bakeware. If you're going to someone else's house, bring your own reusable container for leftovers.
4. Take a look at your energy use. If you have several dishes that need to be in the oven at the same temperature, put them in at the same time to reduce energy use and prep time. Start some of your ingredients, like butter, at room temperature to reduce stove-top melting time.
5. Stay close to home or carpool. There's no way around it: traveling miles and miles to share a single meal with family and friends is not the greenest of ways to spend a Thanksgiving. Sticking closer to home means a smaller carbon footprint. If you are attending a large family gathering for Thanksgiving, carpool with other family members. Make sure your tires are inflated properly.
6. Prepare less food. Everybody feels compelled to put a huge turkey in the oven and prepare numerous courses. Choose a smaller bird and skip some of the less-popular dishes to reduce food waste.
7. Use smaller plates for less food waste. Kids tend to eat small amounts and then leave to play while adults tend to fill their plate with everything that looks appealing. A smaller plate means your guests will choose less in the first place.
8. Shop local and organic. Why not pay your local farmer a visit? Buying local and sustainable food can help create jobs and grow our rural and urban economies, preserve farmland and improve the environment and provide fresh and healthy food to our family and friends. Use the Natural Resources Defense Council's buy local app to find a farmers market near you and check out what is in season ahead of time.
9. Compost your kitchen scraps. Composting kitchen scraps can have a big impact. Twenty-four percent of the waste Americans send to landfills is organic waste, meaning kitchen scraps. Keeping that waste out of landfills doesn't just save space, it also reduces greenhouse gas emissions, as decomposition in landfills creates methane, a greenhouse gas 21 times more potent than carbon dioxide.
10. Serve tap water. Bottled water creates plastic waste, isn't safer than tap water, is expensive to buy and is often just tap water in a bottle.
11. Use candles made from soy or vegetable wax. Soy wax is clean-burning, without soot or harmful emissions, and has a low melting point so it burns at a cooler temperature.
12. Bring a local or organic bottle of wine for your hosts. Many wineries, such as Fetzer, are making efforts to be a sustainable business. You can also look for the Eco Glass label on many different bottles of wine. Eco Glass uses 25 percent less glass than traditional wine bottles, saving materials and shipping weight, which saves delivery truck fuel use.

IKEA is working on a specially-designed, air-purifying curtain called the GUNRID. IKEA
Air pollution within the home causes 3.8 million deaths a year, according to the World Health Organization. A recent University of Colorado in Boulder study reported by The Guardian found that cooking a full Thanksgiving meal could raise levels of particulate matter 2.5 in the house higher than the levels averaged in New Delhi, the world's sixth most polluted city.
But soon, you will be able to shop for a solution in the same place you buy your budget roasting pans. IKEA is working on a specially-designed, air-purifying curtain called the GUNRID.
The first member of the giant tortoise species Chelonoidis phantasticus to be seen in more than 100 years. RODRIGO BUENDIA / AFP / Getty Images
A rare species of giant tortoise, feared extinct for more than 100 years, was sighted on the Galápagos island of Fernandina Sunday, the Ecuadorian government announced.
Elena Pueyo / Moment / Getty Images
Opinions on coffee vary greatly—some consider it healthy and energizing, while others claim it's addictive and harmful.
Morning fog over a boreal forest in Alaska. Alan Majchrowicz / Stockbyte / Getty Images
By Jennifer Skene and Shelley Vinyard
For most people, toilet paper only becomes an issue when it unexpectedly runs out. Otherwise, it's cheap and it's convenient, something we don't need to think twice about. But toilet paper's ubiquity and low sticker price belie a much, much higher cost: it is taking a dramatic and irreversible toll on the Canadian boreal forest, and our global climate. As a new report from NRDC and Stand.earth outlines, when you flush that toilet paper, chances are you are flushing away part of a majestic, old-growth tree ripped from the ground, and destined for the drain. This is why NRDC is calling on Procter & Gamble, the manufacturer of Charmin, to end this wasteful and destructive practice by changing the way it makes its toilet paper through solutions that other companies have already embraced.
Cycling advocates set up "ghost bikes," like this one in Brooklyn, in memory of bikers killed in traffic.
Nick Gray
/
CC BY-SA
By John Rennie Short
As cities strive to improve the quality of life for their residents, many are working to promote walking and biking. Such policies make sense, since they can, in the long run, lead to less traffic, cleaner air and healthier people. But the results aren't all positive, especially in the short to medium term.