This website uses cookies to ensure you get the best experience while browsing it. By clicking 'Got It' you're accepting these terms.


The best of EcoWatch, right in your inbox. Sign up for our email newsletter!
10 Urban Farming Projects in New York City
Nov. 08, 2013 03:29PM EST
Who would think that one of the world's largest cities, New York City, would be a major hub for urban agriculture? Well, it is.
Food Tank has compiled a list of 10 urban farming projects providing New Yorkers fresh, local produce.
1. Eagle Street Rooftop Farm, 44 Eagle St., New York, NY
A 6,000-square-foot organic vegetable garden, the Eagle Street Rooftop Farm operates its own seasonal farmers market and provides produce to local restaurants, including Anella's, Spritzenhaus and Marlow & Sons. Visitors can volunteer and learn about urban agriculture from the site's Growing Chefs-trained education team. Co-created by Broadway Stages and Good Green, the garden overlooks Manhattan from across the East River.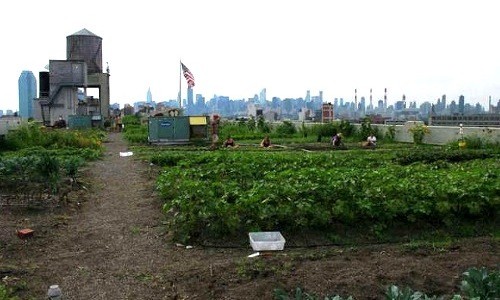 2. Battery Urban Farm, Battery Park, Lower Manhattan, NY
This one-acre educational farm inside Battery Park was founded in 2011 by the Battery Conservancy and students from Millennium High School. Students from local schools can visit and learn by cultivating their own plots in the farm's outdoor classroom space. Volunteers are welcome every Wednesday and one Saturday a month for Battery Urban Farm Saturday events.
3. Bell Book and Candle Restaurant Rooftop Garden, 141 W. 10th St., New York, NY
In keeping with the establishment's commitment to "local, organic, sustainable and overall responsible procurement," Bell Book and Candle operates its own aeroponic rooftop tower garden. Diners can choose garden-sourced items from the restaurant's seasonal rotating menu.
4. Hell's Kitchen Farm Project, 410 W. 40th St., New York, NY
This volunteer-run rooftop garden was founded in 2010 by local community members and partners and provides the community's local food pantry with fresh produce. The garden organizes and runs a community supported agriculture (CSA) program and community nutrition education programs. Visitors can volunteer at the garden every Tuesday for Open Farm and the first Saturday of each month.
5. Randall's Island Urban Farm, 20 Randall's Island, New York, NY
Founded in 2010 by GrowNYC and Randall's Island Park Alliance, Randall's Island Urban Farm is part of the GrowNYC Open Space Greening Project. It operates as an agricultural space for schools and groups in need of open areas for environmental and nutritional education. Schools and community members can visit the farm to participate in free hands-on learning programs.
6. Brooklyn Grange Rooftop Farms, 37-18 Northern Blvd., Long Island City, NY
Brooklyn Grange operates three different rooftop farms within New York City. At these sites, the program grows produce, operates the city's largest bee yard and hosts a weekly market. Visitors can shop for local produce at the Brooklyn Navy Yard farm stand on Wednesdays, or the Long Island City farm stand on Saturdays. Visitors can also volunteer with Brooklyn Grange on Saturdays from May through October.
7. Bushwick Campus Farm and Greenhouse, 400 Irving Ave., Brooklyn, NY
Bushwick Campus Farm and Greenhouse is an outdoor classroom space and agriculture center for the four high schools located on the Bushwick Campus in Brooklyn. It was founded by a partnership among the Campus, Boswyck Farms and EcoStation:NY. Visit the farm and participate in programs through organizations such as Just Food, Brooklyn Botanic Gardens and GrowNYC/Grow to Learn.
8. Whole Foods Rooftop Greenhouse, Gowanus, Brooklyn, NY
Whole Foods Market is partnering with Gotham Greens to operate the nation's first commercial-scale rooftop greenhouse. The produce from the greenhouse will serve as the produce source for the Whole Foods Gowanus store as well as eight other Whole Foods stores throughout New York City. Shoppers and visitors can also participate in educational programs that Whole Foods and Gotham Greens plan to offer about greenhouses, farming and other agriculture-related topics.
9. La Finca del Sur, 138th St. and Grand Concourse, Bronx, NY
Meaning "Farm of the South" in Spanish, La Finca del Sur is a farming cooperative and nonprofit organization in the South Bronx founded by community members in 2009. While the project's main mission is to empower minority women through economic and food sustainability, the farm and organization welcome all volunteers and participants. Visitors to La Finca del Sur can rent a bed or volunteer to work on the community farm.
10. Farms in the NYC Parks GreenThumb Program, more than 600 sites throughout New York, NY
The GreenThumb Program of the New York City Parks & Recreation Office operates agricultural spaces in all of the city's five boroughs. Each garden or urban farm is volunteer-run and supported by the GreenThumb program. Visitors can volunteer at any of these 600-plus sites and participate in the largest community gardening program in the nation.
Visit EcoWatch's AGRICULTURE page for more related news on this topic.

EcoWatch Daily Newsletter
A metal fence marked with the U.S. Border Patrol sign prevents people to get close to the barbed/concertina wire covering the U.S./Mexico border fence, in Nogales, Arizona, on Feb. 9. ARIANA DREHSLER / AFP / Getty Images
D'Bone Collector Museum head Darrell Blatchley shows plastic found inside the stomach of a Cuvier's beaked whale in the Philippines this weekend. - / AFP / Getty Images
Yet another whale has died after ingesting plastic bags. A young male Cuvier's beaked whale was found washed up in Mabini, Compostela Valley in the Philippines Friday, CNN reported. When scientists from the D' Bone Collector Museum in Davao investigated the dead whale, they found it had died of "dehydration and starvation" after swallowing plastic bags―40 kilograms (approximately 88 pounds) worth of them!
Pexels
By Jeff Turrentine
"Be careful what you wish for; you just might get it." This is something that everybody has to learn at some point. Lately, the lesson has hit home for a group of American automakers.
Art direction: Georgie Johnson. Illustrations: Freya Morgan
By Joe Sandler Clarke
"Don't expect us to continue buying European products," Malaysia's former plantations minister Mah Siew Keong told reporters in January last year. His comments came just after he had accused the EU of "practising a form of crop apartheid."

A few months later Luhut Pandjaitan, an Indonesian government minister close to President Joko 'Jokowi' Widodo, warned his country would retaliate if it was "cornered" by the EU.
Torres and his parents walk along the Rio Grande. Luis Torres / Earthjustice
By Luis Torres
For some people who live along the U.S.-Mexico border, President Trump's attempt to declare a national emergency and extend the border wall is worse than a wasteful, unconstitutional stunt. It's an attack on their way of life that threatens to desecrate their loved ones' graves.
Flooding caused by last week's bomb cyclone storm has broken records in 17 places across the state of Nebraska, CNN reported Sunday. Around nine million people in 14 states along the Mississippi and Missouri Rivers were under a flood watch, CNN meteorologist Karen Maginnis said.
A car destroyed by Cyclone Idai in Beira, Mozambique. ADRIEN BARBIER / AFP / Getty Images
At least 150 people have died in a cyclone that devastated parts of Mozambique, Zimbabwe and Malawi over the weekend, The Associated Press reported Sunday. Cyclone Idai has affected more than 1.5 million people since it hit Mozambique's port city of Beira late Thursday, then traveled west to Zimbabwe and Malawi. Hundreds are still missing and tens of thousands are without access to roads or telephones.
"I think this is the biggest natural disaster Mozambique has ever faced. Everything is destroyed. Our priority now is to save human lives," Mozambique's Environment Minister Celso Correia said, as AFP reported.