This website uses cookies to ensure you get the best experience while browsing it. By clicking 'Got It' you're accepting these terms.
10 Natural (And Vegan) Ways to Clean Your Home
Mar. 25, 2015 12:38PM EST
Health + Wellness
Spring has arrived, and it's time to clean the house! But for the conscientious consumer, household cleaning can be a headache. Mass-market products are often full of harsh chemicals that pose a health risk to children and animals. Plus, they leave your home smelling more like a science lab than a fresh space and may contain animal products.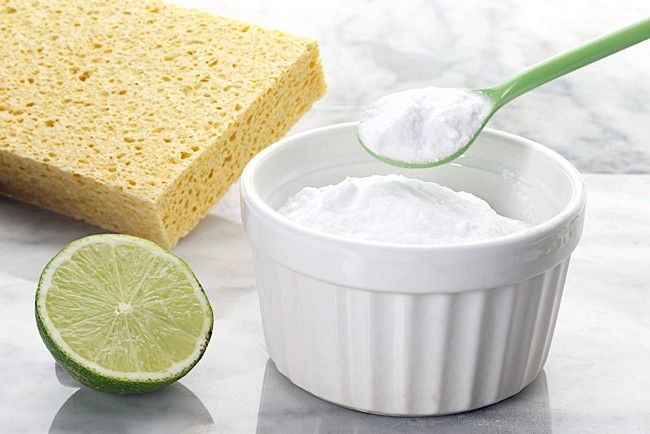 Photo credit: Shutterstock
So let's dispense with them all! Using a handful of easy-access natural, vegan products, you can have a germ-free and fresh-smelling home while cutting down on wasteful, time-consuming specialty cleaning products.
These 10 tips will get you on your way to a spotless home:
Ovens
Cleaning an oven needn't be a hassle or an experiment with your incinerating self-cleaning function. All you need is baking soda and vinegar! Make a spreadable paste of baking soda and water, using roughly one-half of a cup of baking soda and a few tablespoons of water. Leave the mixture overnight. Wipe the paste off with a damp cloth the next day. Then, spray white vinegar over any remaining hard-to-remove baking soda (or just all over the inside of the oven). Wipe the inside of the oven down one more time with a damp cloth, and you're done!
Pro-tips: Clean the racks separately in the sink with the baking soda solution. Also, be mindful not to get baking soda paste on the heating elements in the oven.
Stove-hood filters
For this, you'll need a large pot and baking soda. Fill the pot with water and bring it to a boil. Then slowly add one half-cup of baking soda. If you add it too quickly, the pot will fizz over. Simply submerge the filter and watch the impurities vanish! If you have a large filter, you'll need to do it one side at a time.
Refrigerators and surfaces
Cleaning surfaces is easy with a little vinegar! Use one part vinegar to two parts warm water in a spray bottle. Add a few drops of your favorite essential oil to give a lasting fresh scent. Using warm water is very helpful for breaking up dirt and food stuck on the counter. But the solution is still highly effective at room temperature for lighter cleaning.
Dishwashers
Most people don't realize dishwashers need cleaning. But they do. Cycle after cycle of dirty dishes takes a toll on the filter. Simply find and remove your dishwasher's filter and allow it to soak in your favorite natural dish soap. Then replace the filter, toss in a cup of white vinegar and run a heavy cycle. For an extra level of clean, coat the bottom of the dishwasher in baking soda, leave it for a few hours and run a heavy cycle with just the baking soda.
Toilets
No one likes to reach their hand into a disgusting bowl with a glove, especially when holding a sponge filled with toxic chemicals. Well, you never need to do so again! Toss a full cup of baking soda right into the bowl and leave it for an hour. Then pour in a cup of white vinegar, let it sit for a few minutes and flush. If your bowl needs a light scrubbing for the surfaces, use the cleaner we made in the kitchen!
Showers
Steaming harsh chemical residue post-cleaning is anything but good for your family. And our kitchen surface cleaner from the previous steps may do fine for your shower. But if you need something a little stronger, just mix one part environmentally-friendly dish soap with one-part vinegar to make a simple shower cleaner!
Pro-tip: If you have a litter box in the bathroom, this shower cleaner will work great. As always, be sure to rinse the cat box very thoroughly with water post-cleaning.
Mattresses
This is the easiest hack you never knew would solve your mattress woes: Just sprinkle baking soda all over. Many folks mix a few drops of calming lavender oil in for aromatherapy. Leave the baking soda on the mattress for a couple of hours, then carefully vacuum it all up. Your mattress should smell fresh as new.
For mattress stains, combine hydrogen peroxide and natural dish soap in a 2:1 ratio to safely remove them.
Laundry  
Did you know fabric sheets often contain animal-derived softening agents? And we all know the havoc artificially-scented detergents reak on allergies. But making laundry detergent at home is simple: Combine Borax (an easy-to-find mineral and salt, not to be confused with boric acid) and baking soda in equal measures. Then, grate in a full bar of your favorite natural, animal-free bar soap.
Pro-tip: Add a half-cup of white vinegar to the final rinse cycle for color-safe softening.
Floors 
The easiest way to maintain your floors is to mop with an equal-parts water and vinegar solution. But for a variety of specific floor types, use this Care2 guide to floor care.
Note about products: Be sure to buy baking soda from an animal and environment-friendly company, like Bob's Red Mill. Visit a local health-conscious grocery store to find an array of cleaning supplies, from tree-fiber scrubbers to agave twine dish sponges.
YOU MIGHT ALSO LIKE
Never Buy Toothpaste Again! 4 Easy Steps to Make Your Own
4 Nontoxic, Eco-Friendly Cookware That's Safe for You and Your Family
EcoWatch Daily Newsletter
By Allegra Kirkland, Jeremy Deaton, Molly Taft, Mina Lee and Josh Landis
Climate change is already here. It's not something that can simply be ignored by cable news or dismissed by sitting U.S. senators in a Twitter joke. Nor is it a fantastical scenario like The Day After Tomorrow or 2012 that starts with a single crack in the Arctic ice shelf or earthquake tearing through Los Angeles, and results, a few weeks or years later, in the end of life on Earth as we know it.
A pregnant woman works out in front of the skyline of London. SHansche / iStock / Getty Images Plus
Air pollution particles that a pregnant woman inhales have the potential to travel through the lungs and breach the fetal side of the placenta, indicating that unborn babies are exposed to black carbon from motor vehicles and fuel burning, according to a study published in the journal Nature Communications.
Teen activist Greta Thunberg delivered a talking-to to members of Congress Tuesday during a meeting of the Senate Climate Change Task Force after politicians praised her and other youth activists for their efforts and asked their advice on how to fight climate change.
Ten feet of water flooded 20 percent of this Minot, North Dakota neighborhood in June 2011.
DVIDSHUB
/
CC BY 2.0
A protestor holds up her hand covered with fake oil during a demonstration on the U.C. Berkeley campus in May 2010. Justin Sullivan / Getty Images
The University of California system will dump all of its investments from fossil fuels, as the Associated Press reported. The university system controls over $84 billion between its pension fund and its endowment. However, the announcement about its investments is not aimed to please activists.
By Ngozi Okonjo-Iweala
World leaders have a formidable task: setting a course to save our future. The extreme weather made more frequent and severe by climate change is here. This spring, devastating cyclones impacted 3 million people in Mozambique, Malawi and Zimbabwe. Record heatwaves are hitting Europe and other regions — this July was the hottest month in modern record globally. Much of India is again suffering severe drought.
Covering Climate Now / YouTube screenshot
By Mark Hertsgaard

The United Nations Secretary General says that he is counting on public pressure to compel governments to take much stronger action against what he calls the climate change "emergency."