This website uses cookies to ensure you get the best experience while browsing it. By clicking 'Got It' you're accepting these terms.
10 Natural (And Vegan) Ways to Clean Your Home
Mar. 25, 2015 12:38PM EST
Health + Wellness
Spring has arrived, and it's time to clean the house! But for the conscientious consumer, household cleaning can be a headache. Mass-market products are often full of harsh chemicals that pose a health risk to children and animals. Plus, they leave your home smelling more like a science lab than a fresh space and may contain animal products.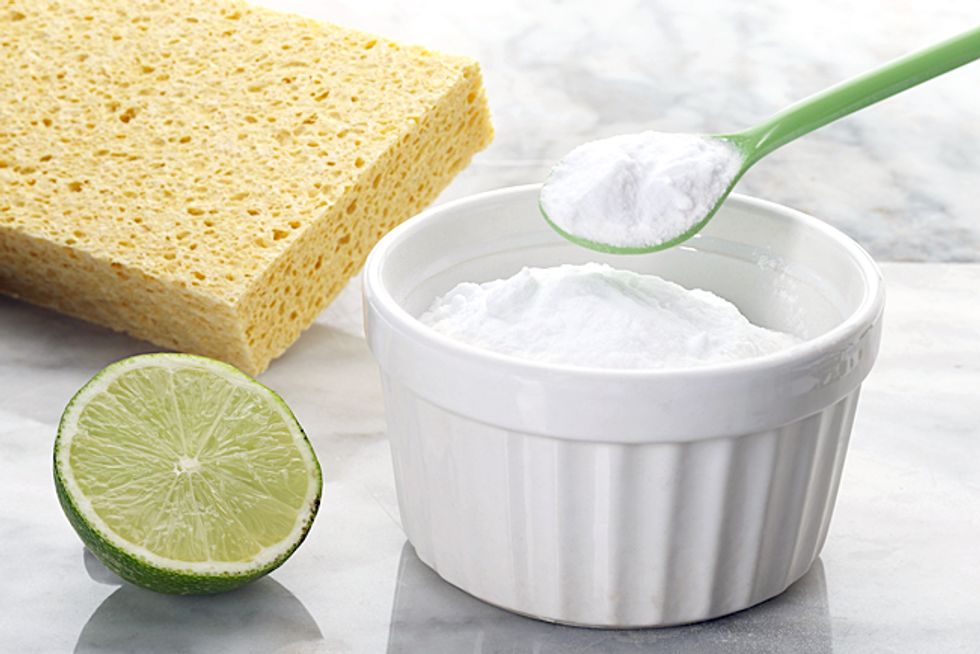 Photo credit: Shutterstock
So let's dispense with them all! Using a handful of easy-access natural, vegan products, you can have a germ-free and fresh-smelling home while cutting down on wasteful, time-consuming specialty cleaning products.
These 10 tips will get you on your way to a spotless home:
Ovens
Cleaning an oven needn't be a hassle or an experiment with your incinerating self-cleaning function. All you need is baking soda and vinegar! Make a spreadable paste of baking soda and water, using roughly one-half of a cup of baking soda and a few tablespoons of water. Leave the mixture overnight. Wipe the paste off with a damp cloth the next day. Then, spray white vinegar over any remaining hard-to-remove baking soda (or just all over the inside of the oven). Wipe the inside of the oven down one more time with a damp cloth, and you're done!
Pro-tips: Clean the racks separately in the sink with the baking soda solution. Also, be mindful not to get baking soda paste on the heating elements in the oven.
Stove-hood filters
For this, you'll need a large pot and baking soda. Fill the pot with water and bring it to a boil. Then slowly add one half-cup of baking soda. If you add it too quickly, the pot will fizz over. Simply submerge the filter and watch the impurities vanish! If you have a large filter, you'll need to do it one side at a time.
Refrigerators and surfaces
Cleaning surfaces is easy with a little vinegar! Use one part vinegar to two parts warm water in a spray bottle. Add a few drops of your favorite essential oil to give a lasting fresh scent. Using warm water is very helpful for breaking up dirt and food stuck on the counter. But the solution is still highly effective at room temperature for lighter cleaning.
Dishwashers
Most people don't realize dishwashers need cleaning. But they do. Cycle after cycle of dirty dishes takes a toll on the filter. Simply find and remove your dishwasher's filter and allow it to soak in your favorite natural dish soap. Then replace the filter, toss in a cup of white vinegar and run a heavy cycle. For an extra level of clean, coat the bottom of the dishwasher in baking soda, leave it for a few hours and run a heavy cycle with just the baking soda.
Toilets
No one likes to reach their hand into a disgusting bowl with a glove, especially when holding a sponge filled with toxic chemicals. Well, you never need to do so again! Toss a full cup of baking soda right into the bowl and leave it for an hour. Then pour in a cup of white vinegar, let it sit for a few minutes and flush. If your bowl needs a light scrubbing for the surfaces, use the cleaner we made in the kitchen!
Showers
Steaming harsh chemical residue post-cleaning is anything but good for your family. And our kitchen surface cleaner from the previous steps may do fine for your shower. But if you need something a little stronger, just mix one part environmentally-friendly dish soap with one-part vinegar to make a simple shower cleaner!
Pro-tip: If you have a litter box in the bathroom, this shower cleaner will work great. As always, be sure to rinse the cat box very thoroughly with water post-cleaning.
Mattresses
This is the easiest hack you never knew would solve your mattress woes: Just sprinkle baking soda all over. Many folks mix a few drops of calming lavender oil in for aromatherapy. Leave the baking soda on the mattress for a couple of hours, then carefully vacuum it all up. Your mattress should smell fresh as new.
For mattress stains, combine hydrogen peroxide and natural dish soap in a 2:1 ratio to safely remove them.
Laundry  
Did you know fabric sheets often contain animal-derived softening agents? And we all know the havoc artificially-scented detergents reak on allergies. But making laundry detergent at home is simple: Combine Borax (an easy-to-find mineral and salt, not to be confused with boric acid) and baking soda in equal measures. Then, grate in a full bar of your favorite natural, animal-free bar soap.
Pro-tip: Add a half-cup of white vinegar to the final rinse cycle for color-safe softening.
Floors 
The easiest way to maintain your floors is to mop with an equal-parts water and vinegar solution. But for a variety of specific floor types, use this Care2 guide to floor care.
Note about products: Be sure to buy baking soda from an animal and environment-friendly company, like Bob's Red Mill. Visit a local health-conscious grocery store to find an array of cleaning supplies, from tree-fiber scrubbers to agave twine dish sponges.
YOU MIGHT ALSO LIKE
Never Buy Toothpaste Again! 4 Easy Steps to Make Your Own
4 Nontoxic, Eco-Friendly Cookware That's Safe for You and Your Family
EcoWatch Daily Newsletter
A verdant and productive urban garden in Havana. Susanne Bollinger / Wikimedia Commons
By Paul Brown
When countries run short of food, they need to find solutions fast, and one answer can be urban farming.
Trevor Noah appears on set during a taping of "The Daily Show with Trevor Noah" in New York on Nov. 26, 2018.
The Daily Show With Trevor Noah / YouTube screenshot
Rebecca Burgess came up with the idea of a fibersheds project to develop an eco-friendly, locally sourced wardrobe.
Nicolás Boullosa / CC BY 2.0
By Tara Lohan
If I were to open my refrigerator, the origins of most of the food wouldn't be too much of a mystery — the milk, cheese and produce all come from relatively nearby farms. I can tell from the labels on other packaged goods if they're fair trade, non-GMO or organic.
A television crew reports on Hurricane Dorian while waves crash against the Banana River sea wall. Paul Hennessy / SOPA Images / LightRocket / Getty Images
By Mark Hertsgaard and Kyle Pope
Some good news, for a change, about climate change: When hundreds of newsrooms focus their attention on the climate crisis, all at the same time, the public conversation about the problem gets better: more prominent, more informative, more urgent.
U.S. Senators Chris Coons (D-Del.) and Mike Braun (R-Ind.) met with Bill Gates on Nov. 7 to discuss climate change and ways to address the challenge.
Senator Chris Coons
The U.S. Senate's bipartisan climate caucus started with just two members, a Republican from Indiana and a Democrat from Delaware. Now it's up to eight members after two Democrats, one Independent and three more Republicans joined the caucus last week, as The Hill reported.
A timelapse video shows synthetic material and baby fish collected from a plankton sample from a surface slick taken off Hawaii's coast.
Honolulu Star-Advertiser / YouTube screenshot