This website uses cookies to ensure you get the best experience while browsing it. By clicking 'Got It' you're accepting these terms.
Brett Ryder
By Jordan Davidson
We often talk about leaving the world a better place for our children. But our kids are not standing idly by while we wonder how to clean up the mess we've made. Energetic, adept with technology and enthusiastic to create change, kids already have the tools to become stewards of the planet's ecological health. And they are ready to start now.
By John Light
Editor's note: Watch the oral arguments live beginning at 1 p.m. EST above.
Three judges in San Francisco potentially have the power to decide how the U.S. government deals with climate change. Monday, 21 young Americans will make the case that President Trump has endangered their future by aiding and abetting the dirty industries responsible for the global crisis. And they will argue that they can hold him legally accountable.
EcoWatch Daily Newsletter
There has been a significant development in the constitutional climate change lawsuit so far successfully prosecuted by 21 youth plaintiffs: The Ninth Circuit Court of Appeals has decided to hear oral argument over whether the Trump administration can evade trial currently set for Feb. 5, 2018. Oral arguments will be heard before the Ninth Circuit Court of Appeals in San Francisco on Dec. 11 and can be watched on a live stream beginning at 10 a.m. PST.
© Robin Loznak Photography, LLC
U.S. Magistrate Judge Thomas Coffin issued an order Thursday in the climate lawsuit brought by 21 youth, Juliana v. United States, setting a trial date for Feb. 5, 2018 before U.S. District Court Judge Ann Aiken in Eugene, Oregon.
Within 100 hours of Donald Trump's inauguration, in the first and largest youth-led mobilization of 2017, thousands of students across the country walked-out of class in protest of Trump and his corrupt fossil fuel billionaire cabinet. This comes just two days after nearly 3 million people mobilized in Women's Marches around the world. Students on dozens of campuses across the country are demanding administrations resist and reject Trump's climate denial cabinet by divesting from fossil fuels and reinvesting in solutions to the climate crisis.
"In the face of Trump's dangerous climate denial, youth are rising up," said Greta Neubauer, director of the Divestment Student Network. "For any chance at curbing the worst impacts of climate change, our universities must stand on the right side of history with students and take action now against Trump's climate denial. We won't allow Trump and his fossil fuel billionaire cabinet to foreclose on our future."

Monday's day of action, dubbed #ResistRejectDenial, is also the largest youth-led mobilization in the history of the fossil fuel divestment movement. Students and youth have been a driving force leading the fossil fuel divestment movement to be the mainstream global movement it is today, with more than 600 institutions across 76 countries representing more than $5.2 trillion in assets committing to some level of divestment.

The same day as Trump's inauguration, the Oregon State University board unanimously voted to divest from all fossil fuels. Other key commitments from colleges and universities in the U.S. include the University of Massachusetts Foundation, the University of Maryland, as well as Georgetown University and the University of California school system that have committed to partial fossil fuel divestment. Divestment has taken hold on campuses around the world, including in the United Kingdom where a quarter of universities have committed to divest.
"I need my university to stand up for our futures under Trump's dangerous and corrupt climate denial," said Samantha Smyth, sophomore at Appalachian State University. "We must disavow the blatant disregard for our well-being and future by climate deniers in office. We must stand up for the millions of people who are dying at the hands of powerful, morally corrupt individuals who deny climate change."
Prior to election day, young people proved themselves a force to be reckoned with. This was demonstrated in unprecedented political engagement throughout the election, challenging candidates to take stronger stances on climate, as well as in youth organized sit-ins at senate offices, engagement in mass mobilizations such as Women's Marches and the #DayAgainstDenial and rallying to oppose Trump's corrupt climate-denying appointees.
Young people have been a driving factor in pushing our institutions to stand on the right side of history, with two consecutive years of on-campus escalation from 100 campuses, resulting in more than 30 arrests, with victory at the University of Massachusetts, University of California and University of Oregon. Since 2014, thousands of students across the country have participated in national escalation for fossil fuel divestment.
Beyond fossil fuel divestment, young people are taking action to ensure elected officials take necessary action on climate and against Big Oil. In an ongoing lawsuit, 21 young people from across the U.S. filed a landmark lawsuit against the federal government for its failure to address the effects of climate change.
"This is a wake up call to Donald Trump; there are almost 75 million people in this country under the age of 18," said Xiuhtezcatl Martinez, youth director of Earth Guardians and a plaintiff in the federal climate change lawsuit. "We didn't have an opportunity to vote in the past election, but we will suffer the consequences of climate inaction to a greater degree than any living generation. Our right to a just and livable future is nonnegotiable."

Just last week, the World Meteorological Organization confirmed that 2016 was the hottest year on record and the second hottest year in U.S. history surpassing records of 2015 and 2014. Extreme weather, including storms, floods and droughts, are impacting communities at a pace and magnitude far exceeding previous predictions, making it even more crucial that institutions divest and take meaningful action on climate.
"Hope is something we must create. In this moment, the best way to do that is by taking action and showing that we will rise to this moment," said Neubauer. "When it comes to climate change, time is not on our side. This is just the beginning of the opposition that the Trump's Administration should expect from young people"

School is out, seniors have graduated and some regions are starting to feel the heat of summer.
For some young people, this summer will not be a time to relax by a pool or sleep in, but to stand in solidarity with communities on the frontlines of fracking. They are the participants in Energy Justice Summer, a joint project of Energy Justice Network and community groups in the shalefields of northeast Pennsylvania.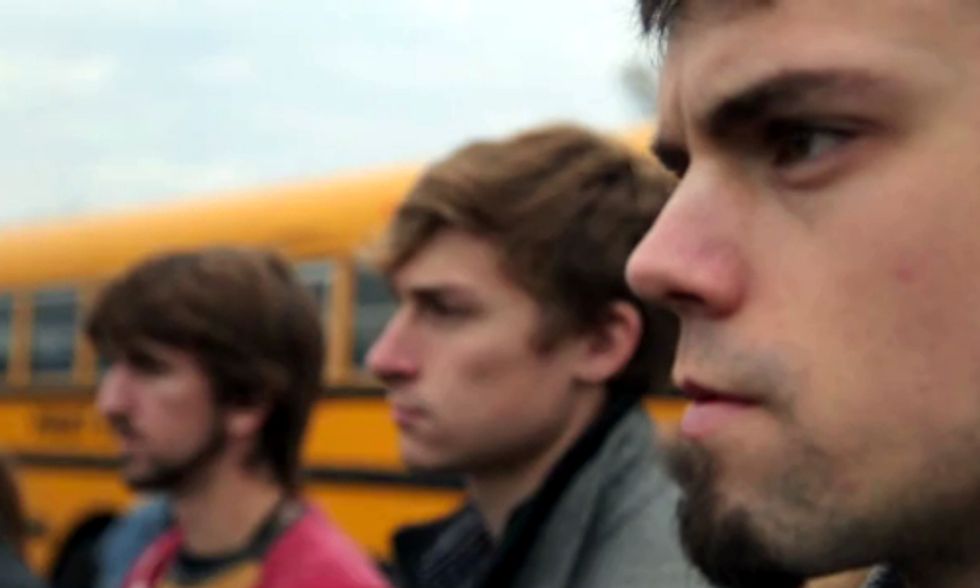 Photo credit: Energy Justice Summer
The state of Pennsylvania is currently being fracked for natural gas from the Marcellus Shale. An associated number of risks and concerns have been identified, including high gas levels in drinking water wells, fracking wastewater contamination, health problems and decreased property values, among other threats to the climate and air and water quality.
Who are these young organizers making a difference in Pennsylvania? In the words of Energy Justice Summer:
We seek a world where everyone has access to sustainable energy and no one suffers unjustly because of our fossil fuel economy. We believe that fracking presents a grave threat to people everywhere, especially those on the frontlines of extraction. This summer, we will work in solidarity with communities in Pennsylvania to stop the expansion of fracking and move towards renewable energy.  
Hear some firsthand accounts of these young activists:
Here's what Energy Justice Network and SustainUS have planned:
Community Workshops: Host workshops with expert scientists to teach residents how to monitor the environmental and socioeconomic impacts of fracking.

Student Training: Convene students from across the Northeast and prepare them to launch campaigns against fracking on campus.

Impactful Research: Analyze the violations of gas companies and socioeconomic impacts of shale gas development, resulting in valuable materials for regulatory appeals and legal fights, as well as researching a path toward a just energy transition.

Creative Actions: Support ongoing local fights to stop the expansion of harmful fracked gas infrastructure, including the Cove Point LNG export terminal.
Spencer Johnson, who joined Energy Justice Summer this month, reports back via Inhabitat from the frontlines of frack fields in rural Pennsylvania:
Working on this Energy Justice Summer project will allow me to fully appreciate the life I am fortunate enough to live, away from the environmental damages our fossil fuel-addicted lifestyles create. In addition, it'll mean dealing with those damages firsthand and interacting with policymakers and townspeople who have the power to raise their voices and make this societal shift a reality.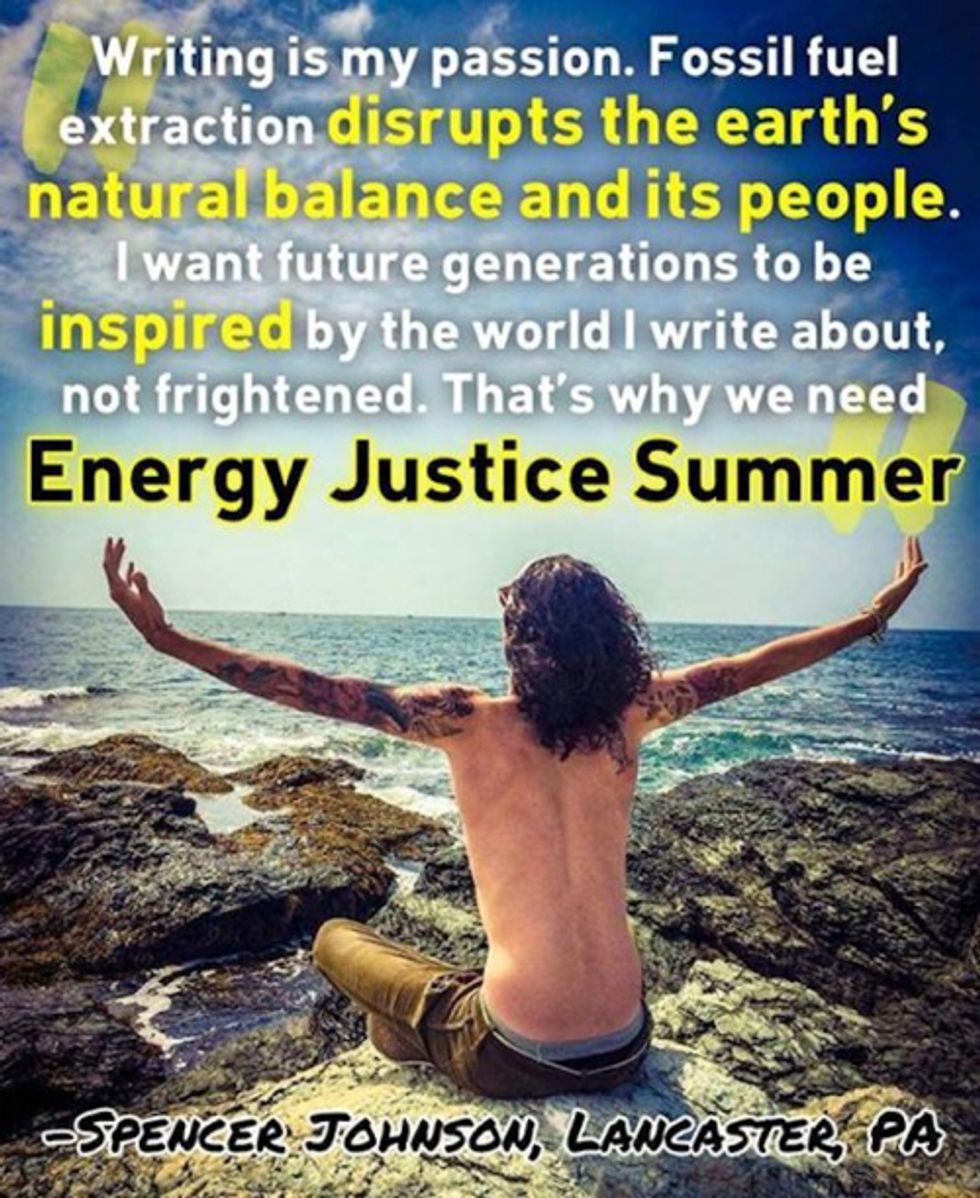 Photo credit: Tim Garlington
Energy Justice Summer shows that fracking is an unacceptable practice and that young people will stand in solidarity with those communities most impacted.
"It's time for me to step outside my comfort zone, to carry my home on my back, to fight for a safe and sustainable future. I look forward to the experiences, the friends and the opportunities I will have in the months to come," Johnson reflects. "Fracking and related infrastructure is something we should all know more about and discuss. The time is now. We are the change we wish to see in the world. That's why we need Energy Justice Summer."