This website uses cookies to ensure you get the best experience while browsing it. By clicking 'Got It' you're accepting these terms.
An employee carries a banner informing customers about the ban on free single-use plastic bags at a shopping mall in downtown Bangkok on Jan. 2, 2020. MLADEN ANTONOV / AFP via Getty Images
Thailand rang in 2020 with an effort to tackle the plastic crisis filling the country's waste sites and choking its waterways. The country's ban on plastic bags at major retailers began as soon as the clock struck midnight in Bangkok. A complete ban of bags that includes smaller shops will go into effect in 2021, as Reuters reported.
Photo taken on Oct. 5 shows two elephants (one behind the other) trapped on a small cliff at a waterfall at Khao Yai National Park in central Thailand as rescuers work to save them. PANUPONG CHANGCHAI / THAI NEWS PIX / AFP via Getty Images
Never underestimate an elephant's ability to steal our hearts. That happened on Saturday in Thailand when five elephants died while trying to rescue a three-year-old calf that was swept away in a rushing river, as The New York Times reported.
EcoWatch Daily Newsletter
Students wear face masks as they are picked up early from school due to pollution in Bangkok, Thailand, Jan. 30. Anusak Laowilas / NurPhoto / Getty Images
Air pollution levels in Bangkok have gotten so bad that the city's governor, Police General Asawin Kwanmuang, ordered more than 400 schools to close through Friday.
Romsai the elephant and pianist Paul Barton.
Paul Barton / YouTube
Update, Nov. 7: Following the publication of this post, EcoWatch received feedback from PETA and readers stating that Elephants World is not a sanctuary because its treatment of elephants includes the use of bullhooks and visitors sitting on the elephants' backs. We contacted Elephants World and a representative said that their mahouts use bullhooks to prevent stronger elephants from attacking weaker elephants or visitors. "For emergencies like this our mahouts still carry the bull hooks. For the safety of the elephants as well as the visitors," the representative said. They also said that they do not allow visitors to sit on the animals. "This was something we did many years ago, and have stopped doing since we don't feel it's completely animal friendly," the representative said.
Meet Lam Duan, a blind elephant who lives at Elephants World, a sanctuary in Kanchanaburi, Thailand. Her name translates to "tree with yellow flowers," she loves corn and jackfruit and she's got an ear for classical music.
Pollution from boats is among the reasons that Thailand's iconic Maya Bay will remain closed to tourists.
Michael_Spencer / CC BY 2.0
Thailand's iconic Maya Bay, made popular by the Leonardo DiCaprio film The Beach, will be closed to tourists indefinitely, CNN Travel reported.
The beach had been closed temporarily since June 1 to restore the damage done by more than a million yearly visitors, but on Tuesday Thailand's Department of National Parks, Wildlife and Plant Conservation (DNP) announced the closure would continue "until natural resources return to normal."
Thailand's Wai Mei Dat center filled with imported e-waste.
baselactionnetwork
/ Flickr / CC BY-ND 2.0
Thailand has joined Vietnam and Malaysia in cracking down on the world's trash. Thailand will stop accepting more than 400 types of electronic waste (e-waste), including circuit boards, old TVs and radios, within six months, an environment ministry official told Reuters.
The decision was made Wednesday at a meeting chaired by Surasak Kanchanarat, the environment minister. Imports of plastic waste will also be banned in two years, although specific details of the program are not yet known, Reuters reported.
Plastic waste is being blamed for the death of a green turtle found on the eastern province of Chanthaburi in Thailand.
The turtle washed up on the beach on June 4, Weerapong Laovechprasit, a veterinarian at the Eastern Marine and Coastal Resource Research and Development Centre told AFP.
A pilot whale died in southern Thailand last week after swallowing 17 pounds of plastic waste, despite a five-day effort to save the animal's life.
A necropsy revealed that the plastic debris, which included 80 plastic bags, clogged the whale's stomach, Reuters reported.
Scientists are trying to understand why 70 giant freshwater stingrays, some as big as a car, have been found dead in Thailand over the past few weeks. The die-off has been taking place in the Mae Klong River.
The giant freshwater stingray is the largest freshwater fish in the world.Zeb Hogan
Thai officials have found the river to be slightly more acidic than normal, but aren't sure if that could be the cause. Some speculate that the rays may have been poisoned by cyanide or succumbed to a recent spill from an ethanol plant.
"One thing is clear: a reduction of pollution from surrounding factories is needed to improve the health of the river and save the stingrays in the long term," Zeb Hogan, host of the Monster Fish series on Nat Geo Wild, said.
The WWF says that these rays are being increasingly isolated into separate groups due to construction of large hydropower dams, reducing genetic diversity. They are vulnerable to siltation as they spend much of their time along the river's sandy bottom. And they can be caught up in fishing activities such as longlines and gill nets, and may be killed as bycatch.
Freshwater rays are prized as pets by home aquarium hobbyists. A search for "freshwater stingrays for sale" on Google will retrieve more than 200,000 results.
Listed as Endangered by the International Union for the Conservation of Nature (IUCN), giant freshwater stingrays inhabit rivers in Southeast Asia and northern Australia.
Hogan said that one ray recently found alive weighed between 700 and 800 pounds. It measured 14 feet in length and 7.9 feet across. They can grow to more than 1,000 pounds.
Much mystery surrounds the giant freshwater stingray. Cousins of the more numerous and widespread ocean stingrays, they were only identified by scientists in 1990. While the freshwater rays have been seen in brackish waters, it's not known if they ever venture into the ocean. No one knows how many exist in the wild, but they appear to be in decline.

In September, a new conservation effort was launched to help ocean rays and sharks. Actor and environmental activist Leonardo DiCaprio, at the Our Ocean Conference, announced the Global Partnership for Sharks & Rays, a collaborative effort to halt the alarming decline and overexploitation of shark and ray populations due to market demand for shark fin, liver oil, cartilage, leather, meat and ray gill plates.
"Sharks and rays are among the most threatened vertebrates on the planet," Cristina Mormorunni, Global Partnership for Sharks & Rays acting director, said. "For many of these incredible animals, the future is uncertain. Unfortunately, the scale of current conservation efforts and investments don't match the level of urgency sharks and rays face."
By Arin de Hoog
The tiny island of Koh Samet is about 2 km off the coast of the Thai mainland. It has the long pale beaches, forests and beautiful geography. Right now, though, the fine, white sands of the island and clear, blue waters that surround it are being turned sticky and black by crude oil which spurted out of a pipeline operated by PTT Global Chemical.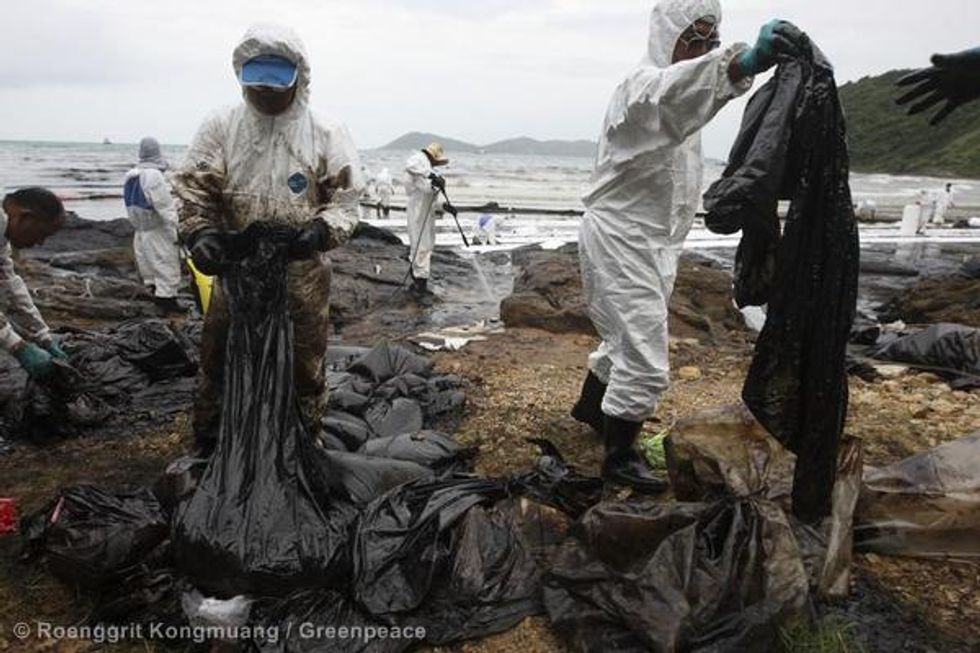 The spill started on Saturday morning, about 20 kilometres southeast of the Map Ta Phut seaport on the southern shore of the mainland. PTT, the state-owned administrator of PTT Global Chemical, tried to downplay the full extent of the leak by claiming that the oil slick had "effectively been dissolved".
This claim proved to be untrue after unrefined crude started blackening the immaculate beaches of Koh Samet as PTT Global Chemical admitted 50,000 litres of unrefined crude had been spilled into the waters of Phrao Bay.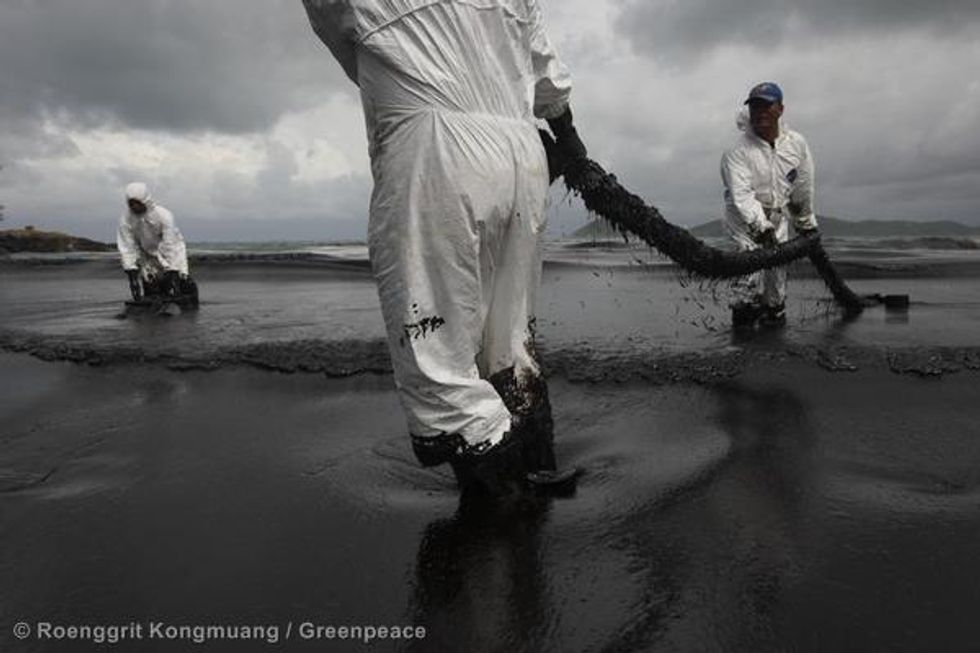 Making matters worse, Thailand is not capable of handling the oil spill, Deputy Premier Plodprasop Suraswadi conceded to the Bangkok Post. Speaking via a government spokesman, he added that authorities should seek help from nearby Singapore.
For a region identified by Greenpeace Southeast Asia Thailand Programme Manager, Ply Pirom, as the "nation's food basket", this news is bleak.
Bleaker still is the realization that this spill is just one of more than 200 spills that have happened in Thai waters in the past three decades, effectively putting the region's ecosystem in the crossfire of big oil companies and meager oil spill mitigation resources.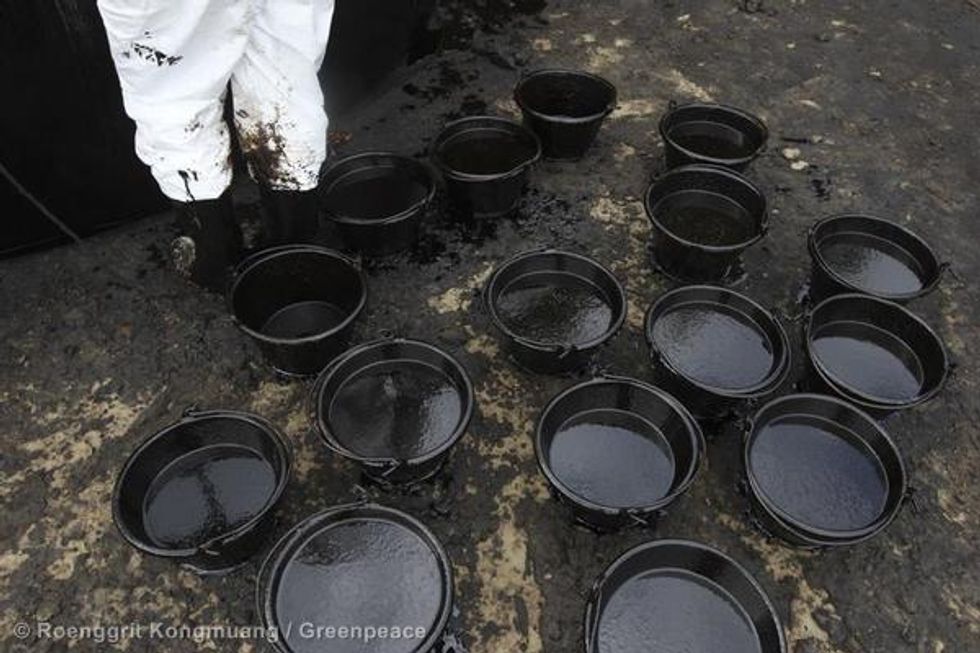 Greenpeace East Asia has been closely monitoring the situation and have deployed a rapid response team to document the impact of the spill, particularly in the National Marine Park area that includes Koh Samet.
The paradox of a country known for its staggering natural beauty but still heavily reliant on fossil fuels in its energy policy is counter-intuitive. Especially when the availability of affordable, clean, renewable energy is taken into consideration. 
Greenpeace is now demanding that PTT Global Chemical be held financially liable for the cost of cleaning and restoring the natural environment and is mobilizing the public through an online petition. It's time for the Thai government to review its energy policy and put an end to oil drilling and exploration in the Gulf of Thailand.
Visit EcoWatch's PIPELINES page for more related news on this topic.
——–