This website uses cookies to ensure you get the best experience while browsing it. By clicking 'Got It' you're accepting these terms.


The best of EcoWatch, right in your inbox. Sign up for our email newsletter!
Photo taken on Oct. 5 shows two elephants (one behind the other) trapped on a small cliff at a waterfall at Khao Yai National Park in central Thailand as rescuers work to save them. PANUPONG CHANGCHAI / THAI NEWS PIX / AFP via Getty Images
Never underestimate an elephant's ability to steal our hearts. That happened on Saturday in Thailand when five elephants died while trying to rescue a three-year-old calf that was swept away in a rushing river, as The New York Times reported.
Students wear face masks as they are picked up early from school due to pollution in Bangkok, Thailand, Jan. 30. Anusak Laowilas / NurPhoto / Getty Images
Air pollution levels in Bangkok have gotten so bad that the city's governor, Police General Asawin Kwanmuang, ordered more than 400 schools to close through Friday.
EcoWatch Daily Newsletter
Romsai the elephant and pianist Paul Barton.
Paul Barton / YouTube
Update, Nov. 7: Following the publication of this post, EcoWatch received feedback from PETA and readers stating that Elephants World is not a sanctuary because its treatment of elephants includes the use of bullhooks and visitors sitting on the elephants' backs. We contacted Elephants World and a representative said that their mahouts use bullhooks to prevent stronger elephants from attacking weaker elephants or visitors. "For emergencies like this our mahouts still carry the bull hooks. For the safety of the elephants as well as the visitors," the representative said. They also said that they do not allow visitors to sit on the animals. "This was something we did many years ago, and have stopped doing since we don't feel it's completely animal friendly," the representative said.
Meet Lam Duan, a blind elephant who lives at Elephants World, a sanctuary in Kanchanaburi, Thailand. Her name translates to "tree with yellow flowers," she loves corn and jackfruit and she's got an ear for classical music.
Pollution from boats is among the reasons that Thailand's iconic Maya Bay will remain closed to tourists.
Michael_Spencer / CC BY 2.0
Thailand's iconic Maya Bay, made popular by the Leonardo DiCaprio film The Beach, will be closed to tourists indefinitely, CNN Travel reported.
The beach had been closed temporarily since June 1 to restore the damage done by more than a million yearly visitors, but on Tuesday Thailand's Department of National Parks, Wildlife and Plant Conservation (DNP) announced the closure would continue "until natural resources return to normal."
Thailand's Wai Mei Dat center filled with imported e-waste.
baselactionnetwork
/ Flickr / CC BY-ND 2.0
Thailand has joined Vietnam and Malaysia in cracking down on the world's trash. Thailand will stop accepting more than 400 types of electronic waste (e-waste), including circuit boards, old TVs and radios, within six months, an environment ministry official told Reuters.
The decision was made Wednesday at a meeting chaired by Surasak Kanchanarat, the environment minister. Imports of plastic waste will also be banned in two years, although specific details of the program are not yet known, Reuters reported.
Plastic waste is being blamed for the death of a green turtle found on the eastern province of Chanthaburi in Thailand.
The turtle washed up on the beach on June 4, Weerapong Laovechprasit, a veterinarian at the Eastern Marine and Coastal Resource Research and Development Centre told AFP.
A pilot whale died in southern Thailand last week after swallowing 17 pounds of plastic waste, despite a five-day effort to save the animal's life.
A necropsy revealed that the plastic debris, which included 80 plastic bags, clogged the whale's stomach, Reuters reported.
Scientists are trying to understand why 70 giant freshwater stingrays, some as big as a car, have been found dead in Thailand over the past few weeks. The die-off has been taking place in the Mae Klong River.
The giant freshwater stingray is the largest freshwater fish in the world.Zeb Hogan
Thai officials have found the river to be slightly more acidic than normal, but aren't sure if that could be the cause. Some speculate that the rays may have been poisoned by cyanide or succumbed to a recent spill from an ethanol plant.
"One thing is clear: a reduction of pollution from surrounding factories is needed to improve the health of the river and save the stingrays in the long term," Zeb Hogan, host of the Monster Fish series on Nat Geo Wild, said.
The WWF says that these rays are being increasingly isolated into separate groups due to construction of large hydropower dams, reducing genetic diversity. They are vulnerable to siltation as they spend much of their time along the river's sandy bottom. And they can be caught up in fishing activities such as longlines and gill nets, and may be killed as bycatch.
Freshwater rays are prized as pets by home aquarium hobbyists. A search for "freshwater stingrays for sale" on Google will retrieve more than 200,000 results.
Listed as Endangered by the International Union for the Conservation of Nature (IUCN), giant freshwater stingrays inhabit rivers in Southeast Asia and northern Australia.
Hogan said that one ray recently found alive weighed between 700 and 800 pounds. It measured 14 feet in length and 7.9 feet across. They can grow to more than 1,000 pounds.
Much mystery surrounds the giant freshwater stingray. Cousins of the more numerous and widespread ocean stingrays, they were only identified by scientists in 1990. While the freshwater rays have been seen in brackish waters, it's not known if they ever venture into the ocean. No one knows how many exist in the wild, but they appear to be in decline.

In September, a new conservation effort was launched to help ocean rays and sharks. Actor and environmental activist Leonardo DiCaprio, at the Our Ocean Conference, announced the Global Partnership for Sharks & Rays, a collaborative effort to halt the alarming decline and overexploitation of shark and ray populations due to market demand for shark fin, liver oil, cartilage, leather, meat and ray gill plates.
"Sharks and rays are among the most threatened vertebrates on the planet," Cristina Mormorunni, Global Partnership for Sharks & Rays acting director, said. "For many of these incredible animals, the future is uncertain. Unfortunately, the scale of current conservation efforts and investments don't match the level of urgency sharks and rays face."
By Arin de Hoog
The tiny island of Koh Samet is about 2 km off the coast of the Thai mainland. It has the long pale beaches, forests and beautiful geography. Right now, though, the fine, white sands of the island and clear, blue waters that surround it are being turned sticky and black by crude oil which spurted out of a pipeline operated by PTT Global Chemical.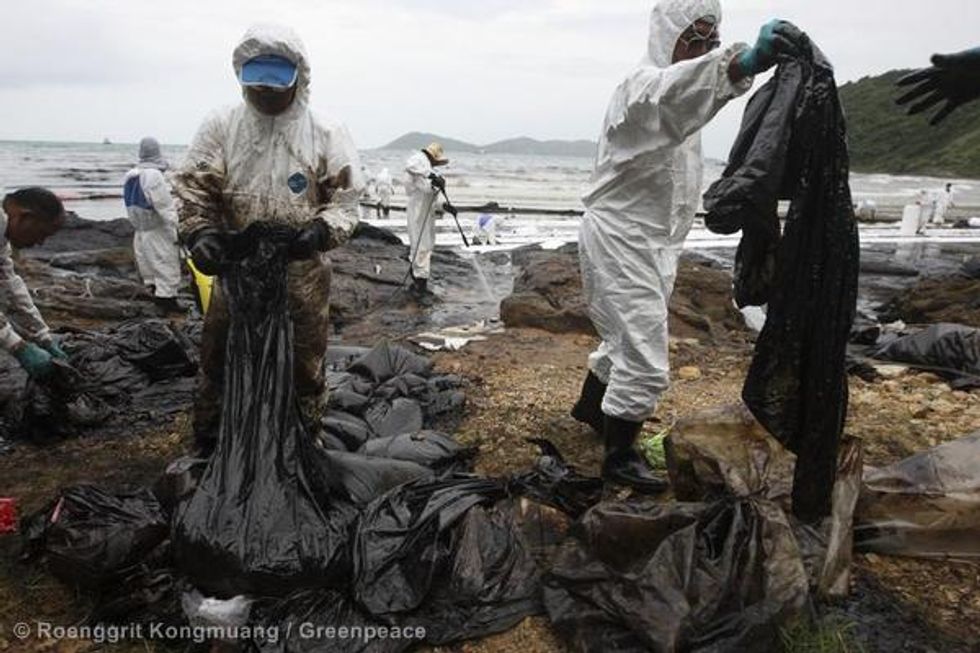 The spill started on Saturday morning, about 20 kilometres southeast of the Map Ta Phut seaport on the southern shore of the mainland. PTT, the state-owned administrator of PTT Global Chemical, tried to downplay the full extent of the leak by claiming that the oil slick had "effectively been dissolved".
This claim proved to be untrue after unrefined crude started blackening the immaculate beaches of Koh Samet as PTT Global Chemical admitted 50,000 litres of unrefined crude had been spilled into the waters of Phrao Bay.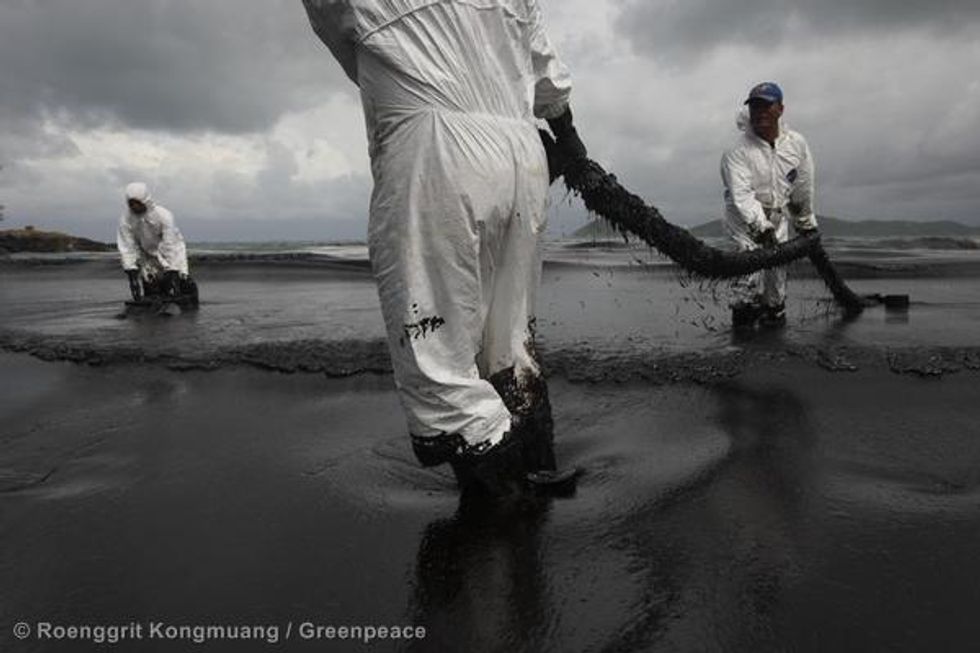 Making matters worse, Thailand is not capable of handling the oil spill, Deputy Premier Plodprasop Suraswadi conceded to the Bangkok Post. Speaking via a government spokesman, he added that authorities should seek help from nearby Singapore.
For a region identified by Greenpeace Southeast Asia Thailand Programme Manager, Ply Pirom, as the "nation's food basket", this news is bleak.
Bleaker still is the realization that this spill is just one of more than 200 spills that have happened in Thai waters in the past three decades, effectively putting the region's ecosystem in the crossfire of big oil companies and meager oil spill mitigation resources.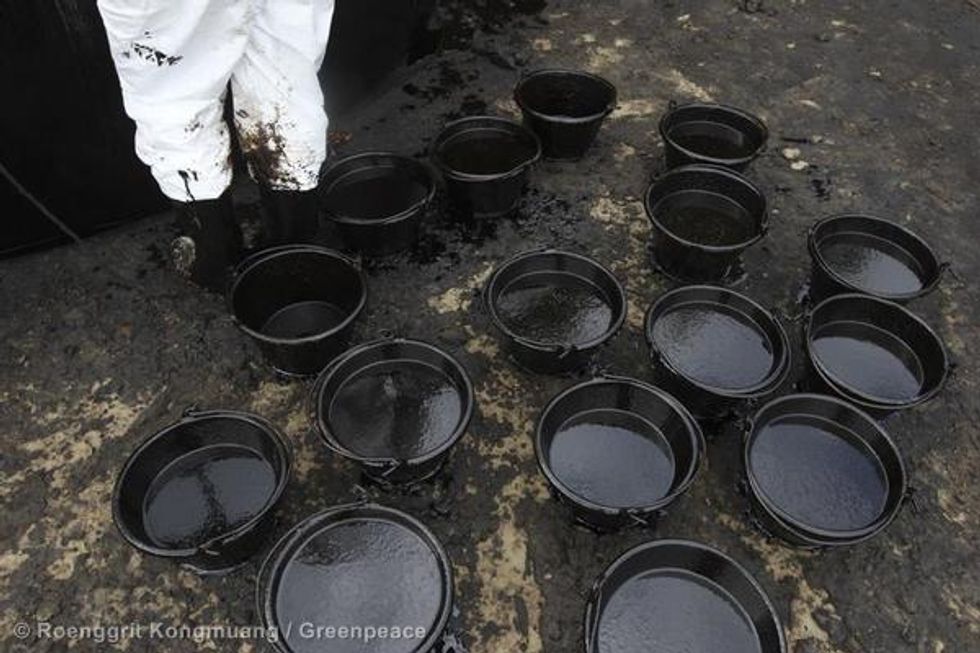 Greenpeace East Asia has been closely monitoring the situation and have deployed a rapid response team to document the impact of the spill, particularly in the National Marine Park area that includes Koh Samet.
The paradox of a country known for its staggering natural beauty but still heavily reliant on fossil fuels in its energy policy is counter-intuitive. Especially when the availability of affordable, clean, renewable energy is taken into consideration. 
Greenpeace is now demanding that PTT Global Chemical be held financially liable for the cost of cleaning and restoring the natural environment and is mobilizing the public through an online petition. It's time for the Thai government to review its energy policy and put an end to oil drilling and exploration in the Gulf of Thailand.
Visit EcoWatch's PIPELINES page for more related news on this topic.
——–

By Janet Larsen and J. Matthew Roney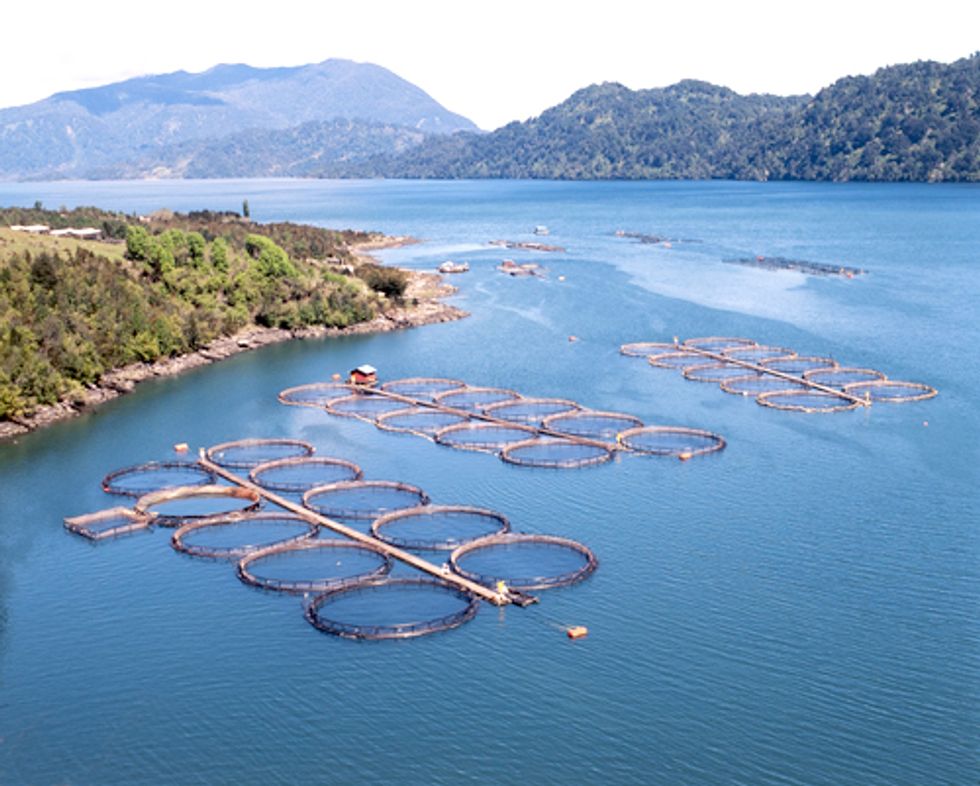 Photo courtesy of Shutterstock
The world quietly reached a milestone in the evolution of the human diet in 2011. For the first time in modern history, world farmed fish production topped beef production. The gap widened in 2012, with output from fish farming—also called aquaculture—reaching a record 66 million tons, compared with production of beef at 63 million tons. And 2013 may well be the first year that people eat more fish raised on farms than caught in the wild. More than just a crossing of lines, these trends illustrate the latest stage in a historic shift in food production—a shift that at its core is a story of natural limits.
As the global demand for animal protein grew more than fivefold over the second half of the twentieth century, humans began to press against the productivity constraints of the world's rangelands and oceans. Annual beef production climbed from 19 million tons in 1950 to more than 50 million tons in the late 1980s. Over the same period, the wild fish catch ballooned from 17 million tons to almost 90 million tons. But since the late 1980s, the growth in beef production has slowed, and the reported wild fish catch has remained essentially flat.
The bottom line is that getting much more food from natural systems may not be possible. Much of the world's grassland is stocked at or beyond capacity, and most of the world's fisheries are fished to their limits or already crashing. Overstocked rangelands become obvious as the loss of protective vegetation leads to soil degradation, which at its worst can cause punishing dust and sand storms. Overexploited fisheries are less readily visible, but fishing patterns over time reveal that more effort is required to achieve the same size catch as in years past. Boats are using more fuel and traveling to more remote and deeper waters to bring in their haul. Anglers are pulling up smaller fish, and populations of some of the most popular food fish have collapsed.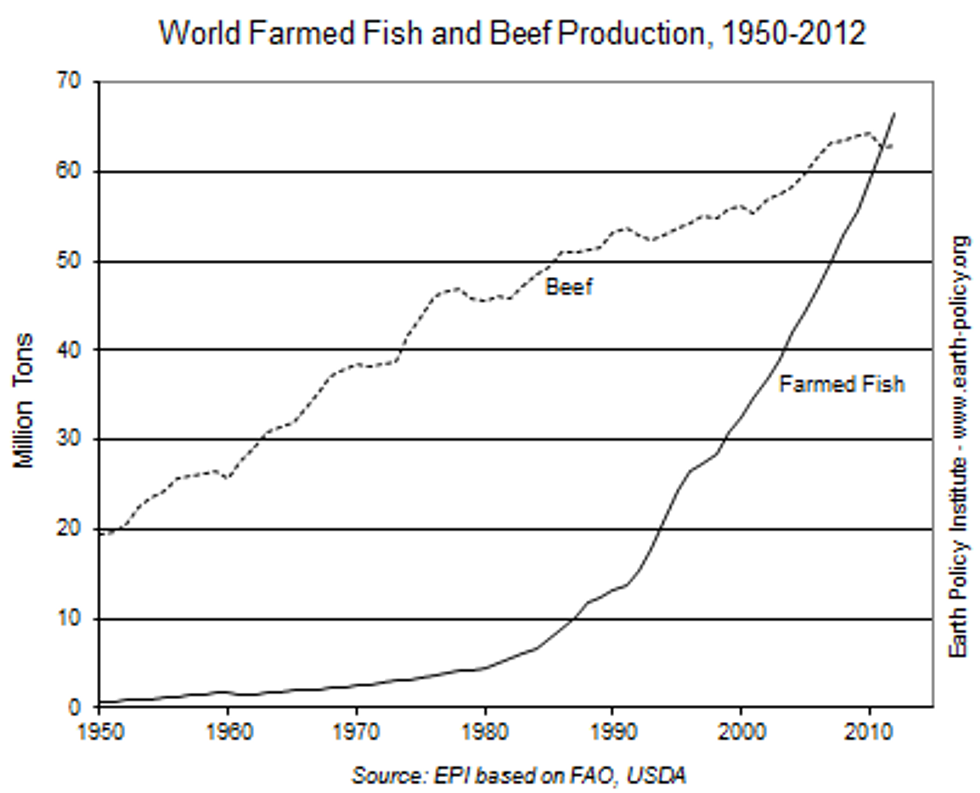 Historically, people's taste in eating animal protein was largely shaped by where they lived. In places with extensive grasslands, like in the U.S., Brazil, Argentina and Australia, people gravitated toward grazing livestock. Along coasts and on islands, as in Japan, wild fish tended to be the protein staple. Today, with little room for expanding the output from rangelands and the seas, producing more beef and fish for a growing and increasingly affluent world population has meant relying on feedlots for fattening cattle and on ponds, nets and pens for growing fish.
While open waters and grasslands can be self-sustaining if managed carefully, raising fish and livestock in concentrated operations requires inputs. Grain and soybeans have been inserted into the protein production food chain. Cattle consume seven pounds of grain or more to produce an additional pound of beef. This is twice as high as the grain rations for pigs, and over three times those of poultry.
Fish are far more efficient, typically taking less than two pounds of feed to add another pound of weight. Pork and poultry are the most widely eaten forms of animal protein worldwide, but farmed fish output is increasing the fastest. Average annual growth rates over the last five years have mirrored the relative efficiency of feed use, with the global production of farmed fish growing by nearly six percent a year, poultry by four percent, and pork by 1.7 percent—fast outpacing beef, which barely increased at all.
As grain and soybean prices have risen well above historical levels in recent years, the cost of producing grain-eating livestock has also gone up. Higher prices have nudged consumers away from the least-efficient feeders. This means more farmed fish and less beef. In the U.S., where the amount of meat in people's diets has been falling since 2004, average consumption of beef per person has dropped by more than 13 percent and that of chicken by five percent. U.S. fish consumption has also dropped, but just by two percent.
Beyond economic considerations, health and environmental concerns are also leading many people in industrial countries to reduce their beef intake. Meanwhile, fish are touted as healthy alternatives (save for the largest types, which have accumulated mercury from environmental pollution). Diets heavy in red meat have been associated with a higher risk for heart disease and colon cancer, among other ailments. Beef production has garnered a negative reputation for having a large carbon footprint and for destroying habitat, notably in the Brazilian Amazon. And excess nitrogen fertilizer applied to the fields of feed corn grown to satisfy the world's livestock runs off into streams and rivers, sometimes flowing to coastal waters where it creates large algal blooms and low-oxygen "dead zones" where fish cannot survive.
While it is only recently that the limitations of natural systems have emerged on a global scale, the practice of aquaculture dates back millennia. China, which accounts for 62 percent of the world's farmed fish, has long cultivated different types of carp that eat different things—phytoplankton, zooplankton, grass or detritus—together in a mini ecosystem. Today carp and their relatives are still the mainstay of Chinese aquaculture, making up nearly half the country's output. Filter-feeding mollusks, like clams and oysters, account for close to a third. Carp, catfish and other species are also grown in Chinese rice paddies, where their waste can fertilize the grain crop. This is also practiced in Indonesia, Thailand and Egypt.
Unfortunately, not all aquaculture works this way. Some of the farmed fish that are quickly gaining popularity, like salmon and shrimp, are carnivorous species that eat fishmeal or fish oil produced from forage fish from the wild. Yet most forage fish stocks (think anchovies, herrings and sardines), which typically make up about a third of the world oceanic fish catch, are dangerously overharvested. Fish farmers are working to reduce the amount of fish meal and oil in their rations, but in the rush to meet ever-expanding world demand, the share of farmed fish being fed has increased because they can reach market size quickly. Norway, the world's top farmed salmon producer, now imports more fish oil than any other country. China, the world's leading shrimp producer, takes in some 30 percent of the fishmeal traded each year.
As cattle ranches have displaced biologically rich rainforests, fish farms have displaced mangrove forests that provide important fish nursery habitats and protect coasts during storms. Worldwide, aquaculture is thought to be responsible for more than half of all mangrove loss, mostly for shrimp farming. In the Philippines, some two thirds of the country's mangroves—more than 100,000 hectares—have been removed for shrimp farming over the last 40 years.
Another problem with intensive confined animal feeding operations of all kinds, whether for farmed fish or for cattle, is not what gets extracted from the environment but what gets put in it. On a small-scale farm with livestock, animal waste can be used to fertilize crops. But putting large numbers of animals together transforms waste from an asset into a liability. Along with the vast quantities of waste, the antibiotic and parasite-killing chemicals used to deal with the unwanted disease and infestations that can spread easily in crowded conditions also can end up in surrounding ecosystems. The overuse of antibiotics in livestock operations can lead to antibiotic-resistant bacteria, threatening both human and animal health. In the U.S., for instance, 80 percent of antibiotics use is in agriculture—and often not for treating sick animals but for promoting rapid weight gain.
Thus the solutions to our collision with the limitations of the natural systems that have long provided food have created their own host of problems. On a per person basis, beef consumption—now averaging less than 20 pounds (8.9 kilograms) each year globally—is unlikely to rebound to the 24 pounds eaten in the 1970s. But annual world fish consumption per person of 42 pounds—up from 25 pounds in the 1970s—is set to keep rising. With the additional fish coming from farms rather than the seas, the urgency of making aquaculture sustainable is clear.
On the fish feed front, fishmeal producers are incorporating more seafood scraps into their products; today roughly a third of fishmeal is made up of food fish trimmings and other by-products. And some fish farmers are substituting livestock and poultry processing wastes and plant-based feeds for fishmeal and oil, which does not sound particularly appetizing, but does reduce pressure on wild stocks. From a sustainability standpoint, however, it would be preferable to shift the balance back in favor of farmed fish raised without feeds based on food grains, oilseeds and protein from other animals.
Our global population of seven billion people, growing by nearly 80 million per year, cannot escape the limits of nature. To live within Earth's natural boundaries requires rethinking meat and fish production practices to respect ecology. Most important, it means reducing demand by slowing population growth and, for those of us already living high on the food chain, eating less meat, milk, eggs and fish.
Visit EcoWatch's FOOD and FACTORY FARMING pages for more related news on this topic.