This website uses cookies to ensure you get the best experience while browsing it. By clicking 'Got It' you're accepting these terms.


The best of EcoWatch, right in your inbox. Sign up for our email newsletter!
Nisqually Tribal Council Member Hanford McCloud lights sacred fire to open up 17th Protecting Mother Earth conference. Rudi Tcruz
By Jade Begay and Ayşe Gürsöz
Even as the Trump administration rolls back regulations meant to protect Americans from pollution, the EPA recently released a report that finds that people of color are much more likely to breathe toxic air than their white counterparts. The study's basic findings—that non-whites bear a higher burden in terms of pollution that leads to a range of poor health outcomes—is supported by other similar studies, and underpins the issue of environmental injustice that impacts many politically marginalized communities.
Release area of Amherst incident. TransCanada
TransCanada's Keystone crude oil pipeline leaked 9,700 barrels (407,400 gallons) on rural farmland near the city of Amherst last year—nearly twice the original estimate of 5,000 barrels (210,000 gallons), a company spokeswoman told the Aberdeen American News.
The Nov. 16 incident was already considered the largest spill in South Dakota, but its new estimate makes it the seventh largest inland spill in the whole U.S. since 2010, the South Dakota publication noted.
EcoWatch Daily Newsletter
Lorie Shaull / Flickr
About 210,000 gallons (5,000 barrels) of oil leaked Thursday from TransCanada's Keystone oil pipeline near Amherst, South Dakota, drawing fierce outcry from pipeline opponents.
The leak, the largest spill to date in South Dakota, comes just days before Nebraska regulators decide on whether its controversial sister project—the Keystone XL (KXL) Pipeline—will go forward.
Sumatran elephant. Paul Hilton / Wildlife Conservation Society
Between Aug. 21 and Sept. 5, conflict palm oil grower PT. Tualang Raya cleared another 18 hectares of critical lowland rainforests inside the Leuser Ecosystem. This rogue actor has continued razing forests with impunity despite Rainforest Action Network exposing its ongoing destruction since September 2015.
PT. Tualang Raya is clearing in disregard of a government moratorium on forest clearing for palm oil development. According to satellite imagery analysis, PT. Tualang Raya has cleared a total of 205 hectares of forest since June 2016 when a government circular letter demanded that palm oil companies halt forest clearance.
A baby elephant nuzzles its mother in the Leuser Ecosystem on the island of Sumatra in Indonesia. Critical elephant habitat is being decimated to make room for palm oil plantations. Paul Hitlon / RAN
By Emma Rae Lierley
The Leuser Ecosystem on the island of Sumatra in Indonesia thrums with life. It is an ancient, 6.5 million acres of lush rainforest and steamy peat swamps, and because of its rich biodiversity, is one of the most important rainforests still standing today.
Its clear rivers provide drinking water for millions of people and its lowland and mountainous rainforests are literally the last place on Earth where Sumatran elephants, orangutans, tigers, rhinos and sunbears still coexist in the wild. Globally, we all depend on it for the climate regulating effects such a large carbon-sink can have.
And yet, the Leuser Ecosystem is being actively destroyed for palm oil and other industries.
Irma Omerhodzic
More than 200,000 people took to the streets in Washington, DC, Saturday for the People's Climate March. Tens of thousands more joined via sister marches across the globe, including Japan, the Philippines, New Zealand, Uganda, Kenya, Germany, Greece, United Kingdom, Brazil, Mexico, Costa Rica and more.
By Alicia Graef
Animal advocates are celebrating the successful rescue, rehabilitation and release of two critically endangered Bornean orangutans who had spent their lives in cages as pets.
The two orangutans, eight-year-old Johnny, and 10-year-old Desi, had spent their lives in confinement as pets before being rescued by a team from International Animal Rescue (IAR) in 2011 and 2012, respectively.
A new documentary produced and starring actor and activist Leonardo DiCaprio premieres in Los Angeles today and will be broadcast globally in 45 languages in 171 countries on the National Geographic Channel starting Oct. 30, timed to air in advance of the November elections.
The film highlights the critical role forest destruction plays in driving carbon pollution into Earth's atmosphere and focuses specifically on how the rapid spread of industrial palm oil plantations in Southeast Asia are at the heart of this crisis. The film It is directed by Fisher Stevens who, like DiCaprio, is an Academy Award winner.
Watch the exclusive clip here:
The film captures DiCaprio's visit to the Leuser Ecosystem in Aceh, Indonesia, where extremely high rates of forest clearance have exacerbated the climate change dilemma. Indonesia is now one of the world's top carbon emitting countries, primarily due to the massive deforestation in the region. Before the Flood notes that as it was being filmed in late 2015, man-made fires in Indonesia were spewing more carbon pollution on a daily basis than the entire U.S. economy combined. These illegal fires are an annual occurrence as a method of clearing land for palm-oil plantations. And just more than a week ago, the Indonesian government again declared a national state of emergency due to the severe impacts caused by the out of control fires.

"This important film brings much needed attention to the destruction of rainforests for palm oil, which is a huge driver of global climate change. We must aggressively address the deforestation crisis in places like Indonesia's Leuser Ecosystem," said Lindsey Allen, executive director of Rainforest Action Network. "With palm oil in roughly half of all packaged goods at the grocery store, it's up to all of us to demand major global brands like PepsiCo finally do the right thing and break the link between their products and tropical forest destruction."

DiCaprio met with Allen during the 2015 Paris Climate Conference (COP21) to discuss the urgent situation facing the Leuser Ecosystem and the critical connection between deforestation and global carbon emissions.
Following his conversation with Allen, DiCaprio's trip to the Leuser Ecosystem caused an international uproar when the Indonesian government briefly threatened him with deportation following his social media posts that drew attention to the deforestation and destruction caused by palm oil expansion. The Leonardo DiCaprio Foundation later committed three years of major funding for local and international efforts to save the Leuser Ecosystem.
Watch the trailer for Before the Flood here:
Most Americans live far from the path of the Dakota Access Pipeline—they won't be able to visit the encampments on the Standing Rock Sioux reservation where representatives of more than 200 tribes have come together in the most dramatic show of force of this environmental moment. They won't be able to participate in the daily nonviolent battle along the Missouri River against a $3.7 billion infrastructure project that threatens precious water and myriad sacred sites, not to mention the planet's unraveling climate.
TD Bank in Providence, Rhode Island, became the target of environmental and Native American rights activists.Steve Ahlquist / RIFuture.org
But most of us live near a bank.

Maybe there's a Citibank branch in your neighborhood. Or Wells Fargo or Bank of America or HSBC. Maybe you even keep your money in one—if so, you inadvertently helped pay for the guard dogs that attacked Native Americans as they tried to keep bulldozers from mowing down ancestral grave sites.
Maybe you have a retirement plan invested with Goldman Sachs or Morgan Stanley—if so, you helped buy the pepper spray that the company used to clear the way for its crews as they cleared the right of way straight to the Missouri River.
Perhaps you bank overseas. Credit Agricole? Deutsche Bank? Sumitomo? Royal Bank of Scotland? Barclays? Yeah, them too.
In fact, virtually every name in the financial pantheon has extended credit in some form to the Dakota Access Pipeline project, according to a remarkable dossier assembled by the organization Food & Water Watch. It shows a credit line of $10.25 billion (that's a b) for the companies directly involved in building the project—from 38 banks—a list of names that, the group adds, "might give you flashbacks to the 2007 financial crisis."
Sporadic protests have begun at some of the banks—activists occupied a Vancouver branch of TD Bank and across the continent in Philadelphia held a protest outside another of the giant's outlets. The same thing happened at a Citibank in downtown Chicago.
"It's unlikely that Citibank customers support poisoning indigenous peoples' water, desecrating sacred burial sites, or contributing to global climate change," said Gloria Fallon of Rising Tide Chicago. Which is true.
But banks love these kinds of deals precisely because they're so capital-intensive. (And because they're financially stacked in favor of the developers: Federal tax breaks worth more than $600 million helped make the balance sheet for Dakota Access Pipeline.)
The key Dakota Access Pipeline loan, said Rainforest Action Network's Amanda Starbuck, is still pending. It's a multibillion-dollar line of credit, but only $1.1 billion of the loan can be doled out until the company "resolves certain governmental permits." Citi, Mizuho, Bank of Tokyo MUFJ, and Mizuho Bank are leaders on that loan.
Many of these banks may be vulnerable to pressure. For one thing, they're eager to appear green: Bank of America, for instance, recently announced plans to make all its bank branches "carbon-neutral" by 2020. Which is nice—solar panels on the roof of the drive-thru tellers are better than no solar panels. But as Starbuck said, it's basically meaningless stacked up against Bank of America's lending portfolio, chock full of loans to develop "extreme fossil fuels, which are simply incompatible with a climate-stable world."
Put another way: They're going to be the vegan owners of a global chain of slaughterhouses.

Rainforest Action Network's numbers make clear just how mammoth this problem is for those of us fighting to keep fossil fuels in the ground: In June, it reported that just 25 banks have invested "$784 billion in coal mining, coal power, 'extreme oil' and liquefied natural gas facilities between 2013 and 2015."
But there are success stories: Australian campaigners, led by indigenous groups downunder and working with campaigners across three continents, persuaded most of the world's banks to stop bankrolling plans for what would have been the world's largest coal mine and port, and in turn, that has helped bring the project to a standstill.
The pressure will increase after this week's release of a new report from Oil Change International, which makes clear that the oil fields, gas wells, and coal mines already in operation have enough carbon to carry us past the 2-degree target the world set in Paris a year ago (and to absolutely annihilate the stretch goal of 1.5 degrees).
That is to say: At this point, anyone who finances any fossil fuel infrastructure is attempting to make money on the guaranteed destruction of the planet.
So those Dakota Access Pipeline loans should come under new scrutiny—moral, as well as financial—since they assume that governments won't enforce their Paris promises. That's a gamble accountants might want to think twice about, especially after this week's news that the SEC was investigating Exxon for its refusal to write down the value of its reserves in light of the global accords.
And at least one bank is waking up. Amalgamated—the New York-based, labor-affiliated bank—announced jointly with Bank of America that it would make its branches carbon neutral. More significantly, it also announced it was divesting from the fossil fuel business.
"We need to be honest, we have a growing environmental crisis unfolding and Amalgamated Bank will no longer sit on the sideline," said Keith Mestrich, President and CEO of Amalgamated Bank. "As an industry that prides itself on innovation and bold action, we must all be leaders and take real action to change our course."

Put another way: They're vegans who will now be lending to tofu makers.
But it's probably sustained public pressure that will do the most good.
"Oil companies are always going to drill for oil and build pipelines—it's why they exist," Rainforest Action Network's Scott Parkin. "But the banks funding this pipeline have a choice as to where they put their money. Right now, Citibank, TD Bank and others have chosen to invest in a project that violates indigenous rights and destroys the climate."
Parkin points to the protests that have already sprung up at dozens of banks from DC to New Orleans to Tucson to Long Beach to the Bronx.
"We have the power to derail that loan with a different kind of currency," he said. "Putting our bodies on the line at any financial institution that says 'Dakota Access Pipeline, we're open for business.'"
And if anyone has any doubts that civil disobedience can be useful, remember how the amazing activists at Standing Rock forced the federal government to blink, pausing construction earlier this month. Their nonviolent leadership has inspired all of us—and it should have sent a shiver down the spine of a few bankers.
Reposted with permission from our media associate Yes! Magazine.
By Chelsea Matthews
As Conflict Palm Oil companies move into priceless rainforests like Sumatra's Leuser Ecosystem, they are leaving a trail of destruction behind. Chocolate the orangutan is one of the few lucky survivors of this destruction and his is a story of hope.
Racing Extinction, Rainforest Action Network and Wildlife Asia have put together a short video about Chocolate to expose the impact of Conflict Palm Oil.
Chocolate, a Sumatran orangutan, was orphaned at a young age. He was violently ripped away from his mother to be sold into the pet trade after his rainforest home in the Leuser Ecosystem was destroyed to make way for massive industrial palm oil plantations. As the Leuser Ecosystem continues to be destroyed for palm oil, more forests are being fragmented, giving poachers easy access to Sumatran orangutans like Chocolate and other species hunted for trade on the black market.
Chocolate shown as an infant orphan orangutan while being held illegally by wildlife traders in a small village on the outskirts of the Tripa peat swamp in Indonesia's Leuser Ecosystem. Paul Hilton / SOCP
The rainforests of the Leuser Ecosystem are the last place on Earth that can support viable populations of Sumatran orangutans and other critically endangered species. Protecting this extraordinary place is essential if the Sumatran orangutan, tiger, rhino and elephant are going to continue to survive in the wild.

Driving this crisis is Conflict Palm Oil: the world's cheapest vegetable oil which is found in roughly 50 percent of packaged goods, including foods made by snack food giant PepsiCo. The skyrocketing demand for cheap Conflict Palm Oil has driven industrial-scale palm oil plantations deep into the rainforests of Indonesia, including the critically important Leuser Ecosystem.
Chocolate, a critically endangered Sumatran orangutan, is released into the wild after four years in rehabilitation.Paul Hilton / Wildlife Asia
PepsiCo is the largest globally distributed snack food company in the world and uses an immense amount of palm oil: Its annual consumption could fill enough Pepsi soda cans full of palm oil to circle the earth at the equator four times.

Right now, PepsiCo and other mainstream companies are failing to use palm oil in their products that is truly conflict-free. As palm oil is such a pervasive ingredient, boycotting products that contain it would be nearly impossible. This is why there is a growing movement calling for truly responsible palm oil—a benchmark that ensures no deforestation, no species extinction and no human rights abuses for the production of palm oil.
This approach is already proving successful as each year more and more of the companies that buy, sell and use palm oil in their products have adopted responsible palm oil commitments. But PepsiCo has fallen behind its peers by failing to raise its standards to the new global benchmark for responsible palm oil use. PepsiCo must clean up its palm oil supply chain to ensure it is not driving iconic species like the Sumatran orangutan to extinction.

Join the movement. Demand PepsiCo adopt a truly responsible palm oil policy and break its link to the destruction of critical forests like the Leuser Ecosystem.
Although we continue to see destruction for palm oil, there is hope. Every day more people are standing up, fighting back and holding the line against further destruction. Together, we can win for Chocolate, for the Leuser Ecosystem and for all the people and animals who reply on it.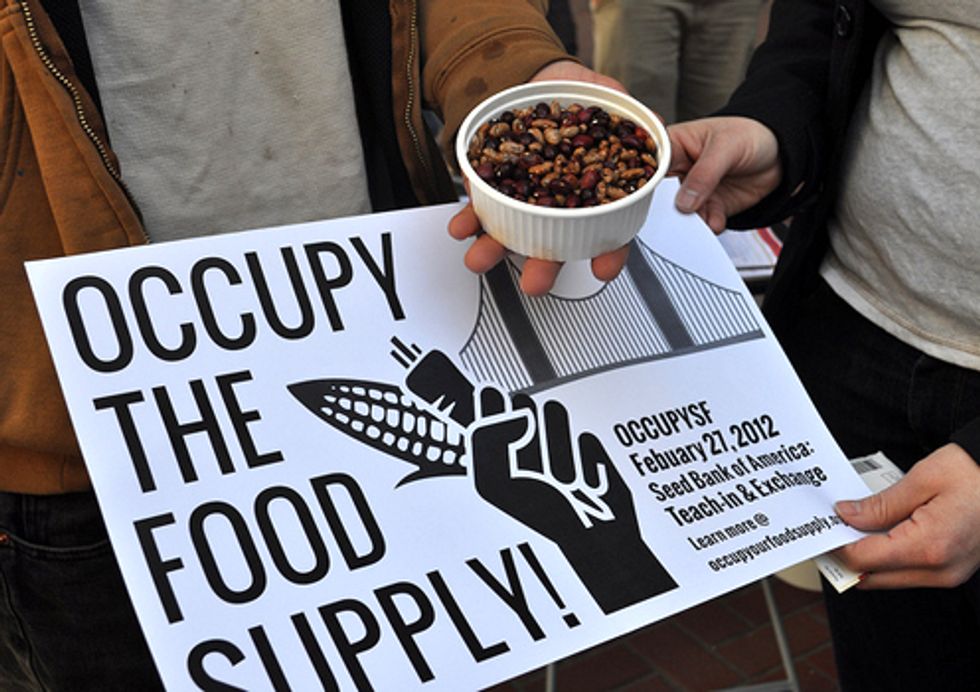 Organizers called the Feb. 27 Occupy our Food Supply day of action a resounding success. The day included more than 100 events across the globe, united an unprecedented alliance of more than 60 Occupy groups and 30 environmental, food and corporate accountability organizations, and featured prominent voices including Indian environmentalist Vandana Shiva, music legend Willie Nelson, actor Woody Harrelson, authors Raj Patel, Anna Lappe, Gary Paul Nabhan, author Michael Ableman and Marion Nestle, among others.
"At this point, we can barely keep up with all the events and blog postings," said Hillary Lehr, an organizer for Rainforest Action Network, which helped facilitate the day of action. "From mommy bloggers to Occupy groups, we are seeing an enormous spectrum of people respond to Occupy our Food Supply's call to resist corporate consolidation of our food systems and create socially and environmentally just local solutions. Plain and simple, it is clear that getting big food giants like Cargill and Monsanto out of our food system is an idea whose time has come."
Across the globe, online and offline, thousands participated in the events. Events included a 40 person seed exchange at the New York Stock Exchange hosted by Occupy Wall Street; the building of a community garden in Oakland hosted by Occupy the Food System Oakland; the 'stickering' of genetically modified foods at more than 20 Safeway and Whole Foods grocery stores across the country; more than 100 people in Wayzata, Minn. convening a Cargill call-in day to CEO Greg Page; and an 'evict Monsanto' protest is planned for Feb. 29 at the Monsanto offices in Lockhart, Texas.
"Every stage of the food system involves some sort of destructive or exploitive practice, and we really need to change that," said Alec Higgins with Occupy Wall Street Food Justice, which organized the seed exchange at the New York Stock Exchange. "Food is at the core of OWS values. We are coming together around this one thing that is so essential to our well being. It's what we eat."
Occupy our Food Supply also had an online face with a blogger and social media day of action, asking influential bloggers, social media users and blog sites to write on the corporate control of food. More than 75 blogs covered the day, from the prominent Huffington Post to the niche CivilEats and Curvy, Foody, Hungry. On Twitter, the event reported two to three posts per minute using the #F27 hasthtag.
Never have so few corporations been responsible for more of our food chain. Of the 40,000 food items in a typical U.S. grocery store, more than half are now brought to us by just 10 corporations. Today, three companies process more than 70 percent of all U.S. beef, Tyson, Cargill and JBS. More than 90 percent of soybean seeds and 80 percent of corn seeds used in the U.S. are sold by just one company—Monsanto. Four companies are responsible for up to 90 percent of the global trade in grain. And one in four food dollars is spent at Walmart.
The overwhelming support for Occupy our Food Supply underscores the unity between farmers, parents, health care professionals, human rights activists, food justice advocates and food lovers around the world who are increasingly viewing their concerns as different manifestations of the same underlying problem—a food system structured for short term profit instead of the long term health of people and the planet.
Supporting groups included: Bay Localize, Berkeley Association for Animal Advocacy, Biosafety Alliance, California Food and Justice Coalition, Chiapas Support Committee, Family Farm Defenders, Food Democracy Now, Food First, Foodchain Workers Alliance, Indigenous Environmental Network, National Family Farms Coalition, PAN (Pesticide Action Network), Pesticide Watch, Planting Justice, Occupy Big Food, Occupy Claremont, Occupy Cargill, Occupy DC, Occupy Denver, Occupy Farms, Occupy Fort Lauderdale, Occupy Food, Occupy Gardens Toronto, Occupy Jacksonville, Occupy MN/Seeds of Change, Occupy London, Occupy Monsanto, Occupy Philly Occupy Vacant Lots),  Occupy Porto Alegre (Brazil), OWS-Food Justice, OWS Puppets, OWS Sustainability, Occupy Santa Cruz, Occupy SF Environmental Justice Working Group, and Occupy the Food System-Oakland, Organic Consumer Association and many others.
See the full list of supporting organizations and events by clicking here.
For more information, click here.