This website uses cookies to ensure you get the best experience while browsing it. By clicking 'Got It' you're accepting these terms.


The best of EcoWatch, right in your inbox. Sign up for our email newsletter!
Caleb George / Unsplash
By Doug Norlen
This month the United Nations Intergovernmental Panel on Climate Change released a startling report, which finds that severe impacts of climate change are happening much sooner than previously expected, and that countries must take far more aggressive actions to avoid the most catastrophic impacts. The report finds that the burning of fossil fuels must be curbed sharply.
69 percent of Chicago's office space square footage is now green-certified.
Marco Verch / CC BY 2.0
By Hilary Firestone and Olivia Walker
City Energy Project cities once again dominated CBRE's list of greenest U.S. commercial real estate markets. CBRE, the world's largest commercial real estate services and investment firm, released their fourth annual Green Building Adoption Index study in partnership with Maastricht University, examining nationwide commercial building energy use trends and impacts of energy efficiency programs and policies on U.S. building markets.
EcoWatch Daily Newsletter
Southern California Gas Company's Aliso Canyon facility.
Scott L / CC BY-SA 2.0
A major California utility has agreed to pay nearly $120 million in a civil settlement over a huge methane leak that forced thousands to flee their homes in 2015.
By Jason Daley
There's little question that air pollution is toxic for the human body. Studies have shown that particulate matter in the air can lead to lung disease, heart disease, strokes, and lung cancer. But researchers thought the brain might be protected due to the blood brain barrier—a natural system that filters out foreign substances and certain neurotransmitters before they circulate in the brain. A new study from researchers at Cedars-Sinai Medical Center in Los Angeles shows that many heavy metals found in the air may make it into brain tissue, and those pollutants are activating genes that may lead to cancers or neurodegenerative disorders.
According to new WHO data, Cairo is one of the world's most polluted mega-cities. Gary Denham / Flickr
The latest World Health Organization (WHO) air quality report revealed that air pollution is as much a global public health threat as ever, killing seven million people every year, a number that study authors told The Guardian is distressingly close to 2016's assessment.
Traffic on the I-405 in Los Angeles. Eric Beteille / Flickr
By Nicholas Bryner and Meredith Hankins
Editor's note: On April 2, U.S. Environmental Protection Agency (EPA) Administrator Scott Pruitt announced that the Trump administration plans to revise tailpipe emissions standards negotiated by the Obama administration for motor vehicles built between 2022 and 2025, saying the standards were set "too high." Pruitt also said the EPA was re-examining California's historic ability to adopt standards that are more ambitious than the federal government's. Legal scholars Nicholas Bryner and Meredith Hankins explain why California has this authority—and what may happen if the EPA tries to curb it.
www.youtube.com
A fire in Los Angeles has burned more than 7,000 acres since erupting on Friday.
Officials reported Monday that the La Tuna fire, one the city's largest fires in decades by acreage, is now at least 30 percent contained.
The Port of Los Angeles—the nation's largest port by container volume and cargo value—is building the world's first marine terminal able to generate all of its energy needs from renewables.
How will Los Angeles County prepare for a warmer future? And what role could clean energy investments play?
A joint project of Environmental Defense Fund (EDF) and UCLA Luskin Center for Innovation—Los Angeles Solar and Efficiency Report (LASER)—provides new data designed to help the public and policymakers prepare for the effects of climate change, from current environmental health risks to estimated temperature increases and climate change vulnerability throughout the region. It can also be used by communities to help identify opportunities to invest in projects that will create renewable energy jobs and cut electricity bills.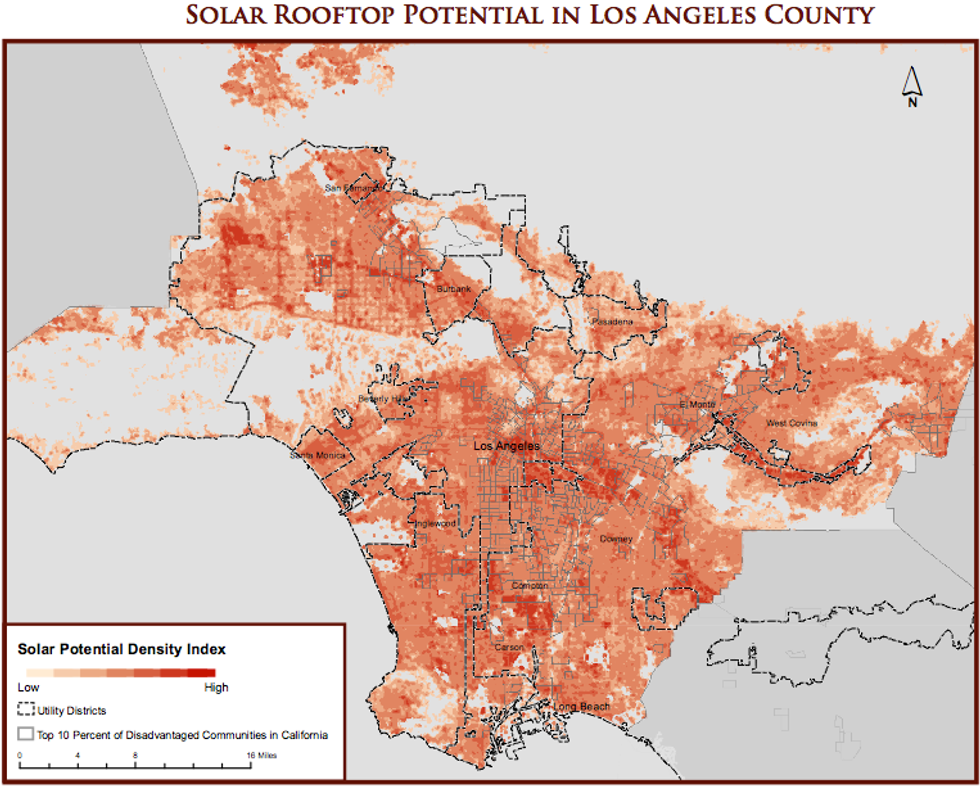 Solar Atlas" (2011). UCLA used and modified data from the Los Angeles County Chief Information Office, the
Los Angeles County Solar Map. http://solarmap.lacounty.gov. Disadvantaged communities are outlined in grey lines and identified per California Environmental Protection Agency and the Office of Environmental Health Hazard Assessment, "California Communities Environmental Health Screening Tool Version 2.0" (2014). http://oehha.ca.gov/ej/ces2.html.
"The project is timely because with new state funding sources becoming available, LASER can help inform how the region invests resources to address pressing environmental challenges while providing job opportunities in its most impacted communities," said Colleen Callahan, lead author of the study and deputy director of the UCLA Luskin Center for Innovation.
The data-driven mapping tool, by parcel-level analysis, illustrates the area's renewable energy potential through rooftop solar energy generation and energy efficiency measures. L.A. County presently has about 98 percent of its solar capacity untapped. The tool points out that if the county achieved only 10 percent of its rooftop solar potential, it would generate 47,000 jobs and cut almost 2.5 million tons of CO2 emissions each year.
The release today of the newest version of LASER is part of UCLA's "Thriving in a Hotter Los Angeles" project, which sets a goal for the region to use solely renewable energy and local water by 2050, and a response to President Obama's Climate Data Initiative, which calls for leveraging public data to stimulate collaboration and innovation in support of national climate change preparedness.
LASER was highlighted in a White House announcement emphasizing ongoing efforts to broadly advance the initiative. "Through his Climate Data Initiative, President Obama is calling for all hands on deck to unleash data and technology in ways that will make businesses and communities more resilient to climate change," said John P. Holdren, President Obama's science advisor. "The commitments being announced today answer that call."
You Might Also Like
Big Polluters Cry Wolf Over EPA Plan to Fight Climate Change and Protect Human Health
Survey Shows Americans Lead the World in Climate Denial
A Los Angeles city councilman is thinking big and long range when it comes to cutting greenhouse gas emissions.
Paul Koretz said the city should target a cut of 80 percent below 1990 levels by 2050, according to the Los Angeles Times.
"The climate crisis is no longer out there in the future," Koretz told reporters at a news conference Friday. "It's here. It's now."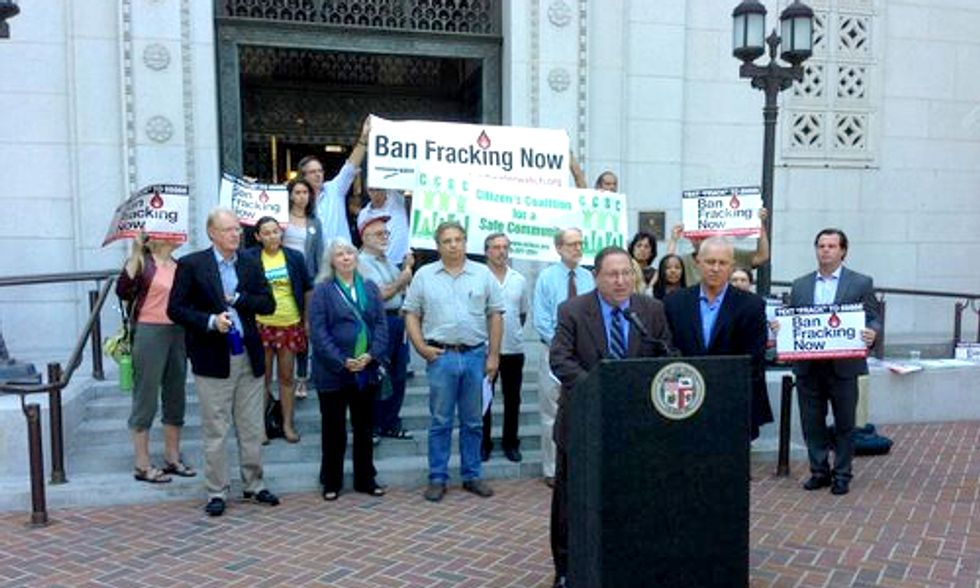 Boston and San Francisco are among the cities with the aggressive target Koretz suggested. He plans on introducing it in a motion during council's next meeting.
The city is already well on its way to achieving the goal it previously set forth of slashing emissions by 35 percent by 2030. Koretz's office told the publication that Los Angeles had cut emissions 30 percent below 1990 levels by 2013.
Koretz's multilayered plan includes installing more solar energy on city rooftops and energy efficiency retrofits across the city. He also wants the Los Angeles Department of Water and Power to meet the same emissions target two decades before the city.
The department's emissions have dropped 22 percent from 1990's levels, with "even more dramatic" cuts in store as coal is eliminated from the mix at the Navajo and Intermountain power plants, spokesman Joe Ramallo the Times.
"The DWP is almost all the way there," Koretz said. "We just want to give them a nudge to get all the way there."
Koretz has displayed a track record of environmental concern since assuming office five years ago. He was one of two members to introduce a motion for a fracking moratorium last year. He also introduced a motion banning the cultivation and sale of genetically engineered seeds and plants.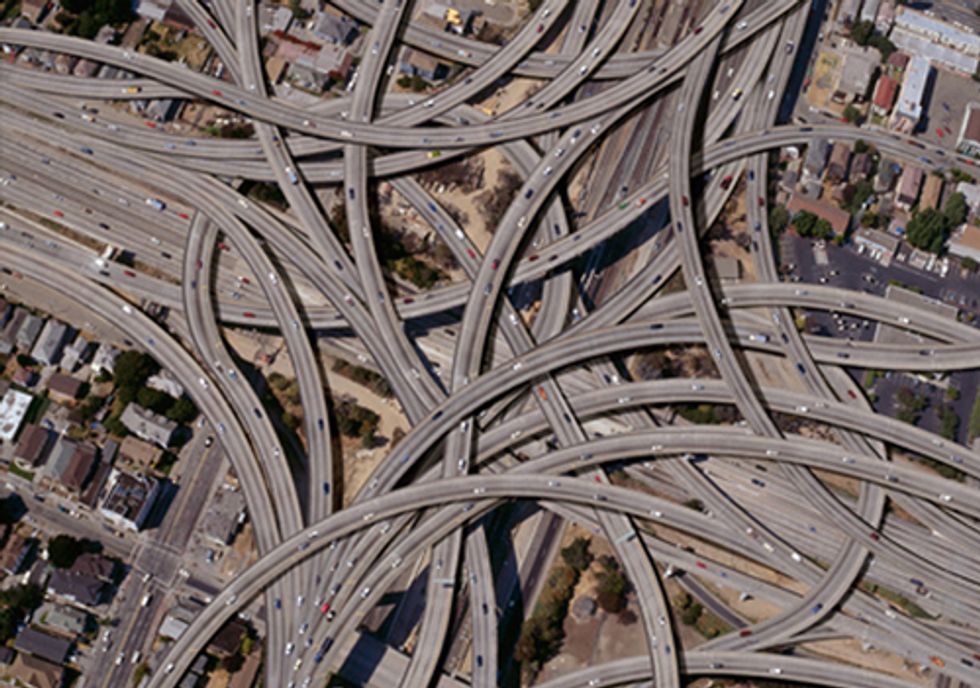 More than a million people in the Los Angeles region are exposed to undisclosed, unhealthy levels of air pollution every day, according to a lawsuit filed Jan. 3 by Physicians for Social Responsibility-Los Angeles, the Natural Resources Defense Council (NRDC), and Communities for a Better Environment.
Pollution produced by the region's millions of diesel and gasoline powered vehicles cause a heavy health burden for everyone living in Southern California, but evidence shows that it harms families and individuals living within approximately 300 yards of L.A.'s heavily-trafficked roadways even more. Although these families and other advocates have repeatedly asked for monitors to be placed along the roadways to determine exactly how much pollution comes from these roadways, the U.S. Environmental Protection Agency (EPA) has refused to do so.
"How will the EPA protect us against air pollution if they won't even measure how much is in the air?" asked Adrian Martinez, staff attorney with NRDC. "On many days, smog blankets our region as a result of the millions of tailpipes on our highways. People living near these freeways are at the greatest risk, yet lack adequate protection and the much needed air monitoring stations in these very obvious places with foul air. Regulators are actively avoiding this problem instead of addressing it, and that needs to stop."
The federal lawsuit contends EPA violated the law by allowing the South Coast Air Quality Management District to ignore high levels of air pollution breathed by those living near freeways. NRDC and local advocates have sought to ensure air monitors are placed along the region's highways to better inform the local air district about the hazardous levels of particulate air pollution, and to arm them with the information necessary to take action to protect the region's residents. 
"The science on this is clear," said  Martha Dina Arguello, executive director of Physicians for Social Responsibility-Los Angeles. "People who breathe this polluted air suffer the staggering health impacts of air pollution at every phase of life. We know that women who live near heavy traffic roadways have a greater risk of having a low birth weight child and the child is more likely to develop asthma. Over a lifetime, living with this pollution also increases the likelihood of adult onset asthma, heart attacks, cancer and premature death. The evidence strongly suggests that people—especially children and seniors—who live near these roadways are exposed to much higher levels of pollution and therefore much more vulnerable to the impacts of pollution. It's unconscionable that the  EPA refuses to collect the information necessary to protect people's health," Arguello added.
Without monitors, regulators can ignore whether air quality for the more than 1.2 million people who live near high-traffic roadways despite the Clean Air Act's mandate that all residents breathe healthy air. This litigation seeks to ensure that the EPA follows the letter.
"We've provided the EPA the studies that show that the air quality along freeways can be really bad—much worse than almost everywhere else. But they refuse to monitor our air. Why?" asked Mark Lopez of Communities for a Better Environment. "Monitors would allow all of us to know if there is a problem. If not—great!  But if there is, we can work together to address it. We just want our children and families to be safe. Why won't they collect the information needed to make sure that we're safe?" added Lopez.
For more information, click here.
—————
The Natural Resources Defense Council (NRDC) is an international nonprofit environmental organization with more than 1.3 million members and online activists. Since 1970, our lawyers, scientists, and other environmental specialists have worked to protect the world's natural resources, public health, and the environment. NRDC has offices in New York City, Washington, D.C., Los Angeles, San Francisco, Chicago, Livingston, Montana, and Beijing. Visit us at www.nrdc.org