This website uses cookies to ensure you get the best experience while browsing it. By clicking 'Got It' you're accepting these terms.


The best of EcoWatch, right in your inbox. Sign up for our email newsletter!
LNG tanker. kees torn, CC BY-SA 2.0
By Steve Horn
U.S. Senator Marco Rubio (R-FL) and U.S. Senator Bill Cassidy (R-LA) have introduced a bill to fast-track the regulatory process for the export of small-scale liquefied natural gas (LNG).
The bill, titled "Small Scale LNG Access Act," was introduced on Oct. 18 and calls for amending the "Natural Gas Act to expedite approval of exports of small volumes of natural gas." The proposed legislation follows in the footsteps of the U.S. Department of Energy's (DOE) proposed rule which would assume that all U.S. small-scale exports of LNG, with the gas mostly obtained via hydraulic fracturing ("fracking"), is in the "public interest" as defined by the Natural Gas Act.
A long-standing fight for the public's right to their land and waterways came to an end April 22 when Gov. Cuomo's New York State Department of Environmental Conservation denied the Clean Water Act Section 401 Water Quality Certification for the proposed Constitution Pipeline. The pipeline was proposed to run for 124 miles and require the destruction of nearly 700,000 trees.
Further, the pipeline would have carried fracked natural gas through the Hudson River estuary, crossing 289 waterbodies, multiple public drinking water sources and three watersheds. There was no expected public benefit from the pipeline. While the pipeline's proponents alleged they would ship the fracked gas to New England, it was clear that the gas pipes leaving the pipeline's terminus are all constrained, leaving no other option but to ship the gas to a Nova Scotia LNG facility before ultimately shipping it to Europe and Asia. Thankfully, New York State recognized the applicant's failure to demonstrate how they would mitigate or avoid impacts to the state's waterways.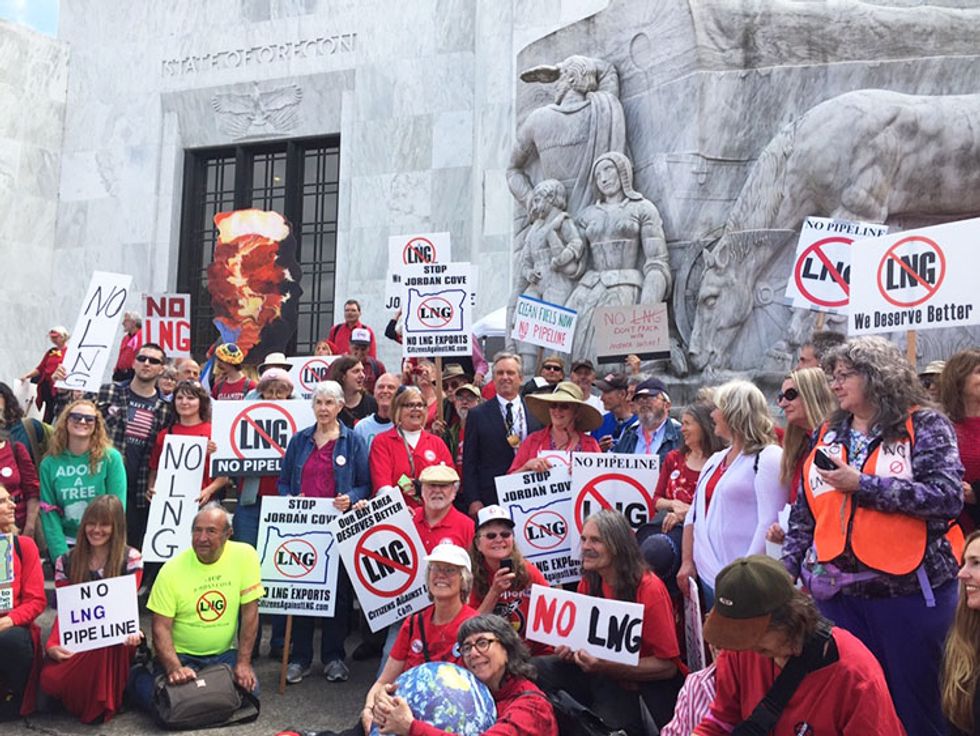 This landmark decision in New York was the latest in a flurry of victories over pipeline projects across the country within the past two months. In Oregon, a proposed liquified natural gas (LNG) terminal in Warrenton and the Jordan Cove Energy project were defeated. The Jordan Cove project would have crossed nearly 400 waterbodies, a number of which are critical habitat for endangered coho salmon. Further, the Jordan Cove LNG terminal would have become Oregon's largest greenhouse gas emitter. Kinder Morgan pulled the plug on its Northeast Energy Direct pipeline and its Palmetto Project. And in Georgia, the legislature moved to block easements for the Sabal Trail Pipeline and Gov. Nathan Deal approved a moratorium that prohibits eminent domain for pipeline companies through July 2017.
The common denominator of these victories was the galvanized communities who mobilized and used the power of democracy to subjugate Big Energy's greed. These communities took back the rights that had been stolen from them when the Federal Energy Regulatory Commission transferred the sacred authority of eminent domain through its outrageous rubber-stamping of permits for expansion of the gas industry. As these pipeline projects threatened to bulldoze land, pollute waterways and destroy communities, people raised their collective voices and used the law to bring about action, proving yet again that democracy is the best safeguard for our water, air and land resources.
This is the beginning of a new era. It is a time when the people will demand more for their future, by exerting their collective democratic power and forcing politicians to do the right thing to reclaim our natural resources from the hands of big business. It is this grassroots power that is catalyzing action against climate change. It is this movement that is driving our energy future away from dirty fossil-fuel projects to clean renewables. This is a shift that is imperative if we are to save our home from the destructive impacts of a fossil-fuel carbon overload in the Earth's atmosphere.
These defeated pipeline projects are a testament to the power of the growing bottom up movement for change. They are stories of communities galvanizing around the notion that we must leave polluting fossil fuels in the ground and invest in a clean energy future. Not only are these inspiring tales of David versus Goliath, they are examples of people power over corporate power that we will see repeated time and time again on the road to victory for our climate and and our planet.
YOU MIGHT ALSO LIKE
Exxon, First Amendment Doesn't Give You Right to Commit Fraud
Wind and Solar Outpaced Fossil Fuels Again Even in Republican-Led States Fighting Climate Action
Fracking in Bakken Oilfield Largely Responsible for Global Rise in Ethane
EcoWatch Daily Newsletter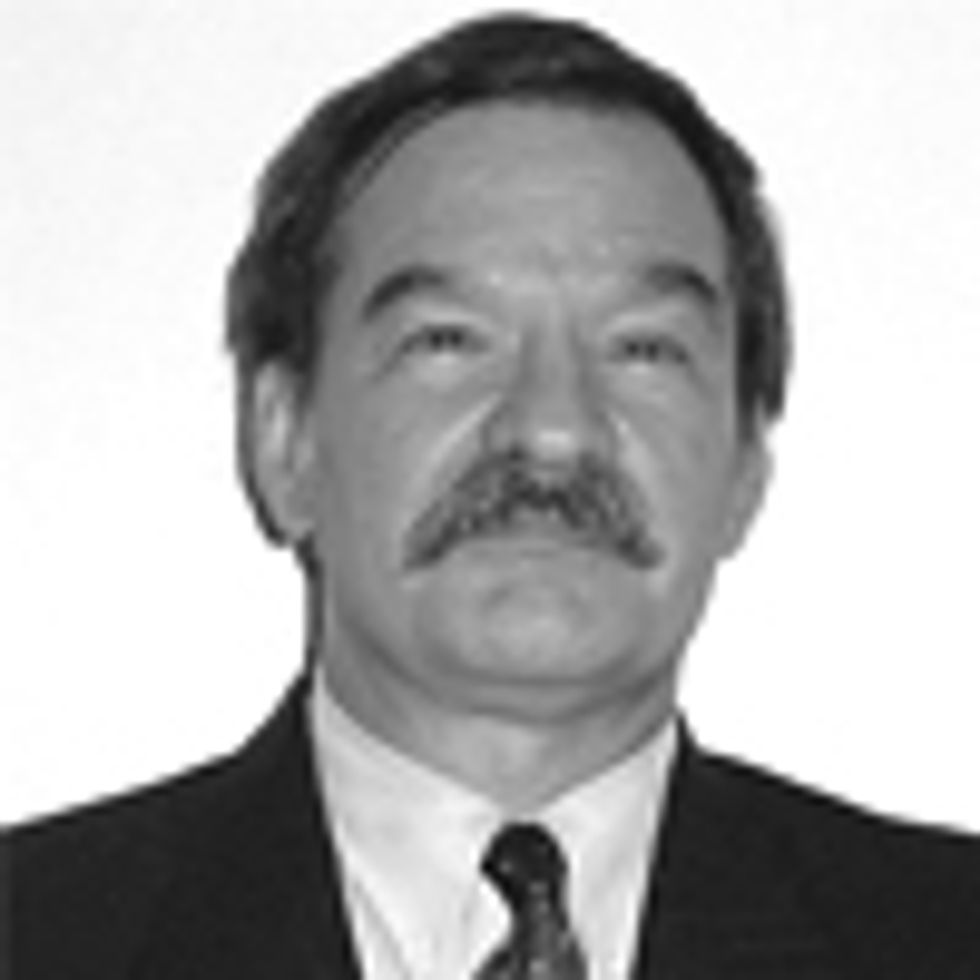 Since April 2014, 10 fracking infrastructure projects have been canceled or delayed.
Here's the list:
April 2014: The Bluegrass Pipeline in Kentucky was stopped by a court decision upholding landowners' rights against the use of eminent domain to take their land for private profit.
November 2015: The Port Ambrose liquified natural gas (LNG) project was vetoed by New York Governor Andrew Cuomo. The project was proposed by Liberty Natural Gas off the shores of New York and New Jersey.
March 2016: The Jordan Cove LNG export terminal and 223-mile Pacific Connector pipeline in Oregon were rejected by the Federal Energy Regulatory Commission (FERC), signifying FERC's first gas infrastructure rejection in 30 years.
March 2016: The Republican-dominated Georgia legislature voted overwhelming for a one-year moratorium on any new gas pipelines, setting back efforts to build the Palmetto Pipeline.
March 2016: FERC announced a seven month delay on making a decision about the Penn East pipeline in Pennsylvania and New Jersey and a 10 month delay for the Atlantic Sunrise pipeline in Pennsylvania and Maryland.
April 2016: The Oregon LNG company announced that it's ending its years-long effort to build an export terminal and pipeline.
April 2016:  Kinder Morgan announced it is suspending its efforts to build the Northeast Energy Direct pipeline, which would have run from Pennsylvania through New York into Massachusetts and New Hampshire.
April 2016: Dominion Resources announces that the start time for beginning construction on the Atlantic Coast pipeline, going from West Virginia through Virginia into North Carolina, is being moved back from this fall to summer 2017.
April 2016: New York Governor Andrew Cuomo announced that the New York Department of Environmental Conservation rejected the application of the Constitution Pipeline company for a water quality permit, a permit it must have in order to begin construction.
"We are actually experiencing the clean energy revolution, it's really happening right now," I said to my wife when I heard the news about the Constitution Pipeline.
It's very significant that the movement against fracking and fracking infrastructure projects is winning these victories, but it does not mean we can take a break. As of March 24, FERC's lists 58 interstate gas pipelines on their website.
We need to gain strength from these victories and, with the wind shifting from a headwind to being more at our back, step up our pressure on FERC, and the gas and pipeline industry. Join Beyond Extreme Energy from May 15 to May 22 in Washington, DC for the Rubber Stamp Rebellion.
Ted Glick is a co-founder of Beyond Extreme Energy and a climate activist since 2003. Past writings and other information can be found here, and you can follow him on Twitter.
YOU MIGHT ALSO LIKE
Viral Video of River Catching on Fire Prompts Call for Ban on Fracking
Is Fracking Causing the Epidemic of Horse Birth Defects at Breeding Farm?
Gov. Cuomo Rejects the Constitution Pipeline, Huge Win for the Anti-Fracking Movement
12 Arrested in Earth Day-Themed Protest Against Gas Storage in Seneca Lake's Salt Caverns
On Friday, the Federal Energy Regulatory Commission (FERC) rejected the proposal for the Jordan Cove LNG Export Terminal and Pacific Connector Pipeline because its public interest value did not outweigh the project's adverse effects.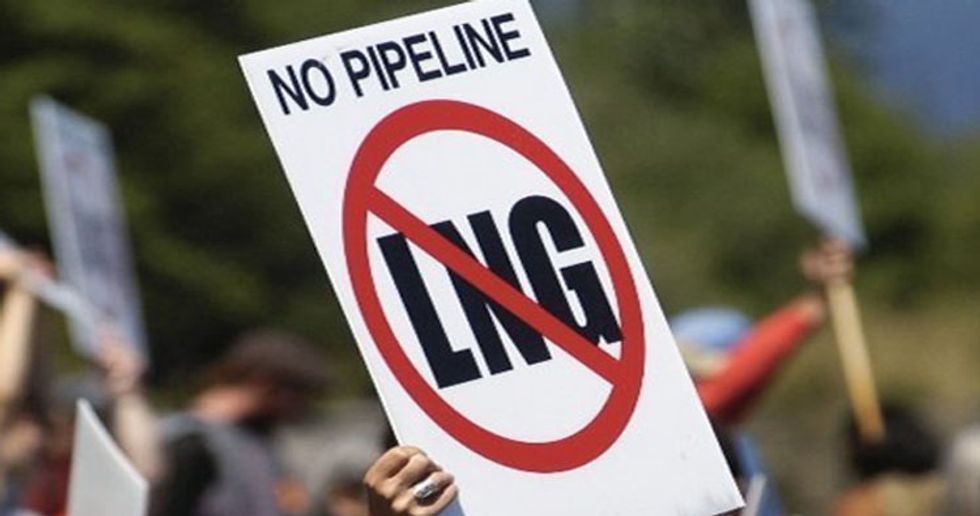 "We find the generalized allegations of need proffered by Pacific Connector do not outweigh the potential for adverse impact on landowners and communities," FERC said, adding that "the record does not support a finding that the public benefits of the Pacific Connector Pipeline outweigh the adverse effects on landowners."
This is a huge victory for groups that have been fighting this project, including the Sierra Club, which intervened by filing a formal request calling for the Jordan Cove terminal and Pacific Connector pipeline to be rejected.
"This historic victory is the result of over a decade of hard work by Oregonians and their allies across the environmental movement committed to protecting their communities from this dangerous proposal," Sierra Club executive director Michael Brune said.
"Allowing dangerous proposals like Jordan Cove to continue will only lead to more drilling and fracking, which in turn will further pollute our air and our water and bring about more climate-fueled weather disasters like the record droughts, wildfires and superstorms we have witnessed in recent years.
"Fossil fuels like gas are not in the public's interest, and we are thrilled to see FERC make this ruling and take such a strong stance."
YOU MIGHT ALSO LIKE
Federal Court to Decide if Kids Can Sue Government for Failing to Act on Climate Change
NOAA: Carbon Dioxide Levels 'Exploded' in 2015, Highest Seen Since End of Ice Age
Jury Awards Two Dimock Couples $4.2 Million After Finding Cabot Oil & Gas Negligent in Fracking Contamination Case
Bolivia's Second-Largest Lake Dries Up: Is Utah's Great Salt Lake Next?
Investors in fossil fuels are being warned that they may risk losing their money, because the markets for coal and liquefied natural gas are disappearing.
In both cases it is competition from renewables, principally wind and solar power, that is being blamed for the threat. The cost of electricity from renewables continues to fall in Europe and Asia as the numbers of wind and solar installations grow in both continents, cutting demand for imported gas and coal.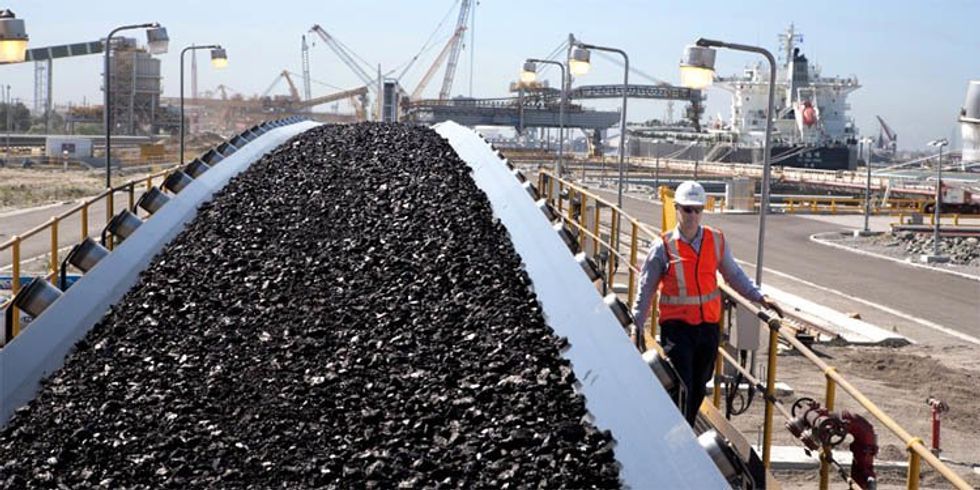 Two separate reports on coal and gas were published at the same time as a round of annual financial reports from oil companies showed that this third fossil fuel could be in serious trouble too. 
Despite massive cutbacks on exploration and development, companies like Shell and BP still need a price of US$60 a barrel by the end of this year if they are to break even on many of their current projects—almost double the current market price. 
Long Lead-Time
Overproduction of coal, gas and oil spells trouble for investors in mines, pipelines, ports and the other infrastructure needed to transport fossil fuels round the globe. The cost of development requires a long lifetime for the equipment and a high long-term guaranteed price for the fuels if investors are to get their money back.
The first report, Stranded Assets and Thermal Coal, found that Australian and U.S. coal assets were the most vulnerable. Australian mines were particularly at risk because of their heavy reliance on exporting coal to markets that were rapidly shrinking. 
Australia exports three times as much coal as it consumes locally, but two of the world's largest markets for coal, India and China, are cutting imports. India's imports fell by 34 percent last year and China's by 31 percent. Australia's mines were also seen as high-risk because of environmental regulations and the widespread opposition to their development.
U.S. coal assets were risky because of competition from cheap gas for the same markets. This meant exporting coal and competing in a world market where there is already a significant surplus.
In the Dark
The report said company statements made it clear that investors were not being given the full picture of the risks from environmental regulation and policy.
Many countries pledged in the Paris agreement reached last December to cut their coal use. If these pledges were kept, the report said, then much of the coal currently shown as an asset would have to be left in the ground.
A separate report, on liquefied petroleum gas (LPG), also raises the possibility that investors may lose their money. The trade is based on the fact that gas is cheap in the U.S. and expensive in Europe, so the expense of liquefying it and transporting it to Europe is offset. Large investments are being made in the pipelines, ships and ports required to transport it.
There are two problems outlined in the report, LNG and Renewable Power. The first is that the price of gas, which is tied to that of oil, has dropped in Europe, squeezing the margins of the companies that are spending large sums setting up the supply line.
No Recovery
The second is that the market for gas is itself shrinking as the output of the solar panels and wind farms increases. Unless gas investors can see a long-term return from a stable market they will not make a profit and LPG becomes high-risk.
Predictions on the future of fossil fuel investments all hinge on the price of oil. With big oil companies—and many countries—needing the current price to double to more than $60 a barrel to break even on their current investments. Everybody in the business believes it is only a matter of time before prices double again.
Paul Spedding, former global co-head of oil and gas research at HSBC, an adviser to Carbon Tracker, said he believes the price of oil may never recover. Structural changes in the energy markets, more efficient electric cars, batteries and hybrid solutions no longer favor oil. The European Union for example is already reducing its demand by 1.5 percent a year.
Similar drops can be expected elsewhere as governments strive to meet their targets under the Paris agreement. If that happens, an oil surplus will become the new normal and investors in major oil companies will face a difficult future.
YOU MIGHT ALSO LIKE
Mark Ruffalo: There's No Fracking That Can Be Done Safely
Driving Cars Powered by Organic Solar Cells Might Be Closer Than You Think
Why China Should Not Put its Nuclear Weapons on High Alert
Despite Supreme Court Decision, Clean Energy Revolution Continues to Grow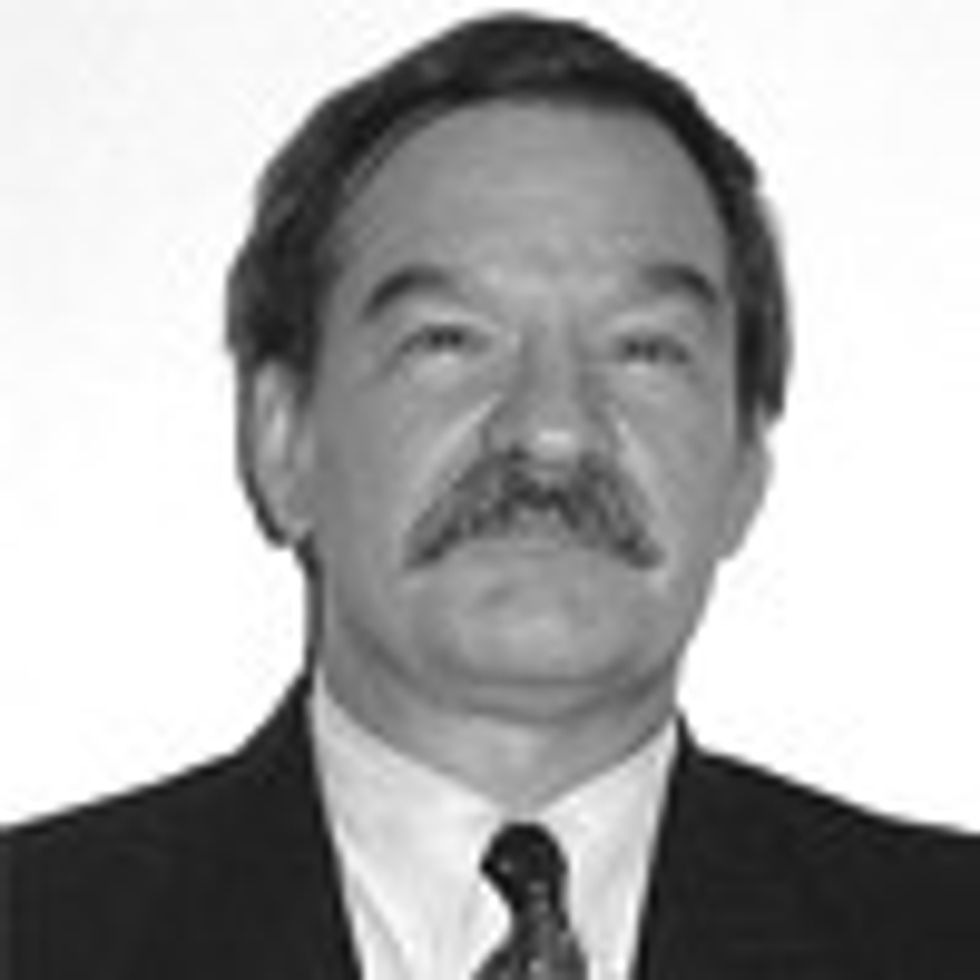 Over a seven day period last week there was a flurry of step-it-up activity on the East Coast in opposition to the planned expansion of fracking and fracking infrastructure.
It began with a three-day walk over the Martin Luther King, Jr. weekend in sub-freezing, wintry weather in rural western Massachusetts against Kinder Morgan's proposed Northeast Energy Direct pipeline. Upwards of 200 people took part in the walk, with an average of about 80 people walking 11-12 miles each day. The spirit and energy of the group was powerful.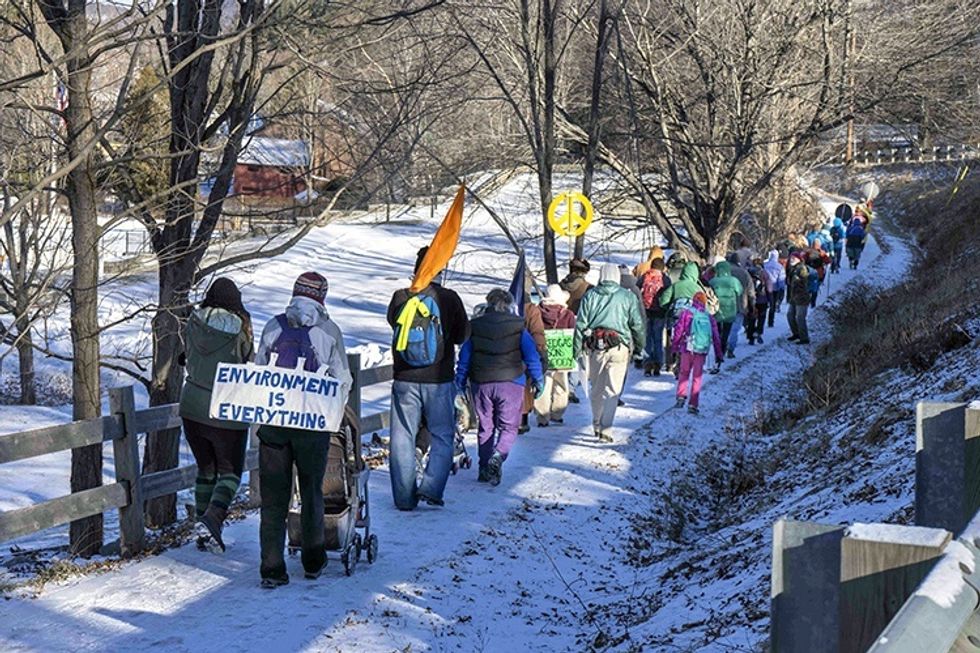 It continued on Wednesday in Harrisburg, Pennsylvania with a successful disruption of the last meeting of Gov. Tom Wolf's gas-industry-stacked pipeline infrastructure commission. The commission was set up to sell the plan to build even more gas pipelines and expand fracking in the state.
And it ended on Thursday in Washington, DC with the 15th consecutive Beyond Extreme Energy disruption of the monthly Federal Energy Regulatory Commission (FERC) Commissioners' meeting. This action was followed by one right near the White House at a Bank of America branch. Bank of America is a major funder of the being-built Cove Point, Maryland Liquified Natural Gas export terminal.
Also this past week, on Monday, seven people were arrested at the latest blockade organized by We Are Seneca Lake in Ithaca, New York at the Crestwood gas storage facility; many hundreds have been arrested over the last year and a half in a campaign that shows no signs of letting up.
The movement against FERC and the expansion of fracked gas pipelines, compressor stations and storage and export terminals has made great strides over the past year and this past week's actions are an indication of what will be happening this year.
FERC's outrageous behavior—it has rejected only one proposed interstate gas pipeline in the last 10 years, according to former FERC employee and attorney Carolyn Elefant—and the broad and growing movement against it are prompting senators, congresspeople, Bernie Sanders and Hillary Clinton to speak out and take action:
• Bernie Sanders has come out against the Northeast Energy Direct pipeline.
• Hillary Clinton, at a town hall meeting in Keene, New Hampshire last October, said, "If we're going to have a national commitment to do something about climate change, FERC needs to be part of that commitment. It's not just the U.S. Environmental Protection Agency (EPA) that needs to be focused on combating climate change, every part of the federal government needs to be focused."
• Congressman Matt Cartwright (D-Pa.) wrote about FERC in September to the Department of Energy Inspector General, leading to an audit of the FERC permitting process, currently underway.
• In late November five Congresspeople from New England wrote to FERC calling upon them to review all proposed energy projects across the region in tandem to determine how New England's energy markets will best be served and to prevent any potential overbuild.
• In late October four members of the Georgia Congressional delegation "sent a letter to FERC asking the commission to change the route of a 516-mile natural gas pipeline slated to run through impoverished communities in Georgia." (Politico's Morning Energy,  Oct. 27, 2015)
• On Nov. 18, 2015 Massachusetts Attorney General Maura Healey published a study which concluded that there is no need for increased gas capacity to meet the state's electric reliability needs for at least 15 years to come.
• Also in Massachusetts, State Senate President Stanley Rosenberg wrote to FERC Chairman Norman Bay, writing that federal regulators "should consider the interest of the Massachusetts citizens in establishing an energy sector based substantially on reduced emissions and clean and renewable energy as an initial test for determining whether any proposed project is in the public interest."
• And then there is President Obama, a big booster of fracking throughout his Presidency, not mentioning fracking or natural gas or all-of-the-above during his final State of the Union speech. When added to other developments over the past year, it is clear that the White House is at least having doubts about its strong support for fracking all these past years, a process which needs to deepen and accelerate this year.
There is more:
• On Jan. 14 a letter signed by 165 organizations was sent to Senators Sanders and Elizabeth Warren asking them, in their role as members of the Senate Committee on Energy and Natural Resources, to formally request a U.S. Government Accountability Office investigation of FERC. The groups said that "the request for an investigation notes that FERC is entirely funded by the industry it regulates, resulting in a demonstrable bias in favor of the energy industry's agenda over community and environmental concerns."
• At an early December Congressional hearing, "FERC Commissioner Tony Clark told members of Congress that ... a recent increase in opposition to infrastructure projects under review by the Federal Energy Regulatory Commission threatens to further impede this development.
"FERC Chairman Norman Bay, fielding a question from an Energy and Power Subcommittee member, noted the increase in opposition to infrastructure projects, including protesters attempts to disrupt recent FERC meetings.
"'I think at FERC we have clearly seen increased opposition to infrastructure. One of the things that has happened at FERC over the last, at this point it's probably been 15 months or so, is that our open meetings have been interrupted by protesters who will suddenly stand up during our meeting and try to interfere with our meeting, so we are clearly seeing that," Bay said. "Even in the field when we're holding scoping hearings, it is not uncommon for the staff who do those hearings to report back that there seems to be a great deal of opposition in many communities to the construction of more infrastructure."
• There are the beginnings of signs that all of this pressure may be causing small cracks in FERC's rigid unwillingness to serve the public interest rather than the interests of the gas industry.
One example is something which happened in October. In an unprecedented move for FERC, they suggested that two proposed pipelines in a similar area in the northeast should combine together. As one long-time FERC observer wrote in an email, "Something seems to be happening behind the scenes because it was FERC which first raised the issue of combining them."
• And just a few days ago as this is written, the EPA called upon FERC to "require applicants seeking approval under the Natural Gas Act to provide more information on a project's indirect impacts, including potential increases in gas production and greenhouse gas (GHG) emissions. The EPA submitted comments on FERC's Draft Guidance Manual for Environmental Report Preparation for Applications Filed Under the Natural Gas Act. FERC released a revised version of its guidance manual, which had not been updated since 2002, last month ... The recommendation echoes calls from environmentalists for FERC to review cumulative regional impacts of the multiple transmission projects that have been proposed in response to the rapid growth of production from unconventional shale development."
There is a growing wing of the climate movement that has been working over the last several years to prevent a build-out of fracked gas infrastructure, allied with widespread community opposition in localities where this infrastructure is proposed. Fracked gas pipelines, like all fossil fuel pipelines, are not popular. They lead to landowners being forced to deal with certain negative impacts if a pipeline would end up going through their land. They bring the threat of leakage of poisonous chemicals or explosions, particularly where compressor stations are built. Construction brings community and environmental disruption. That is why elected officials are speaking out, because they are hearing from voters who don't like what the gas industry wants to force upon them.
The fracked gas industry, just like the coal, tar sands and fracked oil industries, is in deep debt and serious trouble. Part of this is due to wind and solar growing quickly as a percentage of new installed energy sources. It is also due to a huge drop in oil and gas prices, something which shows no sign of a rebound anytime soon. This is huge; it makes a rapid shift from fossil fuels to renewables and efficiency much more possible than it looked just a year ago. When all of the negatives about fracked gas lead to a realization on an even bigger scale that it is in no way a hopeful "bridge fuel" but a dangerous "bridge to climate catastrophe," we can finally get very serious about that critically-needed shift right now.
With an infusion of energy, resources and people it is realistic, based upon all that exists at present and the way things are moving, to see some very real victories this year in the battle against FERC and new fracking infrastructure. It's time for the climate movement to focus on FERC.
Ted Glick is a co-founder and one of the leaders of Beyond Extreme Energy. He has been a climate activist since 2003 and a progressive organizer since 1968. Past writings and other information can be found here and he can be followed on Twitter.
YOU MIGHT ALSO LIKE 
6 Ways to Kick Fossil Fuel Money Out of Politics
Armed Ships Embark on Secretive Plutonium Mission From Japan to the U.S.
Find Out How Close Your City Is to Going 100% Clean Energy
Bill McKibben: How to Stop the Fossil Fuel Industry From Wrecking Our World
Big Oil has already received plenty of gifts this holiday season. Despite another year of record-breaking temperatures, the last 12 months have seen a wave of policy wins that could secure an oil drenched status quo for decades to come.
The Obama administration is already touting its second-term climate accomplishments, but from free trade and oil exports to pipelines and Arctic drilling, here are nine Christmas presents President Obama gave Big Oil in 2015:
1. Crude oil export ban
Big Oil won its biggest policy victory in years when President Obama accepted a deal to lift the 40-year crude oil export ban. Over the next 10 years this long-sought goodie could translate into $171 billion in new revenue for the oil industry and as much as 3.3 million barrels of new production per day by 2035. More money in Big Oil's pocket and more carbon in the atmosphere—at precisely the time we need less of both.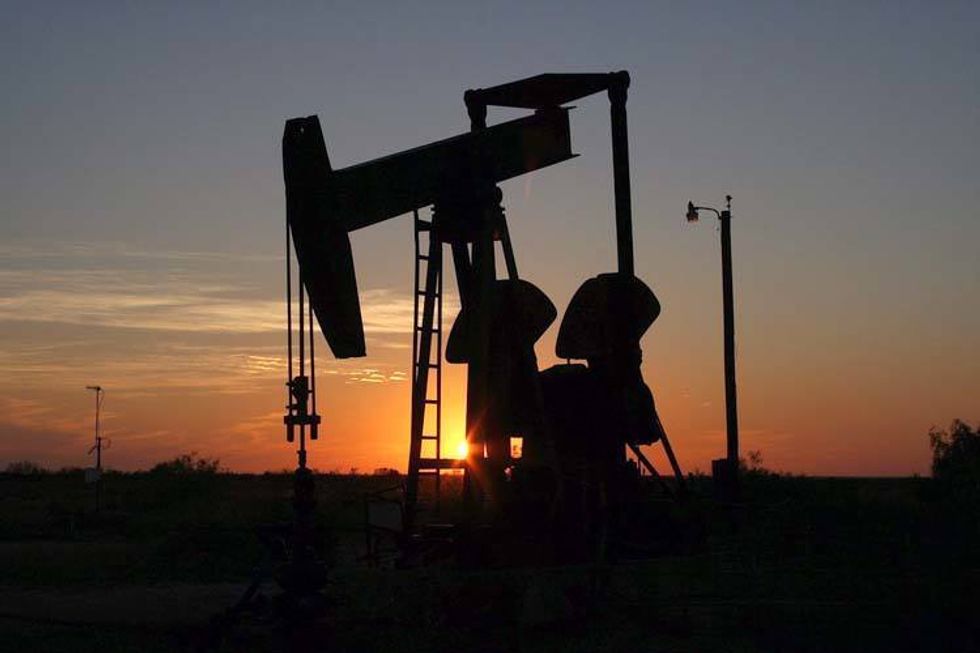 2. New refining subsidy
Since lifting the crude oil export ban means that domestic crude can sell for a higher price on the global market, some U.S. refiners may find their margins squeezed as the price of crude itself rises. The Congressional solution? Compliment the lifting of the export ban with a new $1.8 billion tax break for refiners over the next six years.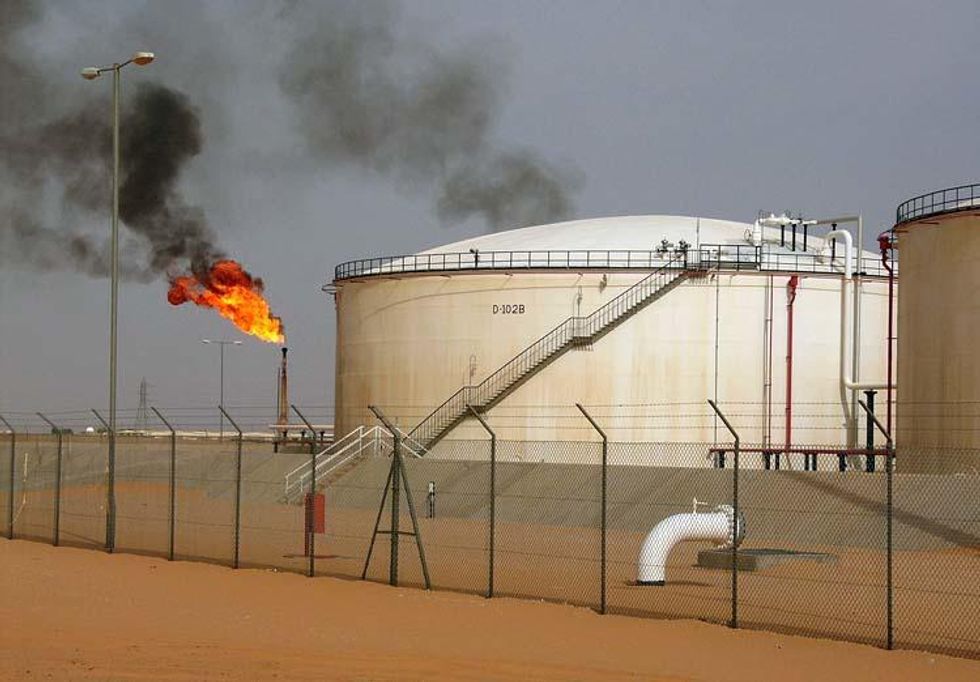 3. Alberta Clipper
Sure, TransCanada was denied a permit to build the Keystone XL, but a State Department decision could bring almost as much tar sands across the Canadian border. Enbridge, the company responsible for the worst onshore oil spill in U.S. history, was allowed to skirt the normal review process for a cross-border pipeline expansion. The result could double current capacity, sending a total 880,000 barrels per day of Canadian tar sands to refineries in the Gulf Coast.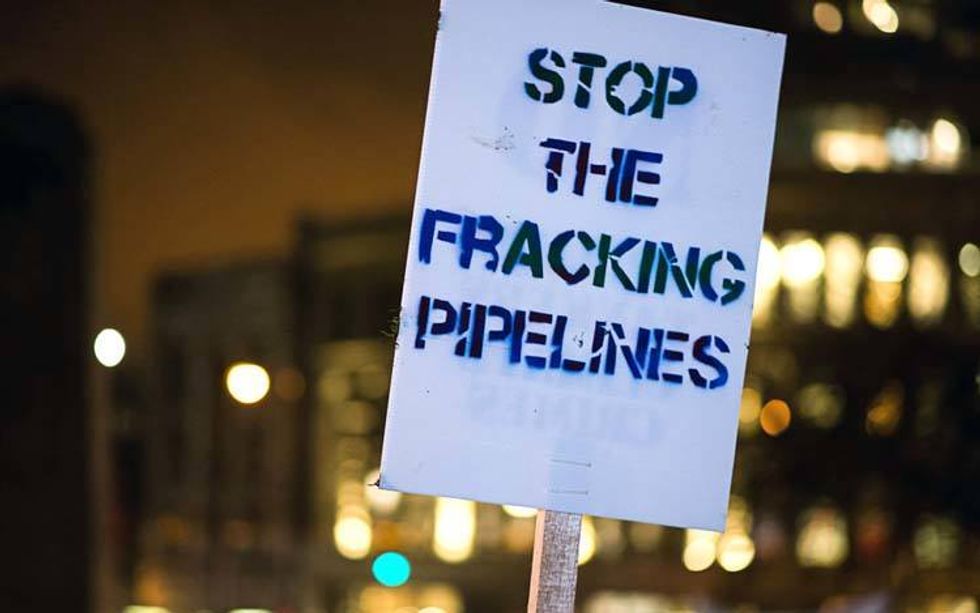 4. Shell in the Chukchi Sea
The Obama administration gave Shell the green light to drill in the Chukchi Sea, even though scientists are telling us that all Arctic oil needs to stay in the ground to prevent catastrophic warming. Shell may have very publicly thrown in the towel on Arctic drilling earlier this year after disappointing initial results, but the Obama administration was willing to take a 75 percent chance of a large oil spill by allowing Shell to drill in the first place. Shell is fighting now to extend its current leases so it can drill again later.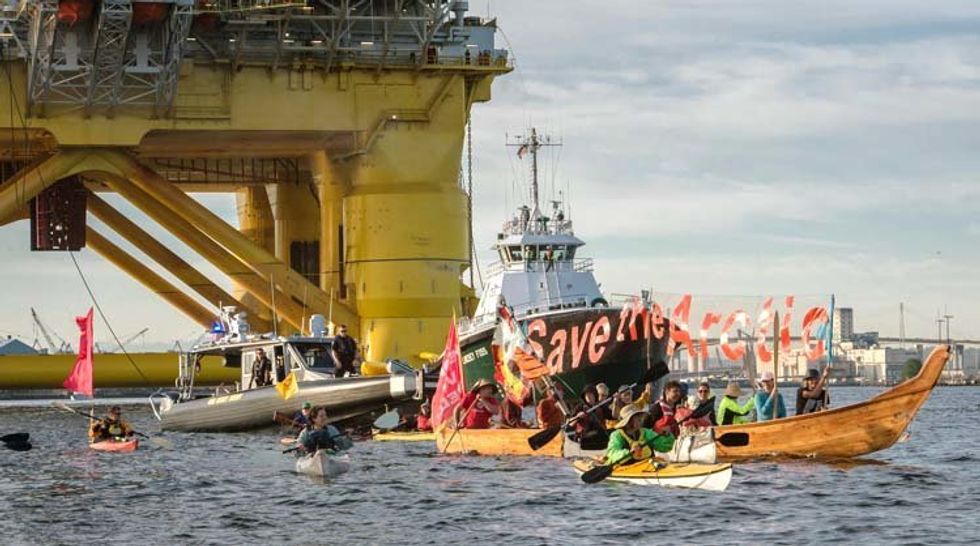 5. ConocoPhillips in the Alaska Petroleum Reserve
After a coordinated lobbying blitz, an oil company was allowed to drill on federal lands in the National Petroleum Reserve-Alaska for the first time in its more than 90 year history. ConocoPhillips can now drill as many as 33 wells and construct miles of road and pipeline as part of its Greater Mooses Tooth project—all in a region famous for its delicate biodiversity.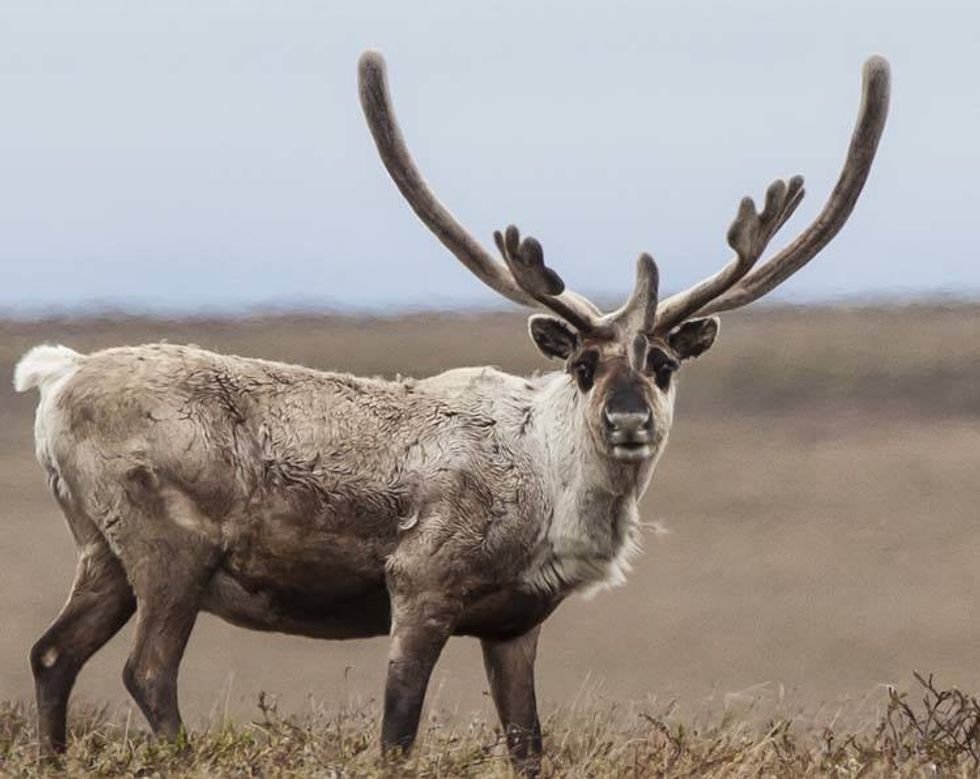 6. BP's dirty tax break
More than five years after Deepwater Horizon, BP is still paying for its disaster. The problem is that BP is still seeing major tax breaks as part of the costs. Although it was dinged with an out-of-court settlement worth $20.8 billion, most of those costs are going to be tax deductible—allowing the company to capture a tax windfall worth $5.35 billion for the worst oils pill in U.S. history.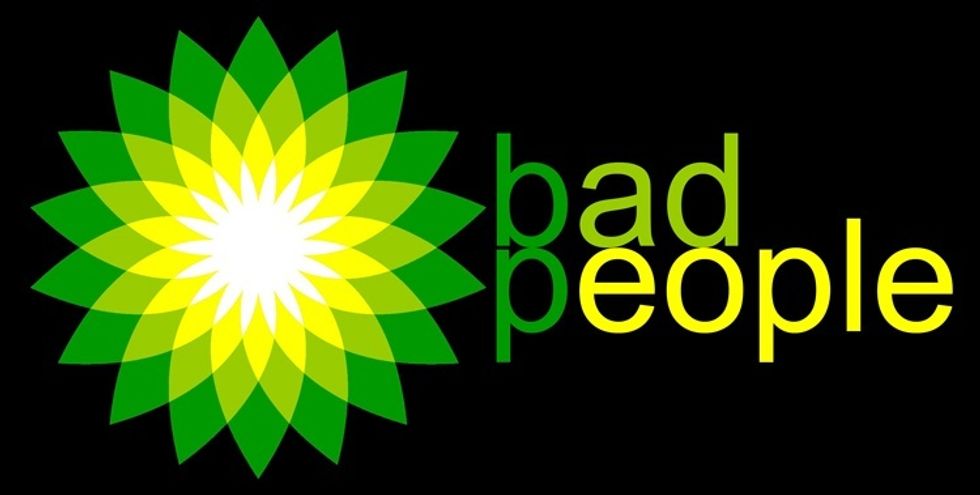 7. Fast-tracking the TPP
Big Oil fought hard to help fast track the Trans Pacific Partnership free trade deal—and can you blame them? The deal could allow oil companies and other polluters to sue governments for enacting climate rules. It's no surprise that similar agreements have already been used to attack renewable energy and fracking bans.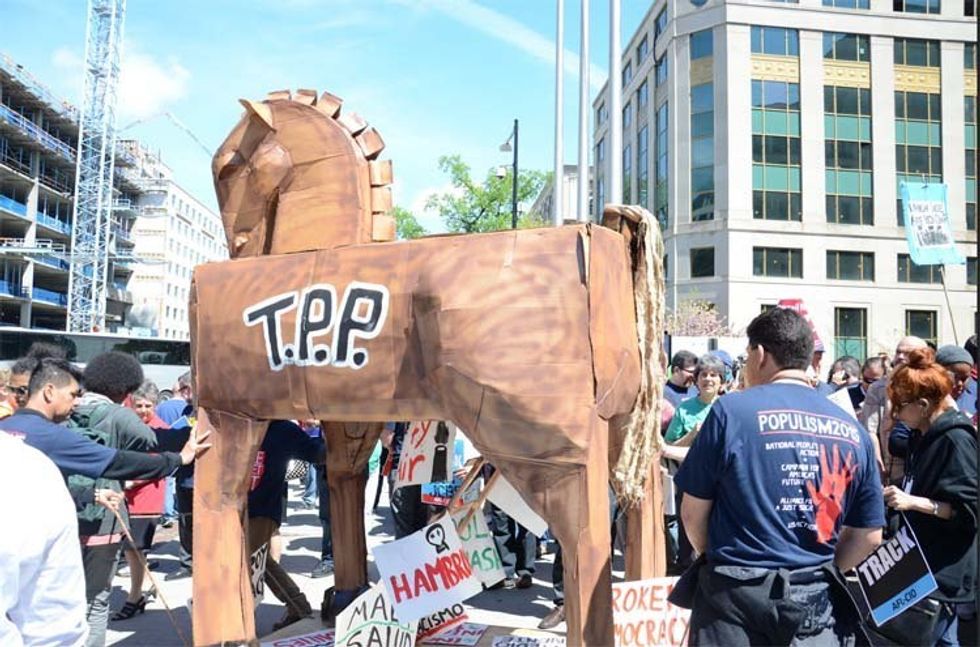 8. Atlantic Drilling
The Obama administration released a 5-year plan for offshore oil and gas leasing in January—and to the surprise of many it proposed new drilling areas off the coasts of Virginia, North Carolina, South Carolina and Georgia. Dozens of municipalities afraid of the effects that drilling could inflict on their local economies have passed resolutions opposing the plan—and it isn't too late. The plan is likely to be finalized next year and Atlantic drilling could still be nixed.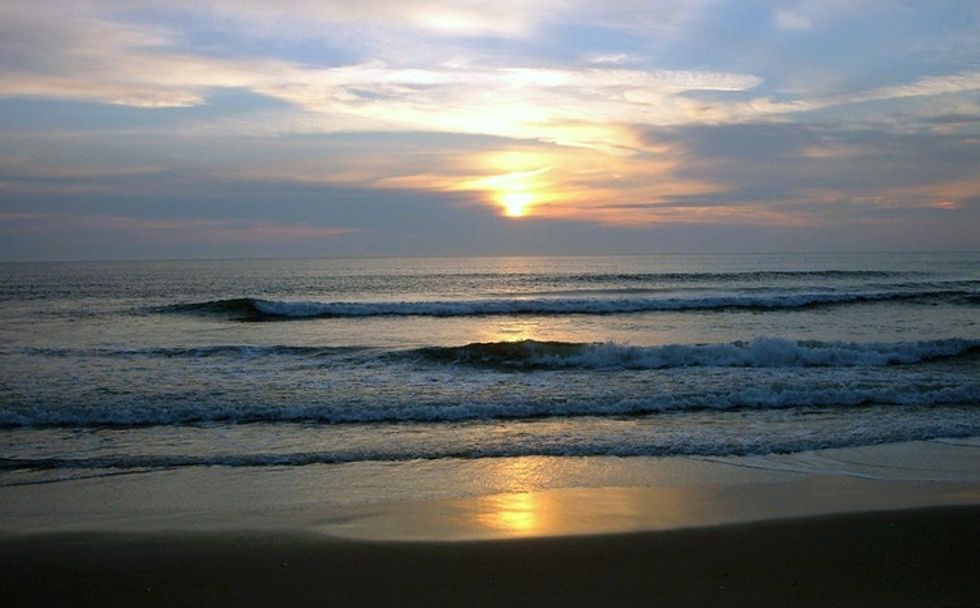 9. Liquified Natural Gas
The Obama Administration has been lending a helping hand to the fracking boom by opening whole new markets for domestic natural gas. How? By approving permits for specialized export facilities that super-cool gas into a liquid to be shipped overseas. This is a very expensive and energy intensive process that produces a fuel that is worse for the climate than coal. The Obama administration is opting to end the year by approving construction of the newest export project—the Energy Transfer Partners and the BG Group's Lake Charles LNG facility in Lake Charles, Louisiana.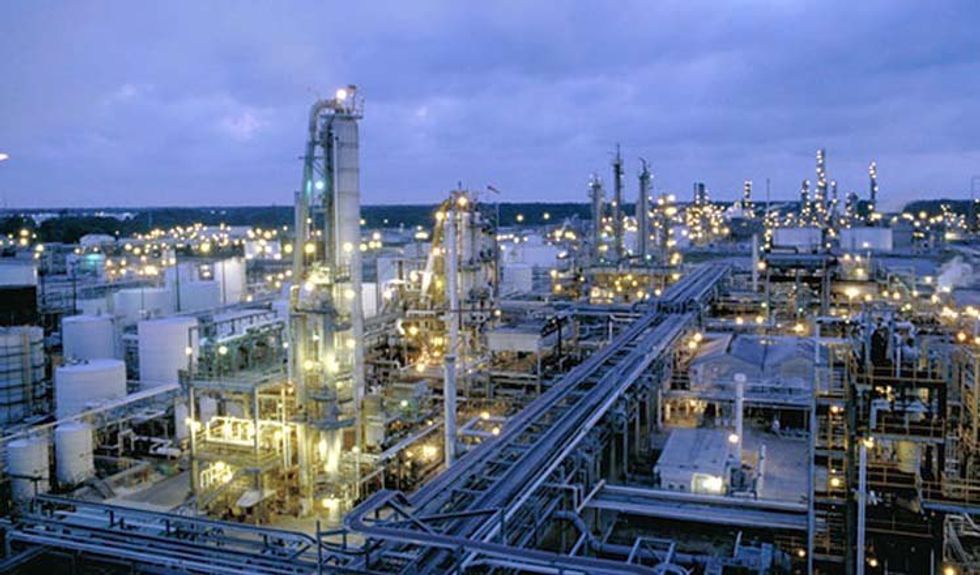 YOU MIGHT ALSO LIKE
15 Huge Ocean Conservation Victories of 2015
Watch 25 Years of Arctic Sea Ice Melt in One Minute
10 Incredible Moments in 2015: A Landmark Year in Climate Action
It Wasn't Only Exxon That Knew About Global Warming Since the 1970s
The City of Portland in Oregon took a stand yesterday against dirty fossil fuels. It passed a resolution—with teeth—against new fossil fuel transportation and storage infrastructure in Portland and on our iconic rivers. Coal, oil and gas companies want to export stunning volumes of dirty fuel through our communities—the City of Portland just made that harder.
Policy resolutions are fine, but Portland's resolution will make an on-the-ground difference. The city council directs staff to propose changes to the city's code that will protect Portlanders from dirty fossil fuels. City laws about land use, public health, safety, building, electrical, nuisance and fire can all be updated to prevent fossil fuel exports. In other words, the city council message was: Do something. Write laws that matter.
What's at stake?
The Columbia River faces nearly a dozen terminals proposed to ship coal, tar sands oil, Bakken crude and fracked gas overseas. Tesoro, for example, proposes America's largest oil-by-rail export terminal—42 percent of the capacity of Keystone XL—across the river from Portland. And just downstream, a liquefied natural gas terminal would export more gas each year than the state uses. Building these terminals would ensure the use of fossil fuel infrastructure for decades, while energy giants mine, drill and frack to feed their export terminals.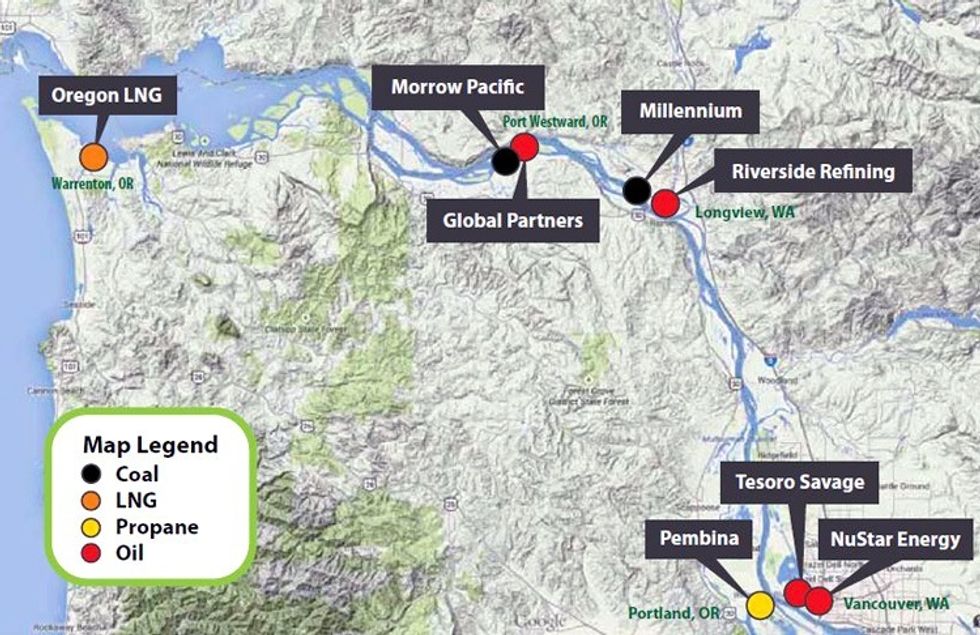 Critics may say cities can't stop fossil fuel exports, but cities actually have a significant say in whether fossil fuel shipping terminals are built. Earlier this year, Portland rejected a propane export terminal by refusing to bend its rules in order to protect the Columbia River. The goal is simple: if the city blocks new fossil fuel export terminals, it also blocks the dangerous trains, pipelines and oil tankers that would serve those terminals.
From Portland to Paris
As global leaders descend on Paris, Portland will not watch from the sideline; it will lead by example. Portland took action to address fossil fuels and carbon pollution instead of waiting (and waiting) for a top-down federal climate policy. Mayor Charlie Hales will travel to Paris to share Portland's plan and encourage others to take real steps forward on the global, national and local levels.
We are all in this together. It's time to do what we can.
Take action: Thank Portland's Council for bold action and encourage local climate leadership.
YOU MIGHT ALSO LIKE
Gov. Cuomo Vetoes Port Ambrose Liquefied Natural Gas Project
How COP21 Will Unleash Massive Global Renewable Energy Growth
TransCanada's Next Move? Pipeline to Mexico Carrying U.S. Fracked Gas
Bill Nye, While Driving a Tesla, Shares 5 Ways to #BeUnstoppable
New York Gov. Cuomo announced today that he has officially vetoed the Port Ambrose Liquefied Natural Gas project amid an outcry from environmental groups and surrounding coastal communities. The project was proposed by Liberty Natural Gas off the shores of New York and New Jersey.
Watch his announcement here:
The deep-water docking station would have been built just 19 miles off of the shores of Long Island and would have allowed Liberty Natural Gas "to inject natural gas into the New York-area pipeline, which could lower home heating bills there, among the most expensive in the nation," according to the Associated Press (AP). The company has been trying to obtain approval for the project for years from the federal Maritime Administration, but federal regulations required the governors of New York and New Jersey to sign off on the project, and since Cuomo refused to, the project has now been denied, explained the AP.
"My administration carefully reviewed this project from all angles, and we have determined that the security and economic risks far outweigh any potential benefits," Cuomo told the AP this morning. "Superstorm Sandy taught us how quickly things can go from bad to worse when major infrastructure fails—and the potential for disaster with this project during extreme weather or amid other security risks is simply unacceptable."
In a letter sent to the federal Maritime Administration, Cuomo said there were "too many unanswered questions on security on Port Ambrose," including how the project would deal with potential superstorms, which are increasing in frequency because of climate change.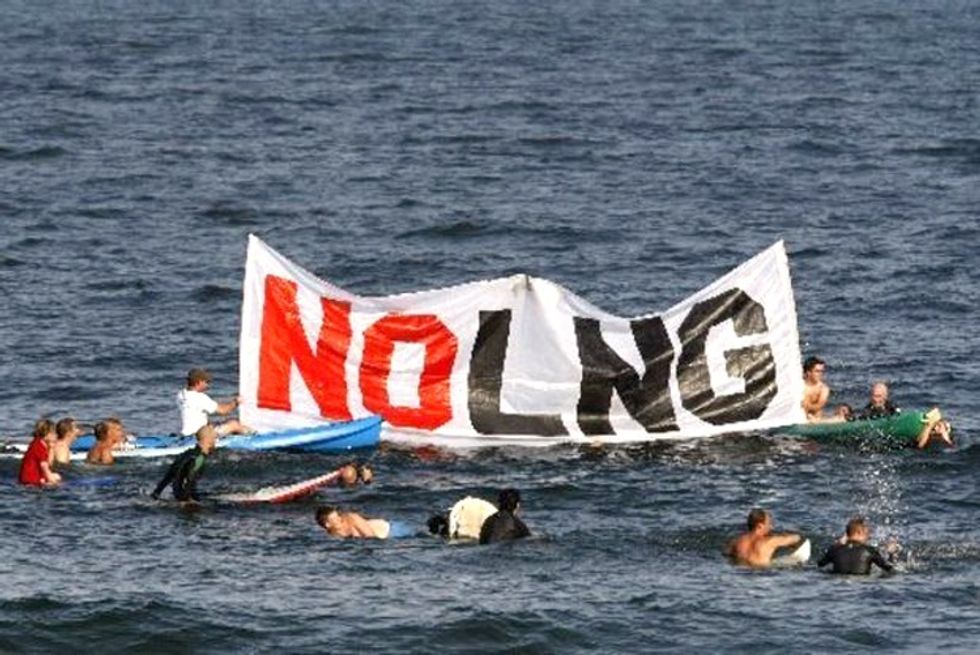 Environmental groups praised the decision. "Port Ambrose would have threatened coastal communities in Queens, Brooklyn and Long Island with the risk of catastrophic spills and explosions and endanger treasured marine ecosystems," said the environmental group Catskill Mountainkeeper, which fought to stop the project.
Many in the surrounding community were opposed to the project, citing fears that the pipeline could become a "target for terrorists or could develop leaks off the shores," reported News12 Long Island. "This is terribly dangerous," New York area resident Jessica Roff told the AP. "It's volatile. It's dangerous. It's a terrorist threat."
Earlier this year, Cuomo banned fracking in New York. New York's Department of Environmental Conservation Commissioner Joe Martens said that after years of exhaustive research, fracking "poses significant adverse impacts to land, air, water, natural resources and potential significant public health impacts that cannot be adequately mitigated."
YOU MIGHT ALSO LIKE
Cuomo Administration Denies Critical Certification at Indian Point Nuclear Power Plant
Exxon + 49 Other Big Polluters Set to Be Investigated for Causing Extreme Weather Events
Exxon's Climate 'Scandal' Escalates As NY Attorney General Issues Subpoena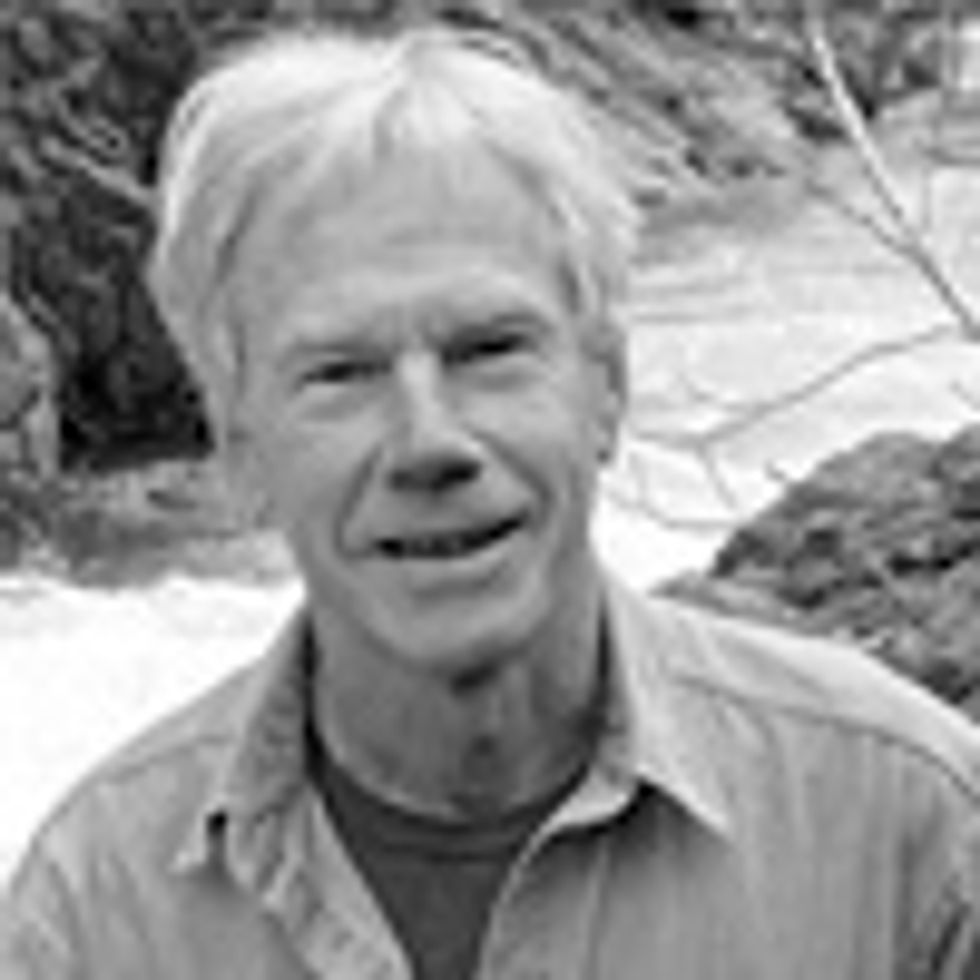 The most shocking fact about earthquake and tsunami risks on the coast of Oregon is their inevitability. We buy fire insurance—spending good money though our house is unlikely to burn. Meanwhile, the geologic record indicates beyond scientific doubt that a major tremor and Fukushima-style tidal wave is due. And it's going to be the big one. The really big one—many times greater than the infamous 1906 San Francisco disaster. All credible science indicates that a major event approaching or exceeding magnitude 9 at Coos Bay, on the coast of Oregon, has a return cycle of 243 years. The last one was 315 years ago. We're not just due, we're overdue.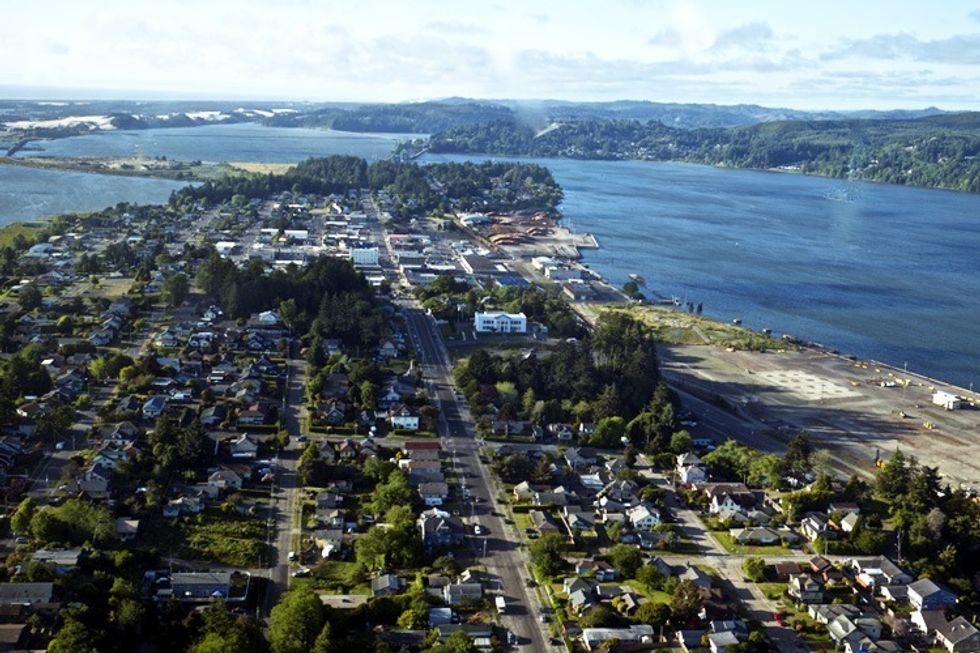 North Bend and Coos Bay, Oregon, with Jordan Cove in the background. Photo credit: Tim Palmer
For a chilling account of our seismic fate, read the article that many Northwesterners are talking about: the July 20 New Yorker, "The Really Big One."
As an Oregonian who lives in the danger zone, I have to say that denial is our most common modus operandi. We hope it won't happen. But taking a personal risk, with knowledge of the consequences, is one thing and taking a public gamble by forcing the entire community and region to be at risk is quite another.
That's what's happening at Jordan Cove just north of Coos Bay. Three years ago the State Department of Geology and Mineral Industries provided maps to the county that clearly define the area of the LNG proposal as a "hazard" zone. Yet planning for the facility proceeds on a path greased by the county and the Federal Energy Regulatory Commission. The inevitable earthquake and tsunami will shatter and pound at full force directly on the LNG site with its tanks, tankers and pipelines loaded with one of the most explosive and flammable substances known.
According to the Federal Energy Regulatory Commission's Draft Environmental Impact Statement, nearly 17,000 people live or work in the project's hazardous "zones of concern." Picturing the outcome of a tidal wave at Jordan Cove doesn't require much imagination; just look to Fukushima in 2011.
We all make personal decisions to live in areas of known danger and—at least until it happens—we think the risk is worth it. But the LNG facility puts many thousands of people at far greater risk. Why would this be worth the cost?
After the short-term building boom, project boosters claim that 146 LNG jobs will result. Even if that number is accurate, it's only one-third the number that work at Coos Bay's Mill Casino, posing no danger to those around them.
The other reason for Jordan Cove's risk is the export of natural gas. Export. We might have all been persuaded by the drive for "energy independence" that has justified fossil fuel development for 40 years across America. But now, at Jordan Cove, our own resources will be depleted in order to fuel China's rise in the world economy. And in the process, we march down the road of global warming by enabling the fracking of gas across the West and the burning of more fossil fuel for decades to come.
After the inevitable disaster, everyone will say that we should have known better, that the officials on our watch shirked their responsibility, that the risks we all shouldered to make the gas industry richer were not worth the cost.
Goal 7 of the Oregon state land-use law requires "prohibiting the siting of ... hazardous facilities ... in identified hazard areas, where risk to public safety cannot be mitigated." Yet one of the most hazardous facilities possible is being planned for the most hazardous landscape in America.
The hazard maps are unambiguous. After several years of LNG preparations, Coos County finally adopted the maps on July 30, but has delayed their effective date for a year. Meanwhile the Goal 7 directive remains unaddressed. Consequences will ripple or explode out to the region, the state and the nation.
Some risks are necessary and worth the cost. This one is not.
Tim Palmer lives on the Oregon coast and is the author of 24 books about the American landscape.
YOU MIGHT ALSO LIKE
How Worried Should We Be About Nuclear Fallout From Fukushima?
President Obama, Your Climate Legacy Lies with Keeping Fossil Fuels in the Ground
On Tuesday at the capitol steps in Salem, Oregon, more than 600 people rallied to oppose LNG exports. The rally included speeches from Umatilla Tribal Leader Cathy Sampson Kruse, State Rep. Peter Buckley (D-Ashland), impacted landowners and Waterkeeper Alliance President Robert F. Kennedy Jr.
There are currently two proposed LNG export terminals, one in Coos Bay and the other at the mouth of the Columbia River in Warrenton. Participants at the rally urged Oregon Gov. Brown to deny both proposed projects.
According to the Coalition Against LNG Exports, exporting gas would cause families and businesses to compete on a world market for natural gas. Studies have shown this would raise natural gas prices by up to 54 percent threatening U.S. jobs where factories depend on natural gas. The coalition also says that nearly 700 private property owners face impacts by the proposed Jordan Cove Pacific Connector Gas Export Project and 85 percent of affected landowners object to having the federal government seize their land for multi-national corporate interests.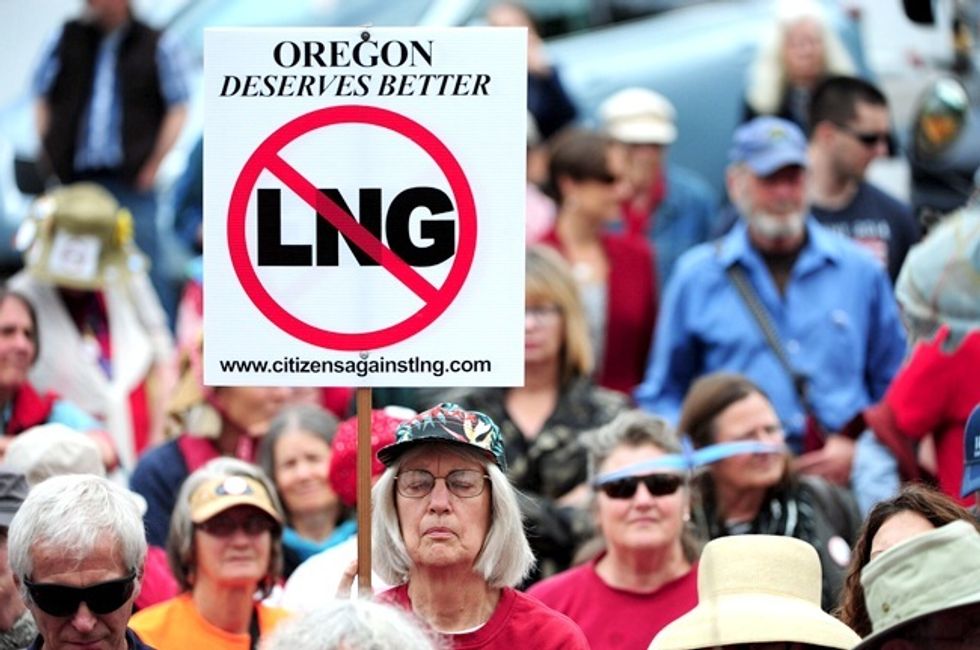 The "No LNG Exports" Coalition formed to stop the Jordan Cove LNG and Oregon LNG terminals and pipelines and to stop fracked gas exports in the Pacific NW. Members include: 350 PDX, 350 Eugene, 350 Corvallis, 350 Salem, Cascadia Wildlands, The Center for Biological Diversity, Columbia Pacific Common Sense, Columbia Riverkeeper, Community Alliance of Lane County, Food & Water Watch, Landowners United, Northwest Environmental Defense Center, No KXL Pledge of Resistance Portland, Pipeline Awareness Southern Oregon, Raging Grannies Oregon, Rogue Climate, Rogue Riverkeeper, South Umpqua Rural Community Partnership, Sierra Club and Waterkeeper Alliance.
YOU MIGHT ALSO LIKE
10 Greenest Cities in North America