International Energy Agency
By Greg Muttitt
The release of the World Energy Outlook (WEO) 2018 on Monday marked another missed opportunity for the International Energy Agency (IEA) to provide a roadmap to Paris success.
Governments and investors alike have been calling on the IEA to help guide them towards achievement of the Paris goals. Two years ago, the IEA itself proposed updating its climate scenario to match the ambition of the Paris goals, and also gave its updated scenarios a cameo in the WEO 2017.
The IEA has backtracked, however, removing any reference to the higher-ambition scenarios, or to the 1.5 degree Celsius (°C) goal. This comes just a month after the Intergovernmental Panel on Climate Change (IPCC) released a powerful report showing both the critical importance of limiting warming to 1.5°C, and pathways for doing so.
Following a summer of particularly devastating climate impacts, with unprecedented heat waves across much of the world, the IEA has opted for promoting the energy status quo. And 11 months after the World Bank Group decided to end financing for oil and gas extraction, the WEO 2018 instead calls for expanded investment in oil, gas and even coal.
Memories of Leadership
The IEA has proven that it can be a leader in steering energy decisions towards achievement of climate goals. When it first published its "450 Scenario" (450S) in 2008, the IEA was ahead of the curve. That scenario—designed to give a 50 percent chance of keeping warming to 2°C above pre-industrial levels—reflected the goals of the more progressive governments at the time.
But climate science has since indicated that even 2°C is dangerous—reiterated in last month's IPCC report. It was for this reason that governments decided in 2015 to increase their ambition, committing in Paris to pursue efforts to keep warming to 1.5°C, and in any case to hold warming well below 2°C.
At first, the IEA seemed to take this on board, as we explained in a recent blog. In the 2016 edition of the WEO, the IEA recognized that the 450S was not in line with the new Paris goals. It proposed developing two new scenarios, one aiming for "well below 2°C" (WB2), and one for 1.5°C.
The German government commissioned and funded a full exposition of the WB2 Scenario, published in a stand-alone report in March 2017. Many hoped then that the 2017 WEO, published in November of that year, would use this work to update its ambition to reflect the Paris goals. It was not to be.
In WEO 2017, the IEA replaced the 450S with a new "Sustainable Development Scenario" (SDS), with the welcome addition of goals on energy access and air pollution. But on climate change, the SDS maintained the pre-Copenhagen ambition level of the 450S. As the graph shows, the emissions pathways of the scenarios were identical. WEO 2017 only briefly mentioned the WB2 Scenario, and did not mention the 1.5°C Scenario at all.

Now, the new 2018 edition of the WEO omits reference to the WB2 Scenario as well, and fails to address 1.5°C at all.
Missed Goals
The WEO 2018 states that the SDS "is fully aligned with the Paris Agreement's goal of holding the increase in the global average temperature to well below 2°C." That statement omits the other half of the Paris goals, which are in full:
Holding the increase in the global average temperature to well below 2°C above pre-industrial levels and pursuing efforts to limit the temperature increase to 1.5°C.
As for the "well below 2°C" part of the goals, the IEA claims that the SDS will lead to 1.7 to 1.8°C of warming. But how can a different result arise from the same emissions pathway that led to a 2°C outcome in the 450S? The answer is that the IEA has changed its assumption about what happens after 2040, beyond the scope of its own scenarios.
The IEA makes the 1.7 to 1.8°C claim by comparing the SDS with scenarios that lead to that amount of warming. As the IEA's graph shows, those scenarios depend on large-scale use of negative emissions technologies later in the century—including technologies that have been considered in theory but never tried in practice. If achieving the Paris goals is predicated on the later availability of these technologies and they do not work out, emissions to that point will be irreversible and climate limits broken.
Previous editions of the WEO have warned that negative emissions are likely not feasible at this level: WEO 2016 stated, "Such a situation is vastly removed from the realities of the current energy system, and the prospect is remote from today's perspective." WEO 2017 also cautioned that "all such technologies face severe technical, economic and resource constraints." And climate scientists have expressed growing concerns about reliance on negative emissions, as discussed in our recent blog.
In contrast, the new WEO 2018 describes negative emissions technologies as one of the "important sectors for innovation," and gives no warning about the dangers of reliance on them.
World Energy Outlook 2018 youtu.be
Misguided

All of this matters because, as the new WEO puts it, "Robust data and well-grounded projections about the future are essential foundations for today's policy choices." Scenario data and projections serve as a guide to the future, ideally to enable good decisions.
Without information about how to do it, it will be hard for governments to "pursue efforts" to keep warming to 1.5°C.
Investors too are increasingly using climate scenarios to test the robustness of their portfolios. They are vital tools for delivering the Taskforce on Climate-Related Financial Disclosures' recommendations and for the Climate Action 100+ initiative.
The new WEO states that:
Continued investment in oil and gas supply, however, remains essential even in the Sustainable Development Scenario to 2040, as decline rates at existing fields leave a substantial gap that needs to be filled with new upstream projects.
As Oil Change International's research has shown, investment in new oil and gas fields—beyond those that are already in operation—is not consistent with the Paris goals. The IEA is able to make the contrary claim for the SDS only because the SDS falls short of the Paris goals.
This is a crucial omission. Based on such projections, governments may continue licensing new oil and gas, locking in their future emissions, while failing to plan for an orderly just transition for workers. Investors may understate the risks associated with the energy transition, leading to future economic disruption.
More Fossil Fuels
The vast majority of WEO 2018, like in previous editions, is focused on the "New Policies Scenario" (NPS), which would lead to around 3°C of warming. By comparison, the SDS gets only one paragraph in the six-page summary.
The IEA has said before (in WEO 2017), if the future turns out like the NPS, "this will not be a sign of success," adding that, "Success for the WEO is about helping countries to achieve the long-term energy and related goals that they have chosen."
But since the NPS is so centrally promoted, it is the NPS that decision makers use as the default guide. As we showed in our Off Track report, the NPS' demand projections have been used by governments and investors to support damaging projects from Australian coal mines to Arctic oil drilling. This is why Oil Change International calls for the goals-based scenario—which the IEA says is the one it wants—to be made the central one in the WEO.
Furthermore, in the new WEO, the IEA repeatedly advocates for fossil fuel investment in line with the NPS. This investment will help create that very future that the IEA says it does not want. On oil:
Today's flow of new upstream projects appears to be geared to the possibility of an imminent slowdown in fossil fuel demand, but in the New Policies Scenario this could well lead to a shortfall in supply.
We estimate that around 16 billion barrels of new conventional crude oil resources would need to be approved each year between now and 2025 to avoid any potential "mismatch" between supply and demand. However, the average annual level of new resources approved in the three years since the oil price fall in 2014 was around 8 billion barrels. … The level of conventional crude oil approvals therefore needs to double if there is to be a smooth matching between supply and demand.
Much of today's media coverage can be expected to focus on the IEA's projection that (in the NPS) oil demand will not peak until after 2040. This narrative of ongoing future demand will also drive ongoing investment in more oil.
The same is true of gas: The WEO states that "building up infrastructure … requires conscious choices in favour of natural gas." It urges governments and companies "to ensure that adequate and cost-effective investment in new supply keeps gas as competitive as possible with other fuels," in other words reinforcing gas against competition from renewables.
Oil Change International research has found that there is no room for new gas development while achieving the Paris goals: Gas cannot be considered a "bridge fuel," as some claim.
Remarkably, the WEO also calls for increased investment in coal mining, especially in China and India, with $1 trillion of investment in new mining capacity over the period to 2040, as worldwide coal demand increases in the NPS until at least 2040: "Capital expenditures are needed along the value chain to sustain existing and to establish new mining operations, as well as to build railway and port infrastructure to connect new or expanding mining regions to coal importers."
Time to Change
Oil Change International believes the IEA has a significant opportunity for leadership, an opportunity that it regrettably missed in WEO 2018. It would in fact be easy for the IEA to become a climate champion by updating the SDS to match the Paris goals and by making that the central scenario in the WEO.
Decision makers—political and financial alike—are demanding the tools to implement their policy commitments and plan for success in a rapidly changing energy landscape. It is an opportunity that can't be ignored and, as the IEA faces increasing public pressure in 2019, calls for this increased ambition will only grow.
With time to spare to incorporate the IPCC Special Report, the mounting political and investor concerns, and the moral imperative of action on the heels of a year of devastating climate impacts, the 2019 WEO must step up high-profile ambition or risk becoming irrelevant in a world urgently demanding pathways to success.
Global Carbon Emissions Rise for First Time Since 2014 https://t.co/Oi1UefIhFr @Connect4Climate @350

— EcoWatch (@EcoWatch)1521764107.0
From Your Site Articles
Related Articles Around the Web
EcoWatch Daily Newsletter
pxhere
The world has hit "new twin peaks for demand and supply" of oil at 100 million barrels a day, the International Energy Agency (IEA) announced Friday in its monthly oil market report.
Neither demand nor supply shows signs of ceasing to grow any time soon, the Paris-based organization said.
The oil market report is a sobering reminder that the world remains deeply entrenched in fossil fuels, despite clear scientific evidence—including this week's dire climate report from the United Nations' scientific panel—that increasing carbon dioxide emissions could cause catastrophic climate change.
"In fact, production has surged, led by the US shale revolution, and supported by big increases in Brazil, Canada and elsewhere," the IEA said. "There is no peak in sight for demand either. The drivers of demand remain very powerful, with petrochemicals being a major factor."
"It's an extraordinary achievement for the global oil industry to meet the needs of a 100mb/d market, but today we… https://t.co/Mfd0asT2z1

— IEA (@IEA)1539335879.0
Last week, the IEA released a study that found that rising living standards, particularly in developing countries, will drive a demand in petrochemicals, not fuels. Petrochemicals, which create products such as plastics, fertilizers and packaging, will account for more than 33 percent of oil demand growth globally by 2030, the study said.
However, with oil prices now above $80 per barrel and oil, gas and coal trading at multi-year highs, the IEA warned in today's market report that "expensive energy is back ... and it poses a threat to economic growth."
The United Nations' climate change report, authored by the Intergovernmental Panel on Climate Change, says urgent global action is needed to keep global warming under 1.5°C—a limit that is achievable if we rapidly reduce the use of fossil fuels and transition to increasingly affordable renewable energy.
A January report from the International Renewable Energy Agency—the IEA's renewable energy counterpart—found that renewables have emerged as an increasingly competitive way to meet new power generation needs, and they are expected to be consistently cheaper than fossil fuels in just a few years.

The question is, when will this oil addiction cease? The globe's consumption of 100 million barrels per day is more than twice what it was 50 years ago, Reuters reported last month, adding that demand is rising by up to 1.5 percent a year.
"There is no consensus on when world oil demand will peak but it is clear much depends on how governments respond to global warming," Reuters wrote.
The Link Between Fossil Fuels, Single-Use Plastics and Climate Change https://t.co/dNvbx9e4r9 @PlasticPollutes @GreenNewsDaily

— EcoWatch (@EcoWatch)1525383607.0
From Your Site Articles
Related Articles Around the Web
waterlust.com / @tulasendlesssummer_sierra .
Each product featured here has been independently selected by the writer. If you make a purchase using the links included, we may earn commission.
The bright patterns and recognizable designs of Waterlust's activewear aren't just for show. In fact, they're meant to promote the conversation around sustainability and give back to the ocean science and conservation community.
Each design is paired with a research lab, nonprofit, or education organization that has high intellectual merit and the potential to move the needle in its respective field. For each product sold, Waterlust donates 10% of profits to these conservation partners.
Eye-Catching Designs Made from Recycled Plastic Bottles
waterlust.com / @abamabam
The company sells a range of eco-friendly items like leggings, rash guards, and board shorts that are made using recycled post-consumer plastic bottles. There are currently 16 causes represented by distinct marine-life patterns, from whale shark research and invasive lionfish removal to sockeye salmon monitoring and abalone restoration.

One such organization is Get Inspired, a nonprofit that specializes in ocean restoration and environmental education. Get Inspired founder, marine biologist Nancy Caruso, says supporting on-the-ground efforts is one thing that sets Waterlust apart, like their apparel line that supports Get Inspired abalone restoration programs.
"All of us [conservation partners] are doing something," Caruso said. "We're not putting up exhibits and talking about it — although that is important — we're in the field."
Waterlust not only helps its conservation partners financially so they can continue their important work. It also helps them get the word out about what they're doing, whether that's through social media spotlights, photo and video projects, or the informative note card that comes with each piece of apparel.
"They're doing their part for sure, pushing the information out across all of their channels, and I think that's what makes them so interesting," Caruso said.
And then there are the clothes, which speak for themselves.
Advocate Apparel to Start Conversations About Conservation
waterlust.com / @oceanraysphotography
Waterlust's concept of "advocate apparel" encourages people to see getting dressed every day as an opportunity to not only express their individuality and style, but also to advance the conversation around marine science. By infusing science into clothing, people can visually represent species and ecosystems in need of advocacy — something that, more often than not, leads to a teaching moment.

"When people wear Waterlust gear, it's just a matter of time before somebody asks them about the bright, funky designs," said Waterlust's CEO, Patrick Rynne. "That moment is incredibly special, because it creates an intimate opportunity for the wearer to share what they've learned with another."
The idea for the company came to Rynne when he was a Ph.D. student in marine science.
"I was surrounded by incredible people that were discovering fascinating things but noticed that often their work wasn't reaching the general public in creative and engaging ways," he said. "That seemed like a missed opportunity with big implications."
Waterlust initially focused on conventional media, like film and photography, to promote ocean science, but the team quickly realized engagement on social media didn't translate to action or even knowledge sharing offscreen.
Rynne also saw the "in one ear, out the other" issue in the classroom — if students didn't repeatedly engage with the topics they learned, they'd quickly forget them.
"We decided that if we truly wanted to achieve our goal of bringing science into people's lives and have it stick, it would need to be through a process that is frequently repeated, fun, and functional," Rynne said. "That's when we thought about clothing."
Support Marine Research and Sustainability in Style
To date, Waterlust has sold tens of thousands of pieces of apparel in over 100 countries, and the interactions its products have sparked have had clear implications for furthering science communication.
For Caruso alone, it's led to opportunities to share her abalone restoration methods with communities far and wide.
"It moves my small little world of what I'm doing here in Orange County, California, across the entire globe," she said. "That's one of the beautiful things about our partnership."
Check out all of the different eco-conscious apparel options available from Waterlust to help promote ocean conservation.
Melissa Smith is an avid writer, scuba diver, backpacker, and all-around outdoor enthusiast. She graduated from the University of Florida with degrees in journalism and sustainable studies. Before joining EcoWatch, Melissa worked as the managing editor of Scuba Diving magazine and the communications manager of The Ocean Agency, a non-profit that's featured in the Emmy award-winning documentary Chasing Coral.
iStock
By Simon Evans
The International Energy Agency (IEA) has once again forecast that world coal demand will rise, despite halving its outlook for growth in India.
The IEA's Coal 2017 report, published Monday, sees a small increase in global coal demand from 2016 to 2022, with growth in India and southeast Asian countries outweighing declines in rich nations and China.
Since 2011, the IEA has consistently forecast rising coal demand, even as it has repeatedly adjusted its figures downwards in light of lower-than-expected growth. Some analysts believe the agency remains behind the curve in its outlook for coal (see below).
Carbon Brief runs through the IEA's changing coal forecasts for India and other key world regions.
Decade of Stagnation
Each year, the IEA publishes a series of six-year forecasts for key energy markets. For example, Coal 2017 looks at the market for the fuel out to 2022, broken down by country and sector.
The report's top line notes how global coal demand fell in 2015 and 2016, with the combined fall being the largest it has ever recorded in more than 40 years of data. It goes on to say that coal demand will increase by 177 million tonnes of coal equivalent (Mtce, 3 percent) in the years to 2022.
After two years of declines, this low growth will round off a "decade of stagnation" for coal, the IEA said. In a foreword to the report, IEA Executive Director Fatih Birol wrote:
"Looking ahead, this stagnation masks important regional variations. As coal use continues to decline in many parts of the world these declines are offset by continued growth in India [+135Mtce], Southeast Asia [+70Mtce] as well as several other countries where today coal's role is small but is on the rise, such as Pakistan and Bangladesh [+35Mtce]."
You can see this regional variation in the map, below.
IEA Coal 2017
Change in coal demand from 2016 to 2022, by country and region, in millions of tonnes of coal equivalent. The bubble sizes indicate the magnitude of change, with green for increases and red for decreases.
The IEA said global coal demand will reach 5,534Mtce in 2022, up from 5,357Mtce in 2016. Note that this would leave demand in 2022 at 1 percent below the level seen in 2013, a decade earlier. Note also that pathways to 1.5 or 2C require rapid and immediate reductions in global coal use.

Growth Forecasts
This picture of rising coal demand, even after adjustments for slower-than-expected growth, fits into a pattern of IEA forecasts over recent years (see chart, below). For example, its 2011 forecast overestimated global coal use in 2016 by 827Mtce (15 percent), which is equivalent to today's demand in the U.S. and EU combined.
Carbon Brief analysis of IEA coal market reports. Chart by Carbon Brief using Highcharts.
Forecasts for global coal demand, made by the IEA in 2011 through 2017 (blue lines), compared to data on actual use (red), in millions of tonnes of coal equivalent. Note the y-axis is truncated.
Last year, the most significant shift saw the IEA align with others in saying that Chinese coal demand had peaked in 2013. The IEA cuts its forecast for China again in this year's report, pushing the outlook for demand in 2022 even lower (see chart, below).
This shift for China reflects a drive to cut air pollution by replacing small coal boilers with gas, as well as expanding low-carbon supplies and building huge high-voltage power cables to replace coastal coal plants with a mixture of coal and renewable power from the country's interior.
The chart shows expected demand in 2022, for the thermal coal used in power plants, as forecast by the IEA in 2015 (dark blue columns), 2016 (yellow) and 2017 (light blue).
Carbon Brief analysis of IEA coal market reports. Chart by Carbon Brief using Highcharts.
Outlooks for thermal coal demand in 2022, by country and economic grouping, as forecast by the IEA in 2015, 2016 and 2017. OECD is the Organization for Economic Cooperation and Development, made up by the world's wealthiest nations. ASEAN is the Association of Southeast Asian Nations, comprising Thailand, Vietnam, Indonesia, Malaysia, the Philippines and others. *The 2015 and 2016 forecasts were extrapolated in a straight line to 2022, based on the last three data points.
This year, however, perhaps the more notable shift in outlook is for India. Last year, the IEA forecast saw Indian thermal coal demand rising by 215Mtce between 2014 and 2022. This year, the figure is 115Mtce, effectively halving the rate of growth for power sector coal demand.
The chart below shows the change in thermal coal demand between 2014 and 2022, as forecast by the IEA in (dark blue columns), 2016 (yellow) and 2017 (light blue).
Carbon Brief analysis of IEA coal market reports. Chart by Carbon Brief using Highcharts.
Outlooks for the change in thermal coal demand between 2014 and 2022, by country and economic grouping, as forecast by the IEA in 2015, 2016 and 2017. OECD is the Organization for Economic Cooperation and Development, made up by the world's wealthiest nations. ASEAN is the Association of Southeast Asian Nations, comprising Thailand, Vietnam, Indonesia, Malaysia, the Philippines and others. *The 2015 and 2016 forecasts were extrapolated in a straight line to 2022, based on the last three data points.
Coal India

This change in outlook for India is significant because India now drives the IEA's forecast of continued global coal demand growth. If the IEA is starting to change its view on Indian coal demand growth, then the global picture could change direction, too.
Plans to bring electricity to all citizens, plus rapid economic growth, mean an increasing role for coal power in India, the IEA said.
"There is a reality in electricity access and demand," said Keisuke Sadamori, director of energy markets and security for the IEA, in a call with journalists. Demand will grow, Sadamori said, even though countries such as India will probably follow a less energy-intensive path to development than those that came before them.
Growth in Indian coal power demand is also despite the IEA being "optimistic" about India's renewable energy targets, he said.
The IEA outlook for coal demand in India has clearly already shifted, reflecting the rapid expansion of renewables, slower-than-expected demand growth and financial troubles for coal and utility firms.
Priyavrat Bhati, energy group program director of the Delhi-based thinktank the Centre for Science and Environment told Carbon Brief:
"I would agree with the IEA assessment. While coal's demand growth is slowing, it is still hard to envisage a scenario under which coal will stall around 2022. Renewable energy has grown spectacularly in the past year…[but] power demand will continue to grow and renewable energy won't be sufficient."
Still, there are reasons to believe that the IEA remains behind the curve. Tim Buckley, director of energy finance studies at the Institute for Energy Economics and Financial Analysis (IEEFA), told Carbon Brief:
"India is the key market revision by the IEA in this report and the changes [compared to last year] are material, but still nowhere near sufficient to address how quickly the Indian renewable energy story is unfolding."
India has set what have been seen as highly ambitious targets for renewables, aiming for 175 gigawatts (GW) in total by 2022, including 100GW solar and 60GW wind. Then, in November, the Ministry of New and Renewable Energy set out plans to meet these targets early, with power minister R K Singh saying the country could reach 200GW by 2022 instead of the "conservative" 175GW goal. Today's IEA coal forecast assumes that only 70GW solar will be installed by 2022.
In July, the IEA itself reported that Indian coal-power investments are drying up. Last month, it said solar would be cheaper than coal in India in the second half of the 2020s.
There is a large pipeline of roughly 43GW of new coal-fired power stations already under construction in India, with an even larger number at the planning stage. It is not clear how many of these plants will be completed, however.
Ted Nace, director of NGO CoalSwarm, told Carbon Brief: "In India, at least 31 coal-fired power plants under construction at 13 locations remain on hold, most often due to lack of financing as investment money shifts to cheaper renewables."
In contrast to the IEA, which sees Indian coal demand rising non-stop out to at least 2040, recent IEEFA analysis suggests the country's power stations could peak demand by 2027.
This view is partially supported by Varun Sivaram, fellow for science and technology at the Council on Foreign Relations. He told Carbon Brief:
"I personally think the IEA's forecast [for India] is reasonable. There are factors to suggest both that the Indian government is aggressive and conservative in its projection. A tonne of coal plants are in various stages of the permitting/construction pipeline, so very powerful interests are pushing to build at least some plants. On the other hand, coal utilisation is low and renewables are undercutting new coal plants on price, making the economic argument for new coal plants very difficult. So the middle ground projection is what the IEA projects, with the understanding that beyond 2022, India probably will not be powering an increase in global coal demand."
German Challenge
One intriguing aspect of the IEA report is its outlook for the EU. It said EU coal use will continue to fall, with remaining demand becoming ever-more concentrated in Germany and Poland.
In Germany, the IEA said coal demand will fall, even though the country plans to close all its remaining nuclear plants by 2022. This is because generation from renewable sources will increase strongly, overtaking coal to become the largest source of power around 2022.
Furthermore, the IEA said the balance is tight between running Germany's hard coal plants or switching to its large spare gas generation capacity. The report says: "Lower-than-anticipated gas prices or higher-than-expected coal or EU-ETS prices could trigger a decline in coal demand." It also points to the risk of new policy on coal, once a new government is formed.
This situation mirrors the picture across the EU, where coal plants are under pressure as a result of falling electricity demand, rising renewable generation and tightening air pollution rules, which will affect a significant portion of the EU coal fleet.
"One-third to one-half of the EU fleet needs to be retrofitted to comply with the new emission standards, or be shut down," the report notes. It adds:
"Investing in new abatement technologies would raise the cost of electricity generation…putting pressure on coal plants when wholesale electricity prices have reached record lows. In such an environment, recovery of any investment is uncertain: coal power plants have become high-risk assets in the EU due to the high political uncertainty and unfavourable market conditions that deter investment."
Under these conditions, a small increase in carbon prices on the EU ETS, or relatively small shifts in coal or gas prices could trigger significantly accelerated reductions in EU coal use.
It's worth noting, in this context, that the IEA forecasts an EU carbon price of €7 per tonne of CO2, whereas analysts expect recently agreed EU ETS reforms to raise prices to €10 in the short term and possibly much higher into the 2020s.
Conclusion
Over the past five years, the global conversation on coal—and its role in a world hoping to tackle climate change—has shifted dramatically. This change has followed the dawning reality that Chinese coal use has peaked, allowing global greenhouse gas emissions to level off, too.
This has turned the spotlight on India, seen by industry figures as the engine to drive coal growth forward. It's in this context that today's IEA forecast is significant, showing that in India, too, the outlook for coal is changing.
For Sivaram, that future engine of growth will come from southeast Asian countries, where there is "no end in sight" for coal plant construction. He told Carbon Brief:
"Renewables have been super-sluggish in ASEAN—pathetically slow growth because of a patchwork of regulations and a terrible investment climate. This will change slowly—it could take years for renewables to take off. So I am deeply worried about coal growth, as governments eagerly look to invest in plants now."
Not everyone shares this sense of gloom. Matthew Grey is senior analyst for utilities and power at the Carbon Tracker Initiative, an NGO. He told Carbon Brief:
"The incumbency is betting on India and southeast Asia as the main source of new demand and appear to be making the same mistake they made with China. Pollution policy and industrial strategy drive [renewable energy] deployment and [price] deflation. This virtuous cycle is now an unstoppable force. All the coal industry can do is try and entrench themselves in markets where the renewables sector is in its infancy. India and southeast Asian countries increasingly see an alternative to coal. This reality would have been unimaginable five years ago."
Reposted with permission from our media associate Carbon Brief.
iStock
By Ben Jervey
The growth of solar energy continues to outpace forecasts and this growth, according to a report published Wednesday by the International Energy Agency, (IEA) "is a China story."
While China today is far and away the global leader in solar generation, a decade ago, the country had just 100 megawatts of solar photovoltaic (PV) capacity installed. That's nothing. For reference, it's actually less than is currently installed in the city of San Antonio. By the end of 2016, China had increased its solar PV capacity by nearly 800 times, with more than 77 gigawatts currently installed.
China's solar dominance is only going to keep growing, according to the IEA report. As Dr. Paolo Frankl, one of the lead authors on the report, said on a call to reporters, "In one year, China will install the equivalent of the total history of solar development in Germany."
The stunning growth trajectories reflected in the IEA report show how quickly the transition to renewables can be underway when aggressive policies cut through the barriers to growth.
#Solar Technology Hits Historic 'New Era' https://t.co/ufwb70gX6F @SEIA @ClimateReality @NRDC @greenpeaceusa @foe_us @BeyondCoal @SierraClub

— EcoWatch (@EcoWatch)1507129260.0
The Renewables 2017 report takes a deep dive into renewable energy deployment across all industries and throughout the world, but the dominance of solar PV stands out. As a whole, renewables represented nearly two-thirds of new electricity capacity additions last year, far outshining coal and natural gas growth. For the very first time, solar PV additions grew faster than any other resource, surpassing coal growth.

Put simply: The world is now building more solar than coal generation, a trend that looks to continue, regardless of any uncertainty in current American energy policy. Most new demand for electricity is being supplied by renewable resources, with solar providing the most.

"The star is really becoming solar PV, which becomes the leader in renewable growth," said Frankl.
The report forecasts out the next five years of renewable energy growth, a short time-frame that is easier to project than some forecasts—like, say, the Energy Information Agency—that are routinely criticized. Over the next five years, the IEA anticipates renewables growing by roughly 1,000 gigawatts. "That is half of the total capacity of coal fired power plants worldwide," said Frankl, "and it has taken 80 years to build all of those."
Did you get that? Over the next half decade, the world will install half as much renewable energy as the current entire global capacity of coal power.
As China is proving, there is a dramatic shift in how emerging economies are powering their development. From the report:
Along with new policies that spur competition in several other countries, this Chinese dynamic has led to record-low announced prices of solar PV and onshore wind, which are now comparable or even lower than new-built fossil fuel alternatives.
Developing countries are now looking to renewables as engines of economic growth. This includes India, which according to this year's forecast, will soon leap ahead of the European Union with the third largest growth in renewable capacity, after China and the U.S. "Soon—and, we hope, very soon—African countries may see the next wave of development supported by cheap renewable power," the IEA report anticipates.

Despite the clear trajectory of global energy supply towards renewables, as reflected in this IEA report, the Trump administration is currently threatening tariffs on cheaper Chinese solar panels and has just proposed a bailout for uneconomical coal plants. "What would the tariff accomplish?" Frankl asked rhetorically. He then answered, "One thing is for sure: they would make U.S. PV much more expensive than it is today." Because Chinese companies account for more than 60 percent of global PV manufacturing—and thus set global PV prices—and American companies produce relatively little to the global market, it's hard to project how the proposed tariff would effectively rescue the American companies. Rather, it would slow PV deployment in the U.S. at precisely the time the rest of the world is pivoting aggressively to solar.

Reposted with permission from our media associate DeSmogBlog.
By Simon Evans
Global emissions can be pushed down to "net zero" by 2060 to meet the climate goals of the Paris agreement, said the International Energy Agency (IEA).
For the first time, the 29-member intergovernmental group's annual Energy Technology Perspectives report, the 2017 edition published Tuesday, maps a "below 2°C" scenario. This shows how to limit warming to around 1.75°C above pre-industrial temperatures this century, roughly in line with Paris, which aims for "well below 2°C" and preferably 1.5°C.
The "well below 2°C" aim is "technically feasible" and the past three years of stalled emissions favorable, the IEA said, but the gap compared to current action is "immense" and the challenge "formidable."
Carbon Brief runs through what is needed to change course. This includes the early closure of most of the world's coal fleet, incurring losses of up to $8.3 trillion by 2060.
OUTRAGEOUS! Trump's Paris Withdrawal: One of the Most Ignorant & Dangerous Actions of Any President https://t.co/6Yjc7nsmcY #ParisAgreement

— EcoWatch (@EcoWatch)1496348288.0
Zero by 2060
In serious discussions about climate change, it is universally acknowledged that the world must become carbon neutral in order to stop global temperatures from increasing. This is because of the carbon budget, which caps the amount of greenhouse gases that can be added to the atmosphere for a given level of warming. The only real question is when net-zero emissions must be reached.
Apart from the choice of temperature limit—whether 1.5 or 2°C above pre-industrial temperatures—the major uncertainties include how sensitive the earth is to increasing emissions and how effectively the natural world can continue to absorb much of the carbon we release each year.
The Paris agreement sets a warming limit of "well below 2C" with an aspirational 1.5°C target. It loosely follows the science of carbon budgets by calling for net zero emissions in "the second half of this century".
These more ambitious targets set a challenge politically, but also for energy modellers such as the IEA, which had previously focused on the 2°C goal. The IEA's Energy Technology Perspectives 2017 is its first attempt to determine if the goals of Paris can be met.
Previously, the IEA had shown that current policies and climate pledges were insufficient, implying global temperatures reaching 2.7°C in 2100 and still rising. That was before President Donald Trump began the process of tearing up the U.S. contribution.
It had identified a "bridge" scenario that would bend the path of emissions towards 2°C, as well as its more aspirational 2°C path, which reaches net-zero emissions by 2100. But these still fell short of reaching the Paris targets.
In its new report, the IEA said:
"Technologies can make a decisive difference in achieving global climate goals while enhancing economic development and energy security. For the first time, [our] technology-rich modeling expands the time horizon to 2060 and reveals a possible although very challenging pathway to net-zero carbon emissions across the energy sector."
The path to meeting this zero-by-2060 scenario is narrow and requires unprecedented action, the IEA said, though it does not rely on unforeseen breakthroughs in innovation. Its report emphasizes the scale of the challenge:
"Deployment of clean energy technologies, inclusive of those currently available and in the innovation pipeline, is pushed to its maximum practical limits across all key sectors ... This pathway implies that all available policy levers are activated throughout the outlook period [2014-2060] in every sector worldwide. This would require unprecedented policy action as well as effort and engagement from all stakeholders."
Even so, its zero-by-2060 scenario would give only a 50-50 chance of keeping global temperature rise below 1.75°C. This is within the bounds of the Paris goals, though the IEA said it is not trying to set the definition of the "well below 2C" target in the agreement.
Efficiency and renewables
Most of the emissions cuts in the IEA 2°C and below-2°C scenarios come from energy efficiency and renewables. To move from our current 2.7°C path towards its 2°C scenario, the IEA sees these two sectors providing 75 percent of the emissions reductions, with another 14 percent from carbon capture and storage (CCS), six percent from nuclear and five percent from fuel switching, for instance from coal to gas.

Shifting from the 2°C path to its below-2°C scenario would again put heavy emphasis on energy efficiency across transport, buildings and industry, to make 34 percent of the additional carbon savings. The importance of CCS would increase, making up 32 percent of extra effort, as the chart below shows.
Compared to the current path, efficiency and renewables would still play the largest role:
As efficiency cuts demand and renewables scale up, fossil fuels' share of the global energy mix falls from 82 percent in 2014 to 35 percent in 2060 under the 2°C scenario, with coal use falling by 72 percent, oil by 45 percent and natural gas by 26 percent compared with 2014.
In the below-2°C scenario, these reductions are even more stark, with fossil fuels' share of global energy falling to 26 percent, coal use falling by 78 percent, oil by 64 percent and natural gas by 47 percent. Coal use without CCS is already largely eliminated in the 2°C scenario, so the shift to below 2°C disproportionately cuts into the space available for burning oil and gas.
Stranded fossils
In the power sector, low-carbon electricity meets 96 percent of global demand by 2060, even under the less ambitious 2°C scenario. The IEA's latest report goes further than ever before in spelling out the financial implications of this shift for coal and gas-fired power stations.
As the transition to zero-carbon accelerates, many fossil-fueled power stations will have to be closed before they reach the end of their natural life, the IEA said, causing lost earnings and creating "stranded assets" that are worth less than expected by investors.
Under its 2°C scenario, some 1,520 gigawatts (GW) of capacity is closed early, of which 1,285GW is coal. For comparison, the combined fleets of China and the U.S. today, the world's top two countries for coal capacity, total 1,208GW. Adding Russia and Poland takes this to 1,285GW.
In its below-2°C scenario, the IEA sees 1,715GW closing early, of which 1,330GW is coal. This is equivalent to the current fleets of China, the U.S., Japan, Germany and Poland. The plants closing early would lose $3.7 trillion in revenue to 2060 for the electricity they would otherwise have generated.
If action in the power sector is delayed, the extent of early closures and financial losses only increases, the IEA noted. If global power sector emissions remain flat until 2025, before falling more steeply later on, then losses could reach $8.3 trillion by 2060 and early retirements of coal and gas plants would climb to 2,350GW. The current global coal fleet is 1,965GW.
It's worth noting that despite the significant role for CCS in its scenarios, the IEA said under a 2°C or higher path: "Coal-fired power plants with CCS become too carbon intensive at a certain point, since 10-15 percent of their emissions are not captured."
Unless these residual emissions can be eliminated through technical advance, then this issue will limit the potential to prevent stranded coal assets by adding CCS later on. That's particularly true if climate ambition is pushed towards below 2°C, or if action is delayed, the IEA report suggests.
Still, its scenarios include a key contribution from bioenergy with CCS (BECCS) to generate negative greenhouse gas emissions. The IEA includes significant levels of negative emissions, reaching nearly five gigatonnes of CO2 (GtCO2) per year in 2060, as the chart below shows.
Some experts argue this level of demand for biomass would be unsustainable, while others point to slow progress on CCS. Nevertheless, negative emissions from BECCS are "central" to the below-2°C scenario developed by the IEA, where stubborn emissions from transport and industry are offset by negative emissions in the power and transformation sectors (for example, bioenergy-derived fuel production linked to CCS).

Conclusion
The broad outlines of what is needed to meet the goals of the Paris agreement are well known: the world must reach net-zero emissions soon after 2050 to keep the rise in temperature to 2°C or less. Yet the scale of the challenge is daunting and, as the IEA points out, most sectors are off track.
Part of its latest report is devoted to tracking the progress of clean energy, technology by technology, repeating a sobering reality check that it carries out each year. This year, the IEA said, electric vehicles, energy storage, plus solar and wind are on track for a 2°C scenario.
This compares poorly to the eight sectors that are not on track and the 15 sectors where more efforts are needed. While this picture appears fairly gloomy, it's worth comparing to what the IEA said two years ago, when no sectors were on track, and last year, when only one was.
We're not on track for 2C, but things are improving. Compare IEA indicators from 2015, 2016 and 2017: (Zero, 1 then… https://t.co/ZyIEq9ZQOF

— Simon Evans (@Simon Evans)1495131526.0
It's also worth reiterating the IEA's view that meeting the aims of Paris is technically feasible with existing technologies and those in development, without the need for breakthrough innovation. As ever, world leaders' lack of political will stands in the way of meeting their stated climate goals.
Reposted with permission from our media associate Carbon Brief.
By Greg Muttitt
We welcomed last week the first step by the International Energy Agency (IEA) towards describing how energy would look for the world to meet one of the Paris Agreement goals, to keep warming well below 2°C. Specifically, it looked at emissions being limited enough to give a two-in-three chance of staying below 2°C.
The report was co-published by IEA and its clean energy counterpart, the International Renewable Energy Agency, and commissioned by the German government. The two agencies are also working on a 1.5°C scenario, to be published in June.
But there's a problem with the IEA's new climate scenario: It describes a slower decline in fossil fuels than our analysis of what the climate science actually requires. Here's the key table:
Remarkably, the IEA foresees significant coal use in 2050 and gas barely declines from current levels. Let's look at how the IEA reaches this outcome.
The new report starts off well: It takes the carbon budget from the Intergovernmental Panel on Climate Change, as we did in our report The Sky's Limit: 880 gigatons (Gt) of carbon dioxide can be emitted from 2015 onwards. But the IEA then does three things that inflate the space for fossil fuels within that budget:
It understates the potential non-fossil fuel emissions (primarily cement and land use emissions);
It assumes a major breakthrough in carbon capture and storage (CCS);
It allocates a disproportionate share of the carbon budget to the pre-2050 period—deeper emissions cuts are hidden outside the period of study.
The combined effect is to inflate the emissions from fossil fuels by about 180 Gt—the equivalent to running an extra 1,500 coal plants from 2015 to 2050. Here's how the math works:
Disappearing Non-Fossil Emissions
The 880 Gt carbon budget is the total cumulative amount of CO2 that can be emitted from all sources in the future. While fossil fuels are the largest source of CO2 emissions, they are not the only source. The others are the calcination reaction in making cement and land use changes (such as agriculture and deforestation). So an estimate of these other sources must be deducted from the budget, to see how much room is left for fossil fuel emissions.
The IEA's estimate of land use emissions (zero) is only slightly smaller than ours: We estimate 20 Gt over the century (when you take into account absorption of CO2 as well as emissions—based on a median of IPCC scenarios).
But the IEA assumes only 90 Gt of cement emissions over the century. Cement emissions are current 2 Gt per year; the IEA scenario projects them peaking in the 2020s and falling to 1 Gt by 2050, due to material efficiency and CCS. Our estimate is 160 Gt, based on an optimistic reading of the IEA's own figures. The difference can only be squared with a very optimistic assumption on CCS, to which we turn next.
So the IEA assumes that only 90 Gt of the carbon budget must be deducted, leaving 790 Gt for fossil fuels. Our already-optimistic assumptions would require 180 Gt to be deducted and it could be a lot more than this. So at 790 Gt, fossil fuels are getting too much of the global carbon budget.
Burying Carbon Out of Sight
The new IEA scenario assumes that CCS will be quickly ramped up in the 2020s, capturing 3 Gt per year of fossil fuel emissions by 2035, not counting the more than 1 Gt per year of cement emissions.
This seems highly unlikely, given that both companies and governments (including the UK and the U.S.) have pulled out of investing in CCS in the last couple of years. The IEA itself has noted that "deployment has stalled." A major reason is that CCS-equipped coal or gas power—while obviously attractive to the fossil fuel industry—is significantly more expensive than wind or solar power. The IEA does not explain how it expects a turnaround to occur.
The IEA sees more than 600 GW of CCS-equipped power plants being installed by 2050, equivalent to nearly 20 percent of today's coal and gas capacity. Given the long life of power stations, the IEA believes a significant portion of this will be achieved by retrofitting existing plants—which is even more expensive than installing CCS in new plants.
The effect of the IEA's CCS assumption is to inflate the available carbon budget by around 60 Gt before 2050 and up to 200 Gt over the century, based on an expensive technological fix that has no track record to date.
Hiding Emissions Cuts Off the Page
The new report describes the energy system from 2015 to 2050. But the carbon budget stipulates how much the world can emit over all time (until atmospheric concentrations stabilize). So a key part of IEA's calculation is to decide how much of its 790 Gt budget to allocate before 2050 and how much after. The IEA opts to save just 80 Gt of the budget for post-2050 and 710 Gt for pre-2050.
This would require a sudden change in the rate of emissions once we reached 2050, as the graph shows.
Since the scenario forecasts only up to 2050, it understates the emissions reductions—and overstates fossil fuel use—during that period. Like a magician's trick, the real action is happening out of sight.

If emissions fell at a steady rate after 2020, rather than postponing some reductions until after 2050, they would have to decrease by 5 percent per year. On this basis, the IEA's pre-2050 carbon budget for energy would fall from 710 to 635 Gt. Compounding this with our more reasonable assumption on non-fossil emissions, we would start with an all-time budget of 880 – 180 = 700 Gt. Reducing emissions at a constant rate after 2020 would allocated 590 Gt of this to pre-2050. In comparison, the IEA has taken a pre-2050 budget of 710 Gt and inflated it with CCS to about 770.
The IEA's three distortions buy an extra 180 Gt for fossil fuels (see table). Over the 35 years of the scenario, that's the equivalent of an extra 1,500 average-sized coal plants.
Wrong Conclusions

Without these distortions, the IEA would reach the same conclusion that we did in the Sky's Limit: that there is no room for new fossil fuel development. Instead, it calls for new investment in fossil fuels—including $200 billion a year of investment in fossil fuel extraction as late as 2050—investment that will either be wasted or will drive devastating climate change.
Governments and investors routinely use IEA scenarios to inform energy decisions, especially the scenarios in its flagship World Energy Outlook, published every November. But as we've seen, even in its new climate scenario, the IEA overstates the future of fossil fuels, due to flawed assumptions and hidden distortions.
It is time for the IEA to come clean. First, the IEA must drop its outdated 450 Scenario and replace it with one in line with Paris. Second, it must fix these distortions, to give a clear picture of the action that's really needed.
Solar farm at the Topaz Solar Farm in California. Photo credit: Sarah Swenty / USFWS
Renewable energy has reached an important milestone. The World Economic Forum (WEF) has determined that in many parts of the world, solar energy is now the same price or even cheaper than fossil fuels for the first time.
In a handbook released this month, the WEF observed how the price of renewable technologies, particularly solar, has declined to unprecedented lows.
This brings US total installed solar capacity to 35.8 gigawatts, enough to power 6.5 million homes: https://t.co/D8W2XHDSLC via @EcoWatch

— NRDC (@NRDC)1482612846.0
While the average global LCOE [levelized cost of electricity] for coal and natural gas is around $100 per megawatt-hour, the price for solar has plummeted from $600 a decade ago to $300 only five years later, and now close to or below $100 for utility-scale photovoltaic. For wind, the LCOE is around $50.

According to the WEF, more than 30 countries have already reached grid parity—even without subsidies. ("Grid parity" is the point when an alternative energy source, say solar, can generate power at a LCOE that's equal or even less than the price of traditional grid power.)
"It is relevant to note that the mentioned evolution, market share gain and continued potential for renewable energy do not hinge on a subsidy advantage," the report added. "In fact, according to [International Energy Agency], fossil-fuel consumption has received $493 billion in subsidies in 2014, more than four times the value of subsidies to renewable energy."

The WEF highlighted how the unsubsidized LCOE for utility-scale solar photovoltaic—which was not competitive even five years ago—has declined at a 20 percent compounded annual rate, "making it not only viable but also more attractive than coal in a wide range of countries."

Countries that have already reached grid parity include Chile, Mexico, Brazil and Australia with many more countries also on the same track. The WEF projects that two thirds of the world will reach grid parity in the next couple of years, and by 2020, solar photovoltaic energy is projected to have a lower LCOE than coal or natural gas-fired generation throughout the world.
"Renewable energy has reached a tipping point," Michael Drexler, who leads infrastructure and development investing at the WEF, told Quartz. "It is not only a commercially viable option, but an outright compelling investment opportunity with long-term, stable, inflation-protected returns."

The report follows a recent analysis from the IEA which revealed that total clean power capacity increased by 153 gigawatts, overtaking coal for the first time. To illustrate, about 500,000 solar panels installed were installed around the world every day.
By Andy Rowell
Something significant happened on Friday that warrants more than just a few column inches in a newspaper.
With the most divisive presidential election in U.S. history just days away from concluding, it is easy to understand why more is not being made of the news, but just to tell you something seismic happened on Friday last week.
The world's largest listed oil company, Exxon, announced that it was going to have to cut its reported proved reserves by just under a fifth—by 19 percent.
It would be the biggest reserve revision in the history of the oil industry. It is yet another sign that Big Oil is in big trouble.
For years people have been warning that Big Oil's business model was fundamentally flawed and was not only putting the climate at risk, but millions of dollars of shareholders' money.
For years the industry's critics warned the industry was ignoring the risks of climate change and was just caring on drilling regardless.
But the oilmen did what the oilmen do: find oil and gas, no matter the consequences.
And the worst oil company has been Exxon which for decades has denied climate change and the impact that climate change will have on its business.
For decades it could have invested wisely in renewables but it carried on looking for oil and gas—including unconventional oil which is even more carbon intensive than conventional oil. Its critics warned this was pure folly: but the oilmen carried on drilling anyway.
Big Oil is used to doing things its own way.
The warnings have kept coming, but the boys from Exxon didn't listen. Oil Change International, 350.org, Carbon Tracker and many others in the #keepintheground movement have been saying for years that large swathes of oil reserves must stay in the ground.
They warned that fossil fuel reserves will become "stranded assets."
Exxon often dismissed its critics as irrelevant lentil-eating, sandal wearing hippies, who wanted to take humanity back to the stone age.
#Exxon Alleges #Climate Investigations Are Conspiracy https://t.co/dLydsSqMkA @ClimateNexus @greenpeaceusa @350 @billmckibben @NaomiAKlein

— EcoWatch (@EcoWatch)1476799394.0
And it carried on drilling. And it dismissed the fact that any of its assets could become stranded.

But then came the Paris agreement on climate change last December. "With the Paris agreement on climate ratified in December 2015 … no company has more to lose than Exxon," noted the Chicago Tribune in a great article written last Friday entitled, Exxon enters no man's land.
The Chicago Tribune continued:
"Big oil companies have been solid investments for years, with a deceptively simple business model: Find at least as much new oil as you sell, book those barrels as future sales and reinvest in the hunt for new reserves. That made sense as long as oil prices went up, but it locked companies into a vicious cycle of replenishment, leading them to search for ever more extreme, and expensive, sources of crude oil in the Arctic and beneath the oceans."
And it added:
"Cheap oil has stopped that business cold and the threat of climate action raises fundamental questions about whether it'll ever be viable again."
The issue of long term viability has been raised by numerous organizations over the last eighteen months too. Last year the energy watch-dog, the International Energy Agency, argued that two thirds of known reserves would have to stay unburnt, if we are to keep climate change to the limits agreed in Paris.
But Exxon carried on drilling.
Last year Citigroup issued a report warning policies to limit climate change could render vast swaths of oil companies' reserves worthless, leading to trillions in losses.
But Exxon ignored the warnings.
In May this year, the London-based Chatham House warned in a report, entitled The Death of the Old Business Model, that the world's largest oil companies "Faced with the choice of managing a gentle decline by downsizing or risking a rapid collapse by trying to carry on business as usual."
Importantly, most of Exxon's de-booked reserves, about 3.6bn barrels, will be at the company's dirty Kearl oil sands project in Canada. The reduction would account for over three quarters of the reserves. Not only are tar sands very energy intensive, but they are expensive to produce.
In a low oil price, carbon-constrained world, they are stranded assets.
"For the oil sands, this is a tipping point," argued Andrew Logan, director of the oil and gas program at the ethical investment organization, Ceres. "Why would any company invest billions of dollars in a new oil-sands project now, given the near certainty that the world will be transitioning away from fossil fuels during the decades it will take for that project to pay back?"
Indeed, two days before Friday's announcement an article on CNN Money noted just how much trouble the oil giant was in: "Exxon's stock is down 17% from its 2014 peak amid the crash in oil prices. The oil giant's profits have plunged to 17-year lows and its once-perfect AAA credit rating has evaporated."
It quoted Tom Sanzillo, former deputy comptroller of New York State and now head of finance at the Institute for Energy Economics and Financial Analysis saying the company was in the middle of an "irreversible decline."
Friday's announcement is further evidence that we are witnessing the beginning of the end of the oil age.
And the great carbon dinosaur Exxon is slowly dying before our eyes.
Reposted with permission from our media associate Oil Change International.

There was a record amount of new renewable energy installations globally in 2015, with 500,000 solar panels installed every day.
According to the International Energy Agency (IEA), total clean power capacity increased by 153 gigawatts, overtaking coal for the first time.
"We are witnessing a transformation of global power markets led by renewables and, as is the case with other fields, the center of gravity for renewable growth is moving to emerging markets," Dr. Fatih Birol, the IEA's executive director, said.

The agency also raised its five-year forecast for renewable energy by 13 percent and now expects renewables to be 42 percent of global energy capacity by 2021.
"Last year was a year of records for #renewables" says IEA Executive Director @IEABirol. Find out more 👉… https://t.co/7Hh21UjHN8

— IEA (@IEA)1477384270.0
For a deeper dive:

Guardian, Reuters, Politico Pro, Financial Times, Bloomberg, PV Magazine, San Diego Union-Tribune, CNBC, BusinessGreen

For more climate change and clean energy news, you can follow Climate Nexus on Twitter and Facebook, and sign up for daily Hot News.

By Simon Evans
For the first time ever, investment in new renewables was more than enough to cover rising global electricity demand in 2015, according to the first World Energy Investment report published by the International Energy Agency (IEA).
While fossil fuels still dominate energy supplies, the IEA says changing investment flows point towards a "reorientation of the energy system."

Carbon Brief has seven charts showing why the IEA thinks an energy shift is underway.
1. Energy Investment
World energy investment amounted to $1.8 trillon in 2015, the IEA says, equivalent to 2.4 percent of the global GDP. Around half went towards fossil fuel extraction and distribution, mainly for oil and gas.
Renewables accounted for 17 percent of the total, around $300 billon. The vast majority of which was in the electricity sector, where nearly 70 percent of investment in power stations went towards renewables.
Global energy investment in 2015, by sector.World Energy Investment 2016 / IEA
2. Oil Slide

Investment in energy was down 8 percent year-on-year in 2015—around $150 billon—largely because of falling investment in oil and gas. Soft demand and Saudi Arabia's determination to squeeze competitors has created a prolonged period of cheap oil that has decimated incomes.
Reductions have been particularly steep in North America, the IEA says, with investment halving in the past two years. The smaller companies that dominate the U.S. shale industry have been particularly hard-hit by the falling oil price, with scores of firms filing for bankruptcy.
Upstream oil and gas investment in 2015, by region.World Energy Investment 2016 / IEA
3. Falling Costs

The Saudi strategy has only been partially successful. Some two-thirds of the fall in oil and gas investment has been absorbed by cost reductions, particularly in the shale sector. Upstream oil and gas costs fell 15 percent in 2015, the IEA says.
These recent oil and gas cost reductions have been easily outpaced by those for new energy technologies. Costs for onshore wind are down by nearly 40 percent since 2008, solar by more than 80 percent, LEDs more than 90 percent and grid-scale batteries by 70 percent.
The IEA says renewable costs will continue to fall, while the reverse will be true for oil and gas:
"IEA medium-term analyses foresee lower costs in renewables, lighting and electricity storage and eventually modest cost increases in upstream oil and gas."
Energy cost developments 2008-2015, by technology.World Energy Investment 2016, IEA
4. Power Shift

The large clean energy cost reductions are behind a continuing shift in the power sector, where 70 percent of investment in generating assets goes to renewables and fossil fuel investment is in decline.
Renewable power investment held steady at around $290 billon in 2015, the IEA says, yet cost reductions mean more capacity could be bought for the money. Solar investment was lower than 2011 in dollar terms, but 60 percent more capacity was added.
Last year, rising renewable additions combined with weakening power demand growth in a landmark way.
The IEA says:
"For the first time, investment in renewables-based capacity generates enough power to cover global electricity demand growth in 2015."
New renewables commissioned in 2015 have the capacity to generate 350 terawatt hours (TWh), against an increase in demand of less than 250TWh. This means all other capacity brought online in 2015 was effectively surplus to requirements.
(It's worth adding a couple of qualifiers: first, 40 percent of investment was to replace aging assets; second, renewables often generate power intermittently rather than on demand).
Net of retirements, nuclear also expanded last year, adding the capacity to generate an extra 50TWh. In total, new plant added in 2015 has the capacity to generate 1,000TWh of electricity a year, more than four times the increase in demand.
Global investment in power generation and electricity networks (colored bars, left axis) and electricity demand growth (line, right axis).World Energy Investment 2016, IEA
Investment in electricity networks is increasing, reaching $260 billon last year. This is partly down to the need to incorporate renewables. However, the IEA says around 90 percent is being driven by the need to expand electricity access and replace old kit.

The network investment figures includes grid-scale batteries. Spending here has risen 10-fold since 2010, the IEA says, though it still amounts to less than 1 percent of the network total.
5. Investment Map
Power sector investments were disproportionately concentrated in China and other Asian countries. The split was particularly stark for new coal-fired generation, where more than 80 percent of investment was in Asia.
This trend is likely to continue. The IEA says around half of under-construction coal capacity is in China, which added more than 50 gigawatts (GW) of coal plant in 2015.
Investment in electricity generation and networks by region and type, 2015.World Energy Investment 2016, IEA
6. China Stranding

The IEA, in comments that echo recent Greenpeace analysis, says that much of this surge in Chinese coal capacity is unnecessary. It says:
"China has over-invested in new fossil fuel capacity … low-carbon sources are expected to be able to cover annual demand growth … through 2020, leaving little scope for an expansion in fossil fuel generation."
It illustrates the problem with the chart below, which shows falling demand growth being more than covered by consistent expansion of nuclear and renewables.
China's power generation growth (bars) and demand growth (line).World Energy Investment 2016, IEA
Fossil over-investment in China and elsewhere, will lead to stranded assets that become redundant before they have repaid the money spent to build them, the IEA said. It calls Chinese investments "inconsistent with market fundamentals."

7. Climate Inconsistent
Low-carbon sources of power are on the rise and fossil fuel's share of the global energy mix is falling. Yet despite identifying a change in direction for energy investment, the IEA says spending on low-carbon will need to increase rapidly over the years ahead if countries of the world are to meet their agreed climate goals.
It concludes:
"Globally, energy investment is not yet consistent with the transition to a low-carbon energy system envisaged in the Paris Climate Agreement reached at the end of 2015."
New low-carbon electricity generation and growth rates in the IEA 2C scenario (2DS).World Energy Investment 2016, IEA
This article was reposted with permission from our media associate Carbon Brief.

Exposure to poor air quality inside and outside is the world's fourth-leading threat to human health. A first-of-its-kind International Energy Agency (IEA) study released Monday reported 6.5 million deaths globally are attributed to poor air quality.
The only items more of a threat to human health than poor air quality are high blood pressure, dietary risks and smoking, Reuters reported. IEA's report estimates that premature deaths caused by outdoor air pollution will rise from 3 million in 2015 to 4.5 million by 2040, 90 percent of the deaths occurring in developing Asia.

But developed countries aren't safe from the pollution either. The American Lung Association's 2016 State of the Air report found 52.1 percent—or 166 million people—of Americans live in counties that have unhealthful levels of either ozone or particle pollution, EcoWatch reported.
"Clean air is a basic human right that most of the world's population lacks," Fatih Birol, IEA executive director, said in an agency press release. "No country—rich or poor—can claim that the task of tackling air pollution is complete. But governments are far from powerless to act and need to act now. Proven energy policies and technologies can deliver major cuts in air pollution around the world and bring health benefits, provide broader access to energy and improve sustainability."
Unregulated and poorly regulated energy production and use, as well as inefficient fuel combustion, are the "most important man-made sources of key air pollutant emissions," IEA stated. Eighty-five percent of particulate matter—which can contain acids, metals, soil and dust particles—and almost all sulfur oxides and nitrogen oxides can be linked back to those sources.
International Energy Agency
The air quality outlook, IEA stated, is not set in stone. A 7 percent increase in total energy investment can produce a huge health improvement by 2040. Premature deaths from outdoor air pollution would decline by 1.7 million in 2040. Household pollution related deaths would decrease by 1.6 million annually.
International Energy Agency
"This is completely peanuts," Birol told Reuters. "With a seven percent increase you can save over three million lives."

IEA listed three important areas for government action:
Setting an ambitious long-term air quality goal, to which all stakeholders can subscribe and against which the efficacy of the various pollution mitigation options can be assessed.
Putting in place a package of clean air policies for the energy sector to achieve the long-term goal, drawing on a cost-effective mix of direct emissions controls, regulation and other measures, giving due weight to the co-benefits for other energy policy objectives.
Ensuring effective monitoring, enforcement, evaluation and communication: keeping a strategy on course requires reliable data, a continuous focus on compliance and on policy improvement, and timely and transparent public information.
"We need to revise our approach to energy development so that communities are not forced to sacrifice clean air in return for economic growth," Birol said. "Implementing the IEA strategy in the Clean Air Scenario can push energy-related pollution levels into a steep decline in all countries. It can also deliver universal access to modern energy, a rapid peak and decline in global greenhouse-gas emissions and lower fossil-fuel import bills in many countries."
The Clean Air Scenario includes calls to deliver access to clean cooking facilities to an additional 1.8 billion people by 2040; implement emission controls and fuel switching in the power sector; increase energy efficiency in industry; and set emission standards that are strictly enforce for road transport.
International Energy Agency
Following these strategies, the energy demand would be 13 percent lower in 2040. In India, the portion of population exposed to a high concentration of fine particles, the Times reported, would fall below 20 percent in 2040 from 60 percent today.

Watch Newsy's video on the report's findings:
Activists from across the world came together this past Saturday to be part of a global movement calling for an end to the age of coal and standing together for a clean energy future.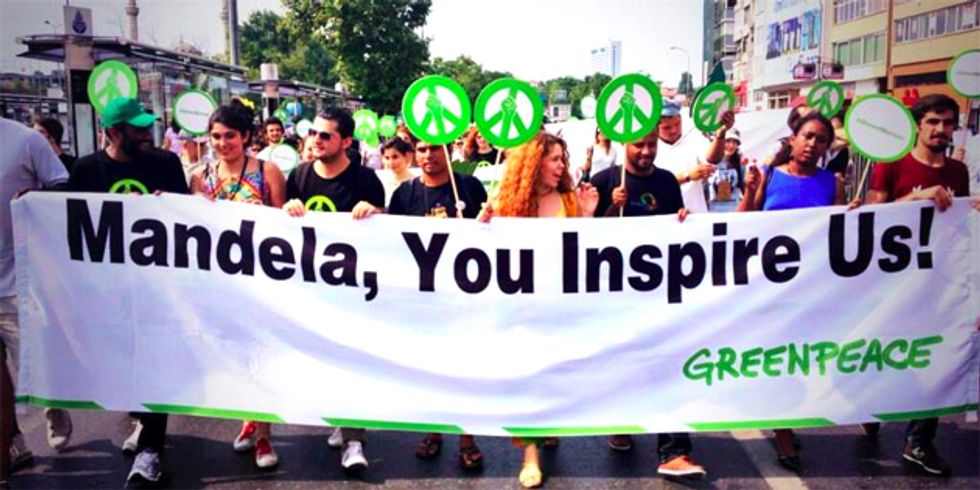 From the U.S. to the Philippines, Australia to Turkey and South Africa to Italy; Local, national and international organizations came together with individuals in the streets to stand against the world's dirtiest form of energy, which has dominated the energy sector for too long.
In Turkey, youth activists from across the globe attending Global Power Shift, joined with local groups in Istanbul, carrying a banner which read "Mandela, You Inspire Us" in tribute to the former South African president, they marched through the city's streets.
Meanwhile in South Africa, more than 100 activists met in Johannesburg's Gandhi Square with a symbolic anti-coal installation calling on the government to unplug coal power.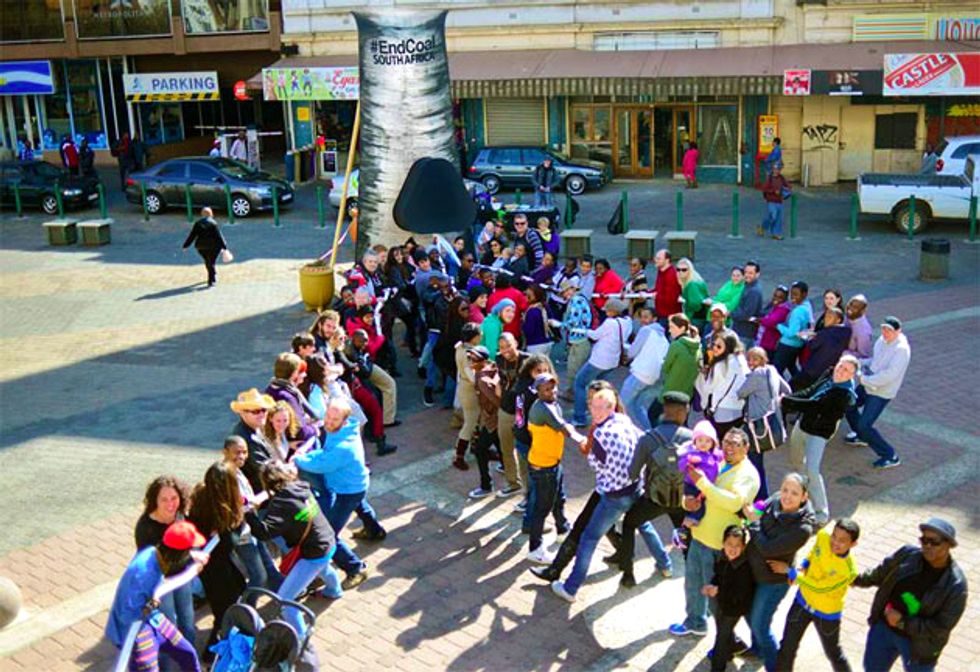 In Italy, Greenpeace activists displayed a huge floating banner reading "No Carbone—Quit Coal" in the sea alongside the Enel coal power station in Civitapvecchia, close to Rome, while an installation on dry land aimed to highlight the human impacts of the coal industry.
And in India, the day of action brought groups together from across the Vidharbha region affected by coal mining to share their frustrations, and come up with ideas on how to help each other to end the age of coal in their communities.
Burning coal remains the biggest contributor to climate change, which is already causing devastation and human suffering around the globe as intense storms, droughts and water shortages hit.
This year, the world passed a historic milestone, as concentrations of greenhouse gases passed the 400 parts per million threshold—reaching levels not seen for 3 million years.
Meanwhile, organizations from the World Bank to the International Energy Agency have warned against the impact that continued investments in fossil fuels would have on the planet, and health professionals continue to warn about the health impacts of coal—what they have named, "the silent epidemic."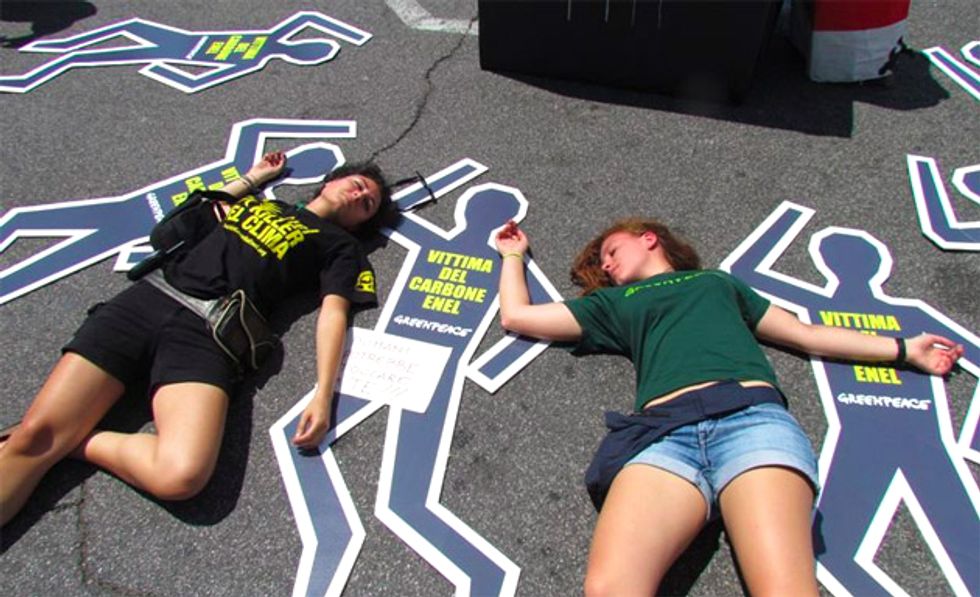 Despite such warnings, 1,200 new coal plants and mega coal mines are planned in countries across the world including China, India, Australia, Indonesia, the U.S., Poland and Germany. If allowed to go ahead, these could push the planet beyond the point of no return.
This weekend, activists showed they would not longer stand by allow the advancement of coal to threaten their futures. Standing together, they called for an end to the use of the dirty fuel and to put pressure on governments to switch to clean, sustainable, renewable energy.
The day of action was supported by a coalition of more than 50 national and international organizations that span the globe, including Greenpeace, 350.org, Avaaz, CoalSwarm.org, Environmental Justice Organisations, Liabilities and Trade, Friends of the Earth International and Sierra Club's International Climate Program.
Visit EcoWatch's COAL and RENEWABLES pages for more related news on this topic.