This website uses cookies to ensure you get the best experience while browsing it. By clicking 'Got It' you're accepting these terms.


The best of EcoWatch, right in your inbox. Sign up for our email newsletter!
Mississippi's Kemper County coal gasification plant, under construction in 2013, was supposed to capture and sequester carbon emissions.
XTUV0010
/
CC BY-SA 3.0
By Steve Horn
The huge bipartisan energy bill currently stalled in the Senate would fast-track exports of fracked gas, offer over a billion dollars in subsidies to "clean coal" efforts and make available hundreds of millions in tax dollars for a geoengineering pilot project.
Puntarenas, Costa Rica. kansasphoto/ Flickr / CC BY 2.0
EcoWatch Daily Newsletter
A Hyundai damaged from an earthquake in Pohang, South Korea on Nov. 15, 2017. Sim1992 / CC BY-SA 4.0
One of South Korea's largest earthquakes was likely triggered by hydraulic fracturing associated with geothermal energy production, according to two studies published Thursday in the journal Science.
The 5.5-magnitude temblor that struck the city of Pohang on Nov. 15, 2017 was the second most powerful on record and its most damaging, leaving the infrastructure in ruins, injuring dozens of people and leaving about 1,500 homeless.
Burlington, Vermont is the first city in the U.S. to run entirely on renewable energy.
A growing list of cities and municipalities is leading a renewable energy revolution that their national governments either cannot—or will not—address.
More than 100 cities around the world now get at least 70 percent of their electricity from renewable sources such solar, wind, geothermal and hydropower, according to new research from the non-profit CDP. That's more than double the 40 cities reporting they were powered by at least 70 percent clean energy in 2015.
TAFE SA TONSLEY / Flickr
Global investment in renewable energy hit $333.5 billion in 2018, the second-highest on record, according to a new analysis from Bloomberg New Energy Finance (BNEF).
That's a 3 percent jump from 2016 and 7 percent short of the $360 billion record set in 2015.
Pixabay
Generating electricity from renewable energy sources is not only better for the environment compared to fossil fuels, but it will also be consistently cheaper in just a few years, according to a new report.
According to a cost analysis from the International Renewable Energy Agency (IRENA), the best onshore wind and solar photovoltaic (PV) projects could deliver electricity for $0.03 per kilowatt-hour (kWh) by 2019, much lower than the current cost of power from fossil fuels, which ranges from $0.05 to $0.17 per kWh.
"Eólica" or wind power plant in Guanacaste, Costa Rica. ICE Group / Twitter
Costa Rica has charted another clean energy accolade. So far this year, the Central American country has run on 300 days of 100 percent power generation from renewable energy sources, according to the Costa Rican Institute of Electricity (ICE), which cited figures from the National Center for Energy Control.
With six weeks left of 2017 to go, Costa Rica could easily surpass 300 days.
Two years ago, Stanford University professor Mark Jacobson and his collaborators published a widely circulated study that detailed how the U.S. can eliminate nuclear, biofuels and fossil fuels and transition to 100 percent renewable energy by 2050.
Now, in a paper published Wednesday in the new scientific journal Joule, Jacobson and 26 co-authors created clean energy roadmaps not just for the 50 United States, but for 139 individual countries.

President Obama made a historic announcement Wednesday, saying that the federal government is considering investing in the geothermal power in the rock formations under the Salton Sea in Southern California. Considered to be "the most powerful geothermal reservoirs in the world," the Salton Sea announcement could play a critical role in the future management of the Colorado River.
Mud flies as carbon dioxide gas from deep underground fissures escapes through geothermal mudpots or mud volcanoes, over the southern San Andreas earthquake fault near the Salton Sea National Wildlife Refuge near Calipatria, California. David McNew
Fifty years ago, Glen Canyon Dam was built above the Grand Canyon, and the Colorado River was enslaved to generate electricity to feed the hunger of the booming southwestern cities and suburbs. The Colorado's pulsing flows had carved and nourished the Grand Canyon for millennium, but that came to a crashing halt when the gates were closed and the water was ponded in Lake Powell. The environmental damage and steady decline of one of our nation's crown jewels has led to many calls for restoration of the natural system through the removal of Glen Canyon Dam.
The dam's ability to provide power has shielded it from any serious attempt to bring it down. Times change though and, over the last 16 years, the historic drought in the Southwest U.S. has drained Lake Powell to historic lows, severely diminishing the potential to generate hydroelectricity from the massive turbines encased in Glen Canyon Dam. Water and electricity managers are scrambling to come up with a plan to prop up the lake above what's called "power pool" so they can continue to generate and sell power. Any such solution is, however, clearly a stop-gap measure to keep the dam operational and is doomed to fail when confronted by the realities of climate change.

Fortunately, Obama's announcement offers a true path to the future.
The Salton Sea announcement could create an opportunity to replace the hydroelectric power generated at Glen Canyon Dam and a path forward to restoring the Grand Canyon. The geothermal reservoirs under the Salton Sea are an untapped resource that could add power to the grid as Lake Powell is slowly drained and Glen Canyon Dam is removed. Lake Powell's water could be put into Lake Mead, its downstream sister, thus keeping one fully functioning hydroelectric facility on the grid. Further, this "geo-hydro power trade" could keep the federal government solvent in its current financial contracts to provide electricity to the Southwest U.S.
The idea has already generated a bit of a buzz when Geothermal Resources retweeted this tweet:
Climate change scientists have painted a bullseye on the Southwest U.S. and the Colorado River, indicating the area will become warmer and dryer with even less flow in the Colorado River. Hydroelectricity is threatened at both Lakes Powell and Mead, as well as reservoirs in California. Salton Sea geothermal power could be a breakthrough in building a climate change-resistant Southwest while also preserving and restoring the lifeblood of the region—the Colorado River.

In 2013, world geothermal electricity-generating capacity grew 3 percent to top 11,700 megawatts across 24 countries. Although some other renewable energy technologies are seeing much faster growth—wind power has expanded 21 percent per year since 2008, for example, while solar power has grown at a blistering 53 percent annual rate—this was geothermal's best year since the 2007-08 financial crisis.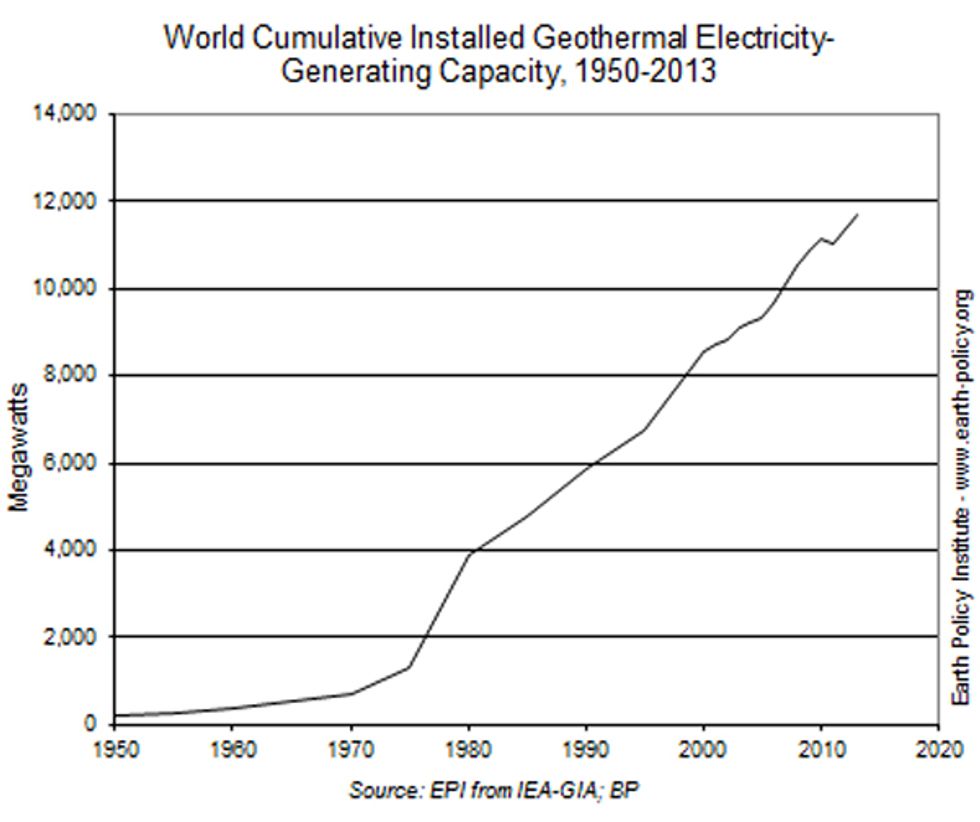 Geothermal power's relatively slower growth is not due to a paucity of energy to tap. On the contrary, the upper six miles of the Earth's crust holds 50,000 times the energy embodied in the world's oil and gas reserves. But unlike the relative ease of measuring wind speed and solar radiation, test-drilling to assess deep heat resources prior to building a geothermal power plant is uncertain and costly. The developer may spend 15 percent of the project's capital cost during test-drilling, with no guarantee of finding a viable site.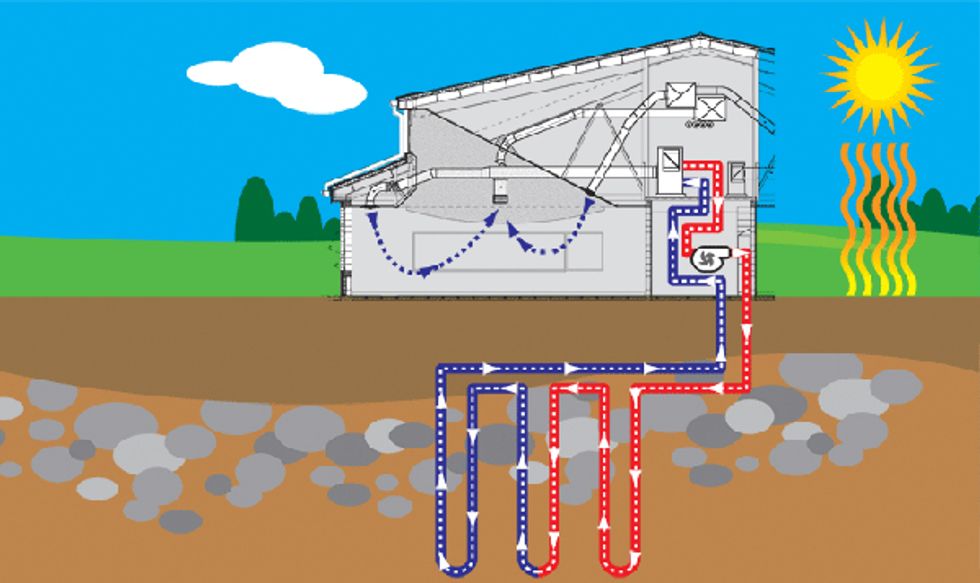 Once built, however, a geothermal power plant can generate electricity 24 hours a day with low operation and maintenance costs—importantly because there is zero fuel cost. Over the life of the generator, geothermal plants are often cost-competitive with all other power sources, including fossil fuel and nuclear plants. This is true even without considering the many indirect costs of fossil- and nuclear-generated electricity that are not reflected in customers' monthly bills.
The top three countries in installed geothermal power capacity—the U.S., Philippines and Indonesia—account for more than half the world total. California hosts nearly 80 percent of the 3,440 megawatts of U.S. geothermal capacity; another 16 percent is found in Nevada.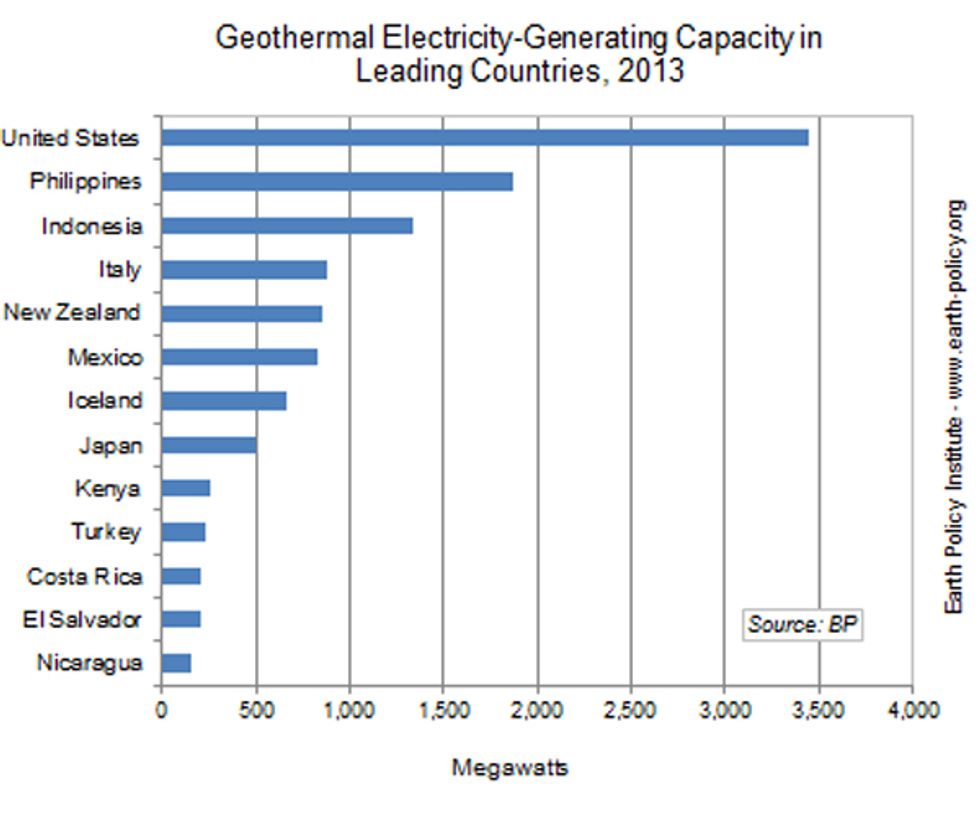 Despite having installed more geothermal power capacity than any other country, the U.S. currently generates less than 1 percent of its electricity from the earth's heat. Iceland holds the top spot in that category, using geothermal power for 29 percent of its electricity. Close behind is El Salvador, where one quarter of electricity comes from geothermal plants. Kenya follows at 19 percent. Next are the Philippines and Costa Rica, both at 15 percent, and New Zealand, at 14 percent.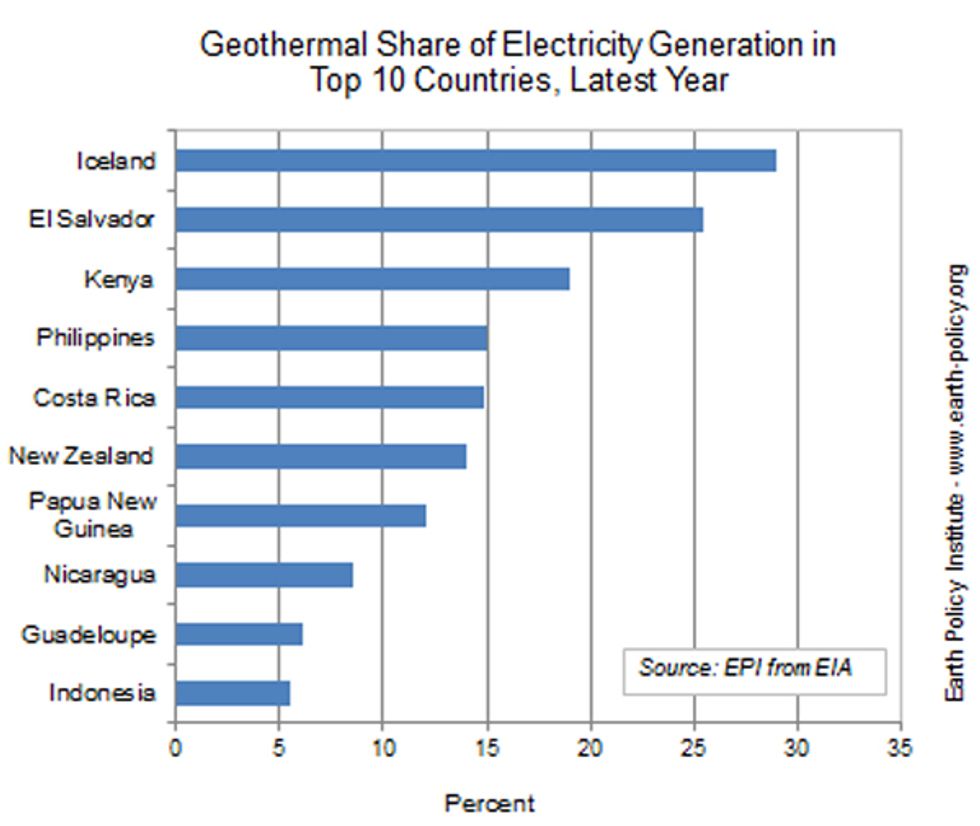 Indonesia has the most ambitious geothermal capacity target. It is looking to develop 10,000 megawatts by 2025. Having only gained 150 megawatts in the last four years, this will be a steep climb. But a new law passed by the government in late August 2014 should help move industry activity in that direction: it increases the per-kilowatt-hour purchase price guaranteed to geothermal producers and ends geothermal power's classification as mining activity. (Much of Indonesia's untapped geothermal resource lies in forested areas where mining is illegal.) Even before the new law took effect, geothermal company Ormat began construction on the world's largest single geothermal power plant, a 330-megawatt project in North Sumatra, in June 2014. The plant should generate its first electricity in 2018.
Indonesia is just one of about 40 countries that could get all their electricity from indigenous geothermal power—a list that includes Ecuador, Ethiopia, Iceland, Kenya, Papua New Guinea, Peru, the Philippines and Tanzania. Nearly all of them are developing countries, where the high up-front costs of geothermal development are often prohibitive.
To help address this mismatch of geothermal resources and funds, the World Bank launched its Global Geothermal Development Plan in March 2013. By December, donors had come up with $115 million of the initial $500 million target to identify and fund test-drilling for promising geothermal projects in the developing world. The World Bank hopes that the experience gained from these projects will lead to lower costs for the geothermal industry overall. This would be good news on many fronts—simultaneously reducing energy poverty, air pollution, carbon emissions and costly fossil fuel imports.
YOU ALSO MIGHT LIKE
UK Wind Power Exceeds Coal During Storm, Continues to Break Energy Records