This website uses cookies to ensure you get the best experience while browsing it. By clicking 'Got It' you're accepting these terms.
Alan Majchrowicz / Photographer's Choice / Getty Images
The Trump administration's push to open up federal lands for oil and gas drilling, following successful lobbying from industry, is transforming swathes of the country, the New York Times reported in a comprehensive new piece.
Halliburton getting ready to frack in the Bakken formation, which underlies North Dakota, Montana, Saskatchewan and Manitoba.
Joshua Doubek /
CC BY-SA 3.0
Ousted U.S. Environmental Protection Agency (EPA) head Scott Pruitt isn't the only polluter-friendly Trump appointee with sketchy ethics.
EcoWatch Daily Newsletter
Interior Sec. Ryan Zinke refused to meet with National Park System Advisory Board members last year, prompting most of them to quit. Gage Skidmore / Flickr
By Elliott Negin
The Trump administration's testy relationship with science reminds me of that old saying: Advice is least heeded when most needed.
By Jamie Rappaport Clark
The Migratory Bird Treaty Act (MBTA) enacted by Congress turns 100 this year, and has been read by federal agencies, including the Department of Justice and the courts, as protecting birds not just from unauthorized hunting but also from being trapped, poisoned or mangled by industrial operations. Migratory birds are increasingly threatened by land development, habitat loss and the effects of climate change.
Interior Department
The Interior Department's new "American Energy" webpage reflects the Trump administration's calls for unfettered fossil fuel development.
The webpage has gone through several revamps since Ryan Zinke took over the department in March. As reported by Motherboard, the current page, last updated on May 19, stresses "removing burdensome regulations at the Department" and omits language that emphasized developing renewable energy technologies.
The Senate voted today to confirm Rep. Ryan Zinke as Secretary of the Department of the Interior.
His confirmation will be followed by a rally today at noon outside the Department of the Interior in Washington, DC. The rally will demonstrate people's love of the outdoors and the fierce expectation that Sec. Zinke stand firm against those seeking to undermine the new Bears Ears National Monument in Utah.
The confirmation of Rep. Zinke as Interior Secretary jeopardizes the future of our great outdoors and the people, wildlife, and economies that depend on them.
The majority of Americans want to see our public lands protected for future generations to enjoy, not sold off or plundered for the financial benefit of the few. Yet as a Congressman, Zinke repeatedly sold out to corporate polluters.
The Secretary of the Interior must stand behind our public lands and stand up for tribal sovereignty, not consider rolling back protections for places like Bears Ears National Monument. We will continue to push Secretary Zinke to defend our public lands. We will resist all efforts to dismantle, degrade, and dispose of our outdoor legacy, even as we fight to make these places more accessible and welcoming for everyone.
U.S. Sec. of the Interior Sally Jewell announced Wednesday the designation of 24 new National Historic Landmarks that "possess exceptional value or quality in illustrating or interpreting the heritage of the U.S." More than 2,500 historic places bear this national distinction.
"These 24 new designations depict different threads of the American story that have been told through activism, architecture, music and religious observance," said Sec. Jewell. "Their designation ensures future generations have the ability to learn from the past as we preserve and protect the historic value of these properties."
The Sierra Club praised these new designations. "Public lands are the embodiment of our democracy," Sierra Club's Executive Director Michael Brune said. "They belong to us all and are places where everyone should feel welcome. President Obama's memorandum on diversity will help ensure these special places will better serve the diversity and interests of the public."
The New York State Barge Canal was built explicitly to counter the growing monopoly of railroad corporations over the American economy.
Here's a list of the 24 new national historic landmarks:

• The assassination of Medgar Evers on June 12, 1963, in the carport of the Medgar and Myrlie Evers House in Jackson, Mississippi, became one of the catalysts for the passage of the Civil Rights Act of 1964. His assassination also forced Myrlie Evers into a more prominent role for the National Association for the Advancement of Colored People (NAACP). Both Medgar and Myrlie were major contributors to advancing the goals of the civil rights movement on a national level. Medgar Evers was the first nationally significant civil rights leader to be murdered.
• The Wyandotte National Burying Ground (Eliza Burton Conley Burial Site) in Kansas City, Kansas, serves as tangible evidence of the consequences of federal American Indian removal policy to a tribal population and its identity during the nineteenth century. The property is also associated with Eliza (Lyda) Burton Conley who was the first attorney to raise the legal argument that American Indian burying grounds are entitled to protection by the Federal Government and to claim that the descendants of treaty signatories have the right to sue to enforce treaty provisions.
• The Schomburg Center for Research in Black Culture in New York City represents the idea of the African Diaspora, a revolutionizing model for studying the history and culture of people of African descent that used a global, transnational perspective. The idea and the person who promoted it, Arthur (Arturo) Alfonso Schomburg (1874-1938), an Afro-Latino immigrant and self-taught bibliophile, reflect the multicultural experience of America and the ideals that all Americans should have intellectual freedom and social equality.
• As one of the three New Deal greenbelt towns built by the Federal Government, the Greenhills Historic District in Greenhills, Ohio, shaped the federal response to the Great Depression and represents highly important aspects of New Deal policy, an important period in the evolution of the American suburb. The village is an outstanding representation of the American Garden City movement and a nationally significant historic residential suburb.
• On April 20, 1970, community residents occupied Chicano Park in San Diego, California, in an ultimately successful effort to prevent the construction of a California Highway Patrol substation on land where the City of San Diego had promised the neighborhood a community park. Representative of the Chicano Civil Rights Movement, Chicano Park has become a cultural and recreational gathering place for the Chicano community and is the location of the Chicano Park Monumental Murals, an exceptional assemblage of master mural artwork painted on the freeway bridge supports.
• Casa José Antonio Navarro in San Antonio, Texas, was the home of Tejano statesman and historian José Antonio Navarro (1795-1871), a political leader whose prolific career as statesman and defender of Tejano rights shaped the destiny of Texas as an independent Republic and as part of the United States of America. His commitments to both American ideals and to the rights of Texan Mexican Americans make him one of the leading figures of the American Southwest under three sovereignties.
• The Neutra Studio and Residences (VDL Research House) in Los Angeles, California, is associated with Richard Neutra, a nationally and internationally seminal figure of the twentieth century Modern movement in architecture. During the 1940s, as Neutra's work evolved, he also became the well-recognized founder of mid-century "California Modern" architecture. The VDL Research House is the only property where one can see the progression of his style over a period of years and is among the key properties to understanding the national significance of Richard Neutra.
• The Keim Homestead in Oley, Pennsylvania, is an exceptionally intact example of early German American domestic vernacular architecture. Constructed ca. 1753, the main house and the ancillary building (which served in effect as an extension of the main dwelling under a separate roof), together represent methods of construction, elements of architectural decoration, and patterns of dwelling and domestic outbuilding layout and design that were characteristic of the German American tradition of the mid-eighteenth century.
By Adam Markham
U.S. natural and cultural resources—the parks, landmarks and history of America—are under assault from climate change. So it is troubling that Ryan Zinke, Donald Trump's pick to run the Department of the Interior (DOI), seems unsure whether climate change is a real problem or not.
Just this week, in an interview with the LA Times Zinke said "The climate is changing, I don't think you can deny that. But climate has always changed" continuing that "I don't think there's any question that man has had an influence" but that "what that influence is, exactly, is still under scrutiny." And in October 2014, Zinke said "It's not a hoax, but it's not proven science either…"
Who is Ryan Zinke?

Zinke is a 23-year Navy Seal veteran and fifth-generation Montanan who was elected to the House in 2014 after serving six years in the state senate. He ran for election on national security and energy independence issues and is an advocate of increased coal, oil and gas development on public lands.
In his first term as a Congressman he has voted to:
Weaken controls on air and water pollution in national parks
Lift the federal ban on crude oil exports
De-fund efforts to clean up Chesapeake Bay
Weaken the Antiquities Act by limiting the president's ability to designate new national monuments
In 2015 the League of Conservation Voters gave Zinke a bottom-of-the-barrel 3 percent score for his environmental record. He would have scored zero but for his one positive vote against cutting off funding for the Department of Energy's Office of Energy Efficiency and Renewable Energy.
The Statue of Liberty was closed to visitors for nine months after Hurricane Sandy. NPS / Earthcam
In 2016 the National Parks Action Fund, a group affiliated with the National Parks Conservation Association, gave Zinke an F for his voting record on key bills affecting national parks. He has, however, been a strong supporter of the Land and Water Conservation Fund and co-sponsored a bill to extend funding for the Historic Preservation Fund.

Congressman Zinke favors opening more public lands to oil and gas drilling, is a strong supporter of Montana's coal industry and has voted against regulations to protect waters in national parks from toxic surface mining run-off. He has drawn the line, however, at the prospect of privatizing public lands, saying selling them off is "a non-starter … in Montana, our public lands are part of our heritage."
In July 2016, he resigned as a delegate to the Republican National Congress over the inclusion of the transfer of federal lands to the states in the party platform. According to a March 2016 profile by Troy Carter in the Bozeman Daily Chronicle
"Zinke sees himself as a traditional conservationist and he's upset about the current state of forest health. Annual forest fires, he believes, are only going to get worse. The answer is for Congress to "put more scientists in the forest and less lawyers … I have a deep admiration for Teddy Roosevelt. I have a deep admiration for the original concept of the Clean Water Act, the Endangered Species Act, all of which were signed, by the way, into law by Dick Nixon."
Why is the Department of Interior So Important?
The Department of Interior's primary responsibilities are to protect and manage the U.S.'s natural resources and cultural heritage, provide scientific information about those resources, and uphold the federal government's responsibilities to recognized American Indian and Alaska Native tribes.
DOI manages 500 million acres of public lands, 700 million acres of subsurface minerals, 35,000 miles of coastline and 29,000 historic structures. DOI agencies include the National Park Service, Bureau of Land Management, Fish and Wildlife Service and the U.S. Geological Survey.
With 70,000 staff and a huge and diverse portfolio, DOI is the steward of the nation's extraordinary natural, cultural, historic and heritage resources, and nowhere is that more apparent to the American public than in the national parks. The National Park Service is the most popular federal agency after the Postal Service and its more than 400 properties receive more than 300 million visits annually.
National Park Service archaeologists working at an Alaskan site.NPS
To take on the role of Secretary of the Interior is to assume responsibility for the legacies of John Muir, Theodore Roosevelt, Lady Bird Johnson, and all the other American visionaries that have recognized the sacred trust each generation should have for the next in protecting and managing the U.S.' natural and cultural heritage.

To do this with any kind of success in the 21st century requires that any incoming secretary must support climate change science and monitoring within DOI and advocate its incorporation in management and resilience strategies for public lands, wildlife, cultural resources and historic sites. A recent analysis concluded that sea level rise alone poses a risk to more than $40 billion worth of national park assets and resources.
National Park Service Director Jon Jarvis has called climate change "fundamentally the greatest threat to the integrity of our national parks that we have ever experienced" and current Interior Secretary Sally Jewell said at Glacier National Park in August this year "You cannot get out on these landscapes and deny climate change is there. I see it everywhere I go."
When Glacier National park was established there were 150 glaciers, now there are only 25 and all are expected to gone by or before 2030. A new climate attribution study published in Nature GeoScience concluded that global glacier retreat provides "categorical evidence" of climate change.
Congressman Zinke, whose district includes Glacier National Park also has noticed the changes, but questions the extent of human responsibility.
In May 2015 in Bozeman, Montana, he said, "I think, without question, the climate is changing … You know, if you go up to Glacier (National) Park and you have your lunch on one of the glaciers, you will see the glacier recede as you eat lunch … So you know I have seen the change in my lifetime. I think man has had an influence … the degree to what that influence is .. ?"
Zinke's acknowledgement that the glaciers of Glacier are melting hasn't yet shaken his faith in fossil fuels: "I think you need to be prudent. It doesn't mean I think you need to be destructive on fossil fuels, but I think you need to be prudent and you need to invest in all-the-above energy … I think natural gas probably provides the easiest path forward and the cleanest protection…"
Climate Change and Our National Parks
Under the leadership of Secretary Jewell, her predecessor Secretary Salazar and Director Jarvis, the National Park Service has become one of the most active U.S. agencies in monitoring and communicating about climate impacts as well as putting in place management strategies to respond. Its interdisciplinary Climate Change Response Program is a ground-breaking and highly successful initiative that has gained international attention and plaudits, and which should be continued and expanded under the new administration.
Saguaro National Park is one of many vulnerable to climate change. NPS
In June 2014 Secretary Jewell told USA Today "I would say the science is clear. Whether or not you choose to think about the causes of climate change, all you have to do is open your eyes and look around you to see that climate change is real …So we can no longer pretend it's going to go away. We have to adapt and deal with it."

Secretary Jewell's personal observations from her travels throughout the National Park system are backed up by a large and growing body of scientific literature. A recent study concluded that three-quarters of all national parks are experiencing early spring. As UCS showed in our 2014 report Landmarks At Risk, climate impacts such as intense extreme rainfall events, damaging floods, worsening droughts, thawing permafrost and coastal erosion are affecting national parks throughout the country.
Some of the most convincing evidence of climate impacts of climate change and of the work of National Park Service scientists can be found right in Congressman Zinke's backyard—Yellowstone National Park. Average annual temperatures have risen 0.17 C per decade since 1948 and spring and summer temperatures are predicted to rise by 4.0-5.6 C by the end of the century, making hot dry summers the norm and transforming the ecosystems this iconic landscape.
Across the American west, climate change is driving a trend toward larger, more damaging wildfires and fire season has lengthened by an extraordinary 78 days since 1970.
Yellowstone winters are already shorter, with less snowfall and many more days when temperatures rise above freezing than there were in the 1980s. Earlier snow melt and warmer summer temperatures are dramatically changing stream flow, river temperatures, and the condition of seasonal wetlands in the park, putting populations of native cutthroat trout, chorus frogs, and trumpeter swans at risk for the future.
Whitebark pines in Yellowstone National Park are threatened by warming temperatures, shorter winters and mountain pine beetle infestations.Adam Markham
Damaging climate impacts to wildlife and ecosystems have been recorded in Saguaro, Rocky Mountain, Glacier Bay, Biscayne and Great Smoky Mountains National Parks as well as Yosemite, the Everglades and many others.

Cultural resources are no less at risk. As the Union of Concerned Scientists's 2016 joint report with UNESCO and UNEP, World Heritage and Tourism in a Changing Climate documented, The Statue of Liberty was closed for nine months after Hurricane Sandy and $77 million has had to be spent to restore services and access on Liberty and Ellis Islands.
Extreme rainfall has damaged the Spanish mission church at Tumacácori in Arizona; sea level rise threatens black history at Fort Monroe in Virginia and the Harriett Tubman Underground Railroad National Monument in Maryland; colonial heritage is at immediate risk from rising water levels at Jamestown, Virginia; American Indian heritage has been damaged by floods and fires at Mesa Verde and Bandelier; and Native Alaskan archaeology thousands of years old is being lost forever as a result of coastal erosion at Cape Krusenstern and elsewhere in Alaska.
Unlike natural ecosystems which have the capacity to change or move, cultural heritage such as buildings, artifacts or archaeology can be permanently damaged or instantly destroyed by a fire, flood or storm.
In a 2014 policy memorandum to all the National Park Service staff, Jon Jarvis noted that "Climate change poses an especially acute problem for managing cultural resources because they are unique and irreplaceable—once lost, they are lost forever. If moved or altered, they lose aspects of their significance and meaning." Aside from thousands of historic structures and sites, there are approximately 2 million archaeological sites within the National Park System alone, many of which are vulnerable to climate change.
Moreover, responsibility for managing the National Register of Historic Places—well over 1.5 million buildings, structures and historic sites—also lies with the National Park Service. Hundreds of sites or historic districts on the register have already been identified as severely vulnerable to climate impacts, including, for example:
San Francisco's Embarcadero
The historic districts of Annapolis, Maryland and Charleston, South Carolina
NASA's Kennedy Space Center
Mies van der Rohe's Farnsworth House in Plano, Illinois
The Role of Climate Science in the Department of Interior
As incoming secretary, Congressman Zinke will inherit a department steeped in climate science and well organized and equipped to deploy it in the service of managing the nation's natural and cultural heritage for future generations. It will be vital that he listens to the scientists and resource managers on his staff.
Mies Van Der Rohe's Farnsworth House in Plano, Illinois, is one of hundreds of buildings on the National Register of Historic Places at risk from climate impacts.Victor Grigas
DOI plays a vital role in delivering policy-relevant climate science, monitoring climate impacts, and adapting management strategies in the light of the latest scientific findings. The department's 2014-2018 strategic plan states that:

"Impacts observed by Federal resource managers include drought, severe flooding, interrupted pollination of crops, changes in wildlife and prey behavior, warmer rivers and streams, and sea level rise. The DOI will bring the best science to bear to understand these consequences and will undertake mitigation, adaptation, and enhancements to support natural resilience and will take steps to reduce carbon pollution, including through the responsible development of clean energy. The DOI will be a national leader in integrating preparedness and resilience efforts into its mission areas, goals, strategies, and programs; identifying vulnerabilities and systematically addressing these vulnerabilities; and incorporating climate change strategies into management plans, policies, programs, and operations."
DOI operates eight regional Climate Science Centers that synthesize climate impacts data and make it useful and relevant for resource managers and the general public. It has also established a network of 22 Landscape Conservation Cooperatives which bring federal and state agencies together with non-governmental organizations, tribal entities, and academic institutions to manage natural and cultural landscapes across jurisdictional boundaries, with a strong emphasis on integrating climate management.
Playing Roulette with Ryan Zinke?
Zinke will become the nation's top steward of our natural and cultural heritage. It would be the height of folly to take this on without fully acknowledging the damage climate change is causing our public lands and historic sites, or the predominant role of fossil fuels in causing climate change.
And it would be nothing short of catastrophic to roll back the leadership steps that the National Park Service and other DOI agencies have taken to develop and communicate science-based management strategies to make public lands and cultural resources more resilient.
In 1936 President Franklin D. Roosevelt said:
"There is nothing so American as our national parks. The fundamental idea behind the parks … is that the country belongs to the people, [and parks make] for the enrichment of the lives of all of us."
Congressman Zinke has the opportunity to further this vision in the service of us all, but to do so he must acknowledge the role of climate change and most of all, listen to the hundreds of dedicated scientists on the staff of the Department of Interior.
In the past, Zinke has likened energy policy in a potentially changing climate to Russian roulette:
"If we're playing Russian roulette … you have a one in six chance of that chamber being loaded with a bullet and you spin it, and you've got to put it to your head, and squeeze the trigger. So even if there's a one in six chance … even if it's a chance of global warming and it's a catastrophe, then I think you need to be prudent."
The scientists whose work he will be overseeing at DOI can tell him, however, that there's more than just one bullet in the gun. Maybe it's already fully loaded.
Rep. Cathy McMorris Rodgers, R-WA, will likely be offered the top job at Interior, outlets reported Friday. McMorris Rodgers has opposed action on climate change and has voted in favor of expanded offshore drilling and legislation, making it easier to drill within tribal territories.
Meanwhile, former Texas Gov. Rick Perry, who once forgot the name of the Department of Energy while attempting to say he'd abolish it during a presidential debate, is the leading contender to head the agency.
Perry is also opposed to climate action, has taken more than $12 million in donations from the oil and gas industry and sits on the board of the Dakota Access Pipeline parent company Energy Transfer Partners.
For a deeper dive:
DOI: WSJ, Politico, Mother Jones, The Hill, Reuters
DOE: Reuters, Bloomberg, The Guardian
Commentary: The Guardian, Oliver Milman analysis
For more climate change and clean energy news, you can follow Climate Nexus on Twitter and Facebook, and sign up for daily Hot News.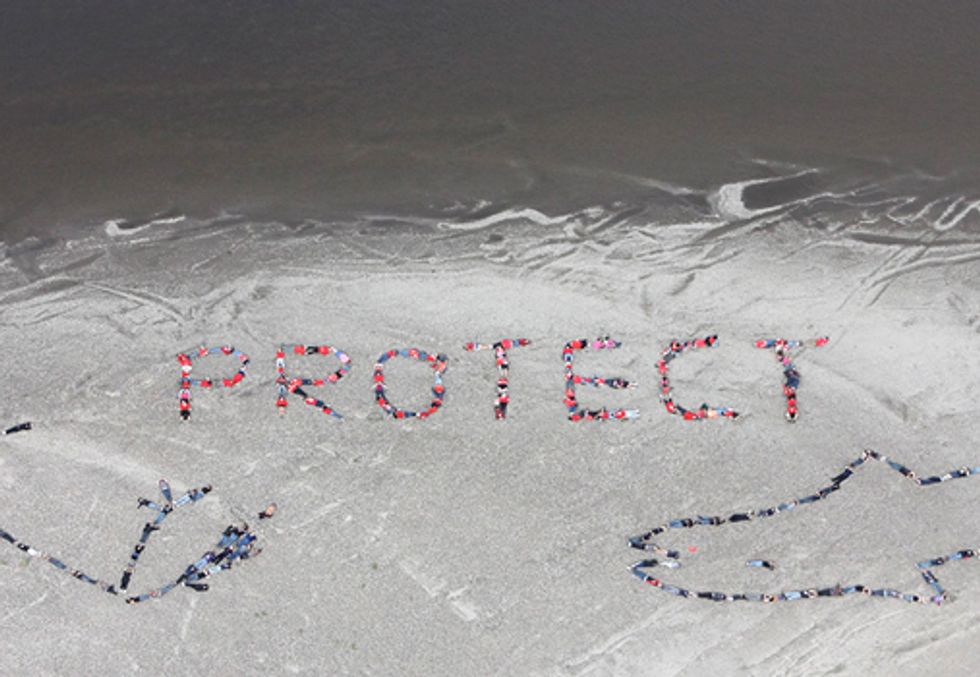 Congress passed an omnibus spending bill Dec. 16 for fiscal year 2012 that includes a poison pill buried deep within the bill's 1,200 page conference agreement—that literally poisons the air in our nation's Arctic Ocean. This poison pill, or Dirty Arctic Air rider, would compromise the health of the Inupiat people who have thrived there for thousands of years as well as the Arctic's myriad wildlife species, from polar bears and beluga whales to walrus and millions of birds.
Specifically, the poison pill transfers authority over Arctic offshore drilling air pollution permits from the U.S. Environmental Protection Agency (EPA) to the U.S. Department of Interior (DOI). As a result, Arctic drilling will become almost completely exempt from the Clean Air Act's health-based national ambient air quality standards and the act's program to prevent significant deterioration of air quality.
Statement from Cindy Shogan, executive director, Alaska Wilderness League:
"Today's action by Congress tells the people of America's Arctic—proud Inupiats and Americans—that they are less important than a few foreign-owned oil companies such as Royal Dutch Shell.
"There is no question that this Dirty Arctic Air rider—snuck into a vital spending bill at the 11th hour—is a clear giveaway to Shell and Big Oil. Currently, Shell's proposed drilling program in the Arctic's Chukchi and Beaufort Seas would release, each year, tens of thousands of tons of climate-warming greenhouse gases; hundreds of tons of nitrogen dioxide, which causes and exacerbates respiratory disease; and tens of tons of other harmful pollutants including carbon monoxide and volatile organic compounds. If subject to DOI's regulations, Shell could be authorized to emit pollution in excess of even these massive amounts.
"The people of America's Arctic already suffer from the impacts of drilling in their pristine, wild home. When Rosemary Ahtuangaruak started her career as health aide in 1986 in Nuiqsut, a small village that sits adjacent to the Alpine Oil Field and near Prudhoe Bay, North America's largest oil field, she treated one patient with asthma. When she quit in 1997, there were 60 people who had to use respiratory medications. This is an increase of more than tenfold, and
corresponded with an increase of oil industry activity near her town. As the National Academy of Sciences noted in its extensive study of cumulative environmental effects of oil and gas development on Alaska's North Slope, "petroleum development has resulted in major, significant, and probably irreversible changes to the way of life on the North Slope."
"President Barack Obama owes it to the people of the Arctic to demand that DOI immediately tighten its air rules to match those of EPA."
Arctic air pollution oversight—EPA vs. DOI:
The EPA has a long history of protecting public health through the Clean Air Act, which has saved more than 200,000 lives and prevented millions of asthma attacks, heart problems and other serious illnesses. Such expertise is essential for protecting a region as fragile as the Arctic, which is already under significant threat from the effects of climate change and onshore development.
Beyond the fact that DOI has no history or expertise in Arctic air quality, DOI regulations are not nearly as protective. They do not require compliance with Clean Air Act requirements over the ocean but only onshore and the regulations include wholesale exemptions from air quality analysis for many facilities based on their distance from the shore. This is especially alarming in the Arctic where there are vast lease tracks offshore, thereby exempting 80 million acres of potential leases from regulation at the source.
Shifting the point of compliance from the source on the ocean to the shoreline ignores that some members of Arctic coastal communities spend significant time on the ocean. DOI regulations would allow the oil companies to pollute at unhealthy levels within traditional Alaska Native subsistence hunting areas.
For more information, click here.