This website uses cookies to ensure you get the best experience while browsing it. By clicking 'Got It' you're accepting these terms.
Portrait of smiling girl reading book at school in Dhaka, Bangladesh. Towfiqu Photography / Moment / Getty Images
In recent decades, the education of girls around the world has increased dramatically. But climate change threatens to reverse some of that progress.
Hackney primary school students went to the Town Hall on May 24 in London after school to protest about the climate emergency. Jenny Matthews / In Pictures / Getty Images
EcoWatch Daily Newsletter
Prayitno / Flickr / CC BY 2.0
Cavan Images / Getty Images
By Reynard Loki
Many children play with toys that evoke the bucolic life on a farm. And many will likely visit a small local farm, where animals have space and access to sunlight and the outdoors. But most kids are probably not aware that, for the vast majority of farmed animals, life is anything but happy.
Hero Images / Getty Images
Spending time in nature is known to boost mental and emotional health. Now, a new global study has found that children in 27 developing nations tend to have more diverse diets and better nutrition when they live near forests.
The paper, published Wednesday in Science Advances, provides evidence that forest conservation can be an important tool in promoting better nutrition in developing countries, rather than clear-cutting forests for more farmland.
Brett Ryder
By Jordan Davidson
We often talk about leaving the world a better place for our children. But our kids are not standing idly by while we wonder how to clean up the mess we've made. Energetic, adept with technology and enthusiastic to create change, kids already have the tools to become stewards of the planet's ecological health. And they are ready to start now.
The Miami coast is especially vulnerable to sea level rise. NOAA's National Ocean Service / Flickr
Climate change poses a key risk to low-lying Florida. When Climate Central ranked the 25 U.S. coastal cities that would be most vulnerable to coastal flooding in 2050 due to sea level rise projections, 20 of them were in the Sunshine State.
But Florida Governor Rick Scott has a history of sticking his head in the disappearing sand. In 2015, reports surfaced that his government had banned the Florida Department of Environmental Protection from even using the words "climate change" in reports. Though he denies those charges, he also denies climate change. When asked to comment on it, he famously replied, "I'm not a scientist."
Sean Locke / Stocksy
By Molly M. Ginty
You shun Styrofoam tableware, buy organic oranges and even get your kids to eat leafy greens. But are you doing all you can to protect your children from toxic chemicals that may lurk inside their favorite foods?
Mladen Kostic / iStock
Phthalates are a particularly harmful type of chemical, used, among a range of other ways, to soften plastic in children's toys and products like pacifiers and teething rings. In response to mounting concern about the serious health impacts of phthalates—most notably, interference with hormone production and reproductive development in young children—Congress voted overwhelmingly in 2008 to outlaw the use of a few phthalates in these products and ordered the Consumer Product Safety Commission (CPSC) to assess the use of other types of the chemical in these products. After much delay, the CPSC voted 3–2 Wednesday to ban five additional types of phthalates in kids' toys and childcare products.
Julia Olson, executive director and chief legal counsel at Our Children's Trust, stands with some of the youth plaintiffs from the landmark lawsuit Juliana v. United States. Photo credit: Robin Loznak
The Trump administration filed a motion Tuesday seeking an appeal to the Ninth Circuit Court of Appeals on a federal judge's Nov. 10, 2016 order in Juliana v. United States. The Trump administration also filed a motion to delay trial preparation until after its appeal is considered.
Further, the Trump administration asked for expedited review of both motions, arguing the plaintiffs' Jan. 24 letter requesting the government to retain records relating to climate change and communications between the government and the fossil fuel industry was overly burdensome. The excerpt from the government's stay motion said:

"Plaintiffs … intend to seek discovery relating to virtually all of the federal government's activities relating to control of CO2 emissions ... Compounding the United States' burdens, Plaintiffs have indicated that their intended discovery has a temporal scope of more than sixty years ... Absent relief, there will most certainly be depositions of federal government fact witnesses ... that will explore the extraordinarily broad topic of climate change and the federal government's putative knowledge over the past seven decades."
Yet, in another complex case regarding the Deepwater Horizon oil spill and BP, the U.S. produced more than 17 million pages of documents from April to September of 2011. Plaintiffs maintain that their requests are limited, reasonable and aimed at getting to trial this fall.
Appeals typically do not occur until a trial court has issued final rulings following the presentation of evidence, but the Trump administration is asking federal Magistrate Judge Coffin to exercise his discretion to allow the case to proceed to the Court of Appeals before final judgment.
Attorneys representing fossil fuel industry defendants are expected to file papers supporting the government's motions on Friday.
"The Trump administration argues that this is a big case and so the burdens of preserving government documents warrant an expedited review," Julia Olson, plaintiffs' counsel and executive director of Our Children's Trust, said. "They're right. It is a big case. We have a classic example of the government's misplaced priorities: They prefer to minimize their procedural obligations of not destroying government documents over the urgency of not destroying our climate system for our youth plaintiffs and all future generations?"
In the government's answer to the youth plaintiffs' complaint, they admitted that "the use of fossil fuels is a major source of [carbon dioxide] emissions, placing our nation on an increasingly costly, insecure and environmentally dangerous path."
The case was brought by 21 young plaintiffs who argue that their constitutional and public trust rights are being violated by the government's creation of climate danger. Judge Ann Aiken's November order denied motions to dismiss brought by both the Obama administration and fossil fuel industry defendants.
"This request for appeal is an attempt to cover up the federal government's long-running collusion with the fossil fuel industry," Alex Loznak, 20-year-old plaintiff and Columbia University student, said. "My generation cannot wait for the truth to be revealed. These documents must be uncovered with all deliberate speed, so that our trial can force federal action on climate change."
Other pre-trial developments

During Wednesday's telephonic case management conference between attorneys for the parties and Magistrate Judge Thomas Coffin, the U.S. Department of Justice (DOJ) took the view that the Trump administration, will have the opportunity to use executive privilege to prevent the release of evidence in the possession of the National Archives and Records Administration (NARA).
DOJ attorneys said they recently informed the White House that NARA was in the process of gathering documents requested by the plaintiffs. It is the DOJ's view that former Presidents George H. W. Bush, Bill Clinton and George W. Bush, will have the opportunity to bar release of the records of their respective administrations, but President Trump will ultimately have the authority to bar release of any and all NARA records.
The next Juliana v. United States case management conference with Judge Coffin is scheduled for April 7 and will be telephonic.
Attorneys for youth plaintiffs are in the process of compiling a list of prospective witnesses to be deposed, including Secretary of State Rex Tillerson and expect to provide that list to defendants next week.
Juliana v. United States is one of many related legal actions brought by youth in several states and countries, all supported by Our Children's Trust, seeking science-based action by governments to stabilize the climate system.

In Plastic: A Toxic Love Story, journalist Susan Freinkel concludes that we have reached a crisis point—and that we're starting to realize our love affair with plastic isn't such a healthy one.
In a conversation with the Green Divas, Freinkel highlights another ubiquitous toxin in our lives: pesticides. Discussing her recent article in The Nation, Freinkel weighs in on the amount of chemicals we are exposed to every day, from flame retardants to BPA, and focuses on the effects that organophosphate pesticides have on young brains.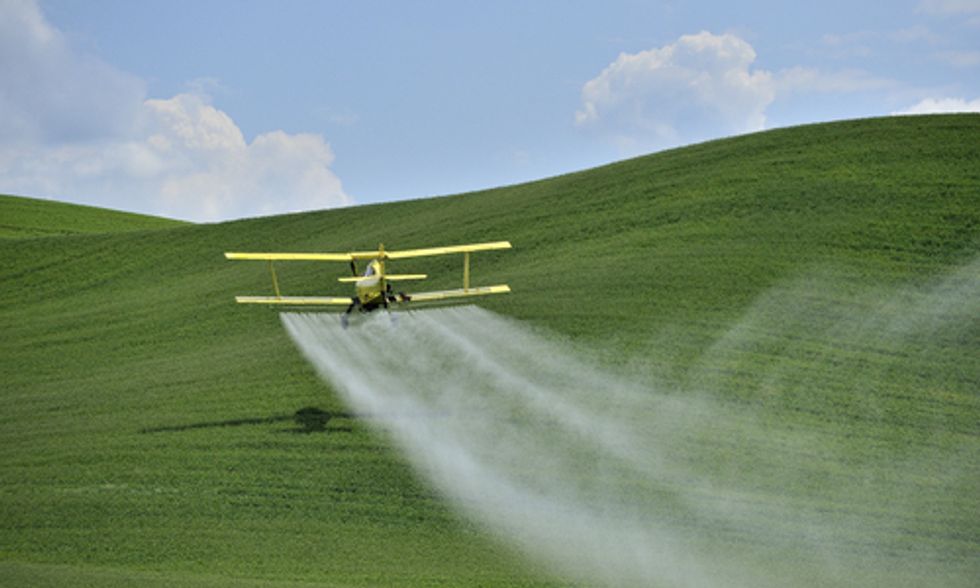 Photo courtesy of Shutterstock
Consider this: organophosphates are a cousin of nerve gas. "What they do to the developing brains of babies is very similar to what they do to stop insects," says Freinkel. "They inhibit this enzyme that keeps chemical messages working in the brain, which can have an effect on kids' abilities down the line," including lower IQs.
We need stronger, better regulations of these toxins. Listen to Freinkel describe some ways to limit pesticide exposure, and check out Environmental Working Group's dirty dozen and clean 15 produce lists.
——–
YOU MIGHT ALSO LIKE
How Weight Gain During Pregnancy Could Protect Your Baby From Toxic Chemicals
Report Finds Dozens of Schools Near Toxic Pesticide Fields
30% Jump in Autism Rates Brings Greater Urgency to Toxic Chemical Reform
——–