This website uses cookies to ensure you get the best experience while browsing it. By clicking 'Got It' you're accepting these terms.


The best of EcoWatch, right in your inbox. Sign up for our email newsletter!
The Pteris melanocaulon thrives in abandoned areas after an open pit copper mining operation. Mary Jean Apuan / Mongabay
Arica, a port city close to the border with Peru, has expanded rapidly since the 1980s, with housing developments moving into what were previously industrial areas.
FLASHPACKER TRAVELGUIDE / CC BY-SA 2.0
By Laura Sear and Leslie Steed (Arica, Chile)
Arica is a dusty, windswept port city in northern Chile. Tourists wander the city's long seafront under the shadow of a dramatic buff-colored cliff called El Morro. But the bracing sea air belies a toxic controversy that has bounced from court to court, from Chile to Sweden, in vain search of resolution.
EcoWatch Daily Newsletter

Heavy metals that may damage a developing brain are present in 95 percent of baby foods on the market. Cirou Frederic / PhotoAlto Agency RF Collections / Getty Images
Heavy metals that may damage a developing brain are present in 95 percent of baby foods on the market, according to new research from the advocacy organization Healthy Babies Bright Futures (HBBF), which bills itself as an alliance of scientists, nonprofit organizations and donors trying to reduce exposures to neurotoxic chemicals during the first three years of development.
The battlefield of Verdun is part of France's Zone Rouge, cordoned off since the end of WWI. Oeuvre personnelle / Wikimedia Commons
World War I ended 100 years ago on Sunday, but 42,000 acres in northeast France serve as a living memorial to the human and environmental costs of war.
The battle of Verdun was the longest continuous conflict in the Great War, and it so devastated the land it took place on that, after the war, the government cordoned it off-limits to human habitation. What was once farmland became the Zone Rouge, or Red Zone, as National Geographic reported.
Baby son in high chair feeding father. Getty Images
Testing published by Consumer Reports (CR) Thursday found "concerning levels" of toxic metals in popular U.S. baby and toddler food.
The consumer advocacy group tested 50 nationally-distributed, packaged foods designed for toddlers and babies for mercury, cadmium, arsenic and lead.
Coal CEO Bob Murray pushed for looser coal ash rules similar to those put in place last week by the EPA. Justin Sullivan / Getty Images
Environmental groups expressed concerns over the health impacts of a recent U.S. Environmental Protection Agency (EPA) decision to relax regulations on coal ash, CNN reported Saturday.
By Som Niyogi and Solomon Amuno
Even though it was closed decades ago, the Giant Mine on the outskirts of Yellowknife has left a long environmental legacy.
Shutterstock
By Caroline Cox
What keeps you up at night? Sick kids, restless pets, the latest tragedy on the evening news, politics, wars, earthquakes, hurricanes, fires, money troubles, job stress, and family health and wellbeing? There is no shortage of concerns that make us all toss and turn.
But what keeps the chemical industry up at night? A couple of decades ago a senior Shell executive was asked this very question. The answer? Endocrine disruption.
For decades all across America, coal-fired power plants have dumped tons of toxic pollutants into public rivers, lakes, streams and coastal waters. On a toxicity-weighted scale, discharges from coal-fired power plants account for over one half of all toxic water pollution in the U.S. The pollutants dumped by coal-fired power plants are among the most toxic heavy metals listed by the U.S. Department of Health's Agency for Toxic Substances and Disease Registry, including arsenic, cadmium, chromium, lead, mercury and selenium.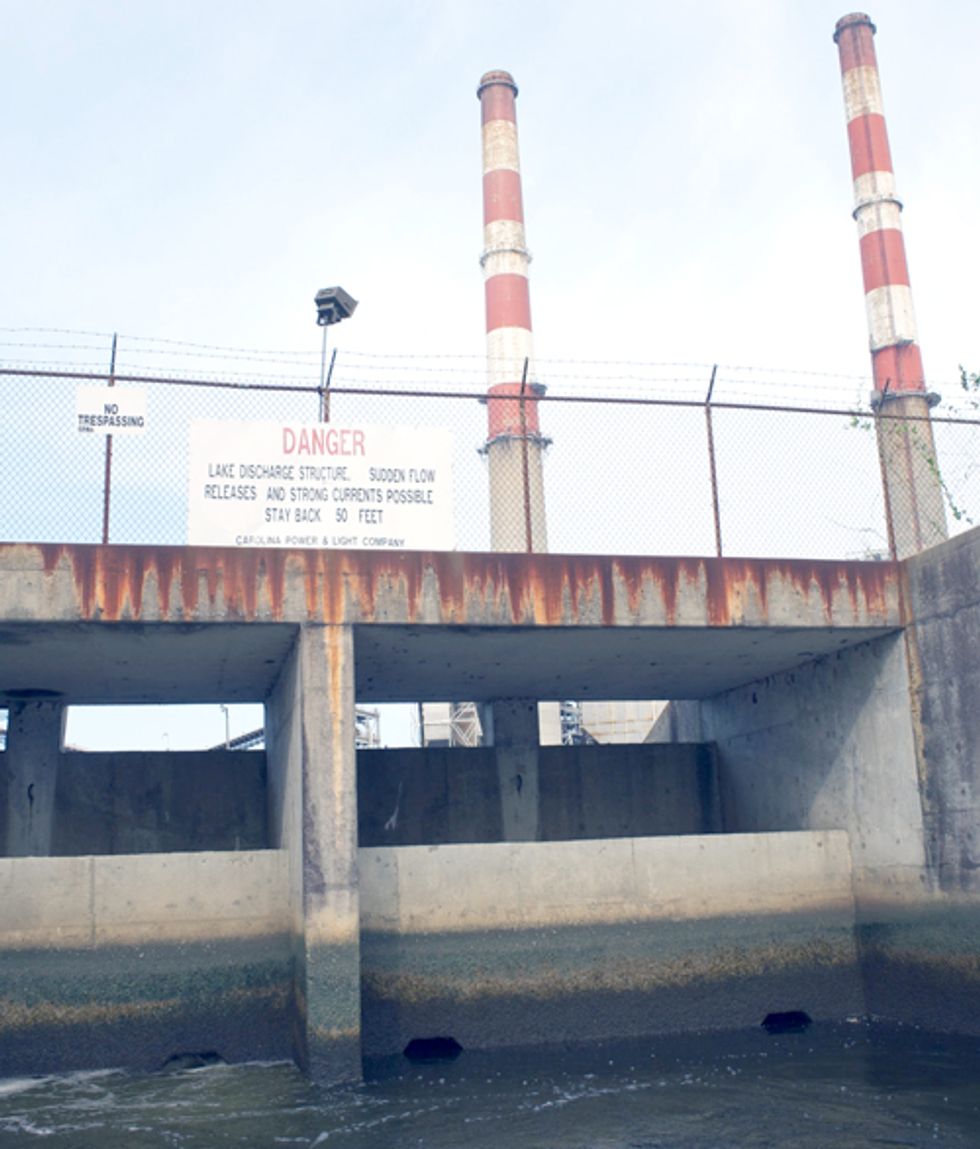 The Sutton coal-fired power plant in Wilmington, NC, is a prime example of a coal-fired power plant with a long history of groundwater pollution, surface water contamination and government failure to prevent harm to public waterways.
Underneath the sand and pine trees that surround Sutton, an unseen plume of toxic heavy metals has migrated out of the unlined ash ponds into groundwater. Monitoring well data from the site show the ash ponds have caused numerous pollutants to exceed their respective standards, including:
Arsenic at 34 times the standard
Manganese at 47 times the standard
Iron at 27 times the standard
Boron at four times the standard
Sulfate more than three times the standard
Thallium at three times the standard
Selenium at more than twice the standard
Total Dissolved Solids at twice the standard
Chloride
Antimony
Lead
Unbeknownst to most of the people living in Wilmington, NC, this hidden toxic witches brew of contamination is flowing towards public water supplies that provide drinking water to the community of Flemington. These wells are operated by the Cape Fear Public Utility Authority and are located less than a mile from the leaking Sutton coal ash ponds.
Public water supply wells located less than a mile from the leaking Sutton coal ash ponds. Public records show that polluted groundwater is flowing towards these wells. For decades, neither the U.S. EPA nor the N.C. Department of Environment and Natural Resources have required the utility to clean up of the groundwater contamination. Photo credit: Dot Griffith
Groundwater assessments prepared by Progress Energy and submitted to the North Carolina Department of Environment and Natural Resources (DENR) have found that the contaminated groundwater flows in the direction of the Flemington community wells at a rate of between 109 to 339 feet per year. In 1994, DENR's Division of Environmental Management Groundwater Section explained that the groundwater flow at the Sutton site is "substantially influenced by the pumping activities of the New Hanover Co. well field [i.e., the Flemington wells]" and that "[t]hese pumping activities may result in a groundwater flow pattern that moves from the lake and ash ponds toward the well field."
Indeed, a recent report prepared by the North Carolina Division of Environmental Health, Public Water Supply Section for the water system served by the Flemington wells assigned their "Inherent Vulnerability Rating," "Contaminant Rating" and "Susceptibility Rating" the highest risk rating and listed the Sutton facility numerous times as a "Potential Contaminant Source" for the wells. The report also confirms that many of the highly contaminated groundwater wells at Sutton are within the area that contributes groundwater to the Flemington wells.
This situation also raises an environmental justice issue. Achieving environmental justice involves identifying and addressing disproportionately high and adverse human health or environmental effects of federal programs, policies and activities on minority and low-income populations. Here, failure to enforce provisions of the Clean Water Act, to the detriment of the low-income Flemington community, is an environmental justice concern.
The other huge problem caused by decades of untreated coal ash waste being dumped into Sutton Lake is the accumulation of selenium in fish. Decades of sampling reveals that selenium concentrations have increased dramatically over time, such that in recent years the selenium concentrations in the surface water reached levels that cause reproductive failure of fish and waterfowl and have far exceeded those levels in the lake sediments and in fish tissue itself. The North Carolina Wildlife Resources Commission (WRC) determined that the sediment and fish tissue concentrations represent a "High" hazard. Unsurprisingly, the most recent published assessment of the lake by WRC noted that largemouth bass in Sutton Lake were in poor condition, and that from 2008 to 2010, the abundance and size of the largemouth bass population declined by 50 percent.
Sutton Lake is an extremely popular fishing location. It is frequented both by sport fishermen and by subsistence fishermen, who catch fish that are eaten by themselves and their families. Despite the fact that untreated coal ash sluice water, coal pile runoff, chemical metal cleaning wastes and other wastewater is discharged directly into the public waters of Sutton Lake, the public is encouraged to fish there. As selenium levels rose in fish in recent years, the state of North Carolina could have informed the public that the fish in Sutton Lake are in poor health. But in actuality boat ramps and fishing piers were recently improved to provide even greater public access and allow more people to catch and eat the fish out of Sutton Lake.