Solar Now Cheaper Than Fossil Fuels for Many Small Businesses
Jul. 29, 2015 10:44AM EST
Business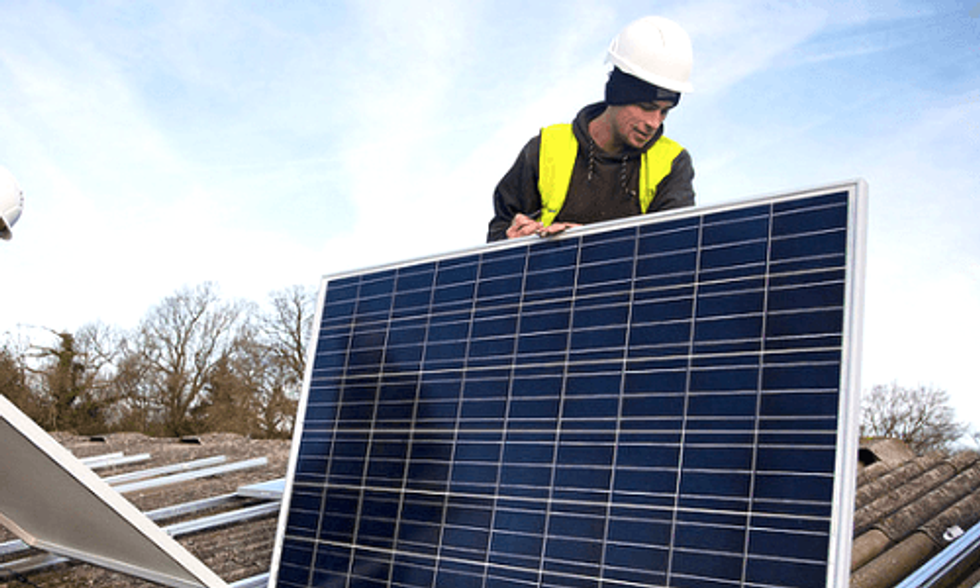 Solar power is the fastest-growing source of electricity in the country, and now mom and pop shops can take part in the boom.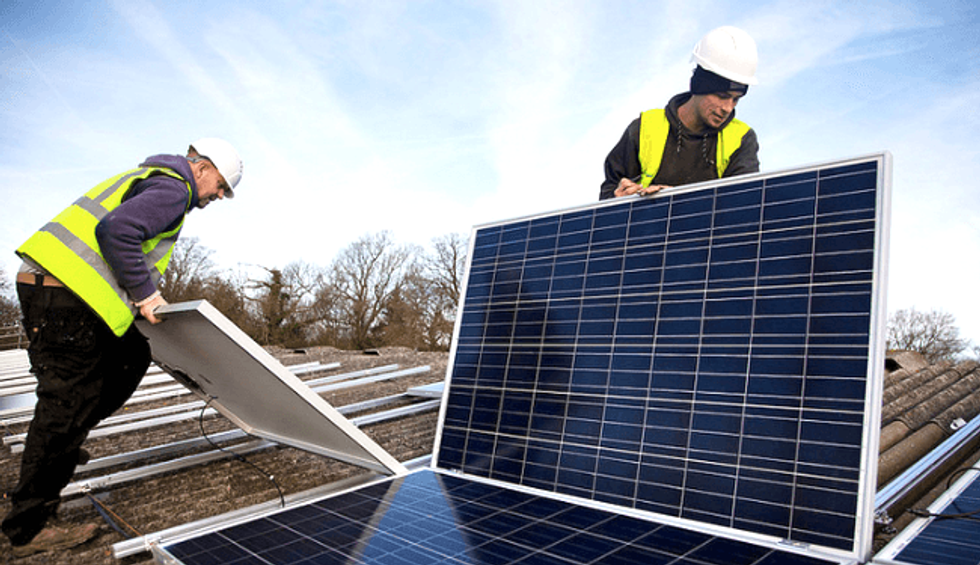 Photo credit: Flickr
Solar panels are usually seen on the roofs of residential buildings, schools, large companies or government institutions, but now, SolarCity is expanding its services to small and medium-sized businesses, or SMBs, the company announced. This move essentially allows local businesses to cut ties to their utility and save money against rising electricity costs with renewable energy.
SolarCity is first offering this service to SMBs in California with plans to expand to the east coast and other territories early next year. The company said it will initially design solar energy system sizes between 30 - 500 kilowatts of generation capacity for SMBs with approximately 5,000–50,000 square feet of available flat roof space.
With more than 28 million small and medium-sized businesses in the country—or 99 percent of American businesses—it's a move that's tapping into a very large and potentially profitable market that's worth at least $10 billion a year, according to U.S. News.
However, very few local businesses have been able to harness the sun's energy affordably.
Why? As SolarCity pointed out in a statement, "Solar projects for small and medium sized businesses have traditionally been very difficult to finance because SMBs do not have the formal investment grade credit ratings of large corporations, and also have no commercial equivalent to the FICO scores that are often the basis of consumer financing."
SolarCity CEO Lyndon Rive also told Fortune, "The truth is that small and medium businesses have been neglected by the solar industry over the past five years."
To solve this problem, SolarCity will finance the upfront cost of panels to SMBs like it would under a traditional solar lease or power purchase agreement. These solar contracts are usually cheaper (and much cleaner) than the electricity produced by the local utility.
SolarCity is also utilizing the Property Assessed Clean Energy (PACE) program, which allows business to pay the solar payment on its property tax bill. PACE, a popular program which exists in about a dozen states, provides building owners the financing for upgrades on energy efficiency, renewable energy (like solar panels) and water conservation. The Golden State recently allowed businesses to use the PACE program through the state's CaliforniaFIRST initiative.
SolarCity, the largest solar installer in the country, will also tap into its vast network of local installers to fit panels onto SMB's roofs instead of going through a more expensive third party, which will cut costs even further.
The solar company also boasts that its lightweight solar panel mounting system can "fit 20 to 50 percent more solar panels on each roof surface" and allows workers to install panels significantly faster.
Overall, SMBs will pay 5 to 25 percent less for solar than for power from their local utility under SolarCity's new service, the company claims.
"When you fly into any airport, you see these industrial areas—what are small warehouses with small businesses in them—and there's no solar," Rive told U.S. News. "We now have a solution that makes it cost-effective."
YOU MIGHT ALSO LIKE
13 Top U.S. Companies Pledge $140 Billion to Slash Carbon Emissions
Hillary Clinton: If I'm Elected President Every American Home Will Be Powered by Renewables by 2027
EcoWatch Daily Newsletter
Related Articles from EcoWatch