May. 09, 2012 08:01AM EST
Report: 'Weight of Evidence' Links Pesticides to Colony Collapse Disorder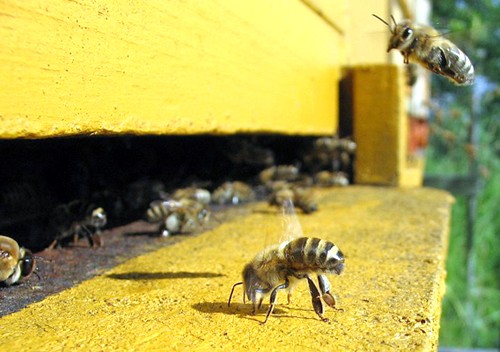 Early on May 8, beekeepers and environmental health advocates released a report highlighting the link between a specific class of pesticides—neonicotinoids—and colony collapse disorder (CCD) and called on state and federal officials to use the evidence for action to protect honeybees. The report comes a day before the Assembly Agriculture Committee discusses a policy that would urge state environmental officials to create a clear timeline and plan for protecting pollinators in California.
"In the last few months alone, several published studies have strengthened the connection between bee die-offs and neonicotinoid pesticides," said Heather Pilatic, PhD, co-director of Pesticide Action Network and the main author of the report. "Policymakers should consider this weight of evidence and take immediate steps to protect pollinators from pesticides."
Pesticides and Honey Bees: State of the Science documents evidence that pesticides are a key factor in explaining honey bee declines, both directly and in tandem with two leading co-factors, pathogens and poor nutrition. These studies, in U.S. and in Europe, have shown that small amounts of neonicotinoids—both alone and in combination with other pesticides—can cause impaired communication, disorientation, decreased longevity, suppressed immunity and disruption of brood cycles in honeybees.
Neonicotinoids are a relatively new class of systemic, neurotoxic pesticides that are known to be particularly toxic to honeybees and have rapidly taken over the global insecticide market since their introduction in the 1990s. Neonicotinoids (like imidacloprid and its successor product clothianidin) are used as seed treatments in hundreds of crops from corn to almonds. These products can persist for years in the soil, and, as systemics, permeate the plants to which they are applied to be expressed as pollen, nectar and guttation droplets (water exuded from plants). Honeybee exposure to this class of pesticides is widespread and in the U.S. the rate of seed treatment with clothianidin increased five-fold (0.25 > 1.25 mg/seed) around the same time that CCD symptoms were first reported in the U.S.
Pesticide corporations, including Bayer, have attempted to discredit dozens of independent studies evaluating the impacts of neonicotinoids in the last few years. At the same time, EPA allowed Bayer to continue selling neonicotinoid products even as the agency's scientists discredited the experiments the pesticide corporation submitted as part of the pesticide's approval.
"It's called the 'tobacco strategy' because the pesticide industry is taking a page straight from the PR handbook of the tobacco industry. They deliberately sow doubt to confuse the public and delay policymaker action. It is high time we cut through the noise," said Pilatic. "If we didn't know enough to act a year ago, we most certainly do now."
Beekeepers have felt the burden of pesticide corporations' intentional confusion and agency inaction. Each year since 2006, commercial beekeepers have reported annual losses of 29-36 percent. Such losses are unprecedented, and more than double what is considered normal. Between 2003 and 2009, the number of bee colonies in California plunged at least 26 percent to 355,000 according to the U.S. Department of Agriculture (USDA).
"The agricultural economy rests on the success of bees and beekeepers," said Alan Henninger, owner of Henninger Hill Apiary in the Santa Clara Valley. "If California officials allow pesticide makers to continue to sell neonicotinoids, we put billions of dollars at risk." Henninger stopped pollinating certain crops in California where he believed his bees might be exposed to neonicotinoid pesticides, and where they might interact with other bees that had been exposed to the pesticides.    
Honeybees are the most economically valuable pollinator worldwide, and many high-value crops in California like almonds are entirely reliant upon pollination services by commercial beekeepers. California is responsible for more than half of the world's production of almonds. In the 2010-2011 season alone, USDA estimated the economic value of bees at $2 billion.
"Farmers rely on bees for critical pollination services," said Tom Frantz, an almond grower in Shafter, California. "State and federal officials should follow the science and create a clear plan of action for protection honeybees from neonicotinoid pesticides."
The Department of Pesticide Regulation intends to finish reviewing and receiving studies from pesticide manufacturers on the lasting impacts of neonicotinoid pesticides in crops next month. Scientists, beekeepers and environmental health advocates are requesting that DPR use the State of the Science report to create a clear timeline and plan of action for addressing neonicotinoid pesticides.
And they aren't the only ones. Assemblymember Michael Allen (Sonoma) has taken up a resolution, sponsored by the California State Grange, that would support the agency as it undertakes the next steps in the pesticide's evaluation. The resolution is already facing opposition from industrial agriculture interests, and will be taken up in tomorrow's hearing of the Assembly Agriculture Committee.
For more information, click here.
Risa Scott / RF Scott Imagery
The Bioscience Resource Project and the Center for Media and Democracy released a trove of rediscovered and newly digitized chemical industry and regulatory agency documents Wednesday stretching back to the 1920s. The documents are available here.
Together, the papers show that both industry and regulators understood the extraordinary toxicity of many chemical products and worked together to conceal this information from the public and the press. These papers will transform our understanding of the hazards posed by certain chemicals on the market and the fraudulence of some of the regulatory processes relied upon to protect human health and the environment.
Keep reading...
Show less
Trevor Hall. PHOTO CREDIT: Emory Hall
I'm a huge Trevor Hall fan so when I saw he was playing in my hometown of Cleveland, I was stoked. I knew seeing the show would be fantastic, but I was also thinking an interview with Trevor would be something really cool to give EcoWatch readers. So, lucky enough, I was offered an interview and was able to hop on my paddleboard from Whiskey Island on the shore of Lake Erie, head up the Cuyahoga River and get to the Music Box Supper Club just in time to chat with Trevor before the show.
"My dad was a drummer, so most my musical influence comes from my dad," Trevor said during our nearly hour interview. "Growing up, my dad had this CD collection in the hallway and I was always fascinated by all the CDs. My hobby was pulling out a CD that looked cool and I'd put it on the stereo and pretend I was rocking out. My dad was really into The Doobie Brothers, Allman Brothers, Earth Wind & Fire, Simply Red, and Crosby, Stills, Nash & Young."
Keep reading...
Show less
The Arbuckle Mountain Wind Farm in southern Oklahoma. Brian Hardzinski / KGOU
American Electric Power (AEP) will invest $4.5 billion in a wind energy project in Oklahoma that could become the largest wind farm in the U.S., the utility announced Wednesday.
AEP will develop a 350-mile transmission line for the 2 GW farm.
Keep reading...
Show less
Environment America / Twitter
The sun is rising on a newer, cleaner era of American energy use.
The U.S. generates nearly eight times as much electricity from the sun and the wind than it did in 2007—enough to power more than 25 million homes—and the average American uses 10 percent less energy than he or she did 10 years ago, according to a new report by Environment America Research and Policy Center.
The report, Renewables on the Rise: A Decade of Progress Toward a Clean Energy Future, also cites a 20-fold increase in battery storage of electricity and the meteoric rise in sales of electric cars—from virtually none in 2007 to nearly 160,000 last year—as evidence that despite attempted rollbacks in Washington, a clean energy revolution is under way across the U.S.
Keep reading...
Show less
Cirrus clouds over Golden Gate Bridge. Brocken Inaglory / Wikimedia Commons
By Tim Radford
Geoengineering, the deliberate alteration of the planet to undo its inadvertent alteration by humans over the past 200 years, is back on the scientific agenda, with a climate compromise suggested as a possible solution.
One group wants to turn down the global thermostat and reverse the global warming trend set in train by greenhouse gases released by fossil fuel combustion, by thinning the almost invisible cirrus clouds that trap radiation and keep the planet warm.
Keep reading...
Show less
By Joe McCarthy
This past June was the third hottest June in recorded history—only 2016 and 2015 had hotter Junes.
The global average temperature has been surpassing the 20th century average for 41 straight years. "Record-breaking temperatures" has almost become a platitude since the turn of the century, yet the consequences of this shift are devastating communities and environments in new ways around the world.
Keep reading...
Show less
iStock
By Joe McCarthy
Tony Maphosa, a Zimbabwean poacher, is accused of putting cyanide in watering holes and salt pans used by elephants numerous times over several years.
All told, his poisoning spree is said to have killed more than 100 elephants, according to Zimbabwean authorities who have been searching for Maphosa for four years.
Keep reading...
Show less
iStock
By David Doniger
As the nation and the world swelter through another year of extraordinary heat, storms, drought and disrupted weather, Senators Sheldon Whitehouse and Brian Schatz introduced carbon fee legislation Wednesday to help curb the heat-trapping pollution that drives this dangerous climate disruption.
Representatives Earl Blumenauer and David Cicilline are introducing companion legislation in the House of Representatives.
Keep reading...
Show less