This website uses cookies to ensure you get the best experience while browsing it. By clicking 'Got It' you're accepting these terms.
Report: 'Weight of Evidence' Links Pesticides to Colony Collapse Disorder
May. 09, 2012 08:01AM EST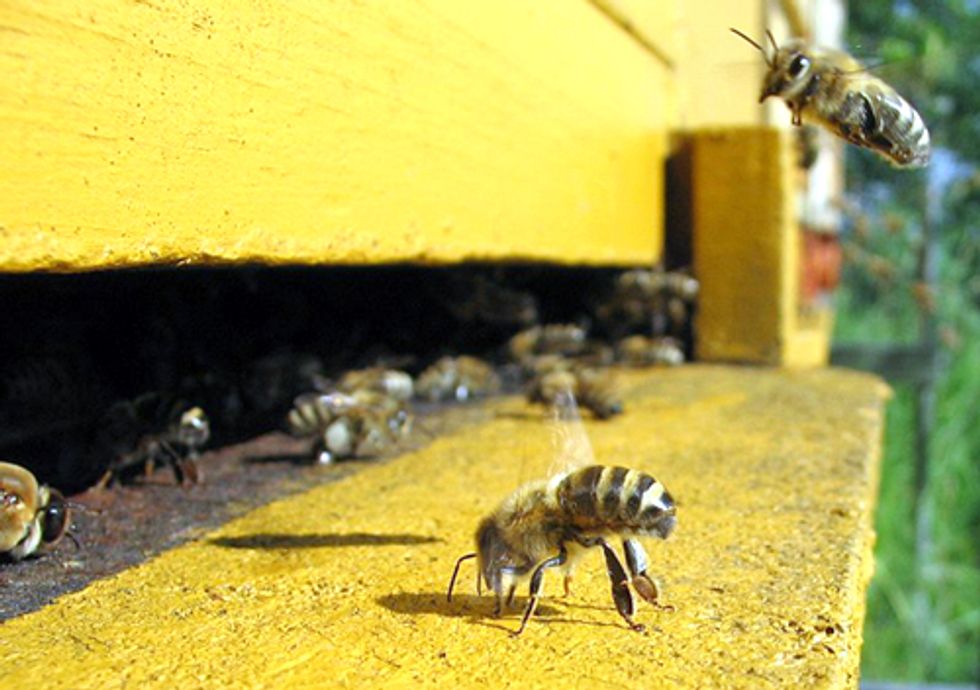 Early on May 8, beekeepers and environmental health advocates released a report highlighting the link between a specific class of pesticides—neonicotinoids—and colony collapse disorder (CCD) and called on state and federal officials to use the evidence for action to protect honeybees. The report comes a day before the Assembly Agriculture Committee discusses a policy that would urge state environmental officials to create a clear timeline and plan for protecting pollinators in California.
"In the last few months alone, several published studies have strengthened the connection between bee die-offs and neonicotinoid pesticides," said Heather Pilatic, PhD, co-director of Pesticide Action Network and the main author of the report. "Policymakers should consider this weight of evidence and take immediate steps to protect pollinators from pesticides."
Pesticides and Honey Bees: State of the Science documents evidence that pesticides are a key factor in explaining honey bee declines, both directly and in tandem with two leading co-factors, pathogens and poor nutrition. These studies, in U.S. and in Europe, have shown that small amounts of neonicotinoids—both alone and in combination with other pesticides—can cause impaired communication, disorientation, decreased longevity, suppressed immunity and disruption of brood cycles in honeybees.
Neonicotinoids are a relatively new class of systemic, neurotoxic pesticides that are known to be particularly toxic to honeybees and have rapidly taken over the global insecticide market since their introduction in the 1990s. Neonicotinoids (like imidacloprid and its successor product clothianidin) are used as seed treatments in hundreds of crops from corn to almonds. These products can persist for years in the soil, and, as systemics, permeate the plants to which they are applied to be expressed as pollen, nectar and guttation droplets (water exuded from plants). Honeybee exposure to this class of pesticides is widespread and in the U.S. the rate of seed treatment with clothianidin increased five-fold (0.25 > 1.25 mg/seed) around the same time that CCD symptoms were first reported in the U.S.
Pesticide corporations, including Bayer, have attempted to discredit dozens of independent studies evaluating the impacts of neonicotinoids in the last few years. At the same time, EPA allowed Bayer to continue selling neonicotinoid products even as the agency's scientists discredited the experiments the pesticide corporation submitted as part of the pesticide's approval.
"It's called the 'tobacco strategy' because the pesticide industry is taking a page straight from the PR handbook of the tobacco industry. They deliberately sow doubt to confuse the public and delay policymaker action. It is high time we cut through the noise," said Pilatic. "If we didn't know enough to act a year ago, we most certainly do now."
Beekeepers have felt the burden of pesticide corporations' intentional confusion and agency inaction. Each year since 2006, commercial beekeepers have reported annual losses of 29-36 percent. Such losses are unprecedented, and more than double what is considered normal. Between 2003 and 2009, the number of bee colonies in California plunged at least 26 percent to 355,000 according to the U.S. Department of Agriculture (USDA).
"The agricultural economy rests on the success of bees and beekeepers," said Alan Henninger, owner of Henninger Hill Apiary in the Santa Clara Valley. "If California officials allow pesticide makers to continue to sell neonicotinoids, we put billions of dollars at risk." Henninger stopped pollinating certain crops in California where he believed his bees might be exposed to neonicotinoid pesticides, and where they might interact with other bees that had been exposed to the pesticides.    
Honeybees are the most economically valuable pollinator worldwide, and many high-value crops in California like almonds are entirely reliant upon pollination services by commercial beekeepers. California is responsible for more than half of the world's production of almonds. In the 2010-2011 season alone, USDA estimated the economic value of bees at $2 billion.
"Farmers rely on bees for critical pollination services," said Tom Frantz, an almond grower in Shafter, California. "State and federal officials should follow the science and create a clear plan of action for protection honeybees from neonicotinoid pesticides."
The Department of Pesticide Regulation intends to finish reviewing and receiving studies from pesticide manufacturers on the lasting impacts of neonicotinoid pesticides in crops next month. Scientists, beekeepers and environmental health advocates are requesting that DPR use the State of the Science report to create a clear timeline and plan of action for addressing neonicotinoid pesticides.
And they aren't the only ones. Assemblymember Michael Allen (Sonoma) has taken up a resolution, sponsored by the California State Grange, that would support the agency as it undertakes the next steps in the pesticide's evaluation. The resolution is already facing opposition from industrial agriculture interests, and will be taken up in tomorrow's hearing of the Assembly Agriculture Committee.
For more information, click here.
EcoWatch Daily Newsletter
A new report spotlights a U.N. estimate that at least 275 million people rely on healthy coral reefs. A sea turtle near the Heron Island in the Great Barrier Reef is seen above. THE OCEAN AGENCY / XL CATLIN SEAVIEW SURVEY
In a new report about how the world's coral reefs face "the combined threats of climate change, pollution, and overfishing" — endangering the future of marine biodiversity — a London-based nonprofit calls for greater global efforts to end the climate crisis and ensure the survival of these vital underwater ecosystems.
Half of the extracted resources used were sand, clay, gravel and cement, seen above, for building, along with the other minerals that produce fertilizer. Cavan Images / Cavan / Getty Images
The world is using up more and more resources and global recycling is falling. That's the grim takeaway from a new report by the Circle Economy think tank, which found that the world used up more than 110 billion tons, or 100.6 billion metric tons, of natural resources, as Agence France-Presse (AFP) reported.
By Gero Rueter
Heating with coal, oil and natural gas accounts for around a quarter of global greenhouse gas emissions. But that's something we can change, says Wolfgang Feist, founder of the Passive House Institute in the western German city of Darmstadt.

By George Citroner
Recent research finds that official government figures may be underestimating drug deaths by half.
Researchers estimate that 142,000 people died due to drug use in 2016.
Drug use decreases life expectancy after age 15 by 1.4 years for men and by just under 1 year for women, on average.
Government records may be severely underreporting how many Americans die from drug use, according to a new study by researchers from the University of Pennsylvania and Georgetown University.
Water coolers in front of shut-off water fountains at Center School in Stow, MA on Sept. 4, 2019 after elevated levels of PFAS were found in the water. David L. Ryan / The Boston Globe via Getty Images
In a new nationwide assessment of drinking water systems, the Environmental Working Group found that toxic fluorinated chemicals known as PFAS are far more prevalent than previously thought.