This website uses cookies to ensure you get the best experience while browsing it. By clicking 'Got It' you're accepting these terms.
Pesticides to Blame for Massive Bee Deaths in Minnesota
Oct. 10, 2013 08:45AM EST
A recent investigation into the death of thousands of bees last month in Minnesota revealed that fipronil, a widely used insecticide, was to blame.
In mid-September, three colonies of bees in Minneapolis were found twitching and dying on the ground. Local apiarist Mark Lucas paints a grim picture of the poisoning event, which he witnessed, recalling that bees inside the hive came "spilling out of the hive as if they were drunk."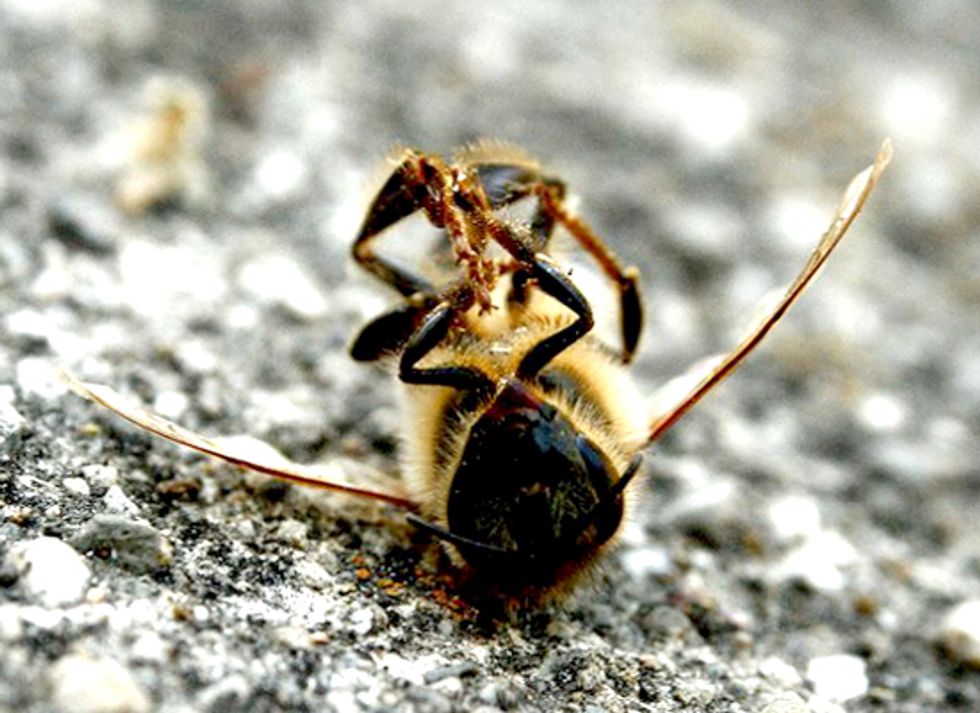 University of Minnesota Bee Lab, the University's Bee Squad and the Minnesota Department of Agriculture (MDA) carried out the investigation, taking samples from hives to confirm pesticide poisoning. Indeed, MDA tests found that all three of the affected hives tested positive for the presence of fipronil.
Although neonicotinoid pesticides such as clothianidin, thiamethoxam and imidacloprid have been widely implicated in the phenomenon of colony collapse disorder (CCD), other pesticides are known to adversely affect honey bee health. Fipronil has also been heavily implicated in elevated bee toxicity and decline. Indeed, the European Union (EU) recently put forth a proposal to restrict the use of the pesticide in recognition of the high acute risks it poses to bees.
The chemical is widely used for indoor and turf pest control in the U.S., incorporated in more than 50 pest-killing products and is highly toxic. Fipronil has been shown to reduce behavioral function and learning performances in honey bees. A 2011 French study reported that newly emerged honey bees exposed to low doses of fipronil and thiacloprid succumbed more readily to the parasite Nosema ceranae compared to healthy bees, supporting the hypothesis that the synergistic combination of parasitic infection and high pesticide exposures in beehives may contribute to colony decline. An extensive overview of the major studies showing the effects of pesticides on pollinator health can be found on Beyond Pesticides' What the Science Shows webpage.
The MDA's report posited that the bee kill incident was likely started by a neighborhood individual who sprayed fipronil along the boundaries of a building and onto nearby flowers visited by bees. Once exposed, those bees flew back to their hives, inadvertently exposing the entire colony. It is unknown who exactly sprayed the pesticide, and the MDA report indicated that it will not investigate further into the identity of the applicator.
Pesticide-related bee-deaths have become a recurring story across the nation. In June 2013 an estimated 50,000 bumblebees were found dead or dying in a shopping mall in Wilsonville, OR, due to a tree application of the neonicotinoid insecticide dinotefuran. Then in July 2013, 37 million honeybees were reported dead across a single farm in Ontario from the dust associated with planting neonic-treated corn seeds, prompting Health Canada to release new measures intended to protect bees from further exposure to neonicotinoids. That same month, the EU put forward a proposal to restrict the use of fipronil. This proposal came on the heels of an EU-wide decision to restrict the use of three pesticides that belong to the neonicotinoid family—imidacloprid, clothianidin  and thiamethoxam, which will come into force on December 1.
Meanwhile, the U.S. Environmental Protection Agency (EPA) has failed to act quickly to protect pollinators. In response to inaction, Beyond Pesticides, joined beekeepers, environmental and consumer groups in filing a lawsuit in Federal District Court against the EPA for its failure to protect pollinators from dangerous pesticides. The coalition seeks suspension of the registrations of insecticides—clothianidin and thiamethoxam—which have repeatedly been identified as highly toxic to honey bees, clear causes of major bee kills and significant contributors to the devastating ongoing mortality of bees known as CCD. The suit challenges the EPA's oversight of these bee-killing pesticides, as well as the agency's practice of "conditional registration" and labeling deficiencies.
With one in three bites of food reliant on bees and other beneficial species for pollination, the decline of these important species demands swift action. The mounting scientific evidence, along with unprecedented annual colony losses at 30 to 90 percent this year, demonstrates the impacts that these pesticides are having on these fragile beings.
Visit EcoWatch's BIODIVERSITY page for more related news on this topic.
——–

EcoWatch Daily Newsletter
Investing in grid infrastructure would enable utilities to incorporate modern technology, making the grid more resilient and flexible. STRATMAN2 / FLICKR
By Elliott Negin
The Royal Swedish Academy of Sciences' recent decision to award the 2019 Nobel Prize in Chemistry to scientists who developed rechargeable lithium-ion batteries reminded the world just how transformative they have been. Without them, we wouldn't have smartphones or electric cars. But it's their potential to store electricity generated by the sun and the wind at their peak that promises to be even more revolutionary, reducing our dependence on fossil fuels and protecting the planet from the worst consequences of climate change.
Two Javan rhinos deep in the forests of Ujung Kulon National Park, the species' last habitat on Earth. Sugeng Hendratno / WWF
The global population of the critically endangered Javan rhinoceros has increased to 72 after four new calves were spotted in the past several months.
A tiger looks out from its cage at a new resort and zoo in the eastern Lao town of Tha Bak on Dec. 5, 2018. Karl Ammann believes the "zoo" is really a front for selling tigers. Terrence McCoy / The Washington Post / Getty Images
Are tigers extinct in Laos?
That's the conclusion of a detailed new study that found no evidence wild tigers still exist in the country.
A group of scientists is warning that livestock production must not expand after 2030 for the world to stave off ecological disaster.
The largest wetland in Africa is in the South Sudan. George Steinmetz / Corbis Documentary / Getty Images Plus
Methane emissions are a far more powerful greenhouse gas than carbon dioxide – about 28 times more powerful. And they have been rising steadily since 2007. Now, a new study has pinpointed the African tropics as a hot spot responsible for one-third of the global methane surge, as Newsweek reported.