This website uses cookies to ensure you get the best experience while browsing it. By clicking 'Got It' you're accepting these terms.
Pesticides to Blame for Massive Bee Deaths in Minnesota
Oct. 10, 2013 08:45AM EST
A recent investigation into the death of thousands of bees last month in Minnesota revealed that fipronil, a widely used insecticide, was to blame.
In mid-September, three colonies of bees in Minneapolis were found twitching and dying on the ground. Local apiarist Mark Lucas paints a grim picture of the poisoning event, which he witnessed, recalling that bees inside the hive came "spilling out of the hive as if they were drunk."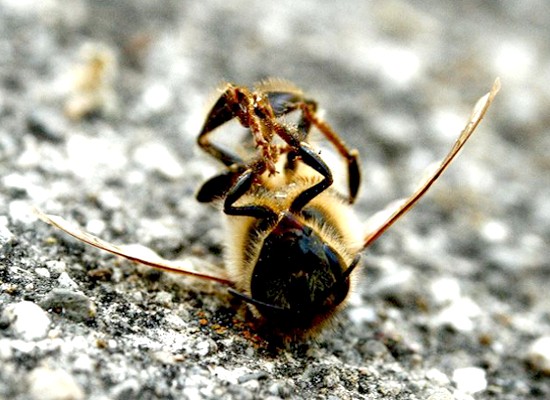 University of Minnesota Bee Lab, the University's Bee Squad and the Minnesota Department of Agriculture (MDA) carried out the investigation, taking samples from hives to confirm pesticide poisoning. Indeed, MDA tests found that all three of the affected hives tested positive for the presence of fipronil.
Although neonicotinoid pesticides such as clothianidin, thiamethoxam and imidacloprid have been widely implicated in the phenomenon of colony collapse disorder (CCD), other pesticides are known to adversely affect honey bee health. Fipronil has also been heavily implicated in elevated bee toxicity and decline. Indeed, the European Union (EU) recently put forth a proposal to restrict the use of the pesticide in recognition of the high acute risks it poses to bees.
The chemical is widely used for indoor and turf pest control in the U.S., incorporated in more than 50 pest-killing products and is highly toxic. Fipronil has been shown to reduce behavioral function and learning performances in honey bees. A 2011 French study reported that newly emerged honey bees exposed to low doses of fipronil and thiacloprid succumbed more readily to the parasite Nosema ceranae compared to healthy bees, supporting the hypothesis that the synergistic combination of parasitic infection and high pesticide exposures in beehives may contribute to colony decline. An extensive overview of the major studies showing the effects of pesticides on pollinator health can be found on Beyond Pesticides' What the Science Shows webpage.
The MDA's report posited that the bee kill incident was likely started by a neighborhood individual who sprayed fipronil along the boundaries of a building and onto nearby flowers visited by bees. Once exposed, those bees flew back to their hives, inadvertently exposing the entire colony. It is unknown who exactly sprayed the pesticide, and the MDA report indicated that it will not investigate further into the identity of the applicator.
Pesticide-related bee-deaths have become a recurring story across the nation. In June 2013 an estimated 50,000 bumblebees were found dead or dying in a shopping mall in Wilsonville, OR, due to a tree application of the neonicotinoid insecticide dinotefuran. Then in July 2013, 37 million honeybees were reported dead across a single farm in Ontario from the dust associated with planting neonic-treated corn seeds, prompting Health Canada to release new measures intended to protect bees from further exposure to neonicotinoids. That same month, the EU put forward a proposal to restrict the use of fipronil. This proposal came on the heels of an EU-wide decision to restrict the use of three pesticides that belong to the neonicotinoid family—imidacloprid, clothianidin  and thiamethoxam, which will come into force on December 1.
Meanwhile, the U.S. Environmental Protection Agency (EPA) has failed to act quickly to protect pollinators. In response to inaction, Beyond Pesticides, joined beekeepers, environmental and consumer groups in filing a lawsuit in Federal District Court against the EPA for its failure to protect pollinators from dangerous pesticides. The coalition seeks suspension of the registrations of insecticides—clothianidin and thiamethoxam—which have repeatedly been identified as highly toxic to honey bees, clear causes of major bee kills and significant contributors to the devastating ongoing mortality of bees known as CCD. The suit challenges the EPA's oversight of these bee-killing pesticides, as well as the agency's practice of "conditional registration" and labeling deficiencies.
With one in three bites of food reliant on bees and other beneficial species for pollination, the decline of these important species demands swift action. The mounting scientific evidence, along with unprecedented annual colony losses at 30 to 90 percent this year, demonstrates the impacts that these pesticides are having on these fragile beings.
Visit EcoWatch's BIODIVERSITY page for more related news on this topic.
——–

Southwest Greenland had the most consistent ice loss from 2003 to 2012. Eqalugaarsuit, Ostgronland, Greenland on Aug. 1, 2018.
Rob Oo / CC BY 2.0
Finally, some good news about the otherwise terrible partial government shutdown. A federal judge ruled that the Trump administration cannot issue permits to conduct seismic testing during the government impasse.
The Justice Department sought to delay—or stay—a motion filed by a range of coastal cities, businesses and conservation organizations that are suing the Trump administration over offshore oil drilling, Reuters reported. The department argued that it did not have the resources it needed to work on the case due to the shutdown.
Climate change has been called the biggest challenge of our time. Last year, scientists with the United Nations said we basically have 12 years to limit global warming to 1.5ºC to avoid planetary catastrophe.
Amid a backdrop of rising global carbon emissions, there's a real case for pessimism. However, many scientists are hopeful of a way out.
Demonstrators participate in a protest march over agricultural policy on Jan. 19 in Berlin, Germany. Carsten Koall / Getty Images Europe
By Andrea Germanos
Organizers said 35,000 people marched through the streets of the German capital on Saturday to say they're "fed up" with industrial agriculture and call for a transformation to a system that instead supports the welfare of the environment, animals and rural farmers.

A Massachusetts road coated with snow and ice following the winter storm which prompted Trump to mock climate change. Scott Eisen / Getty Images
President Donald Trump has once again contradicted the findings of the U.S. government when it comes to the threat posed by climate change. Days after a Department of Defense report outlined how climate-related events like wildfires and flooding put U.S. military installations at risk, Trump took to Twitter to mock the idea that the world could be getting warmer, Time reported.
Trump's tweet came in response to a massive winter storm that blanketed the Midwest and Northeast this weekend.
The fire that erupted after a pipeline explosion in Mexico Friday. FRANCISCO VILLEDA / AFP / Getty Images
By Jason Bittel
Formidable predators stalk the forests between Panama and northern Argentina. They are sometimes heard but never seen. They are small but feisty and have even been documented trying to take down a tapir, which can top out at nearly 400 pounds. Chupacabras? No.
Mead is a fermented beverage traditionally made from honey, water and a yeast or bacterial culture.
U.S. Army member helps clear debris from Tyndall Air Force Base following Hurricane Michael.
U.S. Army
A tree found severed in half in an act of vandalism in Joshua Tree National Park. Gina Ferazzi / Los AngelesTimes / Getty Images
By Rhea Suh
One month on, the longest and most senseless U.S. government shutdown in history is taking a grave and growing toll on the environment and public health.

Food inspectors have been idled or are working without pay, increasing the risk we'll get sick from eating produce, meat and poultry that isn't properly checked. National parks and public wilderness lands are overrun by vandals, overtaken by off-road joyriders, and overflowing with trash. Federal testing of air and water quality, as well as monitoring of pollution levels from factories, incinerators and other sources, is on hold or sharply curtailed. Citizen input on critical environmental issues is being hindered. Vital research and data collection are being sidelined.