Pesticides to Blame for Massive Bee Deaths in Minnesota
A recent investigation into the death of thousands of bees last month in Minnesota revealed that fipronil, a widely used insecticide, was to blame.
In mid-September, three colonies of bees in Minneapolis were found twitching and dying on the ground. Local apiarist Mark Lucas paints a grim picture of the poisoning event, which he witnessed, recalling that bees inside the hive came "spilling out of the hive as if they were drunk."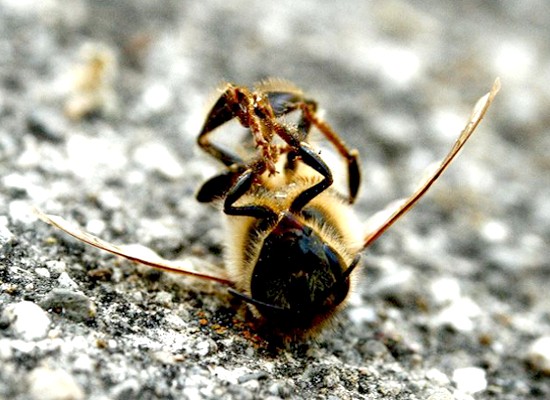 University of Minnesota Bee Lab, the University's Bee Squad and the Minnesota Department of Agriculture (MDA) carried out the investigation, taking samples from hives to confirm pesticide poisoning. Indeed, MDA tests found that all three of the affected hives tested positive for the presence of fipronil.
Although neonicotinoid pesticides such as clothianidin, thiamethoxam and imidacloprid have been widely implicated in the phenomenon of colony collapse disorder (CCD), other pesticides are known to adversely affect honey bee health. Fipronil has also been heavily implicated in elevated bee toxicity and decline. Indeed, the European Union (EU) recently put forth a proposal to restrict the use of the pesticide in recognition of the high acute risks it poses to bees.
The chemical is widely used for indoor and turf pest control in the U.S., incorporated in more than 50 pest-killing products and is highly toxic. Fipronil has been shown to reduce behavioral function and learning performances in honey bees. A 2011 French study reported that newly emerged honey bees exposed to low doses of fipronil and thiacloprid succumbed more readily to the parasite Nosema ceranae compared to healthy bees, supporting the hypothesis that the synergistic combination of parasitic infection and high pesticide exposures in beehives may contribute to colony decline. An extensive overview of the major studies showing the effects of pesticides on pollinator health can be found on Beyond Pesticides' What the Science Shows webpage.
The MDA's report posited that the bee kill incident was likely started by a neighborhood individual who sprayed fipronil along the boundaries of a building and onto nearby flowers visited by bees. Once exposed, those bees flew back to their hives, inadvertently exposing the entire colony. It is unknown who exactly sprayed the pesticide, and the MDA report indicated that it will not investigate further into the identity of the applicator.
Pesticide-related bee-deaths have become a recurring story across the nation. In June 2013 an estimated 50,000 bumblebees were found dead or dying in a shopping mall in Wilsonville, OR, due to a tree application of the neonicotinoid insecticide dinotefuran. Then in July 2013, 37 million honeybees were reported dead across a single farm in Ontario from the dust associated with planting neonic-treated corn seeds, prompting Health Canada to release new measures intended to protect bees from further exposure to neonicotinoids. That same month, the EU put forward a proposal to restrict the use of fipronil. This proposal came on the heels of an EU-wide decision to restrict the use of three pesticides that belong to the neonicotinoid family—imidacloprid, clothianidin  and thiamethoxam, which will come into force on December 1.
Meanwhile, the U.S. Environmental Protection Agency (EPA) has failed to act quickly to protect pollinators. In response to inaction, Beyond Pesticides, joined beekeepers, environmental and consumer groups in filing a lawsuit in Federal District Court against the EPA for its failure to protect pollinators from dangerous pesticides. The coalition seeks suspension of the registrations of insecticides—clothianidin and thiamethoxam—which have repeatedly been identified as highly toxic to honey bees, clear causes of major bee kills and significant contributors to the devastating ongoing mortality of bees known as CCD. The suit challenges the EPA's oversight of these bee-killing pesticides, as well as the agency's practice of "conditional registration" and labeling deficiencies.
With one in three bites of food reliant on bees and other beneficial species for pollination, the decline of these important species demands swift action. The mounting scientific evidence, along with unprecedented annual colony losses at 30 to 90 percent this year, demonstrates the impacts that these pesticides are having on these fragile beings.
Visit EcoWatch's BIODIVERSITY page for more related news on this topic.
——–

By Itai Vardi
A recent intensification in protests against Williams Partners' planned Atlantic Sunrise pipeline in Pennsylvania prompted a state senator to propose legislation aimed at limiting demonstrations.
Last month, Pennsylvania Sen. Scott Martin (R-Norman) announced his intention to introduce legislation that would pass the costs of law enforcement responding to protests onto the demonstrators. Martin also helped introduce a different bill that would criminalize protests at natural gas facilities.
Keep reading...
Show less
Black Shogun / iStock
The Federal Energy Regulatory Commission (FERC) released its Final Environmental Impact Statement Friday for the Mountain Valley Pipeline, a controversial 303-mile pipeline that would carry two billion cubic feet of fracked gas per day from West Virginia through Virginia.
Keep reading...
Show less
Falcon PEV
The so-called "first and last mile" problem is one of the biggest hurdles with public transportation. How do you encourage more people to take Earth-friendlier commutes when their homes are miles away from the train or bus station?
One solution, as this Estonian electric scooter company proposes, is to simply take your commute with you—literally. Tallinn-based Stigo has developed a compact e-scooter that folds to the size of a rolling suitcase in about two seconds.
Keep reading...
Show less
Connect4Climate
[Editor's note: I'm still in shock after hearing the news that Lucia Grenna passed away in her sleep last week. When we first met in April of 2014 at a Copenhagen hotel, I was immediately taken by here powerful presence. We spent the next couple days participating in a Sustainia climate change event where Lucia presented her audacious plans to connect people to the climate issue. I had the chance to partner with Lucia on several other projects throughout the years and work with her incredible Connect4Climate team. I was always in awe of her ability to "make the impossible possible." Her spirit will live on forever. — Stefanie Spear]
It is with a heavy heart that Connect4Climate announces the passing of its founder and leading light, Lucia Grenna. Lucia passed peacefully in her sleep on June 15, well before her time. We remember her for her leadership and extraordinary ability to motivate people to take on some of the greatest challenges of our time, not least climate change.
Keep reading...
Show less
Jun. 23, 2017 07:29PM EST
Wikimedia Commons
By Stacy Malkan
Neil deGrasse Tyson has inspired millions of people to care about science and imagine themselves as participants in the scientific process. What a hopeful sign it is to see young girls wearing t-shirts emblazoned with the words, "Forget princess, I want to be an astrophysicist."
Keep reading...
Show less
Jun. 23, 2017 01:57PM EST
www.youtube.com
By Andy Rowell
Any day now we will truly witness climate change in action. Within days at worst, maybe weeks at best, scientists predict that a huge section of the Larsen C ice shelf in Antarctica will break off into the ocean, in what is called a major "carving" event.
Keep reading...
Show less
Jun. 23, 2017 02:27PM EST
www.youtube.com
President Trump visited Cedar Rapids, Iowa on June 21 to speak to a large crowd in the U.S. Cellular Center at a political rally organized by his campaign.
As Trevor Noah noted during The Daily Show episode last night (starts at 2:25), the real reason Trump has these rallies is to "get back in front of his loyal crowds and feed of their energy." Noah believes that "Trump supporters are so on board with their dude he can say anything and they'll come along for the ride."
Keep reading...
Show less
Jun. 23, 2017 07:50PM EST
The Kamuthi solar plant in the southern Indian state of Tamil Nadu.
The rapid growth in renewable energy continues to put a dent in the demand for coal.
Coal India, the world's biggest coal mining company and producer of 82 percent of the country's coal, announced the closure of 37 mines that are financially "unviable."
Keep reading...
Show less
Jun. 23, 2017 06:42PM EST
www.youtube.com
By Katie O'Reilly
Two years ago—long before coal became one of the most dominant and controversial symbols of the 2016 presidential election—Bloomberg Philanthropies approached production company RadicalMedia with the idea of creating a documentary exploring the U.S. coal mining industry. Last spring, they brought on Emmy-nominated director Michael Bonfiglio, tasked with forging a compelling story out of the multitudes of facts, statistics and narratives underlying the declining industry.
Keep reading...
Show less