This website uses cookies to ensure you get the best experience while browsing it. By clicking 'Got It' you're accepting these terms.
New Garbage Patch Discovered in the South Pacific Gyre
Jan. 17, 2013 02:14PM EST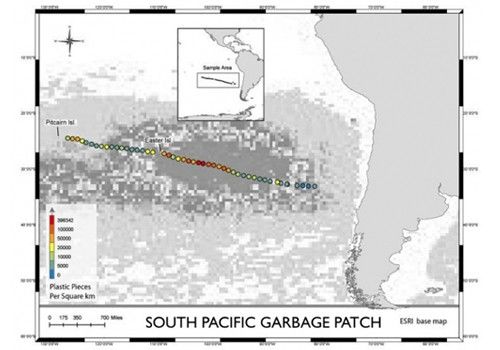 Scientists from The 5 Gyres Institute have discovered the first evidence of a "garbage patch," an accumulation zone of plastic pollution floating in the South Pacific subtropical gyre. The new study, published in the journal Marine Pollution Bulletin marks the first documentation of a defined oceanic garbage patch in the Southern Hemisphere, where little research on marine plastic pollution exists.
In March and April 2011, a team of scientists and interested citizens lead by 5 Gyres Institute Executive Director, Dr. Marcus Eriksen, conducted the first ever sampling of the South Pacific Subtropical Gyre for marine plastic pollution. The expedition began collecting samples of the ocean surface near Robinson Crusoe Island, Chile. Samples were collected every 50 nautical miles westward to Easter Island, then onward to Pitcairn Island, totaling 48 samples along a 2,424 nautical mile straight-line transect.
Eriksen selected the route based on an ocean current model developed by Nikolai Maximenko (University of Hawaii, Honolulu) that predicts accumulation zones for floating debris. The research team recorded increased density of plastic pollution with an average of 26,898 particles per square kilometer, and a high of 396,342 km/m2 in the center of the predicted accumulation zone. This confirms the existence of yet another oceanic "garbage patch."
"The 5 Gyres Institute was conceived to create baseline data in all the world's oceans, to determine whether plastic pollution is pervasive in all the major gyres of the world. Without a doubt, we have discovered a previously unknown garbage patch in the South Pacific Subtropical Gyre," said Dr. Eriksen.
As Eriksen suspected, at the inception of 5 Gyres, plastic pollution isn't just a North Pacific phenomenon but rather a global problem with global implications for fisheries, tourism, marine ecosystems and human health. In recent years, 5 Gyres has emerged as preeminent force for gathering marine plastic pollution data and taking that evidence from scientific publications to media, concerned citizens, policy makers and stakeholders. The 5 Gyres Institute is also working on scientific papers documenting the abundance of marine plastic pollution in all five subtropical gyres, and results of the recent expedition and discovery of micro-plastics in the Great Lakes.
"To create a solution to an ecosystem-wide problem we must understand the scope and magnitude of that problem. It's our (5 Gyres) mission to be on the frontlines of that understanding, and to continue monitoring the most remote regions of the world's oceans," continued Dr. Eriksen.
Part of the 5 Gyres Institute mission is to pair stakeholders and concerned citizens with scientists on expeditions in order to communicate their findings beyond the traditional academic circles. This expedition was conducted aboard the Sea Dragon, a 72ft sailing vessel equipped with eight available seats for guest crew, which included other scientists, educators, journalists and filmmakers. By empowering and educating concerned stakeholders at sea, armed with firsthand, empirical knowledge of the issue, the problems posed by marine plastic pollution will be elevated to a global discourse about ending the flow of plastics into the world's oceans.
"Creating a balance between peer reviewed science, education and advocacy is a delicate endeavor, but it's our goal to see common sense policy based on objective, scientific fact, and to us, if our advocacy efforts are based on hard evidence, there exists no conflict of interest. Facts are facts," said Anna Cummins 5 Gyres co-founder.   
In 2013 the 5 Gyres Institute will launch three expeditions to the North Atlantic, Indian Ocean and Great Lakes. These continued expeditions will provide additional insight to the scope of the problem worldwide, in the South Pacific and beyond.
Visit EcoWatch's BIODIVERSITY and WATER pages for more related news on this topic.
EcoWatch Daily Newsletter
Lara Hata / iStock / Getty Images
By SaVanna Shoemaker, MS, RDN, LD
Rice is a staple in many people's diets. It's filling, inexpensive, and a great mild-tasting addition to flavorful dishes.
An image of the trans-alaskan oil pipeline that carries oil from the northern part of Alaska all the way to valdez. This shot is right near the arctic national wildlife refuge. kyletperry / iStock / Getty Images Plus
The Trump administration has initialized the final steps to open up nearly 1.6 million acres of the protected Alaskan National Wildlife Refuge to allow oil and gas drilling.
Kaboompics / Pexels
Tensions between lawmakers and several large manufacturing companies came to a head on Capitol Hill this week during a hearing on toxic fluorochemicals in U.S. drinking water.
A male african lion plays with his 4 month old cub at Big Marsh in Serengeti National Park, Tanzania. Nick Garbutt / Barcroft Media / Getty Images
A Florida man has been allowed to import a Tanzanian lion's skin, skull, claws and teeth, a first since the animal was listed as threatened under the Endangered Species Act, according to US Fish and Wildlife Service records uncovered by the Center for Biological Diversity through the Freedom of Information Act.
A fracked natural gas well in northwest Louisiana has been burning for two weeks after suffering a blowout. A state official said the fire will likely burn for the next month before the flames can be brought under control by drilling a relief well.
The universe is expanding much quicker than previously thought, according to researchers in Germany, leading scientists to suggest it may be more than 2 billion years younger than past estimates.