This website uses cookies to ensure you get the best experience while browsing it. By clicking 'Got It' you're accepting these terms.
Massive Spill at Canadian Gold Mine Detected By Satellite
Aug. 06, 2014 01:23PM EST
On Aug. 4, an approximately 580 acre impoundment failed at a Canadian gold and copper mine near Likely, British Columbia. The breach at Imperial Metal's Mt. Polley mine dumped an estimated 1.3 billion gallons of toxic mine waste into the surrounding environment. On Aug. 5, Landsat 8 acquired an image of the mine showing that grey sludge from the tailings dam has entered Polley Lake, saturated the entire length of Hazeltine Creek and entered Quesnel Lake more than five miles downstream of the failed impoundment.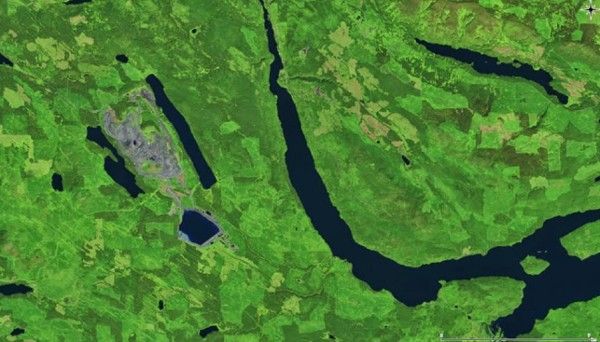 BEFORE: Mt. Polley Mine and Quesnel Lake, British Columbia, Canada: A Landsat 8 satellite image acquired July 29 shows the pond intact and Hazeltine Creek barely visible. Source: USGS/Landsat
The spill has prompted drinking water bans throughout the region, since the pond contains a slurry laden with arsenic, lead, mercury, selenium and other toxic metals and compounds.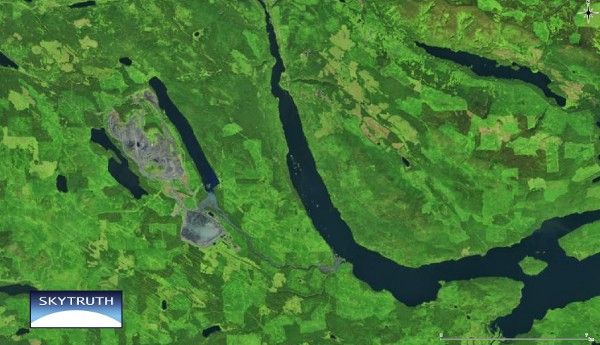 AFTER. The pond has breached and grey mine waste can be seen entering Quesnel Lake over five miles away. Credit: USGS via SkyTruth
The president of Imperial Metals, Brian Kynoch, claims that the water in the tailings pond is "near drinking water quality" and expressed disbelief that the impoundment could fail so catastrophically, despite the fact that Canadian officials had issued multiple warnings to Imperial Metals for exceeding water quality standards for effluent and exceeding the permitted wastewater levels in the pond.
Local citizens anticipating the arrival of a salmon run now fear the worst for the environment and tourism, especially as they begin to document dead fish in Quesnel Lake. 
Environmental groups across North America will be watching this story closely given the similarities to the proposed Pebble Mine in Alaska's Bristol Bay watershed, the world's most productive wild salmon fishery. Tailings ponds at Pebble mine would cover a surface area 13 times larger than the Mt. Polley impoundment and would have similar earthen dams taller than the Washington Monument.
You Might Also Like
Take Action to Protect Bristol Bay and Largest Wild Salmon Fisheries on Earth
Another Developer Pulls Investment From Controversial Pebble Mine Project
Salmon vs. Gold at Alaska's Pebble Mine
EcoWatch Daily Newsletter
Fabian Krause / EyeEm / Getty Images
Water protectors of all persuasions gathered in talking circles at Borderland Ranch in Pe'Sla, the heart of the sacred Black Hills, during the first Sovereign Sisters Gathering. At the center are Cheryl Angel in red and white and on her left, Lyla June. Tracy Barnett
By Tracy L. Barnett
Sources reviewed this article for accuracy.
For Sicangu Lakota water protector Cheryl Angel, Standing Rock helped her define what she stands against: an economy rooted in extraction of resources and exploitation of people and planet. It wasn't until she'd had some distance that the vision of what she stands for came into focus.
Hedges, 2019 © Hugh Hayden. All photos courtesy of Lisson Gallery
By Patrick Rogers
"I'm really into trees," said the sculptor Hugh Hayden. "I'm drawn to plants."
BruceBlock / iStock / Getty Images
Thanks to their high concentration of powerful plant compounds, foods with a natural purple hue offer a wide array of health benefits.
Environmental Investigation Agency
Last week, the Peruvian Palm Oil Producers' Association (JUNPALMA) promised to enter into an agreement for sustainable and deforestation-free palm oil production. The promise was secured by the U.S. based National Wildlife Federation (NWF) in collaboration with the local government, growers and the independent conservation organization Sociedad Peruana de Ecodesarrollo.
Pixabay
Leaked documents show that Jair Bolsonaro's government intends to use the Brazilian president's hate speech to isolate minorities living in the Amazon region. The PowerPoint slides, which democraciaAbierta has seen, also reveal plans to implement predatory projects that could have a devastating environmental impact.
XL CATLIN SEAVIEW SURVEY / THE OCEAN AGENCY
Hope may be on the horizon for the world's depleted coral reefs thanks to scientists who successfully reproduced endangered corals in a laboratory setting for the first time, according to Reuters.