This website uses cookies to ensure you get the best experience while browsing it. By clicking 'Got It' you're accepting these terms.
Good Reads—2012 Orion Book Award Finalists Announced
Apr. 20, 2012 06:05AM EST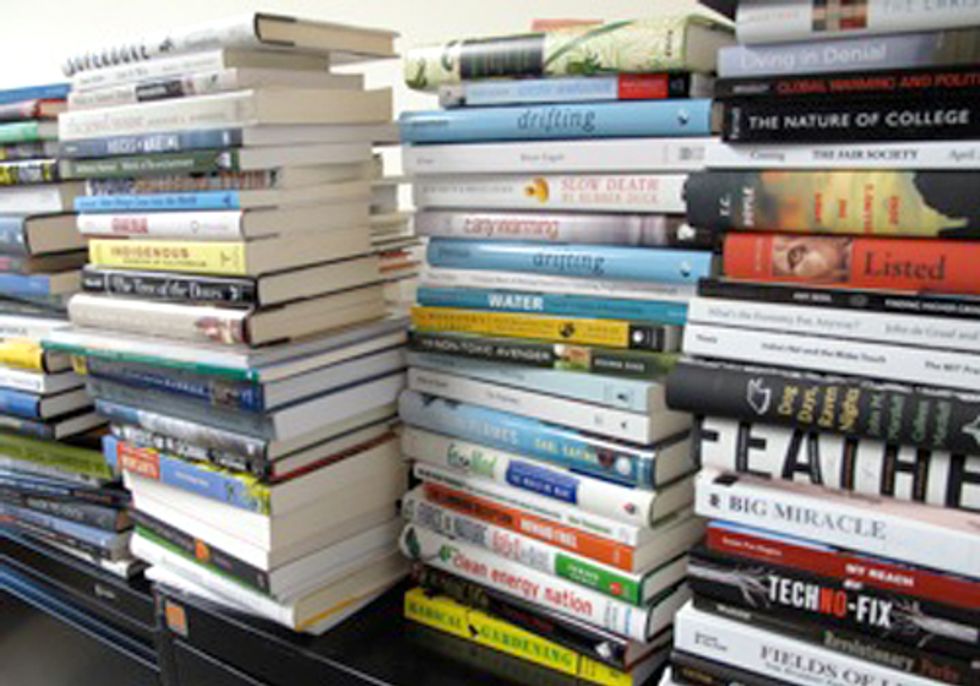 In a 2009 interview with The Daily Beast Editor Tina Brown, the novelist Philip Roth—who's won every major literary award created, some of which multiple times—claimed the novel would be mostly dead within 25 years, enjoying, at best, an audience about as large as Latin poetry enjoys now. Asked whether he was being provocative, he replied he was being optimistic.
Yes, the literary world is in an awkward state of flux, bookstores are closing and the attention spans required for books are dwindling as access to information grows more immediate, and as a result, alluring.
Nevertheless, I don't share Mr. Roth's outlook. The publishing world is going through the growing pains associated with evolution, for sure, but nothing will stop good books from being written, and just as miraculously, being published.
If you're looking for a good read, Orion Magazine has just made things easier with the announcement of their 2012 Orion Book Award Finalists. According to Orion's website, the Orion Book Award "is given annually to a book that addresses the human relationship with the natural world in a fresh, thought provoking, and engaging manner." Books are judged against these three criteria:
That it deepens our connection to the natural world
That it presents new ideas about our relationship with nature
That it achieves excellence in writing
This year's finalists are listed below:
by Philip Connors (Ecco)
"In elegant and measured prose, Connors broadens and enriches the whole tradition of nature writing with his own unique experience in the great wilderness. As fire lookout in New Mexico's Gila National Forest, Connors takes the reader inside his own musings and reveals his intimacy with the remote area, its flora and fauna, and inevitably, with its fires. His larger purpose is to reveal the behavior of fire and its crucial role in a healthy ecosystem, as well as to examine our complex relationship with it. A graceful, memorable book."
by Helon Habila (W.W. Norton & Co.)
"In this beautiful, truth-seeking novel, journalists Rufus and Zaq make their way through the fetid, oil-choked waters of the Nigerian Delta in search of the kidnapped wife of an oil executive. Rufus, young and eager to prove himself, is thrilled at the prospect of a big story and to be working with his hero, Zaq. But their journey into the dense wilderness takes on a much different form than either expected, and they are thrust into events beyond their control. Oil on Water is a suspenseful story about globalization, ambition and the unwieldy nature of truth."
—Amanda Hurley, Inkwood Books, Tampa, Fla.
by Karen Russell (Vintage)
"Located in the Florida Everglades, the Swamplandia island theme park is also home to the Bigtrees, a family of alligator wrestlers. When the mom and star of the show dies, the Bigtree way of life unravels. Dad heads to the mainland to find investors, while his three teenagers are left to deal with their losses. Kiwi attempts to infiltrate a rival amusement park, Ossie falls in love with a ghost, and the story's 13-year-old narrator, Ava, wrestles with a force more fearsome than gators: the loss of innocence. Karen Russell's sentences are so beautiful and original, they will leave you breathless!"
—Michael Keefe, Annie Bloom's Books, Portland, OR
by Carl Safina (Picador)
"Safina's book soars….I had to—and wanted to—read The View from Lazy Point very slowly, allowing myself to digest its wealth of information, to revel in the beauty of Safina's writing, and to absorb fully the implications of his musings…What a pleasure it is to find such an enlightening, provocative companion for walking and talking—and reading. We can ask no more from those who warn about dark days ahead than that they also awaken us to the miracle of everyday life."
—Dominique Browning, The New York Times Book Review
by Sandra Steingraber (De Capo)
"One part memoir and one part educational treatise, and thoroughly informative and entertaining…Steingraber has taken a work that could have been a dry and didactic expository and turned it into a fluid, intimate narrative—sometimes funny, always entertaining and definitely illuminating. It's a book that everyone—parents and otherwise—should avail themselves of for the good of those they care about."
—New York Journal of Books
For more information, click here.
EcoWatch Daily Newsletter
Heavy industry on the lower Mississippi helps to create dead zones.
AJ Wallace on Unsplash.
Cutting out coal-burning and other sources of nitrogen oxides (NOx) from heavy industry, electricity production and traffic will reduce the size of the world's dead zones along coasts where all fish life is vanishing because of a lack of oxygen.
Despite the ongoing coronavirus pandemic, which has restricted the ability to gather in peaceful assembly, a Canadian company has moved forward with construction of the controversial Keystone XL pipeline, according to the AP.
A gas flare from the Shell Chemical LP petroleum refinery illuminates the sky on August 21, 2019 in Norco, Louisiana. Drew Angerer / Getty Images.
Methane levels in the atmosphere experienced a dramatic rise in 2019, preliminary data released Sunday shows.
A retired West Virginia miner suffering from black lung visits a doctor for tests. Andrew Lichtenstein / Corbis via Getty Images
In some states like West Virginia, coal mines have been classified as essential services and are staying open during the COVID-19 pandemic, even though the close quarters miners work in and the known risks to respiratory health put miners in harm's way during the spread of the coronavirus.
Solar panel installations and a wind turbine at the Phu Lac wind farm in southern Vietnam's Binh Thuan province on April 23, 2019. MANAN VATSYAYANA / AFP via Getty Images