This website uses cookies to ensure you get the best experience while browsing it. By clicking 'Got It' you're accepting these terms.
And the Cheapest Electricity in America Is … Solar
Jul. 15, 2015 09:08AM EST
Business
A Nevada utility and a solar developer have just struck a deal for solar electricity at a price that stands out compared not just to other solar deals, but also to just about any other option for new electricity. Here's what it and other recent deals say about the future of solar.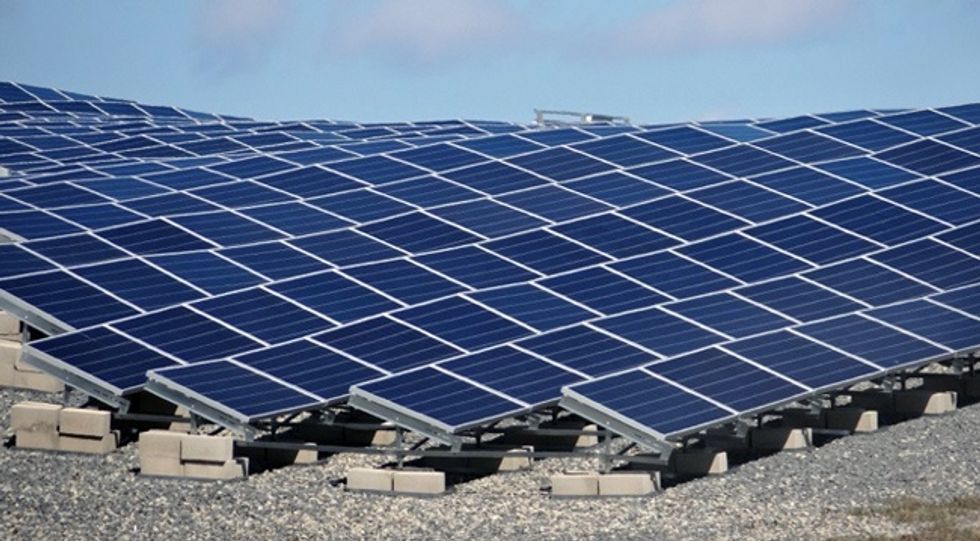 Bloomberg's story on the Nevada deal opens with this (emphasis added):
Warren Buffet's Nevada utility has lined up what may be the cheapest electricity in the U.S., and it's from a solar farm.
"Cheapest" and "solar" aren't words some folks might expect to see together in something coming out of a financial outfit like Bloomberg. But folks who have been paying attention to solar's incredible recent price drops in recent years know that the times they are a-changin'.
Best deal in town NV Energy, part of Buffet's Berkshire Hathaway company, is buying output from a project being developed by solar photovoltaic (PV) manufacturer First Solar at a price of 3.87 cents per kilowatt-hour (kWh). That's probably a lower price than you'd get from just about any other source out there, except for wind or energy efficiency.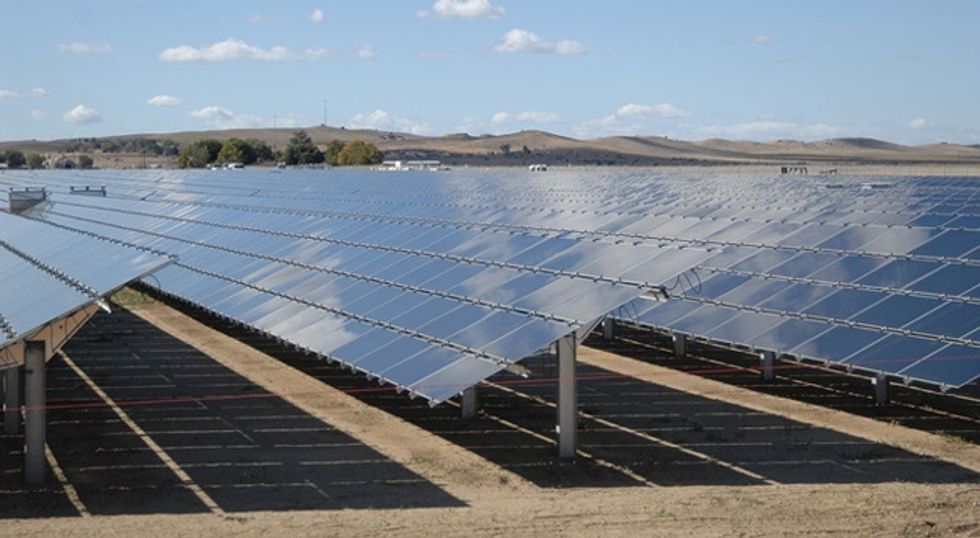 No doubt about it: this power purchase agreement (PPA) is a deal. A utility analyst at Bloomberg says it's "probably the cheapest PPA I've ever seen in the U.S." Note the lack of qualifiers: no "solar," no "renewable energy." Just "cheapest."
And it's clear that this deal, for 100 megawatts (enough for more than 15,000 households' worth of electricity), isn't a one-off. It's part of a suite of recent deals that testify to how far solar prices have dropped:
Another 100-megawatt NV Energy agreement in the same utility proposal, involving a project developed by PV manufacturer SunPower, came in at 4.6 cents/kWh.

Just a week earlier, Austin Energy signed a deal for solar at under 4 cents/kWh.
On the solar resource issue, you can remind the naysayers that solar is actually much more widespread than they might think. Some might dismiss these deals by pointing to the sunniness of the states in question or the incentives (federal or state) that are buying down the cost. Don't let 'em.
On incentives, you can invite them to do the math on what it would cost even without the federal tax credit, for example (still under 6 cents for the lowest-cost ones). And have them look to see what solar is achieving elsewhere—5.85 cents/kWh in Dubai, for example. Or just get them to do the math on what fossil fuels like coal really cost.
Keep making it happen
And, while the sun might not be getting brighter, the future of solar certainly is. Costs for large-scale solar projects dropped by 7 percent last year, and are down by way more than half since 2009.
Even more importantly, maybe, is the fact that a big chunk of cost reductions depend not on dropping the costs of solar panels (which are way down already), but on building up local capacity to install (or approve) such systems. That build-up comes only with experience and installations. That price trajectory could lead some to think about waiting till prices come down even more, but that would be a mistake. Solar may keep getting better, but it's a good deal now, and even more drops in costs aren't guaranteed. (Neither is the future of the very successful federal tax credit.)
Photo credit: UCS, Solar Power on the Rise
We also need utility leaders to keep signing the contracts that keep getting us to ever-greater scales and ever-lower prices. These contracts are a driving force for the fierce competition in the solar industry.
So go forth—sign, build, thrive. And then repeat, repeat, repeat.
YOU MIGHT ALSO LIKE
'Renewables Are Cheapest Energy Option' When Fossil Fuel Subsidies Are Removed, Says REN21
Belize Joins Ten Island Challenge to Transition to 100% Renewable Energy
4 Ways the U.S. Can Rapidly Reduce Carbon Emissions and Grow the Economy
EcoWatch Daily Newsletter
Deserted view of NH24 near Akshardham Temple on day nine of the 21-day nationwide lockdown to curb the spread of coronavirus on April 2, 2020 in New Delhi, India. Raj K Raj / Hindustan Times via Getty Images
A Unicef social mobilizer uses a speaker as she carries out public health awareness to prevent the spread and detect the symptoms of the COVID-19 coronavirus by UNICEF at Mangateen IDP camp in Juba, South Sudan on April 2. ALEX MCBRIDE / AFP / Getty Images
By Eddie Ndopu
South Africa is ground zero for the coronavirus pandemic in Africa.
Its townships are typical of high-density neighbourhoods across the continent where self-isolation will be extremely challenging.
The failure to eradicate extreme poverty is a threat beyond the countries in question.
The outside of the Food and Drug Administration headquarters in White Oak, Md. on Nov. 9, 2015. Al Drago / CQ Roll Call
The U.S. Food and Drug Administration has approved the use of two malarial drugs to treat and prevent COVID-19, the respiratory infection caused by the SARS-CoV-2 coronavirus, despite only anecdotal evidence that either is proven effective in treating or slowing the progression of the disease in seriously ill patients.

Some
speculate
that the dissemination of the Antarctic beeches or Nothofagus moorei (seen above in Australia) dates to the time when
Antarctica
, Australia and
South America
were connected. Auscape / Universal Images Group / Getty Images
A team of scientists drilled into the ground near the South Pole to discover forest and fossils from the Cretaceous nearly 90 million years ago, which is the time when dinosaurs roamed the Earth, as the BBC reported.
The recovery of elephant seals is one of the "signs of hope" that scientists say show the oceans can recover swiftly if we let them. NOAA /
CC BY 2.0