This website uses cookies to ensure you get the best experience while browsing it. By clicking 'Got It' you're accepting these terms.
Fuse / Corbis / Getty Images
The U.S. government expanded a recall of ground beef Tuesday as an outbreak of salmonella has quadrupled to 246 people in 25 states since the first recall was announced in October, NBC 4 New York reported.
The U.S. Department of Agriculture Food Safety Food Safety and Inspection Service (USDA FSIS) announced that the Arizona-based JBS Tolleson, Inc. was recalling an additional 5,156,076 pounds of raw beef that were packaged between July 26 and Sept. 7. When added to the approximately 6,937,195 pounds originally recalled Oct. 4, it makes for a total of around 12,093,271 pounds recalled by the company.
Pixabay
By David Wallinga, MD
Heading into the holidays, many of our families are planning meals centered around a delicious turkey, ham or brisket. But a new analysis from the Natural Resources Defense Council (NRDC) and our partners at Food Animal Concerns Trust shows that our families' health is at significant risk from how these American meats are typically produced.
A recall of ready-made meat and poultry products included three Harris Teeter deli meals, like from this store in Apex, NC.
Mike8411251995
A problem at a single food-processing plant in California has led to a massive recall impacting millions of pounds of pre-made salads and meals, more than two dozen chains and 13 food companies, USA Today reported Tuesday.
The problem started October 15 when McCain Foods USA recalled the Fire Roasted Black Bean Corn processed at its plant in Colton, California near Los Angeles for potential contamination with Listeria monocytogenes or Salmonella, Food Safety News reported. McCain Foods has since recalled all products from its Colton plant, which makes fire roasted, caramelized and sauteed frozen fruit and vegetables.
Ground beef meat products at a grocery store in Fairfax, Virginia. USDA Photo by Lance Cheung
Two massive meat recalls were issued this week following outbreaks of food-borne illnesses.
Arizona-based meat producer JBS Tolleson Inc. recalled more than 6.5 million pounds of "various raw, non-intact beef products"—i.e. ground beef—that may be contaminated with salmonella, the U.S. Department of Agriculture (USDA) announced Thursday.
The U.S. Food and Drug Administration is advising consumers not to eat recalled shell eggs produced by Rose Acre Farms' North Carolina facility in Hyde County.
Rose Acre Farms voluntarily recalled more than 206 million eggs after FDA testing determined that the eggs were connected to 22 reported cases of salmonella infections traced back to the farm.
The  U.S. Department of Agriculture (USDA) unveiled a new plan Wednesday to reduce the number of salmonella outbreaks linked to meat and poultry.
Included is a controversial rollout of a pilot program that would speed up poultry processing lines and replace some USDA inspectors with plant employees. The proposal would increase line speeds in poultry plants to 175 chickens per minute from 140 and 55 turkeys per minute from 45.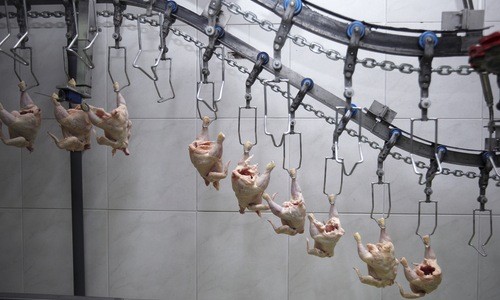 Shutterstock
The USDA said the new plan would focus inspectors more greatly on food safety, a change that could potentially reduce 5,000 illnesses a year. An estimated 1.3 million Americans are sickened by the bacteria each year. The USDA aims to reduce salmonella illnesses by 20,000 cases a year.
The effort comes weeks after Foster Farms chicken was found to have sickened at least 389 people nationwide with a virulent strain of salmonella found to be resistant to some antibiotics.
"Far too many Americans are sickened by salmonella every year. The aggressive and comprehensive steps detailed in the Salmonella Action Plan will protect consumers by making meat and poultry products safer," Undersecretary for Food Safety Elisabeth Hagen said in a prepared statement.
Food safety and worker advocates have criticized the increase as dangerous for both employees and consumers. A recent Washington Post investigation found nearly 1 million chickens and turkeys were unintentionally boiled alive because of fast-moving factory lines.
"This flawed proposed rule cannot serve as the foundation of any serious plan to reduce salmonella rates in meat and poultry products," Wenonah Hauter, director of Food & Water Watch, said in a media release.
"To really tackle the salmonella problem, USDA should not be trying to cut government inspection of poultry products. Instead, the Obama administration needs to get the legal authority from Congress to hold companies accountable for putting contaminated food into commerce, not deregulate inspection."
Salmonella doesn't trigger an automatic recall, as with E. coli outbreaks, because it's not considered an adulterant. Health officials have been pushing the USDA to change that, arguing that more dangerous strains of salmonella resistant to antibiotics have emerged in recent years.
But unless the USDA deems salmonella an adulterant, it's often up to producers to issue a recall.
The U.S. Food Safety and Inspection Service has received hundreds of thousands of comments from consumers opposed to replacing some USDA inspectors with plant employees and worker safety advocates have raised serious concerns that poultry plant workers will suffer increased rates of injuries trying to keep up with increased line speeds, Hauter said.
Visit EcoWatch's FOOD page for more related news on this topic.