National Institude of Allergy and Infectious Disease
The strain sickened 255 people in 32 states between June 2018 and March 2019, leading to 60 hospitalizations and two deaths, the agency wrote in its Morbidity and Mortality Weekly Report. And the strain is still making people sick, lead report author and CDC epidemiologist Dr. Ian Plumb told CNN.
New @CDCMMWR: Learn about #Salmonella Newport infections in the US that are resistant to some common #antibiotics a… https://t.co/nBYacDhQLO

— CDC (@CDC)1566495302.0
"We are continuing to see cases occurring among patients," Plumb told CNN in an email. "The antibiotic resistance pattern of this strain is alarming because the primary oral antibiotics used to treat patients with this type of salmonella infection may not work."
Plumb told HealthDay Reporter that the two patients who died had other illnesses as well, but that the drug-resistant salmonella did contribute to their deaths.
The strain has shown decreased susceptibility to azithromycin and does not respond at all to ciprofloxacin, the report said. Both are commonly used to treat the disease, and, before 2017, fewer than 0.5 percent of salmonella strains found in U.S. patients were resistant to azithromycin.
The outbreak has been linked to the consumption of U.S. beef and Mexican soft cheese, leading investigators to believe the strain is present in cows in both countries, CNN reported.
"The resistant strains developed in animals, and those strains can then be transmitted to humans," Plumb told HealthDay Reporter.
Dr. Marc Siegel, a professor of medicine at the New York University Langone Medical Center who was not involved with the study, told HealthDay Reporter that the best way to prevent drug-resistant infections like this is to change farming practices.
"Salmonella is a very common bacteria in livestock, and the problem is that we're overusing antibiotics to try to control this problem," Siegel said. He said that farmers also gave antibiotics to cattle to increase their size.
He said that better human treatments were not the solution, since most of the time the infection needs no treatment at all.
"It's really a change in farming practices that are needed—to stop giving these animals antibiotics," he said.
The CDC also stated that avoiding giving cattle unnecessary antibiotics, especially those also used to treat humans, would help prevent the spread of drug-resistant salmonella.
In the meantime, the CDC recommended that people protect themselves by avoiding soft cheese made with unpasteurized milk and using thermometers to make sure beef is cooked to the proper temperature: 145 degrees Fahrenheit for steaks and roasts and 160 degrees Fahrenheit for ground beef.
From Your Site Articles
Related Articles Around the Web
EcoWatch Daily Newsletter
Fuse / Corbis / Getty Images
The U.S. government expanded a recall of ground beef Tuesday as an outbreak of salmonella has quadrupled to 246 people in 25 states since the first recall was announced in October, NBC 4 New York reported.
The U.S. Department of Agriculture Food Safety Food Safety and Inspection Service (USDA FSIS) announced that the Arizona-based JBS Tolleson, Inc. was recalling an additional 5,156,076 pounds of raw beef that were packaged between July 26 and Sept. 7. When added to the approximately 6,937,195 pounds originally recalled Oct. 4, it makes for a total of around 12,093,271 pounds recalled by the company.
"FSIS is concerned that some product may be frozen and in consumers' freezers. These products should be thrown away or returned to the place of purchase," the agency warned in the recall announcement.
The recalled beef has the label "EST. 267" inside its USDA mark of inspection and was sent to stores across the country including Walmarts in Arizona, Colorado, New Mexico Nevada and Texas and Sam's Clubs in 26 states. You can find the full list of recalled products here and the full list of impacted retailers here.
The label of one of the recalled ground beef productsUSDA FSIS
The beef has been linked to an outbreak of Salmonella Newport that first started Aug. 5. The last case reported was on Oct. 16. So far, 59 people have been hospitalized and no one has died, the Center for Disease Control and Prevention (CDC) reported.

A timeline of Salmonella Newport cases so farCDC
Salmonella usually causes diarrhea, fever and stomach cramps 12 to 72 hours after infection. It usually clears up after four to seven days without treatment, but children under five, older adults over 65 and people with weakened immune systems could be more vulnerable.

All of the cases in the current outbreak might not have been reported yet, the CDC explained, because it can take up to two to four weeks for someone to report their illness after getting sick. So far, cases have been reported in 25 states, as this map shows.
A map of Salmonella Newport cases as of November 15CDC
Officials source outbreaks by interviewing infected people about what food they ate the week before. In this case, 90 percent of respondents said they ate ground beef at home.

The CDC further explained the sleuthing that went into uncovering the cause of this particular outbreak:
Officials in Arizona collected an unopened package of ground beef from an ill person's home. The outbreak strain of Salmonella Newport was identified in the ground beef. Whole genome sequencing showed that the Salmonella identified in the ground beef was closely related genetically to the Salmonella in samples from ill people. The ground beef was one of the products recalled on October 4, 2018.
The CDC recommends that anyone eating ground meat always cook it or order it cooked to an internal temperature of 160 degrees Fahrenheit and always wash hands and any equipment that came in contact with the raw meat with soap and water.
"No one should be eating partially cooked or raw meat," FSIS warned.
waterlust.com / @tulasendlesssummer_sierra .
Each product featured here has been independently selected by the writer. If you make a purchase using the links included, we may earn commission.
The bright patterns and recognizable designs of Waterlust's activewear aren't just for show. In fact, they're meant to promote the conversation around sustainability and give back to the ocean science and conservation community.
Each design is paired with a research lab, nonprofit, or education organization that has high intellectual merit and the potential to move the needle in its respective field. For each product sold, Waterlust donates 10% of profits to these conservation partners.
Eye-Catching Designs Made from Recycled Plastic Bottles
waterlust.com / @abamabam
The company sells a range of eco-friendly items like leggings, rash guards, and board shorts that are made using recycled post-consumer plastic bottles. There are currently 16 causes represented by distinct marine-life patterns, from whale shark research and invasive lionfish removal to sockeye salmon monitoring and abalone restoration.

One such organization is Get Inspired, a nonprofit that specializes in ocean restoration and environmental education. Get Inspired founder, marine biologist Nancy Caruso, says supporting on-the-ground efforts is one thing that sets Waterlust apart, like their apparel line that supports Get Inspired abalone restoration programs.
"All of us [conservation partners] are doing something," Caruso said. "We're not putting up exhibits and talking about it — although that is important — we're in the field."
Waterlust not only helps its conservation partners financially so they can continue their important work. It also helps them get the word out about what they're doing, whether that's through social media spotlights, photo and video projects, or the informative note card that comes with each piece of apparel.
"They're doing their part for sure, pushing the information out across all of their channels, and I think that's what makes them so interesting," Caruso said.
And then there are the clothes, which speak for themselves.
Advocate Apparel to Start Conversations About Conservation
waterlust.com / @oceanraysphotography
Waterlust's concept of "advocate apparel" encourages people to see getting dressed every day as an opportunity to not only express their individuality and style, but also to advance the conversation around marine science. By infusing science into clothing, people can visually represent species and ecosystems in need of advocacy — something that, more often than not, leads to a teaching moment.

"When people wear Waterlust gear, it's just a matter of time before somebody asks them about the bright, funky designs," said Waterlust's CEO, Patrick Rynne. "That moment is incredibly special, because it creates an intimate opportunity for the wearer to share what they've learned with another."
The idea for the company came to Rynne when he was a Ph.D. student in marine science.
"I was surrounded by incredible people that were discovering fascinating things but noticed that often their work wasn't reaching the general public in creative and engaging ways," he said. "That seemed like a missed opportunity with big implications."
Waterlust initially focused on conventional media, like film and photography, to promote ocean science, but the team quickly realized engagement on social media didn't translate to action or even knowledge sharing offscreen.
Rynne also saw the "in one ear, out the other" issue in the classroom — if students didn't repeatedly engage with the topics they learned, they'd quickly forget them.
"We decided that if we truly wanted to achieve our goal of bringing science into people's lives and have it stick, it would need to be through a process that is frequently repeated, fun, and functional," Rynne said. "That's when we thought about clothing."
Support Marine Research and Sustainability in Style
To date, Waterlust has sold tens of thousands of pieces of apparel in over 100 countries, and the interactions its products have sparked have had clear implications for furthering science communication.
For Caruso alone, it's led to opportunities to share her abalone restoration methods with communities far and wide.
"It moves my small little world of what I'm doing here in Orange County, California, across the entire globe," she said. "That's one of the beautiful things about our partnership."
Check out all of the different eco-conscious apparel options available from Waterlust to help promote ocean conservation.
Melissa Smith is an avid writer, scuba diver, backpacker, and all-around outdoor enthusiast. She graduated from the University of Florida with degrees in journalism and sustainable studies. Before joining EcoWatch, Melissa worked as the managing editor of Scuba Diving magazine and the communications manager of The Ocean Agency, a non-profit that's featured in the Emmy award-winning documentary Chasing Coral.
Pixabay
By David Wallinga, MD
Heading into the holidays, many of our families are planning meals centered around a delicious turkey, ham or brisket. But a new analysis from the Natural Resources Defense Council (NRDC) and our partners at Food Animal Concerns Trust shows that our families' health is at significant risk from how these American meats are typically produced.
Just a week before Thanksgiving, there's news that an outbreak of antibiotic-resistant Salmonella, linked to raw turkey, is still spreading; it has sickened 164 people thus far, killing one. Each year, at least 2 million Americans suffer infections caused by drug-resistant bacteria, resulting in more than 23,000 deaths. Those numbers are rising according to experts.
What's that got to do with your holiday dinner planning? Plenty, says our new analysis, released just in time for Antibiotic Awareness Week.
While turkeys are given antibiotics more intensively than other livestock in the U.S., the size of the industry is much smaller than beef and pork—making those two the most problematic in terms of antibiotic consumption.
The conventional U.S. livestock industry—in particular its beef, pork and turkey sectors—raises animals with very intensive use of antibiotics that are also important to human medicine ("medically important"). Most of these precious medicines are fed to groups of animals that aren't sick, a practice commonly although inappropriately used to compensate for stressful and unsanitary living conditions. This is unnecessary—several European countries ended uses in healthy animals years ago, and the European Parliament voted last month to ban them. And it is an important driver of the worsening antibiotic resistance crisis. The World Health Organization warns that if we want antibiotics to remain useful for treating people when they get sick, we simply must use them better and more responsibly.

Fittingly, U.S. consumers increasingly show a preference for buying poultry and meat products produced with fewer or no antibiotics. But our new analysis finds that the conventional U.S. meat industry remains a stubbornly high user of antibiotics. Specifically, we find:
Livestock consumption of medically important antibiotics in the U.S. has increased in intensity since 2009—meaning we're still using more of these drugs per kilogram of meat than we did then. That's in contrast to human medicine, where we saw a decline and then plateau in the same time period, suggesting the medical community is taking expert warnings of the looming resistance crisis more seriously than the meat industry.
It's also a striking contrast to Europe, as the U.S. livestock industry is using medically important drugs almost twice as intensively (95 percent more) than the industries in 30 European countries, collectively. And, in the case of pig and cattle production, the U.S. industries are using these precious antibiotics far more intensively than their counterparts in France, the United Kingdom, the Netherlands, and Denmark, all of which are major livestock producers—comparable in size to major livestock-producing states in the U.S..
The good news is there's a lot of room for quick improvement. We've seen that with the right leadership, enormous changes have happened quite rapidly. The U.S. chicken industry is a one example. In just a few years, close to half the industry (and 14 of the top 25 U.S. restaurant chains serving chicken) has made some commitment to curbing unnecessary antibiotics in chicken production, by our estimates.

The United Kingdom, France and the Netherlands also cleaned up their livestock industries in a very short time frame. They reduced the intensity of antibiotics consumed in in livestock production by 34 percent, 47 percent and 64 percent, respectively, between 2010 and 2016.[1] Our analysis makes clear that right now, the conventional cattle, pig and turkey industries in the U.S. just don't measure up.
Who among us has not relied on antibiotics? It's in all of our best interest to keep them working. So as families sit down together to enjoy a meal this holiday season, let's hope the American beef, pork and turkey industries are thinking hard about how better to protect the consumers who buy their products.
David Wallinga is a physician with more than 20 years of experience in writing, policy and advocacy at the intersection of food, nutrition, sustainability and public health.
A recall of ready-made meat and poultry products included three Harris Teeter deli meals, like from this store in Apex, NC.
Mike8411251995
A problem at a single food-processing plant in California has led to a massive recall impacting millions of pounds of pre-made salads and meals, more than two dozen chains and 13 food companies, USA Today reported Tuesday.
The problem started October 15 when McCain Foods USA recalled the Fire Roasted Black Bean Corn processed at its plant in Colton, California near Los Angeles for potential contamination with Listeria monocytogenes or Salmonella, Food Safety News reported. McCain Foods has since recalled all products from its Colton plant, which makes fire roasted, caramelized and sauteed frozen fruit and vegetables.
The recall has reverberated from Walmart to Whole Foods and offers a case study in the complexity of the U.S. food supply chain.
"These recalls demonstrate just how complex and interconnected our food system is today. When you buy something from the store, it's possible the company that produced it was three companies ago," Consumers Union Senior Food Policy Analyst Will Wallace told USA Today. "This is a big deal. It could impact tens of thousands of people, if not more."
On Friday, the U.S. Department of Agriculture (USDA)'s Food Safety Inspection Service (FSIS) and the Food and Drug Administration (FDA) issued a joint warning about the various recalls.
"No illnesses to date have been identified in connection with any of these foods, but consumers should not eat any of the products that have been recalled, as they could be contaminated with Salmonella and/or Listeria monocytogenes." the joint statement said, according to Food Safety News.
This isn't the first time McCain Foods has had to issue a recall. In April 2017, it took its Roundy's, Harris Teeter and Southern Style hash browns off the shelf because golf balls had somehow gotten mashed up with the potatoes, causing a choking hazard.
The companies impacted this time around are listed below, so make sure none of your favorites are caught up in the recall. You can click on the link for more detailed information about each recall. Stay safe!
1. Prime Deli Corporation: On Oct. 16, This Lewisville, Texas company recalled two shipments of "7-ELEVEN™ BISTRO SOUTHWEST STYLE SALAD WITH BACON" with use-by dates of Oct. 16 sent to retail locations in Texas.
2. GH Foods CA: On Oct. 17, this Sacramento company recalled around 987 pounds of ready-to-eat chicken salads shipped to stores in California including "365 BY WHOLE FOODS MARKET BBQ STYLE CHOPPED SALAD WITH CHICKEN" and "365 BY WHOLE FOODS MARKET CHICKEN FAJITA SALAD," both with sell-by dates ranging from Oct. 17 to Oct. 20.
3. Mary's Harvest Fresh Foods: On Oct. 17, this Portland company recalled around 916 pounds of salads and wraps containing corn, including "TRADER JOSE'S MEXICALI INSPIRED SALAD WITH CHILI SEASONED CHICKEN" with sell-by dates from the 15th to the 19th of October. The products were sent to stores in Washington, Idaho and Oregon.
4. Taylor Farms Northwest: On Oct. 17, The Kent, Washington company recalled around 276 pounds of pork carnitas bowls with sell by dates ranging from Oct. 15 to 19 sent to stores in Washington and Oregon.
5. GHSE, LLC: The last Oct. 17 recall was from this Florida company and impacted around 738 pounds of its "Marketside™ FIESTA SALAD WITH STEAK" with sell-by dates of October 17 to October 20. The products were shipped to stores in Georgia, Florida and South Carolina.
6. Hy-Vee: On Oct. 18, Des Moines, Iowa-based grocery store chain Hy-Vee recalled six of its meat and potato products in 245 stores across eight states. All of the recalled products had a best-by date of Oct. 22 or earlier.
7. GHSW, LLC: The Houston-based company recalled around 1,786 pounds of ready-made chicken salads on Oct. 19, including several from Whole Foods and Trader Joe's: "365 BY WHOLE FOODS MARKET BBQ STYLE CHOPPED SALAD WITH CHICKEN" , "365 BY WHOLE FOODS MARKET CHICKEN FAJITA SALAD", "TRADER JOE'S BBQ SEASONED WHITE CHICKEN SALAD" , "TRADER JOE'S FIELD FRESH CHOPPED SALAD WITH GRILLED WHITE CHICKEN", and "TRADER JOSÉ'S MEXICALI INSPIRED SALAD WITH CHILI SEASONED CHICKEN". Expiration dates ranged from Oct. 18 to 21, and the products were sent to stores in Colorado, Louisiana, New Mexico, Oklahoma, Tennessee and Texas.
8. Ruiz Food Products: On Oct. 19, the Denison, Texas company recalled around 2,490,593 pounds of Go-Go Taquitos that had been sent to stores around the country.
9. Caito Foods: Operating out of Indianapolis, Caito Foods recalled around 1,532 pounds of salad and bowl products containing chicken that had been sent to stores in Illinois, Indiana, Michigan, Minnesota and Missouri and had best-by dates ranging from Oct. 12 to 21.
10. Envolve Foods: On Oct. 19, the Corona, California company recalled around 292,764 pounds of ready-made chicken and beef products in the Simple Truth and Cadence Gourmet lines that had sell by dates between Oct. 20 and March 2020. They were sent to stores around the country.
11. Buddy's Kitchen: On Oct. 19, Minnesota company Buddy's Kitchen recalled around 212,746 pounds of ready-to-eat pork and chicken meals that were sent to institutions in Arizona, California, Georgia, Illinois, Minnesota, Missouri and New Jersey.
12. SK Food Group: The last Oct. 19 recall came from an Ohio and Nevada company that recalled around 174,207 pounds of "jenny CRAIG CHICKEN WRAP WITH BBQ SAUCE" that had been sent to customers in California, Colorado, Florida, Hawaii, Idaho, Illinois, Maryland, Michigan, North Carolina, Oregon, Pennsylvania and Texas through catalogue sales.
13. Bakkavor Foods: The most recent recall came from a company with locations in California, North Carolina and Pennsylvania that was recalling around 795,261 pounds of ready-made meat and poultry products including three HARRIS TEETER FRESH FOODS MARKET DELI-BAKERY meals and one "TRADER JOE'S CARNITAS WITH SALSA VERDE Burrito." The products had sell-by dates ranging from October 2017 to April 2019 and were sent around the country.
From Your Site Articles
Related Articles Around the Web
Ground beef meat products at a grocery store in Fairfax, Virginia. USDA Photo by Lance Cheung
Two massive meat recalls were issued this week following outbreaks of food-borne illnesses.
Arizona-based meat producer JBS Tolleson Inc. recalled more than 6.5 million pounds of "various raw, non-intact beef products"—i.e. ground beef—that may be contaminated with salmonella, the U.S. Department of Agriculture (USDA) announced Thursday.
Fifty-seven cases of the illness linked to this outbreak strain were reported in 16 states between Aug. 5 and Sept. 6, according the Centers for Disease Control and Prevention (CDC). The products were produced and packaged from July 26 to Sept. 7 and were shipped to retailers nationwide.
CDC
"Consumers who have ground beef in their homes labeled with the establishment number 'EST. 267' should contact the store where it was purchased to find out if it was recalled. Do not eat recalled ground beef. Return it to the store or throw it away," the CDC advised.
Common symptoms of the illness include diarrhea, fever and stomach cramps 12 to 72 hours after being exposed to the bacteria. The illness usually lasts up to a week, and most people recover without treatment. People with weakened immune systems, children younger than 5 and elderly individuals are more likely to have a severe reaction.
On Wednesday, the USDA announced that ham-maker Johnston County Hams, Inc. in North Carolina recalled 89,096 pounds of ready-to-eat ham products produced from April 3, 2017 through Oct. 2, 2018.
Four people were hospitalized in North Carolina and Virginia, and one person died in Virginia from a listeria infection linked to the deli ham, the CDC said.
Pinpointing the exact source of the listeria outbreak can be difficult. Unlike common foodborne diseases, the incubation period for the disease can be long, from 3 days to 70 days.
Listeria outbreak: Johnston County Hams deli ham recalled after 4 people sick in 2 states. Do not eat, serve or sel… https://t.co/9v1MLjtV6x

— USDA Food Safety (@USDA Food Safety)1538667521.0
Listeriosis can develop into a serious illness for some people. About 1,600 people get listeriosis each year, and about 260 die from listeriosis, according to the CDC. The illness can be especially dangerous for pregnant women and people with impaired immune systems.
"Return any recalled deli ham to the store for a refund or throw it away. Even if some ham was eaten and no one got sick, do not eat it. If you do not know if the ham you purchased was recalled, ask the place where you purchased it or throw it away," the agency said.
The CDC also warned people to sanitize anything the ham might have touched: "Wash and sanitize drawers or shelves in refrigerators and freezers where recalled ham was stored. Follow these five steps to clean your refrigerator.
12 Ways Trump Has Declared War on Food Safety https://t.co/zRiwew58BT @eatsustainable @RootsofChange

— EcoWatch (@EcoWatch)1496784317.0
From Your Site Articles
Related Articles Around the Web
The U.S. Food and Drug Administration is advising consumers not to eat recalled shell eggs produced by Rose Acre Farms' North Carolina facility in Hyde County.
Rose Acre Farms voluntarily recalled more than 206 million eggs after FDA testing determined that the eggs were connected to 22 reported cases of salmonella infections traced back to the farm.
The FDA said the eggs reached consumers in Colorado, Florida, New Jersey, New York, North Carolina, Pennsylvania, South Carolina, Virginia, and West Virginia through retail stores and restaurants via direct delivery.
The eggs are sold under multiple brand names, including Coburn Farms, Country Daybreak, Food Lion, Glenview, Great Value, Nelms and Sunshine Farms.
The potentially contaminated eggs have the stamp "P-1065 with the Julian date range of 011 through date of 102 printed on either the side portion or the principal side of the carton or package," the FDA said. You can also check out the list of affected products here.
"The voluntary recall was a result of some illnesses reported on the U.S. East Coast, which led to extensive interviews and eventually a thorough FDA inspection of the Hyde County farm, which produces 2.3 million eggs a day. The facility includes 3 million laying hens with a USDA inspector on-site daily," the FDA said.
The recall is the largest in the U.S. since 2010, when an Iowa farm recalled 550 million eggs due to a salmonella outbreak, according to Food Safety News, There were 1,939 reported salmonella infections likely associated with that outbreak.
Michael Pollan, author of The Omnivore's Dilemma, frequently comments about the true costs of such large-scale, high-risk food-production plants, and why it may be worth it to pay more for our eggs.
"We all like cheap food. But when we're spending billions to deal with a salmonella outbreak, it isn't really as cheap as it seems," Pollan told CNN's Sanjay Gupta back in 2010.
"I buy farmer's market eggs," Pollan also told CBS News that same year. "They cost more, but are a better product in every way, including taste and—because they come from small flocks that get to spend time outdoors—are safer as well. You'll spend 50 cents an egg instead of 13, but this is definitely a case of you get what you pay for."
According to the CDC, shell eggs may become contaminated with salmonella through the laying process, once the eggs are laid, through poultry feed or bedding. Eggs can also become contaminated from the droppings of poultry. The prevalence of salmonella is lower in live organic chicken than in conventionally raised live chickens, a 2010 study found.
Salmonella can cause fever, diarrhea, nausea, vomiting and abdominal pain. In some cases, it can result in fatal infections, especially in young children, frail or elderly people, and others with weakened immune systems.
If you are a health-conscious/environmentally minded egg eater, here's a handy reminder on the best eggs. Basically, you want to seek out: Pastured > Omega-3 > Organic > Free Range/Cage Free > Conventional.
Consumers who have purchased the eggs involved in the latest outbreak are urged to immediately discontinue use of them and return them to the place of purchase for a full refund. Anyone with questions may contact the company at (855) 215-5730 between the hours of 8 a.m. to 5 p.m. Eastern Standard Time.
Organic Valley, Whole Foods and Others Blast USDA for Not Instituting Better Organic Regulations… https://t.co/AtrmmkTZ9R

— EcoWatch (@EcoWatch)1516315209.0
The  U.S. Department of Agriculture (USDA) unveiled a new plan Wednesday to reduce the number of salmonella outbreaks linked to meat and poultry.
Included is a controversial rollout of a pilot program that would speed up poultry processing lines and replace some USDA inspectors with plant employees. The proposal would increase line speeds in poultry plants to 175 chickens per minute from 140 and 55 turkeys per minute from 45.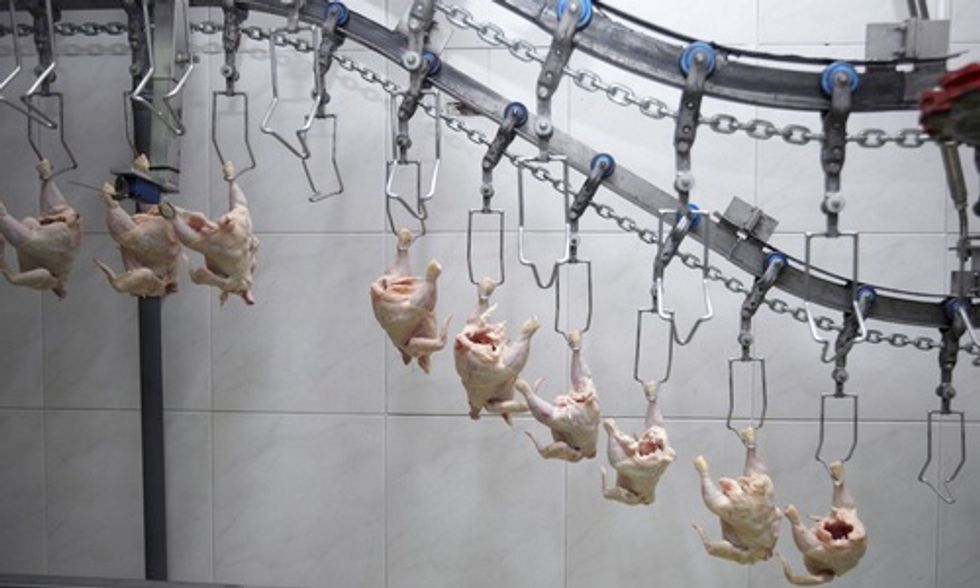 Shutterstock
The USDA said the new plan would focus inspectors more greatly on food safety, a change that could potentially reduce 5,000 illnesses a year. An estimated 1.3 million Americans are sickened by the bacteria each year. The USDA aims to reduce salmonella illnesses by 20,000 cases a year.
The effort comes weeks after Foster Farms chicken was found to have sickened at least 389 people nationwide with a virulent strain of salmonella found to be resistant to some antibiotics.
"Far too many Americans are sickened by salmonella every year. The aggressive and comprehensive steps detailed in the Salmonella Action Plan will protect consumers by making meat and poultry products safer," Undersecretary for Food Safety Elisabeth Hagen said in a prepared statement.
Food safety and worker advocates have criticized the increase as dangerous for both employees and consumers. A recent Washington Post investigation found nearly 1 million chickens and turkeys were unintentionally boiled alive because of fast-moving factory lines.
"This flawed proposed rule cannot serve as the foundation of any serious plan to reduce salmonella rates in meat and poultry products," Wenonah Hauter, director of Food & Water Watch, said in a media release.
"To really tackle the salmonella problem, USDA should not be trying to cut government inspection of poultry products. Instead, the Obama administration needs to get the legal authority from Congress to hold companies accountable for putting contaminated food into commerce, not deregulate inspection."
Salmonella doesn't trigger an automatic recall, as with E. coli outbreaks, because it's not considered an adulterant. Health officials have been pushing the USDA to change that, arguing that more dangerous strains of salmonella resistant to antibiotics have emerged in recent years.
But unless the USDA deems salmonella an adulterant, it's often up to producers to issue a recall.
The U.S. Food Safety and Inspection Service has received hundreds of thousands of comments from consumers opposed to replacing some USDA inspectors with plant employees and worker safety advocates have raised serious concerns that poultry plant workers will suffer increased rates of injuries trying to keep up with increased line speeds, Hauter said.
Visit EcoWatch's FOOD page for more related news on this topic.

Yesterday, the Food and Drug Administration (FDA) released a draft guidance document to clarify how egg producers, including organic farmers with outdoor access, can comply with its 2009 egg safety rule aimed at reducing salmonella contamination in the nation's egg supply.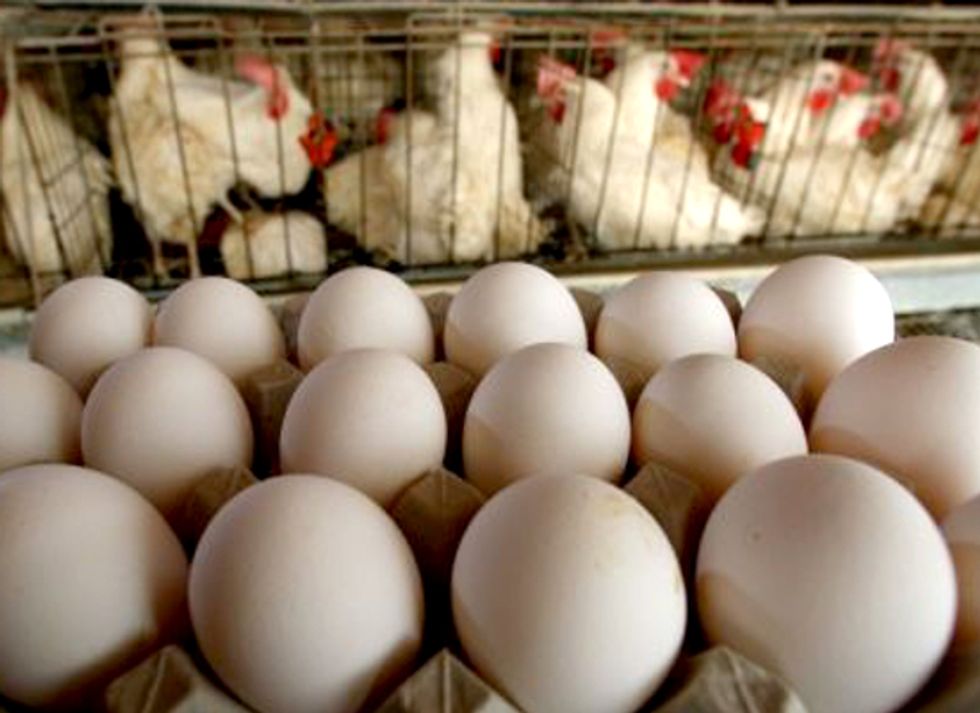 Since organic producers are required by federal standards to grant outdoor access to their laying hens, the guidance applies to all organic egg producers. The FDA, which collaborated with the U.S. Department of Agriculture's (USDA) National Organic Program in promulgating their guidance, recognizes minute covered porches—which do not afford true and meaningful outdoor access to laying hens—as one of four possible organic production systems and thereby legitimizes their use.
Already the focus of controversy and threatened lawsuits, the USDA has been widely criticized for allowing giant "organic" factory farms, confining as many as 100,000 birds to a building, to skirt the requirements for outdoor access by employing tiny screened porches, often with a capacity of only one-three percent of the confined birds. The USDA is currently allowing these giant poultry operations to claim these structures as the legally required "access to the outdoors."
"This is collusion between two Obama administration agencies to significantly and permanently weaken the integrity of the organic standards," says Mark Kastel, codirector of The Cornucopia Institute.
"By giving the OK to use covered porches as 'outdoor access,' and putting additional burdens on producers with legitimate outdoor runs or pasture, the recommendations in this food safety document decisively tilt the playing field to industrial-scale producers," added Kastel.
Some in the organic community had been concerned that the FDA would require impractical swabbing and disinfecting of the outdoor areas but the draft guidance puts these concerns to rest.
However, other prevention and control measures that are included in the guidance could force organic producers to devote significant additional resources, or may even make it impossible for pastured poultry operations to comply.
Stephanie Alexandre, a producer of certified organic, pastured eggs near Crescent City, CA, objects to the draft guidance.
"It's ironic that federal regulators would apply such scrutiny, and costly and labor-intensive requirements, to my farm when there is abundant published, peer-reviewed research indicating that the real danger to society, from salmonella contamination in eggs, comes from giant industrial operations, generally with caged birds, not with modest sized flocks of pastured poultry," said Alexandre.
For example, despite weak scientific evidence that contact with wild birds is a significant risk factor for salmonella contamination, the FDA requires organic producers to minimize contact with other birds. The agency recommends noise cannons, temporary confinement, netting, or even structures with roofs (porches) which would be cost prohibitive for most organic producers with meaningful outdoor access.
Some of the recommended measures would discourage chickens from using the outdoor space. For example, while noise cannons would be effective in scaring wild birds, they would also scare the laying hens and effectively make the outdoor area an inhospitable environment for the organic birds.
"In effect, the FDA's proposed recommendations would steer organic egg producers toward the use of porches, which would be the most effective and cost-efficient way to ensure complete compliance with the rule," Kastel explained. "Why would farm operators invest the extra labor and expense to meet the FDA requirements, and put their birds outside, when they can create a token structure, attached to their main building, and continue to confine their animals?"
"The recommendations in this draft guidance essentially give organic producers a textbook of excuses for why their birds can legally be confined in industrial settings," says Kastel. "To create the safest and most nutritious eggs, we should be encouraging more and better use of outdoor space for laying hens so that they can exhibit their true, native behavior. But this FDA document does just the opposite."
The Cornucopia Institute was already investigating a legal action against the USDA for its unwillingness to enforce the law requiring outdoor access for chickens. It is the farm policy organization's contention that confining birds to small adjacent structures on massive industrial-scale "farms," does not meet the federal legal mandate.
In what now appears to be a cynical ploy, the USDA had asked the National Organic Standards Board (NOSB)—the expert citizen panel that Congress created to advise the Secretary of Agriculture—to develop standards to help enforce the requirement for outdoor access.
The NOSB completed a years-long process of collaborating with industry representatives and forwarded a series of recommendations to USDA leadership that would have required a minimum amount of square footage, and other requirements, like the number and size of doors, that would have facilitated enforcement of the outdoor access provisions.
Recently, leadership at the USDA's National Organic Program informed organic stakeholders that they would not follow through with amending poultry/livestock regulations, incorporating the NOSB's recommendations, because it was currently "not a priority."
"The lack of enforcement action by the USDA has helped shift the lion's share of production of organic eggs to giant agribusinesses, which mostly produce conventional eggs, at the expense of family-scale farmers who are producing a superior product in an environmentally responsible manner and treating their livestock humanely," stated Cornucopia's Kastel.
"We will not stand by while the most dedicated and responsible, and law-abiding, organic producers are placed at a competitive disadvantage by the arbitrary and capricious behavior of the current administration's leadership at the USDA and FDA."
The FDA has opened a 60-day public comment period for input pursuant to their draft guidance on compliance with the salmonella safety rule for producers with outdoor access for laying hens.
The Cornucopia Institute will soon release an action alert and briefing paper so interested organic stakeholders can make informed comments on the draft guidance.
If organic farmers and consumers interested in protecting the integrity of the organic label, and possibly the country's safest agricultural producers, are not already Cornucopia members, they can either join by visiting the organization's website.
Visit EcoWatch's FACTORY FARMING page for more related news on this topic.
———