This website uses cookies to ensure you get the best experience while browsing it. By clicking 'Got It' you're accepting these terms.


The best of EcoWatch, right in your inbox. Sign up for our email newsletter!
NASA / Kathryn Hansen
Scientific organizations from Commonwealth nations around the world have come together for the first time to urge governments to act on climate change.
The "Consensus Statement on Climate Change"—issued Monday ahead of next month's Commonwealth Heads of Government Meeting in the United Kingdom—is an unprecedented plea signed by the heads of 22 national academies and scientific societies that represent tens of thousands of scientists in Australia, India, Canada, New Zealand, Bangladesh, South Africa, the UK, Pakistan and more.
www.facebook.com
The recent documentary, Sea of Life, exposes key threats to the oceans, and calls for action.

Sea of Life follows filmmaker Julia Barnes on a three year adventure, spanning seven countries, to save coral reefs.
Although they cover less than 1 percent of the sea floor coral reefs support up to 30 percent of all species in the ocean at some stage in their life cycles. Often referred to as the rainforests of the ocean, coral reefs are one of the most biologically diverse ecosystems on the planet. They're also an indicator for the future of the oceans and all life on Earth.
EcoWatch Daily Newsletter
Offshore Staghorn coral nursery. Rescue-A-Reef, UM Rosenstiel School of Marine and Atmospheric Science
As ocean waters warm and acidify, corals across the globe are disappearing. Desperate to prevent the demise of these vital ecosystems, researchers have developed ways to "garden" corals, buying the oceans some much-needed time. University of Miami Rosenstiel School marine biologist Diego Lirman sat down with Josh Chamot of Nexus Media to describe the process and explain what's at stake. This interview has been edited for length and clarity.
Cirrus clouds over Golden Gate Bridge. Brocken Inaglory / Wikimedia Commons
By Tim Radford
Geoengineering, the deliberate alteration of the planet to undo its inadvertent alteration by humans over the past 200 years, is back on the scientific agenda, with a climate compromise suggested as a possible solution.
One group wants to turn down the global thermostat and reverse the global warming trend set in train by greenhouse gases released by fossil fuel combustion, by thinning the almost invisible cirrus clouds that trap radiation and keep the planet warm.
Pixabay
By Marlene Cimons
The Smithsonian Institution calls coralline algae "the unsung architects of coral reefs." These pink-colored seaweed, with a skeletal structure that resembles honeycomb, live in harmony with coral.
They strengthen the corals' foundation by growing over and between gaps in coral reefs, essentially gluing sections of coral together. They provide a surface for baby corals to settle, and serve as food for marine life, including sea urchins, parrot fish and mollusks.
Norwegian businessman Kjell Inge Røkke is not someone usually admired for environmental stewardship. Described by Forbes as a "ruthless corporate raider," Røkke made his billions as the majority stakeholder in shipping and offshore drilling conglomerate, Aker.
Yes, Houston, we have a problem: Our oceans are dying.

As the brilliant futurist Buckminster Fuller used to point out, our Spaceship Earth is hurtling through space at a great speed.
The World Meteorological Organization (WMO) reports that the amounts of atmospheric greenhouse gases reached a new high in 2013, driven by rapidly rising levels of carbon dioxide.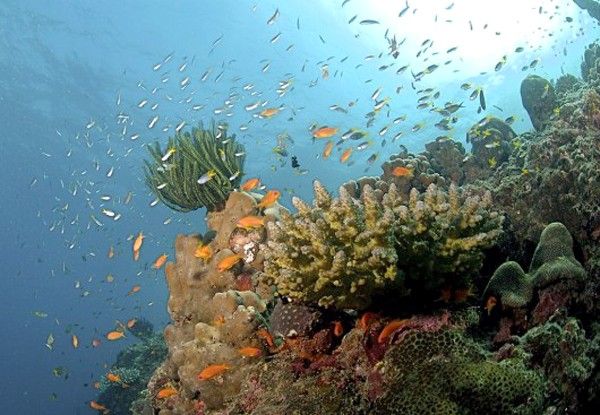 The news is consistent with trends in fossil fuel consumption. But what comes as more of a surprise is the WMO's revelation that the current rate of ocean acidification, which greenhouse gases (GHGs) help to cause, appears unprecedented in at least the last 300 million years.
The details of growing GHG levels are in the annual Greenhouse Gas Bulletin, published by the WMO—the United Nations specialist agency that plays a leading role in international efforts to monitor and protect the environment.
They show that between 1990 and 2013 there was a 34 percent increase in radiative forcing—the warming effect on our climate—because of long-lived greenhouse gases such as carbon dioxide (CO2), methane and nitrous oxide.
Complex interactions
The Bulletin reports on atmospheric concentrations—not emissions—of greenhouse gases. Emissions are what go into the atmosphere, while concentrations are what stay there after the complex system of interactions between the atmosphere, biosphere (the entire global ecological system) and the oceans.
About a quarter of total emissions are taken up by the oceans and another quarter by the biosphere, cutting levels of atmospheric CO2.
In 2013, the atmospheric concentration of CO2 was 142 percent higher than before the Industrial Revolution started, in about 1750. Concentrations of methane and nitrous oxide had risen by 253 percent and 121 percent respectively.
The observations from WMO's Global Atmosphere Watch network showed that CO2 levels increased more from 2012 to 2013 than during any other year since 1984. Scientists think this may be related to reduced CO2 absorption by the Earth's biosphere, as well as by the steady increase in emissions.
Although the oceans lessen the increase in CO2 that would otherwise happen in the atmosphere, they do so at a price to marine life and to fishing communities—and also to tourism. The Bulletin says the oceans appear to be acidifying faster than at any time in at least the last 300 million years.
"We know without any doubt that our climate is changing and our weather is becoming more extreme due to human activities such as the burning of fossil fuels," said the WMO's secretary-general, Michel Jarraud.
Running out of time
"The Greenhouse Gas Bulletin shows that, far from falling, the concentration of carbon dioxide in the atmosphere actually increased last year at the fastest rate for nearly 30 years. We are running out of time. The laws of physics are non-negotiable.
"The Bulletin provides a scientific base for decision-making. We have the knowledge and we have the tools for action to try to keep temperature increases within 2°C to give our planet a chance and to give our children and grandchildren a future. Pleading ignorance can no longer be an excuse for not acting."
Wendy Watson-Wright, executive secretary of the Intergovernmental Oceanographic Commission of UNESCO, said: "It is high time the ocean, as the primary driver of the planet's climate and attenuator of climate change, becomes a central part of climate change discussions.
"If global warming is not a strong enough reason to cut CO2 emissions, ocean acidification should be, since its effects are already being felt and will increase for many decades to come."
The amount of CO2 in the atmosphere reached 396.0 parts per million (ppm) in 2013. At the current rate of increase, the global annual average concentration is set to cross the symbolic 400 ppm threshold within the next two years.
More potent
Methane, in the short term, is a far more powerful greenhouse gas than CO2—34 times more potent over a century, but 84 times more over 20 years.
Atmospheric methane reached a new high of about 1,824 parts per billion (ppb) in 2013, because of increased emissions from human sources. Since 2007, it has started increasing again, after a temporary period of levelling-off.
Nitrous oxide's atmospheric concentration in 2013 was about 325.9 ppb. Its impact on climate, over a century, is 298 times greater than equal emissions of CO2. It also plays an important role in the destruction of the ozone layer that protects the Earth from harmful ultraviolet solar radiation.
The oceans currently absorb a quarter of anthropogenic CO2 emissions—about 4kg of CO2 per day per person. Acidification will continue to accelerate at least until mid-century, according to projections from Earth system models.
You Might Also Like
NOAA: Ocean Acidification Rises, Marine Economy Sinks
Sea Shepherd Founder to Bill Maher: 'If Oceans Die, We Die'
How Acidification, Overfishing and Plastics Threaten the World's Oceans
Ocean Conservancy intern Alexis Valauri-Orton spent the last year on a journey around the world learning about ocean acidification.
She visited marine communities most at risk from ocean acidification and saw firsthand how dire the need is for more research, guidance and infrastructure to prepare for the challenges ahead. She produced a video, shown below, to help make the stories from her recent blog posts come alive.
Valauri-Orton encourages you to watch her video and "Listen to Waiaria talk about the value of shellfish to the identity of people in New Zealand ... Watch fishermen in Peru celebrate El Dia de Pescadores ... Tag along as a shellfish farmer in Thailand hand dredges the bay in the middle of the night ... See the faces and the places that continue to drive my conviction that we have more work to do ... And share them with your friends, so we can do good on what Peter, a cod-fisherman in Norway who can trace fishing back 1,000 years in his family, said to me: 'The whole world has to know. Not only in this small place, but the whole world has to know what is happening.'"
You Might Also Like
NOAA: Ocean Acidification Rises, Marine Economy Sinks
Sea Shepherd Founder to Bill Maher: 'If Oceans Die, We Die'
How Acidification, Overfishing and Plastics Threaten the World's Oceans
The waters off the U.S. state of Alaska are some of the best fishing grounds anywhere, teeming with salmon and with shellfish such as crab.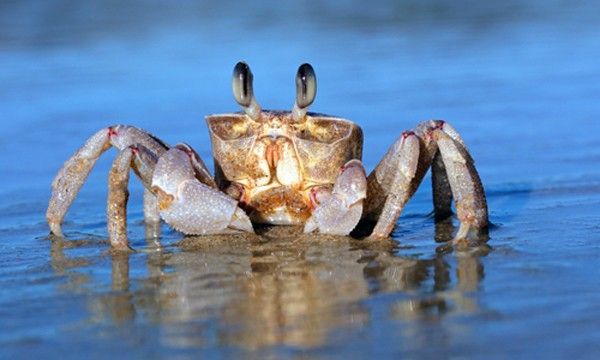 Photo credit: Shutterstock
But a new study, funded by the U.S. National Oceanic and Atmospheric Administration (NOAA), says growing acidification of Alaska's waters, particularly those off the southern coast, threatens the state's whole economy—largely dependent on the fishing industry.
The study, which appears in the journal Progress in Oceanography, says that not only will the state's commercial fishing sector be badly hit by a growth in acidification, but it will also affect subsistence fisherpeople whose diet mainly consists of the catch from local waters.
Forming acid
The oceans act as a "carbon sink," absorbing vast amounts of carbon dioxide. Acidification occurs when amounts of carbon dioxide are dissolved into seawater, where it forms carbolic acid.
Scientists say the oceans are now 30 percent more acidic than they were at the beginning of the industrial revolution about 250 years ago.
Among the sea species most vulnerable to acidification are shellfish, because a build-up of acid in waters prevents species developing their calcium shells. Alaska's salmon stocks are also at risk as one of the main ingredients of a salmon diet are pteropods, small shell creatures.
Jeremy Mathis, an NOAA oceanographer and a lead author of the study, told the Alaska Dispatch News that whereas past reports had focused on the consequences of increased acidification on ocean species, the aim of this one was designed to examine the wider economic impact.
"This is an economic-social study," Mathis said. "It focuses on food security, employment opportunity and the size of the economy."
Mathis said acidification is more likely in Alaskan waters than in many other parts of the world. He explained: "It's all about geography. The world's ocean currents end their cycles here, depositing carbon dioxide from elsewhere. The coastal waters of Alaska sit right at the end of the ocean conveyor belt."
Elsewhere, acidification is already having a serious impact on fishing and shellfish industries.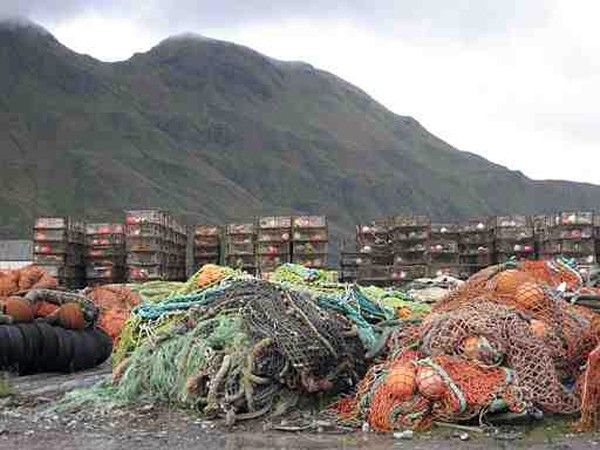 Oysters dying
The New York Times reports that billions of baby oysters—known as spat—are dying off the coast of Washington state in the north-western U.S.
In May this year, the U.S. government's major report on climate change, the National Climate Assessment, said that waters off the north-west of the country are among the world's most acidic.
Jay Inslee, Governor of Washington, says an industry worth US$270 million is at risk. "You can't overstate what this means to Washington," he says.
Inslee and many others in Washington state are fighting plans by the coal industry to build large coal ports in the region in order to export to China and elsewhere in Asia.
Climate scientists say greenhouse gas emissions resulting from coal burning are a main cause of global warming.
You Might Also Like
Increase in Ocean Acidification Threatens Longevity of Shellfish and Coral
Sea Shepherd Founder to Bill Maher: 'If Oceans Die, We Die'
How Acidification, Overfishing and Plastics Threaten the World's Oceans
Our power plants and cars have pumped so much carbon dioxide into the atmosphere that the oceans are becoming more acidic. Something like a quarter of our carbon dioxide pollution dissolves into the seas, where it reacts with water:
CO2 (aq) + H2O 

 H2CO3 

 HCO3− + H+ 

 CO32− + 2 H+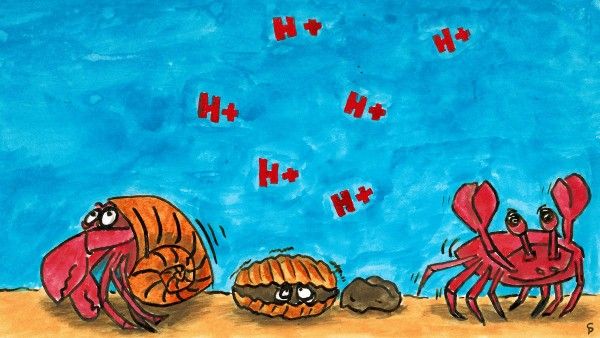 Illustration by Perry Shirley
Those leftover hydrogen ions at the right of the equation add up. The hydrogen ion concentration at the surface of the world's oceans has increased by 26 percent since pre-industrial times, leading to a pH decline of 0.1. That might not sound like much, but it has been enough to kill off billions of farmed shellfish and punch holes in the shells of wild sea snails.
Shellfish and corals are especially vulnerable to ocean acidification because they rely on calcium carbonate to make their shells and skeletons. Ocean acidification increases concentrations of bicarbonate ions while decreasing concentrations of carbonate ions—and these animals need calcium carbonate to produce their protective body parts.
Fish, meanwhile, are thought to be suffering neurological effects of acidifying oceans, while vast mats of algae are expected to flourish.
The good news is that populations of animals naturally adapt to changes in their environments—and evolutionary changes to help some species cope with ocean acidification are already underway. The bad news is that changes in oceanic pH levels might be happening too quickly for animals to adapt, threatening scores of marine species with extinction.
I asked Ryan Kelly, an assistant professor at the University of Washington's School of Marine and Environmental Affairs, and a coauthor of a recent BioScience paper about acidification that I wrote about for Pacific Standard, whether we could do anything to help species accelerate the rate with which they evolve needed adaptations.
"'Accelerating' species' evolutionary adaptations to acidification would mean either tweaking the heritability of traits—and it's unclear whether this is desirable, or how to do it; or increasing the strength of selection—which would mean making the selective impacts of acidification worse than they already are," Kelly said. "So I'm thinking that, in an evolutionary sense, you don't want to accelerate adaptation."
Is there anything that we can do?
"What you do want to do, in order to protect marine ecosystems as we know them, is to preserve the adaptive capacity of the species that make up those ecosystems. That means preserving the genetic diversity that exists within those species, so that when the selective pressures of acidification happen, there will be some variability in those species' responses. When there's no genetic diversity, you get no variability in response to selective pressure, and natural selection and evolution doesn't really work."
Which means that we need to expand and improve the globe's network of marine reserves, banning fishing in some places, and giving species the best possible shot of surviving the storm of acidity that's building around them.
"From a conservation perspective, measures that preserve existing genetic diversity safeguard the adaptive capacity of species and ecosystems. This means working to maintain large population sizes and not fragmenting habitats, which are common conservation measures."
As U.S. Secretary of State John Kerry led workshops in June dealing with ocean acidification and other ocean health issues, President Barack Obama's administration proposed sweeping expansions of marine reserves surrounding remote Pacific Ocean atolls. The move would limit fishing for tuna and other species, helping to protect top predators that are critical for ecosystem health, while also protecting smaller species that are killed as bycatch.
"This is an important step in trying to maintain the health of this region and, as a result, the surrounding areas in the Pacific," said Lance Morgan, president of Marine Conservation Institute. "It will give us more resilience into the future. We'll have to replicate this and do more work in other areas as well, but it is an important step."
Meanwhile, the National Oceanic and Atmospheric Administration is planning to expand the boundaries of Gulf of the Farallones National Marine Sanctuary and Cordell Bank National Marine Sanctuary, both of which lie off the West Coast, where strong upwelling leads to especially severe rates of ocean acidification. Meanwhile, Kiribati recently announced that it would close an area the size of California to fishing to help wildlife recover.
Ocean acidification is not a major consideration in the creation of marine reserves, but it's a growing threat against which the reserves can help populations of wildlife evolve natural defenses.
You Might Also Like
Scientists to Build Underwater Bio-Dome Simulating Future Ocean Acidification Levels
Sea Shepherd Founder to Bill Maher: 'If Oceans Die, We Die'
How Acidification, Overfishing and Plastics Threaten the World's Oceans