This website uses cookies to ensure you get the best experience while browsing it. By clicking 'Got It' you're accepting these terms.
A quit smoking program sign on the entrance to the Comprehensive Cancer Center at Mount Sinai Medical Center in Miami Beach, Florida. Jeffrey Greenberg / Universal Images Group via Getty Images
A new report from The American Cancer Society has identified the largest single-year decline in the U.S. cancer death rate to date, likely spurred by new treatments and reductions in smoking.
Obesity poses a number of issues for public health. SIphotography / iStock / Getty Images Plus
One of America's already widespread health issues is projected to worsen over the next decade, as new research from the Harvard T.H. Chan School of Public Health suggests that almost half the adult population in the U.S. will be obese by 2030.
EcoWatch Daily Newsletter

A time-restricted eating plan provides a new way to fight obesity and metabolic diseases that affect millions of people worldwide. RossHelen / iStock / Getty Images Plus
By Satchin Panda and Pam Taub
People with obesity, high blood sugar, high blood pressure or high cholesterol are often advised to eat less and move more, but our new research suggests there is now another simple tool to fight off these diseases: restricting your eating time to a daily 10-hour window.
Prayitno / Flickr / CC BY 2.0
Coca-Cola
Coca-Cola intentionally funded the Global Energy Balance Network (GEBN) as a "weapon" in a "growing war between the public health community and private industry" on the causes of obesity, according to a press release sent to EcoWatch by consumer group U.S. Right to Know.
The quotes come from documents obtained in a Freedom of Information Request filed by U.S. Right to Know that formed the basis for a study published Wednesday in the Journal of Epidemiology and Community Health. The study's authors focused on the documents because they definitively proved that Coca-Cola funded the GEBN with the intention of influencing public health debate in their favor.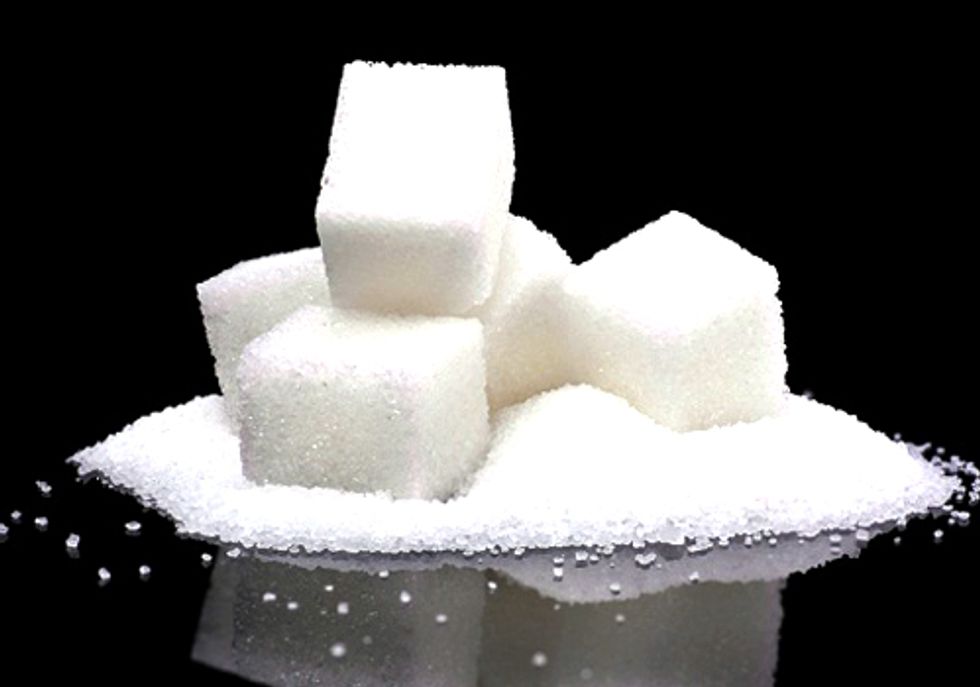 If Americans knew exactly how much added sugar came with the food and beverages they and their families consume, many might make different choices.
A coalition of public health organizations is calling on the federal Food and Drug Administration (FDA) to require that food labels display information on added sugar.
"While current regulations stipulate what foods can be labeled 'No Sugar Added' or use a similar phrase, there is currently no requirement that added sugars be shown separately on the ingredients list," the group wrote FDA Commissioner Margaret Hamburg. "We recommend that FDA require that added sugars be listed on the ingredients section of food labels so that consumers can make healthier choices when they shop."
According to the American Heart Association, which signed the letter to Hamburg, Americans' average intake of added sugars is around 22.2 teaspoons per day, or 355 calories. The AHA's daily-recommended limit for added sugar is 100 calories for women, and 150 for men.
Research by the federal Centers for Disease Control and Prevention has found more than 33 percent of adults and roughly 17 percent of children and adolescents living in the U.S. are obese.
"Many in the sugar and food industry like to encourage personal responsibility over government regulation of food and ingredients," the coalition wrote. "Without specific information on the amount of 'added sugars' on the labels of food products, consumers can hardly exercise that responsibility and make smarter choices in the grocery aisle."
Late last year, EWG reviewed the sugar content for more than 80 popular cereals market toward children and found most loaded with the ingredient. In fact, a one-cup serving of the Kellogg's Honey Smacks brand packs more sugar than a Hostess Twinkie, and one cup of any of the 44 other children's cereals has more sugar than three Chips Ahoy! cookies.
The following organizations signed the letter to Commissioner Hamburg:
Environmental Working Group, 
 American Association for Health Education, American Heart Association, 
Center for Science in the Public Interest, Corporate Accountability International, 
Defeat Diabetes Foundation, 
American Association for Health Education, National Association of School, Nurses
Young People's Healthy Heart at Mercy Hospital, Indiana Rural Health Association, 
American Society of Bariatric Physicians, 
The FGE Food & Nutrition Team, and Cambridge/Somerville WIC
and Iowa Public Health Association.
Rep. Rosa DeLauro (D-Conn.), the ranking Democrat on the House appropriations subcommittee responsible for funding the FDA, has called on the agency to disclose added sugar.
For more information, click here.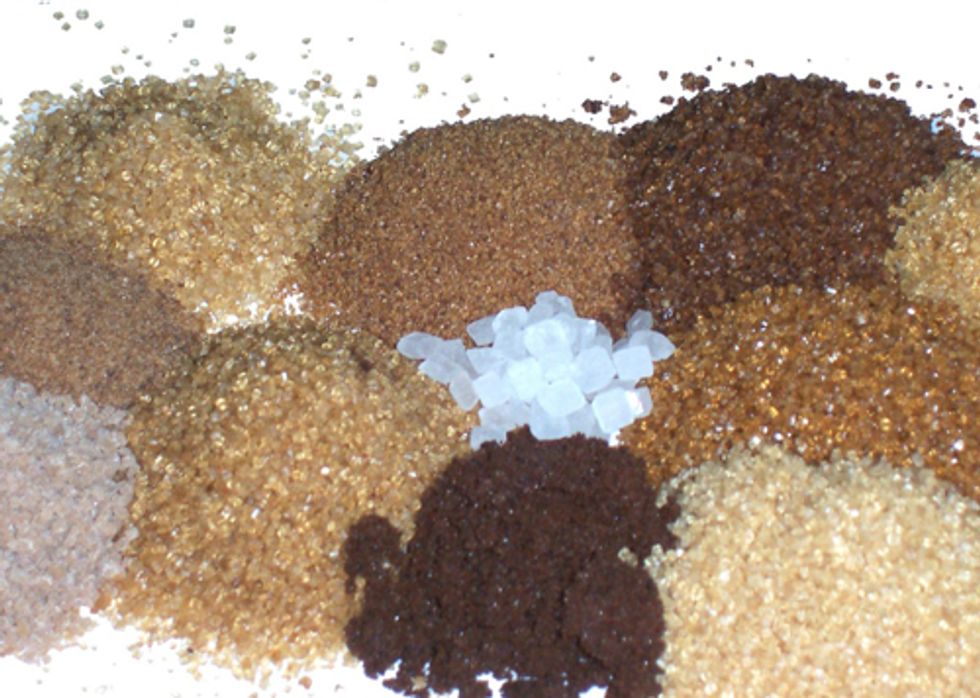 By Marion Nestle
Nature, the prestigious science magazine from Great Britain, has just published a commentary with a provocative title–The toxic truth about sugar—and an even more provocative subtitle—Added sweeteners pose dangers to health that justify controlling them like alcohol.
The authors, Robert Lustig, Laura Schmidt and Claire Brindis, are researchers at the University of California medical center in San Francisco (UCSF).
They argue that although tobacco, alcohol and diet are critically important behavioral risk factors in chronic disease, only two of them—tobacco and alcohol—are regulated by governments to protect public health.
Now, they say, it's time to regulate sugar. By sugar, they mean sugars plural—sucrose as well as high fructose corn syrup (HFCS). Both are about half fructose.
Their rationale?
Consumption of sugars has tripled over the last 50 years.
Many people consume as much as 500 calories a day from sugars (average per capita availability in the U.S. is about 400 calories a day)
High intake of fructose-containing sugars induce metabolic syndrome (high blood pressure, insulin resistance), diabetes, and liver damage.
Sugars have the potential for abuse.
Sugars have negative effects on society (mediated via obesity).
Too much of a good thing can be toxic.
Therefore, they argue, societies should intervene and consider the kinds of policies that have proven effective for control of tobacco and alcohol:
Taxes
Distribution controls
Age limits
Bans from schools
Licensing requirements
Zoning ordinances
Bans on TV commercials
Labeling added sugars
Removal of fructose from GRAS status
In a statement that greatly underestimates the situation, they say:
We recognize that societal interven­tion to reduce the supply and demand for sugar faces an uphill political battle against a powerful sugar lobby, and will require active engagement from all stakeholders.
But, they conclude:
These simple measures—which have all been on the battleground of American politics—are now taken for granted as essential tools for our public health and well-being. It's time to turn our attention to sugar.
What is one to make of this? Sugar is a delight, nobody is worried about the fructose in fruit or carrots, and diets can be plenty healthy with a little sugar sprinkled here and there.
The issue is quantity. Sugars are not a problem, or not nearly as much of a problem, for people who balance calorie intake with expenditure.
Scientists can argue endlessly about whether obesity is a cause or an effect of metabolic dysfunction, but most people would be healthier if they ate less sugar.
The bottom line? As Corinna Hawkes, the author of numerous reports on worldwide food marketing, wrote me this morning, "there are plenty of reasons for people to consume less sugar without having to worry about whether it's toxic or not!"
For more information, click here.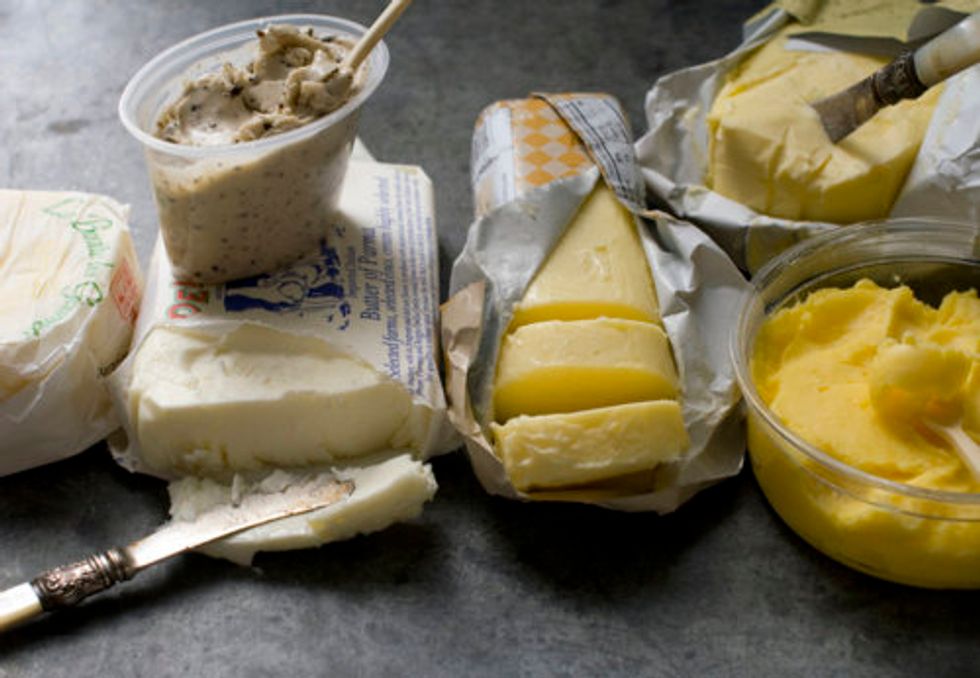 By Marissa Dwyer
In October, Denmark implemented the world's first tax that directly targets saturated fat in foods. Saturated fat, according to the World Health Organization, raises low-density lipoprotein (LDL) cholesterol levels which can increase the risk of cardio vascular disease. Saturated fat is found in foods from animal sources, such as butter and bacon. Any products which contain more than 2.3 percent saturated fat are subject to the tax. The consumer must pay an additional 16 Danish kroner (US$2.85) per kilogram (or 2.2 pounds) of any food product which has more than 2.3 percent saturated fat. For example, consumers now have to pay 37 Danish kroner (US$6.50) instead of 34 Danish kroner (US$6) for a pound of cheese.
This tax was passed overwhelmingly by the Danish Parliament this past March. But there are serious concerns by the food industry, particularly organic dairy farmers, who worry about the potential loss in revenue from the tax and believe that the government is unfairly deeming their products unhealthy. According to an article in The Washington Post, the tax could prove to be regressive, putting a heavier burden on lower-income consumers.
Furthermore, the likelihood of the tax to change dietary behavior is debatable. A study conducted by Lisa Powell and Frank Chaloupka of the University of Illinois at Chicago determined that, "Small taxes or subsidies [of unhealthy, energy-dense foods] are not likely to produce significant changes in BMI or obesity prevalence but that nontrivial pricing interventions may have some measurable effects." Based on these findings, the tax could have little or no effect on food consumption habits in Denmark if it remains at the current rate. An alternative of directly taxing the producers of these food products would not likely lead to a different outcome, since the cost would be passed on to consumers anyway via price increases.
Despite these concerns, this tax has the potential to increase awareness about personal health and ways to improve nutrition. As a recent study by Jason M. Fletcher, David E. Frisvold, and Nathan Tefft in the Journal of Policy Analysis and Management shows, taxes which aim to influence consumers' behaviors regarding what they consume will be more effective when coupled with steps taken to "inform the public about potentially negative health consequences." By coupling the tax with educational initiatives and methods, it is more likely to generate positive results.
Fletcher, Frisvold, and Tefft also explain that taxes on specific products, like soda, can have little results if the product can be easily substituted, such as with another type of sugary beverage. Therefore, this tax has the potential to improve health in Denmark because it targets an aspect of unhealthy products—levels of saturated fat—as opposed to focusing on one specific product, such as soda.
Other countries in the European Union have recently passed or are considering similar taxes on food in attempts to improve public health. Hungary also recently passed a comprehensive tax aimed at products with high sugar, fat, and salt contents, in addition to soda and alcohol. Revenue from this tax goes directly toward health care costs. France, Britain, and Sweden are also discussing the possibility of implementing similar taxes in the future.
Jesús Serafín Pérez, president of the Brussels-based industry lobby group FoodDrinkEurope, is strongly against these initiatives. Pérez argues that such taxes "only serve to dissuade investment and stifle innovation." Despite the group's disdain for these taxes, its director of communications, Lisa McCooey, makes an important point in stating that, "Consumer information and education, not tax, is the way to advance consumer understanding of healthy eating." Regardless of the efficacy of the taxes, increased understanding and education are integral steps to improving public health.
While it is still too early to tell whether or not such taxes will generate positive results, they are significant because they are generating discussion on ways to curb obesity and improve health in various countries. If this tax is complemented with educational initiatives, Denmark has the potential to influence personal decisions on consumption and the overall health of its population. Its success could influence the current debates in other countries, including the U.S., Australia and Britain.
What do you think the outcomes of this tax will be? Should it be adopted by other countries?
For more information, click here.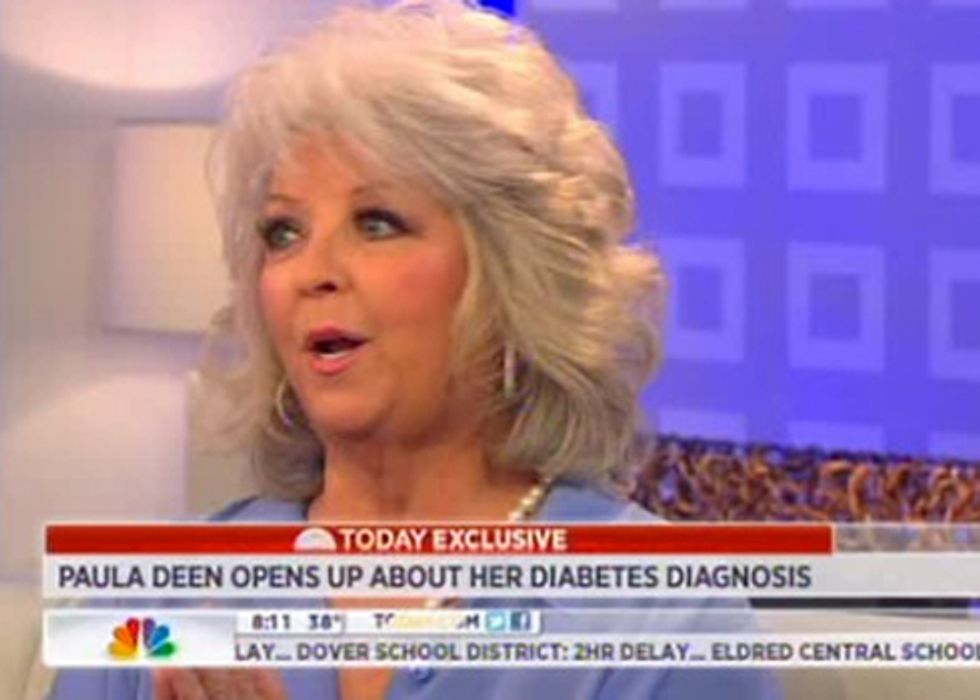 By Kristin Wartman
Paula Deen's public admission that she has Type 2 diabetes and her follow-up announcement that she is also a paid spokesperson for the pharmaceutical company Novo Nordisk, and its diabetes drug, Victoza, has sparked an interesting debate about the deeper issues surrounding our food system—especially the impact it has on the many people diagnosed with diabetes. And according to Deen's comments on the Today show, she implies to her millions of fans, that the primary ways to deal with this largely diet-related disease are through personal responsibility and pharmaceuticals.
Indeed, when Al Roker, asks her if she is going to change the way she eats and the foods she cooks, Deen says, "Honey, I'm your cook, I'm not your doctor. You are going to have to be responsible for yourself." Evading the question, Deen puts the onus back on the individual to decide what foods to eat or not, despite the fact that she promotes unhealthful and processed foods on TV. The one comment she does make about food choice is "moderation," one of the most meaningless and confusing bits of nutrition advice. In fact, this is what the industry giants often use as their defense for harmful, unhealthful foods.
Personal responsibility and consumer choice are solutions heralded by conservatives and liberals alike—the idea being that ultimately good health comes down to what we choose to buy and eat. But it's not that simple.
There are three main issues when it comes to the myth of personal responsibility about food choice and they get at the root of our nation's health crisis—The public's confusion about nutrition, the lack of time and knowledge about real home cooking, and the promotion of quick fixes like drugs, diet foods, and fads in lieu of addressing underlying causes. The Paula Deen diabetes story manages to hit on every single one of these issues.
Americans suffer from nutrition confusion, thanks to an array of conflicting and often inaccurate public health messages, misleading labels and claims on packaging, and a lack of nutrition knowledge by many doctors, dietitians, and other health care providers.
Deen's cooking, and now her public diabetes announcement, only adds to this confusion. During the Today show interview she repeatedly mentions the amount of fat in her recipes, as do many in the media reporting on the story. "For 10 years, wielding slabs of cream cheese and mounds of mayonnaise," a New York Times article begins, "Paula Deen has become television's self-crowned queen of Southern cuisine."
But real, unprocessed cream cheese and mayonnaise are not the problem. The issue that mainstream media has largely overlooked is that Deen uses the processed, packaged versions of these foods, which are full of chemicals, additives and trans-fats. Actual home cooking would require whipping these foods up herself in her kitchen using real ingredients. And that is the real story behind Deen's diabetes diagnosis—Her health problems are largely due to her reliance on packaged, processed foods that are the foundation for many of her recipes.
Even though her cooking show is called Paula's Home Cooking, there's a lot going on in her kitchen that is as far removed from home cooking as you can get. Many of her recipes include "ingredients" like Krispy Kreme doughnuts, biscuit mixes, cans of mushroom soup, and sour-cream-and-onion flavored potato chips. This is processed food cooking, not home cooking.
Heaping the blame on all the "fat" she cooks with only serves to confuse the public further. A New York Daily News article also cites fat as one of the main culprits in Deen's cooking and her diet. But the most recent research indicates that when it comes to diabetes, fat is not the problem. The problem foods are sugar, refined white flour, chemical additives, artificial sweeteners and flavors, trans-fats, and the various other chemicals and additives found in the processed foods that abound in Deen's recipes.
Now Deen is pushing the idea that taking medicine is the real solution to diabetes. On the Today show, she says, "Here's what I want to get across to people, I want them to first start by going to their doctor and asking to be tested for diabetes. Get on a program that works for you. I'm amazed at the people out there that are aware they're diabetic but they're not taking their medicine."
According to Deen, the reason she waited three years to go public with her diagnosis was because she didn't have anything to give her fans. "I could have walked out and said, 'Hey ya'll, I have been diagnosed with Type 2 diabetes.' I had nothing to give to my fellow friends out there. I wanted to bring something to the table when I came forward." So what is she bringing to the table? A sales pitch for a diabetes drug that costs $500 per month and has some seriously troubling side effects, including thyroid cancer, as Tom Philpott reports.
Just think of the kind of influence she could have wielded had she come out with a new cooking show that focused on using fresh, real food ingredients that cut way back on sugar and refined carbohydrates. In fact, if she had done so and eaten this way for the past three years she might have reversed her own diabetes diagnosis, which is entirely possible given the right diet.
But instead, Deen is getting paid to leave that task to a drug company. This isn't her first corporate sponsorship (here she peddles Smithfield ham) and I doubt it will be her last. Diabetic and diet foods can't be far behind in products she'll attach to her name.
Alas, we can't fairly discuss personal responsibility without taking into account the under-regulated advertising industry that pushes cheap, convenient, and processed foods on an overworked and cash-strapped population. Add to this the diminishing knowledge on how to shop for, cook, and prepare foods from scratch and we have a serious problem.
As Paula Deen now joins the 25.8 million other Americans suffering with diabetes, she "brings to the table" the ideas of moderation (an essentially meaningless and confusing bit of nutrition advice), personal responsibility, and the drug Victoza as the solutions. She could do so much more with all the power she wields.
Anthony Bourdain put it squarely when he said of Deen, "If I were on at seven at night and loved by millions of people at every age, I would think twice before telling an already obese nation that it's OK to eat food that is killing us." And this was before her diabetes announcement. Bourdain has also said that Deen is the "worst, most dangerous person to America." He might have a point.
For more information, click here.
—————
Kristin Wartman is a food writer living in Brooklyn. She has a Masters in Literature from UC Santa Cruz and is a Certified Nutrition Educator. She is interested in the intersections of food, health, politics, and culture. You can follow her on Twitter and read more of her writing at kristinwartman.wordpress.com.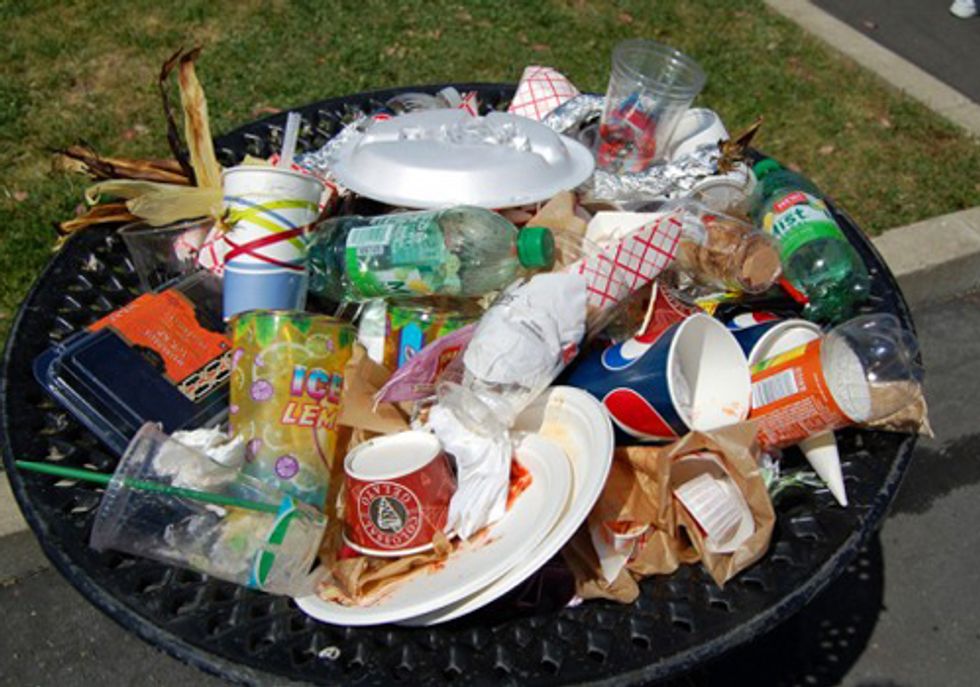 The holidays are a time for putting others before ourselves. And with the recent news that the world's population has surpassed 7 billion, there are a lot more "others" to consider this year. Nearly 1 billion people in the world are hungry, for example, while almost the same number are illiterate, making it hard for them to earn a living or move out of poverty. And 1 billion people—many of them children—have micronutrient deficiencies, decreasing their ability to learn and to live productive lives.
"As our global community continues to grow, so does the need to consider—and act on—the challenges we all face," says Robert Engelman, president of the Worldwatch Institute. "Far too many women, children and men are living with less than they need and deserve."
Fortunately, there are thousands of organizations working tirelessly in communities at home and abroad to fix these problems.
One Billion Hungry
"Although the number of undernourished people worldwide has decreased since 2009, nearly 1 billion people go to bed hungry each night, a number that is unacceptably high," according to Danielle Nierenberg, director of Worldwatch's Nourishing the Planet project. Malnutrition contributes to the death of 500 million children under the age of five every year, and in Africa, a child dies every six seconds from hunger.
But more and more organizations, such as the United Nations' World Food Programme, are using homegrown school feeding (HGSF) initiatives to alleviate hunger and poverty. HGSF programs in Brazil, India, Thailand, Kenya and elsewhere work to connect local producers with schools, helping to provide children with nutritious and fresh food while providing farmers with a stable source of income.
One Billion Tons of Food Wasted
Roughly 1.3 billion tons of food—a third of the total food produced for human consumption—is lost or wasted each year. Within the U.S., food retailers, food services and households waste approximately 40 million tons of food each year—about the same amount needed to feed the estimated 1 billion hungry people worldwide.
Organizations around the world are working to educate people on the importance of conserving food. In New York City, City Harvest collects surplus food from food providers and distributes it to more than 600 shelters and other agencies. And in West Africa, farmers are using the power of the sun to dehydrate fruits such as mangos and bananas. Experts estimate that, with nearly all of their moisture removed, the fruits' nutrients are retained for up to six months, allowing farmers to save the 100,000 tons of mangos that go to waste each year.
One Billion Micronutrient Deficient
Nearly 1 billion people worldwide suffer from micronutrient deficiencies, including a lack of vitamin A, iron and iodine. Each year, between 250 million and 500 million children with vitamin A deficiencies become blind, and half of these children die within 12 months of losing their sight.
These problems could be alleviated by improving access to nutritious foods. In sub-Saharan Africa, AVRDC–The World Vegetable Center works to expand vegetable farming across the region, boosting access to nutrient-rich crops. And Uganda's Developing Innovations in School Cultivation (Project DISC) educates youth about the importance of agriculture and nutritious diets. Students learn about vegetables and fruits indigenous to their communities, as well as how to process and prepare these foods for consumption. "If a person doesn't know how to cook or prepare food, they don't know how to eat," says Project DISC co-founder Edward Mukiibi.
One Billion Overweight
Lack of access to healthy food doesn't result only in hunger. More than 1 billion people around the world are overweight, and nearly half of this population is obese. Nearly 43 million children under the age of five were considered overweight in 2010. Surging international rates of heart disease, stroke, diabetes and arthritis are being attributed to unhealthy diets, and 2.8 million adults die each year as a result of overweight or obesity.
The United Nation's Special Rapporteur on the Right to Food, Olivier De Schutter, has urged countries around the world to make firm commitments to improving their food systems. In Mexico, where 19 million people are food insecure yet 70 percent of the country is overweight or obese, De Schutter has called for a "state of emergency" to tackle the problem. He attributes the hunger-obesity combination to the country's focus on individual crops and export-led agriculture, and argues that a change to agricultural policies could tackle these two problems simultaneously.
Nearly One Billion Illiterate
More than three-quarters of a billion people worldwide—793 million adults—are illiterate. Although the number of people unable to read has decreased from 1 billion in 1990, illiteracy continues to prevent millions of people from moving out of poverty. For farmers in particular, being illiterate can limit access to information such as market prices, weather predictions and trainings to improve their production.
New communications technologies are providing part of the solution. A team of researchers known as Scientific Animations Without Borders is helping illiterate farmers around the world learn how to create natural pesticides or prevent crop damage using solar treatments, by producing short animated videos accessible on mobile phones. In India, farmers can receive daily updates via text or voicemail on weather and crop prices through subscription services set up by major telephone companies. Kheti, a system operated by the U.K.'s Sheffield Hallam University, even allows farmers to take pictures of problems they are having with their crops and to send them in for advice. With more than 4.6 billion mobile phone subscriptions globally, projects such as these have the potential to reach and improve the lives of many around the world.
As we gather together this holiday season to reflect on the things most important to us, let us also take the time to remember the billions of others who share our planet. Too many of the world's neediest people will start the new year without sufficient food, nutrition or education. But by acknowledging and supporting those organizations around the world that are finding ways to nourish both people and the planet, we can all make a difference.
For more information, click here.