A new project called Lights Out Philly is aimed at preventing bird building collisions during spring and fall migrations. Tyler Sprague / Getty Images
On the morning of October 2, Stephen Maciejewski, an Audubon Pennsylvania volunteer, expected to tally a few dead birds in Philadelphia during their peak migration season. But instead, he found hundreds of dead birds, CNN reported.
EcoWatch Daily Newsletter
Alex Wong / Getty Images
By Jacob Carter
On Wednesday, the Department of the Interior (DOI) announced that it will be rescinding secretarial order 3369, which sidelined scientific research and its use in the agency's decisions. Put in place by the previous administration, the secretarial order restricted decisionmakers at the DOI from using scientific studies that did not make all data publicly available.
This order potentially prevented the use of studies, for example, that included data on endangered or threatened species' locations or data about individuals' health, which cannot be made publicly available. With the order rescinded, scientists and decisionmakers can now once again bring the best available science to help inform decisions and continue to make progress on protecting endangered species, people's health, and our country's natural resources and cultural heritage.
Science Rising at Interior
The rescinded secretarial order is not the only notable victory we have seen from the DOI recently. The Biden administration has moved swiftly to restore consideration of climate change in its decisions, reverse assaults on our public lands, and taken actions to protect our nation's wildlife. These decisions, unlike many made at the DOI over the past four years, have been informed by science—and President Biden's pick to lead the DOI, Representative Deb Haaland of New Mexico, has promised in her confirmation hearing to continue to make decisions that are guided by science.
Saving Migratory Birds
One of the parting gifts of the prior administration was a reinterpretation of a long-standing rule that protected migratory bird species. For decades, the Migratory Bird Treaty Act (MBTA) had protected migratory bird species, which are in decline in the US, by allowing the DOI to fine industries that failed to take proper precautions to protect migratory birds. For example, not placing proper netting over oil pits, which can result in the death of migratory birds. The rule, however, was reinterpreted by the prior administration such that industries could only be fined if bird deaths were "intentional" and not if they occurred incidentally due to a lack of precautions.
The prior administration, in its final days, also eliminated protections for the northern spotted owl, which is currently listed by the Fish and Wildlife Service (FWS) as a threatened species. More than 3 million acres of the owl's habitat were removed from protection to pave way for timber harvesting. Susan Jane Brown, a staff attorney at the Western Environmental Law Center, stated that she had received "…several calls from wildlife biologists who are in tears who said, 'Did you know this is happening? The bird won't survive this."
The Biden administration, following the best available science, has delayed the implementation of both rules.
Restoring Public Lands
In 2017, two national monuments, Bears Ears and Grand Staircase-Escalante of Utah, were reduced in size by some two million acres, the largest reduction of federal land protection in our nation's history. Later, internal emails at the DOI would show that these actions were not a product of following the best available science, and were instead guided by a push to exploit oil and natural gas deposits within the boundaries of the protected land. In particular, the decision did not consider the archaeological importance of the protected lands or their cultural heritage. Sidelining these facets of this decision is likely what prompted a review of the reductions by the Biden administration.
Bringing Science Back Across the Administration
Beyond the Interior department, the Biden administration has taken quick steps to bring science back to the forefront of decisionmaking across the federal government. In January, President Biden signed a presidential memo to strengthen scientific integrity and evidence-based decisionmaking. The memo, among many other positive steps for science, has initiated a review process on scientific integrity policies that should be finalized toward the end of the year. Given the unprecedented number of times we documented political interference in science-based decision-making processes over the past four years, such a review, and the subsequent recommendations arising from it, are clearly warranted.
The Biden administration also has formed multiple scientific advisory groups to help make choices informed by the best available science to protect public health and our environment. This includes advisory groups on critical issues such as scientific integrity, COVID-19, and environmental justice. The administration also is moving quickly to appoint qualified leaders at science-based agencies and has asked the heads of agencies to expeditiously establish scientific integrity officials and chief science officers.
In addition to rescinding the secretarial order at DOI, the Biden administration has also rescinded several other anti-science actions taken over the past four years. Among the many anti-science executive orders reversed by President Biden are an order that directed agencies to arbitrarily cut their advisory committees by one-third and another that required agencies to cut two regulations for every new regulation they issued.
There has been a lot of progress for science-based decisionmaking over the past six weeks, with more expected as qualified individuals are appointed to head science-based agencies. And yet we know through our research that every administration has politicized science-based decisionmaking to some extent.
We will continue to watch, demand, and ensure that science guides the critical decisions being made by the Biden administration. Our health, our environment, and our safety depend on it.
Jacob Carter is a research scientist for the Center for Science and Democracy at the Union of Concerned Scientists.
Reposted with permission from the Union of Concerned Scientists.
waterlust.com / @tulasendlesssummer_sierra .
Each product featured here has been independently selected by the writer. If you make a purchase using the links included, we may earn commission.
The bright patterns and recognizable designs of Waterlust's activewear aren't just for show. In fact, they're meant to promote the conversation around sustainability and give back to the ocean science and conservation community.
Each design is paired with a research lab, nonprofit, or education organization that has high intellectual merit and the potential to move the needle in its respective field. For each product sold, Waterlust donates 10% of profits to these conservation partners.
Eye-Catching Designs Made from Recycled Plastic Bottles
waterlust.com / @abamabam
The company sells a range of eco-friendly items like leggings, rash guards, and board shorts that are made using recycled post-consumer plastic bottles. There are currently 16 causes represented by distinct marine-life patterns, from whale shark research and invasive lionfish removal to sockeye salmon monitoring and abalone restoration.

One such organization is Get Inspired, a nonprofit that specializes in ocean restoration and environmental education. Get Inspired founder, marine biologist Nancy Caruso, says supporting on-the-ground efforts is one thing that sets Waterlust apart, like their apparel line that supports Get Inspired abalone restoration programs.
"All of us [conservation partners] are doing something," Caruso said. "We're not putting up exhibits and talking about it — although that is important — we're in the field."
Waterlust not only helps its conservation partners financially so they can continue their important work. It also helps them get the word out about what they're doing, whether that's through social media spotlights, photo and video projects, or the informative note card that comes with each piece of apparel.
"They're doing their part for sure, pushing the information out across all of their channels, and I think that's what makes them so interesting," Caruso said.
And then there are the clothes, which speak for themselves.
Advocate Apparel to Start Conversations About Conservation
waterlust.com / @oceanraysphotography
Waterlust's concept of "advocate apparel" encourages people to see getting dressed every day as an opportunity to not only express their individuality and style, but also to advance the conversation around marine science. By infusing science into clothing, people can visually represent species and ecosystems in need of advocacy — something that, more often than not, leads to a teaching moment.

"When people wear Waterlust gear, it's just a matter of time before somebody asks them about the bright, funky designs," said Waterlust's CEO, Patrick Rynne. "That moment is incredibly special, because it creates an intimate opportunity for the wearer to share what they've learned with another."
The idea for the company came to Rynne when he was a Ph.D. student in marine science.
"I was surrounded by incredible people that were discovering fascinating things but noticed that often their work wasn't reaching the general public in creative and engaging ways," he said. "That seemed like a missed opportunity with big implications."
Waterlust initially focused on conventional media, like film and photography, to promote ocean science, but the team quickly realized engagement on social media didn't translate to action or even knowledge sharing offscreen.
Rynne also saw the "in one ear, out the other" issue in the classroom — if students didn't repeatedly engage with the topics they learned, they'd quickly forget them.
"We decided that if we truly wanted to achieve our goal of bringing science into people's lives and have it stick, it would need to be through a process that is frequently repeated, fun, and functional," Rynne said. "That's when we thought about clothing."
Support Marine Research and Sustainability in Style
To date, Waterlust has sold tens of thousands of pieces of apparel in over 100 countries, and the interactions its products have sparked have had clear implications for furthering science communication.
For Caruso alone, it's led to opportunities to share her abalone restoration methods with communities far and wide.
"It moves my small little world of what I'm doing here in Orange County, California, across the entire globe," she said. "That's one of the beautiful things about our partnership."
Check out all of the different eco-conscious apparel options available from Waterlust to help promote ocean conservation.
Melissa Smith is an avid writer, scuba diver, backpacker, and all-around outdoor enthusiast. She graduated from the University of Florida with degrees in journalism and sustainable studies. Before joining EcoWatch, Melissa worked as the managing editor of Scuba Diving magazine and the communications manager of The Ocean Agency, a non-profit that's featured in the Emmy award-winning documentary Chasing Coral.
The U.S. Fish and Wildlife Service estimated in 2002 that up to two million birds were killed in oil pits every year. Pedro Ramirez, Jr / USFWS
By Jacob Carter
Since 1918 the federal government has implemented its authority under the Migratory Bird Treaty Act (MBTA) to hold industries accountable for the death of birds due to their operations. Such operations include the spraying of insecticides that poison birds, maintaining oil pits that can lead to drowning, or contact with infrastructure such as wind turbines that can cause death on impact.
The U.S. Fish and Wildlife Service (FWS) estimated in 2002 that up to two million birds were killed in oil pits every year. This number dropped in 2012 with a best estimate of 500,000 to 1 million birds killed in oil pits every year. The FWS attributes the decrease in bird deaths to oil operators taking prevention measures that reduce migratory bird mortality because of the industry's operations. The MBTA provides an incentive for oil operators and other industries to take such prevention measures.
But on January 7, the outgoing administration changed the legal interpretation of the MBTA such that the FWS will no longer be able to hold industries accountable for the "incidental" killing of migratory bird species. This means that if an oil operator, for example, did not place mesh lining over an oil pit to prevent migratory birds from dying in that oil pit – the oil operator would not be at fault nor held accountable for the deaths of migratory birds.
The Logic is Ludicrous
I think that the logic used in the revised MBTA is ridiculous for one very important reason: we know that migratory bird species die because of bad industry practice and that such deaths are preventable.
There is a clear need to hold industries accountable for migratory bird death, especially since we know it happens and that it is preventable. And if we know a bad thing is preventable, we should create mechanisms (like the MBTA) to encourage folks to take prevention measures to help ensure that a bad thing does not happen.
Imagine that you have a toddler that continues to explore that "dangerous chemicals cabinet" (you know the one) in your household. What do you do? Well, you probably "toddler-proof" that cabinet to prevent said toddler from ingesting harmful chemicals — or you potentially face punitive measures for child neglect.
My point is that it makes absolutely no sense to discourage the use of measures to prevent a bad thing we know will happen — in this case it is the death of migratory bird species.
Bird Death Affects Us All
The number of birds in the U.S. is falling. The number of birds in North America has fallen by 29 percent since 1970 according to one study in Science. There are 2.9 billion fewer birds than there were 50 years ago.
These losses do not only mean that we have fewer gorgeous birds for birders to enjoy. Bird species are incredibly vital to ecosystem health that your health, my health, my grandmother's health, are all dependent on. Bird species control unwanted pests, they pollinate plant species, they are seed dispersers, and they bring in loads of cash to our economies every year. The FWS estimates that bird watchers alone bring in nearly $15 billion to local economies and create hundreds of thousands of jobs.
If we lose our native bird species then our ecosystems will be not be the same, our local economies will not be the same, our health will not be the same. This is the future-to-come if the Biden administration allows the new interpretation of the MBTA to go into effect on February 8 of this year. We should be working to strengthen protections for bird species, not fighting to kill them.
President Biden's nominee to lead the Department of the Interior (DOI), Deb Haaland, should prioritize and work quickly to interpret the MBTA to its original intent to protect declining bird populations. In fact, we have provided a number of recommendations for President Biden and Representative Haaland to restore science back to the DOI. President Biden has stated that he plans to bring science back to decision-making — and we will be holding him accountable to his word.
Jacob Carter is a research scientist for the Center for Science and Democracy at the Union of Concerned Scientists.
Reposted with permission from the Union of Concerned Scientists.
By Frank La Sorte and Kyle Horton
Millions of birds travel between their breeding and wintering grounds during spring and autumn migration, creating one of the greatest spectacles of the natural world. These journeys often span incredible distances. For example, the Blackpoll warbler, which weighs less than half an ounce, may travel up to 1,500 miles between its nesting grounds in Canada and its wintering grounds in the Caribbean and South America.
Blackpoll warbler abundance in breeding, non-breeding and migration seasons. Cornell Lab of Ornithology / CC BY-ND
For many species, these journeys take place at night, when skies typically are calmer and predators are less active. Scientists do not have a good understanding yet of how birds navigate effectively at night over long distances.
We study bird migration and how it is being affected by factors ranging from climate change to artificial light at night. In a recent study, we used millions of bird observations by citizen scientists to document the occurrence of migratory bird species in 333 U.S. cities during the winter, spring, summer and autumn.
Blackpoll warbler. PJTurgeon / Wikipedia
We used this information to determine how the number of migratory bird species varies based on each city's level of light pollution – brightening of the night sky caused by artificial light sources, such as buildings and streetlights. We also explored how species numbers vary based on the quantity of tree canopy cover and impervious surface, such as concrete and asphalt, within each city. Our findings show that cities can help migrating birds by planting more trees and reducing light pollution, especially during spring and autumn migration.
Composite image of the continental U.S. at night from satellite photos. NASA Earth Observatory images by Joshua Stevens, using Suomi NPP VIIRS data from Miguel Román, NASA's Goddard Space Flight Center
The Power of Citizen Science
It's not easy to observe and document bird migration, especially for species that migrate at night. The main challenge is that many of these species are very small, which limits scientists' ability to use electronic tracking devices.
With the growth of the internet and other information technologies, new data resources are becoming available that are making it possible to overcome some of these challenges. Citizen science initiatives in which volunteers use online portals to enter their observations of the natural world have become an important resource for researchers.
One such initiative, eBird, allows bird-watchers around the globe to share their observations from any location and time. This has produced one of the largest ecological citizen-science databases in the world. To date, eBird contains over 922 million bird observations compiled by over 617,000 participants.
Large clusters of birds (blue and green splotches) captured by weather radar during spring migration, April-May 2019.
Light Pollution Both Attracts and Repels Migratory Birds
Migratory bird species have evolved to use certain migration routes and types of habitat, such as forests, grasslands or marshes. While humans may enjoy seeing migratory birds appear in urban areas, it's generally not good for bird populations. In addition to the many hazards that exist in urban areas, cities typically lack the food resources and cover that birds need during migration or when raising their young. As scientists, we're concerned when we see evidence that migratory birds are being drawn away from their traditional migration routes and natural habitats.
Through our analysis of eBird data, we found that cities contained the greatest numbers of migratory bird species during spring and autumn migration. Higher levels of light pollution were associated with more species during migration – evidence that light pollution attracts migratory birds to cities across the U.S. This is cause for concern, as it shows that the influence of light pollution on migratory behavior is strong enough to increase the number of species that would normally be found in urban areas.
In contrast, we found that higher levels of light pollution were associated with fewer migratory bird species during the summer and winter. This is likely due to the scarcity of suitable habitat in cities, such as large forest patches, in combination with the adverse affects of light pollution on bird behavior and health. In addition, during these seasons, migratory birds are active only during the day and their populations are largely stationary, creating few opportunities for light pollution to attract them to urban areas.
Darkening skies at night during migration season makes it easier for birds to navigate.
Trees and Pavement
We found that tree canopy cover was associated with more migratory bird species during spring migration and the summer. Trees provide important habitat for migratory birds during migration and the breeding season, so the presence of trees can have a strong effect on the number of migratory bird species that occur in cities.
Finally, we found that higher levels of impervious surface were associated with more migratory bird species during the winter. This result is somewhat surprising. It could be a product of the urban heat island effect – the fact that structures and paved surfaces in cities absorb and reemit more of the sun's heat than natural surfaces. Replacing vegetation with buildings, roads and parking lots can therefore make cities significantly warmer than surrounding lands. This effect could reduce cold stress on birds and increase food resources, such as insect populations, during the winter.
Our research adds to our understanding of how conditions in cities can both help and hurt migratory bird populations. We hope that our findings will inform urban planning initiatives and strategies to reduce the harmful effects of cities on migratory birds through such measures as planting more trees and initiating lights-out programs. Efforts to make it easier for migratory birds to complete their incredible journeys will help maintain their populations into the future.
Frank La Sorte is a research associate at the Cornell Lab of Ornithology, Cornell University. Kyle Horton is an assistant professor of Fish, Wildlife, and Conservation Biology at the Colorado State University.
Disclosure statement: Frank La Sorte receives funding from The Wolf Creek Charitable Foundation and the National Science Foundation (DBI-1939187). Kyle Horton does not work for, consult, own shares in or receive funding from any company or organization that would benefit from this article, and has disclosed no relevant affiliations beyond their academic appointment.
Reposted with permission from The Conversation.
Pexels
By Brett Wilkins
Despite acknowledging that the move would lead to an increase in the 500 million to one billion birds that die each year in the United States due to human activity, the Trump administration on Friday published a proposed industry-friendly relaxation of a century-old treaty that protects more than 1,000 avian species.
As part of the administration's race to rush through as many regulatory rollbacks as possible before President-elect Joe Biden enters office on January 20, the U.S. Department of the Interior released an analysis that sets the stage for modification of the U.S. Fish and Wildlife Service's interpretation of the 1918 Migratory Bird Treaty Act (MBTA).
One of the nation's oldest wildlife protection laws, the MBTA saves the lives of millions of birds each year and, according to the Natural Resources Defense Council, "is credited with rescuing the snowy egret, wood duck, and sandhill crane from extinction."
The proposed rule shift would let energy, construction, and land development companies off the hook for "incidentally" killing birds, even though the Interior Department's analysis concludes that "increased bird mortality" will "likely result" from the change.
Breaking news! 🚨 "This is another step by the #USFWS to jam through a rule to cement an interpretation of the… https://t.co/NDzj3q6vmb

— Defenders of Wildlife (@Defenders of Wildlife)1606496560.0
Under the MBTA, ExxonMobil was compelled to pay $125 million in criminal penalties after the 1989 Exxon Valdez disaster in Alaska and BP was fined $100 million following the 2010 Deepwater Horizon explosion and spill that leaked over 200 million gallons of oil into the Gulf of Mexico, killing an estimated 100,000 sea birds.
It is precisely such penalties that corporate bird-killers are seeking to dodge in the future through the proposed rule change, which Trump administration officials including Daniel Jorjani, a former Koch brothers adviser who is now the head lawyer at the Interior Department, have pushed for years.
During his 2019 Senate confirmation hearing, Jorjani lied to Sen. Angus King (I-Maine) about whether he had been in recent contact with the Koch brothers or any of their business interests. Before joining the government, Jorjani was formerly a highly paid operative at several organizations linked to the brothers and their fossil fuel empire.
Brett Hartl, government affairs director at the Center for Biological Diversity, said last year that Jorjani "opened the floodgates to bird killing by the oil and gas industry and other campaign contributors of the Trump administration," and accused him of being "part of a pattern in which Interior is basically run by the Koch Foundation for the benefit of the Koch Foundation."
Earlier this year, a federal court rejected a 2017 Interior Department opinion authored by Jorjani seeking to loosen MBTA protections. Judge Valerie Caproni of the Southern District of New York wrote that Jorjani's interpretation of the law "runs counter to the purpose of the MBTA to protect migratory bird populations" and "is simply an unpersuasive interpretation of the MBTA's unambiguous prohibition on killing protected birds."
Environmentalists condemned the Trump administration's latest attempt to protect polluters and wildlife-killers from prosecution at the expense of avian lives.
"This is another step by the U.S. Fish and Wildlife to jam through a rule to cement an interpretation of the Migratory Bird Treaty Act that a federal court has already declared illegal," Defenders of Wildlife president and CEO Jamie Rappaport Clark said in a statement. "At a time when North America has already lost three billion birds, the rule will further undercut our nation's ability to conserve birds so many people care about deeply."
Rappaport Clark was referring to a 2019 study published in the peer-reviewed journal Science that found since 1970 the continent has lost over 2.9 billion birds, or nearly 30% of its avian population.
According to a 2005 study published by the U.S. Department of Agriculture:
From 500 million to possibly over 1 billion birds are killed annually in the United States due to anthropogenic sources including collisions with human-made structures such as vehicles, buildings and windows, power lines, communication towers, and wind turbines; electrocutions; oil spills and other contaminants; pesticides; cat predation; and commercial fishing by-catch.

"Many of the deaths from these sources would be considered unlawful under federal laws such as the Endangered Species Act, Migratory Bird Treaty Act, and the Bald and Golden Eagle Protection Act," the study stated.
A recent surge in bird deaths in the U.S. Southwest has been attributed to a combination of human-caused climate factors including heatwaves and wildfires.
If there is a silver lining for bird lovers, it is that the incoming Biden administration will be able to reverse any Trump-era rule changes, although doing so could take years.
Eric Glitzenstein, litigation director at the Center for Biological Diversity, told the Washington Post that the new rule "will inevitably meet the same fate as the illegal opinion on which it is based."
Reposted with permission from Common Dreams.
From Your Site Articles
Related Articles Around the Web
Western tanager. Dennis Morrison
By Jane Kirchner
Right now, more than a 150 species of birds are on their way northward from tropical wintering grounds to take advantage of emerging insects, budding plants and an abundance of nesting locations. While larger birds tend to travel during daylight hours, songbirds and smaller species fly at night and will stop off and stick around for a day to eat and build up fat stores before continuing their journey. The best time to see and hear them in your yard is the first two hours after the sun rises!
Here are five of our favorites:
1. Magnolia Warbler
Most magnolia warblers are on their way to Canada, but a small percentage nest in the boreal forests in the northernmost states, from Minnesota to Maine. You can spot the males by their bright yellow feathers with patches and streaks of black on their undersides contrasted by a combination of black and white on their top half!
2. Western Tanager
Western tanager.Dennis Morrison
Birders often describe the male Western tanager as looking like a flame – with a bright orange-red head, yellow body and coal colored wings, back and tail. Many western tanagers are making their way now to breed in Canada's chilly Northwest Territories, and will then return to their summer habitat that includes our western pine forests.
3. Ruby-Throated Hummingbird
Ruby-throated hummingbird.Linda Roy Walls
Some of these little birds undertake an arduous trip during spring migration, flying up to 600 miles nonstop across the Gulf of Mexico. Ruby-throated hummingbirds nest from the southern U.S. up into Canada and winter as far south as Panama.
4. Yellow-Breasted Chat
Yellow-breasted chat.Alan Schmierer
The yellow-breasted chat is large for a songbird and its stream of whistles, cackles and hoots is often likened to improvisational jazz. This long distance migrant travels singly or in small groups during evening hours.
5. Yellow-Billed Cuckoo
Yellow-billed cuckoo.Larry Smith / Flickr / CC BY 2.0
Yellow-billed cuckoos are hard to spot as they prefer woodlands and dense thickets. But their distinctive, drawn-out knocking call is easy to identify and often heard just before thunderstorms or showers. Yellow-billed cuckoos are one of only a few bird species that eat hairy caterpillars, and can consume as many as 100 tent caterpillars in one sitting!

Help keep these amazing migratory birds safe! Tell President Trump to uphold the Migratory Bird Treaty Act that has protected vulnerable birds for 100 years from intentional and preventable harm, such as oil spills in coastal waters, poorly placed transmission lines, and other actions that result in bird deaths.
From Your Site Articles
Related Articles Around the Web
Anjo Kan / Shutterstock
Energy companies and other businesses are no longer liable for accidentally killing migratory birds, the Trump administration announced Friday in a decision hailed by industry insiders.
A legal memo by the U.S. Interior Department reverses a longstanding agency practice and last-minute ruling released by the Obama administration in January 2017. The Obama-era policy meant that oil, gas, wind and solar operators could face prosecution for accidentally killing birds.
"Christmas came early for bird killers. By acting to end industries' responsibility to avoid millions of gruesome bird deaths per year, the White House is parting ways with more than 100 years of conservation legacy," David O'Neill, the chief conservation officer for the National Audubon Society, said in response to the decision.
In a legal opinion, the Interior Department's principal deputy solicitor, Daniel Jorjani, described the federal government's application of the Migratory Bird Treaty Act—a 1918 law that officials have used to prosecute those who kill birds "incidentally"—as overreach.
The law "applies only to direct and affirmative purposeful actions that reduce migratory birds, their eggs, or their nests, by killing or capturing, to human control," Jorjani said in the Interior Department's legal memo.
Applying the law "to incidental or accidental actions hangs the sword of Damocles over a host of otherwise lawful and productive actions, threatening up to six months in jail and a $15,000 fine for each and every bird injured or killed," Jorjani wrote.
Before his post with the Trump administration, Jorjani worked for the Freedom Partners Chamber of Commerce, a project of the billionaire oil executives Charles G. and David H. Koch.
The National Ocean Industries Association (NOIA) and the American Petroleum Institute (API) praised the Interior Department's change of direction as a reasonable approach to the issue.
"Over the last few years, the management of 'take' under MBTA has been riddled with flawed decisions that have created massive uncertainty," Tim Charters, the senior director of government affairs for NOIA, told the Washington Post. "This common-sense approach ensures that lawful activities are not held hostage to unnecessary threats of criminalization."
Environmentalists expect that the policy reversal will create an environment with no accountability for the deaths of unprotected birds, Reuters noted. The prospect of legal liability fostered corporate efforts to create bird-friendly solutions.
"We just don't want to lose any incentive for the industry to come to the table and work through this with us," O'Neill told the Washington Post. "And the solutions are out there."
"The wind kills all your birds. All your birds, killed," Trump said during a rally in Pennsylvania in August 2016. "You know, the environmentalists never talk about that."
O'Neill, speaking to the Washington Post, said it's "ironic" that Trump lamented the bird-deaths then turned around to gut "one of the best tools we have to make sure the wind industry is properly siting these projects."
This move is the latest in a series of actions taken by Trump to weaken environmental protections his administration views as burdensome to industry, including shrinking of two national monuments in Utah and reconsidering protections for the Greater Sage Grouse, a Western bird whose population has dropped rapidly amid threats to its habitat.
Exact estimates are difficult to come by, but it's estimated that oil waste pits kill between a half million and 1 million birds each year, according to one study. Meanwhile, power lines kill up to 175 million birds per year, according to Audubon.
From Your Site Articles
Related Articles Around the Web
For some people, spring means tax time; for others it brings thoughts of Easter or Passover. For me, the best thing about spring is that it is time for the spring bird migration, the best time of the year to see certain species. It's also a time to reflect on what a tremendous accomplishment migration is, and how fraught with peril it is for far too many birds.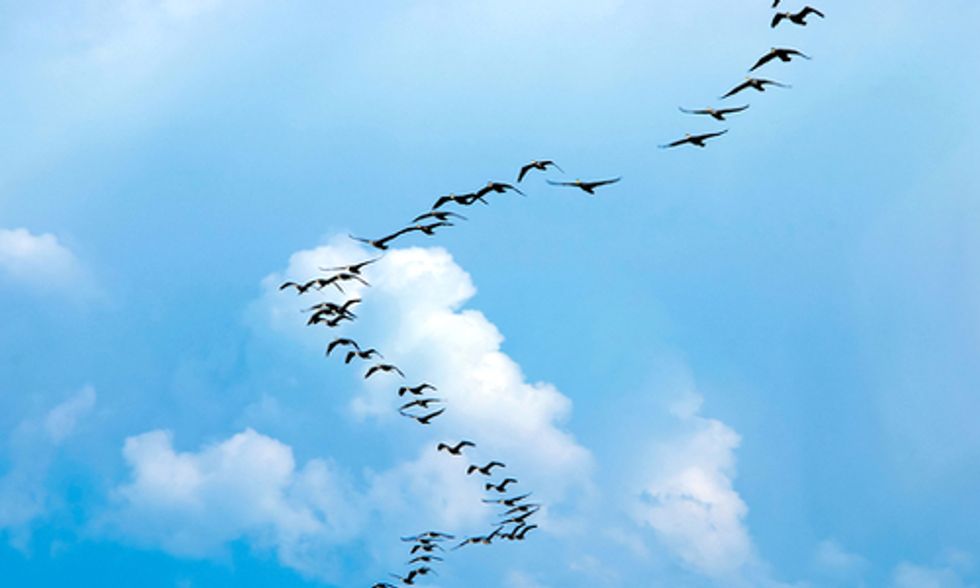 The average songbird may only weigh about half an ounce, and burns a tremendous amount of energy during migration. Photo courtesy of Shutterstock
While some species of birds remain in the same area year-round, most of our songbird species are "neotropical migrants"—meaning that they breed in the U.S. or Canada, but winter in the warmer climes of the Gulf Coast, or even farther into Central and South America. The month of May, when many of the birds return north, is a particularly good time to be a birdwatcher, for a couple of reasons: first, it is an opportunity to see birds that aren't present most of the year.
Certain warbler species, for instance, breed only in New England and Canada, so many Americans only have a fleeting chance at a glimpse of these species. Also, migration routes tend to be concentrated into "flyways," with certain spots being "hotspots" where birds reliably congregate to eat and rest up for the next leg of the journey. A good outing during migration can thus turn up a lot more birds than during the breeding season, when species and individuals tend to be more dispersed.
Birds that undertake migration face triple-whammy of threats: Not only do they need quality habitats in both their wintering and breeding ranges, but they also need to survive the trip, which can be thousands of miles in length and full of dangers along the way. Collisions with buildings kill several hundred million birds each year, and other structures, like communication towers and wind turbines, can also be deadly. Feral and free-ranging cats may kill even more songbirds than collisions do. And the evidence is mounting that climate change is playing an increasingly important role in bird declines. Sea level rise is damaging coasts and wetlands that are important feeding grounds. Increased droughts and fires are damaging forest and shrubland habitats.
[blackoutgallery id="320789"]
And more subtle, but perhaps even more important changes are happening as well, having to do with the timing of important food sources, particularly the emergence of insects. The average songbird may only weigh about half an ounce, and burns a tremendous amount of energy during migration and breeding, making it especially critical that their arrival at stopovers and breeding sites be timed to match food availability.
As climate change throws seasons out of whack, some of these critical timings are getting thrown off—a phenomena known as "phenologic mismatch." Researchers in Europe have found that phenologic mismatches are an increasingly important cause of bird declines. And in the U.S., birds are actually altering their migration timing to match changing weather conditions—a good strategy, but one that puts them at risk of missing out on major insect emergences.
Get out there this spring and see some birds. While you're at it, help them survive their migration by keeping your cat indoors, limiting the use of pesticides and other chemicals in your yard, making windows and glass doors more bird-friendly, and providing backyard habitat like sources of water, cover and food.
--------
YOU ALSO MIGHT LIKE
Wind Energy Threat to Birds Is Overblown
Top 10 Ways to Help Birds This Spring
--------