This website uses cookies to ensure you get the best experience while browsing it. By clicking 'Got It' you're accepting these terms.


The best of EcoWatch, right in your inbox. Sign up for our email newsletter!
Boulder County, Colorado farm. Photo credit: Flickr
Boulder County, Colorado will completely phase out genetically modified (GMO) corn and sugar beets, and neonicotinoid insecticides on county-owned land.
After evidence of pesticides killing off pollinators surfaced in 2016, scientists went on a quest to see if pesticides were seeping into anything else. Now, in an unprecedented study, the U.S. Geological Survey and University of Iowa reported findings of neonicotinoids—a class of pesticide used to kill off insects—in treated drinking water, marking the first time these chemicals have ever been identified.
EcoWatch Daily Newsletter
iStock
By Becky Striepe
Honey is not vegan, but luckily there are delicious alternatives to replace it in any recipe. Try these vegan alternatives to honey!
The honey question is surprisingly contentious in the vegan world, but honey is an animal product and definitely not vegan. Bees do not create honey for humans to eat—they create it as their own, sole food source.

As Piper Hoffman explained to Care2, bees have a central nervous system. They experience pain, just like larger animals do. "I'm going to speculate here that starving causes pain," Hoffman said, "and thanks to beekeepers, some entire hives starve to death during the winter."
There are some vegans who argue that local honey is ethical, because the methods used to take the honey are less harsh than in commercial honey operations. The local honey debate is a hot topic and I'm not here to argue about it. You do you. The resources below are for anyone looking for vegan alternatives to honey.
Vegan Alternatives to Honey
1. Agave Nectar
Agave nectar is a little bit controversial from a health perspective, but there is no question that when it comes to taste and how it behaves in recipes, it mimics honey like a dream. I think of agave nectar as a sometimes food, because it's not terribly healthy.
This apple-based vegan honey alternative is truly amazing. Creator Katie Sanchez discovered this recipe in 1999 when an apple jelly experiment went awry. The result of her testing wasn't jelly, but it was a shockingly spot-on vegan alternative to honey.

3. Maple Syrup
Maple syrup gives recipes a different flavor than honey does, but it works well in baking, sauces and most other recipes that call for honey. I even use maple syrup in place of honey in beauty recipes, like this sugar scrub.

4. Brown Rice Syrup
Brown rice syrup is available at most grocery stores. It's slightly less sweet than honey, but that can be a good thing, especially if you're trying to cut down on your sugar intake. Use it just like honey, adding a bit more to recipes, if you find the results not sweet enough for your tastes.

5. Barley Malt Syrup
Barley malt syrup has a distinct, malty taste and, like brown rice syrup, it's a bit less sweet than honey. It's a fun one to play with, though, if you can find it at the store! I especially like barley malt syrup in place of honey for things like granola, cookies or cereal bars.

6. Sorghum Syrup
Sorghum is an interesting crop. Some energy companies are looking at this heat- and drought-tolerant crop as an alternative for the corn used to make biofuels and it's also versatile in the kitchen. Sorghum syrup is available at most grocery stores and is about as sweet as honey, so you can sub it in at a one-to-one ratio.

Reposted with permission from our media associate Care2.
iStock
By Julie M. Rodriguez
It's no secret that bee populations have declined in recent years. Last year, beekeepers across the U.S. reported losing a staggering 44 percent of their colonies over the course of the winter and summer.
The causes of bee decline vary—exposure to a variety of pesticides, fungus, parasites and rising temperatures being just some of the potential issues—but there's only one really effective way to fight back against the problem. Bees need open spaces to roam and collect pollen without being disturbed.
One city in Iowa has decided to do just that, in a major way: Cedar Rapids is planning to set aside 1,000 acres of bee-friendly open space. (Eventually, it's hoped, the project may expand to as many as 10,000 acres). This spring, they'll start by seeding a modest 188 acres with native prairie grasses and wildflowers, plants that will both nourish pollinators and prevent invasive weeds from spreading. So far, the initiative has secured $180,000 in funding from the state and the Monarch Research Project, an organization dedicated to restoring monarch butterfly populations and pollinator habitats.
Cedar Rapids isn't going to convert land used for other purposes for the project. Instead, they're simply repurposes public lands that are currently going unused, seeding them with 39 species of native wildflowers and seven species of native grass. The flowers will serve as an attractor for bees and butterflies, while the grasses will keep noxious weeds from invading the area. Some of the spaces that are being used for the initiative include far-off corners of public parks, golf courses, open areas near the local airport, sewage ditches, water retention basins and green space along roadways.

The project was proposed by Daniel Gibbons, the park superintendent of Cedar Rapids. According to Gibbons, over the past 100 years, Iowa's agriculture boom has resulted a loss of 99.9 percent of the state's native habitats. Converting these unused public areas back to their original state will do more than simply help bees—it's also going to help birds, amphibians, reptiles and mammals who rely on native vegetation.
Converting these spaces back to native prairie isn't going to be a simple process. Right now, many of them are choked with undesirable vegetation that isn't bee-friendly. The invasive plants present in these areas need to be mowed down, burned and in some cases hit with doses of herbicide before the native seed mixture can be planted.

You Can Replicate The Cedar Rapids Experiment In Your Own Backyard
Most of us don't have 1,000 acres of unused space lying around, but if you want to do your part to help bees in the same way as Cedar Rapids, there's plenty you can do. If you have a garden or a place to leave outdoor planters, just a few square feet of wildflowers native to your area can help boost local bee populations. In Popular Science, pollination ecologist Stephen Buchmann suggests planting a diverse mix of wildflowers and heirloom crops that bloom in the spring, summer and fall.
If you do plant a pollinator garden, it's best not to use any herbicides or insecticides at all, as these are known to correlate with poor health in honey bees. If you must use these products, do it at night when bees are inactive.
Of course, simply providing a food source for bees does no good if they have no place to rest at the end of the day. You can also create nesting sites for native bees, if you can stomach the idea of a hive on your property. The Xerces society has compiled a helpful guide with information on how to provide nesting sites that allow bees to thrive. In many ways, the approach you'll need to take depends on the species of bees that live in your area—some prefer to nest in hollow wood, while others dig their nests in the dirt.
If we all make a small effort to create bee-friendly spaces, it's completely possible to replicate Cedar Rapids' experiment collectively in our own communities.
Reposted with permission from our media associate Care2.

Dead bees in the beehives at Ochlenberg. © Greenpeace / Mike Krishnatreya
The U.S. Environmental Protection Agency (EPA) acknowledged for the first time on Thursday that three of the nation's most-used neonicotinoid pesticides pose significant risks to commercial honey bees. But in a second decision, which represents a deep bow to the pesticide industry, the agency refused to restrict the use of any leading bee-killing pesticides despite broad evidence of their well-established role in alarming declines of pollinators.
The U.S. Fish & Wildlife Service (USFWS) has added seven bee species to the endangered species list, a first for bees. Native to Hawaii, these yellow-faced bees are facing extinction due to habitat loss, wildfires and invasive species.
Cantankerous Yellow-faced Bee photographed in Hawai'i County, Hawaii.SteveMlodinow / Flickr
The tiny, solitary bees were once abundant in Hawaii, but surveys in the late 1990s found that many of its traditional sites had been urbanized or colonized by non-native plants. In March 2009, the Xerces Society for Invertebrate Conservation petitioned the USFWS to list these bee species as endangered under the U.S. Endangered Species Act.

"The USFWS decision is excellent news for these bees, but there is much work that needs to be done to ensure that Hawaii's bees thrive," wrote Matthew Shepherd, communications director for Xerces, in a blog post responding to the announcement.
Yellow-faced bees are the most important pollinators for many key trees and shrubs in Hawaii. They once populated the island from the coast up to 10,000 feet on Mauna Kea and Haleakalā. They get their name from yellow-to-white facial markings, and they are often mistaken for wasps.
According to Karl Magnacca, an entomologist with the O'ahu Army Natural Resources Program, the bees evolved in an isolated environment and were unprepared for the changes brought by humans. These included new plants, domestic animals such as cattle and goats, as well as ants and other bees that compete with the native Hawaiian bees.
One of the seven species, Hylaeus anthracites, is now found in just 15 locations on Hawaii, Maui, Kahoolawe, Molokai and Oahu. Protection of these areas could be a start to aid the bees.
"Unfortunately, the USFWS has not designated any 'critical habitat,' areas of land of particular importance for the endangered bees," wrote Shepherd.
The listing comes just a week after the USFWS proposed listing another bee, the rusty patched bumble bee, to the endangered species list. During the past 50 years, about 30 percent of beehives in the U.S. have collapsed, according to the the U.S. Department of Agriculture.
On Sept. 9, a new study published in the journal, Scientific Reports, found that the world's most commonly used insecticide, neonicotinoids, caused queen bees to lay fewer eggs and worker bees to be less productive. A Greenpeace investigation of internal studies conducted by chemical makers Bayer and Syngenta showed that these chemicals can harm honeybee colonies when exposed to high concentrations. In January, the EPA found that one of these neonicotinoids, imidacloprid, can be harmful to bees.

The National Pesticide Information Center states unequivocally, "Imidacloprid is very toxic to honeybees and other beneficial insects." The EPA has proposed prohibiting the use of neonicotinoids in the presence of bees.

The USFWS ruling protecting Hawaii's yellow-faced bees becomes effective Oct. 31.
During the close of National Pollinator Week, the White House issued a Presidential Memorandum on pollinator health to the heads of federal agencies requiring action to "reverse pollinator losses and help restore populations to healthy levels." The President is directing agencies to establish a Pollinator Health Task Force, and to develop a National Pollinator Health Strategy, including a Pollinator Research Action Plan. Beyond Pesticides applauds this announcement and action that recognizes and elevates the plight of pollinators in the U.S.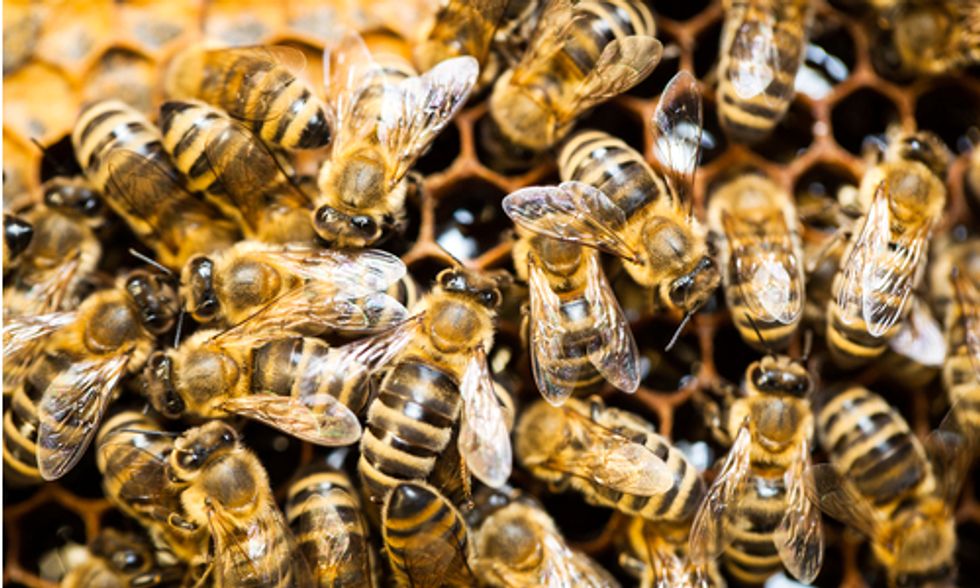 Photo courtesy of Shutterstock
Friday, June 20, President Barack Obama signed a Presidential Memorandum that recognizes the severe losses in the populations of the nation's pollinators, including honey bees, wild bees, monarch butterflies and others. In accordance with these losses and acknowledging the importance pollinators have to the agricultural economy, the memorandum directs federal agencies to establish a Pollinator Health Task Force, to be chaired by U.S. Department of Agriculture (USDA), develop a pollinator health strategy within 180 days, and support and create pollinator habitat. This federal strategy will include a pollinator research action plan, with a focus on preventing and recovering from pollinator losses, including studying how various stressors, like pesticides, pathogens and management practices contribute to pollinator losses. The task force will also engage in a public education initiative and develop public-private partnerships with various stakeholders.
"Today, President Obama set a precedent, elevating the plight of our nation's pollinators by acknowledging not only their importance to our economy, but directing federal agencies to be leaders in finding meaningful solutions to our current pollinator crisis," said Jay Feldman, executive director of Beyond Pesticides.
Federal agencies like the U.S. Environmental Protection Agency (EPA) and USDA have been slow to respond to pollinator losses and must take immediate action, especially on pesticides known to be toxic to bees and other pollinators.
EPA Fails to Restrict Pesticides Linked to Bee Decline
The President highlights many factors that contribute to pollinator decline; however it is the neonicotinoid class of pesticides that have been receiving the most scrutiny from beekeepers and scientists. These pesticides are not only highly toxic to bees, but studies find that even at low levels neonicotinoids impair foraging ability, navigation, learning behavior and suppress the immune system, making bees more susceptible to pathogens and disease. While EPA announced Friday that it has released two tools in an effort to protect pollinators, the availability of its new Pollinator Risk Assessment Guidance, and new Residual Time to 25 Precent Bee Mortality (RT25 Data), the agency still falls short of restricting the harmful systemic pesticides that are linked to bee decline.
The guidance will purportedly allow the agency to assess effects from systemic pesticides quantitatively on individual bees as well as on bee colonies. The agency is implementing elements of the guidance in its ongoing registration review of neonicotinoid pesticides as well as other pesticide regulatory work. The ongoing review includes new required of the registrants, including refined semi-field studies under more real-world application conditions, however the agency admits that other data from ongoing full-field studies will take up to several years to complete. Additionally, at the request of beekeepers and growers, the agency has also posted RT25 Data online, which gauges the amount of time after application that a particular pesticide product remains toxic enough under real-world conditions to kill 25 percent of bees that are exposed to residues on treated plant surfaces.
Though the science very clearly points to neonicotinoids as a main culprit behind bee-deaths, and while successful organically managed systems prove that these pesticides are not necessary, the EPA has yet to take meaningful action to reduce exposure to these harmful chemicals. According to advocates, bee deaths in Oregon last week from the use of a neonicotinoid and mounting scientific evidence require an urgent response that necessitates removing these chemicals from the market. With continued incidents like these, beekeepers and many other concerned groups and citizens continue to urge the EPA to suspend the use of neonicotinoids.
The Saving America's Pollinators Act
As the EPA continues to stall, Beyond Pesticides, along with other groups are working to BEE Protective. Last year, Beyond Pesticides, Center for Food Safety, and others filed a lawsuit against the EPA on its continued registration of these chemicals. The groups are also working to pressure on lawmakers in Congress to take action to protect pollinators. H.R. 2692, the Saving America's Pollinators Act (SAPA), introduced last year by Rep. John Conyers (D-MI) and Rep. Earl Blumenauer (D- OR) would suspend the use of neonicotinoid pesticides until a full review of scientific evidence and a field study demonstrates no harmful impacts to pollinators. Three new co-sponsors signed on Friday, including Rep. Anna G. Eshoo (D-CA), Rep. Sam Farr (D-CA) and Rep. Adam B. Schiff (D-CA), bringing the total number of cosponsors to 68. With one in three bites of food reliant on pollinators, it is imperative that solutions be found quickly to protect bees and other pollinators. Tell your member of Congress to support SAPA!
By Laura Beans
Last week, the beekeeping industry filed legal action against the U.S. Environmental Protection Agency (EPA) for approving a new bee-harming pesticide.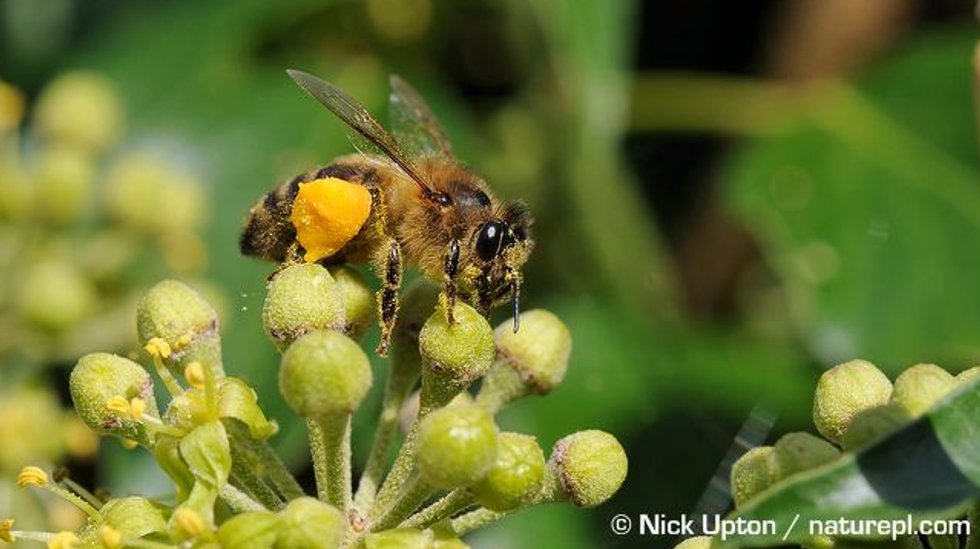 According to Beyond Pesticides, the petitioners—including the National Pollinator Defense Fund, American Honey Producers Association, National Honey Bee Advisory Board, the American Beekeeping Federation, and beekeepers Bret Adee, Jeff Anderson and Thomas R. Smith—filed the suit in the U.S. Ninth Circuit Court of Appeals.
Despite evidence about the harms of the new pesticide, and research questions left unanswered, in May, the EPA approved the full registration of sulfoxaflor. The active ingredient is similar to that of neonicotinoid; it acts on the nicotinic acetylcholine receptor in insects and causes similarly harmful impacts on bees' brains.
Comments were submitted to the EPA by concerned beekeepers and environmental advocacy groups, stating that approval of a pesticide highly toxic to bees would only exacerbate the problems faced by the honey bee industry and further decimate bee populations, which has already reported unparallelled lows across the globe.
However, according to Pesticide Action Network, the EPA dismissed these concerns outrightly and instead pointed to a need for sulfoxaflor by industry and agriculture groups to control insects resistant to pesticide technologies. The EPA is unable (or unwilling) to act decisively to protect bees, and has instead fast-tracked the new pesticide to market.
"The EPA is charged with preventing unreasonable risk to our livestock, our livelihoods and most importantly, the nation's food supply," said Bret Adee, a beekeeper at Adee Honey Farms with operations in South Dakota and California—and a petitioner on the case. "This situation requires an immediate correction from the EPA to ensure the survival of commercial pollinators, native pollinators and the plentiful supply of seed, fruits, vegetables and nuts that pollinators make possible."
The suit is filed on the heels of several recently publicized mass bee die-offs. Last month in Oregon, 50,000 bumblebees were found dead after a cosmetic application of dinotefuran—a neonicotinoid pesticide—was applied to ornamental trees while they were in flower. In Canada last week, 37 million bees were found dead in Elmwood, Ontario. Current estimates of the number of surviving hives in the U.S. show that these colonies may not be able to meet the pollination demands of agricultural crops. 
With reports to the contrary, the EPA says that none of the objections to sulfoxaflor point to any data "to support the opinion that registration of sulfoxaflor will pose a grave risks to bees," even though the agency itself acknowledges that sulfoxaflor is highly toxic to bees. The EPA downplayed the effects of sulfoxaflor—which include behavioral and navigational abnormalities in honey bees—as "short-lived."
The groups are being represented by the public interest law organization Earthjustice. The appeal process through the courts is the only mechanism open to challenge EPA's decision.
Visit EcoWatch's BIODIVERSITY page for more related news on this topic.
———

After the mass poisoning of more than 50,000 bumblebees last week in Wilsonville, OR, and other incidents now being reported in neighboring Washington County, scientists are calling on local officials to ban the cosmetic use of insecticides on city- and county-owned lands. The mass poisoning is the largest event of its kind ever documented, with an estimated impact on more than 300 wild bumblebee colonies.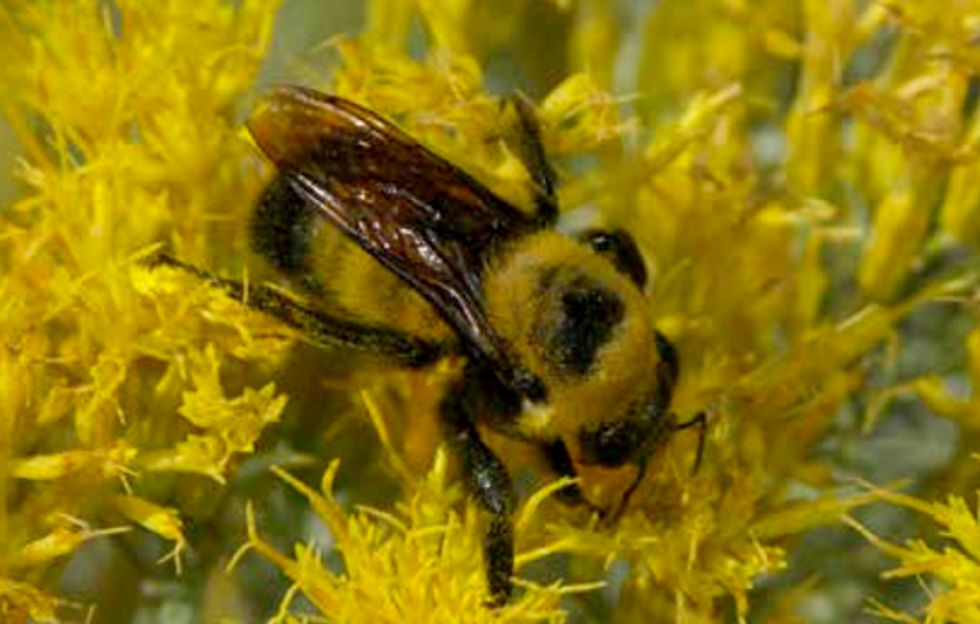 According to Oregon Department of Agriculture, the poisoning occurred after an insecticide was sprayed on linden trees to control aphids, which secrete a sticky residue while feeding, making them a nuisance to parked cars. The pesticide, dinotefuran (also known as Safari), belongs to a relatively new and controversial group of chemicals called neonicotinoids. Because neonicotinoids are long-lasting in plant tissues and can be found in flower nectar and pollen, and because they have been implicated in the global decline of honey bees, there have been growing concerns about their safety for pollinators.
"The cost of losing pollinators far outweighs any value of controlling aphids on ornamental plants," said Mace Vaughan, pollinator conservation director at the Xerces Society. "After the events of last week, and based on the overwhelming science demonstrating the harm that these products can cause, we are calling on city and county governments to immediately stop the damage."
The University of Minnesota's Dr. Marla Spivak, a leading global authority on bee health, echoed Vaughan's sentiment. "The Oregon bee poisoning is a clear warning. We have to stop pesticide use in cases where human health or food security is not at risk."
Spivak points out that neonicotinoids are now the most widely used insecticides in urban and agricultural areas. "They are long-lasting in soil and they readily move into water. If the Oregon event is an indication of what is happening more widely, we will begin to see catastrophic threats to food security and the pollination of wild plants."
In response to these concerns, several local governments are taking action to prevent further bee deaths. One of the most startling of these efforts was the City of Wilsonville's leadership in wrapping the insecticide-laden trees with netting last week to keep any more bees from dying. The City of Eugene had previously publicly stated that they are no longer using neonicotinoids on city properties. In May, Commissioners from Thurston County, Washington unsuccessfully petitioned their state department of agriculture (WDA) to restrict some uses of these chemicals in their county. It is unclear whether WDA is now reconsidering their earlier rejection of the Thurston County petition, which was initiated out of concerns for pollinators such as honey bees and bumble bees.
The Xerces Society applauds the actions on the part of Wilsonville and Eugene to protect bees, but says more needs to be done.
"It is time to take a stronger stance on pollinator protection. The European Union has put restrictions in place on several neonicotinoids, and Ontario, Canada has gone further and banned all pesticides for cosmetic use," said Scott Hoffman Black, executive director of the Xerces Society. "We need a similar response here."
Neonicotinoid insecticides, with active ingredients like imidacloprid, dinotefuran, thiamethoxam and clothianidin, can be purchased in most hardware stores and nurseries under various trade names. As scientists like Vaughan and Spivak point out, most have no warning labels to alert consumers about the potential hazard to bees, butterflies and other beneficial insects.
To help prevent future bee poisonings, the Xerces Society is calling for changes to both regulations and consumer behavior.
"In terms of what we would like to see, legislators, regulators and municipal leaders across the country should ban the use of neonicotinoids and other insecticides for cosmetic purposes," said Black. "At a broader level, it is time for the Environmental Protection Agency to re-assess the ecological safety of neonicotinoids and immediately suspend any product registrations that were made with incomplete data."
Jennifer Hopwood, the lead author of the Xerces Society's report on the risks of neonicotinoids to bees says that there are also steps that individuals can take to avoid harming pollinators, like checking to see if they have neonicotinoid products in their garage or garden shed.
"Consumers should know that they can return pesticides to the store where they purchased them for safe disposal. Beyond that, when buying garden plants, people should ask the store if insecticides have been used on them," she says. "If staff can't tell you, I would shop somewhere else."
The Xerces Society will be following up with mayors, city councils and county commissions across the U.S. with formal letters asking them to take action.
The Xerces Society recommendations include:
For Municipalities
Municipalities should stop using all neonicotinoid insecticides on city- and county-owned property, including schools, parks and gardens.
City and county governments should require that warnings be posted alongside displays of these chemicals at hardware stores and nurseries.
Legislators, regulators and municipal leaders across the country should ban the use of neonicotinoids and other insecticides for cosmetic purposes on ornamental and landscape plants, like the ban now in force in Ontario, Canada.
For Homeowners
Do not buy products that contain neonicotinoids.
Check to see if you have these products in your garage or garden shed. If so, do not use them. Make sure you dispose of them properly or take them back to the store where you bought them.
When buying plants for your yard, ask if neonicotinoids have been used on them. If staff cannot tell you, shop somewhere else.
For Nursery and Hardware Stores
Stores should proactively take action by pulling these toxic and poorly labeled products from their shelves.
At a minimum, display materials should be placed at point of sale so that consumers know that these products kill bees and other beneficial insects, and that they can cause plants to produce toxic nectar and pollen months after treatment.
Nurseries should list plants that have been treated with these chemicals.
For the Federal Government
The U.S. Environmental Protection Agency should work with pesticide companies to add clear warnings to homeowners that ornamental neonicotinoid insecticides are toxic to bees and other pollinators.
For Insecticide Companies
Companies that make homeowner pesticide products that contain neonicotinoids should add clear language to product labels highlighting that these products are highly toxic to bees and other pollinators, and that treatment to plants may result in nectar and pollen that are contaminated with the insecticide and may kill bees and other pollinators.
Visit EcoWatch's BIODIVERSITY page for more related news on this topic.

Just as Pollinator Week began last week, an estimated 50,000 bumblebees, likely representing more than 300 colonies, were found dead or dying in a shopping mall parking lot in Wilsonville, OR. Authorities confirmed Friday that the massive bee die-off was caused by the use of a neonicotinoid pesticide, dinotefuran, on nearby trees. Then on Saturday, it was reported by The Oregonian that what could be hundreds of bees were found dead after a similar pesticide use in the neighboring town of Hillsboro.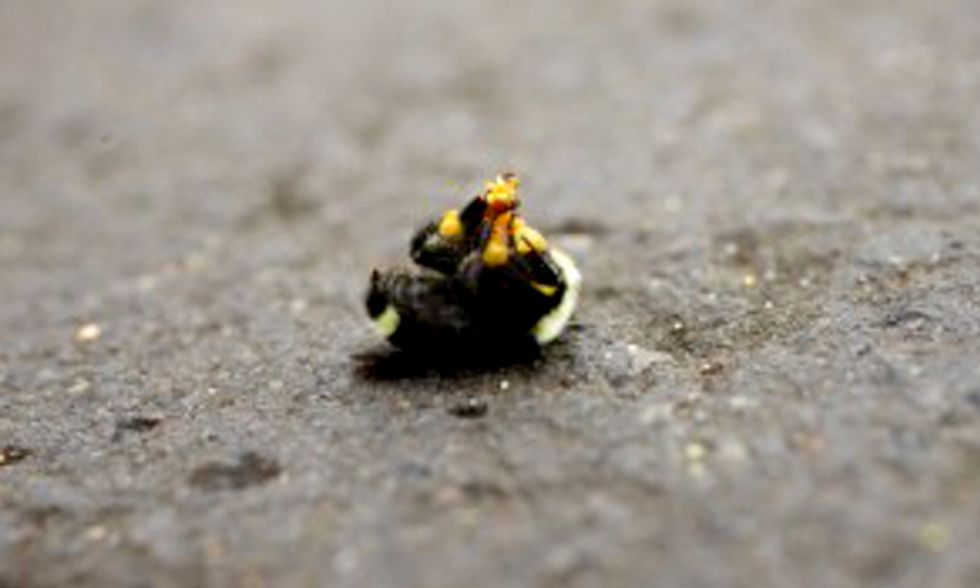 According to the Xerces Society, this is the largest known incident of bumblebee deaths ever recorded in the country. Bumblebees, which are crucial to the pollination of multiple berry and seed crops grown in the Willamette valley—as well as many other food crops across the country—have recently experienced dramatic population declines, a fate similar to other pollinators.
Dan Hilburn, director of plant programs at the Oregon Department of Agriculture (ODA), told Oregon Live that he's "never encountered anything quite like it in 30 years in the business." The incident highlights the difficulty of permitting in commerce such a highly toxic material that indiscriminately kills beneficial insects.
A recent study—an overview of the environmental risks posed by neonicotinoid insecticides—published in the Journal of Applied Ecology, documents that neonicotinoid persistence in soil and water can cause broad, far-reaching impacts on ecosystem health, much of which has undergone little scientific scrutiny. The author asserts that world leaders have failed to meet their commitment made at the 2002 Convention on Biological Diversity—to achieve a significant reduction in the rate of biodiversity loss. David Goulson, Ph.D, of the University of Sussex, author of the study, points to neonicotinoids as a potential cause of this failure, due to their long-term persistence in soil and water. He specifically points to soil dwelling insects, benthic aquatic insects, grain-eating vertebrates and pollinators as being in particular danger from the use of these chemicals.
The ODA and Xerces Society had been working together to investigate the pesticide poisoning. After interviewing the landscaping company that maintains dozens of ornamental trees around the parking lot, the ODA investigators learned that Safari, a pesticide product with the active ingredient dinotefuran, had recently been applied on June 15 to control aphids. Dinotefuran is a neonicotinoid pesticide that is highly toxic to bees; the product's label strictly forbids its use if bees are in the area.
Scott Black, executive director of the Xerces Society, noted that the pesticide was applied to the tree while it was flowering, an action that violates the product's instructions.
"Beyond the fact that a pesticide was applied to plants while they were attracting large numbers of bees, in this case the pesticide was applied for purely cosmetic reasons. There was no threat to human health or the protection of farm crops that even factored into this decision," stated Black.
Neonicotinoids, including dinotefuran, can be broadly applied as a spray, soil drench or seed treatment, however, the ability of these chemicals to translocate through a plant as it grows has led to the creation of a large market within chemical-intensive landscaping and agriculture. Once these systemic pesticides are taken up by a plant's vascular system, they are expressed through pollen, nectar and guttation droplets from which pollinators such as bees then forage and drink. Neonicotinoids kill sucking and chewing insects by disrupting their nervous systems.
Beginning in the late 1990s, these systemic insecticides also began to take over the seed treatment market. Clothianidin and imidacloprid are two of the most commonly used neonicotinoid pesticides. Both are known to be toxic to insect pollinators, and are lead suspects as causal factors in honey bee colony collapse disorder. An extensive overview of the major studies showing the effects of neonicotiniods on pollinator health can be found in Beyond Pesticides' What the Science Shows.
Several different crops in the Willamette valley of Oregon rely heavily on the pollination services provided by bumblebees. Blueberries, raspberries, blackberries and crop seed production, which are grown in Oregon, all rely on bumblebees for pollination. Mace Vaughn, pollinator conservation program director with the Xerces Society, told Oregon Live, "Bumblebees are the single most important natural pollinator in Oregon."
In the midst of the all the attention that is focused on the loss of honey bees and colony collapse disorder, wild pollinator losses are often overlooked. Pesticide risk mitigation measures intended to protect honey bees do not always constitute risk mitigation for other pollinators like bumblebees because they have different foraging practices, social structures and genetics. Minimal research has also been done on pesticide toxicity for wild pollinators.
This massive bee death marked an unfortunate beginning to National Pollinator Week, which was first declared in 2006 by Congress and the U.S. Department of Agriculture to raise awareness about the global decline of many pollinator species. During Pollinator Week and year round, Beyond Pesticides urges communities to come together to highlight the importance of pollinators through public education, the creation of pollinator friendly habitats and other important activities, while hundreds of actions to support pollinators took place across the U.S.
Though pollinator week is over, there are still many ways that you can get involved and help protect pollinators, from providing bee habitat in your yard, to keeping bees in your backyard or simply choosing to eat organic foods. Beyond Pesticides' BEE Protectivecampaign has all the educational tools you need to help pollinators.
Visit EcoWatch's BIODIVERSITY page for more related news on this topic.

By Paul Towers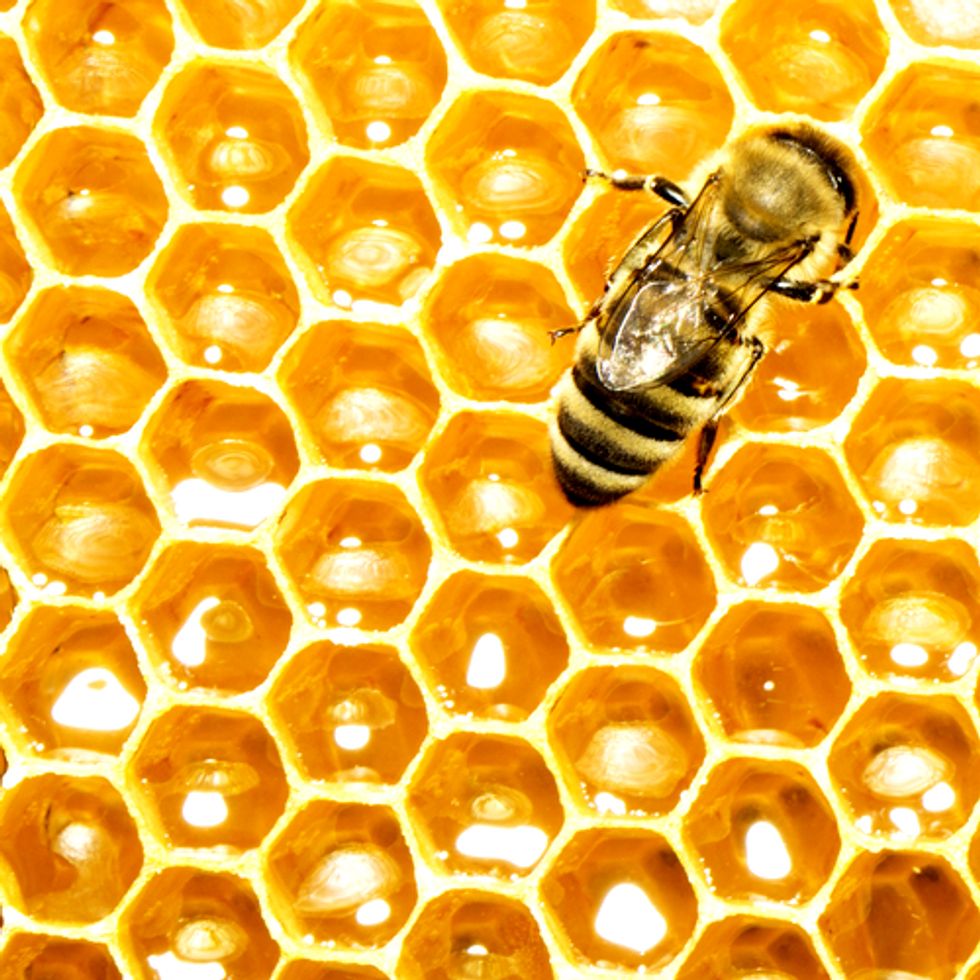 Photo courtesy of Shutterstock
Last week, the term "bee-washing" emerged in public conversation. It doesn't refer to some new bee cleaning service, but to the insidious efforts of Monsanto and other pesticide corporations to discredit science about the impacts of pesticides on bees—especially neonicotinoids—by creating public relations tours, new research centers and new marketing strategies.
This week, pesticide makers are showcasing these tactics during National Pollinator Week with offers of free seed packets to people who take their poorly named "pollinator pledge." The "bee-washing" term has gained traction as scientists and groups like Pesticide Action Network (PAN) continue to cut through the misinformation and point to the emerging body of science that points to pesticides as a critical factor in bee declines.
Monsanto hosted their first so-called Honey Bee Health Summit last week, a gathering at the company's headquarters in Missouri. Without question, some truly smart, dedicated scientists attended Monsanto's bee summit and are participating in these efforts.
And a similarly committed group of beekeepers who care about bees, beekeeping and our food system have also participated. What's increasingly clear, though, is that the credibility of these individuals is being used to shield the agenda of a handful of pesticide corporations and their bee-harming insecticide products. The corporate public relation gymnastics on display are truly impressive.
Unfortunately, Monsanto is not alone in its efforts.  Just this spring, Bayer sponsored a tour of its "specially-wrapped beehicle" and hosted a talk at Ohio State University in March, over loud objections from local beekeepers. 
Industry has largely set its sights on one issue to blame for bee declines. While lack of sufficient forage and diseases are a challenge to bee health and beekeeping, challenges exacerbated by the weakening effect of pesticides on bees, the pesticide industry has focused a large proportion of its attention on the varroa mite. And it's an easy distraction that places the burden of unprecedented bee losses on beekeepers—while subverting any blame for the widespread pesticide products.

Unfortunately for Monsanto & Co, and as most beekeepers and academics will say, the varroa mite has been around a long time, predating dramatic bee declines in the U.S. that started in 2006. While mites no doubt affect bee colonies, they are unlikely the primary driver of population declines.
There is a correlation, however, between the introduction of neonicotinoid pesticides (or neonics) on the market and bee die-offs. Independent studies show—and beekeepers corroborate from hands-on experience—that these pesticides weaken bees' immune systems, likely damaging their resistance to common challenges like the varroa mite.
Neonics are one of the largest growth sectors for the pesticide industry. And industry has a vested interest in keeping the neonic market growing. But we know that spin efforts to refocus attention on varroa mites were already attempted in Europe, and the approach has been largely unsuccessful. The European Union just put continent-wide restrictions on the use of neonics in place.
Pesticide corporations don't show any sign of letting up. If this spring and summer are any indication, then the "bee-washing" campaign will continue. Beekeepers will remain the victims of this targeted public relations campaign.
And the costs of are very real. Earlier this month, Jim Doan—a third generation commercial beekeeper from upstate New York—literally sold his farm due to bee losses. For years, he produced over half a million pounds of honey annually and eventually grew his business to 5,300 hives. But when neonicotinoid pesticides started being commonly used in the U.S., around 2006, Jim's bees started dying.
He's experienced serious losses to bees he brought to citrus groves in Florida and the cornfields of New York. And now, he only has 300 hives left. In an email he circulated last week, he wrote: "I am done. I cannot continue. Sold my farm 2 weeks ago, I am giving up, there is no hope here."
Bees are continuing to die off at unprecedented rates and beekeepers are going out of business. There is clearly something amiss—and the pesticide industry would have us believe that their products play no part in this alarming trend. PAN, beekeepers and our partners will continue to shine a light on corporate "bee-washing" and spin efforts to subdue or obfuscate the growing body of science pointing to this clear message: Pesticides are playing a key role in bee deaths.
Visit EcoWatch's BIODIVERSITY page for more related news on this topic.