This website uses cookies to ensure you get the best experience while browsing it. By clicking 'Got It' you're accepting these terms.
A boy sits on a log in the village of Vunisavisavi in Fiji, on Oct. 16, 2017. The village is the first in the country to be forced to relocate due to rising water levels. Christoph Sator / Picture Alliance via Getty Images
By Jake Johnson
The island nation of Fiji on Wednesday slammed world powers for their "grossly irresponsible and selfish" failure to act on the planetary emergency and unveiled a bold plan to bring the country's carbon emissions to net zero by 2050.
By Paul Brown
The global climate treaty, the Paris agreement, already ratified by a huge majority of the world's governments, is for the next 10 days in intensive care.
That doesn't mean it's in danger of expiring, but that it needs a hefty boost so that the countries which signed up to it in 2015 will make commitments that will give it teeth.
EcoWatch Daily Newsletter
View of the UN Bonn Campus on May 16, 2017. UNclimatechange / Flickr
As the 2018 climate talks kick off under the auspices of the UN next week, "business unusual" must be the mantra delegations need heard resoundingly in Bonn, said the World Wildlife Fund (WWF).
Speaking ahead of the start of the meeting, Manuel Pulgar-Vidal, WWF's global climate and energy programme leader, said the window of opportunity to keep global temperature rise below 1.5°C is fast closing.

Fijian Prime Minister Voreqe Bainimarama had strong words on climate change after Cyclone Josie killed at least four people in the island nation Easter Sunday, as ABC News reported.
"We are now at an almost constant level of threat from these extreme weather events, that are becoming more frequent and more severe because of climate change," he said on Tuesday.
By Robert McSweeney and Rosamund Pearce
For the next two weeks, thousands of negotiators, policymakers, researchers, journalists and campaigners are gathering in Bonn for the 23rd Conference of the Parties (COP23).
The talks—hosted by Fiji, but held in Germany—are the next installment of UNFCCC international climate negotiations, following on from the landmark Paris agreement at COP21 in 2015 and the steps taken towards implementation at COP22 in Marrakech last year.
Frank Bainimarama (L), prime minister of Fiji and host of the Bonn talks, meets with Ambassador Aziz Mekouar of Morrocco. James Dowson / UNFCCC
The 23rd annual Conference of Parties under the UN Framework Convention on Climate Change kicked off in Bonn, Germany Monday morning, as the world nations gather to discuss implementation of the Paris agreement.
The Trump administration's June announcement that it intends to exit the agreement is set to complicate matters for the U.S. team in Bonn, as other nations resolve to continue negotiations with the U.S. on the sideline.
With its warm, turquoise waters, gently undulating palm trees and sunny climate, it's not hard to see why Fiji is such a popular travel destination. This group of islands in the South Pacific encapsulates the idea of tropical paradise and today over a quarter of the economy stems from travel. While the economic benefits of such booming tourism are great, the ecological drawbacks can be even greater.

Guest rooms are made in the traditional Fijian style with natural, sustainable materials.Selene Nelson
Increased tourism means increased greenhouse gas emissions, water consumption and waste management. Climate change is having a palpable effect on Fiji and other South Pacific islands, where the seasons have become unpredictable and rising sea levels create noticeably higher tides. Dismissal of globing warming just doesn't wash in a country where you can literally see it happening.

Hotels and resorts are some of the worst environmental offenders due to the fact that each guest room requires its own energy and water supply, even when the room is empty. Reducing these quantities is becoming a necessary duty in the travel industry. Thankfully, Fiji is showcasing some of the best examples of sustainable tourism in the world—not just the South Pacific.

Leading the charge is Jean-Michel Cousteau Resort, an island resort that's been a pioneer in green tourism since its opening in the 1990s. Rather than just throwing around a few words like "eco" and "sustainable" like other supposedly green hotels I've visited, almost every feature of Jean-Michel Cousteau Resort is designed to reduce its carbon footprint.
All furniture is made from sustainably harvested materials and using traditional construction techniques.Selene Nelson
But this is, undeniably, a luxury resort—so how can a big, luxury resort manage to be so green? And perhaps more importantly, which of their green initiatives are shaping sustainable travel in the South Pacific and across the globe?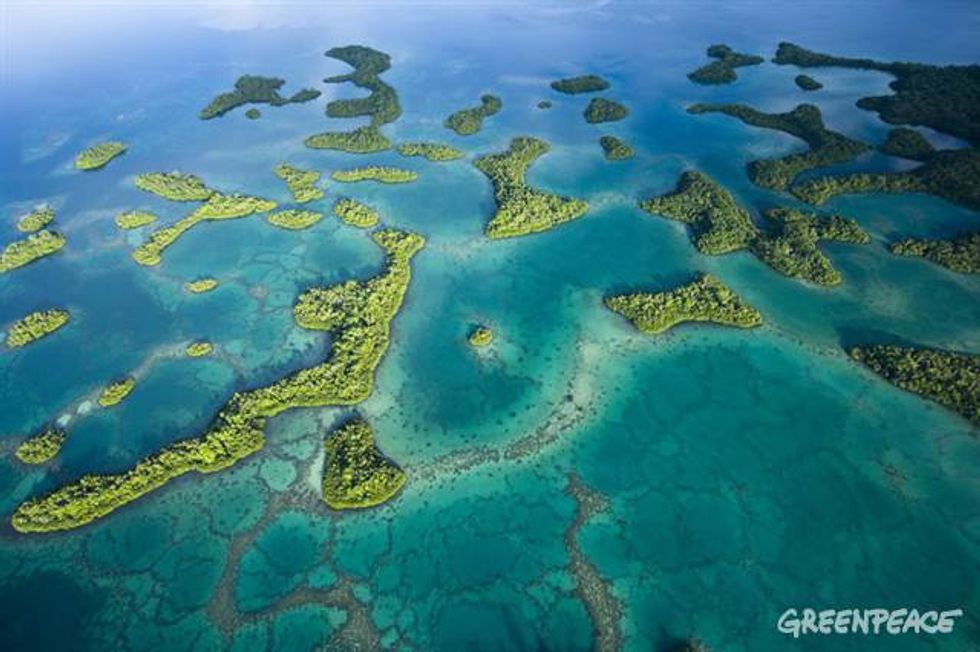 By Nathaniel Pelle
Right now, the Australian government is deciding the fate of Australia's Coral Sea. The countdown is on to protect nearly one million square kilometres of unique coral reefs, atolls and underwater canyons flanking the world-heritage listed Great Barrier Reef.
Just a few weeks back I sailed out of Port Moresby aboard the Greenpeace ship Esperanza, through the Coral Sea and then north into the western and central Pacific Ocean. These are the very same waters my grandfather patrolled as a youth in the Australian Navy during the historic Battle of the Coral Sea in the latter half of World War II.
I remember fondly his striking stories that described swimming alongside warships among remarkable abundances of marine life. His memories recalled sailors at play with swarms of dolphins, turtles, swordfish and large schools of gentle hammerhead sharks. I remember his tales of catching tuna at will with simple handlines dropped lazily from the poopdeck.
Sadly, such abundance is a rare thing to see these days. So it is with a tremendous sense of hope that I have observed the considerable efforts of regional players to preserve these waters and maybe even return them to their past richness.
The latest of these opportunities is the proposal by the Australian government to create the world's largest marine park in the Coral Sea under a once-in-a-generation bioregional planning process.
But it's not all good news—the government's draft plan leaves the majority of species-rich coral reefs, important breeding sites for tuna and marlin, and critical migration routes for turtles and whales, open to fishing. More than 20 important reefs—identified as key biodiversity hotspots—remain outside the no-take zone and are open to potentially damaging activity. Leaving these areas unprotected is a shortsighted move to appease a handful of vocal commercial and recreational fishers. Left unprotected are the crucial spawning grounds for bigeye and yellowfin tuna. This year both species were listed as vulnerable and near-threatened on the International Union for Conservation of Nature's Red List of species at risk of extinction.
For this proposal to achieve its potential, you can add your voice to the call for a genuinely historic sanctuary here.
Australia has stood by regional efforts to protect these species. With Australia's support, Pacific Island nations have banded together to close 4.5 million square kilometres of the high seas to purse seine fishing in order to safeguard their recovery.
Earlier this year, Palau—a nation that thrives on its stunning and incomparable marine ecosystem—declared its entire territorial waters a shark sanctuary and has created a network of marine national parks. The Esperanza is now in Palau assisting with enforcement of their territory. Swimming in these waters, so dense with life, I feel like I've had a taste of what the Pacific was like when my grandfather sailed it. That's what I want for the Coral Sea.
The Marshall Islands followed Palau's lead and look set to be joined by Fiji and the Cook Islands. With every one of these moves, the benefit is multiplied across the region.
It's fantastic that the Coral Sea proposal blocks oil exploration and mining for good and reduces some destructive fishing. But if Australia is to cement itself as a genuine champion of marine protection, and create a sanctuary that provides long-lasting regional benefit, it needs to greatly expand the area of the Coral Sea afforded full protection.
For more information, click here.