If passed, a green amendment proposal could guarantee clean air and water for residents in Maine's constitution. gregobagel / Getty Images
Maine State Senator Chloe Maxmin doesn't identify as a "traditional Democrat."
EcoWatch Daily Newsletter
A woman cycles along a street during a sandstorm in Beijing, China, on March 15, 2021. Noel Celis / AFP / Getty Images
Beijing skies turned yellow Monday as air pollution reached hazardous levels after the worst sandstorm in a decade coincided with an industrial boom following last year's COVID lockdown.
The sandstorm clouded northern China from Xinjiang in the far west to the Bohai Sea in the east, canceling flights and closing some schools, The New York Times reported. In Beijing, the Air Quality Index (AQI) reached a hazardous 999 at one point, according to The Guardian.
"Beijing is what an ecological crisis looks like," Li Shuo of Greenpeace Asia wrote on Twitter. "After two weeks of smog and static air, strong wind carries a sand storm in, sending AQI off the chart. It's hard to claim we are moving forward when you can't see what's in front."
Beijing is what an ecological crisis looks like. After two weeks of smog and static air, strong wind carries a sand… https://t.co/SkIiTHJvJG

— Li Shuo_Greenpeace (@Li Shuo_Greenpeace)1615770468.0
Beijing's air quality had already been poor due to a resurgence of industrial activity as China emerges from the coronavirus pandemic. Li told The New York Times that industrial pollutants around the Chinese capital had surpassed the average for the last four years. Authorities in Tangshan, a steel-making city often responsible for pollution in Beijing and Hebei, said Saturday that they would punish companies for not carrying out anti-pollution measures, The Guardian reported.
Then came the sandstorm. It began as a snow storm in Mongolia over the weekend, where it cut power and led to at least nine deaths, according to The New York Times. At least 341 people in Mongolia were also reported missing, The Guardian reported.
The storm then sent the dust south, according to CNN. The concentration of larger PM 10 particles in Beijing passed 8,100 micrograms per cubic meter. The especially dangerous PM2.5 air pollutants, small particles that can infiltrate the lungs and enter the bloodstream and other organs, reached a high of 655 micrograms per cubic meter Monday. The World Health Organization has set the safe level at 25.
"In some places, there are strong sandstorms with visibility of less than 500 meters (1,640 feet)," the China Meteorological Administration said in a statement reported by CNN. "This is also the strongest dust and sand weather affecting China in almost 10 years."
This combination of smog and sandstorm returned Beijing to the type of "airpocalypse" common a few years ago, before the government stepped up anti-pollution efforts, The New York Times reported.
"I couldn't see the building across the street," Wang Wei, a 23-year-old college graduate, told The New York Times. "I didn't think the sky could be this yellow."
Normal vs. today #Beijing https://t.co/koo2f7NjSF

— 霍炳宗 (@霍炳宗)1615766702.0

The sandstorm is also a blast from China's pre-regulation past, as they were common in the latter half of the 20th century, CNN reported. The storms used to occur twice in May, largely due to drought, a growing population and desertification in the country's north and northwest.
Beginning in 2000, the government made an effort to implement reforestation projects and improve warning systems. These efforts paid off, and the amount of sandstorm days in Beijing fell from 26 a year in the 1950s to three after 2010.
This round of storms is expected to last through Tuesday.
waterlust.com / @tulasendlesssummer_sierra .
Each product featured here has been independently selected by the writer. If you make a purchase using the links included, we may earn commission.
The bright patterns and recognizable designs of Waterlust's activewear aren't just for show. In fact, they're meant to promote the conversation around sustainability and give back to the ocean science and conservation community.
Each design is paired with a research lab, nonprofit, or education organization that has high intellectual merit and the potential to move the needle in its respective field. For each product sold, Waterlust donates 10% of profits to these conservation partners.
Eye-Catching Designs Made from Recycled Plastic Bottles
waterlust.com / @abamabam
The company sells a range of eco-friendly items like leggings, rash guards, and board shorts that are made using recycled post-consumer plastic bottles. There are currently 16 causes represented by distinct marine-life patterns, from whale shark research and invasive lionfish removal to sockeye salmon monitoring and abalone restoration.

One such organization is Get Inspired, a nonprofit that specializes in ocean restoration and environmental education. Get Inspired founder, marine biologist Nancy Caruso, says supporting on-the-ground efforts is one thing that sets Waterlust apart, like their apparel line that supports Get Inspired abalone restoration programs.
"All of us [conservation partners] are doing something," Caruso said. "We're not putting up exhibits and talking about it — although that is important — we're in the field."
Waterlust not only helps its conservation partners financially so they can continue their important work. It also helps them get the word out about what they're doing, whether that's through social media spotlights, photo and video projects, or the informative note card that comes with each piece of apparel.
"They're doing their part for sure, pushing the information out across all of their channels, and I think that's what makes them so interesting," Caruso said.
And then there are the clothes, which speak for themselves.
Advocate Apparel to Start Conversations About Conservation
waterlust.com / @oceanraysphotography
Waterlust's concept of "advocate apparel" encourages people to see getting dressed every day as an opportunity to not only express their individuality and style, but also to advance the conversation around marine science. By infusing science into clothing, people can visually represent species and ecosystems in need of advocacy — something that, more often than not, leads to a teaching moment.

"When people wear Waterlust gear, it's just a matter of time before somebody asks them about the bright, funky designs," said Waterlust's CEO, Patrick Rynne. "That moment is incredibly special, because it creates an intimate opportunity for the wearer to share what they've learned with another."
The idea for the company came to Rynne when he was a Ph.D. student in marine science.
"I was surrounded by incredible people that were discovering fascinating things but noticed that often their work wasn't reaching the general public in creative and engaging ways," he said. "That seemed like a missed opportunity with big implications."
Waterlust initially focused on conventional media, like film and photography, to promote ocean science, but the team quickly realized engagement on social media didn't translate to action or even knowledge sharing offscreen.
Rynne also saw the "in one ear, out the other" issue in the classroom — if students didn't repeatedly engage with the topics they learned, they'd quickly forget them.
"We decided that if we truly wanted to achieve our goal of bringing science into people's lives and have it stick, it would need to be through a process that is frequently repeated, fun, and functional," Rynne said. "That's when we thought about clothing."
Support Marine Research and Sustainability in Style
To date, Waterlust has sold tens of thousands of pieces of apparel in over 100 countries, and the interactions its products have sparked have had clear implications for furthering science communication.
For Caruso alone, it's led to opportunities to share her abalone restoration methods with communities far and wide.
"It moves my small little world of what I'm doing here in Orange County, California, across the entire globe," she said. "That's one of the beautiful things about our partnership."
Check out all of the different eco-conscious apparel options available from Waterlust to help promote ocean conservation.
Melissa Smith is an avid writer, scuba diver, backpacker, and all-around outdoor enthusiast. She graduated from the University of Florida with degrees in journalism and sustainable studies. Before joining EcoWatch, Melissa worked as the managing editor of Scuba Diving magazine and the communications manager of The Ocean Agency, a non-profit that's featured in the Emmy award-winning documentary Chasing Coral.
A woman walks along The Embarcadero under an orange smoke-filled sky in San Francisco, California on September 9, 2020. Brittany Hosea-Small / AFP / Getty Images
Smoke from wildfires may be more harmful to public health than other sources of particulate matter air pollution, according to a new study.
The research, published in Nature Communications on Friday, found that wildfire smoke could be up to 10 times more harmful than other sources of air pollution, such as from vehicles or industry.
"We know wildfires are going to become more extreme, due to climate change," Rosana Aguilera, study co-author and postdoctoral scholar at the University of California, San Diego's Scripps Institution of Oceanography, told The Guardian. "And it's important that we start to reckon with the health effects of that."
The researchers examined hospital admission records in California between 1999 and 2012. They found that admissions for respiratory problems increased from around 1.3 percent to 10 percent following an uptick in wildfire-specific air pollution. The same amount of air pollution from other sources led to a smaller admissions increase, topping out around 1.3 percent.
This isn't the first study to suggest that wildfire smoke might be more harmful than other forms of air pollution, the authors noted. Animal studies have suggested the same thing.
Mary Prunicki, a Stanford air pollution researcher who was not part of the study, told The Guardian that evidence also suggested that wildfire smoke could exacerbate heart conditions and respiratory ailments.
She explained that since wildfires engulf homes and businesses, they emit fumes that contain metals, plastic and cleaning supplies. Large fires also suck smoke high into the atmosphere, where it lasts longer and combines with oxygen to become more dangerous.
"We're pretty aware of the physical costs of wildfire, in terms of firefighting costs and damage to property," Tom Corringham, a study co-author also at Scripps, told NPR. "But there's been a lot of work that has shown that the health impacts due to wildfire smoke are on the same order of magnitude, or possibly even greater, than the direct physical cost."
The study comes as this problem is only getting worse. While particulate matter air pollution has been decreasing across most of the U.S. thanks to stricter environmental regulations, that has not been the case in wildfire-prone areas, the study found. Wildfires will likely increase as long as the climate crisis persists. In 2020, California experienced six of its largest fires on record, the Los Angeles Times reported. Those fires choked the Western U.S. with smoke, in some places for weeks. An NPR analysis found that one in seven West Coast residents experienced at least one day of unhealthy air quality last year.
Unfortunately, wildfire smoke is not as easy to regulate as tailpipe or power-plant emissions. Corringham called for providing low-income households with money for air purifiers. But he also suggested a longer-term solution.
"Anything we can do today to reduce greenhouse gas emissions and stabilize the global climate system will have significant benefits," he told NPR.
Nepal's COVID-19 lockdown decreased air pollution levels in the Kathmandu Valley, seen here on March 29, 2020, and known as one of the world's most polluted cities. Narayan Maharjan / NurPhoto / Getty Images
When countries began going into lockdown last winter and spring, clearer skies from reduced traffic and industry were hailed as a rare bright spot during a difficult time.
But a study published in Geophysical Research Letters in December 2020 shows that those blue skies had an unexpected side effect: They made the Earth slightly warmer.
"There was a big decline in emissions from the most polluting industries, and that had immediate, short-term effects on temperatures," said Andrew Gettelman, lead author and National Center for Atmospheric Research (NCAR) scientist. "Pollution cools the planet, so it makes sense that pollution reductions would warm the planet."
Soot and sulfate air pollution had the biggest impact, the study authors explained. Known as aerosols, these types of pollutants release particles into the atmosphere that either scatter sunlight on clear days or brighten clouds, reflecting sunlight. Both of these impacts mean less sunlight reaches Earth and temperatures cool.
In 2020, a reduction of these pollutants warmed global temperatures by about 0.1 to 0.3 degrees Celsius, the press release explained. The effect increased in places with higher aerosol emissions. Temperatures over China, Russia and the U.S. were as much as 0.37 degrees Celsius warmer, The Associated Press reported. All told, aerosol reduction may have contributed to 2020 experiencing one of the warmest years on record, NASA Climate Scientist Gavin Schmidt, who was not involved in the research, told The Associated Press.
To reach their conclusions, the researchers compared the actual weather with climate models reproducing the same conditions without the lockdowns and subsequent emission reductions. This allowed them to calculate the impact of reduced aerosols on temperature changes that were too small to identify based solely on observations, the press release explained.
The study found that aerosol reduction had a bigger impact on 2020 temperatures than the reduction of greenhouse gas emissions such as carbon dioxide. However, that may change in the future. Because carbon dioxide stays in the atmosphere longer, the lockdown dip in greenhouse gases may still slow down the climate crisis in the long term.
Gettelman emphasized that the study's message is not that we should pollute more.
"Clean air warms the planet a tiny bit, but it kills a lot fewer people with air pollution," Gettelman told The Associated Press.
Instead, the value of the study involves understanding aerosols' impact on the climate, according to the press release. This can then help scientists more effectively combat climate change.
The need for clean, pure air has never been more evident. Between the current concern over the coronavirus pandemic and rising levels of air pollution and volatile organic compounds (VOCs) throughout our country, many of us have started seeking simple, effective ways to ensure cleaner air within our homes.
One of the most obvious ways to accomplish this is to invest in an in-home air purifier. But what exactly should you be looking for in a home air purifier? And what are some of the best air purification brands on the market today?
Our Top Picks for Best Air Purifiers
How Air Purifiers Work
Before investing in an in-home air purifier, sometimes called an air cleaner, it may be helpful to know how these devices are intended to work.
For the most part, home air purifiers come with one or more HEPA filters, as well as a fan that sucks in and circulates air. As the air moves through the filter, dust, allergens, pet hair, pollutants, particulates, and other airborne particles are caught in it, allowing clean air to be pushed back out into your home.
Of course, air filters don't last forever, and the only way to keep your air purifier working as intended is to change out your filter with a filter replacement on a regular schedule. This means that air purifiers have a small operational cost associated with them; you will likely need to spend at least $50 annually on new filters, sometimes more than $100.
What to Consider When Shopping for Air Purifiers
As you survey your options for different in-home air purifiers, there are a few considerations you can use to guide your decision.
Type of filter. The most important acronym to know about air filters is HEPA, which stands for high-efficiency particulate air. This type of filter is designed for the filtration of specific levels of airborne pollutants. According to the Environmental Protection Agency (EPA), HEPA filters "remove at least 99.97% of dust, pollen, mold, bacteria, and any airborne particles with a size of 0.3 microns." Make sure that any product you purchase contains true HEPA filters.
Cost of maintenance. Make sure you do some research to determine how often you will need to replace the filter for a given air purifier, and how much a single replacement filter costs. This will provide you with some indication as to how much it will cost you to operate that air purifier.
Certifications. Also check the packaging for a couple of important labels. The first label to look for is Energy Star, which certifies that the air purifier in question is at least 40 percent more energy efficient than the average model. This is a key indicator for eco-friendly shoppers. The other label to watch for is the AHAM seal, which denotes approval from the Association of Home Appliance Manufacturers. This shows you that the unit has been tested and found to be effective. It also provides each purifier with a clean air delivery rate (CADR) score. A CADR rating is a measure of the volume of clean air that the unit can produce per minute on the highest setting.
Room size. Air purifiers will often tell you the size room they are equipped for. A unit designed for small rooms will not work effectively as a large room air purifier. If the unit also has an AHAM seal, then the room size indicator should be fairly reliable.
Noise level. Air purifiers are intended to run more or less all of the time, which means you don't want one that's excessively noisy. Most units will tell you about what decibel level you can expect, either on the packaging or somewhere on the website.
What are the Best Room Air Purifiers?
With these standards and considerations in mind, you can find the best home air purifier for your needs. To get you started, here are the products that we think are best, based on our own review of product specs, certifications, pricing, and user reviews.
Each product featured here has been independently selected by the writer. If you make a purchase using the links included, we may earn commission.

Finding the Best Air Purifier to Meet Your Needs
As you consider these different options for home air purifiers, make sure you take into account those bullet points we mentioned earlier: How often will you need to change the filter? How much will it cost to do so? Will the air purifier be powerful enough for your room? And does it satisfy your expectations for energy efficiency?
We've talked in the past about the best water filters for your home—and a quality air filter makes sense too. With these points in mind, look for an air purifier that will give you total confidence in the quality and health of your household air.
Josh Hurst is a journalist, critic, and essayist. He lives in Knoxville, TN, with his wife and three sons. His writing on natural health, nutrition, and supplements has appeared in Health, Shape, and Remedy Review.
Air pollution from sources such as car exhaust is linked to macular degeneration, or AMD. ssuaphoto / Getty Images
Air pollution has been linked to an increased risk of progressive and irreversible vision loss, a large, long-term study found.
Avenue des Champs-Élysées from the top of Triumphal Arch (Place de l'Etoile / place Charles de Gaulle ) in Paris, France on June 15, 2020. legna69 / Getty Images
Is Paris trading "la vie en rose" for "la vie en verte?"
From reducing stress levels to improving your focus, houseplants have many benefits. But did you know that some species of air-filtering plants can even prevent you from getting liver damage, kidney disease, and cancer?
Volatile organic compounds, or VOCs, are used to make most home products—furniture, paint, carpets, and even the construction materials used to make the home itself. Over time, VOCs like formaldehyde, benzene, ammonia, and toluene are off-gassed into the air and can cause serious health issues.
Typical electrostatic air filters can't remove VOCs, but luckily, there's an aesthetically pleasing, natural, NASA-proven way to return your air to a better state: stocking your home with air-purifying plants. Read on to learn more about the 20 best air-purifying plants you can put in your home, as well as care instructions for each species according to the experts at the University of Georgia's College of Agricultural and Environmental Sciences.
Each product featured here has been independently selected by the writer. If you make a purchase using the links included, we may earn commission.

Melissa Smith is an avid writer, scuba diver, backpacker, and all-around outdoor enthusiast. She graduated from the University of Florida with degrees in journalism and sustainable studies. Before joining EcoWatch, Melissa worked as the managing editor of Scuba Diving magazine and the communications manager of The Ocean Agency, a non-profit that's featured in the Emmy award-winning documentary Chasing Coral.
The air pollution in several Indian cities is getting so bad that government officials have initiated drastic measures to protect its citizens from the eye-stinging levels of smog. In fact, the nation's capital of New Delhi currently holds the ominous title of world's most polluted city, CNN reported.
On Sunday, Delhi Chief Minister Arvind Kejriwal declared the intense smog levels an "emergency situation," and ordered the shut down of 5,000 schools for the next three days and the halting of construction operations for the next five days. A coal-fired power plant will also be closed for 10 days and roads will be doused with water to suppress dust. If the situation does not improve, Kejriwal might impose odd-even vehicle restrictions that would only permit driving every other day.

"Pollution has increased to an extent that (the) outdoors in Delhi are resembling a gas chamber," Kejriwal said, adding that the smog blanketing the capital is due to crop burning in the neighboring agricultural states of Punjab and Haryana.
The ongoing pollution sparked a protest on Sunday outside of Parliament in the city center. Hundreds of protesters showed up in pollution masks, demanding the government to protect its citizens' right to breathe clean air.
Many people initially blamed the smog on Sunday's Diwali festivities, but Kejriwal said that "fireworks during Diwali marginally added to the pollution … But other things inside Delhi did not drastically change. So the smog is mainly due to smoke from farm fires."
Still, the air pollution in Delhi has notably worsened over the years from several factors including its growing population of 25 million, rapid urbanization, an increase in traffic and emissions from diesel-burning cars, coal-fired power plants and other industrial emissions. This winter's weather patterns also means less wind to circulate the air, the Associated Press explained.
Following in New Delhi's footsteps, officials in the city of Lucknow, the capital of the state of Uttar Pradesh, have also been forced to close schools on Monday and Tuesday due to ghastly pollution levels.

According to the Associated Press, New Delhi and Lucknow have registered the levels of PM2.5 (fine particulate matter with a diameter of 2.5 micrometers, one of the deadliest and most dangerous forms of air pollution) above 400 micrograms per cubic meter on Monday. That's more than 40 times the safety limit set by the World Health Organization, and more than six times the limit set by Indian law. For comparison, Los Angeles—one of the most polluted cities in the U.S.—has a PM2.5 reading of 74 as of Monday morning.
Air is safe to breathe at 150, but the Air Quality Index from the US Embassy in Delhi reported that the city's terrible air quality is literally off the charts at a "hazardous" 999.
A Dutch tech startup called Envinity Group has unveiled a giant outdoor vacuum cleaner designed to filter the tiniest toxic specks from the atmosphere.
Dutch unveil giant vacuum to clean outside air https://t.co/qjn7gKgLx0 https://t.co/lx98zRAspb

— Hindustan Times (@Hindustan Times)1477481401.0
The invention was presented at the Offshore Energy trade fair in Amsterdam on Tuesday.

"It's a large industrial filter about 8 meters (26 feet) long, made of steel ... placed basically on top of buildings and it works like a big vacuum cleaner," company spokesman Henk Boersen told AFP.
The firm describes their invention as the "world's first giant outside air vacuum cleaner," according to AFP.
"A large column of air will pass through the filter and come out clear," Boersen told AFP.
Envinity claims that their prototype can suck in air from a 300-meter radius and about seven kilometers (4 miles) upwards. Citing tests from the Energy Research Centre of the Netherlands, the impressive machine can clean about 800,000 cubic meters (28,000 cubic feet) of air per hour using patented ozone-free ion technology. As a result, the vacuum can filter out 100 percent of fine particles and 95 percent of ultra-fine particles.
As Envinity states, fine particles and ultra-fine particles are indeed extremely harmful to public health, and can be a hindrance to national, regional and local investments and economic progress.

"Without really being aware of it, we breathe in small quantities of toxic particles from the surrounding air 24 hours a day. These are responsible for a great many health problems," Envinity notes on its website.
As EcoWatch observed previously, exposure to poor air quality is the world's fourth-leading threat to human health. An International Energy Agency study found that 6.5 million deaths globally are attributed to poor air quality.
6.5 Million People Die Each Year From Air Pollution, IEA Says https://t.co/Tq0UZPr7Kj @CleanAirLondon @cleanaircatf

— EcoWatch (@EcoWatch)1467424209.0
According to Envinity, fine particles, or particles smaller than 10 micrometers, are linked to an increased risk of respiratory and cardiovascular health problems. Ultra-fine particles, which are smaller than 0.1 micrometers, have an even greater impact on public health as they can damage the nervous system, including brain cells and also cause infections in the human body.
These toxic particles are the result of man-made pollution. Unregulated and poorly regulated energy production and use, as well as inefficient fuel combustion, are the "most important man-made sources of key air pollutant emissions," the International Energy Agency stated. Eighty-five percent of particulate matter—which can contain acids, metals, soil and dust particles—and almost all sulfur oxides and nitrogen oxides can be linked back to those sources.
Boersen said that governments, businesses and airports have already expressed interest in the project.

"It might be a cliché, but we hope that we will be able to leave the world a better place than when we found it," Envinity Group co-founder Simon van der Burg told Dutch News.
Policy plays an enormous role in the future of our planet. Check out this great list from Mother Jones of four recent environmental policies we should all be thankful for.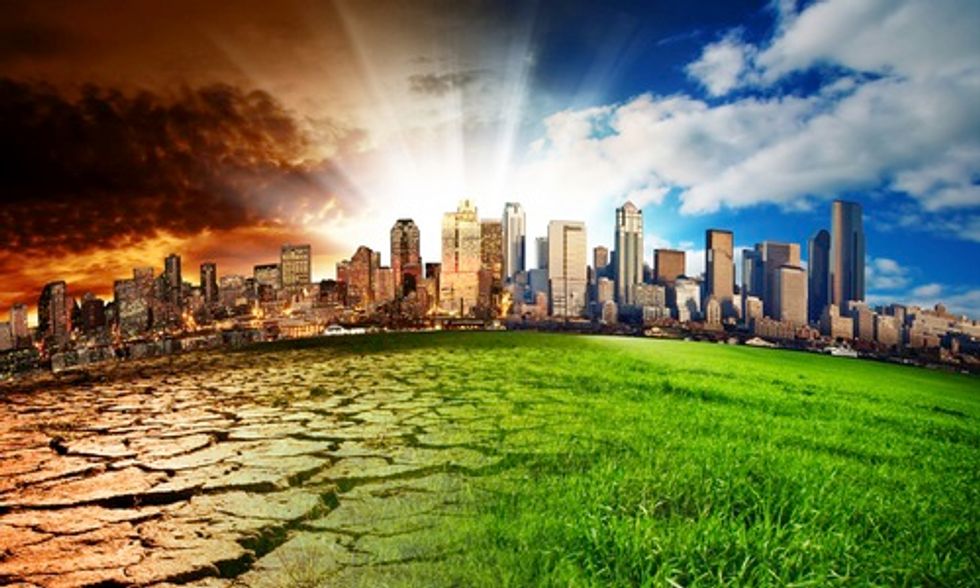 Shutterstock
1. The U.S. and the World Bank will avoid financing coal-fired power plants abroad.
Burning coal is among the dirtiest ways to produce energy and quickest ways to accelerate climate change. This July, when the World Bank announced it would limit funding for new coal-burning plants to "rare circumstances" where countries have "no feasible alternatives," green advocates were thrilled. At the same time, the global development giant also reversed its opposition to hydroelectric power, which many environmental activists had pushed as an alternative to cheap energy from coal. Last month, based on an announcement President Obama made in June, the U.S. Treasury Department also ceased financing any new coal projects abroad except in cases where coal was the only viable option for bringing power to poor regions. The U.S. and World Bank decisions only affect coal projects that use public financing; around the world, many are built with private money. But a Treasury official told the New York Times the Obama administration believed "if public financing points the way, it will then facilitate private investment."
2. The White House will push carbon limits for new and existing power plants.
Natural gas and coal-fired power plants are responsible for 40 percent of the United States' carbon emissions and one-third of its greenhouse gas emissions. The country can't address climate change without regulating this sector of the economy. In his June speech at Georgetown University, President Obama announced that for the first time ever, the U.S. Environmental Protection Agency (EPA) will propose rules to cap carbon emissions from existing power plants. His administration also pushed forward a rule to limit pollution from new power plants, which had stalled last year. If the EPA finalizes the rule and it's upheld in court, it would limit new coal-fired plants to 1,100 pounds of carbon dioxide emissions per megawatt hour—the average coal power plant releases 1,800 pounds—and new gas power plants to 1,000 pounds. Obama said the rules were necessary for the U.S. to meet its pledge to bring down greenhouse gas emissions by 17 percent—or below 2005 levels—by the year 2020.
3. The global warming slowdown showed that international agreements can reduce climate change.
The so-called global warming "slowdown" you heard about over the summer certainly doesn't mean that global warming has stopped—regardless of what climate skeptics may be saying. Although climate scientists determined that over the past 15 years, the rate of the warming of the planet has slowed, the Earth's surface and oceans are continuing to heat up at an alarming rate. (Other recent research suggests the slowdown might not have occurred.) But one study found an unexpected factor contributed to the slowdown: the partial cause appears to be a planet-wide phaseout of greenhouse-trapping gases called chlorofluorocarbons (CFCs), which more than 40 countries agreed to by signing the Montreal Protocol in 1988. Without the protocol, environmental economist Francisco Estrada of the Universidad Nacional Autónoma de México reports, global temperatures today would be about a tenth of a degree Celsius higher than they are, Tim McDonnell explained earlier this month. That's roughly an eighth of the total warming documented since 1880. Bottom line? The global warming slowdown actually seems to be a strong indication that international treaties aimed at reducing climate change can work—and that we need more of them.
4. The world's largest economies will reduce the use of a potent greenhouse gas.
The phaseout of CFCs had another unexpected outcome. Manufacturers began to replace CFCs—used in air conditioners, refrigerators, and aerosol cans—with hydrofluorocarbons (HFCs). HFCs don't eat away at the ozone layer like CFCs do. But scientists recently concluded HFCs are a type of super-pollutant—gases that have exponentially more heat-trapping ability than carbon dioxide, although they dissipate from the atmosphere within a few years. Without intervention, HFCs were on track to make a huge contribution to global warming. If present trends hold steady, then by the year 2050, the amount of HFCs humans will have released into the atmosphere will cause as much warming as 90 billion metric tons of carbon dioxide. But this year saw positive signs that world leaders are ready to curb this powerful greenhouse gas. In a deal that the White House announced in June, the U.S. and China agreed to explore technologies and financial incentives to reduce the use of HFCs. Three months later, leaders of the Group of 20, which includes major economic powers like Russia, announced that their countries, too, would make plans to reduce the use of HFCs.
Visit EcoWatch's CLIMATE CHANGE page for more related news on this topic.

Thousands of children across the U.S. will shun the yellow bus and walk or bicycle to school on Oct. 9 as part of National Walk to School Day.
Organizers of the one-day event, now in its 16th year, say walking or bicycling to school results in a number of positive consequences, including reduced traffic—and less air pollutants emitted by vehicles.
And it's not just by school buses. Personal vehicles taking students to school account for 10 percent to 14 percent of all personal vehicle trips made during the morning peak commute times, according to a 2011 report from the National Center for Safe Routes to School (based on National Household Travel Survey Data, 2009). Those vehicles emit a variety of air pollutants, resulting in increases in ground-level ozone, nitrogen oxides and particulate matter such as particles of dust, soot, smoke, dirt and liquid droplets, according to the U.S. Environmental Protection Agency.
Organizers say other benefits of walking to school include increased physical activity, a stronger sense of community, safer streets and lower costs for school districts—one school district calculated $237,000 in annual savings.
The event was founded in 1997 by the Partnership for a Walkable America as a way to build awareness of the need for walkable communities. The event became international  in 2000 when the U.K. and Canada joined; today more than 40 countries participate.  In 2012, bicycling to school became part of the event.
Participation in Walk to School Day 2012 reached a record high, with more than 4,200 events registered from all 50 U.S. states and the District of Columbia. Many more communities held events but did not register.