The air pollution in several Indian cities is getting so bad that government officials have initiated drastic measures to protect its citizens from the eye-stinging levels of smog. In fact, the nation's capital of New Delhi currently holds the ominous title of world's most polluted city, CNN reported.
On Sunday, Delhi Chief Minister Arvind Kejriwal declared the intense smog levels an "emergency situation," and ordered the shut down of 5,000 schools for the next three days and the halting of construction operations for the next five days. A coal-fired power plant will also be closed for 10 days and roads will be doused with water to suppress dust. If the situation does not improve, Kejriwal might impose odd-even vehicle restrictions that would only permit driving every other day.

"Pollution has increased to an extent that (the) outdoors in Delhi are resembling a gas chamber," Kejriwal said, adding that the smog blanketing the capital is due to crop burning in the neighboring agricultural states of Punjab and Haryana.
The ongoing pollution sparked a protest on Sunday outside of Parliament in the city center. Hundreds of protesters showed up in pollution masks, demanding the government to protect its citizens' right to breathe clean air.
Many people initially blamed the smog on Sunday's Diwali festivities, but Kejriwal said that "fireworks during Diwali marginally added to the pollution … But other things inside Delhi did not drastically change. So the smog is mainly due to smoke from farm fires."
Still, the air pollution in Delhi has notably worsened over the years from several factors including its growing population of 25 million, rapid urbanization, an increase in traffic and emissions from diesel-burning cars, coal-fired power plants and other industrial emissions. This winter's weather patterns also means less wind to circulate the air, the Associated Press explained.
Following in New Delhi's footsteps, officials in the city of Lucknow, the capital of the state of Uttar Pradesh, have also been forced to close schools on Monday and Tuesday due to ghastly pollution levels.

According to the Associated Press, New Delhi and Lucknow have registered the levels of PM2.5 (fine particulate matter with a diameter of 2.5 micrometers, one of the deadliest and most dangerous forms of air pollution) above 400 micrograms per cubic meter on Monday. That's more than 40 times the safety limit set by the World Health Organization, and more than six times the limit set by Indian law. For comparison, Los Angeles—one of the most polluted cities in the U.S.—has a PM2.5 reading of 74 as of Monday morning.
Air is safe to breathe at 150, but the Air Quality Index from the US Embassy in Delhi reported that the city's terrible air quality is literally off the charts at a "hazardous" 999.
EcoWatch Daily Newsletter
A Dutch tech startup called Envinity Group has unveiled a giant outdoor vacuum cleaner designed to filter the tiniest toxic specks from the atmosphere.
Dutch unveil giant vacuum to clean outside air https://t.co/qjn7gKgLx0 https://t.co/lx98zRAspb

— Hindustan Times (@Hindustan Times)1477481401.0
The invention was presented at the Offshore Energy trade fair in Amsterdam on Tuesday.

"It's a large industrial filter about 8 meters (26 feet) long, made of steel ... placed basically on top of buildings and it works like a big vacuum cleaner," company spokesman Henk Boersen told AFP.
The firm describes their invention as the "world's first giant outside air vacuum cleaner," according to AFP.
"A large column of air will pass through the filter and come out clear," Boersen told AFP.
Envinity claims that their prototype can suck in air from a 300-meter radius and about seven kilometers (4 miles) upwards. Citing tests from the Energy Research Centre of the Netherlands, the impressive machine can clean about 800,000 cubic meters (28,000 cubic feet) of air per hour using patented ozone-free ion technology. As a result, the vacuum can filter out 100 percent of fine particles and 95 percent of ultra-fine particles.
As Envinity states, fine particles and ultra-fine particles are indeed extremely harmful to public health, and can be a hindrance to national, regional and local investments and economic progress.

"Without really being aware of it, we breathe in small quantities of toxic particles from the surrounding air 24 hours a day. These are responsible for a great many health problems," Envinity notes on its website.
As EcoWatch observed previously, exposure to poor air quality is the world's fourth-leading threat to human health. An International Energy Agency study found that 6.5 million deaths globally are attributed to poor air quality.
6.5 Million People Die Each Year From Air Pollution, IEA Says https://t.co/Tq0UZPr7Kj @CleanAirLondon @cleanaircatf

— EcoWatch (@EcoWatch)1467424209.0
According to Envinity, fine particles, or particles smaller than 10 micrometers, are linked to an increased risk of respiratory and cardiovascular health problems. Ultra-fine particles, which are smaller than 0.1 micrometers, have an even greater impact on public health as they can damage the nervous system, including brain cells and also cause infections in the human body.
These toxic particles are the result of man-made pollution. Unregulated and poorly regulated energy production and use, as well as inefficient fuel combustion, are the "most important man-made sources of key air pollutant emissions," the International Energy Agency stated. Eighty-five percent of particulate matter—which can contain acids, metals, soil and dust particles—and almost all sulfur oxides and nitrogen oxides can be linked back to those sources.
Boersen said that governments, businesses and airports have already expressed interest in the project.

"It might be a cliché, but we hope that we will be able to leave the world a better place than when we found it," Envinity Group co-founder Simon van der Burg told Dutch News.
Policy plays an enormous role in the future of our planet. Check out this great list from Mother Jones of four recent environmental policies we should all be thankful for.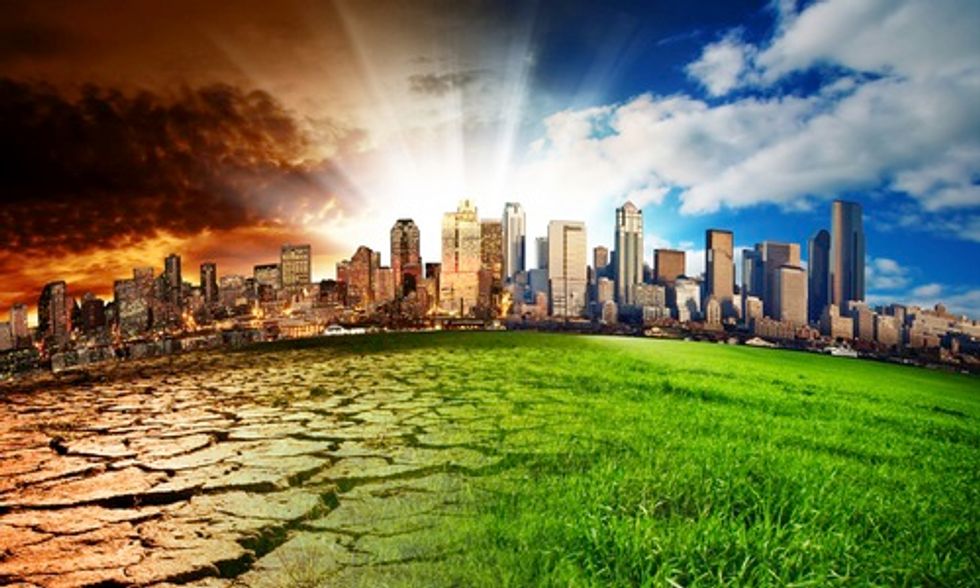 Shutterstock
1. The U.S. and the World Bank will avoid financing coal-fired power plants abroad.
Burning coal is among the dirtiest ways to produce energy and quickest ways to accelerate climate change. This July, when the World Bank announced it would limit funding for new coal-burning plants to "rare circumstances" where countries have "no feasible alternatives," green advocates were thrilled. At the same time, the global development giant also reversed its opposition to hydroelectric power, which many environmental activists had pushed as an alternative to cheap energy from coal. Last month, based on an announcement President Obama made in June, the U.S. Treasury Department also ceased financing any new coal projects abroad except in cases where coal was the only viable option for bringing power to poor regions. The U.S. and World Bank decisions only affect coal projects that use public financing; around the world, many are built with private money. But a Treasury official told the New York Times the Obama administration believed "if public financing points the way, it will then facilitate private investment."
2. The White House will push carbon limits for new and existing power plants.
Natural gas and coal-fired power plants are responsible for 40 percent of the United States' carbon emissions and one-third of its greenhouse gas emissions. The country can't address climate change without regulating this sector of the economy. In his June speech at Georgetown University, President Obama announced that for the first time ever, the U.S. Environmental Protection Agency (EPA) will propose rules to cap carbon emissions from existing power plants. His administration also pushed forward a rule to limit pollution from new power plants, which had stalled last year. If the EPA finalizes the rule and it's upheld in court, it would limit new coal-fired plants to 1,100 pounds of carbon dioxide emissions per megawatt hour—the average coal power plant releases 1,800 pounds—and new gas power plants to 1,000 pounds. Obama said the rules were necessary for the U.S. to meet its pledge to bring down greenhouse gas emissions by 17 percent—or below 2005 levels—by the year 2020.
3. The global warming slowdown showed that international agreements can reduce climate change.
The so-called global warming "slowdown" you heard about over the summer certainly doesn't mean that global warming has stopped—regardless of what climate skeptics may be saying. Although climate scientists determined that over the past 15 years, the rate of the warming of the planet has slowed, the Earth's surface and oceans are continuing to heat up at an alarming rate. (Other recent research suggests the slowdown might not have occurred.) But one study found an unexpected factor contributed to the slowdown: the partial cause appears to be a planet-wide phaseout of greenhouse-trapping gases called chlorofluorocarbons (CFCs), which more than 40 countries agreed to by signing the Montreal Protocol in 1988. Without the protocol, environmental economist Francisco Estrada of the Universidad Nacional Autónoma de México reports, global temperatures today would be about a tenth of a degree Celsius higher than they are, Tim McDonnell explained earlier this month. That's roughly an eighth of the total warming documented since 1880. Bottom line? The global warming slowdown actually seems to be a strong indication that international treaties aimed at reducing climate change can work—and that we need more of them.
4. The world's largest economies will reduce the use of a potent greenhouse gas.
The phaseout of CFCs had another unexpected outcome. Manufacturers began to replace CFCs—used in air conditioners, refrigerators, and aerosol cans—with hydrofluorocarbons (HFCs). HFCs don't eat away at the ozone layer like CFCs do. But scientists recently concluded HFCs are a type of super-pollutant—gases that have exponentially more heat-trapping ability than carbon dioxide, although they dissipate from the atmosphere within a few years. Without intervention, HFCs were on track to make a huge contribution to global warming. If present trends hold steady, then by the year 2050, the amount of HFCs humans will have released into the atmosphere will cause as much warming as 90 billion metric tons of carbon dioxide. But this year saw positive signs that world leaders are ready to curb this powerful greenhouse gas. In a deal that the White House announced in June, the U.S. and China agreed to explore technologies and financial incentives to reduce the use of HFCs. Three months later, leaders of the Group of 20, which includes major economic powers like Russia, announced that their countries, too, would make plans to reduce the use of HFCs.
Visit EcoWatch's CLIMATE CHANGE page for more related news on this topic.

Thousands of children across the U.S. will shun the yellow bus and walk or bicycle to school on Oct. 9 as part of National Walk to School Day.
Organizers of the one-day event, now in its 16th year, say walking or bicycling to school results in a number of positive consequences, including reduced traffic—and less air pollutants emitted by vehicles.
And it's not just by school buses. Personal vehicles taking students to school account for 10 percent to 14 percent of all personal vehicle trips made during the morning peak commute times, according to a 2011 report from the National Center for Safe Routes to School (based on National Household Travel Survey Data, 2009). Those vehicles emit a variety of air pollutants, resulting in increases in ground-level ozone, nitrogen oxides and particulate matter such as particles of dust, soot, smoke, dirt and liquid droplets, according to the U.S. Environmental Protection Agency.
Organizers say other benefits of walking to school include increased physical activity, a stronger sense of community, safer streets and lower costs for school districts—one school district calculated $237,000 in annual savings.
The event was founded in 1997 by the Partnership for a Walkable America as a way to build awareness of the need for walkable communities. The event became international  in 2000 when the U.K. and Canada joined; today more than 40 countries participate.  In 2012, bicycling to school became part of the event.
Participation in Walk to School Day 2012 reached a record high, with more than 4,200 events registered from all 50 U.S. states and the District of Columbia. Many more communities held events but did not register.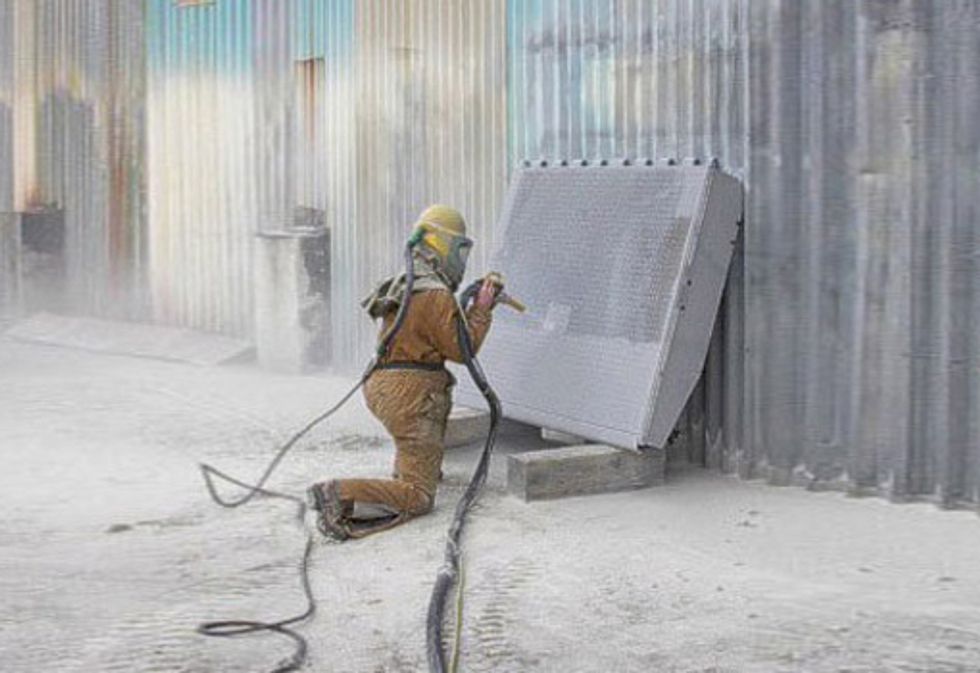 An extraordinary delay in the development of federal protections against exposure to crystalline silica is harming American workers, more than 300 public health scientists, doctors and occupational safety experts told President Obama Jan. 25.
In a letter, the group asked the president to intervene and direct the White House Office of Management and Budget (OMB) to complete its review of a proposed rule from the Occupational Safety and Health Administration (OSHA) to protect workers from exposure to the deadly dust "so that the public, workers, unions, public health experts and employers have the full opportunity to participate in the development of this important worker protection measure."  
Despite being required by executive order to complete its review of proposed rules within 90 days, OMB has held the rule for nearly a year, with no signal of when its review will be complete.
"This delay in action by OMB leaves workers at significant risk of disease and death," according to the letter. "It also prevents the rulemaking process from moving forward, obstructing public participation on this important worker safety and public health matter."
The scientists have joined the American Industrial Hygiene Association in questioning whether the delay is due to politics. The letter notes that OMB staff has held at least nine private meetings on the proposed rules, most of which involved individuals that represent companies with a direct financial stake in their outcome.
The rule has been in development for 14 years. On Dec. 21, 2011, the National Advisory Committee on Occupational Safety and Health wrote the secretaries of Labor and Health and Human Services to emphasize the importance of issuing the proposed silica rule "so that the public hearings and comment period can commence, and a final silica standard issued to protect workers from this serious workplace hazard."
"The White House's job is to coordinate the development of rules that protect the public, not to stand in their way," said Francesca Grifo, director of the Union of Concerned Scientists' Scientific Integrity Program. "The OMB is hundreds of days behind schedule, and every day these rules are delayed, more workers are at risk."
An estimated 1.7 million workers in the U.S. are exposed to respirable crystalline silica, a product of industrial processes like stonecutting, road building and sand blasting that can cause lung cancer, silicosis and other respiratory illnesses.
"Working in silica dust has left me with bad lungs," said Leonard Serafin, a former railroad worker with silicosis from San Bernardino, Calif. "Every day, I struggle to do activities because of my condition. I want to see that other people are protected from this dust—it's not fair to expose people to something this dangerous when they can be protected."
The Centers for Disease Control and Prevention report that about 200 workers die each year from silicosis, and studies estimate there are as many as 7,300 new cases of silicosis annually among U.S. workers. Most of the time, the prognosis is grim.
"When a person with silicosis starts to have trouble breathing, it is too late for effective treatment because the silica dust has caused permanent scarring of the lungs," said Dr. Robert Harrison, clinical professor of Medicine at University of California San Francisco and an occupational disease expert who signed the letter. "When I see a patient with silicosis, it's a stark reminder that our worker safety regulations are inadequate. Silicosis is 100 percent preventable."
Signers of the letter include public health and occupational safety advocates from 39 states and the District of Columbia along with several advocacy groups, including the National Council for Occupational Safety and Health, the Union of Concerned Scientists and Interfaith Worker Justice.
For more information, click here.
—————
The Union of Concerned Scientists is the leading U.S. science-based nonprofit organization working for a healthy environment and a safer world. Founded in 1969, UCS is headquartered in Cambridge, Massachusetts, and also has offices in Berkeley, Chicago and Washington, D.C.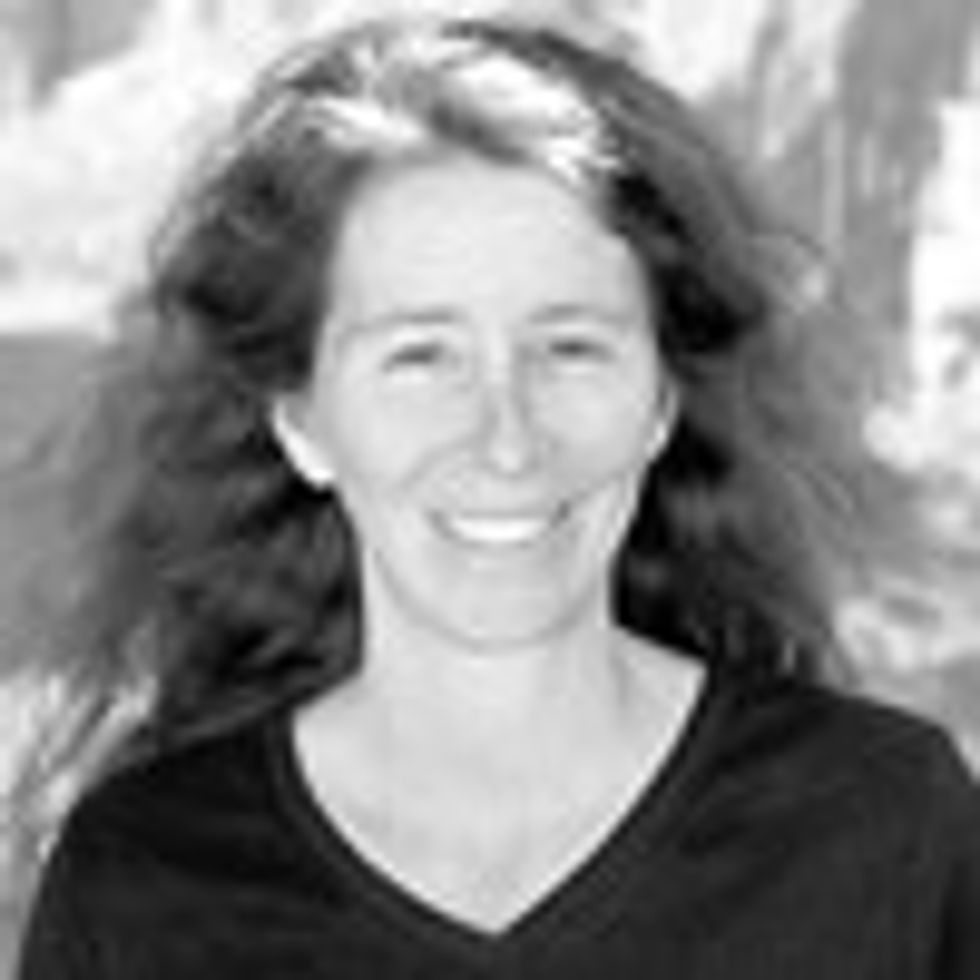 I'm often asked what keeps me so dedicated to protecting the health of the planet. My typical response is that I know if more people were educated about the impact their daily lives have on the health of the environment and future generations, they would adopt sustainable practices, and strive to protect the water we drink and the air we breathe.
The announcement yesterday by the U.S. Environmental Protection Agency (EPA), issuing the first national standards for mercury pollution from power plants, is a perfect example of why I continue with this work. If it weren't for the tens of thousands of people working every day to encourage the passage of stronger air standards, it would have remained business as usual and the nation's air quality would continue to decline since the U.S. lacks, for the most part, the congressional leadership needed to assure proper air quality standards.
I was having dinner with a friend last night who explained how her husband's asthma is getting worse and the change in the formula of his inhaler seems to be less effective. I mentioned that it's unfortunate that we live in a county that is in nonattainment air quality, as designated by the U.S. EPA, as I'm sure that affects his breathing. She asked me what I was talking about, because to her, especially since we live near the woods, our air quality seems fine.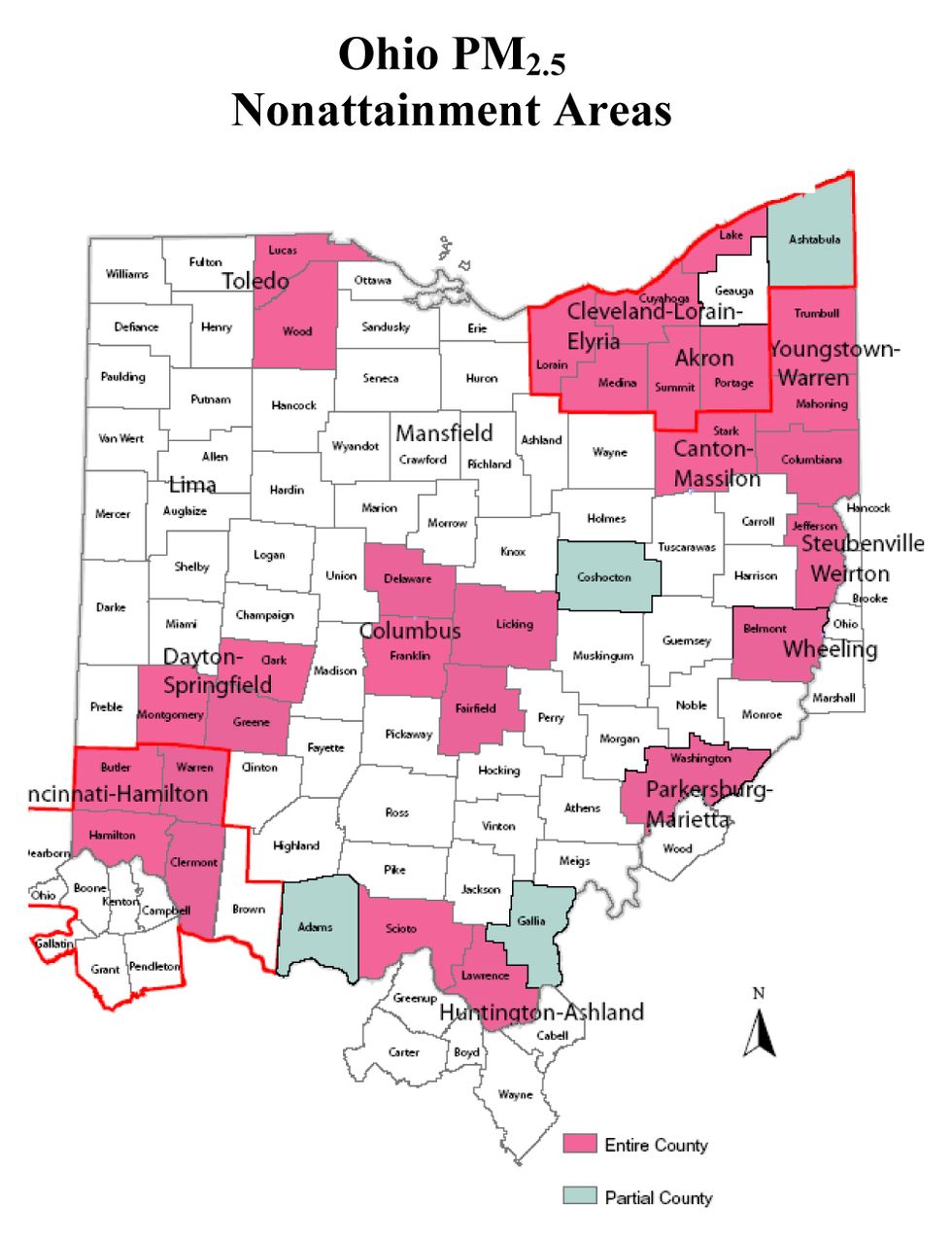 I told her about a map I've known about for years that shows which of the 88 counties in Ohio are in nonattainment air quality for fine particulate matter (PM2.5), which can greatly impact people with asthma. I emailed her the map this morning, with a three-page fact sheet explaining what nonattainment means for the public health, and refreshed my knowledge of the map. Unfortunately, Cuyahoga County, where we both live, is landlocked by six other counties all in nonattainment air quality.
I'm a runner and I have to hit my inhaler right before my run every other day to prevent an asthma attack. I'm certainly feeling fortunate today that the Obama Administration mandated that the U.S. EPA finally implement these historic standards, as ordered by Congress more than 20 years ago with the passage of the Clean Air Act Amendments of 1990. The U.S. EPA has been regulating most industries to improve air quality except for the biggest polluters, including coal-fired power plants.
Since Ohio gets nearly 90 percent of its electricity from the burning of coal, these regulations should have a major impact on our air quality.
According to the U.S. EPA, the standards passed yesterday will prevent as many as 11,000 premature deaths and 4,700 heart attacks a year, and protect American children by preventing 130,000 cases of childhood asthma symptoms and about 6,300 fewer cases of acute bronchitis each year.
Boy can I relate to this. My 12-year old son who started cross country last fall has been continuing to stay in shape and run into the winter.  Recently, after some of his runs, his breathing has been shortened and shows signs of exercised-induced asthma. It will be great when these standards prevent 130,000 cases of childhood asthma as I'm sure my son falls into this category. There's no doubt that these standards are going to save the American people a significant amount of money in healthcare costs.
My thanks goes out to the Obama Administration for following through with these standards to protect human health and the environment.