This website uses cookies to ensure you get the best experience while browsing it. By clicking 'Got It' you're accepting these terms.
Coastal parks such as Assateague Island National Seashore are experiencing increased threats of sea level rise.
NPS Climate Change Response
As the all-important United Nations climate talks kick off in Katowice, Poland this week, the World Bank Group announced Monday that it will significantly ramp up its investments to fight climate change, and it is urging the wider global community to do so as well.
It will double its current 5-year investments to around $200 billion from 2021-2025 to boost adaptation and resilience in a rapidly warming world, especially in the world's poorest countries.
World Bank president Jim Yong Kim speaks at the International Monetary Fund and World Bank annual meeting in Bali, Indonesia on Oct. 11. Goh Chai Hin / AFP / Getty Images
Correction: A previous version of this article ran the headline The World Banks Quits Coal. The article has been updated for accuracy to emphasize that the shift to renewables was driven by cost.
The World Bank has withdrawn its support for a planned 500-megawatt coal plant in Kosovo because it cannot compete with renewable energy on price, president Jim Yong Kim said Wednesday.
The power plant was the last coal project being considered for financing by the World Bank.
EcoWatch Daily Newsletter
The duel island nation of St. Kitts and Nevis has lost more than 25 percent of its land mass to sea level rise.
Nesnad / CC BY-SA 3.0
Eric Volto / Getty Images
The World Bank launched the first in a series of bonds designed to raise awareness about the importance of ocean and water resources, the organization announced last Thursday.
The series was announced in conjunction with World Water Week, which took place in Stockholm from August 26 to 31 and gathered experts, business people and decision makers from around the world to discuss solutions to water issues.
Much of the discussion around climate refugees has focused on movement between countries, with the Syrian refugee crisis serving as a chilling preview of the global exodus to come.
But a new report released by the World Bank on Monday honed in on the problem of internal displacement, finding that as many as 140 million people in three densely-populated, developing regions might be forced by climate change to migrate within their countries' borders by 2050. It is the first report to focus on the impact of climate change on intra-country migration specifically, The Guardian reported.
India is betting on a "green future" through clean energy and low carbon innovation. UK Department for International Development / Flickr
A wind, solar and battery storage plant is being planned for the southeastern Indian state of Andhra Pradesh, which has faced power woes in recent months due to grid failure.
The renewable energy facility will consist of 120 megawatts of solar, 40 megawatts of wind, 20-40 megawatt-hours of battery backup and will be spread over 1,000 acres in the district of Anantapur.
World Bank Group president Jim Yong Kim at One Planet Summmit: "We're working with partners to put the right policies in place, get market forces moving in the right direction, put money on the table, and accelerate climate action." World Bank / Twitter
In effort to bolster a global shift to clean energy, the World Bank—which provides financial, advisory and technical support to developing countries—announced it will "no longer finance upstream oil and gas, after 2019."
The announcement was made Tuesday at the international One Planet climate summit called by French President Emmanuel Macron, President of the World Bank Group Jim Yong Kim, and United Nations Secretary-General António Guterres.
World Bank Group headquarters. Simone D. McCourtie / World Bank / Flickr
By Allison Lee
In the last year alone, vulnerable populations have suffered massive damage from the impacts of a changing climate. "Super hurricanes" have torn through the Caribbean—turbocharged by abnormally warm waters—making islands uninhabitable.
Flooding, mudslides, wildfires, and avalanches have hit nearly every continent, killing thousands. These extreme weather events decimated basic infrastructure and destroyed livelihoods and economies. While not all of these individual events can be unequivocally linked to climate change, many are strengthened by it, and they are a harbinger of things to come in a world of climate disruption.
Connect4Climate
[Editor's note: I'm still in shock after hearing the news that Lucia Grenna passed away in her sleep last week. When we first met in April of 2014 at a Copenhagen hotel, I was immediately taken by here powerful presence. We spent the next couple days participating in a Sustainia climate change event where Lucia presented her audacious plans to connect people to the climate issue. I had the chance to partner with Lucia on several other projects throughout the years and work with her incredible Connect4Climate team. I was always in awe of her ability to "make the impossible possible." Her spirit will live on forever. — Stefanie Spear]
It is with a heavy heart that Connect4Climate announces the passing of its founder and leading light, Lucia Grenna. Lucia passed peacefully in her sleep on June 15, well before her time. We remember her for her leadership and extraordinary ability to motivate people to take on some of the greatest challenges of our time, not least climate change.
Already the Flim4Climate Global Video Competition has more than 250 entries from 100 countries and counting. Each video is telling a story of how skyrocketing carbon emissions and the activities that feed those emissions are having impacts across the globe. More videos are being submitted every day.
Each story is its own. Some films focus on the individual, others focus on groups, a few focus on countries as a whole and others don't focus on humans at all—instead choosing to examine animals, plants or oceans. Individually, these films leave a viewer with a unique experience, but collectively these films combine to create a wonderful mosaic of some of the biggest issues related to climate change today.

We have one week left to the deadline for video submissions (enter your story before Sept. 15) and it is already clear that the stories told through Film4Climate hit the big issues and draw light on the often under told implications of the climate crisis.
Here are three takeaways from the submissions we've received so far and reasons why you should submit your climate story today:
Take 1: Consumption Junctions
If you were to blindly click on the part of the Film4Climate website where all the videos are displayed (vote for your favorite), there's a good chance you would find a film addressing consumption habits. Perhaps this increased emphasis on the electricity we use, the food we eat and the water we require, is indicative of a "post-Paris" climate movement that is beyond merely making noise directed at heads of state and obscure United Nations committees and is instead focused on actions that drive the transition away from fossil fuels.
Of course, meeting the targets agreed upon at Paris will require governments and heads of state to keep stepping up, but as seen in so many of the Film4Climate entries, it's the individual who really holds the power, especially when it comes to consumption. The film entries relating to electricity usage and the consequences our diets have on the planet, talk as much about the food and electricity that we don't use as much as the food and electricity we do use. And for good reason.
When it comes to electricity use, there are a few films that simply emphasize the difference in use by telling the stories of a few people. In the developed world there are huge differences when it comes to personal energy use. In the U.S. and Canada, for example, the average person uses about 4,500 kWh each year while a person in the UK or Germany will come in way under that by using under 2,000 kWh each year.
But variations don't just exist in the developed world, emerging economies show wide ranges in energy use. The average person in Brazil, Mexico and China uses about 500 kWh, but in Brazil residential use per person has been the same for almost 20 years, while in Mexico it is up 50 percent and in China it has increased 600 percent. There are film submissions from all these countries devoted to consumption habits.
Of course there are a number of positive stories of innovation that lead to smarter ways of consuming electricity and energy. Many of these films are incredibly inspiring and focus on very local solutions. When it comes to reducing pollution, being smarter about energy and rethinking our diets, there are a number of films highlighting champions that we can all learn from.
Beyond energy there is a major emphasis on food in the Film4Climate competition. Again, the films are complimented well by the facts on the ground. In the U.S. alone, approximately 40 percent of food goes to waste. Globally, about one third of the food produced for human consumption every year—approximately 1.3 billion tons—gets lost or wasted.
Unsurprisingly, much of the food-focused films in this contest so far are devoted to exposing the damage caused by the global meat industry. The World Resources Institute studied the impact of meat consumption on the planet and found that, "reducing heavy red meat consumption—primarily beef and lamb—would lead to a per capita food and land use-related greenhouse gas emissions reduction of between 15 and 35 percent by 2050." According to that same World Resources Institute report, "Beef uses more land and freshwater and generates more greenhouse gas emissions per unit of protein than any other commonly consumed food."
A growing global beef industry requires more land for grazing and that has resulted in massive clear cutting of the world's largest rainforest. Thus, the beef consumption issue is a deforestation issue. Which brings us to...

Take 2: Deforestation Flicks
For any environmentalist and for what is probably a large part of the population, seeing trees and forests cut down evokes a real and tangible emotion. The destruction of a living thing, that is a habitat for so many other living things and provides the oxygen all earthly things carries weight.
For any environmentalist and for what is probably a large part of the population, seeing trees and forests cut down evokes a real and tangible emotion.Mahmoud El-Kholy
It can manifest with a flinch that accompanies the screech of revved up chainsaw or the internal hollowness that radiates like tree rings from one's stomach when a giant tree thuds helplessly on the forest floor. Maybe these images, these sounds these feelings are the reason so many films in the Film4Climate contest highlight the deforestation issue.
While forest-related stories come from all parts of the world, Brazil is a common setting. Over the last thirty years, the Amazon rainforest has has lost about a fifth of its trees. There are a number of causes for this but the largest, as indicated above factor is cattle ranching. Trees are cut and the land is converted into a pasture for cattle grazing at such a staggering rate in Brazil that between 1996 and 2004, the total export value of Brazilian beef increased tenfold from $1.9 million to $1.9 billion. Brazil is now the largest beef exporter in the world. In other parts of the world, where cattle grazing persists so to does deforestation.
But it's not all cattle. Often, deforestation is the result of increased development or in other cases, deforestation is the result of a quest for palm oil, used in many household, cooking and cosmetic goods. A whopping 85 percent of all palm oil in the world is produced and exported from Indonesia and Malaysia.
Be it beef production, palm oil or other factors, the world lost an estimated 129 million hectares of forest, an area the size of South Africa, between 1990 and 2015. This trend is a real life horror plot as forests are the largest holder of carbon, but deforestation is the largest source of carbon dioxide emissions after fossil fuel burning, causing 15 percent of global greenhouse gas emissions.
Of course not all the films focused on the negative of deforestation. Within every genre of film submitted so far to the contest, there are a number of solutions based films related to deforestation. In fact a common theme running through the positive deforestation films was one of rethinking our personal relationships with nature and how adjusting our mindset to when it comes to diet and development can make a difference.
Whether it's the positive or the negative, deforestation story needs to be told and I encourage any filmmaker out there working on the issue to enter their story.
Take 3: Water, Water Everywhere
Water runs through everything on this planet, so perhaps it's no surprise that water is a theme that runs rapidly through the Film4Climate competition.
Videos already sent in to this competition focus on subjects like the food we get from the ocean (spoiler alert: it's fish), the freshwater habitats that are at risk to climate change and the irreversible damage we are doing to our reefs thanks to ocean acidification. Higher temperatures and a shift in extreme weather patterns affect availability and distribution of rain, snow, river flows and groundwater and further deteriorate water quality.
Videos already sent in to this competition focus on subjects like the food we get from the ocean.Stephanie Rabemiafara
The films devoted to these impacts, whether they tell a story of remote villagers that must now travel farther for sketchier sources of water for their family or they document the growing number of vanishing species resulting from vanishing habitats, underscore the connectivity that comes with the water challenge.

Many of the water films are incredibly positive stories as they tend to focus on localized solutions and individuals who are determined to make water access easier for their communities. Through a number of the positive heroic actions the water struggle is explained by focusing on the heroes instead of the villains.
But if there it's villains you are into then look no further than the issue of ocean acidification. Ocean Acidification, the result of warming water and subsequent chemical reactions, has a dramatic impact on calcifying species like oysters, clams, shallow water corals and deep sea corals along with a number of other creatures under the sea.
Above the sea, more than a billion people worldwide rely on food from the ocean as their primary source of protein and a huge number are employed by getting those creatures on dinner tables around the world. The films dealing with ocean acidification all touch on the food aspect, as well as the fact that acidification is already taking hold on some of the world's most vibrant habitats like the Great Barrier Reef.
If you have a story about better caring for or preserving our water resources in times of climate change, please enter your film.

With more than 200 films entered in the Film4Climate contest and each one of those containing a real story about how the climate crisis is taking hold around the world, there's a lot for any film fanatic to take in.
I hope that when the submission deadline hits in September we have many more stories to watch and more inspiration for action to take on climate change. After all, we should all be working towards a happy ending on climate change.
Suleiman Khan is a freshman student at Montgomery College Rockville. He is an international student from Saudi Arabia who is studying medicine. He aspires to be a doctor, more specifically a general surgeon who can help people in third world countries. He is planning to attend University of Maryland within the next year to continue his bachelors degree.
I have always had the feeling that my life was lacking in a way. That I was not doing enough of something. Yet, I could not figure out what that something was. It was a void that needed to be filled.
I remember when climate change was only a word to me. I remember when recycling was only a chore to do.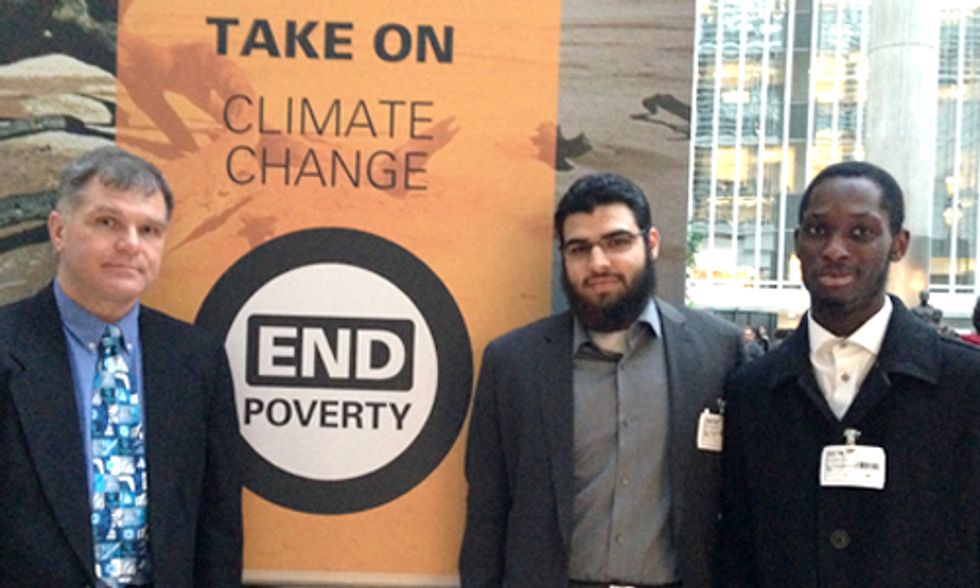 I remember all this so well because it was only fours months ago that I started to care about what climate change actually meant.
My sociology professor, whom I now consider to be a friend, first formally introduced me to the concept of climate change. At first, I thought that climate change was just a part of my sociology class—something that we would be done with after a few classes. However, that was not the case.
After several weeks of discussing the topic, I realized that climate change was more than that to my professor. For him, it was a passion and he felt an obligation to make his students also feel passionate about it.
I come from a country that is considered one of the richest in the world. A country where temperatures rise high enough to cook an egg on the sidewalk. I was raised in Saudi Arabia.
Climate change has never been a topic on the tongues of the students of Saudi Arabia. I cannot recall once ever hearing about climate change from my teachers, friends, classmates or family. This tells me that there is a huge population oblivious to what is happening around the world.
As a country that produces most of the fossil fuel distributed throughout the world, it is no surprise that climate change is never discussed in Saudi Arabia. That would be like admitting that the Saudi government has left a huge carbon footprint.
Since I only had a rudimentary understanding of climate change, I began researching more about it. I came across several talks on the topic by people I had never heard of before. One of them stood out to me. When talking about climate change, this person had a look on her face that I did not see on others. She had a look that was very familiar to me. In no time at all I remembered where I had seen that look before. It was the same look my professor had when he spoke about climate change. It was the look of passion.
This person's name is Rachel Kyte, who is the World Bank's principal advocate for raising global awareness of climate change. Ms. Kyte has given many talks about climate change over the years, and is helping inspire a social change in the world. Her speeches are inspirational. I remember thinking, how can I be like this person?
A week later, I was granted an opportunity that comes once in a lifetime. Have you ever wished you had the chance to meet someone and were granted that chance? My professor gave me that chance. He had sent me an invitation to attend the Connect4Climate screening of Years of Living Dangerously at the World Bank. The film was a preview of a new television series on climate change.
I could not believe how lucky I was. I immediately accepted the invitation and on the day of the screening I arrived at the World Bank a little bit ahead of time in the hope that I would be able to talk to Ms. Kyte. Unfortunately, I was not able to find her then. I was ushered to a seat in the auditorium, where I waited eagerly for the talk to begin. I sat straighter than I usually do and became stiff as a board.
While waiting I realized that there are a lot more people than I thought who are interested in the cause as of climate change. I realized that I was not fighting for lost cause. I felt supported.
The event started with World Bank President Jim Yong Kim stating facts about how he and his organization are trying to deal with climate change. After his talk, he invited three people on stage for a discussion about the importance of climate change and what we might expect to happen to the world if nothing is done to combat it. Ms. Kyte was moderator of the discussion.
The film that followed was something that can only be described as a dream. I could not believe what I was watching. It portrayed the world we live in the today, and the catastrophes that are happening all around us because of climate change. The movie contained many famous people who are also interested in the battle against humans' constant greed, which is killing the very planet we live on.
The movie screening ended with a round of applause from the audience. I on the other hand had a hard time looking up. I was extremely emotional. The movie had a lot of elements that would have made a stonehearted man break down in tears. I managed to compose myself. I was determined to get a word in with Ms. Kyte.
After wriggling myself between reporters, I finally managed to reach her only to be dumbstruck. I had a small speech prepared on how much she has inspired me but was only able to stutter a bit. Somehow, I managed to compose myself and was able to say a few words to her about that. I was also able to pluck up the courage to ask her if she would be photographed with me. She was happy to oblige.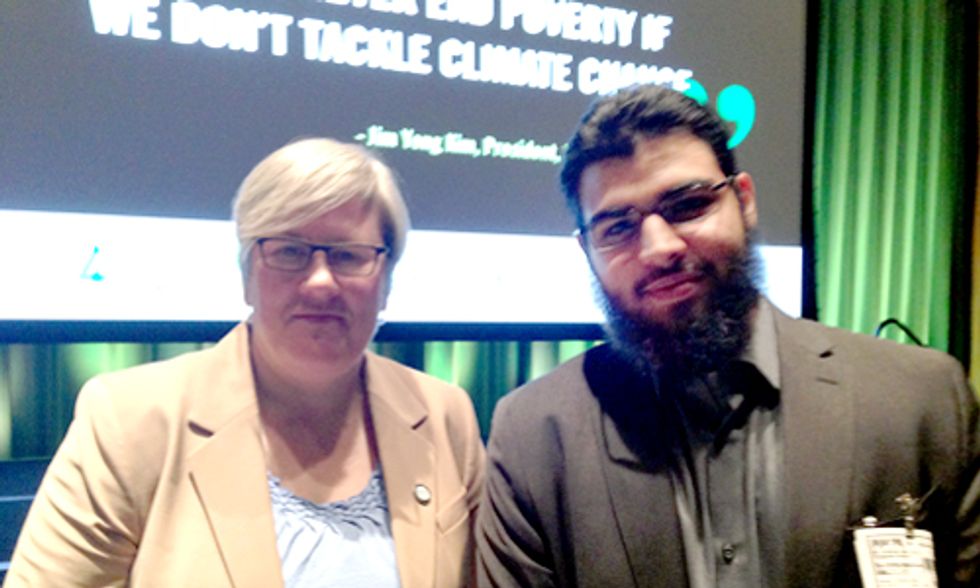 After leaving the auditorium I had a funny feeling in my gut. Walking past a glass window I saw a smile on my face that looked a bit out of place. After a few minutes I was able to put on a more socially acceptable smile.
I made my way to the small feast our hosts had put together for us. I was greeted by my professor and one of my classmates. My professor was also surrounded by two of his former students. As soon as I was introduced to them I felt an instant connection form between us. We shared the same cause and had the same inspiration.
After leaving my professors side I was struck with a new realization. I realized that the people who had attended the screening with me were not only from the U.S. There were people from China, Poland, India, Italy, Ivory, Coast, South Africa and even a fellow Saudi Arabian.
To see that there were people at the event from all over the world helped encourage me to stand firm and pursue my cause for as long as I my bones and muscles will allow me. To see a fellow countryman at the event was evidence enough that these people managed to get the word across the world. More and more people were becoming aware of our cause.
Suddenly I knew what I could do to help. I knew that I had to spread the word, to inspire as many people as I can. I decided that I would take on my professor's legacy and enlighten the minds of people about the dangers of climate change.
I left the World Bank a new person. I left with a new purpose in life. I left with a cause.
——–
YOU MIGHT ALSO LIKE
Divest Duke Urges University to Phase Out Investment in Fossil Fuels
Two College Students Show How to Grow Solutions
Students Rally for Fossil Fuel Divestment at Ohio State University
——–