This website uses cookies to ensure you get the best experience while browsing it. By clicking 'Got It' you're accepting these terms.


The best of EcoWatch, right in your inbox. Sign up for our email newsletter!
There's a short window between when a tick bites and when it passes on bacteria or virus.
MSU Ag Communications, Courtesy Dr. Tina Nations, CC BY-ND
By Jerome Goddard
When it comes to problems caused by ticks, Lyme disease hogs a lot of the limelight. But various tick species carry and transmit a collection of other pathogens, some of which cause serious, even fatal, conditions.

Kerkez / iStock / Getty Images
By Nicole Ferox
It's that time of year: Mosquitoes and ticks are out in full force, and so are all the latest bug repellent products claiming to keep them at bay. So what bug repellent ingredients do Environmental Working Group (EWG) scientists recommend for kids? Our top picks are DEET, Picaridin and IR3535. These ingredients have low safety concerns and offer a high level of protection from a variety of biting insects and ticks.
EcoWatch Daily Newsletter
The Asian longhorned tick has been found in nine states. CDC
The Centers for Disease Control and Prevention (CDC) has warned of a "multistate infestation" with the Asian longhorned tick—the first new tick species to enter the U.S. in 50 years.
New Jersey was the first state to report the Haemaphysalis longicornis on a sheep in August 2017. Since then, it has been found in Arkansas, Connecticut, Maryland, North Carolina, New York, Pennsylvania, Virginia and West Virginia, according to Friday's Morbidity and Mortality Weekly Report.
The Asian long-horned tick. James Gathany / Centers for Disease Control and Prevention
An invasive tick species was found to have spread to an eighth state Tuesday, when the Maryland Department of Natural Resources announced one was found on a deer in Washington County, The Washington Post reported.
A number of factors should come into play when you're choosing a bug repellent: what part of the country you live in, where you plan to travel, whether you're pregnant and whether you are planning to use the product on children. EWG's 2018 Guide to Bug Repellents can help you find the right product for yourself and your family.
No repellent works every place against every pest, so it is worth researching the diseases insects and ticks carry where you plan to spend time outside. The repellent you might choose for a backpacking trip in Colorado could be different from the one that might suffice for a picnic on an East Coast beach.
An Aedes albopictus female mosquito obtaining a blood meal from a human host. Centers for Disease Control and Prevention Public Health Image Library
By Joyce Sakamoto and Shelley Whitehead
Cases of vector-borne disease have more than doubled in the U.S. since 2004, the Centers for Disease Control and Prevention recently reported, with mosquitoes and ticks bearing most of the blame.
Mosquitoes, long spreaders of malaria and yellow fever, have more recently spread dengue, Zika and Chikungunya viruses, and caused epidemic outbreaks, mainly in U.S. territories. The insects are also largely responsible for making West Nile virus endemic in the continental U.S.
Aedes aegypti mosquito obtaining a blood-meal. Public Health Image Library
The number of diseases transmitted by mosquito, tick and flea bites more than tripled in the U.S. from 2004 through 2016, according to a report released Tuesday by the Centers for Disease Control and Prevention (CDC).
More than 640,000 cases were reported during those 13 years. There were more than 96,000 cases in 2016, a massive jump from the 27,000 cases in 2004.
Black-legged ticks (also known as deer ticks) feed exclusively on blood. tobyjug5 / Flickr

By Clara Chaisson
In the summer of 2013, I was changing into pajamas when an irritated blotch of skin caught my eye. My rib cage looked like a miniature advertisement for Target: There was a near-perfect circle of red, a smaller, concentric ring of clear skin, and then a red dot right in the middle. Bull's-eye.

In medical jargon this distinctive rash is called erythema migrans, and it's the calling card of Lyme disease. Fittingly enough, I was spending this particular peak tick season in Old Lyme, Connecticut—where it was first discovered in 1975. Luckily, I knew to be on the lookout for this exact symptom, and a course of antibiotics knocked it out of my system. I experienced no further problems.
By Cassidy Randall, MADE SAFE
A new report from Made Safe, Bug Repellent: What's In It?, examines common active ingredients in conventional insect repellent and their impacts to human health and the environment, as well as more natural options.
There have been studies regarding the efficacy of some repellent chemicals individually. But researchers have yet to fully understand exactly how each chemical repels insects and how they may affect our bodies and the environment, let alone what the impact may be of the myriad ingredients in combination. Made Safe sees this as a call for total mixture testing, taking into account real world exposures and usage to more fully understand potential toxicity.
Here are highlights from the report:
1. Insect repellents are made up of two types of ingredients.
Active ingredient are the active repelling chemicals and must appear on the label.
Inert ingredients, which are everything else in the products and can be all kinds of things from solvents and preservatives to anti-caking or foaming agents and fragrance and are not listed on the label.
2. Some common active ingredients are chemicals of concern:
DEET: linked to skin irritation, neurotoxicity and shown to cross the placenta. Shows up in groundwater, surface water and drinking water.
Cyfluthrin: linked to neurotoxicity and harmful to aquatic invertebrates, fish and honeybees.
Permethrin: linked to neurotoxicity and harmful to aquatic invertebrates, fish and honeybees.
Pyrethroids: a class of chemicals linked to neurotoxicty; some have been linked to endocrine disruption; some have been classified as possible carcinogens.
Read more on chemicals of concern in bug repellent.
3. Some inert ingredients can be harmful, too:
The U.S. Environmental Protection Agency has approved approximately 3,000 chemicals as inert ingredients, including some that are harmful chemicals like naphthalene (linked to cancer), xylene (linked to depression of the nervous system) and triethanolamine (linked to respiratory problems and liver and bladder cancer in animal studies).
4. Some plants have pharmacological and biological properties that make plant extracts effective insect repellent, including:

citronella
clove oil
geraniol
lemongrass
lemon eucalyptus
linalool
neem
thyme
Read more on plant-based alternatives and other tips to keep bugs at bay.

5. MADE SAFE has certified the first-ever bug repellent made entirely with safe ingredients:
Kosmatology Bug Repellent Balm: made with a mixture of herbs, essential oils and coconut oil.
6. Choose the repellent that's right for your needs:
Knowing your area and if you are at risk for a mosquito-borne or tick-borne illness can help you make the right bug repellent choice for you and your family. Go to Consumer Reports' Guide to Mosquito and Tick Diseases for information for your area.

With the rise of Zika virus and concern for other mosquito-borne diseases, Made Safe recognizes there is a time and place for the use of bug repellant products that would not pass our screening process. We urge people to become informed and stay on top of advice from the Centers for Disease Control and the World Health Organization.
MADE SAFE (Made With Safe Ingredients) is America's first certification to screen out known toxic chemicals in consumer products across store aisles, from baby bottles and bedding to personal care, cleaners and more.
Reposted with permission from Rodale News.
They may be little, but those tiny, blood-sucking ticks can cause big problems with your health, including Lyme disease, babesiosis, bartonella, anaplasmosis, Rocky Mountain spotted fever and ehrlichiosis. And the list of tick-related ills just keeps growing. Doctors are now confirming a link between lone star tick bites and cases of severe red meat allergies plaguing patients in Southeastern states. Victims of the odd tick bite side effect have been reported in places like Tennessee, North Carolina and Virginia, but doctors say the problem is spreading up the Eastern Seaboard fast.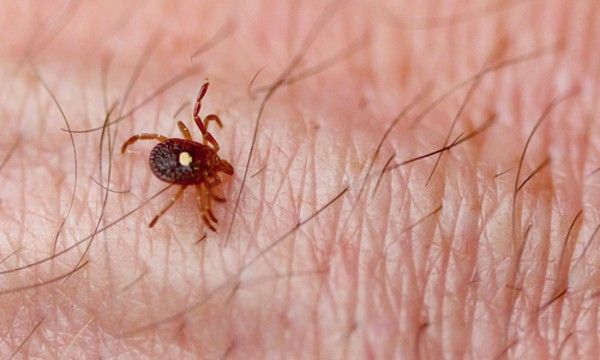 Doctors are now confirming a link between lone star tick bites and cases of severe red meat allergies. Photo courtesy of Shutterstock
According to Robert Valet, MD, assistant professor of medicine at Vanderbilt's Asthma, Sinus and Allergy Program (A.S.A.P.), some patients are developing post-tick-bite allergies to the alpha-gal sugar present in red meat, causing symptoms ranging from diarrhea, difficulty breathing and a drop in blood pressure, to hives and swelling. Some patients are reacting to milk.
"It is not completely understood exactly how the allergy starts," explains Dr. Valet. "The thought is that the tick has the alpha-gal sugar in its gut and introduces it as part of the allergic bite, and that causes the production of the allergy antibody that then cross-reacts to the meat."
Since the alpha-gal is stored in the animal fat, which takes several hours to digest, people with the allergy can go into delayed anaphylactic shock anywhere from four to six hours after eating red meat, making it difficult to diagnose. "It certainly is a big disruption for a lot of people's lives," explains Dr. Valet. "Things like your classic barbecue really become off limits."
Repeated tick bites can raise the level of allergy antibody, so Valet warns people with this allergy to avoid even small quantities of red meat and milk. He also suggests carrying an EpiPen in case a person suffers from an exposure and needs to self-treat.
Whether you're affected by the allergy or not, it's important to practice good tick-avoidance procedures:
Strip down as soon as you step inside.
Remove your clothing, toss it in the washing machine and jump in the shower as soon as you walk inside the house after spending time outdoors. Be sure to then throw your freshly washed clothing into the dryer to kill any lurking ticks.
Get to know your private parts well.
Your groin maintains the perfect humidity for ticks looking to hide in moist, dark areas. The bugs also attach to the back of men's scrotums or women's bikini lines, so be sure to perform a thorough check of your groin and buttocks area at least once a day using a magnifying glass and/or mirror to see more hidden areas.
Treat your shoes.
Although we don't normally recommend chemical treatment, we understand how debilitating tick-borne diseases can be. So rather than applying toxic DEET directly on your skin, try getting a pair of outdoor gardening or workout shoes treated with Insect Shield instead.
Plant some beautyberry bushes.
The leaves of the American beautyberry bush possess tick-repelling qualities, so try working a few into your landscape.
Clean up your woodpile.
Moist, wooded areas are most inviting for ticks. Sunny, dry conditions are not. So keep any woodpiles outside in a spot that gets lots of sun to dry them out faster.
You Might Also Like
8 Summertime Woes That Will Only Get Worse With Climate Change
You Might Be Allergic to Climate Change
Cancer-Causing Chemical in Shampoos Subject of Ground-Breaking Legal Agreement