This website uses cookies to ensure you get the best experience while browsing it. By clicking 'Got It' you're accepting these terms.


The best of EcoWatch, right in your inbox. Sign up for our email newsletter!
Eating is a reciprocity that we experience multiple times each day. Being mindful of it opens us to a greater understanding of our place in this complex world.YES! Illustration by Enkhbayar Munkh-Erdene
By Kathryn Lafond
During the holidays, talk is often of feasting. Even as a former chef with decades of experience raising plants and animals, I choose not to get into conversations about dietary choices—vegan, carnivore and everything in between. I prefer to ask: What fed you today, and were you thankful?
It's Thanksgiving week, so you know what's coming after that last slice of pumpkin pie: Black Friday.
The annual occasion—as well as its digital cousin Cyber Monday—sets off the country's mad dash of holiday shopping. And let's face it, some of the deals can be pretty enticing.
EcoWatch Daily Newsletter
Thomas Barwick / DigitalVision / Getty Images
By Clara Chaisson
For many, the holiday season is a time of plenty. But with all the feasting, the decorations and the gift swapping, it can be easy to go overboard. And for hosts, especially, there's a lot of pressure to make sure guests feel adequately stuffed and the house looks sufficiently bedecked.
"Nature's heterogeneity and biodiversity are at the epicenter of my thankfulness and happiness. Here, deep within a saline wetland, morning light shines through the dew covered understory revealing an orb-weaver's web." Dakota Altman
EcoWatch is excited to announced the winner of our first-ever Gratitude Photo Contest. Participants sent us their best shots of what in nature they were most thankful for this Thanksgiving.
Our three amazing judges—Greenpoint Innovations founder Stephen Donofrio, marine scientist Gaelin Rosenwaks and documentary photographer Marc Bryan-Brown—picked their favorites from more than 70 photo entries of breathtaking landscapes, incredible wildlife and majestic waterways.
Laurie and Charles / The Image Bank / Getty Images
By Karen Davis
We adopted Amelia as a young turkey into our sanctuary from a local farmer. She lived with us for five years until her legs gave out, and we had to call our veterinarian to put her to rest, surrounded by her friends in the yard. Until then she hung out happily with the chickens and ducks, and when people visited, she'd fan out her white tail feathers and stroll amiably beside them.
Pixabay
By David Wallinga, MD
Heading into the holidays, many of our families are planning meals centered around a delicious turkey, ham or brisket. But a new analysis from the Natural Resources Defense Council (NRDC) and our partners at Food Animal Concerns Trust shows that our families' health is at significant risk from how these American meats are typically produced.
GMVozd / E+ / Getty Images
By Sydney Swanson
As we head into the holiday season, the marathon task of preparing a Thanksgiving dinner or even just one dish to contribute as a guest—may be stressful.
To help you combat the inevitable stress surrounding this meal, the Environmental Working Group (EWG) has put together this guide suggesting what to make yourself and what to buy, and when to go organic.
We know which celebrities are making the kind choice to help turkeys by not eating them this Thanksgiving. So now, we're looking at what will be on their plates, with a rundown of some of our favorite celebrity-inspired vegan recipes, just in time for the holidays.
BY Connor McGuigan
REI will once again shutter its doors on Black Friday as part of its #OptOutside campaign, which encourages people to forgo bargain-hunting and spend America's busiest shopping day outside. The outdoor retailer will also suspend online sales and provide all 12,000 employees with a paid day off to enjoy the outdoors.
Looking to keep genetically modified organisms (GMOs) out of your grocery cart and off your Thanksgiving table?
This graphic, from the Non-GMO Project, shows which common Thanksgiving menu items are at risk for being genetically modified and how to find easy alternatives.
Visit EcoWatch's GMO page for more related news on this topic.


Chicken and turkey are among the most popular and versatile foods Americans eat, but they also bring health risks to your plate.
Most factory-farmed poultry is raised with antibiotics—which leads to antibiotic resistance in humans.
Now the U.S. Department of Agriculture (USDA) wants to cut the budget for poultry inspections and allow big chicken companies to police themselves. The agency also moved recently to approve imports of processed chicken from China—a country that has had major food safety debacles.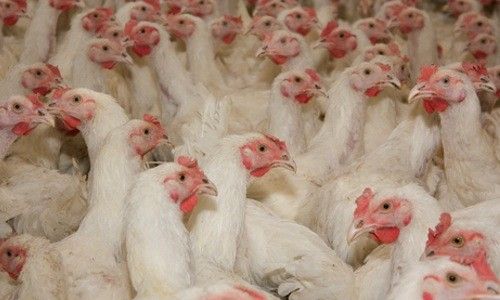 Shutterstock
This holiday season, will the poultry you sit down to enjoy be industrially produced, processed half a world away and full of chemicals, antibiotics and worse?
Since there are no guarantees, you may want to avoid buying poultry produced by the companies that dominate the industry. There are big reasons to avoid their chicken and turkey.
 JBS/Pilgrim's Pride, Tyson Foods, Perdue and Sanderson slaughter and process more than half of the chicken consumed in the U.S., while Butterball, Jennie-O Turkey Store and Cargill dominate the turkey business. Their outsized operations give them significant market and lobbying power. These companies act as middlemen between farmers and consumers and they eat up most of the profit in the supply chain.
Before you purchase the holiday turkey you'll share with your loved ones in a few weeks, consider these four facts:
Because there are just a handful of players in the poultry market, a handful of companies call the shots—and reap large profits. For every $19 12-piece chicken bucket from KFC, only 25 cents goes to the farmer who raised the poultry, while less than $5 goes to the chicken processor. KFC gets the rest.
These large companies use unfair contracts, require expensive equipment and building upgrades and employ other aggressive tactics to squeeze poultry farmers to produce more and more chickens and turkeys for less and less money.
The big chicken and turkey companies own everything from the chicks and poults to the feed, trucks, slaughter facilities and the brand. The grower assumes all the debt associated with the operation, including the mortgages on the special buildings they have to construct to get a contract. The farmer also shoulders the expenses of utilities and of removing waste and dead birds.
Concentrating poultry production means concentrating the amount of waste seeping from factory farms into nearby waterways, like the Chesapeake Bay. Perdue and other big companies leave the farmers to shoulder all the responsibility for dealing with the waste.
Do you need more reasons to avoid poultry produced by these giant companies? Consider that their market power begets enormous political power—and these companies throw their weight around to make sure they can continue producing the most birds for the most profit. Plus, factory farming hurts poultry producers, consumers and the environment.
Nothing showcases the power Big Ag holds over our political leaders more than emails Food & Water Watch revealed last year between Martin O'Malley, the Democratic governor of Maryland and poultry giant Perdue.
These exchanges illustrated how Perdue's profits from chicken sold in California and Michigan are being used to exert inappropriate power over Maryland's governor through intense lobbying efforts on everything from poultry litter incineration to the environmental cases that a university law clinic engages in.
If you buy your chicken or turkey from the grocery store, chances are that you are buying a brand owned by one of the largest companies. Consider seeking out independent poultry farmers who sell direct to consumers instead.
Visit EcoWatch's FACTORY FARMING page for more related news on this topic.