Climate protestors received a non guilty verdict from the District Court of Lausanne. stevegeer / iStock / Getty Images
A Swiss court on Monday cleared a dozen activists of wrongdoing and a hefty fine for a stunt they pulled in a Credit Suisse bank in November 2018.
The protestors had occupied the bank and played tennis to demand an end to fossil fuel funding and to ask tennis star, Roger Federer, to end his endorsement deal with the bank, as the AP reported.
The case went to court because the defendants refused to pay fines for protesting without a permit and resisting police. The protestors were charged with trespassing and ordered to pay 21,600 Swiss francs ($22,200). However, the judge in the appeal said the protestors had acted proportionately and waived the fine, as
Reuters
reported.
EcoWatch Daily Newsletter
Visitors look at the Aletsch glacier above Bettmeralp, in the Swiss Alps, on Oct. 1. The mighty Aletsch — the largest glacier in the Alps — could completely disappear by the end of this century if nothing is done to rein in climate change, a study showed on Sept. 12. FABRICE COFFRINI / AFP via Getty Images
Switzerland's two Green parties made historic gains in the country's parliamentary elections Sunday, according to projections based on preliminary results reported by The New York Times.
waterlust.com / @tulasendlesssummer_sierra .
Each product featured here has been independently selected by the writer. If you make a purchase using the links included, we may earn commission.
The bright patterns and recognizable designs of Waterlust's activewear aren't just for show. In fact, they're meant to promote the conversation around sustainability and give back to the ocean science and conservation community.
Each design is paired with a research lab, nonprofit, or education organization that has high intellectual merit and the potential to move the needle in its respective field. For each product sold, Waterlust donates 10% of profits to these conservation partners.
Eye-Catching Designs Made from Recycled Plastic Bottles
waterlust.com / @abamabam
The company sells a range of eco-friendly items like leggings, rash guards, and board shorts that are made using recycled post-consumer plastic bottles. There are currently 16 causes represented by distinct marine-life patterns, from whale shark research and invasive lionfish removal to sockeye salmon monitoring and abalone restoration.

One such organization is Get Inspired, a nonprofit that specializes in ocean restoration and environmental education. Get Inspired founder, marine biologist Nancy Caruso, says supporting on-the-ground efforts is one thing that sets Waterlust apart, like their apparel line that supports Get Inspired abalone restoration programs.
"All of us [conservation partners] are doing something," Caruso said. "We're not putting up exhibits and talking about it — although that is important — we're in the field."
Waterlust not only helps its conservation partners financially so they can continue their important work. It also helps them get the word out about what they're doing, whether that's through social media spotlights, photo and video projects, or the informative note card that comes with each piece of apparel.
"They're doing their part for sure, pushing the information out across all of their channels, and I think that's what makes them so interesting," Caruso said.
And then there are the clothes, which speak for themselves.
Advocate Apparel to Start Conversations About Conservation
waterlust.com / @oceanraysphotography
Waterlust's concept of "advocate apparel" encourages people to see getting dressed every day as an opportunity to not only express their individuality and style, but also to advance the conversation around marine science. By infusing science into clothing, people can visually represent species and ecosystems in need of advocacy — something that, more often than not, leads to a teaching moment.

"When people wear Waterlust gear, it's just a matter of time before somebody asks them about the bright, funky designs," said Waterlust's CEO, Patrick Rynne. "That moment is incredibly special, because it creates an intimate opportunity for the wearer to share what they've learned with another."
The idea for the company came to Rynne when he was a Ph.D. student in marine science.
"I was surrounded by incredible people that were discovering fascinating things but noticed that often their work wasn't reaching the general public in creative and engaging ways," he said. "That seemed like a missed opportunity with big implications."
Waterlust initially focused on conventional media, like film and photography, to promote ocean science, but the team quickly realized engagement on social media didn't translate to action or even knowledge sharing offscreen.
Rynne also saw the "in one ear, out the other" issue in the classroom — if students didn't repeatedly engage with the topics they learned, they'd quickly forget them.
"We decided that if we truly wanted to achieve our goal of bringing science into people's lives and have it stick, it would need to be through a process that is frequently repeated, fun, and functional," Rynne said. "That's when we thought about clothing."
Support Marine Research and Sustainability in Style
To date, Waterlust has sold tens of thousands of pieces of apparel in over 100 countries, and the interactions its products have sparked have had clear implications for furthering science communication.
For Caruso alone, it's led to opportunities to share her abalone restoration methods with communities far and wide.
"It moves my small little world of what I'm doing here in Orange County, California, across the entire globe," she said. "That's one of the beautiful things about our partnership."
Check out all of the different eco-conscious apparel options available from Waterlust to help promote ocean conservation.
Melissa Smith is an avid writer, scuba diver, backpacker, and all-around outdoor enthusiast. She graduated from the University of Florida with degrees in journalism and sustainable studies. Before joining EcoWatch, Melissa worked as the managing editor of Scuba Diving magazine and the communications manager of The Ocean Agency, a non-profit that's featured in the Emmy award-winning documentary Chasing Coral.
ClimeWorks
A revolutionary plant that can suck carbon dioxide right from the air was unveiled on top of a waste recovery facility near Zurich on Wednesday.
Swiss company ClimeWorks is capturing CO2 from the air with the world's first commercial carbon removal technology. Its Direct Air Capture plant is capable of removing 900 tonnes of CO2 from the atmosphere a year.
Here's how the technology works, per Fast Company:
"At the new Swiss plant, three stacked shipping containers each hold six of Climeworks' CO2 collectors. Small fans pull air into the collectors, where a sponge-like filter soaks up carbon dioxide. It takes two or three hours to fully saturate a filter, and then the process reverses: The box closes, and the collector is heated to 212 degrees Fahrenheit, which releases the CO2 in a pure form that can be sold, made into other products, or buried underground."

The extracted greenhouse gas will be sent to nearby greenhouses as a fertilizer for tomatoes and cucumbers.
The company boasts that its technology could extend to other markets, including carbonation for soft drinks or the production of climate-neutral fuels.
Climeworks, founded by engineers Christoph Gebald and Jan Wurzbacher, has a goal of capturing one percent of global emissions by 2025. The company said 750,000 shipping container-sized units would be needed to fulfill this goal.
While that might sound like a lot, as Wurzbacher told Fast Company, the same number of shipping containers pass through the Port of Shanghai every two weeks.
Gebald commented that his company's CO2 collectors can be easily scaled up, and noted that carbon capture technology is essential to achieving net zero emissions by the end of the century, a goal of the Paris climate agreement.
"It is clear today that we won't be able to achieve zero gigatonnes by the end of the century without the use of carbon removal technologies," Gebald said.
Watch here to learn more about the facility:
More than 58 percent of Swiss voters supported a measure to phase out nuclear power in favor of renewable energy.
The plan provides billions in subsidies for renewable energy, bans the construction of new nuclear plants and decommissions Switzerland's five aging reactors. There is no clear date when the plants will close.

"The results shows the population wants a new energy policy and does not want any new nuclear plants," Energy Minister Doris Leuthard said, noting the law would also cut fossil fuel use and reduce reliance on foreign supplies.
"The law leads our country into a modern energy future," she said, and added that some parts of the law would take effect in early 2018.
Nuclear currently provides about a third of the country's electricity while solar and wind only accounts for five percent.
Under the law, billions in subsidies will be raised annually from electricity users to fund investment in renewable energy sources. The legislation calls for solar, wind, biomass and geothermal sources to rise at least 11,400 gigawatt hours by 2035 from 2,831 gigawatt hours now.

The plan also aims to cut the average energy consumption per person per year by 16 percent by 2020 and by 43 percent by 2035 compared to 2000 levels.

Switzerland is following in the footsteps of other European countries that are reducing its reliance on nuclear power in the wake of Japan's Fukushima disaster back in 2011. Germany is also closing its nuclear plants by 2022.
Opponents worry that the shift away from nuclear energy will be too costly. While Leuthard said financing renewables will cost an average family 40 Swiss francs ($41) a year, other critics warn that the cost might be much higher, at 3,200 Swiss francs ($3,290) in extra annual costs.

But the president of Switzerland's Green party, Regula Rytz, called Sunday's referendum a "moment of historic change."
"The Swiss population has said 'no' to the construction of new nuclear power plants and yes to the development of renewable energy," Rytz added. "The conditions have also been set whereby the economy and households will need to take responsibility for the future. It's absolutely magnificent."
How far can an airplane expect to travel without fuel?
Around the world, if you're talking about the Solar Impulse 2.
Leaders of Swiss firm Solar Impulse unveiled a new solar plane Wednesday and also discussed an ambition nobody has ever accomplished—to fly around the world in a solar plane in 2015.
[slideshow_deploy id='351641']
The Solar Impulse has a 236-foot-wide wingspan, with more than 17,000 solar cells covering those wings. The cells collect solar energy and store it in lithium polymer batteries that power the plane's four engines.
Co-founders and pilots André Borschberg and Bertrand Piccard don't appear too daunted by the goal they have established, and not just because they won't need to refuel. They have already broken eight world records for solar flights. Their solar planes achieved success in recent years, including the first night flight for a solar plane in 2010; a European flight in 2011; a flight across the Mediterranean Sea to Morocco in 2012; and a U.S. tour last year, flying over San Francisco, CA, Phoenix, AZ, Dallas, TX, St. Louis, MO, Washington D.C. and New York City. 
The trip around the world, or #RTW, as the company has dubbed it for the Twittersphere, is expected to take a total of 500 hours of flight time. They'll bring at least six oxygen bottles and have no pressurization system.
To the founders, that type of experience is worth potentially changing the face of flight.
"I've been educated at (Massachusetts Institute of Technology) and this time spent in Boston led me to found startup companies," Borschberg said in a company video. "I know that dreams fuel innovation.
"I also know that human commitment and new technologies can really change the world."
——–
YOU ALSO MIGHT LIKE
The Solar Technology That Could Solve California's Water Problem
Bill Gates-Funded Solar Toilet Converts Feces Into Soil Stabilizer
The Turbine That Could Transform Wind Energy by Flying the Highest
——–
By Dave Levitan
As municipal food composting programs spread across North America and Europe, no city faces a more daunting task than New York. Its Department of Sanitation collects more than 10,000 tons of trash every day, and another 1,700 tons of recyclable materials. A large portion of that waste, though, may soon have a future other than the landfill: Food scraps and other "organics" have long been just a part of New York's trash pile, but a pilot program in the city is aimed at rolling out collection of that material and composting it, a far more environmentally friendly method.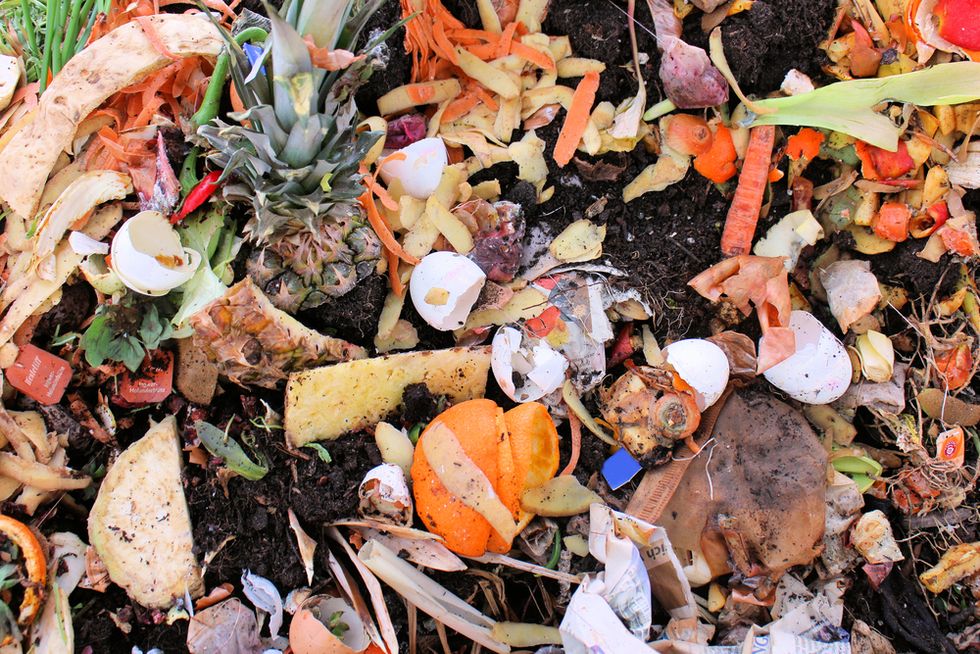 Photo courtesy of Shutterstock
"It's the next new thing in terms of municipal waste handling in the 21st century," says Eric Goldstein, a senior attorney with the Natural Resources Defense Council (NRDC) in New York. "Right now ... there are over 150 communities throughout the United States that are collecting organics at curbside. It's a national trend. It's revolutionary."
Many of those programs are still voluntary, and the bulk are in small cities and towns. But larger cities in North America—including San Francisco, Seattle, San Antonio, Toronto and Portland, OR—are moving rapidly ahead. And municipal composting efforts in many European countries are far advanced and steadily growing. In 2011, the 27 states in the European Union composted on average 15 percent of municipal waste, with Austria composting 34 percent, the Netherlands 28 percent, and countries like France, Spain, and Germany each composting about 18 percent.
In New York Mayor Michael Bloomberg's State of the City address this past February, he called food waste the city's "final recycling frontier," which holds true for the rest of the U.S., as well. According to the U.S. Environmental Protection Agency (EPA), the country as a whole produced 250 million tons of municipal solid waste in 2011, and compostable materials—which include yard trimmings, paper and paperboard, as well as food waste—comprised the largest component of that at 56 percent.
The environmental benefits of recycling that material are significant. As it decomposes in landfills, food and other organic waste produces methane, a greenhouse gas 25 times more powerful than carbon dioxide. According to the EPA, landfills are the third-largest source of methane in the U.S., behind industry and agriculture. Shipping waste long distances from cities to landfills produces even more greenhouse gas emissions. Composting, meanwhile, takes that waste and turns it into something usable: fertilizer. If cities like New York want to cut emissions, cut waste and even cut costs, composting is a proven way to go about it.
The good news is that of the 87 million tons of "recovered" waste in the U.S. in 2011—meaning waste that did not end up in a landfill—organic material accounted for the largest component. But most of that material was paper; food waste accounted for only 1.6 percent of the recovered total versus 14.5 percent of the generated total, the EPA says. The U.S. does a reasonably good job of keeping paper out of landfills thanks to recycling programs, but food almost universally still goes where it shouldn't.
New York is trying to change that with its new program. So far, compost collection is being offered in one neighborhood of Staten Island, and city officials say that after only a few months participation rates are above 40 percent. Contamination rates—meaning, the presence of non-compostable material in the compost bin—are at 1 percent or below. In Manhattan, about 100 city schools are also participating, with a goal of spreading to 400 schools by the end of the year. Two high-rise apartment buildings are included as well, with more to follow this fall.
"We spend over $85 million a year sending food waste to landfills, so there's a major cost," said Ron Gonen, New York City's deputy commissioner for recycling and sustainability, who heads up the composting program. He said so far the program is collecting at a pace on the order of "tens of thousands" of tons per year. "It's growing every day," said Gonen. "We're going to continue to expand, in all five boroughs." By 2014 the program will cover around 100,000 households.
Goldstein says that if New York demonstrates the economic and logistical viability of its program it could be a "bellwether" in the push to expand composting nationwide. But a few cities—in general, the green, progressive ones you might expect—have already taken the lead over the last decade. San Francisco—the second-densest large city in the U.S. after New York—is considered the frontrunner, thanks to legislation in 2002 that set a goal of diverting 75 percent of its waste from landfills by 2010 and achieving "zero waste" by 2020.
San Francisco's composting program began with restaurants and other businesses, and in 2009 an ordinance made it mandatory for all residents to separate organic material for collection. Instead of two bins to set out on the curb for trash and recyclables, there are now three. The green compost bins can include all food scraps, no matter how spoiled, along with vegetation from yards like leaves and flowers, and solid paper products including coffee cups, waxy paper, milk cartons and related items. The city collected its millionth ton of organic waste for composting last fall. Overall, 78 percent of San Francisco's waste is now diverted from landfills.
Seattle has a similar program, as does Portland; the latter went a step further and scaled back residential garbage pickup to only once every two weeks when the weekly compost pickup began.
Despite some early resistance and confusion—much of it related to every-other-week garbage collection—a survey in Portland found that 66 percent of residents rated the city's recycling and composting program as "good" or "very good" after one year, with another 20 percent neutral on the issue. Along with the positive reception, there has been clear progress. In the 12-month period prior to the October 2011 start of the composting program, 94,100 tons of garbage were collected. In the following 12 months, that figure fell to 58,300 tons. Meanwhile, collections of compostable material rose from 30,600 tons to 85,400 tons, a figure that includes yard waste.
There were questions early on about vermin, but moving the scraps from the garbage can to the compost bin doesn't change much, said Bruce Walker, Portland's solid waste and recycling program manager. The organic material in Portland travels to one of two facilities that are 15 and 90 miles from downtown. Walker said regular garbage gets trucked much farther, about 140 miles from the city, so the environmental savings are compounded. The composting facilities produce fertilizers that are sold to farms, tree nurseries and to the general public.
In Europe, the European Landfill Directive requires European Union member states to reduce "biodegradable municipal waste" sent to landfills to 35 percent of 1995 amounts by 2016. In the EU, 40 percent of waste is now composted or recycled, with 23 percent incinerated and 37 percent landfilled. Norway, Sweden, the Netherlands, Denmark, Switzerland, Belgium, Austria and Germany now send less than 3 percent of their waste to landfills. Copenhagen, one of the greenest cities in the world, stopped sending organic waste to landfills as far back as 1990.
Other European countries lag far behind, with Greece and eastern European nations such as Bulgaria, Lithuania and Romania doing almost no composting. Still, some of the swiftest progress has come from some former eastern bloc countries like Estonia. The capital city of Talinn has been collecting biodegradable kitchen waste separately since 2007, part of the reason why landfill rates in Estonia have dropped from close to 100 percent 15 years ago to below 60 percent today. Europe is also much farther along than the U.S. in using anaerobic digestion, a process that takes organic waste and turns it into biogas, which can be used to generate electricity.
In New York, the question of where to bring collected organic material is unresolved. The city has a request for proposals to build a new composting plant in or close to the city, but until then there aren't nearby facilities that can handle large amounts. Goldstein, of the NRDC, said that one possibility is to site facilities outside the city or partner with farms in the Catskills—sending the material 75 miles or so is still a huge improvement on the current system, which involves exporting to landfills sometimes many states and hundreds of miles away.
"The city has been really slow in terms of going through this process," said Christine Datz-Romero, co-founder and executive director of the Lower East Side Ecology Center, which has worked on composting in New York for two decades. "If we wanted a facility here in New York City we should have started that process a long time ago. For building a facility we're talking years. I see that as the biggest stumbling block because right now we have very limited capacity."
Should New York and numerous other U.S. cities and towns establish vibrant composting programs, the environmental benefits will be enormous, advocates say. "Ultimately, there's going to be very little left in the traditional garbage can," said Goldstein.
Visit EcoWatch's FOOD page for more related news on this topic.
——–
With the help of local activists, on April 17, Greenpeace Switzerland scaled the building at Syngenta's headquarters in Basel, Switzerland, and dropped a large banner proclaiming "Syngenta Pesticides Kill Bees." The global agrochemical company consistently denies that its pesticide products kill bees. For the last 15 years, in Europe and North America bees are dying at an alarming extent. Depending on the year and region, the mortality of bee colonies is up 53 percent.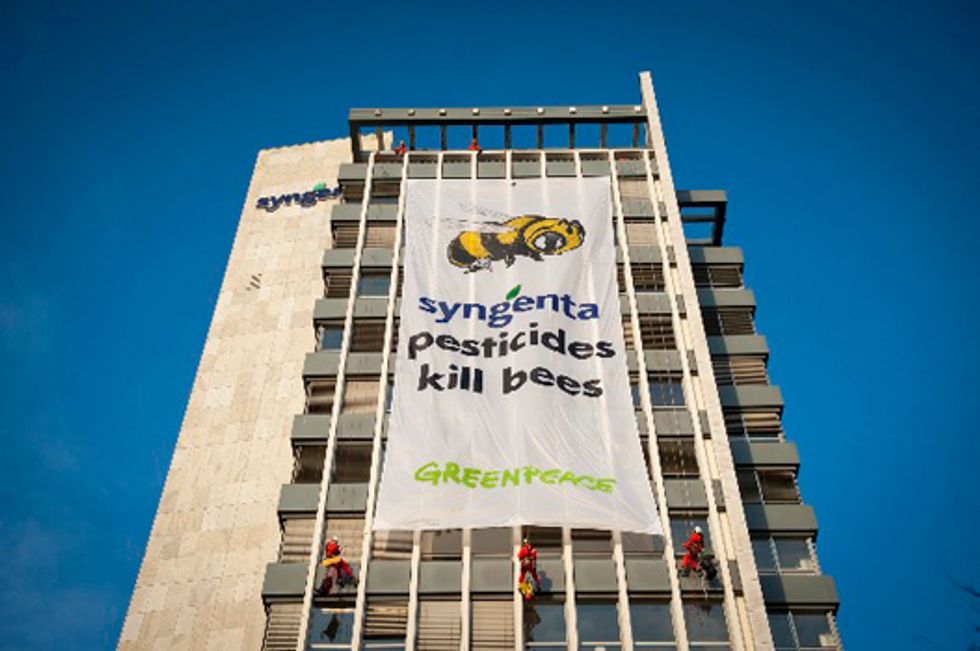 Syngenta's products Actara and Cruiser contain the active ingredient thiamethoxam—a neonicotinoid—one of the pesticides most harmful to bees. With an annual turnover of $14.2 billion, Syngenta is the world's biggest seller of pesticides—neonicotinoids representing around 10 percent of total sales. Neonicotinoids are a class of neuro-active insecticides chemically related to nicotine. They are used for seed dressing or sprayed directly on the plant. Extensive studies of the European Authority for Food Safety Authority and a recently published Greenpeace study shows that a small dose means acute poisoning to bees, leading to flight and navigation problems, fertility issues and inefficient and reduced foraging—making colonies more prone to illness or parasites.
Bees are crucial for our survival. At least one-third of global food production depends on pollination by bees and other insects. In addition to parasites, diseases, climate change and a decline in natural habitats from industrial agricultural practices—the use of pesticides is responsible for the devastating decline of bee populations worldwide.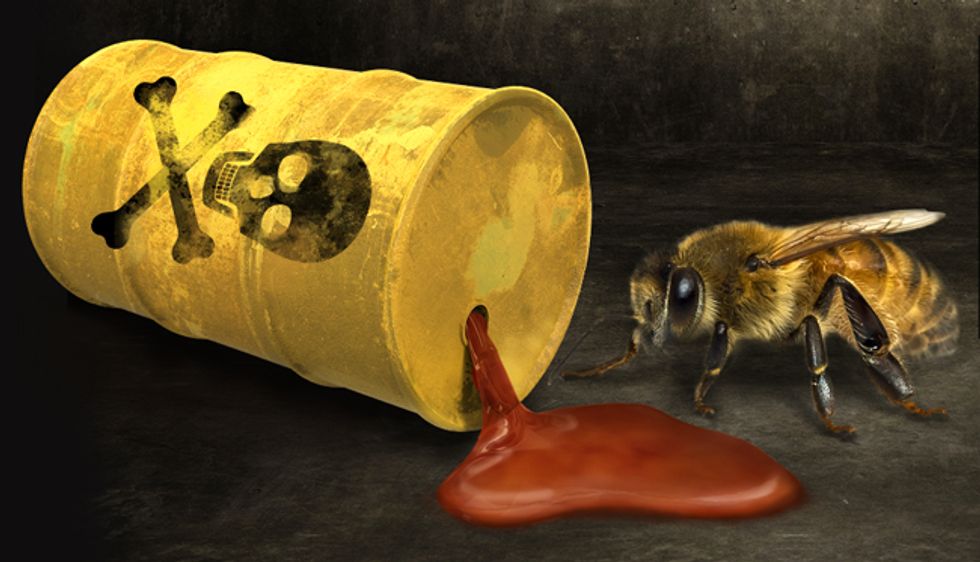 Countries across Europe have already begun implementing the prohibition against bee-killing pesticides. In France, Germany, Slovenia and Italy, these toxins have been partially banned for years and have seen evidence of recovering bee populations without yield loss. While the European Commission is apparently willing to adopt far-reaching restrictions despite massive resistance from the industry, the Swiss government remains passive as Agriculture Minister Johann Schneider-Ammann appears to be intimidated by threats from Syngenta.
"Syngenta must stop spreading untruths. Syngenta responds to profit instead of to the protection of bees," said Marianne Künzle, agricultural expert at Greenpeace Switzerland. "The dramatic death of wild bees and honey bees is a symptom of misguided industrial agriculture, which serves mainly the interests of powerful corporations like Syngenta. It must stop now. As the agriculture minister, Schneider-Ammann is required to address this issue. Protect our bees and agriculture—Prohibit bee killing pesticides!"
In February, Greenpeace Switzerland was joined by beekeepers from all over in Bern, Switzerland, and presented a petition of 80,000 signatures to protect the bees.
Visit EcoWatch's FOOD page for more related news on this topic.
——–
Tell the FDA to Deny Approval of GE Salmon:
By Tyler Whidden
[Editor's note: Once again, EcoWatch is thrilled to be a media sponsor of the world-renowned Cleveland International Film Festival (CIFF). As always, we are promoting the films in CIFF's It's Easy Being Green sidebar sponsored by Great Lakes Brewing Company. We will showcase all 10 eco-films this week and continue to promote them during the festival, April 3 - 14. Each film does an incredible job illustrating our most daunting environmental issues and providing solutions to ensure the well-being of future generations. I encourage you to see these films at CIFF, or at your local film festival or theatre. Documentaries are a great way to educate and motivate people to action.]
This film is fascinating. The most successful film in Switzerland for the year 2012, MORE THAN HONEY takes you inside the search for the missing honeybees. For over a decade, the bee population has dwindled, baffling scientists worldwide. And for an insect that is responsible for two-thirds of the world's food source, their disappearance could be devastating. Einstein supposedly suggested that if the bees died off, humans would only last four more years; so you can imagine the urgency. Director Markus Imhoof, a third generation beekeeper in Switzerland, takes us on a mesmerizing journey through people in-the-know about bees and their place in our world. Including incredible insight into the hives and the constant work bees go through, MORE THAN HONEY is an extraordinary look into the ongoing devastation and hopeful techniques to help save the important insect. We see that in China, where pesticides have killed off the bee colonies, humans have taken over the pollinating process. But in America, where our honey production accounts for 80 percent of the world's supply, our initial fears of the African Honeybee may actually be the key to finding a solution to where the buzz has gone.
This film is showing at the CIFF at Tower City Cinemas, 230 W Huron Rd., Cleveland, Ohio 44113 on:
Saturday, April 13 at Noon
Sunday, April 14 at 6:50 p.m.
Visit EcoWatch's BIODIVERSITY page for more related news on this topic.
——–
By Sharon Khan
[Editor's note: Waterkeeper Alliance's International Director Sharon Khan attended the mercury treaty negotiations in Geneva, Switzerland, and provided live updates from the conference. For information regarding the mercury treaty negotiations, read Mercury Rising, Political Will Falling by Robert F. Kennedy, Jr. and Marc Yaggi, and the report Global Mercury Hotspots.]
BLOG POST V
(Read Blog Post I, Blog Post II, Blog Post III, Blog Post IV)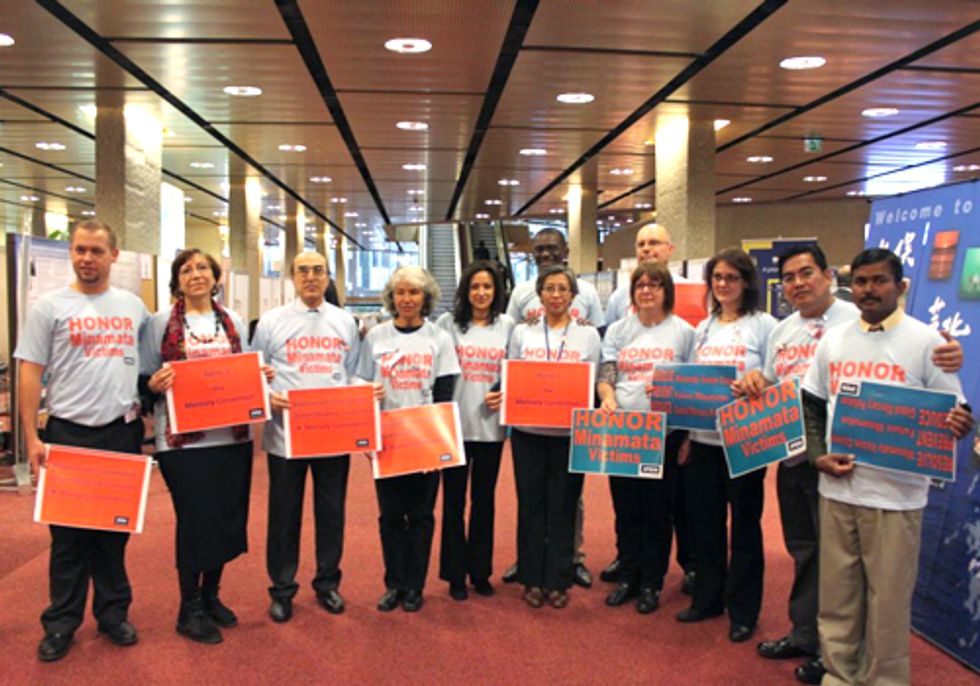 On Jan. 19 in Geneva, Switzerland, the text for a global mercury treaty was agreed and finalized. But many environmental advocates remain concerned that the treaty is not likely to reduce global releases of mercury into the environment and may even result in increased mercury pollution.
On Jan. 19 in Geneva, Switzerland, the text for a global mercury treaty was agreed and finalized. But many environmental advocates remain concerned that the treaty is not likely to reduce global releases of mercury into the environment and may even result in increased mercury pollution.
"Some will say that some treaty is better than no treaty, but we say that if the treaty does not result in less mercury pollution, then the job is not done," said Manny Calonzo, co-chair of International POPs Elimination Network (IPEN), a coalition of non-governmental organizations representing 700 public-interest organizations in 116 countries.
Even with many delegates privately voicing their dissatisfaction over the naming of the treaty, the proposal for naming the Minamata Convention stands. "This treaty should be called the Mercury Convention, not the Minamata Convention," said Takeshi Yasuma, of Citizens Against Chemical Pollution in Japan. "Water pollution resulting in contaminated sediment and fish caused the Minamata tragedy but the treaty contains no obligations to reduce mercury releases to water and no obligations to clean up contaminated sites. Calling that kind of agreement the Minamata Convention dishonours the victims."
IPEN noted in its press release yesterday that although the United Nations Environment Programme (UNEP) identified artisanal and small-scale gold mining (ASGM) as the largest source of mercury emission to air, countries decided to make ASGM an "allowed use" under the treaty. This will permit mercury import, export and use without any clear phase-out date. The treaty also creates no obligation to identify or clean up contaminated ASGM sites. "No phase-out date, no limit to mercury imports, no clean up of the mess it leaves behind," said Yuyun Ismawati, Balifokus, Indonesia. "These weak measures guarantee a new generation of suffering among those who work in this industry."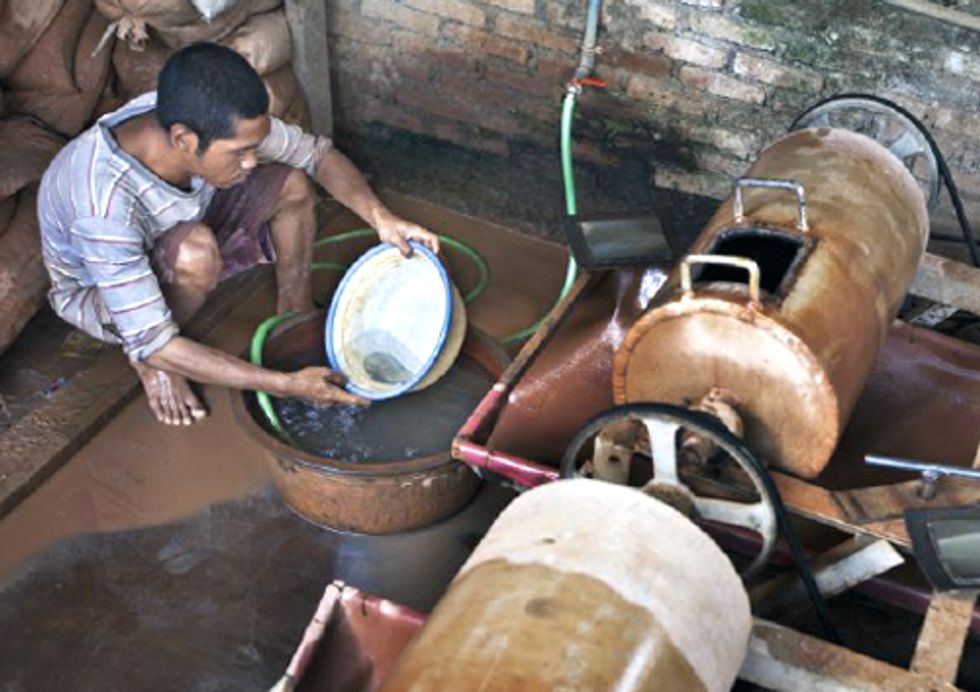 To extract gold dust from the earth, artisanal miners add mercury to the silt. This can be done in an apparatus known as a ball-mill (mercury is poured into large drums that contain silt). The gold particles attach to the mercury, which acts like a magnet to the precious metal. The result is a solid mercury-gold amalgam that can be separated out by screening the silt.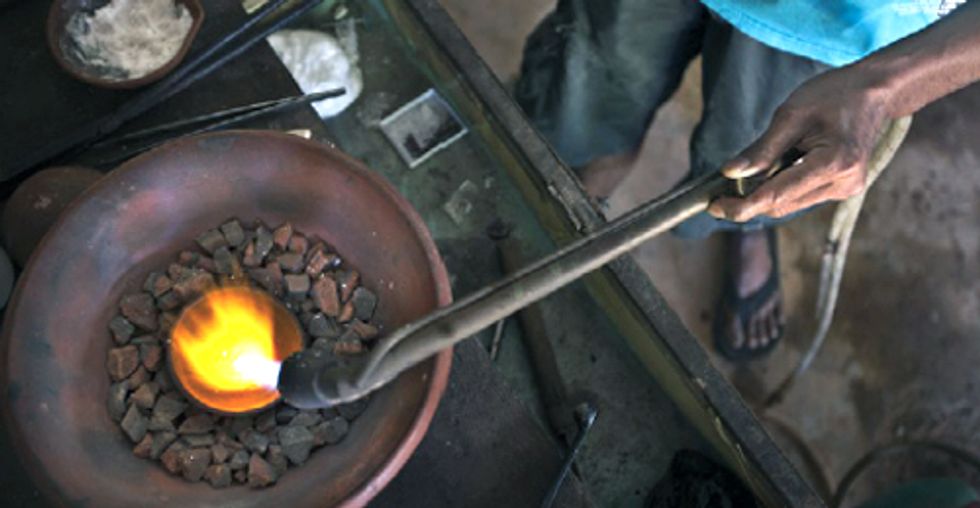 The mercury-gold amalgam is heated to vaporize the mercury, leaving the gold nuggets behind. Because this process is often conducted in the open air, usually close to family dwellings, anyone in the near vicinity is at risk of inhaling the airborne mercury. Excess mercury that is left in the silt (known as mine tailings) finds its way into local waterways during disposal.
IPEN notes that the treaty creates an "obligation" to reduce emissions at existing coal-fired power plants, but reductions are only required "where feasible." There is no obligation for industry to reduce releases of mercury to land and water, but that countries should try to act, "where feasible." The treaty makes no specific mention of reducing releases to the water from mercury cell chlor-alkali plants or to the land from large-scale mining. Furthermore, the current treaty text does not require the identification and cleanup of contaminated sites. 
"If implemented, the new mercury treaty might slow the rate of increasing mercury levels but greater political commitment will be needed to actually reduce mercury pollution," said Joe DiGangi, IPEN senior science and technical advisor. "Mercury is a large and serious global threat to human health that requires a robust and ambitious global response. This treaty does not do that."
In a press release issued by the United Nations Environment Programme, David Lennett from the Natural Resources Defense Council and representing the Zero Mercury Working Group, a global coalition of environmental NGOs, said: "This treaty will not bring immediate reductions of mercury emissions. It will need to be improved and strengthened, to make all fish safe to eat."
The treaty, which has been in negotiation for four years, will be open for signature at a special meeting in Japan in October. Initial funding to fast track action until the new treaty is adopted in three to five years has been pledged by Japan, Norway and Switzerland.
The dangers of mercury poisoning have been known for centuries. Exposure to high levels of mercury can permanently damage the brain and kidneys. Mercury can also be passed from a mother to her developing foetus and this can result in brain damage, reduced intelligence and mental retardation. With or without a robust mercury treaty, Waterkeepers around the world are taking action at the grassroots level to keep our waterways and communities free from mercury poisoning.
Visit EcoWatch's BIODIVERSITY page for more related news on this topic.
By Sharon Khan
[Editor's note: Waterkeeper Alliance's International Director Sharon Khan is attending the mercury treaty negotiations in Geneva, Switzerland, and is providing live updates from the conference. For information regarding the mercury treaty negotiations, read Mercury Rising, Political Will Falling by Robert F. Kennedy, Jr. and Marc Yaggi, and the report Global Mercury Hotspots.]
BLOG POST III
(Read Blog Post I, Blog Post II)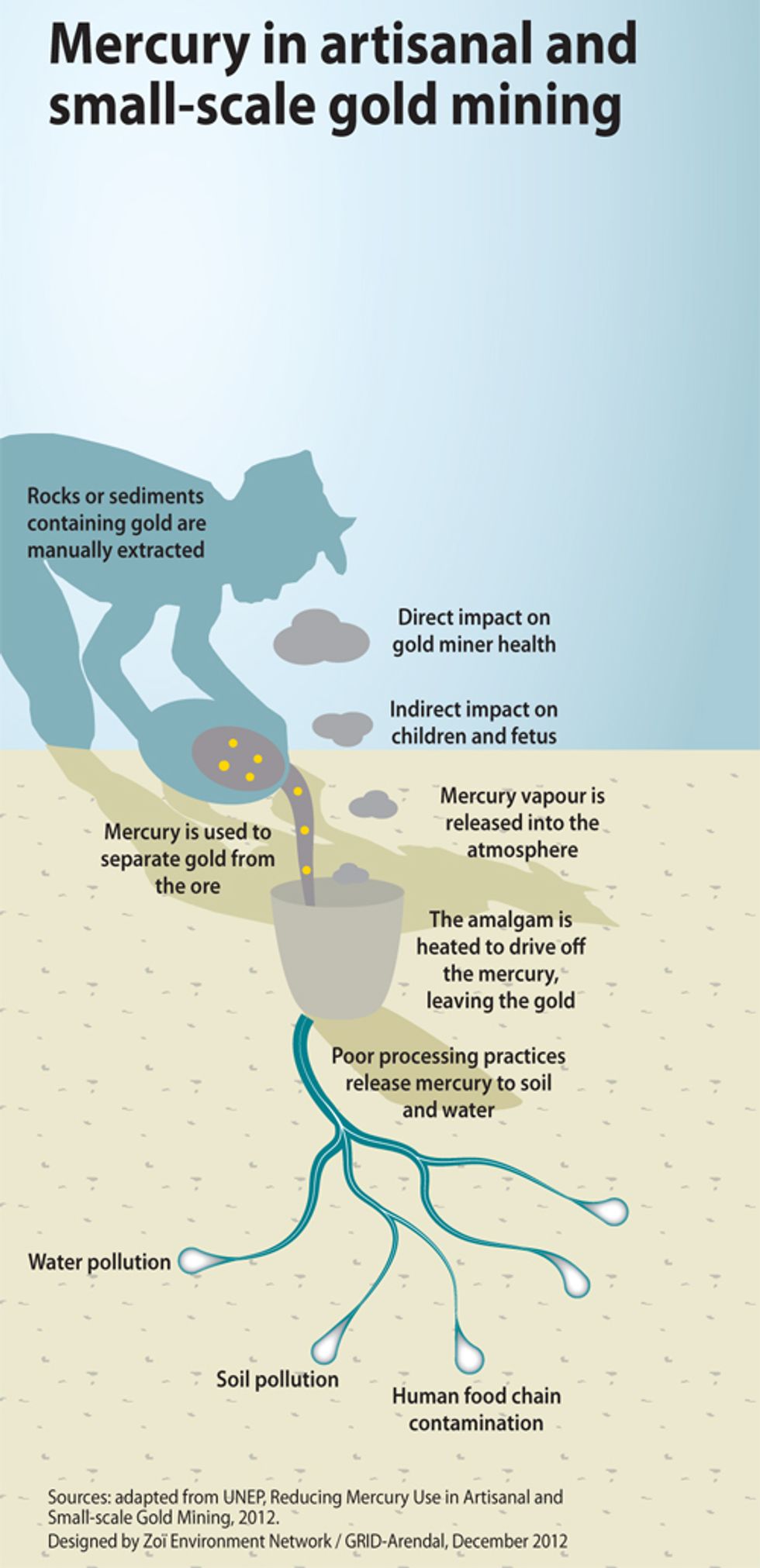 In Geneva, Switzerland, negotiations have begun to hammer out the details needed to finalize a global mercury treaty by Friday night. The following is a reporting of just a few of the opening days' events, discussions and new background information.
On Monday morning, environmental advocates greeted delegates with the message that "Global Mercury Trade Hurts." This message was delivered with a focus on artisanal and small scale gold mining (ASGM) which accounts for 37 percent of mercury emissions to air as reported in the new UNEP Global Mercury Assessment 2013. ASGM is also a major contributor to mercury releases into water, directly crippling people and poisoning fish. However, the current mercury treaty text contains language that would continue trade and unlimited use of mercury for ASGM.  The current text does not provide any limits or phase out date to the importation and use of mercury in ASGM.
The "contact group" on emissions and releases met for the first time Monday afternoon to discuss and agree to the mercury treaty text on these issues by Friday night or early Saturday morning. The discussions revolved around how to move forward between addressing thresholds, limits and sources in the treaty and text that would allow countries to deal with these issues in their National Implementation Plans when they go back home. China suggested that details could be taken from their guidance on best available technologies. The U.S. supported this suggestion. A handful of countries, including the U.S., China, Canada, the European Union, Norway and Chile, were convened to provide the contact group with more technical details.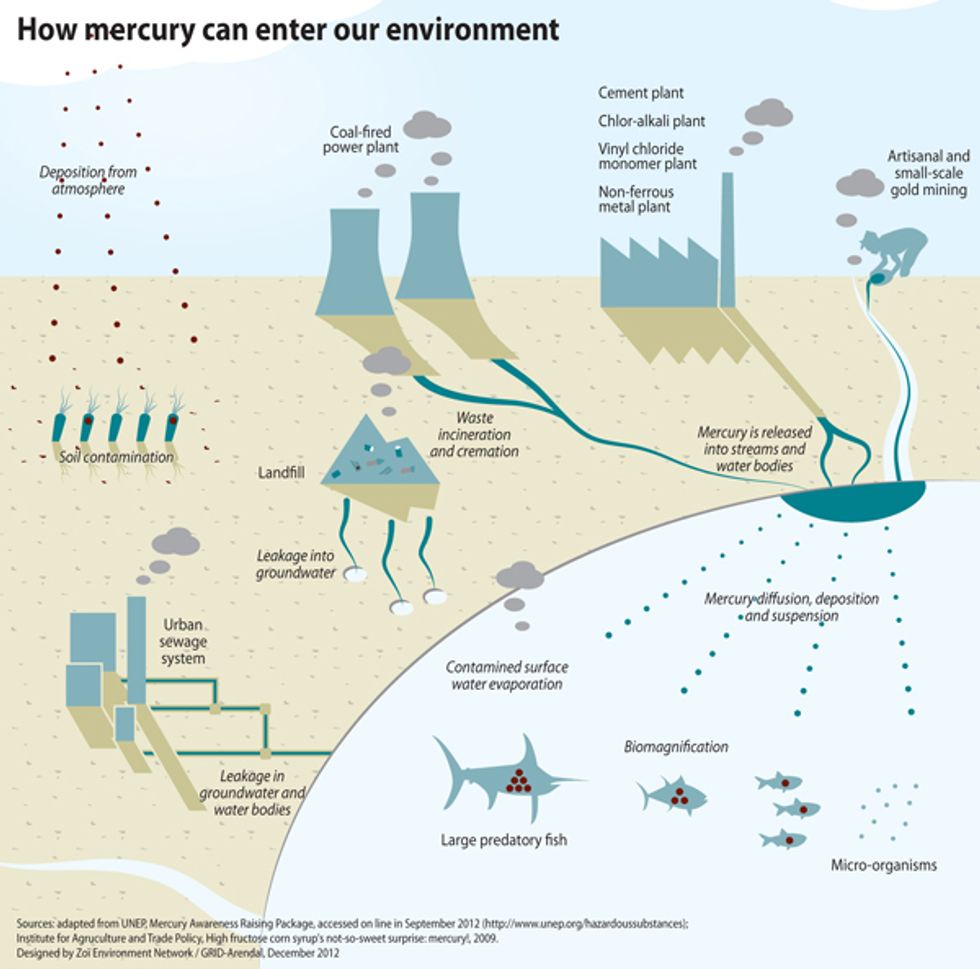 Environmental advocates have been active in trying to convince delegates to provide us with a treaty that reduces global mercury emissions and releases to air, land and water with new reports on the effects of mercury emissions to health and environment. Even UNEP's Global Mercury Assessment shows for the first time that emissions to water are enormous, with hundreds of tonnes of mercury released directly into water.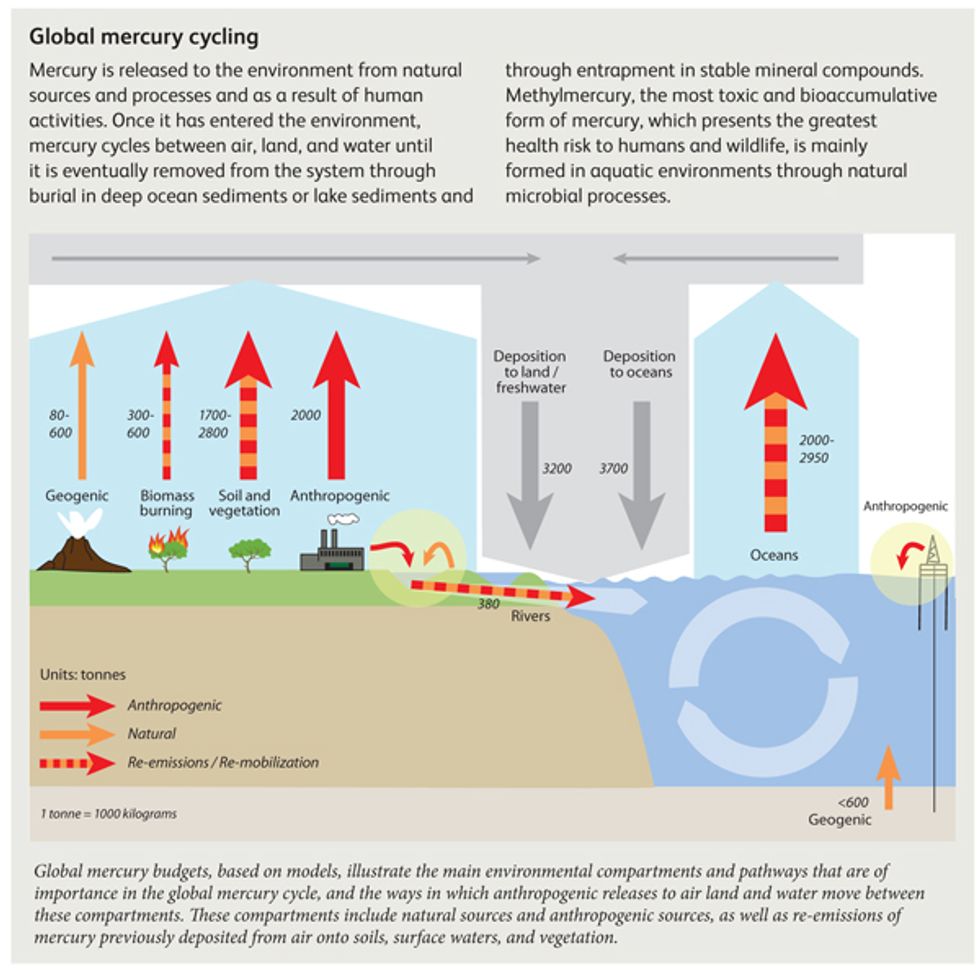 A brochure released to accompany the Global Mercury Assessment shows that about 200 tonnes of mercury are deposited in the Arctic annually and that mercury levels are continuing to rise despite emissions reductions in some parts of the world. The Inuit Circumpolar Council (ICC) clearly stated the importance of this information for the negotiations:
"If there are only weak requirements to reduce mercury emissions and releases for existing sources, the effect of this treaty on global mercury reductions will be very questionable—particularly since there will be a delay until the treaty comes into force, and likely an additional delay before Parties have to comply with the provisions."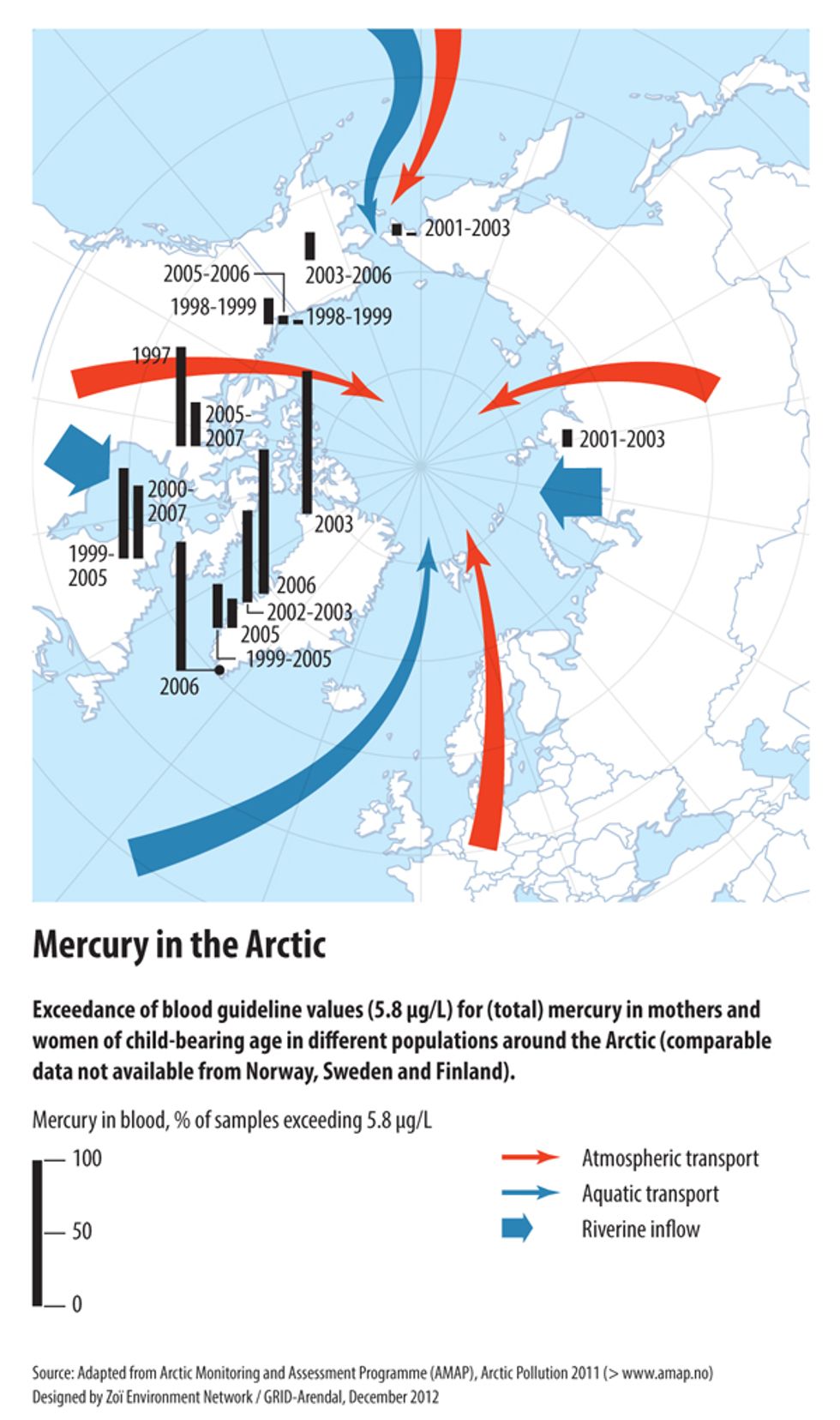 Moreover, the Global Indigenous Caucus pointed out that Indigenous Peoples around the world, who disproportionately suffer the adverse effects of mercury contamination, are not even mentioned in the current draft of the mercury treaty text. Waterkeeper Alliance would like to salute Indigenous Peoples like Grand Riverkeeper Earl Hatley who stood up for clean water at the mercury treaty negotiations in 2011.
Visit EcoWatch's BIODIVERSITY page for more related news on this topic.
By Sharon Khan
[Editor's note: Waterkeeper Alliance's International Director Sharon Khan is attending the mercury treaty negotiations in Geneva, Switzerland, and is providing live updates from the conference. For information regarding the mercury treaty negotiations, read Mercury Rising, Political Will Falling by Robert F. Kennedy, Jr. and Marc Yaggi, and the report Global Mercury Hotspots.]
BLOG POST II
(Read Blog Post I, Blog Post III)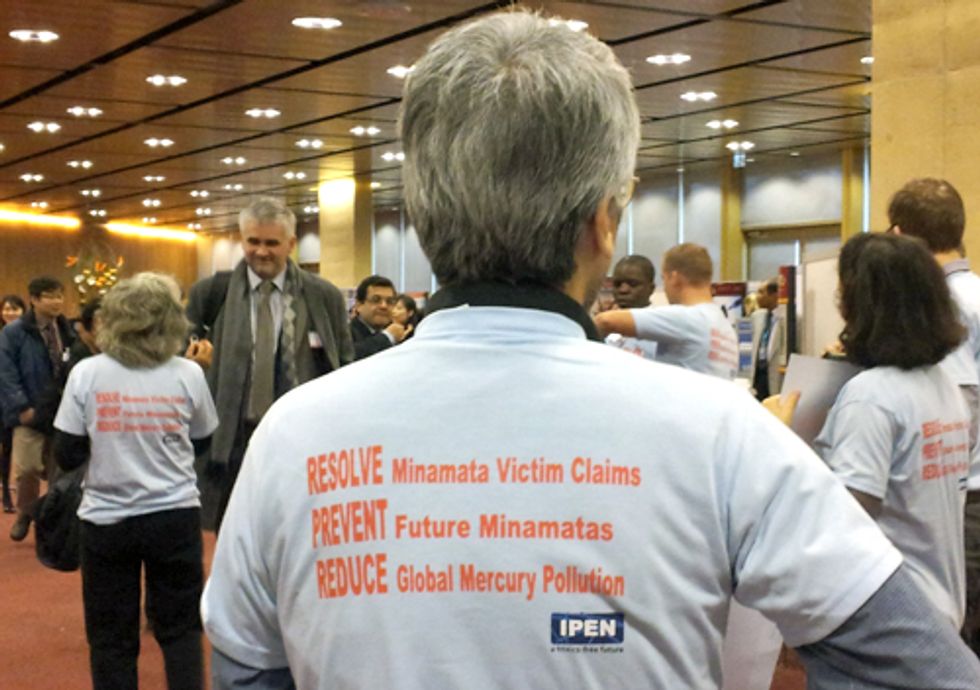 IPEN "Honor Minamata" action as delegates arrive for the opening ceremonies for the mercury treaty negotiations in Geneva, Switzerland.
Waterkeeper Alliance joined other IPEN members from around the world to greet delegates as they arrived for the opening ceremonies of the mercury treaty negotiations. IPEN greeted delegates with a commemorative ribbon and the message to "Honor Minamata" with a treaty to "Resolve Minamata Claims," "Prevent Future Minamatas" and "Reduce Global Mercury Pollution."
After welcomes from our Swiss hosts, the United Nations Environment Programme (UNEP) secretariat, the chair of the negotiations, and a heart wrenching film on the suffering of Mimamata victims, representatives for each region presented their opening statements. All reconfirmed their commitment to work collaboratively to agree to a treaty and reach a speedy conclusion to the negotiations this week. The Swiss delegate said he hopes to be dancing to "heavy metal" music on Friday evening.
Puns and hopes aside, delegates also noted many items to address, including financing for developing countries and small island states that may not have the capacity to implement and enforce the treaty. Other concerns heard repeatedly include the listing of sources of mercury emissions to land and water, with needs and suggestions for clear evidence. There were quite a few more items noted for attention. But will they get the attention they deserve?
At least after only two days here, I am confident that after this week Waterkeeper Alliance will continue to work with even more grassroots advocates around the world for swimmable, drinkable and fishable waters. We share the same strong feelings and commitments to take actions in our local communities. Stay tuned for introductions and more insights into the mercury treaty negotiations.
Here's a statement by Yoichi Tani from the Collaboration Center for Minamata Disease Victims: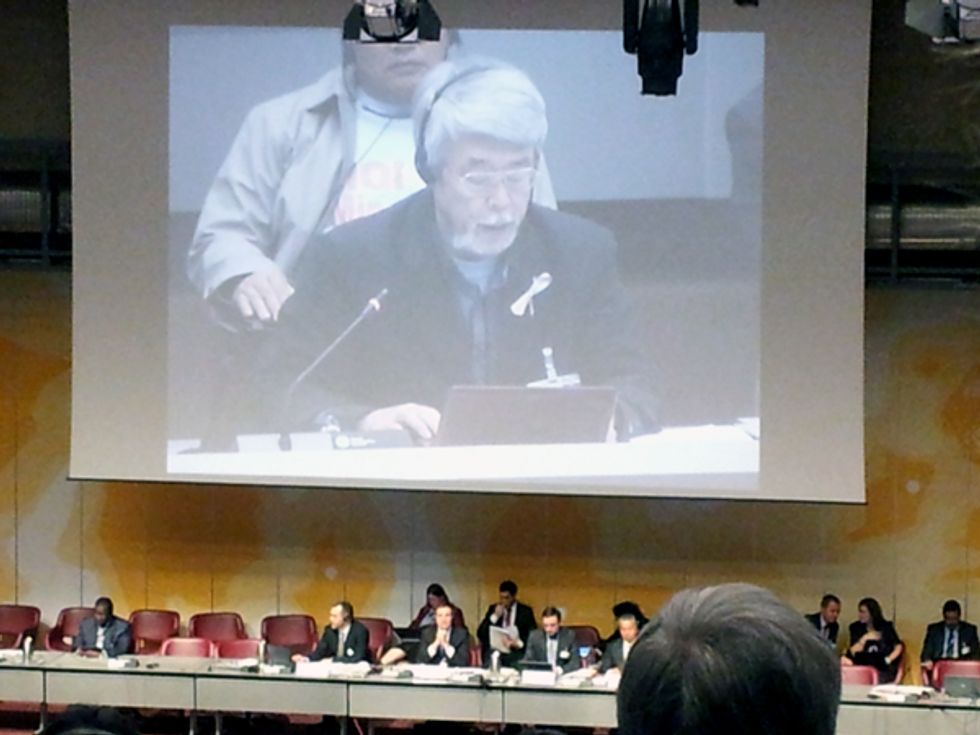 IPEN member Yoichi Tani from the Collaboration Center for Minamata Disease Victims delivering keynote address. He said Minamata disease is not over. There have been 65,000 compensation claims filed to date.
Good morning. It is my pleasure to be with you today to talk about the plight of Minamata victims in Japan and my concern about the proposed name for the treaty.
My name is Yoichi Tani from the Collaboration Center for Minamata Disease Victims in Minamata, Japan. My work has been to provide support to Minamata victims and their families for more than 40 years. You may be surprised to know that the tragedy is still happening. In fact, two months ago more than 65,000 victims have applied to the government for compensation under the Minamata Relief Law.
Many Minamata victims are opposed to the proposed name of the Minamata Convention. I also want to inform you that the local authorities from the Minamata City Council have asked that the treaty be given another name. 
Minamata victims oppose the name for several reasons. Many authentic victims have been denied recognition. A comprehensive health study of the disaster was never performed. Currently, there is 1.5 million m3 of mercury-contaminated sludge still at the site. How can we in good conscience accept the name Minamata Convention when mercury-related injustices continue to plague Minamata?
The treaty is very weak in addressing contaminated sites. It ignores critical provisions on victim compensation and environmental remediation. This makes it ironic to call it the Minamata Convention. We could simply follow the example of The Biodiversity Convention and the Desertification and Land degradation Convention, and just name it the Mercury Convention.
Finally I want to express my strong support for the GRULAC proposal to have an article 20 Bis on health aspects to ensure a stronger treaty.
We appeal to you at the GRULAC to choose a different name for the treaty. We would like you to consider naming it, the Mercury Convention.
Thank you for your attention. I would be pleased to answer any questions.
 Visit EcoWatch's BIODIVERSITY page for more related news on this topic.
By Sharon Khan
[Editor's note: Waterkeeper Alliance's International Director Sharon Khan is attending the mercury treaty negotiations in Geneva, Switzerland, and is providing live updates from the conference. For information regarding the mercury treaty negotiations, read Mercury Rising, Political Will Falling by Robert F. Kennedy, Jr. and Marc Yaggi, and the report Global Mercury Hotspots.]
BLOG POST I
(Read Blog Post II)
Delegates arrived at the Geneva International Conference Center this morning for regional meetings before tomorrow's start of the mercury treaty negotiations.
Most of these regional meetings were closed. Of those that were open, the news is that European Union, Central Eastern Europe and Asia Pacific support the name of "Minamata Treaty." But will they ensure that the treaty will be sufficient to prevent mercury poisoning from occurring around the world?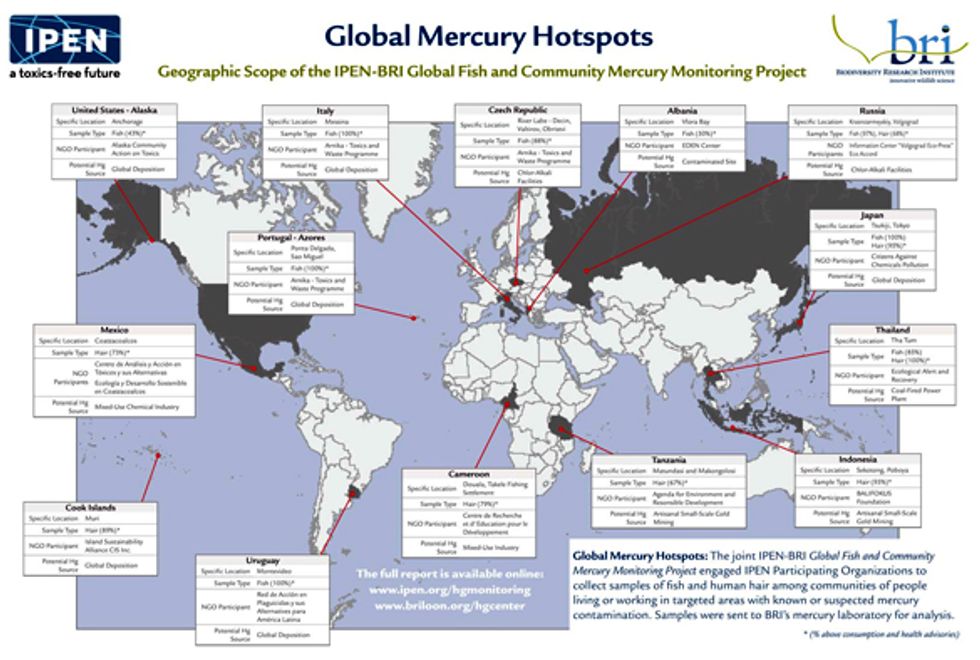 At a lunchtime panel, world-renowned Professor Dr. Philippe Grandjean stated mercury poisoning is "even more devious" than that experienced by Minamata victims. This is evident in new reports emerging on the dangerous levels of mercury in the fish that we consume around the world—and that are poisoning our bodies. Moreover, Professor Grandjean highlighted the annual global economic costs due to mercury pollution to be $10-20 billion based on lost IQ.
We need a mercury treaty that works toward the overall reduction and elimination of mercury pollution. Right now, there are many ways to avoid reducing mercury emissions in the current text. For example, countries could completely avoid any obligations by simply building many small coal-fired power plants, cement kilns or incinerators below the currently low thresholds for mercury emissions. Furthermore, many sources of mercury releases to land and water, including coal-fired power plants and artisanal and small scale gold mining, are not even currently listed.
In Geneva, international public interest groups are concerned that political will is low, based on the current text, to produce a treaty that will be sufficient in protecting our health and environment from mercury pollution. Financial commitments to reduce and control mercury pollution may be the final breaking point. Without financing for the treaty, there will be no treaty, no matter how much it protects industries interests. This may be resolved by the end of the week, possibly in the early morning of next Saturday. Stay tuned!
Visit EcoWatch's BIODIVERSITY page for more related news on this topic.