This website uses cookies to ensure you get the best experience while browsing it. By clicking 'Got It' you're accepting these terms.


The best of EcoWatch, right in your inbox. Sign up for our email newsletter!
Justin Sullivan / Getty Images
Just before the weekend, the Trump administration lifted a summertime ban on gasoline blended with 15 percent ethanol, the New York Times reported. The move, which is a boon to Midwest corn and soybean farmers hurt by both Trump's escalating trade war with China and catastrophic flooding, has made unlikely allies of the oil industry and environmental activists.

Trump's U.S. Environmental Protection Agency (EPA) said Wednesday that it would defend an Obama-era smog rule from a lawsuit brought in part by disgraced administrator Scott Pruitt when he was still attorney general of Oklahoma, The Hill reported.
EcoWatch Daily Newsletter
A British engineer based in Beijing captured on film a cloud of smog descending on the Chinese capital. The video clip, posted by Chas Pope Sunday on Twitter, shows a busy urban neighborhood being engulfed in air pollution during a 20 minute span.
The past few weeks have been especially bad in Beijing, according to the New York Times. On Dec. 16, government officials declared a red alert for the city, the most severe warning in a four-tier system.
According to Treehugger, there was a big bump in the PM10 air quality index when the video was being shot, as noted by the red arrow in the image below. The reading of 391 was at levels considered "hazardous" by the U.S. government.
PM10 indexTreehugger
As EcoWatch previously reported, more than 90 percent of people on the planet live in places where air pollution levels are dangerously high, and millions of people are dying as a result of the exposure. According to David Suzuki, "Beijing's 21-million residents live in a toxic fog of particulate matter, ozone, sulphur dioxide, mercury, cadmium, lead and other contaminants, mainly caused by factories and coal burning." Toxic smog puts cancer as a leading cause of death in China.
According to Bloomberg, "air pollution is killing an average of 4,000 people a day in China," accounting for 17 percent of all Chinese deaths each year. Researchers cited coal-burning as the likely principal cause.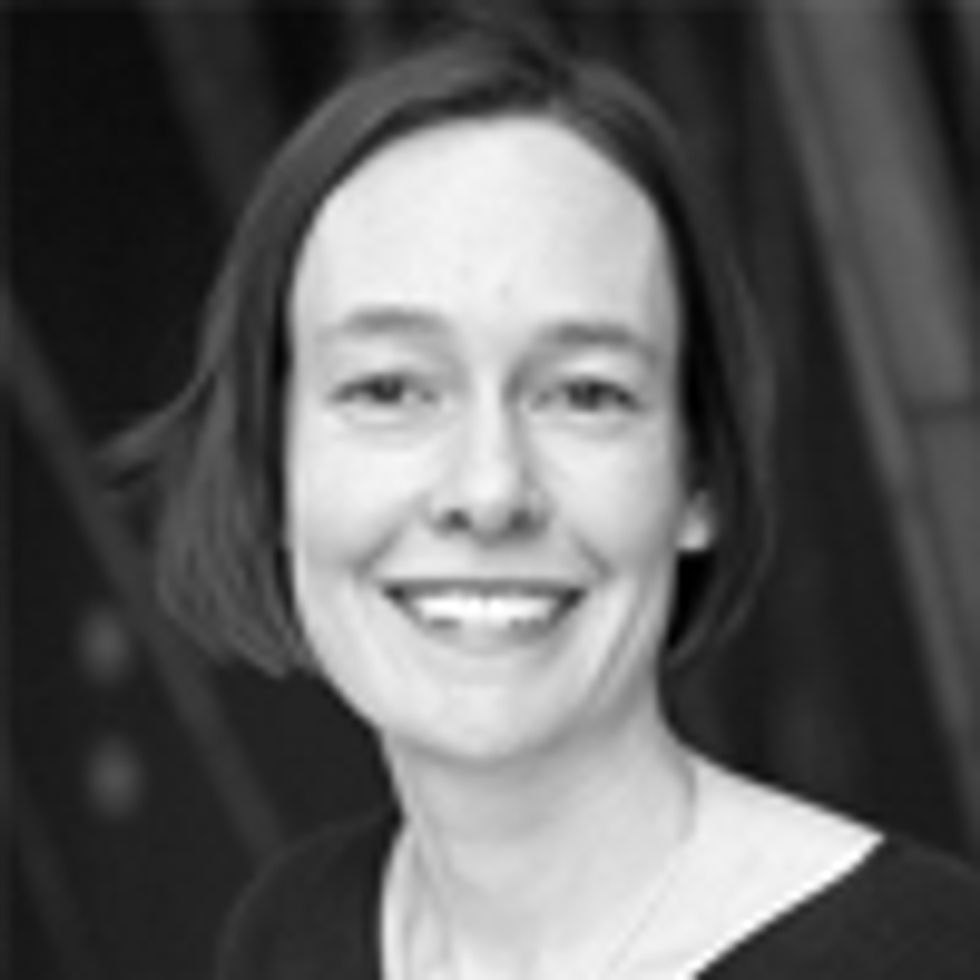 "The majority of people living in Dallas, TX, have never breathed legally clean air, according to the Environmental Protection Agency."
That shocking truth is from Cherelle Blazer, a Dallas resident and environmental scientist. She's referring to the ground-level ozone (or smog) levels in Dallas. Ground-level ozone robs hundreds of thousands of Americans with asthma and other respiratory ailments of quality of life. It sends thousands of children to emergency rooms each year and costs us billions in healthcare costs, lost productivity and premature deaths. The U.S. Environmental Protection Agency (EPA) is currently knee-deep in the process of updating our national ozone standards, and thousands of lives hang in the balance.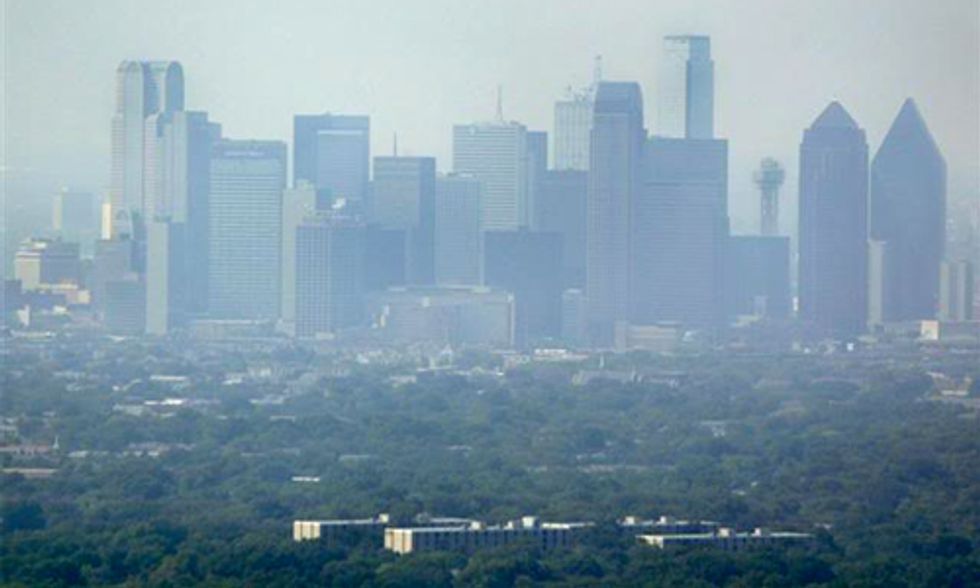 "We have an epic problem," says Cherelle of the smog levels in Dallas, which are well above levels considered safe to breathe by the EPA. "There is a reason asthma rates in Dallas average between 18 and 20 percent while the rest of Texas is around 9 percent. Dallas has a true triple threat of pollution—families' health is threatened by the largest concentration of cement plants to the Southeast, coal plants to the southwest, and shale gas drilling to the west. This has created the conditions for Dallas to have some of the worst air in the country."
Cherelle sees the effects of that terrible air pollution first-hand. Her eight-year-old son and her husband both have asthma and must take medicine regularly. Even she and her daughter, who are both healthy, wheeze on bad air days, she says. 
"It is expensive, very inconvenient, time consuming, sometimes heart-breaking, and it can be really scary," says Cherelle. "But we have learned to live with it like so many families.  Unfortunately packing the nebulizer everywhere [my son] goes has become a way of life."
There are many sleepless nights when her son's chest hurts because his airways are constricted. Her family, like thousands of others, has to watch closely for bad air alert days when the air is unsafe to breathe.
"It's the chronic stress of watching that—knowing the ozone standard is arbitrarily high and those warnings don't even mean anything," she explains. "It could technically be a 'good air day' and the ozone level will still cause asthma attacks because the current standard is not based on current science. It makes no sense at all and it's really unfair because families can't even protect themselves when they think they are doing everything right."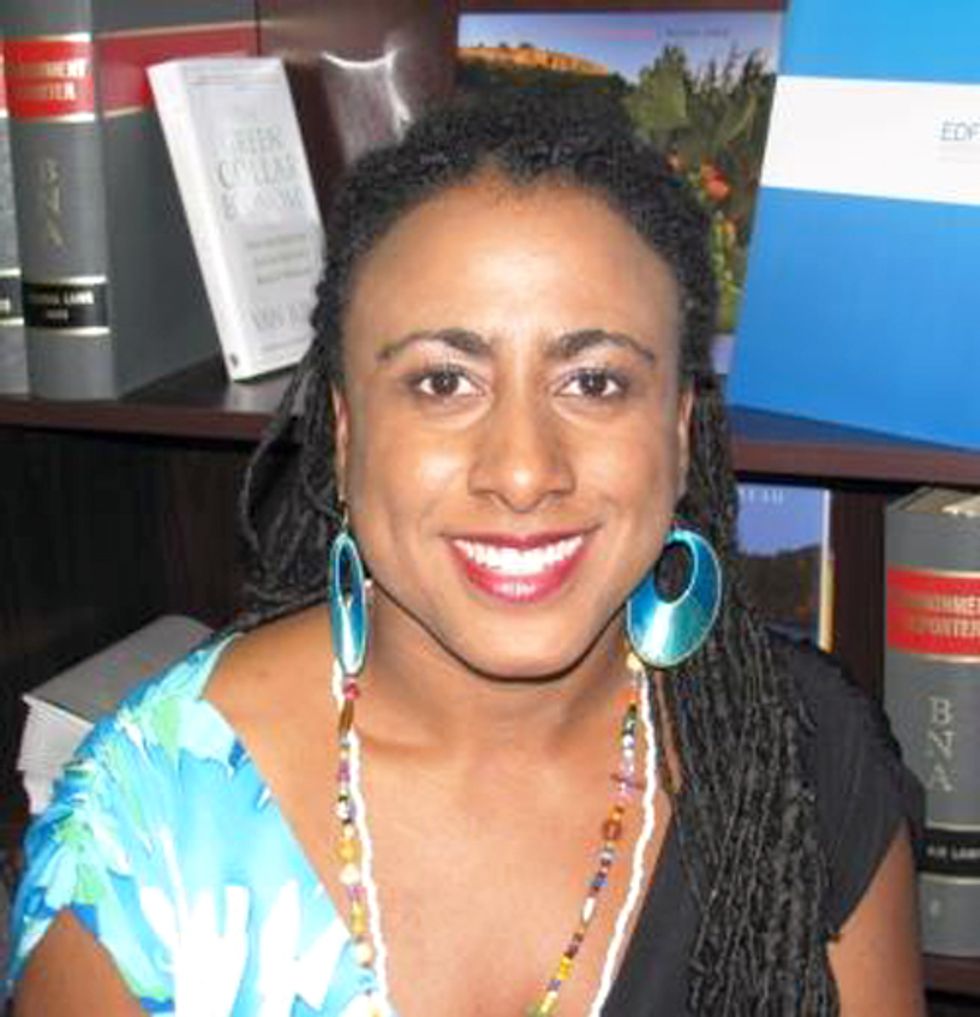 Cherelle has her own environmental consulting firm and works with local environmental and public health groups to get stronger smog standards in Texas and at the federal level via the EPA.
In late June, she joined other activists who traveled to Washington, D.C., for meetings with lawmakers and the EPA to discuss smog pollution and the harm it's causing in their communities. They made the case for a strong standard, explaining that "the best public health studies we have all say that anything above 60 parts per billion will cause respiratory illness."
This is an environmental justice battle, as she knows all too well. Cherelle has seen that fight since she was a child growing up in New Orleans in an area known as "cancer alley." She watched friends and family members die from many different diseases, and that inspired her career in environmental science.
"I was too young to have this acute awareness of pollution in my environment and what it was costing the people I loved most," said Cherelle. "I felt empowered to change that reality. There are lots of children struggling to grow up in environmental justice communities with that same awareness. I see them everyday all over North Texas and I am helping them in every way I know how."
Cherelle is truly an inspiration—I'll let her powerful words close out this column with a call to action:
"Everyone needs clean air. You can't do anything if you can't breathe. That concept is so basic it becomes lost on people. Children can't learn and pay attention in class when they are struggling to breathe. They can't play, they can't go outside and explore. The world is no longer a magical place for a child who is fighting just to stay in it.  Every time we set a clean air standard that is not protective of health we are literally ripping their childhood away from them.   
"Meanwhile, Texas is number one in the country for air pollution but we are also number one in clean energy production! This tells me that bad air in Texas is a choice. We could absolutely be cleaner but it takes a strong smog standard to spur innovation, push businesses to adopt cleaner practices, and empower politicians and communities to demand better.
"There is a personal cost millions of families know all too well: every time I have to pull out the breathing machine because my son has little league practice, every time I have to go pick up his medications from the pharmacy, every time my husband and I sit down to do the budget and factor in the cost of his asthma medications, every time my son's asthma gets out of control and we have to take him to the hospital and we know that huge bill is coming... I get angry because this is not our doing but it has become our problem and it shouldn't be.
"People want energy but they don't want it with a side of death and sickness. They don't want it at any cost! I can't run a business that poisons everyone around me and neither can energy companies and other polluting industries. They don't get a pass. It is time for the full cost of doing business to rest squarely on the shoulders of the largest polluters. The people least equipped to pay—the public—have carried industries' burden for decades and is being crushed under the weight of that cost. We should all demand that EPA shift that bill over to industry."
Tell the EPA we need strong smog standards. Sign up for mobile air quality alerts and get a text message when the air is unsafe in your area. http://content.sierraclub.org/coal/mobile-air-alerts.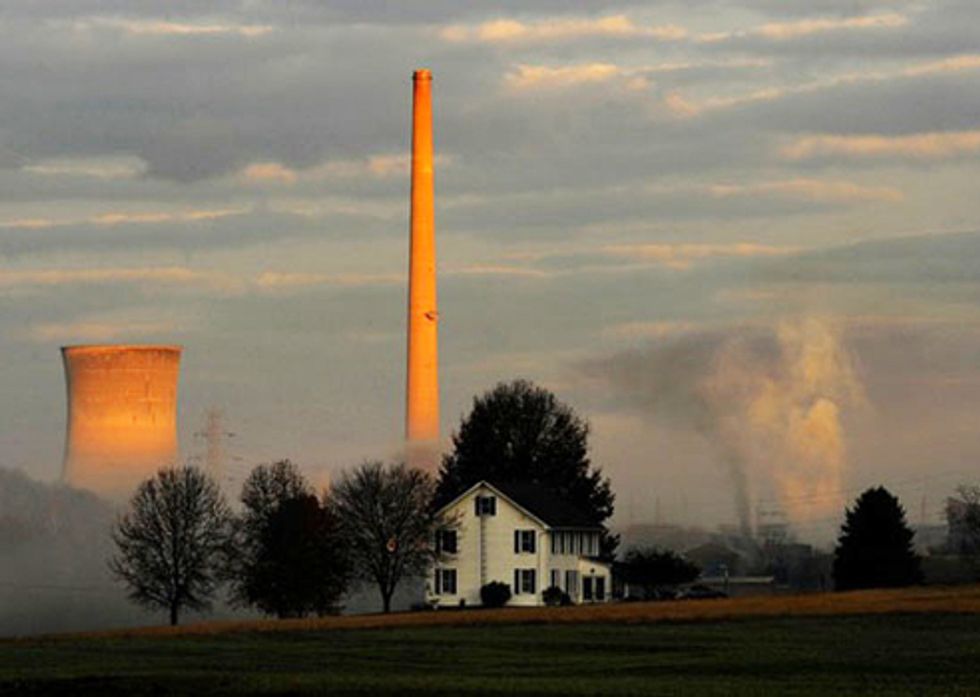 By Daniel J. Weiss, Jackie Weidman, Rebecca Leber
On Monday, Feb. 6, 16 states and numerous power companies that oppose new pollution-reduction rules must file their petitions with the U.S. Court of Appeals in Washington, D.C. In response to their initial suit, the court granted a motion to temporarily "stay," or halt, the implementation of the Cross-State Air Pollution Rule, or smog pollution rule, which the U.S. Environmental Protection Agency (EPA) promulgated last summer. These "good neighbor" pollution-reduction standards will require power plants to slash their sulfur dioxide and nitrogen oxide pollution. These substances are the key ingredients in acid rain and smog, and they can travel hundreds of miles and contaminate other states.
Once implemented the rule will annually save thousands of lives and prevent thousands of illnesses. Not surprisingly, the 16 states that sued EPA to block these rules include 7 of the 10 highest-polluting states in the country. And their governors and attorneys general, who decide whether to file a lawsuit to stop these safeguards, received a combined $5 million in campaign contributions from big utilities and coal companies that benefit from higher-pollution levels.
This column reviews the rule and its benefits as well as the efforts of utilities and coal companies to block it so they can avoid or postpone investments in cleanup technology. EPA analysis demonstrates that the law's benefits to public health and the environment are much greater than its costs. These governors and attorneys general should support EPA's efforts to protect the residents of their states and people downwind from premature death, asthma attacks, and other respiratory ailments instead of bending to the will of dirty-money donors.
These safeguards protect neighboring states
The EPA's new rules will address a major public-health threat, annually curbing millions of pounds of air pollution from power plants that travel downwind and across the country. An interactive EPA map shows that pollution doesn't stop at state borders, which is why the agency is acting to reduce air pollution that drifts across state lines.
EPA's map helps viewers connect the dots. When the cursor is placed over Michigan, for example, one can see that emissions from six different states travel into the state, causing air-pollution readings above the national threshold level for public-health standards. The map also shows that pollution from Michigan travels all the way to Virginia, diminishing the latter's air quality.
The EPA estimates these rules with produce significant air-quality benefits. By 2014 the rules will reduce sulfur dioxide emissions by 73 percent from 2005 levels. Nitrogen oxide emissions will drop by 54 percent.
This improvement in air quality will result in $120 billion to $280 billion in annual benefits, including preventing up to 34,000 premature deaths and avoiding 858,000 other health problems annually that are linked to this pollution, as outlined in the table below.
When final safeguards were first announced in July 2011, EPA Administrator Lisa Jackson commented on how the law helps Americans:
No community should have to bear the burden of another community's polluters, or be powerless to prevent air pollution that leads to asthma, heart attacks and other harmful illnesses. These Clean Air Act safeguards will help protect the health of millions of Americans and save lives by preventing smog and soot pollution from traveling hundreds of miles and contaminating the air they breathe.
Many utilities have already begun to invest in pollution-control technologies, such as scrubbers, to comply with the Clean Air Interstate Rules (CAIR) from 2005. It was struck down by federal court in 2008, so EPA revamped the measures that became the cross-state rules. These CAIR investments were an estimated $1.6 billion per year.
Compliance with the cross-state rules will cost $800 million annually beginning in 2014. Meanwhile, they will generate $120 billion to $280 billion in annual health benefits. According to EPA data the benefits from the improved rule are estimated to outweigh the costs by a ratio of at least 50-to-1, and as much as 115-to-1.
The aforementioned economic benefits are also a very conservative estimate because they do not include qualified estimates of other benefits from pollution reductions. For instance, lower pollution levels will increase agriculture crop and commercial forest yields, improve visibility in state and national parks, and increase protection from acid rain for sensitive ecosystems including Adirondack lakes, Appalachian streams, and coastal waters.
Stay means delay of health protection
The stay of the Cross-State Air Pollution Rule will last until at least April 13 when the states' cases against the rule will be heard, but it could continue much longer. This setback unfortunately hinders vital reductions in air pollution from power plants, prolonging poor air quality for 240 million Americans in 27 eastern states.
A long list of plaintiffs sought this timeout on health protection, including 16 states—Alabama, Florida, Georgia, Indiana, Kansas, Kentucky, Louisiana, Michigan, Mississippi, Nebraska, Ohio, Oklahoma, South Carolina, Texas, Virginia, and Wisconsin. Another 12 states affected by the rule are not trying to stop it. It's no coincidence that the suing states are responsible for more than 90 percent of the nation's total sulfur dioxide and nitrogen oxide air pollution from power plants, which the law aims to reduce.
Big-polluting states are harping on costs associated with pollution-control technology rather than acknowledging the much greater economic benefits from public health that their own residents will enjoy as a result of the EPA rule. Smog and ozone pollution in the suing states—and the 12 other states that will be regulated by the EPA rule—are polluting communities hundreds of miles away as well as directly fouling their own backyards.
Not all 28 affected states oppose this rule, however. Three of the polluting states—Illinois, New York, and North Carolina—joined EPA in support of these safeguards. These three states emit more than a billion pounds of sulfur dioxide and nitrogen oxide into the atmosphere each year, compared to the 8 billion pounds shot into the skies by the recalcitrant states.
These three states, along with the additional nine states uninvolved in the litigation, are not undermining these new health safeguards. Instead, they plan to take responsibility for the pollution imposed on their residents and neighboring states.
Roughly half of the people in the U.S. live in counties that have unhealthful levels of ozone-smog pollution. Based on American Lung Association rankings, 11 of the metropolitan areas with the highest particle pollution, and 12 of the metropolitan areas with the highest ozone-pollution levels reside in suing states.
Texas—the number one state for ozone pollution—had one of the worst air-quality years in its history for 2011, as high levels of pollution combined with record summer heat. Many of the state's major metropolitan areas—including Dallas-Fort Worth, San Antonio, Austin, and even the small city of Waco—exceeded federal limits on ozone pollution last year, inflicting hazards to respiratory health on those who live there.
The Washington-Baltimore metropolitan area is ranked 14th for high levels of ozone pollution and the area houses 7.5 million people. These people, along with 50 percent of the country, live in areas where the air can be dirty enough to send people to the emergency room, and even to kill.
Dirty-money donors demand delays
Many of the utilities and coal companies responsible for this deadly air pollution oppose the cross-state rules because they make more money with uncontrolled pollution than by investing funds in cleanup equipment and practices.
These companies therefore donate campaign contributions to the governors and attorneys general in these states who can decide whether to file a lawsuit to stop these safeguards. A review of donations records by the Center for American Progress Action Fund found that the governors and attorneys general in these 16 plaintiff states received almost $5 million in campaign contributions from these companies during campaigns for their current office. (see table) See attached spreadsheet for CAPAF analysis of state breakdown by government officials.
As the chart shows, high campaign contributions occur in litigating states with high pollution. The top three ozone-polluting states—Indiana, Ohio, and Texas—also had governors and attorneys general with three of the four highest campaign contributions from utilities and coal companies, racking up a little over $3 million. There's little doubt that the leaders in these states support dismantling EPA regulations as money pours in from polluters each election season.
But instead of echoing their dirty donors in opposition to these vital health safeguards, these governors and attorneys general should support EPA's efforts to protect the residents of their states and others from premature death, asthma attacks, and other respiratory ailments.
Pollution safeguards enjoy wide support
Voters from both political parties and in all regions of the country are singing a different tune than these states. They support the EPA's regulatory authority to determine air-pollution standards, a poll from October 2011 reveals.
Ceres and the University of Massachusetts conducted a bipartisan poll to gauge voters' feelings nationwide about EPA's cross-state air-pollution and mercury-toxics rules. Two-thirds of the respondents (67 percent) oppose delayed implementation of the air-pollution rules and trust EPA, not politicians, to get the job done. This includes support from 62 percent of Republicans and 79 percent of independents surveyed.
States need to stand up to dirty utilities and protect public health
Every month of delay in the implementation of the cross-state good neighbor air-pollution rules will allow 2,000 more unnecessary deaths. The judicial stay and lawsuit also prolongs uncertainty about the final rules (login required), which makes it harder and more expensive for power plants to comply with them. The sooner states' legal challenges to these rules are settled, the sooner power plants can invest in pollution control and clean up the air.
States should emerge as leaders in this fight, choosing public health through improved air quality instead of succumbing to the influence from big utility and coal campaign cash. Americans certainly agree.
For more information, click here.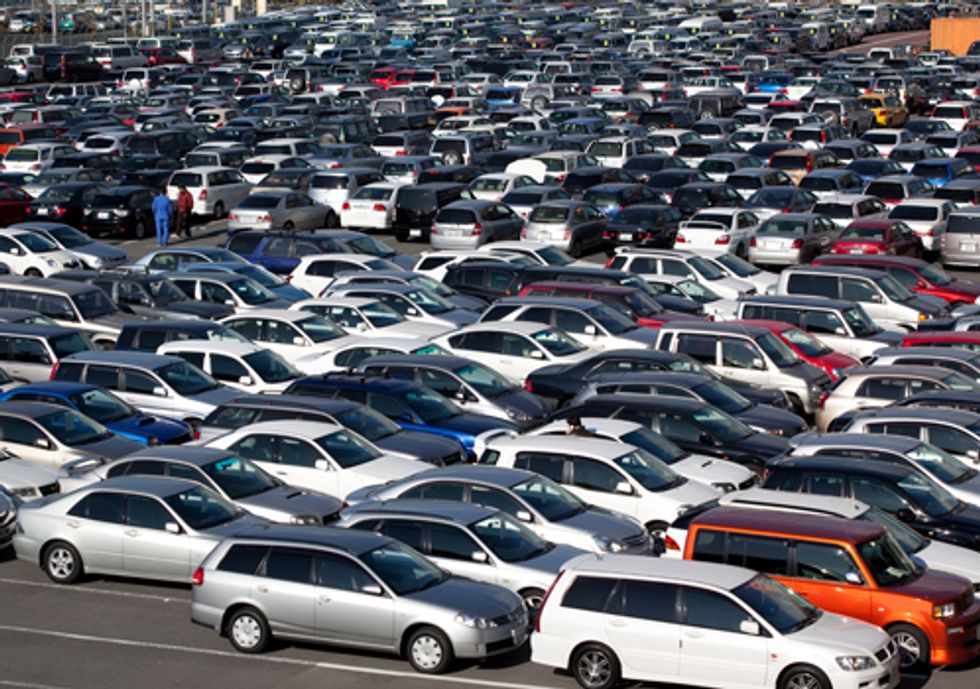 Today, cars and trucks are nearly everywhere. In the U.S., there are more automobiles than there are licensed drivers to drive them.
Altogether, the planet is home to more than a billion vehicles of all sorts, and experts predict that by 2020 there will be more than two billion, of which half will be automobiles.
Smog, carbon pollution and oil dependence
These cars and trucks, as helpful as they are in moving people and cargo, also create a range of environmental challenges. In the U.S., on-road vehicles contribute about a third of the country's smog-producing air pollution. The transportation sector is responsible for approximately 27 percent of America's greenhouse gas emissions.
It is also a leading cause of America's dependence on oil and consumes about 70 percent of the oil we use in this country. More than half of that is consumed by cars and trucks.
Threat to water and wildlife
Vehicles also contribute to water pollution through the oil and other fluids they leak onto roadways—fluids that inevitably wash off into storm drains, rivers and bays.
The nearly 4 million miles of public streets and highways in this country have eaten into wildlife habitat, and where wildlife still exists, those roads create migration impediments and hazards.
One survey found 21 listed threatened species were under greatest threat from road impacts.
Our goal—to make engines cleaner and safer
Our challenge is to find solutions to make those cars and trucks and other vehicles less polluting, and the way we use them less damaging to the planet.
Take action
What will it take to cure our dangerous and unhealthy addiction to oil and reduce the threat of runaway global warming?
Stronger fuel economy and greenhouse gas standards for American cars and trucks are essential—and your email right now to the Obama administration supporting their landmark new standards for cleaner cars and trucks can help us all take a huge step forward.
Public comments are due by Feb. 13. Take action today—stand up for better gas mileage, less oil and a safer climate future.
Thank you for your activism and support.
For more information, click here.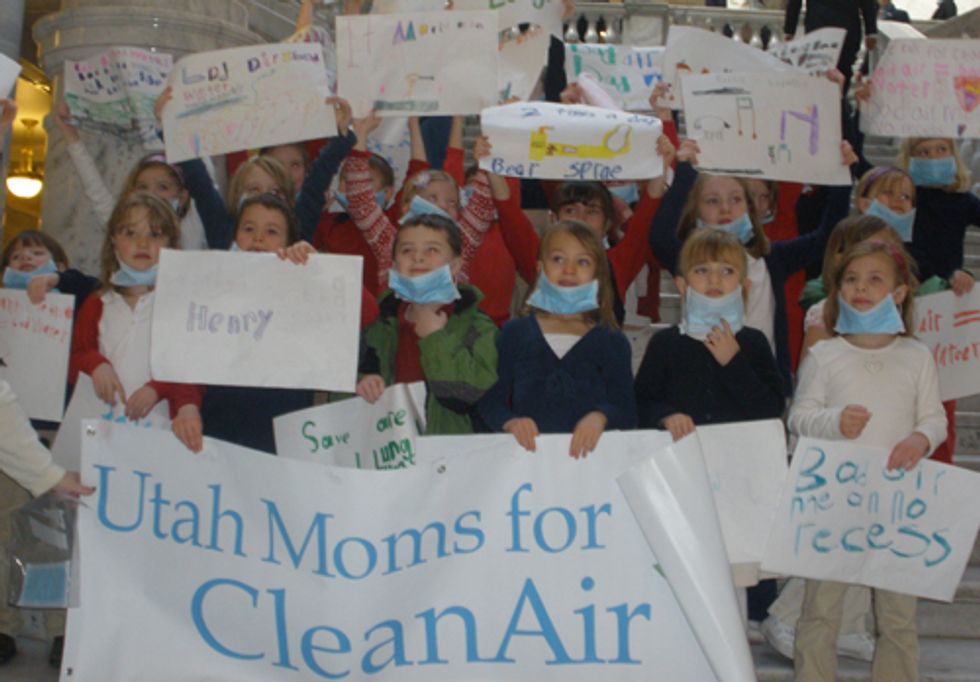 In the midst of the Wasatch Front's first air quality advisories of the winter, a coalition of doctors, moms, health and environmental groups filed suit against Kennecott Copper Dec. 19, a subsidiary of Rio Tinto, over the company's failure to protect clean air in Salt Lake County and beyond.
At issue are ongoing clean air violations at Kennecott's Bingham Canyon Copper Mine, the world's largest open pit copper mine located in western Salt Lake County in the Oquirrh Mountains. For at least the last five years, the company has violated its federal limits on ore and waste rock production. These production limits were put in place in 1994 to curb particulate matter emissions and meet health standards.
"Every Wasatch Front resident knows that our air pollution is often severe, and occasionally the worst in the nation. Rio Tinto, as a major contributor to this problem, is literally mining away our clean air. Worse, they are doing it illegally," said Dr. Brian Moench with the Utah Physicians for a Healthy Environment.
"Our families depend on clean air, plain and simple," said Cherise Udell, founder of Utah Moms for Clean Air. "All we're asking is that Kennecott take responsibility for protecting the health of our children and our future."
Currently, Salt Lake County and other Wasatch Front counties are in violation of federal health limits on particulate matter. The region has some of the worst particulate pollution in the U.S. Conservative estimates show that 1,000-2,000 Utahns die prematurely every year because of particulate pollution. According to Utah Physicians for a Healthy Environment, an organization of medical experts dedicated to protecting public health, these levels of pollution can shorten the life span of individuals by about two years.
In 1994, Kennecott agreed to limit production at its Bingham Canyon Mine to 150,500,000 tons of ore and waste rock every year to keep dust, tailpipe emissions, and other sources of air pollution in check. This limit was approved by the U.S. Environmental Protection Agency (EPA) and adopted into federal regulations. However, according to data submitted to the Utah Division of Oil, Gas and Mining, every year since 2006 Rio Tinto has violated this production limit, reaching levels as high as 192,684,252 in 2009—more than 40 million tons above the limit allowed.
Although Kennecott has claimed that production increases were authorized by the state of Utah, most recently in June of 2011 where the state approved a production increase to 260,000,000 tons annually, the increases were never approved by the EPA nor were the air quality impacts analyzed to ensure compliance with federal health standards. Under federal law, States cannot unilaterally modify federal regulations through permits.
"Although the State of Utah is an accomplice in this mess, the responsibility to protect our clean air and our health falls squarely on the shoulders of Kennecott," said Jeremy Nichols, the Climate and Energy Program director for WildEarth Guardians. "As citizens concerned over the impacts of air pollution on today's and future generations, we're saying enough is enough. It's time for Kennecott to come clean, comply with the law, and start being a part of solving our pollution problems, not making them worse."
Under the Clean Air Act, citizens have the right to enforce clean air laws in order to safeguard public health and welfare. Exercising that right, WildEarth Guardians, Utah Physicians for a Healthy Environment, and Utah Moms for Clean Air filed suit under the Clean Air Act in federal court in Salt Lake City. The suit seeks a ruling that Kennecott is violating the Clean Air Act, an order that Kennecott comply with the 150,500,000 ton/year production limit, and pay the maximum penalty of $37,500 per violation per day as allowed by federal law.
For more information, click here.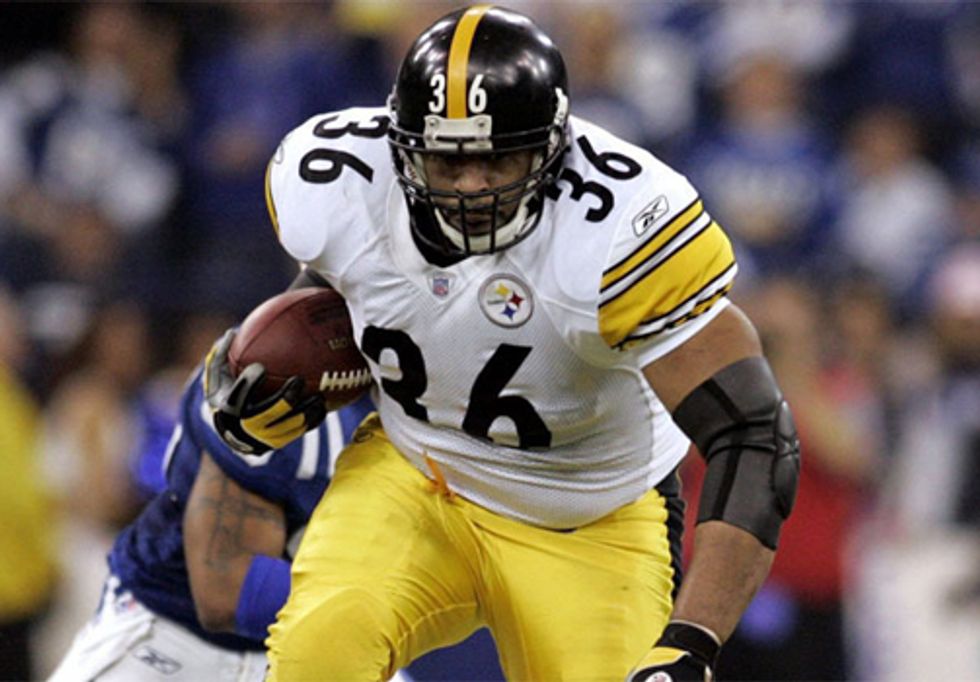 Retired National Football League (NFL) legend Jerome Bettis met with U.S. Environmental Protection Agency (EPA) Administrator Lisa P. Jackson Dec. 15, before meeting with members of Congress on behalf of the Clean Air Council (CAC) to advocate for the EPA's clean air rules. Bettis, an asthmatic, was joined by Katie Feeney, policy analyst at CAC, to discuss the health benefits of clean air in advance of the release of EPA's Utility MACT, or Mercury and Air Toxics Standards, expected to be issued in the next few days. The rule, which would require the first nationwide reductions of hazardous emissions of mercury, lead, arsenic and acid gases from coal-fired power plants, would save up to 17,000 lives and prevent 120,000 cases of aggravated asthma a year, according to the EPA.
Mr. Bettis, nicknamed "The Bus," urged that no delay or legislation be passed to prevent the lifesaving rule from going into effect. He will be meeting with:
EPA Administrator Lisa P. Jackson
Sen. Robert Casey (D-PA)
Congressman John Dingell (D-MI)
Congressman Mike Doyle (D-PA)
"I am excited to join the Clean Air Council, whose mission is to protect everyone's right to breathe clean air, in meeting with elected officials to talk about an issue that I am so personally connected to," said Jerome Bettis. "I've been involved with asthma education for a number of years. When I learned how vital the clean air rules are to people's health, and realized how polluted air exacerbates my asthma, I knew I had to speak out. The Toxics Rule will save thousands of lives, including the lives of children, across the country. I can't imagine a more worthy cause."
According to the EPA, the rule will also avoid 12,000 hospital visits, 4,500 cases of chronic bronchitis, 11,000 nonfatal heart attacks, 12,200 hospital and emergency room visits, 220,000 cases of respiratory symptoms and 850,000 days when people miss work annually. In Bettis' native Michigan, 1,056 pollution-related deaths, 487 hospital admissions and 1,097 heart attacks will be avoided through the implementation of EPA's clean air rules. In his adopted home state of Pennsylvania, the numbers are even more staggering, with 2,510 pollution-related deaths, 1,016 hospital admissions and 2,298 heart attacks being avoided.
Bettis was diagnosed with asthma at 15, and has struggled with it ever since, including suffering from a traumatic life-threatening attack during a nationally televised game in 1997. He was an active advocate for asthma awareness during his playing career and continues to speak out about the issue. In particular, he has focused on helping children who have asthma learn to cope with it.
Dirty air leads to severe medical issues, including hundreds of premature deaths annually caused by heart, respiratory and lung problems. For those with asthma and other respiratory problems—who already experience breathing difficulty—high ozone days can lead to further respiratory distress, and even hospitalization. On ozone action days the air can irritate the respiratory systems, causing symptoms such as coughing, throat irritation, and chest tightness. Lung function is reduced, air intake can feel strained, and breathing, especially outside, can become shallow, rapid and uncomfortable.
Despite the significant progress that has been made in reducing air emissions in the last 20 years, the American Lung Association says more than 175 million people—or nearly six out of 10 Americans—live in areas with unhealthy levels of air pollution.
"We're thrilled and honored that Jerome Bettis has agreed to join with the Clean Air Council to advocate for the timely implementation of the Utility MACT," said Joseph Otis Minott, Esq. of the Clean Air Council. "As an outspoken advocate for asthma awareness, he recognizes that this issue is important beyond the beltway—it is a living room issue that will benefit everyone, especially asthmatics."
"My goal is for the members of Congress we meet with to understand just how important these rules are to people's health, and that they need to be implemented as soon as possible," concluded Bettis.
Bettis was joined by Feeney and Dr. Sue Tierney, managing principal at the Analysis Group and former assistant secretary for policy at the U.S. Department of Energy, at a press conference.
For more information, click here.
—————
Clean Air Council is a member-supported, nonprofit environmental organization dedicated to protecting everyone's right to breathe clean air. The Council works through public education, community advocacy, and government oversight to ensure enforcement of environmental laws.
The Jerome Bettis "Bus Stops Here" Foundation is a non-profit 501 (c) (3) organization whose mission, is to improve the overall quality of life for troubled and underprivileged children by offering the opportunities to help them succeed in life. The Foundation believes that the first step towards self-sufficiency must consist of a strong moral foundation. On this foundation, self-esteem, responsibility, education and ultimately, employability are built. The Foundation's contribution to youth consists primarily of providing a climate where they feel wanted and accepted by peers and adults and where they are assisted in acquiring and applying the skills related to meeting their goals. Through the hard work of the Foundation, we are presenting possibilities and creating opportunities. We are trying to change old perceptions to create a "right here, right now attitude".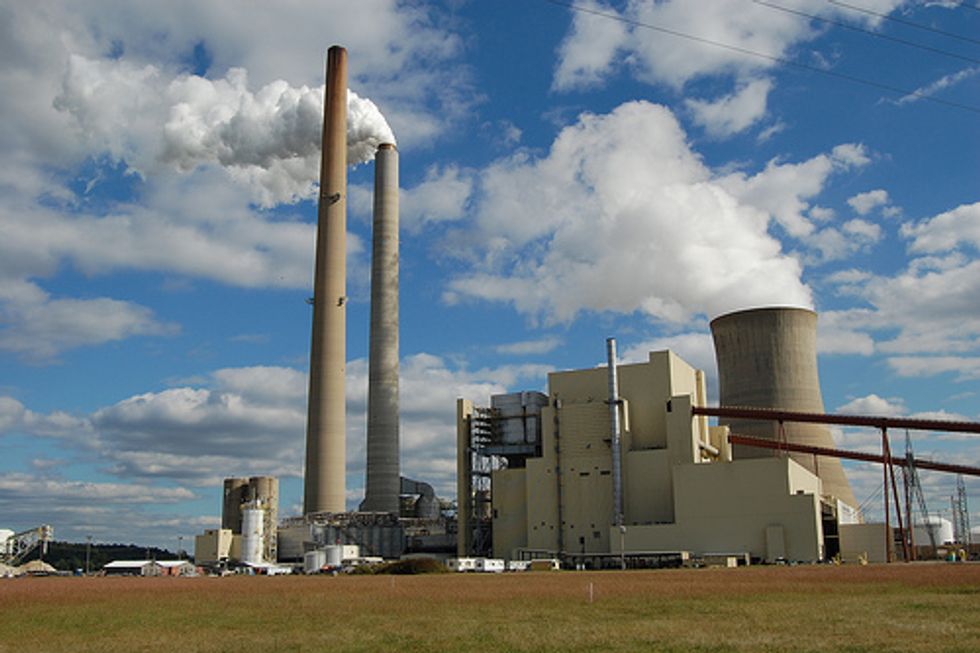 In response to a WildEarth Guardians' lawsuit, three massive coal-fired power plants in Oklahoma are being faced with two choices—clean up, or convert to clean energy.
Under a plan finalized Dec. 13 by the U.S. Environmental Protection Agency (EPA), three of the states' dirtiest and oldest coal-fired power plants will be required to reduce harmful air pollution by 95 percent within five years, or otherwise convert to natural gas or other cleaner power sources. You can view a map of these power plants by clicking here.
The plan promises significant benefits for public health and the environment.
"This is a big step forward for clean, breathable air in Oklahoma," said Jeremy Nichols, Climate and Energy Program director for WildEarth Guardians. "It also emphasizes the need to move toward cleaner energy sources."
Coal-fired power plants in Oklahoma already take a disproportionate toll on health and the environment. Estimates indicate that every year, these plants contribute to 111 premature deaths and other illnesses at a cost of more than $1 billion (see the Clean Air Task Force report here). The EPA estimates that every year, Oklahoma coal-fired power plants degrade visibility in pristine areas such as the Wichita Mountains Wilderness Area, which is located in the southwestern portion of the state, making the area three times hazier than normal.
The EPA's plan was spurred by a lawsuit filed by WildEarth Guardians that challenged the EPA's failure to ensure air pollution from a number of states, including Oklahoma, protects downwind states. As part of this lawsuit, EPA agreed to finalize a clean air plan by June 21, 2011.
The new plan responds in three significant ways:
It approves an Oklahoma plan to reduce nitrogen oxide and particulate matter emissions from its coal-fired power plants. Oklahoma's plan would reduce smog and haze forming nitrogen oxide emissions by more than 27,000 tons annually, equal to taking 1.4 million passenger vehicles off the road.
It disapproves of Oklahoma's plan to reduce sulfur dioxide from coal-fired power plants. Oklahoma's plan fell short of ensuring enough sulfur dioxide pollution was reduced in time to meet Clean Air Act requirements.
It adopts a federal plan that would require the use of scrubbers to reduce sulfur dioxide emissions from three coal-fired power plant units in Oklahoma—two units at Oklahoma Gas and Electric's 1,716 megawatt Muskogee plant in Muskogee County and two units at the company's 1,138 megawatt Sooner plant in Noble County, and two units at American Electric Power's 946 megawatt Northeastern plant in Rogers County. The plan would reduce sulfur dioxide emissions by 95 percent from these coal-fired plants and require these reductions to be achieved within three years.
The EPA's plan rejected a proposal by Oklahoma that would have allowed the state's coal-fired power plants to avoid installing scrubbers in exchange to committing to convert to cleaner natural gas by 2026. The plan does not foreclose on the ability of the power plants to convert to natural gas, but makes clear that such conversions would need to happen more quickly.
In total, 3,800 megawatts of coal-fired electricity would be cleaned up or repowered.
"The door is open for clean energy, but we can't sacrifice our clean air to get there," said Nichols. "EPA's plan leaves Oklahoma utilities a reasonable choice—either convert to clean energy sooner, or clean up their pollution."
For more information, click here.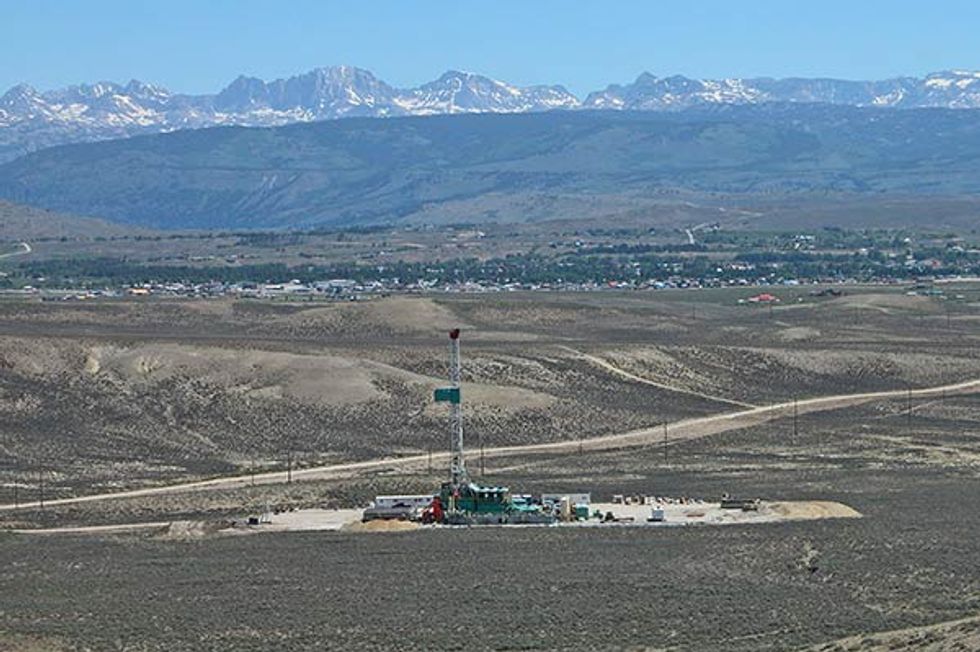 More than 156,000 concerned citizens and 33 environmental and public health groups filed public comments with the U.S. Environmental Protection Agency (EPA) over the past four months, pressing for strong, updated air pollution protections from oil and gas drilling. Environmental groups submitted technical comments to the EPA highlighting the strengths of the agency's proposed rule and explaining how it could be improved. The comment period ends Nov. 30.
"When the air in Wyoming gets smoggier than the air in Los Angeles, something has gone wrong. Thanks to lax air regulations on the oil and gas industry, that's exactly what's happened," said Earthjustice Attorney Robin Cooley. "As demonstrated by the impressive volume of public comments on EPA's proposed protections from oil and gas industry air pollution, the American public is eager to clean our air of lung-burning, cancer-causing pollutants."
The country is in the midst of a gas rush, spurred on by a controversial technology know as hydraulic fracturing or fracking, in which drillers blast millions of gallons of chemically laced water into the ground to crack shale rock and force out gas.
"Over the past several months, thousands of families stood up to the dirty gas industry and asked the EPA to fight for clean air," said Deb Nardone, director of Sierra Club's Natural Gas Reform Campaign. "This industry is growing at an incredible rate and the weak air safeguards now in place do not protect the health of our communities from industry practices like hydraulic fracturing. We urge the agency to adopt these standards without delay and strengthen them to include overlooked pollutants and pollution sources."
Fumes from natural gas and oil wells dump smog-forming pollutants and cancer-causing benzene into the air. In the drilling-rig-studded Upper Green River Basin of Wyoming, levels of pollution-forming ozone reached 123 parts per billion earlier this year—worse than air quality in traffic-intensive Los Angeles.
"Shale gas production has gone from a negligible amount just a few years ago to being almost 30 percent of total U.S. natural gas production, but national clean air standards covering these activities have not been updated since 1985 in one case and 1999 in another. They are limited, inadequate, and out of date, particularly given recent technological advances in this area, said Susanne Brooks, senior economic policy analyst at Environmental Defense Fund. "This poses a serious problem, since exploration and production activities emit numerous hazardous air pollutants and other airborne contaminants that threaten human health and the environment. Communities across the country are paying the price, suffering from air pollution in the absence of protective, comprehensive standards."
David McCabe, atmospheric scientist with Clean Air Task Force, pointed out that while the proposed regulation of several air pollutants will help protect our nation's public health, the regulations to cut smog-forming pollutants need to be tightened further, and the regulations fail to directly regulate the release of methane into the atmosphere. "Natural gas operations emit more methane—a highly potent climate pollutant—than any other industry in the nation," said McCabe. "In our technical comments to EPA we have made a strong case for amending the draft rule to clean up wasteful and dangerous emissions of methane from operations of the oil and gas industries."
The public comment period on a draft rule published in August ended Nov. 30. The agency is under a court order to finalize the rule by April 3, 2012.
Because the agency failed to update air pollution standards for drilling, Earthjustice filed suit on behalf of WildEarth Guardians and the San Juan Citizens Alliance—two American environmental organizations based in the American West.
An abbreviated version of the technical comments can be found by clicking here. A full copy of the technical comments will be available upon request.
For more information, click here.