Asthma Cases Increase as Cities Continue to Ignore Federal Ozone Standards

"The majority of people living in Dallas, TX, have never breathed legally clean air, according to the Environmental Protection Agency."
That shocking truth is from Cherelle Blazer, a Dallas resident and environmental scientist. She's referring to the ground-level ozone (or smog) levels in Dallas. Ground-level ozone robs hundreds of thousands of Americans with asthma and other respiratory ailments of quality of life. It sends thousands of children to emergency rooms each year and costs us billions in healthcare costs, lost productivity and premature deaths. The U.S. Environmental Protection Agency (EPA) is currently knee-deep in the process of updating our national ozone standards, and thousands of lives hang in the balance.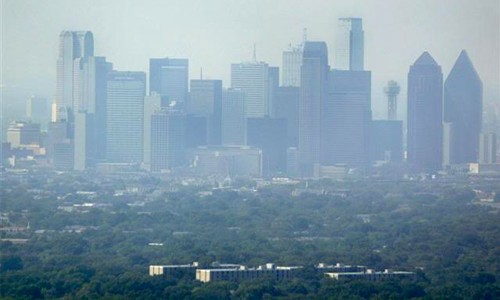 "We have an epic problem," says Cherelle of the smog levels in Dallas, which are well above levels considered safe to breathe by the EPA. "There is a reason asthma rates in Dallas average between 18 and 20 percent while the rest of Texas is around 9 percent. Dallas has a true triple threat of pollution—families' health is threatened by the largest concentration of cement plants to the Southeast, coal plants to the southwest, and shale gas drilling to the west. This has created the conditions for Dallas to have some of the worst air in the country."
Cherelle sees the effects of that terrible air pollution first-hand. Her eight-year-old son and her husband both have asthma and must take medicine regularly. Even she and her daughter, who are both healthy, wheeze on bad air days, she says. 
"It is expensive, very inconvenient, time consuming, sometimes heart-breaking, and it can be really scary," says Cherelle. "But we have learned to live with it like so many families.  Unfortunately packing the nebulizer everywhere [my son] goes has become a way of life."
There are many sleepless nights when her son's chest hurts because his airways are constricted. Her family, like thousands of others, has to watch closely for bad air alert days when the air is unsafe to breathe.
"It's the chronic stress of watching that—knowing the ozone standard is arbitrarily high and those warnings don't even mean anything," she explains. "It could technically be a 'good air day' and the ozone level will still cause asthma attacks because the current standard is not based on current science. It makes no sense at all and it's really unfair because families can't even protect themselves when they think they are doing everything right."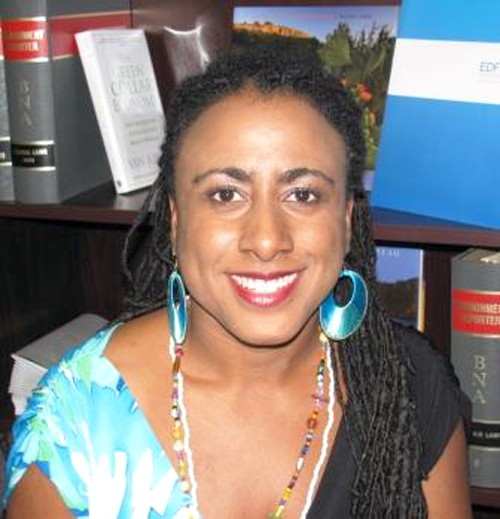 Cherelle has her own environmental consulting firm and works with local environmental and public health groups to get stronger smog standards in Texas and at the federal level via the EPA.
In late June, she joined other activists who traveled to Washington, D.C., for meetings with lawmakers and the EPA to discuss smog pollution and the harm it's causing in their communities. They made the case for a strong standard, explaining that "the best public health studies we have all say that anything above 60 parts per billion will cause respiratory illness."
This is an environmental justice battle, as she knows all too well. Cherelle has seen that fight since she was a child growing up in New Orleans in an area known as "cancer alley." She watched friends and family members die from many different diseases, and that inspired her career in environmental science.
"I was too young to have this acute awareness of pollution in my environment and what it was costing the people I loved most," said Cherelle. "I felt empowered to change that reality. There are lots of children struggling to grow up in environmental justice communities with that same awareness. I see them everyday all over North Texas and I am helping them in every way I know how."
Cherelle is truly an inspiration—I'll let her powerful words close out this column with a call to action:
"Everyone needs clean air. You can't do anything if you can't breathe. That concept is so basic it becomes lost on people. Children can't learn and pay attention in class when they are struggling to breathe. They can't play, they can't go outside and explore. The world is no longer a magical place for a child who is fighting just to stay in it.  Every time we set a clean air standard that is not protective of health we are literally ripping their childhood away from them.   
"Meanwhile, Texas is number one in the country for air pollution but we are also number one in clean energy production! This tells me that bad air in Texas is a choice. We could absolutely be cleaner but it takes a strong smog standard to spur innovation, push businesses to adopt cleaner practices, and empower politicians and communities to demand better.
"There is a personal cost millions of families know all too well: every time I have to pull out the breathing machine because my son has little league practice, every time I have to go pick up his medications from the pharmacy, every time my husband and I sit down to do the budget and factor in the cost of his asthma medications, every time my son's asthma gets out of control and we have to take him to the hospital and we know that huge bill is coming... I get angry because this is not our doing but it has become our problem and it shouldn't be.
"People want energy but they don't want it with a side of death and sickness. They don't want it at any cost! I can't run a business that poisons everyone around me and neither can energy companies and other polluting industries. They don't get a pass. It is time for the full cost of doing business to rest squarely on the shoulders of the largest polluters. The people least equipped to pay—the public—have carried industries' burden for decades and is being crushed under the weight of that cost. We should all demand that EPA shift that bill over to industry."
Tell the EPA we need strong smog standards. Sign up for mobile air quality alerts and get a text message when the air is unsafe in your area. http://content.sierraclub.org/coal/mobile-air-alerts.
Bill Maher is sick of billionaires' obsession with Mars, more like "Mars-a-Lago," he said.
In a new animation produced by ATTN:, the popular talk show host of Real Time, discusses the perils of our planet, including how "climate change is killing us."
Keep reading...
Show less
Dr. Benjamin D. Santer, research scientist
A group of prominent climate scientists have written a study explicitly refuting statements made by the U.S. Environmental Protection Agency Administrator Scott Pruitt on climate data. During his Senate confirmation hearing, Pruitt claimed in a written response that satellite data shows a "leveling off" of warming over the past two decades.
Keep reading...
Show less
By David Pomerantz
The Nevada Assembly passed a bill Wednesday that would dramatically increase the growth of renewable energy in the state, but Sheldon Adelson, the casino magnate and major donor to Donald Trump, is attempting to prevent the bill from becoming law.
Keep reading...
Show less
Matt Crossick
By Yosola Olorunshola
Whether it's through fashion or protest, Vivienne Westwood is not a woman afraid of making a statement.
On May 23, she rocked up to the residence of the Archbishop of Canterbury in London with a special guest—the Grim Reaper—to issue a strong statement on the Church of England's position on fracking.
Keep reading...
Show less
Military veterans from across Virginia released a letter Thursday opposing two proposed fracked-gas pipelines: Dominion Energy's Atlantic Coast Pipeline and EQT's Mountain Valley Pipeline. These pipelines would cross through pristine areas of Virginia, taking private property by use of eminent domain, removing mountain ridgetops and threatening valuable drinking water resources. The veterans view this as contrary to their service to protect and defend the freedom and security of American citizens.

Keep reading...
Show less
By Paul Brown
The food industry and big agricultural concerns are driving climate change and at the same time threatening to undermine efforts to feed the world's growing population, according to GRAIN, an organization that supports small farmers.
Particularly singled out for criticism are the large chemical fertilizer producers that have gained access to the United Nations talks on climate change. GRAIN accuses them of behaving like the fossil fuel companies did in the 1990s, pushing false information in the hope of delaying real action on climate change.
Keep reading...
Show less
May. 24, 2017 06:55PM EST
By Sydney Robinson
President Trump has no doubt been given a long list of extravagant, elaborate gifts in his lifetime, but the gift given to him today by Pope Francis may not make it on his most favorite list.
Keep reading...
Show less
May. 24, 2017 07:17PM EST
By John Rogers
Maybe it's because I first started working on clean energy while serving in the Peace Corps he founded, or maybe it's my years of working on these issues from his home state. But I can't help thinking about the 100th anniversary of John F. Kennedy's birth, and connecting his stirring rhetoric to the energy challenges of our times.
Here's what our 35th president might have said about the challenges of energy transition and the opportunities in clean energy:
"Change is the law of life. And those who look only to the past or present are certain to miss the future."
Keep reading...
Show less


Get EcoWatch in your inbox