This website uses cookies to ensure you get the best experience while browsing it. By clicking 'Got It' you're accepting these terms.


The best of EcoWatch, right in your inbox. Sign up for our email newsletter!

Acting Sub Lt.niwat Thumma / EyeEm / Getty Images
The movement to ban plastic straws has gained major momentum this month, with Seattle's ban going into effect July 1 and companies like Starbucks, Hyatt and American Airlines all agreeing to phase the sucking devices out as well.
Pixabay
Starting next month, Seattle eateries will no longer provide plastic straws, utensils and cocktail picks to customers.
"As of July 1, 2018, food services businesses should not be providing plastic straws or utensils," Sego Jackson, the strategic advisor for Waste Prevention and Product Stewardship for Seattle Public Utilities told Q13 FOX. "What they should be providing are compostable straws or compostable utensils. But they also might be providing durables, reusables, or encouraging you to skip the straw altogether."
EcoWatch Daily Newsletter
Traces of Oxycodone were found in bay mussels like these used to monitor pollution levels in Seattle's Puget Sound.
brewbooks / Flickr / CC BY-SA 2.0
A surprising finding from the waters of Seattle's Puget Sound reveals that the opioid epidemic devastating human communities in the U.S. could be harming marine life as well.
Every two years, the Washington Department of Fish and Wildlife (WDFW) transplants bay mussels raised in clean waters in Whidbey Island, WA to locations around Puget Sound in order to monitor pollution levels in the water. Since mussels are filter feeders, area scientists can get a good idea of what contaminants are present in the environment by examining which have built up in the mussels' tissue after two to three months of exposure.
Emma Cassidy / Greenpeace
By Andy Rowell
As the clock ticks down until the May 31 deadline for the controversial Kinder Morgan Trans Mountain pipeline project, which will triple the amount of tar sands being transported from Alberta to the British Columbian coast, the campaign against its expansion is spreading abroad.
On Sunday in Seattle, more than 120 miles south of where the pipeline hits the coast, hundreds of "kayactivists" took to the water to protest against the pipeline.
Seattle's snow-covered mountains and marine ecosystems are at risk due to climate change. Daniel Schwen / Wikimedia Commons / CC BY-SA 4.0
King County, which covers the Seattle metropolitan area, followed the lead of 10 other cities and counties in the U.S. when it filed a lawsuit Wednesday against the world's five largest oil companies for damages incurred by climate change, a county press release announced.
Citibike station in midtown Manhattan. Jim Henderson, CC BY
By Douglas Johnson
Residents of major U.S. cities are becoming used to seeing docks for bike sharing programs nestled into parking spaces or next to subway station entrances. Adorned with stylish branding and corporate sponsors' logos, these facilities are transforming transportation in cities across the country.
The modern concept of bike sharing—offering bikes for short-term public rental from multiple stations in cities—was launched in Copenhagen in 1995, but U.S. cities only started piloting their own systems in the past decade. Washington, DC led the way, launching SmartBike DC in 2008 and an expanded network called Capital Bikeshare in 2010. This program now boasts more than 480 stations and a daily ridership of 5,700.
Despite a court-ordered injunction barring anyone from coming within 5 meters (approximately 16.4 feet) of two of its BC construction sites, opponents of the Kinder Morgan Trans Mountain pipeline expansion sent a clear message Saturday that they would not back down.
Twenty-eight demonstrators were arrested March 17 after blocking the front gate to Kinder Morgan's tank farm in Burnaby, BC for four hours, according to a press release put out by Protect the Inlet, the group leading the protest.
Greenpeace UK
Starting next year, Seattle restaurants will no longer provide plastic straws and plastic utensils to its patrons after a 2010 ordinance finally takes effect.
"As of July 1, 2018, food services businesses should not be providing plastic straws or utensils," Sego Jackson, the strategic advisor for Waste Prevention and Product Stewardship for Seattle Public Utilities, told Q13 FOX.
Seattle City Council has voted to divest from Wells Fargo over the bank's role as a lender to the Dakota Access Pipeline (DAPL) and other business practices, including its financing of private prison companies, and a customer fraud case where employees opened as many as two million fake accounts.
Hip hop icon Macklemore joined Duwamish River Cleanup Coalition (DRCC) and Seattle, WA civic leaders last week to launch "A River for All" campaign to ensure a clean and healthy Duwamish River.
"We are Seattle. No bridge, boundaries or invisible man-made lines divide us," said Macklemore. "This is our home, our people and our community. This is our city's only river, and I want to do my part to make sure that it's safe for all that reside here. I stand in solidarity with community leaders and families who have organized for years to right this injustice."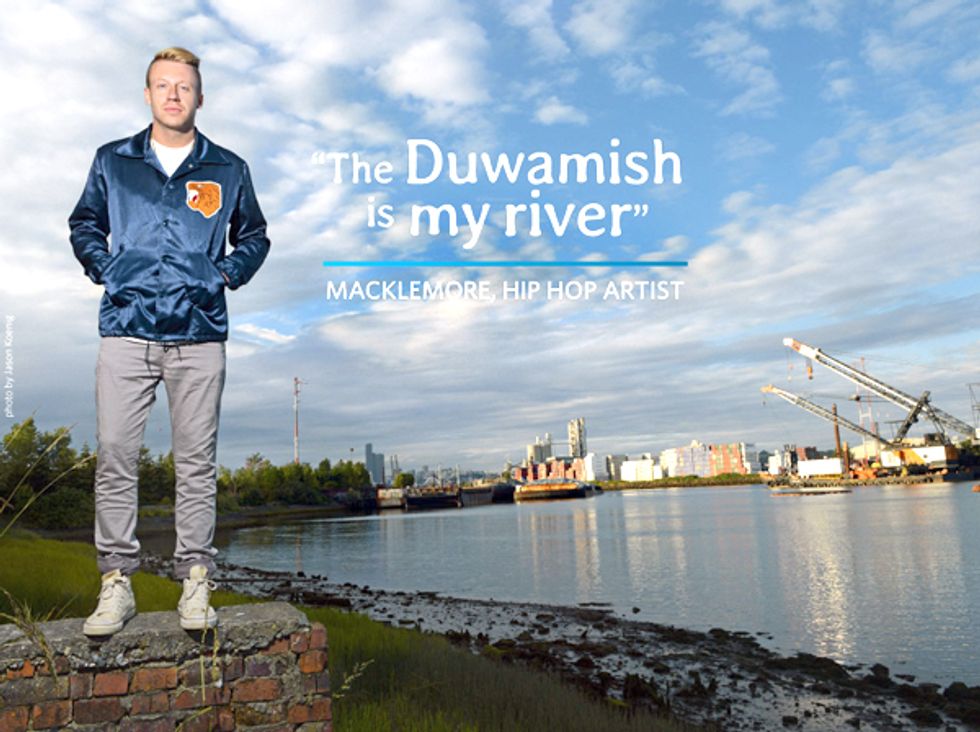 DRCC, Puget Soundkeeper and a growing list of civic leaders insist a stronger cleanup plan is needed to protect communities and restore Seattle's only river. The current plan, favored by city and county officials, would leave dangerous levels of toxic chemicals like arsenic and PCBs, posing health risks to people, wildlife and the entire Puget Sound food web. Experts agree more needs to be done.
"Evidence from other cleanup sites around the country shows that 'natural recovery' can take decades longer than expected, and may not stop buried chemicals from getting into the food chain anyway," according to the coalition's environmental consultant, Peter deFur. "The responsible approach, from an environmental and health perspective, is to get the toxins out of the river altogether."
The new effort asks citizens to get involved and let their leaders know they want a clean and safe Duwamish River. 
"The Duwamish is my river. I have spent many a day cleaning debris from its shores, sharing its wonders with our community and fighting for its protection," said Puget Soundkeeper Chris Wilke. "If we were most anywhere else, this would be our waterfront. But for the Sound and the lakes, we forget: the Duwamish River is the lifeblood of Seattle. Salmon and people, eagles and osprey, seals and sea lions. It must be protected."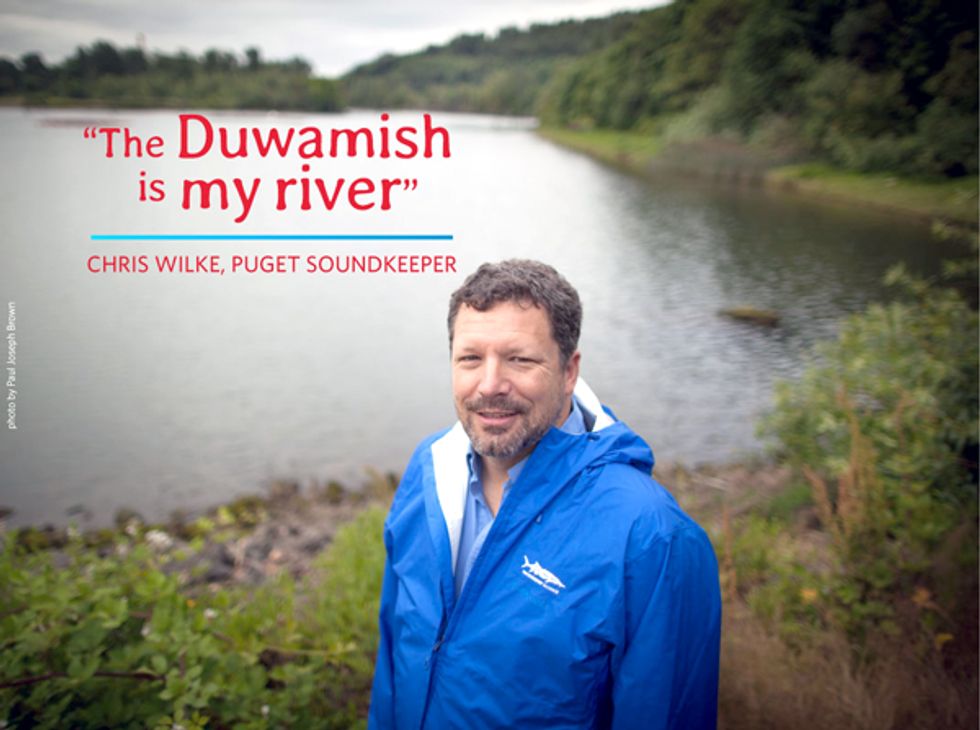 In 2001, The Duwamish River was listed as a federal Superfund Site, identifying it as one of the most toxic waste sites in the nation. The U.S. Environmental Protection Agency's cleanup plan, released for public comment last year, states that its approach is unlikely to make the river safe enough to protect the health of people who regularly eat its resident fish, like perch and crab, according to DRCC.
"Cleaning up the Duwamish is essential to the recovery of Puget Sound. As long as toxic pollution keeps leaching into the Sound, marine resources—from oysters to orcas—won't fully recover." said Earth Day founder Denis Hayes. "The Duwamish is Seattle's estuary. We ought to treasure it, like New York treasures the Hudson. And we need to restore it to health."