Acting Sub Lt.niwat Thumma / EyeEm / Getty Images
The movement to ban plastic straws has gained major momentum this month, with Seattle's ban going into effect July 1 and companies like Starbucks, Hyatt and American Airlines all agreeing to phase the sucking devices out as well.
But the anti-straw push has had unintended consequences for people with disabilities, many of whom need the flexibility and heat-resistance of plastic straws to be able to dine out.
"Many people with physical disabilities such as cerebral palsy and multiple sclerosis require the use of plastic straws in order to hydrate," Disability Rights Washington co-wrote in an open letter to the Seattle City Council about the ban. "Other types of straws simply do not offer the combination of strength, flexibility, and safety that plastic straws do."
A graphic has started circulating on Twitter showing exactly why other alternatives like paper (it dissolves) or metal (unsafe with hot liquids) won't work as accessible replacements.
@NPR Hi, I guess it's now my full time job to post this infographic under every NPR plastic straws story until anyo… https://t.co/9BtM9yUvtL

— Destinee Siebe Hyphen (@Destinee Siebe Hyphen)1529109163.0
For many people with disabilities, who make up one in five Americans, the ban on straws is yet another example of how their needs are overlooked by the able-bodied.

"Our voices are so often left out of the conversation, and our needs so rarely considered, because disabled people are not seen as fully equal members of society," Karin Hitselberger wrote in an a piece about the straw bans for The Washington Post.
Flexible plastic straws were originally marketed for medical use, Quartz reported. Inventor Joseph B. Friedman sold the "Flex Straw" to help hospital patients drink while lying down.
But for the able-bodied, their medical usefulness has been forgotten and they have become a symbol of plastic waste.
David M. Perry speculated in Pacific Standard the current push against straws might have come from a 2015 video of a sea turtle with a plastic straw stuck up its nose, which helped straws become a stand-in for larger concerns about plastics polluting the world's oceans.
But one gruesome video doesn't make straws a numerically significant as a threat to marine life compared to plastic bags or fishing gear, Perry wrote. The oft-cited figure that the U.S. throws away 500 million straws every day was actually estimated by a nine year old boy after calling three straw companies, Perry pointed out.
However, that doesn't mean plastic straws are not part of the larger problem.
"Straws are maybe not the biggest source of either plastic pollution or disposable plastic we consume, but they're in there," senior resource specialist for the Natural Resources Defense Council Darby Hoover told NPR, adding that plastic in the oceans breaks down so much that it is hard to tell if a piece started out as a straw or a bottle.
Dune Ives of Lonely Whale, a Seattle non-profit that has partnered with both Alaska Airlines and Bacardi on anti-straw measures, said the plastic straw was chosen partly for psychological reasons, as a hook to convince people to take action and change their behavior.
"To us, it was the 'gateway plastic' to the larger, more serious plastic pollution conversation," she wrote.
Disability advocates are sympathetic to the environmental motivations behind the straw bans, they just don't want to be left out of the movement.
Hitselberger and Perry, whose son has Down syndrome and uses plastic straws, both recommend that businesses simply keep plastic straws behind the counter for anyone who asks.
"We don't have to choose between making the world more sustainable or making it more accessible," Hitselberger wrote.
Co-founder of Scottish disability rights organization One in Five Jamie Szymkowiak wrote a post for Greenpeace also calling on manufacturers to work on designing sustainable, non-plastic straws that would work for disabled customers.
"As we move to ridding our oceans, beaches and parks of unnecessary single-use plastics, disabled people shouldn't be used as a scapegoat by large corporations, or governments, unwilling to push suppliers and manufacturers to produce a better solution. Instead, we must all work together to demand an environmentally friendly solution that meets all our needs, including those of disabled people," Szymkowiak wrote.
From Your Site Articles
Related Articles Around the Web
EcoWatch Daily Newsletter
Pixabay
Starting next month, Seattle eateries will no longer provide plastic straws, utensils and cocktail picks to customers.
"As of July 1, 2018, food services businesses should not be providing plastic straws or utensils," Sego Jackson, the strategic advisor for Waste Prevention and Product Stewardship for Seattle Public Utilities told Q13 FOX. "What they should be providing are compostable straws or compostable utensils. But they also might be providing durables, reusables, or encouraging you to skip the straw altogether."
There are roughly 5,000 eateries in the city, meaning the new ordinance could potentially make a big impact. Lonely Whale's Strawless in Seattle campaign in September eliminated 2.3 million plastic straws—and that was just from 150 participating restaurants and venues in that month alone, EcoWatch has learned.

Seattle Public Utilities
A growing movement of individuals, municipalities, countries and major corporations are pledging to eliminate single-use plastics that clog our oceans and harm marine life. Seattle is reportedly the first major city in the U.S. to enact such a ban. Other major cities such as New York and San Francisco are considering similar legislation.
"Plastic pollution is surpassing crisis levels in the world's oceans, and I'm proud Seattle is leading the way and setting an example for the nation by enacting a plastic straw ban," said Mami Hara, general manager of Seattle Public Utilities, according to KOMO-TV.
"Our goal for the next year is to help all restaurants, food trucks and food service operations shift away from plastic to compostable food serviceware," Hara added.
The ban only applies to restaurants and the items can still be purchased at city grocery stores. Failure to comply with the ordinance may result in a $250 fine, a letter from Seattle Public Utilities states.
The city's effort to ban disposal plastic food service ware had been in the books since 2010 but was stalled because compostable alternatives were not viable yet, according to Jackson.
Year-by-year exemptions had allowed restaurants to continue dispensing plastic straws and utensils. The exemption was not renewed this year and is set to expire June 30.
Seattle has made concentrated efforts to reduce its plastic footprint. In 2010, a ban on plastic bags went into effect, which help cut plastic bag waste from residential garbage from 262 tons to 136 tons by 2014—nearly a 50 percent drop.
Plastic Shreds, Rubber Bands and Balloon Pieces Found in Thai Turtle https://t.co/66MdIJDbvM @YEARSofLIVING… https://t.co/kAbqzWX722

— EcoWatch (@EcoWatch)1528736311.0
From Your Site Articles
Related Articles Around the Web
waterlust.com / @tulasendlesssummer_sierra .
Each product featured here has been independently selected by the writer. If you make a purchase using the links included, we may earn commission.
The bright patterns and recognizable designs of Waterlust's activewear aren't just for show. In fact, they're meant to promote the conversation around sustainability and give back to the ocean science and conservation community.
Each design is paired with a research lab, nonprofit, or education organization that has high intellectual merit and the potential to move the needle in its respective field. For each product sold, Waterlust donates 10% of profits to these conservation partners.
Eye-Catching Designs Made from Recycled Plastic Bottles
waterlust.com / @abamabam
The company sells a range of eco-friendly items like leggings, rash guards, and board shorts that are made using recycled post-consumer plastic bottles. There are currently 16 causes represented by distinct marine-life patterns, from whale shark research and invasive lionfish removal to sockeye salmon monitoring and abalone restoration.

One such organization is Get Inspired, a nonprofit that specializes in ocean restoration and environmental education. Get Inspired founder, marine biologist Nancy Caruso, says supporting on-the-ground efforts is one thing that sets Waterlust apart, like their apparel line that supports Get Inspired abalone restoration programs.
"All of us [conservation partners] are doing something," Caruso said. "We're not putting up exhibits and talking about it — although that is important — we're in the field."
Waterlust not only helps its conservation partners financially so they can continue their important work. It also helps them get the word out about what they're doing, whether that's through social media spotlights, photo and video projects, or the informative note card that comes with each piece of apparel.
"They're doing their part for sure, pushing the information out across all of their channels, and I think that's what makes them so interesting," Caruso said.
And then there are the clothes, which speak for themselves.
Advocate Apparel to Start Conversations About Conservation
waterlust.com / @oceanraysphotography
Waterlust's concept of "advocate apparel" encourages people to see getting dressed every day as an opportunity to not only express their individuality and style, but also to advance the conversation around marine science. By infusing science into clothing, people can visually represent species and ecosystems in need of advocacy — something that, more often than not, leads to a teaching moment.

"When people wear Waterlust gear, it's just a matter of time before somebody asks them about the bright, funky designs," said Waterlust's CEO, Patrick Rynne. "That moment is incredibly special, because it creates an intimate opportunity for the wearer to share what they've learned with another."
The idea for the company came to Rynne when he was a Ph.D. student in marine science.
"I was surrounded by incredible people that were discovering fascinating things but noticed that often their work wasn't reaching the general public in creative and engaging ways," he said. "That seemed like a missed opportunity with big implications."
Waterlust initially focused on conventional media, like film and photography, to promote ocean science, but the team quickly realized engagement on social media didn't translate to action or even knowledge sharing offscreen.
Rynne also saw the "in one ear, out the other" issue in the classroom — if students didn't repeatedly engage with the topics they learned, they'd quickly forget them.
"We decided that if we truly wanted to achieve our goal of bringing science into people's lives and have it stick, it would need to be through a process that is frequently repeated, fun, and functional," Rynne said. "That's when we thought about clothing."
Support Marine Research and Sustainability in Style
To date, Waterlust has sold tens of thousands of pieces of apparel in over 100 countries, and the interactions its products have sparked have had clear implications for furthering science communication.
For Caruso alone, it's led to opportunities to share her abalone restoration methods with communities far and wide.
"It moves my small little world of what I'm doing here in Orange County, California, across the entire globe," she said. "That's one of the beautiful things about our partnership."
Check out all of the different eco-conscious apparel options available from Waterlust to help promote ocean conservation.
Melissa Smith is an avid writer, scuba diver, backpacker, and all-around outdoor enthusiast. She graduated from the University of Florida with degrees in journalism and sustainable studies. Before joining EcoWatch, Melissa worked as the managing editor of Scuba Diving magazine and the communications manager of The Ocean Agency, a non-profit that's featured in the Emmy award-winning documentary Chasing Coral.
Traces of Oxycodone were found in bay mussels like these used to monitor pollution levels in Seattle's Puget Sound.
brewbooks / Flickr / CC BY-SA 2.0
A surprising finding from the waters of Seattle's Puget Sound reveals that the opioid epidemic devastating human communities in the U.S. could be harming marine life as well.
Every two years, the Washington Department of Fish and Wildlife (WDFW) transplants bay mussels raised in clean waters in Whidbey Island, WA to locations around Puget Sound in order to monitor pollution levels in the water. Since mussels are filter feeders, area scientists can get a good idea of what contaminants are present in the environment by examining which have built up in the mussels' tissue after two to three months of exposure.
This year, for the first time, one of those contaminants was oxycodone.
"It's telling me there's a lot of people taking oxycodone in the Puget Sound area. The contamination is likely coming from wastewater treatment plants," WDFW biologist Jennifer Lanksbury told local news outlet KIRO7 on May 23.
King County Wastewater Management told KIRO7 that they cannot filter out drugs specifically, which end up in urine that is then flushed down the toilet.
The oxycodone-contaminated mussels were found in mussels from three of the 18 areas tested, one in Seattle's Elliott Bay and two near the shipyard of Bremerton Island.
The findings were announced by the University of Washington's Puget Sound Institute (PSI), which helped with the study, conducted May 9 and widely reported last week.
PSI researcher Andy James explained in the University of Washington release that the mussels did not pose a risk to human consumers, since they were found in very urban areas far from where commercial mussels are gathered.
"You wouldn't want to collect (and eat) mussels from these urban bays," James said.
The release further explained that the dosages found in the mussels were thousands of times smaller than the amount that would impact a human and likely had no impact on the mussels either.
However, oxycodone levels in the Puget Sound area could pose a risk to fish. Studies have found that zebrafish will get high off of opioids, and scientists are worried that salmon and other Puget Sound fish could react similarly, according to the release.
The mussels also tested positively for other drugs like antidepressants and antibiotics.
"Those are definitely chemicals that are out there in the nearshore waters and they may be having an impact on the fish and shellfish that live there," Lanksbury told KIRO7.
Of particular concern, according to the University of Washington release, is the chemotherapy drug Melphalan, which interacts with DNA in ways that might cause cancer. It was found in mussels in levels relative by weight to the recommended human dose, "levels where we might want to look at biological impacts," James said.
Lanksbury told CNN the results were made possible by extra funding, which WDFW used to test for "contaminants of emerging concern" such as prescription drugs and personal care products. Previous studies had focused on pollutants like PCBs, pesticides and toxic metals.
Other important "contaminants of emerging concern" found in the mussels were four types of surfactants from detergents and cleaning products that can have an "estrogenic effect" on organisms like fish, "feminizing male fish and making female fish reproductive before they're ready," Lanksbury told CNN.
After these results, the WDFW will seek additional funding to continue monitoring prescription drug levels in the water, KIRO7 reported.
"People should be wary," Lanksbury told KIRO7. "Hopefully our data shows what's out there and can get the process started for cleaning up our waters."
Drug Waste Flushed Into World's Freshwater Ecosystems to Rise 65% by 2050 https://t.co/xVS7ij6Nti @wwwfoecouk @GreenpeaceUK

— EcoWatch (@EcoWatch)1523618706.0
From Your Site Articles
Related Articles Around the Web
Emma Cassidy / Greenpeace
By Andy Rowell
As the clock ticks down until the May 31 deadline for the controversial Kinder Morgan Trans Mountain pipeline project, which will triple the amount of tar sands being transported from Alberta to the British Columbian coast, the campaign against its expansion is spreading abroad.
On Sunday in Seattle, more than 120 miles south of where the pipeline hits the coast, hundreds of "kayactivists" took to the water to protest against the pipeline.
They were part of a demonstration by the U.S. environmental groups Mosquito Fleet, Greenpeace USA and Sierra Club that organized a rally in the city against Kinder Morgan's proposed pipeline expansion.
Tensions are certainly rising. Kinder Morgan has given the federal government of Canada until the end of the month to resolve outstanding financial and legal issues surrounding the pipeline. Last week, in order to appease the Texan oil company, Trudeau's government announced that it will effectively give Kinder Morgan a "blank check" "to indemnify" the pipeline "against any financial loss," suffered if they build the pipeline.
The move seems to have backfired and emboldened everyone fighting the pipeline. And as the May 31 deadline gets closer, there is a growing awareness not only of the threat that the pipeline poses to the climate, but also to marine life as it would massively increase the tanker traffic up the west coast of Canada and the U.S.
Indeed, last week the Natural Resources Defense Council warned Kinder Morgan that the pipeline project, could be "illegal" under the Endangered Species Act, which is seen as one of the world's strongest species protection laws.
"It's not just about the spills, it's not just about the orcas," said Graham Clumpner, one of the paddlers with the Mosquito Fleet: "The bigger issue that we are all facing is climate change," he said. "We are going to not allow Kinder Morgan to finish this pipeline."
Ben Smith from Greenpeace USA added, "It would make climate change worse, it would trample Indigenous rights, it would run over our clean water here, and it would decimate the final 76 remaining orcas, the Southern Resident killer whale in our waters."
At the rally yesterday, one of the speakers was Cedar George-Parker from the Tsleil-Waututh Nation, who have been leading the community opposition to the pipeline in British Columbia. "They want to bring that oil through here, but we say that we will stop Kinder Morgan," George-Parker said. "It is not happening."
Not only is the resistance growing from the local community, indigenous rights groups and local and U.S.-based environmental groups to the pipeline, but even the financial community thinks the economics and changing energy market is stacked against it. Wal van Lierop is president and CEO of Chrysalix Venture Capital.
Writing in the Globe and Mail Sunday, Van Lierop pointed out what many people having been saying to Trudeau for months, but what the Canadian prime minister has flatly ignored: "There is also growing consensus that the world is going through an energy transition," he wrote, before likening the current energy transition to a baseball game, where "we could see the stages of its progression over the past decade."
In the first inning, argued Van Lierop, "coal lost to gas in the competition for power generation in North America and Europe; solar and wind lit up the scoreboard with incredible cost reductions in the second inning; but in the third, shale oil and gas rallied, creating an energy boom in U.S. gas and making that country the international swing player—supplanting OPEC in that position."
Van Lierop added: "Now we are entering the fourth inning, with a playing field of abundant cheap energy and midway through the ball game it looks like the players highest on the cost curve will be the ones striking out. Those players will likely include both new projects in Arctic oil and the oil sands, as their business case makes them weak in a game where cost is key."
He even went as far as to warn, because the pipeline makes no economic sense due to the expensive tar sands extraction and transportation costs, that "we would have to presume that the Alberta and federal governments hadn't seen the Kinder Morgan order book before they announced an intention to financially support the company's pipeline, because that may show a rapidly deteriorating business case."
He is not the only one who thinks Trudeau is in trouble here. Indeed, as Bloomberg pointed out at the end of last week, "Justin Trudeau's pipeline nightmare may be only getting started … the prime minister could end up fighting for an asset that hardly anybody wants."
Bill Nye Confronts Justin Trudeau Over Kinder Morgan Pipeline https://t.co/EwCzoBV48n @NRDC @YEARSofLIVING… https://t.co/olSrnqvMu3

— EcoWatch (@EcoWatch)1520448496.0
Reposted with permission from our media associate Oil Change International.

From Your Site Articles
Related Articles Around the Web
Seattle's snow-covered mountains and marine ecosystems are at risk due to climate change. Daniel Schwen / Wikimedia Commons / CC BY-SA 4.0
King County, which covers the Seattle metropolitan area, followed the lead of 10 other cities and counties in the U.S. when it filed a lawsuit Wednesday against the world's five largest oil companies for damages incurred by climate change, a county press release announced.
"The science is undisputable: climate change is impacting our region today, and it will only cause greater havoc and hardships in the future," King County Executive Dow Constantine said in the press release. "The companies that profited the most from fossil fuels should help bear the costs of managing these disasters. Big Oil spent many decades disregarding and dismissing what is our most pressing generational challenge. We must hold these companies accountable as we marshal our resources to protect and preserve what makes this region great," he said.
In particular, King County is suing the companies for help with stormwater management, salmon restoration, and protecting public health, as well as other measures to adapt the region to climate change.
The companies named in the lawsuit are the same that fellow West Coast cities San Francisco and Oakland are suing for similar reasons: Chevron, ConocoPhillips, ExxonMobil, BP and Royal Dutch Shell.
Overall, eight California cities and counties have sued a variety of oil companies for damages. The suits aren't limited to the West Coast. New York City and Boulder, Colorado, together with Boulder County and San Miguel County, have also filed climate-related suits against oil companies this year. Since the Colorado cities and counties filed their lawsuit together, that would make King County the eleventh U.S. urban area to take on Big Oil.
"This is a moment of reckoning for the oil and gas industry," Center for Climate Integrity executive director Richard Wiles said in a statement responding to the new suit.
"Taxpayers are tired of paying for climate damages that the oil industry knowingly caused. And just like lawsuits against tobacco, lead, and asbestos manufacturers, they are taking action to recover costs," Wiles said.
The King County suit was filed in King County Superior Court and was developed by Seattle's Hagens Berman Sobol Shapiro LLP, a firm that helped win a historic settlement against tobacco companies in the 1990s.

The lawsuit further accuses the defendants of "[stealing] a page from the Big Tobacco playbook" during the 1990s and early 2000s by launching misinformation campaigns discrediting climate science and downplaying the risks of global warming. "'Uncertainty' of the science became the constantly repeated mantra of this Big Oil communications campaign just as 'Doubt is our product' was the Big Tobacco communications theme," the lawsuit said.
The county's attorneys said the oil companies might owe hundreds of millions of dollars into a fund to offset the impacts of climate change in the region.
According to the lawsuit, climate change is already impacting King County in the form of warmer temperatures, ocean acidification, increasing flood risk due to sea level rise, less snow on the region's many mountains in the winter and less water in the summer. These impacts are only projected to worsen.
Parts of King County above the historic mean high tide line now experience regular flooding, and the water level of Puget Sound is projected to increase by as much as 56 inches by 2100, the press release reported.
From Your Site Articles
Related Articles Around the Web
Citibike station in midtown Manhattan. Jim Henderson, CC BY
By Douglas Johnson
Residents of major U.S. cities are becoming used to seeing docks for bike sharing programs nestled into parking spaces or next to subway station entrances. Adorned with stylish branding and corporate sponsors' logos, these facilities are transforming transportation in cities across the country.
The modern concept of bike sharing—offering bikes for short-term public rental from multiple stations in cities—was launched in Copenhagen in 1995, but U.S. cities only started piloting their own systems in the past decade. Washington, DC led the way, launching SmartBike DC in 2008 and an expanded network called Capital Bikeshare in 2010. This program now boasts more than 480 stations and a daily ridership of 5,700.
Within a few years, bike-share systems launched in Boston, New York, Chicago, San Francisco, Seattle and dozens of other cities. In 2016 there were 55 systems across the country with more than 40,000 bikes.
And momentum continues to grow. In 2017 Citi Bike in New York City added 2,000 bikes, increasing its fleet to a total of 12,000. San Francisco is expanding its system from just 700 bikes to 7,000, thanks to a sponsorship deal with Ford.
Going Dockless

The newest twist in this rapid expansion is dockless bike sharing, which lets users park bikes anywhere within defined districts and lock and unlock their bikes with smartphone apps. Users don't have to locate docking stations or worry about whether space will be available at their destination. These systems also are cheaper to set up, so providers can charge lower user fees. Some dockless bike-share companies offer rides for as little as $1 for the first half hour.
Dockless systems are also helping to address equity issues posed by public dock-based systems, which often are located in more affluent and predominantly white urban neighborhoods. Because dockless systems don't require stations, they can be rapidly deployed in zones that dock-based systems may be slow to reach.
Students at Beijing University developed this approach in 2014 to improve campus mobility. Dockless bike-share companies have flooded Chinese cities with bikes in the past two years, leading to massive piles of discarded bicycles in public spaces.
Dockless cycle share bike in Seattle Joe Mabel, CC BY
Seattle turned to dockless companies to fill the gap after a publicly funded dock bike-share system there failed in 2016. The city could soon have one of the largest bike-share systems in the country. Cities around Boston that are outside of the service area of Hubway, the area's public bike-share system, just reached a deal to provide dockless bike-share service, expanding access to hundreds of thousands of people. And in San Francisco, Uber recently purchased Jump Bikes, a dockless electric bike-share startup, and soon will allow users to reserve electric bikes with their Uber app.

If recent examples are any indication, bike sharing in the U.S. will be a mix of complementary dock-based and dockless systems, run by both public entities and private companies. The humble bicycle, aided by smartphone technology, is resurging as an urban transportation option.
12 Reasons Bicycling Will Continue to Soar in Popularity https://t.co/sqZAYhQY3i @BicyclingMag @peopleforbikes

— EcoWatch (@EcoWatch)1512701703.0
Reposted with permission from our media associate The Conversation.

From Your Site Articles
Related Articles Around the Web
Despite a court-ordered injunction barring anyone from coming within 5 meters (approximately 16.4 feet) of two of its BC construction sites, opponents of the Kinder Morgan Trans Mountain pipeline expansion sent a clear message Saturday that they would not back down.
Twenty-eight demonstrators were arrested March 17 after blocking the front gate to Kinder Morgan's tank farm in Burnaby, BC for four hours, according to a press release put out by Protect the Inlet, the group leading the protest.
According to the release, the protesters were a mixed group of indigenous people, families, retired teachers and other community members.
"We're going to do whatever it takes, and by any means necessary, and we'll show up day after day until we win this fight," Treaty-6-Mathias Colomb-Cree-Nation member Clayton Thomas-Muller said in the release.
Saturday's action was an intentional show of civil disobedience.
"Everyone was very aware of the situation, of the possibility of arrest. And everyone was given the chance at any time during the day to leave that zone and not be arrested," Amina Moustaqim-Barrette, protestor and 350.org communications coordinator, told the Vancouver Sun.
According to the Protect the Inlet website, Saturday's action will kick off a two-week mobilization from March 18 to March 24. The activists need to prevent Kinder Morgan from completing key clear-cutting work by March 26, when the return of migratory birds will cause delays.
Thursday's injunction also applies to the pipeline's construction site at Westridge Marine Terminal, the Sun reported.
According to 350 Seattle, the Trans Mountain pipeline expansion project aims to triple the amount of Alberta tar sands oil carried from the Canadian Rockies to Burnaby, BC and Anacortes, WA from 300,000 to 890,000 barrels per day. It would also increase oil tanker activity in the Salish Sea and Strait of Juan de Fuca by 700 percent, threatening vulnerable orca populations and other marine animals.
New Analysis Shows, There's No Safe Way to Transport Fossil Fuels https://t.co/vKlPHUNutf @greenpeaceusa @MarkRuffalo @LeoDiCaprio @350

— EcoWatch (@EcoWatch)1501865268.0
The Trudeau government approved the Trans Mountain expansion in November 2016, but the social action group the Council of Canadians says it is inconsistent with Canada's commitments to reduce greenhouse gas emissions under the Paris agreement. It is also opposed by over 61 indigenous groups; of the nine cases challenging the project in Canadian courts, seven were brought by First Nations.
Saturday's action comes exactly one week after indigenous leaders from the U.S. and Canada inaugurated a traditional Coast Salish "Kwekwecnewtxw" or "a place to watch from" in the pipeline's projected path. While construction started on the Watch House, 10,000 demonstrators marched in solidarity.
Trans Mountain's lawyer Shaun Parker requested that Justice Kenneth Affleck, who issued Thursday's injunction, also order the new Watch House removed. Affleck, however, ruled that it could stay, the Canadian Press reported Thursday.
"I'm sensitive to the concern of those who created this Watch House, that it is of considerable significance to them," Affleck said, further ruling that the pipeline could remove it only if it demonstrated an emergency need, and that it would have to replace it afterwards.
Saturday's protest wasn't the only direct action against the pipeline expansion this weekend. 30 "kayaktivists" from a group called Mosquito Fleet surrounded a Kinder Morgan oil barge in Seattle's Elliott Bay Sunday to protest the increased tanker traffic the project is slated to bring to the Salish Sea, King5 News reported.
Mosquito Fleet's Zara Greene told King5 that the pipeline expansion would threaten communities on both sides of the U.S.-Canadian border. "Kinder Morgan is a threat to us all," she said.
There is a Kinder Morgan oil barge coming in right now! We say #StopKinderMorgan!No more oil Barges in Seattle! https://t.co/ZYpxP2Jy11

— Mosquito Fleet (@Mosquito Fleet)1521406535.0
From Your Site Articles
Related Articles Around the Web
Greenpeace UK
Starting next year, Seattle restaurants will no longer provide plastic straws and plastic utensils to its patrons after a 2010 ordinance finally takes effect.
"As of July 1, 2018, food services businesses should not be providing plastic straws or utensils," Sego Jackson, the strategic advisor for Waste Prevention and Product Stewardship for Seattle Public Utilities, told Q13 FOX.
"What they should be providing are compostable straws or compostable utensils. But they also might be providing durables, reusables, or encouraging you to skip the straw altogether," he added.
Jackson said the city's effort to ban disposal plastic food service ware had been in the books since 2010 but was stalled because compostable alternatives were not viable yet.
"Early on there weren't many compostable options," he explained. "And some of the options didn't perform well or compost well. That's all changed now."
The exemption that allowed eateries to dispense plastic straws and utensils is set to expire and will not be renewed.
The ban only applies to restaurants serving food, as plastic straws and utensils can still be purchased at city grocery stores. Restaurants that do not comply will be warned and eventually fined but eateries will be given assistance with the transition.
"These things take time to get businesses up to speed and in compliance," Jackson said.
As Q13 FOX previously reported, many city establishments, including the Seattle Aquarium, are ditching straws:
Jillian Henze of the Seattle Restaurant Association says a campaign called "Strawless in Seattle" is planned for September. As many as 500 local groups and restaurants will stop using plastic straws for the month.
Even for restaurants that still use plastic straws, Henze said, many are trying to limit straw use.
"They are straw conscious and don't put them in mixed drinks, etc.," Henze wrote to Q13 News."
Plastic straws, in particular, really suck. Scientist and EcoWatch contributor Dr. David Suzuki wrote, "In the U.S. alone, people discard 500 million straws every day, or more than 180 billion a year. That's about 1.4 million kilograms of plastic sent to landfills and into the oceans every day!"
Seattle has made concentrated efforts to reduce its plastic footprint. In 2010, a ban on plastic bags went into effect and cut plastic bag waste from residential garbage from 262 tons to 136 tons by 2014—nearly a 50 percent drop. For commercial and self-haul, it was even better. Plastic bag waste dropped from 273 tons in 2008 to 59 tons in 2012.
From plastic bags to plastic cutlery, a growing movement of people, businesses, cities and even whole countries are pledging to ditch these single-use, non-biodegradable items that clog our oceans and harm marine life.
Seattle City Council has voted to divest from Wells Fargo over the bank's role as a lender to the Dakota Access Pipeline (DAPL) and other business practices, including its financing of private prison companies, and a customer fraud case where employees opened as many as two million fake accounts.
The unanimous decision on Tuesday was met with cheers and a standing ovation from the crowd as Seattle became the first city in the nation to sever its ties with the San Francisco-based banking giant in protest of the controversial DAPL.
The Socially Responsible Banking ordinance directs city officials to end Seattle's contract with Wells Fargo once it expires in 2018 and to not make new investments with the bank for three years.

"The example that we have set today can become a beacon of hope" for activists across the country, said Councilmember Kshama Sawant, one of the co-sponsors of the legislation.
Native American Leadership Group sings at public comment, thanks Council for forthcoming vote to lapse contract w/… https://t.co/rhW8mfZtbt

— Seattle City Council (@Seattle City Council)1486506678.0
Wells Fargo contends that it is one of 17 involved in financing the DAPL. Wells Fargo has $120 million in a $2.5 billion credit agreement funding the pipeline project and said it is obligated to carry out the agreement, according to the Associated Press.
"While we are disappointed that the city has decided to end our 18-year relationship, we stand ready to support Seattle with its financial services needs in the future," Wells Fargo said in a statement.
Approval of the measure occurred just hours after the U.S. Army Corps of Engineers granted Energy Transfer Partners the final easement to drill under the Missouri River and finish the $3.8 billion project.
The Corps followed instructions from President Donald Trump, who signed two executive actions to advance the DAPL and the Keystone XL.


The completed 1,172-mile DAPL would carry oil from the Bakken formation in North Dakota to Gulf Coast refineries and export terminals via Patoka, Illinois. Its path crosses the Missouri River, which is the primary drinking water source for the Standing Rock Sioux reservation.
For months, the tribe and fellow Water Protectors have been trying to block construction of the DAPL. Protests have drawn thousands of people to Standing Rock. Hundreds of demonstrators still remain at the protest camps and thousands of U.S. military veterans have committed to returning to Standing Rock to continue the fight.
Pipeline opponents have urged banks to stop financing DAPL construction and have called on bank customers to pull money out of their accounts.

Olivia One Feather, a member of the Standing Rock Sioux tribe, told Seattle City Council, "When big cities such as this do the right thing, it sparks hope in the world."
"It's going to be a mixed blessing and timely at the same time," Lakota Tribal Member and DAPL opponent Matt Remle told Capitol Hill Times about the Council's vote in the wake of the Corps' decision.
Hip hop icon Macklemore joined Duwamish River Cleanup Coalition (DRCC) and Seattle, WA civic leaders last week to launch "A River for All" campaign to ensure a clean and healthy Duwamish River.
"We are Seattle. No bridge, boundaries or invisible man-made lines divide us," said Macklemore. "This is our home, our people and our community. This is our city's only river, and I want to do my part to make sure that it's safe for all that reside here. I stand in solidarity with community leaders and families who have organized for years to right this injustice."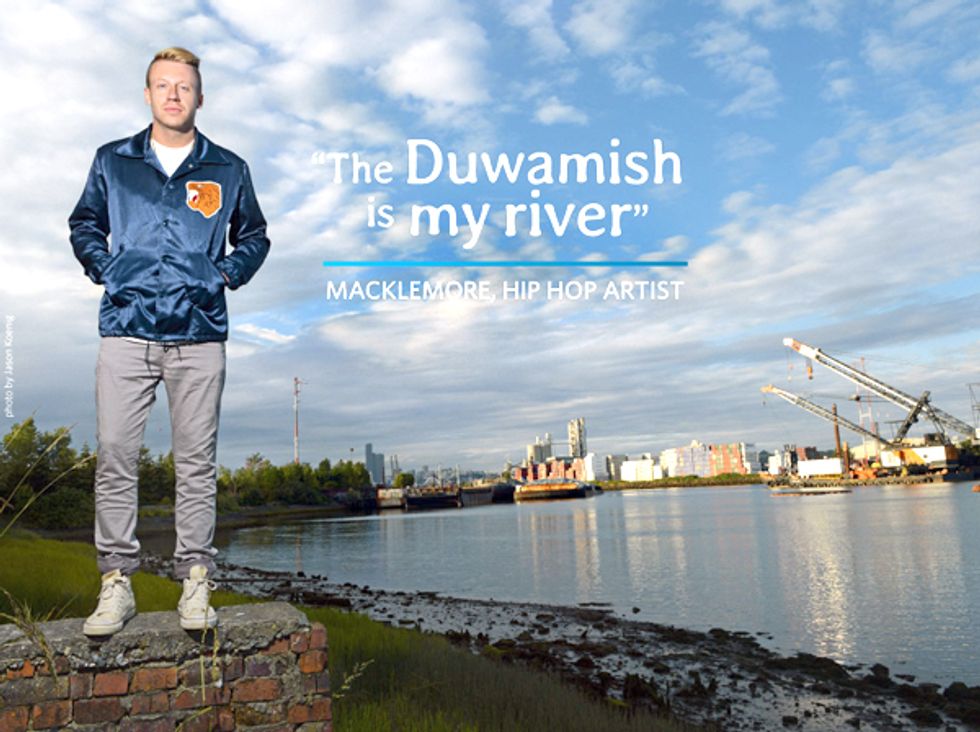 DRCC, Puget Soundkeeper and a growing list of civic leaders insist a stronger cleanup plan is needed to protect communities and restore Seattle's only river. The current plan, favored by city and county officials, would leave dangerous levels of toxic chemicals like arsenic and PCBs, posing health risks to people, wildlife and the entire Puget Sound food web. Experts agree more needs to be done.
"Evidence from other cleanup sites around the country shows that 'natural recovery' can take decades longer than expected, and may not stop buried chemicals from getting into the food chain anyway," according to the coalition's environmental consultant, Peter deFur. "The responsible approach, from an environmental and health perspective, is to get the toxins out of the river altogether."
The new effort asks citizens to get involved and let their leaders know they want a clean and safe Duwamish River. 
"The Duwamish is my river. I have spent many a day cleaning debris from its shores, sharing its wonders with our community and fighting for its protection," said Puget Soundkeeper Chris Wilke. "If we were most anywhere else, this would be our waterfront. But for the Sound and the lakes, we forget: the Duwamish River is the lifeblood of Seattle. Salmon and people, eagles and osprey, seals and sea lions. It must be protected."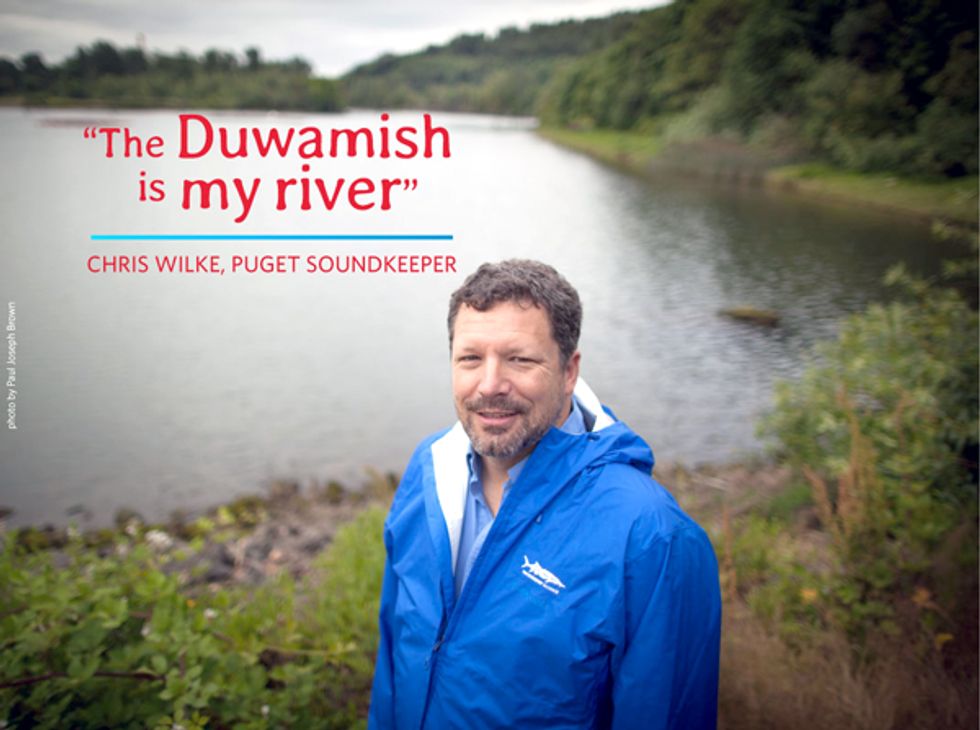 In 2001, The Duwamish River was listed as a federal Superfund Site, identifying it as one of the most toxic waste sites in the nation. The U.S. Environmental Protection Agency's cleanup plan, released for public comment last year, states that its approach is unlikely to make the river safe enough to protect the health of people who regularly eat its resident fish, like perch and crab, according to DRCC.
"Cleaning up the Duwamish is essential to the recovery of Puget Sound. As long as toxic pollution keeps leaching into the Sound, marine resources—from oysters to orcas—won't fully recover." said Earth Day founder Denis Hayes. "The Duwamish is Seattle's estuary. We ought to treasure it, like New York treasures the Hudson. And we need to restore it to health."