This website uses cookies to ensure you get the best experience while browsing it. By clicking 'Got It' you're accepting these terms.
Pawtuxett River flooding on March 30, 2010 in Warwick, Rhode Island. National Guard troops were activated in Massachusetts and Rhode Island where a state of emergency was declared. Darren McCollester / Getty Images
By Jessica Corbett
In what one advocate called a "big win" for climate liability litigation, a federal judge on Monday remanded Rhode Island's lawsuit targeting 21 fossil fuel giants to state court, where the oil and gas companies are more likely to be forced to pay for their significant contributions to the global climate crisis.
Rhode Island Attorney General Peter F. Kilmartin announced on July 2 that the state has filed a lawsuit against 21 Big Oil companies for their contributions to the climate crisis. @AGKilmartin / Twitter
By Jessica Corbett
In what advocates are calling a "watershed moment" for climate litigation, Rhode Island's Democratic Attorney General Peter F. Kilmartin announced on Monday that the state has filed a lawsuit against 21 major oil companies—including BP, Chevron, ExxonMobil and Shell—"for knowingly contributing to climate change, and causing catastrophic consequences to Rhode Island, our economy, our communities, our residents, our ecosystems."
EcoWatch Daily Newsletter
Heavy seas engulf the Block Island Wind Farm—the first U.S. offshore wind farm. Dennis Schroeder / National Renewable Energy Lab / Flickr
A major natural gas leak caused parts of Providence, Rhode Island to shut down Wednesday night.

The leak, which shut down Interstate 195 and city streets for several hours, was caused by a ruptured high-pressure gas line near a National Grid take station plant at Franklin Square around 8:15 p.m.
On May 2, U.S. Department of Agriculture (USDA) released data from the 2012 Census of Agriculture. The Census of Agriculture has been conducted since 1840 and currently is collected once every five years. This post looks at the themes of conservation and energy in the Census. You can also view an introductory post on the Census.
Solar panels on a barn on a Vermont farm. Photo courtesy of Shutterstock
Grass vs. Cropland
As part of the Census, USDA reports on the extent of pasture and grazing land across the country. The Census breaks this data down into two categories—(1) pasture and grazing land that could have been used for crops without additional improvements; and (2) permanent pasture and rangeland, other than pastured cropland and pastured woodland.
Category one includes high quality land that could easily be used for crop production, but is instead retained as pasture. It also includes acres of crops hogged or grazed but not harvested prior to grazing. Category two includes both high quality and low quality pasture, but it must be unusable for crop production without additional improvements.
In 2007, the amount of land devoted to pasture and grazing land that could have been used for crop production was 35.8 million acres. By 2012, this number had dropped to 12.8 million acres, a reduction of nearly 65 percent. Going back even further, this number was 60.6 million acres in 2002. While the Census does not speak to the drivers of grassland loss, most of these acres were likely lost to crop production as commodity prices peaked and ethanol demand increased. The amount of pastured woodland also declined by roughly 600,000 acres. In contrast, "permanent" grassland increased between 2007 and 2012 by 1.6 percent, from 408.8 million acres to 415.3 million.
Rotational Grazing
In 2007, farmers practiced rotational or management-intensive grazing on nearly 389,000 farms. By 2012, this number had declined 26 percent to less than 289,000. Three New England states—Connecticut, Rhode Island and Vermont—plus Nevada saw increases in the number of farms using this type of grazing system. Every other state experienced significant declines.
National Sustainable Agriculture Coalition has long been a champion of rotational and management-intensive grazing, which USDA promotes through federal conservation programs like the Conservation Stewardship Program. Unfortunately, the Census does not explore the drivers behind the trends that can be pulled from its numbers. However, the decline does parallel a steep decrease in the number of acres devoted to pasture and grazing land, as detailed above.
Fertilizers and Chemicals
The use of manure and the use of commercial fertilizer, lime and soil conditioners both declined between 2007 and 2012. The number of farms using manure declined from 307,073 to 275,420, while the number of farms using commercial fertilizer declined from 1,022,036 to 877,907. In contrast, the number of farms using chemicals such as pesticides, herbicides and defoliants increased by 154,149.
Cover Crops, Tillage, Easements
The 2012 Census contains brand new information on cover cropping, conservation tillage and easements. Unfortunately, USDA did not report this data in the 2007 Census, so we cannot make a comparison. That said, a recent survey conducted by USDA's Sustainable Agriculture Research and Education (SARE) program with the Conservation Technology Information Center (CTIC) found that the total acreage of cover crops among farmers surveyed increased 350 percent from 2008 to 2012.
In 2012, farmers grew cover crops on 133,124 farms, covering 10,280,793 acres, not including land enrolled in the Conservation Reserve Program (CRP). The average number of acres of cover crops per farm was 77, with a plurality of farmers planting between 10 and 50 acres.
The Census found that 76,441 farms were operating under a conservation easement, including federal and non-federal easements. The average easement size was 173 acres, with the majority of easements ranging from 1 to 50 acres.
For the first time, the Census includes data on the extent to which farmers are using reduced- and no-till practices. More than 278,000 farms reported using no-till practices on a total of nearly 96.5 million acres. The average number of no-till acres per farm was 347. Farmers used other types of conservation tillage, such as mulch till and ridge till, on nearly 200,000 farms, covering more than 76.6 million acres. The average number of acres per farm was 392. In total, conservation tillage, including no-till, was more widespread than conventional tillage practices.
In 2007, farmers generated energy or electricity on 23,451 farms. The practice was most popular in Hawaii (11 percent of farms in the state). Unfortunately, the 2012 Census used different metrics to measure on-farm energy production, so we cannot compare data across the years. In 2012, farmers used solar panels on 36,331 farms, geoexchange systems on 9,403 farms, wind turbines on 9,054 farms and small hydro systems on 1,323 farms.
The bulk of solar energy production occurred in orchards, on sugarcane and hay farms, and on ranches; only 6 percent of grain and oilseed farms used solar power. Conversely, most wind turbines were located on grain and oilseed farms. The majority of geoexchange systems were located on oilseed, grain, sugarcane and hay farms; and most small hydropower generation occurred on ranches and sugarcane and hay farms.
——–
YOU MIGHT ALSO LIKE
USDA Invests $7 Million to Research Small Farm Challenges
Saving the World One Farm at a Time
Why the BLM Battle at Bundy Ranch Matters
——–
By Grace O'Connor
Big news for offshore wind! Yesterday, the Bureau of Ocean Energy Management (BOEM) held the first-ever competitive offshore wind lease sale in the U.S. off the coasts of Rhode Island and Massachusetts. The Wind Energy Area, located 9.2 nautical miles offshore, covers about 164,750 acres and is divided into two lease areas, referred to as the North Lease Area, and the South Lease Area, which cover 97,500 and 67,250 acres, respectively. This is an important and momentous step towards developing a clean, abundant energy source in the U.S.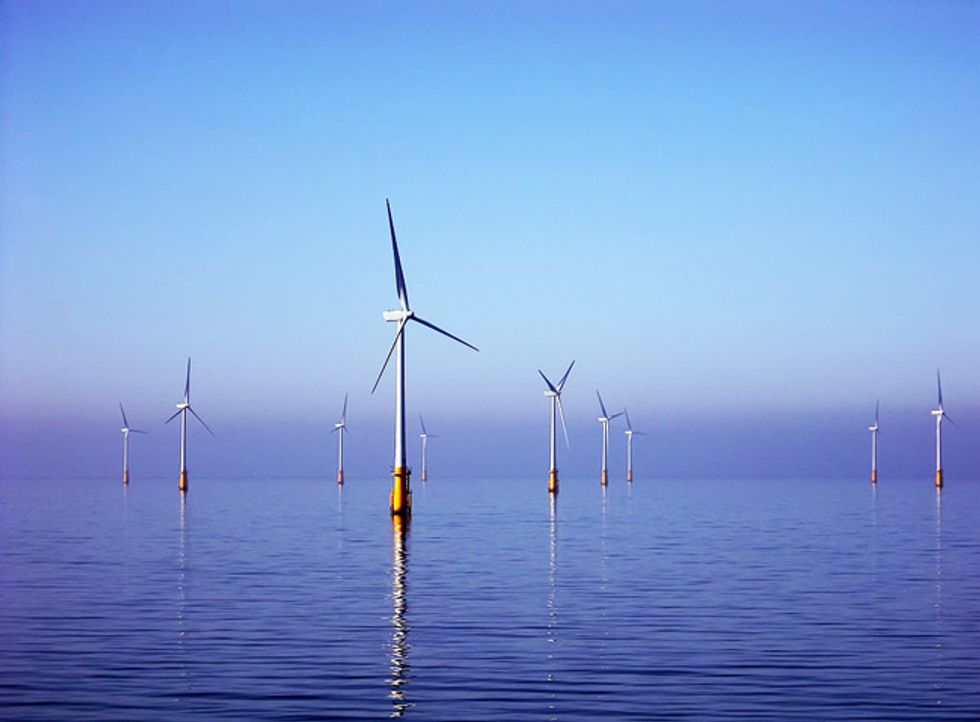 According to a report recently released by the Department of Energy National Renewable Energy Laboratory, the North Lease Area has the potential to produce 1,955 megawatts (MW), while the South Lease Area could produce up to 1,4400 MW. Combined, these areas could support enough electricity to power more than 1 million homes.
According to the Department of Energy (DOE), the U.S. has more than 4,000 GW of offshore wind potential off its coasts. That is enough energy to power the U.S. four times over. Also according to the DOE, a U.S. offshore wind industry that takes advantage of this abundant domestic resource could support up to 200,000 manufacturing, construction, operation and supply chain jobs across the country and drive over $70 billion in annual investments by 2030. Offshore wind represents an economic and energy opportunity that could mirror, and even surpass, the success of land-based wind development.
This lease sale is a historic advancement for the U.S. offshore wind industry as we have sat by and watched for more than 20 years as Europe has developed and benefited from offshore wind. We applaud this important step in the right direction towards making offshore wind a reality for the U.S. 
While Wednesday's lease sale takes a critical step toward building offshore wind in U.S. waters, Oceana believes that in order to continue the advancement of the U.S. offshore wind industry, a long-term extension of the Investment Tax Credit (ITC) is critical. As Oceana Deputy Vice President Jackie Savitz explained, "The ITC is necessary to stimulate investment in offshore wind, and extending it will further demonstrate that the U.S. stands strong in its commitment to this renewable energy source. We urge Congress to provide a long-term extension of the ITC for offshore wind so that we can finally begin to reap all of the environmental and economic benefits of this domestic clean energy supply."
A second offshore wind lease sale, which will auction off nearly 112,800 acres of Virginia's coastal waters, is scheduled for September 4.
Visit EcoWatch's CLIMATE CHANGE page for more related news on this topic.
———
Today's decision by a federal appeals court upholds the contention by environmental groups that the Bush Administration's smog standards do not assure protection of forests and vegetation from ozone damage as the law requires. The court's judgment found that in 2008 the U.S. Environmental Protection Agency (EPA) violated the Clean Air Act when it refused to set protective standards and ignored the unanimous recommendation of its independent science advisors. However, the decision also upholds a health standard that these same scientific advisors had found failed to protect public health.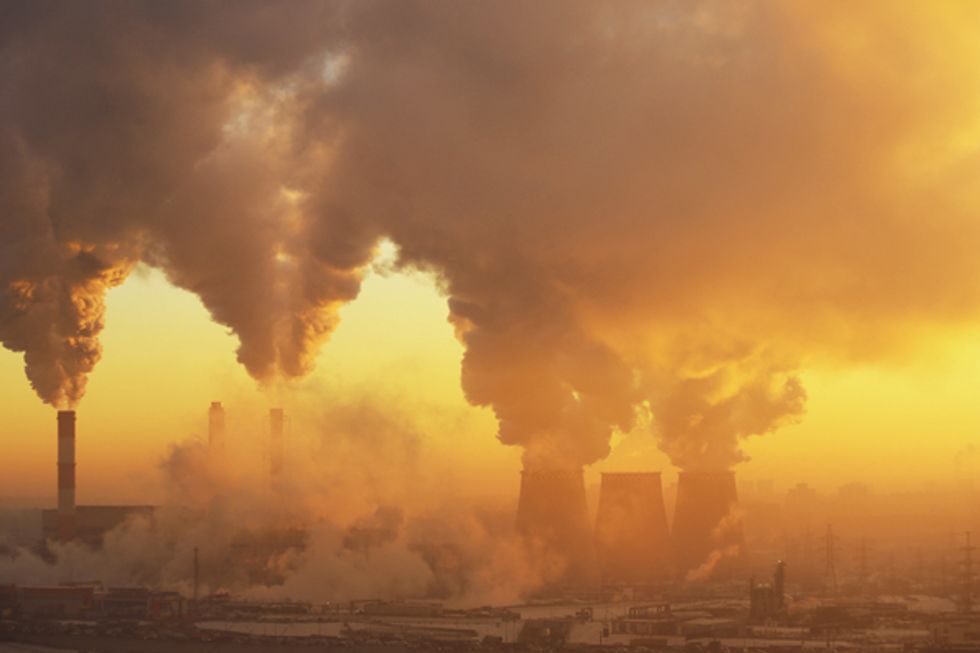 Photo courtesy of Shutterstock
The decision is the result of a suit brought by Earthjustice on behalf of the American Lung Association, Environmental Defense Fund (EDF), Natural Resources Defense Council, National Parks Conservation Association, and Appalachian Mountain Club. Also challenging the standards as too weak were the states of  New York, California, Connecticut, Delaware, Illinois, Maine, Maryland, Massachusetts, New Hampshire, New Mexico, Oregon, Rhode Island, as well as Washington D.C. and New York City.
Health and environmental groups initially filed suit against the Bush Administration following the final EPA decision in May 2008.  Shortly after taking office, the Obama Administration asked the court to put the case on hold while EPA reconsidered the evidence that the standards were too weak to protect public health and welfare. The two-year reconsideration included three public hearings showing overwhelming public comment urging stronger protections, as well as a restatement by the EPA's independent science advisors of their support for a tighter standard.
Then-EPA Administrator Lisa Jackson had concluded that the Bush-era ozone standards were not sufficiently or lawfully protective of public health. In an abrupt about-face, however, President Obama in September 2011, ordered EPA to leave the 2008 standards in place while continuing its ozone review slated for completion in 2013. EPA has now missed the statutory deadline for completing its ozone review and has not proposed any rulemaking yet.
These organizations resumed the legal battle following the Obama Administration's decision to continue to ignore the overwhelming scientific research and the opinion of experts that much stronger standards were needed.  
 
Sometimes called smog, ozone is a highly irritating gas found to shorten lives and worsen asthma and other lung diseases. It also is highly damaging to trees and plants, posing a major threat to the nation's forests. EPA's science advisers and the National Park Service told EPA a separate ozone standard was warranted to prevent these harms. Although EPA was poised to set such a standard, President Bush at the last minute ordered the agency not to include the secondary standards meant to protect our forests and national parks from smog.
 
"The Bush Administration violated the law in refusing to protect our forests from this dangerous pollutant," said Earthjustice Attorney David Baron. "EPA must now take strong action to repair the damage."
 
"Forested landscapes are important ecological resources that are highly valued for providing clean air and water as well as recreational opportunities that support local tourism economies. Protecting them from air pollution has always been a goal of the Clean Air Act, and this ruling underscores the importance of EPA acting on the science to do so effectively," said Georgia Murray, Appalachian Mountain Club staff scientist.
 
"Smog sickens and even kills some plants and trees, even in America's national parks, which are supposed to have the cleanest air in the country" said Mark Wenzler, vice president of Climate and Air Quality Programs at the National Parks Conservation Association. "The Obama administration now has an opportunity to follow the science, and not play politics with protecting our national parks and forests from air pollution damage."
 
The Court rejected challenges by health and environmental groups and states to EPA's 2008 health standard for ozone.  Although acknowledging that those standards were weaker than recommended unanimously by EPA's science advisors, the Court found that the agency had not acted arbitrarily in setting the weaker standards.
 
"There is no question that ozone makes people sick and can kill at levels well below the standard EPA set in 2008. Given that overwhelming evidence and the requirement to set the standard where it will protect public health, we are disappointed that the Court upheld this inadequate standard," explained Janice Nolen, American Lung Association Assistant vice president of national policy. "The evidence continues to grow that we need a stronger standard. The American Lung Association expects that the Obama Administration to follow the science and the law in the current review."
 
"The scientific evidence for a more protective standard has only become stronger since 2008," said Elena Craft, Health Scientist for EDF. "Notwithstanding today's decision, EPA must move forward with stronger standards to protect Americans' health with an adequate margin of safety in its legally-required review of the 2008 standard, which is now underway."
 
Not only had the EPA's science advisors found the health standard inadequate, major health and medical groups, in addition to the American Lung Association, had also supported a much stronger health standard, including the American Academy of Pediatrics, American Thoracic Society and the American Medical Association.
 
"The practical effects of today's ruling on the health standard should be minimal, because there is on ongoing standard-setting process in which EPA's science advisers and the nation's major medical societies have all said we need much stronger smog standards," said John Walke, clean air director for the Natural Resources Defense Council. "EPA needs to heed that advice, and protect our children and seniors who are especially at risk from smog."
 
The Court also rejected all challenges to the ozone standards by industry and the state of Mississippi.
Visit EcoWatch's AIR page for more related news on this topic.
——–