This website uses cookies to ensure you get the best experience while browsing it. By clicking 'Got It' you're accepting these terms.
Mrs. Beatrice Sebyala stands within her crop of maize at her farm in Nakasongola, Uganda. Beatrice uses her farm as a demo and example for other farmers. Uganda is home to the most organic producers in Africa. In Pictures Ltd. / Corbis / Getty Images
Organic farmers in Africa face an arduous journey getting cropland certified, limiting exports and frustrating farmers who say ecological practices could increase food security while protecting the land.
Locusts swarm from ground vegetation as people approach at Lerata village, near Archers Post in Samburu county, approximately 186 miles north of Nairobi, Kenya on Jan. 22. "Ravenous swarms" of desert locusts in Ethiopia, Kenya and Somalia threaten to ravage the entire East Africa subregion, the UN warned on Jan. 20. TONY KARUMBA / AFP / Getty Images
East Africa is facing its worst locust infestation in decades, and the climate crisis is partly to blame.
EcoWatch Daily Newsletter
Nearly 1,100 scientists, practitioners and experts in groundwater and related fields from 92 countries have called on the governments and non-governmental organizations to "act now" to ensure global groundwater sustainability.
Volunteer caucasian woman giving grain to starving African children.
Bartosz Hadyniak / E+ / Getty Images
Food will be scarce, expensive and less nutritious," CNN warns us in its coverage of the UN's new "Climate Change and Land" report. The New York Times announces that "Climate Change Threatens the World's Food Supply."
Beef requires 20 times more land and emits 20 times more GHG emissions per gram of protein than common plant proteins. Keith Weller / U.S. Department of Agriculture
A Brazilian crosses the bottom of the Rio Negro during a 2010 drought. Amazon flow could drop 25 percent in a 2°C warmer world. Franklin Oliveira / Flickr
A study published Monday indicates that it makes a big difference to global food security whether signatories to the Paris agreement are able to keep global temperature to 1.5°C above pre-industrial levels, or allow it to rise a full two degrees.
Farming pangasius catfish for export in Vietnam.
Ben Belton,
CC BY-ND
By Ben Belton, Dave Little and Simon Bush
Over the past three decades, the global aquaculture industry has risen from obscurity to become a critical source of food for millions of people. In 1990, only 13 percent of world seafood consumption was farmed; by 2014, aquaculture was providing more than half of the fish consumed directly by human beings.
Anishinaabe economist and writer Winona LaDuke identifies two types of economies, grounded in different ways of seeing. Speaking in Vancouver recently, she characterized one as an "extreme extractive economy" fed by exploitation of people and nature. The second is a "regenerative economy" based on an understanding of the land and our relationship to it.
Lori Eanes
By Lesley Jacobs Solmonson
Dozens of edible varieties of seaweed—the broad term for 10,000-plus types of marine plants and algae—are high in minerals, fiber, antioxidants and sometimes protein.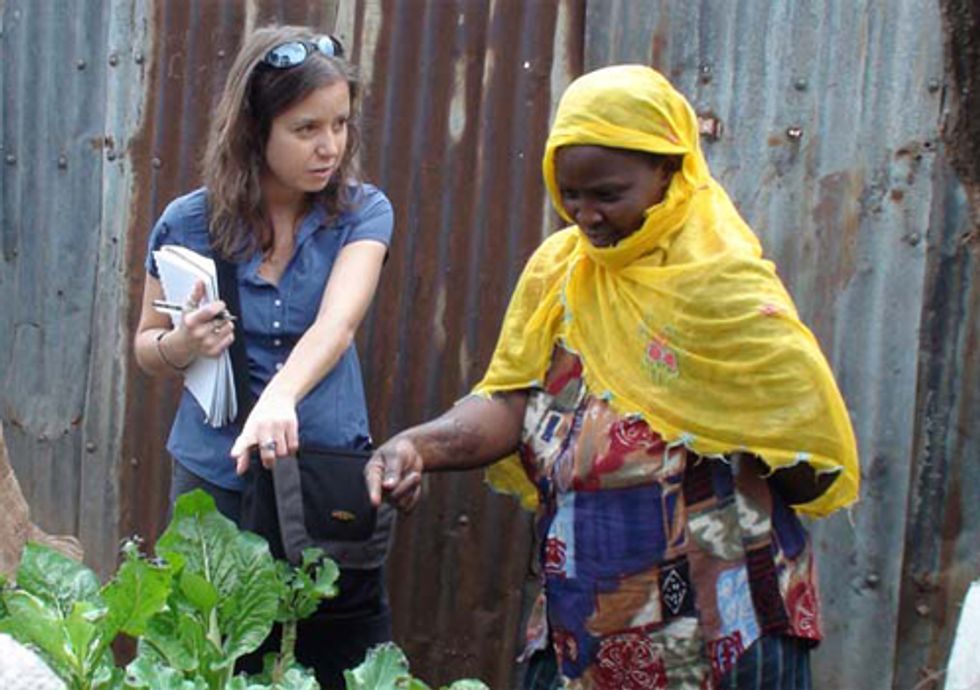 By Dana Drugmand
At a time when world resources are dwindling and global population is growing rapidly, finding sustainable solutions to nourish people and the planet is more important then ever. Research has shown that women may play a key role in the fight against global hunger and poverty. Worldwide, roughly 1.6 billion women rely on farming for their livelihoods, and female farmers produce more than half of the world's food.
Although women comprise 43 percent of the agricultural labor force in developing countries, they typically aren't able to own land. Cultural barriers also limit women's ability to obtain credit and insurance.
Strengthening women's rights can help strengthen the global food system. According to the World Food Programme, allowing women farmers access to more resources could reduce the number of hungry people in the world by 100-150 million people.
Today, Nourishing the Planet highlights five innovations that are helping empower women farmers around the world:
1. Vertical Farming—Although most farming is mostly associated with rural areas, more than 800 million people globally depend on food grown in cities for their main food source. Considering that women in Africa own only 1 percent of the land, a practice called vertical farming gives these women the opportunity to raise vegetables without having to own land. Female farmers in Kibera, Nairobi's largest slum, have been practicing vertical farming using seeds provided by the French NGO (non-governmental organization) Solidarites. This innovative technique involves growing crops in dirt sacks, allowing women farmers to grow vegetables in otherwise unproductive urban spaces. More than 1,000 women are growing food in this way, effectively allowing them to be self-sufficient in food production and to increase their household income. Following the launch of this initiative, each household has increased its weekly income by 380 shillings (equivalent to 4.33 U.S. dollars).
Vertical Farming in Action—This innovation has already proven successful in providing food for urban residents during a time of dire need. During the food crisis that hit Kenya in 2007-2008, there was a blockade of food supplies coming into the Nairobi slums. People in Kibera who grew their own food with the vertical farming technique were self-sufficient and did not go hungry.
2. FANRPAN's Theatre—Women comprise 80 percent of small-scale farmers in some parts of sub-saharan Africa, and female labor accounts for a majority of food production across the continent. Despite the fact that women make up such a large percentage of the agricultural workforce, they still lack access to important resources and inputs. Men control the seed, fertilizer, credit and technology and have the access to policymakers that women lack. The Food, Agriculture & Natural Resources Policy Analysis Network's (FANRPAN) WARM Project seeks to advocate for agricultural policies in the two focus countries of Malawi and Mozambique. FANRPAN hopes to later extend the program to other Southern and East Africa countries. WARM (Women Accessing Realigned Markets) uses theater to engage communities to meet the needs of women farmers. FANRPAN's Sithembile Ndema, the programme manager in charge of the WARM Project, explains that the aim of the project is to empower women who lack resources and a voice in farming communities. "What we're doing is we're using theater as a way of engaging these women farmers, as a way of getting them involved and getting them to open up about the challenges that they're facing."
FANRPAN's Theater in Action—After each performance, community members engage in a moderated discussion about issues raised in the performance. This gives them an opportunity to raise their concerns, especially the women farmers who typically do not have access to policymakers.
3. Self Employed Women's Association (SEWA)—In developing countries like India, women are commonly disenfranchised and not afforded the same opportunities and rights as men, such as access to credit and land ownership, for example. The Self Employed Women's Association, a female trade union in India that began in 1992, works with poor, self-employed women by helping them achieve full employment and self reliance. SEWA is a network of cooperatives, self-help groups and programs that empower women. Small-scale women farmers in India have particularly benefited from this network that links farmers to inputs and markets. "We organize the women as workers, try to build their collective strength, their voice, their visibility, explains Reema Nanavanti, director of Economic and Rural Development at SEWA.
SEWA in Action—SEWA not only provides organizational support, but also brings resources to women who lack access to them. By building what Nanavanti calls "capitalization," SEWA is providing tools and equipment, as well as access to licenses and to land. Furthermore, SEWA empowers women by building their leadership capacity, giving them a voice that otherwise might go unheard.
4. Women's Collective—Also in India, women's subordinate position in society makes them easy targets for domestic and sexual violence. For example, landless women who rely on agricultural landlords for employment, for example, are often sexually harassed. Poor rural women additionally face issues with food and water insecurity. The Tamil Nadu Women's Collective (WC) focuses on advocating for women's rights and improving food and water security. The collective reaches over 1,500 villages spread across 18 districts in India's Tamil Nadu state. Environmental protection, alternative farming for food security, and women's rights, including protection against domestic violence, are some of the major focus areas the WC has undertaken. In addressing violence against women, for example, the WC provides counseling and support for female victims. Women's participation in local government is another initiative the WC has taken up. By empowering women, giving them a voice at the household and political level, and helping women strengthen local food systems and employ natural farming methods, the Tamil Nadu Women's Collective is actively addressing issues of food and water insecurity and improving rural livelihoods.
Women's Collective in Action—Beginning in 1998-1999, Women's Collective members were educated about natural farming techniques. The concept of natural farming maximizes natural inputs, or inputs derived from the farm itself. Natural farming can increase soil water retention, leading to better yields under rain-fed conditions. Shanta, a single mother from the Vellanikkottam village, started practicing natural farming with help from the Women's Collective. Since transitioning to natural farming, Shanta has benefited from increased crop yields.
5. GREEN Foundation—Studies have shown that women farmers typically have lower crop yields than their male counterparts. A study conducted in Burkina Faso, for example, has found that women's yields were 20 percent lower for vegetables and 40 percent lower for sorghum. Rural women farmers' lower productivity compared to male farmers may be due to women lacking access to high-quality seeds and agricultural inputs. The GREEN Foundation has partnered with NGOs including Seed Saver's Network and The Development Fund to create community seed banks in India's Karnataka state. Women run these seed banks, thereby gaining leadership skills and acquiring quality, organic seeds that yield profitable crops. Landless women farmers are encouraged to grow indigenous vegetables in community gardens. The gardening project, which improves women small-scale farmers' food security and economic status, involves training women in agricultural methods and encouraging them to grow a variety of fruits, vegetables and medicinal plants for their families. Part of the GREEN Foundation's mission is to empower women and enhance women's leadership skills. The foundation has successfully touched upon different dimensions of sustainable agriculture that have helped farmers secure seed, food and better livelihoods.
GREEN Foundation in Action—The Foundation's kitchen gardening project is an important innovation that promotes agricultural biodiversity while empowering women. Mahadevamma is one example of a rural Indian woman who has improved her food security and her family's income by growing crops in a kitchen garden. She uses waste water from her house to irrigate the crops and employs vermicompost for manure and fermented plant extract for pest control. She has gotten good yields and any excess vegetables and seeds she sells to make a profit. Mahadevammma has earned 2000 rupees (44.61 U.S. dollars) just from her kitchen garden.
For more information, click here.
—————

Dana Drugmand is a research intern with the Nourishing the Planet Project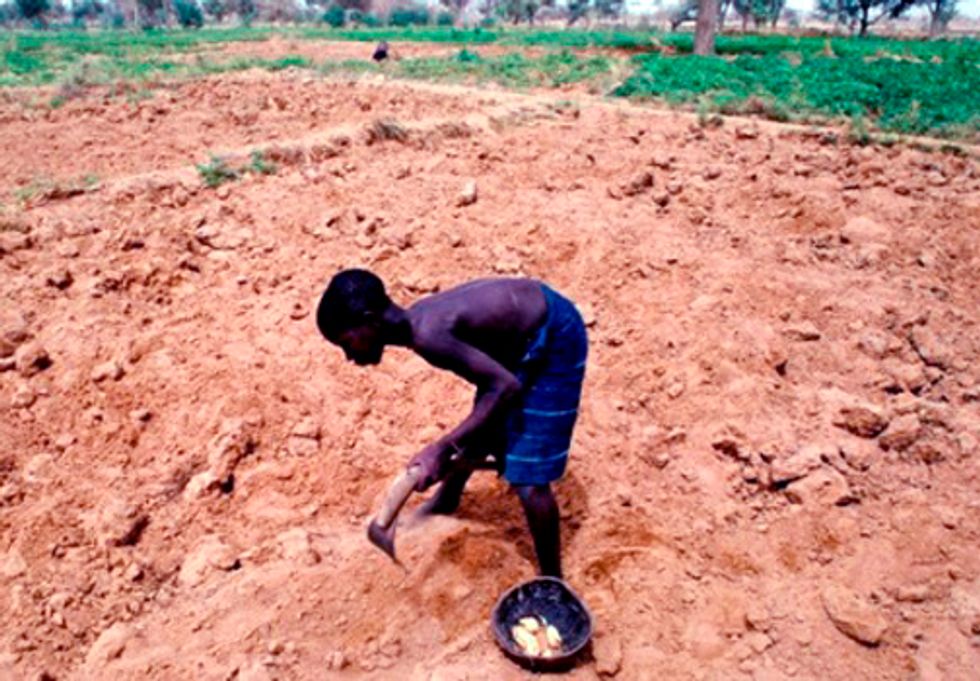 New evidence of changing climate trends in the Sahel and West Africa and their potentially profound implications for food security and regional stability has been released on Dec. 5 at the United Nations Climate Change Conference in Durban, adding to the pressure on governments to stay on a course to reach a new international climate agreement.
A joint study has analyzed regional trends in temperature, rainfall, droughts and flooding over the past 40 years and their implications for the availability of natural resources, livelihoods, migration and conflict in 17 West African countries from the Atlantic coast to Chad.
The analysis detects significant changes in regional climatic conditions, including an overall rise in mean seasonal temperature from 1970 to 2006 of approximately 1°C, with a greater increase of between 1.5°C to 2°C observed in far eastern Chad and northern Mali and Mauritania.
The study shows that the frequency of floods and the area covered by flooding have increased in parts of the region over the past 24 years, for example with large areas of southern Burkina Faso, western Niger and northern Nigeria experiencing up to 10 floods during this period.
The report, Livelihood Security: Climate Change, Migration and Conflict in the Sahel, uses an innovative mapping process to identify 19 "climate hotspots" where climatic changes have been the most severe and which warrant focused adaptation planning and other follow-up activities.
Many of the hotspots are in the central part of the Sahel, in Niger, Burkina Faso, northern and coastal Ghana, as well as northern Togo, Benin and Nigeria.
Common to these hotspots is that they have been most heavily affected by flooding, although they have also experienced slow-onset changes, in particular in temperature and the occurrence of drought, and these varying conditions have affected the livelihoods of millions of people who depend on natural resources.
The study has found that the impacts of such changing climatic conditions on the availability of natural resources, combined with factors such as population growth and weak governance, have led to greater competition over scarce resources and to changing migration patterns in the region.
For example, among its findings the analysis shows that:
Pastoralists are mainly affected by changes in rainfall that occur in the arid and semi-arid areas of the Sahel and influence the availability of shrubs, grasses and water sources for livestock. Their traditional migration patterns are increasingly being replaced by a more permanent southward shift;
Competition for freshwater, coastal resources and land among fishermen, farmers and pastoralists as well as new migrants is increasing, and in some cases leading to heightened tensions and conflict, most notably in the area surrounding Lake Chad;
Large areas of Chad, Mali, Mauritania and Niger faced between six and ten drought seasons between 1982 and 2009, with smaller pockets experiencing between 11 and 15, with some communities requiring emergency assistance. Togo experienced between one and two droughts over the same period.
In combination with changing rainfall patterns, seasonal droughts have already contributed to changes in livelihoods. For example, there is a shift to agropastoralism (combining farming and livestock breeding) which is seen as a strategy to mitigate increasing climate uncertainties.
Early movements south and towards the coast by pastoralists, as a result of changing climatic conditions, can result in increased competition for resources and the destruction of crops in the receiving areas, and lead to conflicts with farming communities. One example was during a drought and locust plague in Niger in 2005 which led to shortfall in crop yield of 4.6 million tons, which forced herders to migrate south and to dry season grazing grounds in Nigeria earlier than usual, and also resulted in higher prices leaving poorer households unable to purchase food.
The increased frequency and severity of climate-related disasters—such as floods and drought—as well as future sea-level rise, could lead to more permanent migration over time;
Major urban centers such as Accra, Kano, Niamey, Nouakchott and Ouagadougou are located within areas most affected by the observed changes in climate. It is estimated that sea-level rise of up to 1 meter would directly affect more than three million people in the region, including residents of major urban centers situated on the coast.
The frequency and severity of flooding has increased in the Sahel and West Africa, allowing for less recovery time for farmland and pastures between floods, resulting in increased risk of deaths, massive population displacement and of crop and cattle losses;
The data shows that areas affected by large-scale conflicts, particularly Chad and northern Niger, have also been affected by changes in climate. Although the study does not try to show any direct linkage between changes in climate and conflicts, people living in areas that have been affected by conflict can be considered as more vulnerable to the effects of changing climatic conditions, compared to more politically stable areas.
The study was conducted by the United Nations Environment Programme (UNEP) in cooperation with the International Organization for Migration (IOM), the Office for the Coordination of Humanitarian Affairs (OCHA), the United Nations University (UNU) and the Permanent Interstate Committee for Drought Control in the Sahel (CILSS), with technical input from the University of Salzburg's Centre for Geoinformatics (Z_GIS).
UN Under-Secretary General and UNEP Executive Director, Achim Steiner, raised the issue of food security as a potential risk of climate change during the debate on climate change and security in the UN Security Council in July this year.
Mr Steiner said that with livelihoods and food security in the region heavily dependent on natural resources, further impacts of climate change on ecosystems could be dramatic.
"This analysis underlines how competition between communities for scarce resources, especially land, water and forests, is already a reality in West Africa and that regional cooperation will be key to diffusing tensions, managing down the risks and curtailing the possibilities of increased conflict and environmentally-induced migration," Mr Steiner said.
"The study also speaks to the negotiations under the UN climate convention taking place here in Durban spotlighting the urgent need for scaled-up investments in adaptation, moving forward on the Green Fund and supportive measures such as Reduced Emissions from Deforestation and Forest Degradation as well as realizing the climate finance of US$100 billion a year by 2020," he said.
The CILSS Executive Secretary, Professor Alhousseini Bretaudeau, said that it was necessary to analyze the impacts of climate change on migration and conflict in order to improve adaptation strategies in the Sahel and take efficient counter-action.
"This cooperation between the international community and CILSS represents a milestone in taking large-scale action jointly—in particular the production of scientific knowledge that will lead to a better understanding of climate change impacts on migration and conflict in this very fragile Sahelian region—for the benefit of the population," Prof. Bretaudeau said.
"The relationship between climate change, migration and conflict remains complex, however, with climate change threatening the integrity of ecosystems that are already made vulnerable by a rapidly growing population, it is evident that this situation will exacerbate competition over natural resources and trigger further movements of people and new conflicts," he said.
Prof. Jakob Rhyner, Vice Rector of the United Nations University, added "especially as the relation between climate change, migration is very complex, we need to further assess the hotspots area. Speaking at the report launch in Durban, he continued, "We have to provide negotiators, governments as well as practitioners on the ground, what they need to know about the potential impacts of climate change and human mobility in order to prepare appropriate legal, institutional, and governance approaches."
The project set out to analyze the historical climate trends in the region, identify 'hotspots' and determine the potential implications for natural-resource led livelihoods, building on existing knowledge that the Sahel has long been subject to considerable climate variability unrelated to anthropogenic climate change.
The study also concluded that migration can be seen as part of the solution, as seasonal and circular migration can be considered as a traditional adaptation strategy in the region. Many communities are already planning for the potential impacts of climate change and are employing innovative small-scale adaptation initiatives, such as cooperation between villages in the sustainable use of local land.
Importantly, the report provides recommendations for improving conflict and migration sensitivity in adaptation planning, investments and policies across the region.
The key recommendations include:
Adopt climate change adaptation policies and programmes that are migration and conflict-sensitive and that aim to reduce livelihood vulnerability, promote alternatives, and improve the availability and access to natural resources. This should be done in order to mitigate the drivers of migration and conflict and help secure development gains.
Promote regional environmental cooperation in addressing climate change, migration and conflict. Issues of climate change and migration are regional in nature, and as such should not only be managed at the national level, as is most commonly the case today.
Root national adaptation policies in the "green economy" and promote the creation of green jobs and sustainable farming practices, in order to enhance food security and increase the resilience to climate stressors.
Strengthen preventive action, environmental diplomacy, resource rights and dispute resolution to take early action to defuse both imminent threats and broader instability.
Prioritize systematic data collection and early warning systems. The systematic collection of climate data should be established and improved throughout the region, notably through the establishment of a comprehensive network of weather stations.
Use conflict and/or migration risk to prioritize investments and build donor commitment to long-term engagement in the Sahel. Addressing climate change impacts on livelihoods in the Sahel requires long-term financial commitment and improved coordination of investments.
Conduct follow-up field assessments in the hotspots identified using a livelihoods approach to determine how resource availability is changing, how livelihoods are being affected, and if incidences of conflict or migration are increasing, in order to inform adaptation strategies and interventions.
The study aims to support decision-makers in the region's Member States, adaptation and peacebuilding practitioners worldwide, as well as ongoing international climate change negotiations.
To download the report, Livelihood Security: Climate Change, Migration and Conflict in the Sahel, visit:
English: http://postconflict.unep.ch/publications/UNEP_Sahel_EN.pdf
French: http://postconflict.unep.ch/publications/UNEP_Sahel_FR.pdf