This website uses cookies to ensure you get the best experience while browsing it. By clicking 'Got It' you're accepting these terms.
Scientists involved in the World Meteorological Organization's report urged world leaders not to lose focus on the climate emergency. Cindy Mariela Lorenzo / World Meteorological Association
If temperatures continue to rise, the world is at risk from global
sea-level rise
, which will flood many coastal cities as seen above in Bangladesh. NurPhoto / Contributor / Getty Images
The mounting climate emergency may spur the next global financial crisis and the world's central banks are woefully ill equipped to handle the consequences, according to a new book-length report by the Bank for International Settlements (BIS), as S&P Global reported. Located in Basel, Switzerland, the BIS is an umbrella organization for the world's central banks.
EcoWatch Daily Newsletter
Researchers have found that plants are growing farther up the Himalayas than they did in the past, according to a new study in the journal Global Change Biology, as Newsweek reported.
By Leo Hickman
Before the Flood, a new feature-length documentary presented and produced by Leonardo DiCaprio, is released in cinemas today.
The Oscar-winning actor and environmentalist has spent the past three years asking a wide variety of people around the world about climate change. His collection of interviews in the film—ranging from President Obama and the Pope through to Elon Musk and Piers Sellars—cover the science, impacts, vested interests, politics and possible solutions.
Leonardo DiCaprio visits the National Aeronautics and Space Administration Goddard Space Flight Center to discuss Earth science with Piers Sellers.NASA / Goddard/ Rebecca Roth
Carbon Brief was invited to the European premiere of Before the Flood last weekend. Before the screening in London began, DiCaprio took to the stage to introduce the film. He said:

"Before The Flood is the product of an incredible three-year journey that took place with my co-creator and director Fisher Stevens. We went to every corner of the globe to document the devastating impacts of climate change and questioned humanity's ability to reverse what maybe the most catastrophic problem mankind has ever faced. There was a lot to take on. All that we witnessed on this journey shows us that our world's climate is incredibly interconnected and that it is at urgent breaking point.
"I've been incredibly moved by so many climate change documentaries in the past, but I never felt that I saw one that articulated the science clearly to the public. I think people grasp it, but it seems something distant, far off, intangible and almost otherworldly. An individual doesn't feel like they can make an impact. The journey for me was to try and make a modern-day film about climate change. I've been studying this issue for the past 15 years, I've been watching it very closely. What's incredibly terrifying is that things are happening way ahead of the scientific projections, 15 or 20 years ago.
"We wanted to create a film that gave people a sense of urgency, that made them understand what particular things are going to solve this problem. We bring up the issue of a carbon tax, for example, which I haven't seen in a lot of documentaries. Basically, sway a capitalist economy to try to invest in renewables, to bring less money and subsidies out of oil companies. These are the things that are really going to make a massive difference. It's gone beyond, as we talk about in the film, simple, individual actions. We need to use our vote ... We cannot afford to have political leaders out there that do not believe in modern science or the scientific method or empirical truths … We cannot afford to waste time having people in power that choose to believe in the 2 percent of the scientific community that is basically bought off by lobbyists and oil companies. They are living in the stone ages. They are living in the dark ages. We need to live in the future."
Here, Leo Hickman, Carbon Brief's editor, identifies seven key scenes in Before the Flood…

5. Elon Musk
Setting the Scene
In terms of box-office draw alone, Before the Flood is the most significant film about climate change since Al Gore's An Inconvenient Truth was released a decade ago. DiCaprio has made maximum use of his global star power to bring together some of the world's leading voices and experts on climate change and package them up into 90-minute narrative which drips with urgency, insights and emotion.
It opens with a surprisingly personal monologue by DiCaprio in which he talks about the "nightmarish" painting which hung over his crib as a child.
"I would stare at it before I went to sleep," he explained, noting some of its themes—"over-population, debauchery, exodus."
Hieronymus Bosch's Garden of Earthly Delights was painted more than 500 years ago, but it speaks to today, he said, with its "twisted, decayed, burnt landscape." DiCaprio said the triptych's final panel shows a "paradise that's been degraded and destroyed."
The film is named after the middle panel—Humankind before the Flood—which, he said, acts as an allegorical warning to the world of what could come next, if it fails to act on climate change.
DiCaprio then sets off around the world on his quest for answers: "I want to see exactly what is going on and how to solve it." But self-doubt looms large from the off, even after he is named by Ban Ki-moon as the UN messenger of peace on climate change.
"Try to talk to anyone about climate change and people just tune out. They might have picked the wrong guy." As DiCaprio said this, a montage plays of clips showing his media critics, such as Fox News' Sean Hannity, attacking him for his lack of scientific credentials and celebrity lifestyle.
However, DiCaprio is frank about how his fame has afforded him such a privileged perspective: "First time I heard of global warming was when I sat down one-to-one with Al Gore [in the early 2000s]. This is most important issue of our time, he said. I had no idea what he was talking about."
After viewing tar sands in Canada by helicopter—"kinda looks like Mordor"—and narwhal whales in Kangerlussuaq, Greenland, DiCaprio explained what, in his view, has changed in the time since he received Gore's climate lesson.
"Everyone was focused on small individual actions [back then]. Boiled down to simple solutions such as changing a light bulb. It's pretty clear that we are way beyond that now. Things have taken a massive turn for the worse."
The Garden of Earthly Delights, a painting by Hieronymus Bosch from 1485.Damian Michaels / Flickr
1. Prof. Jason Box

DiCaprio is helicoptered onto the Greenland ice sheet, where he meets with Jason Box, a professor at the Geological Survey of Denmark and Greenland. Box has spent many Arctic summers monitoring the stability of the ice sheet, as well as, in more recent years, the way soot from forest fires and the burning of fossil fuels has darkened the snow and, hence, the ice's reflectivity or albedo. As they both stare at a torrent of water rushing down into a moulin, Box's concern about the long-term melting trend is palpable:
"We keep finding things that aren't in the climate models. That tells me that the projections for the future are really conservative. If the climate stays at the temperature that it's been in in the last decade, Greenland is going away."
DiCaprio gently mocked Box's equipment for measuring the ice.
"This is a climate station? I was imagining a massive igloo with all kinds of scientists and experiments. It really does look like broken down pool equipment."
Then he questioned why there is a long spiral of plastic hose laying on the ice. Box explained:
"The hose went down 30 feet, but [the ice] has now melted out. Five years of melt. Hundreds of cubic kilometres of ice stored on land that has now gone into the sea."
2. Prof. Michael E. Mann

No movie is complete without the bad guys. And DiCaprio is keen to stress the role that "corporate interests" have played in spreading "disinformation" about climate change.
A cast of villains is introduced ranging from right-wing newspapers and TV networks in the U.S. through to politicians and "front groups." All seek to cast doubt on the science and, in doing so, attack climate scientists.
No scientist has been more in the crosshairs than Michael E Mann, the director of the Penn State Earth System Science Center who is best known for his famous hockey stick graph showing a recent spike in global temperatures.
Publishing that graph proved to be a huge turning point, Mann told DiCaprio:
"I set myself up for a completely different life … I was vilified … I was called a fraud. I was being attacked by Congressmen. I had death threats, which were actionable enough that the FBI had to come to my office to look at an envelope that had white powder [in it]. I've had threats made against my family. These folks know they don't have to win a legitimate scientific debate. They just need to divide the public. All of that hatred and fear is organized and funded by just a few players. Fossil fuel interests … finance a very large echo chamber of climate change denialism. They find people with very impressive looking credentials who are willing to sell those credentials to fossil fuel interests. Front groups funded by corporate interests."
DiCaprio's frustration was clear: "If I were a scientist, I would be absolutely pissed every day of my life."
Footage from Frank Capra's 1958 short film for Bell Labs, The Unchained Goddess, which explains what impact burning fossil fuels will have on the climate, plays in the background.
"We've know about this problem for decades and decades," lamented DiCaprio. "Imagine the world right now if we'd taken the science of climate change seriously back then. Since then our population has grown by five billion people and counting. The problem has become more difficult to solve."
3. Dr. Sunita Narain

After a trip to Beijing to witness the smog and speak to experts about how releasing pollution data to citizens has helped to change public attitudes, DiCaprio arrives in India.
His meeting with Sunita Narain, director of the Centre for Science and Environment, provides, arguably, the key scene of the whole film. They discuss the sweetspot of the climate conundrum: How do developing nations with fast-rising populations raise standards of living for all without emitting vast volumes of greenhouse gases?
"We are a country where energy access is as much a challenge as climate change," said Narain. "We need to make sure that every Indian has access to energy."
DiCaprio mulled on that: "From what I understand, there are 300 million people without power in India. That's equivalent to the entire population of the United States."
As footage shows women in the village of Kheladi in Haryana burning uplas (cowdung cakes), Narain passionately lays out India's predicament:
Sunita Narain: Coal is cheap, whether you or I like it or not. You have to think of it from this point of view. You created the problem in the past. We will create it in the future. We have 700m household using biomass to cook. If those households move to coal, there'll be that much more use of fossil fuels. Then the entire world is fried. If anyone tells you that the world's poor should move to solar and why do they have to make the mistakes we have made … I hear this from American NGOs all the time. I'm like, wow. I mean, if it was that easy, I would really have liked the U.S. to move to solar. But you haven't. Let's put our money where our mouth is.
Leonardo DiCaprio: We have to practice what we preach. Absolutely.
Sunita Narain: I'm sorry to say this and I know you're American, so please don't take this the wrong way, but your consumption is really going to put a hole in the planet. I think that's the conversation we need to have. I'll show you charts from this perspective. [Shows page from a book]. Electricity consumed by one American at home is equivalent to 1.5 citizens of France, 2.2 citizens of Japan and 10 citizens of China, 34 of India and 61 of Nigeria. Why? Because you're building bigger, you're building more and using much more than before. The fact is we need to put the issue of lifestyle and consumption at the centre of climate negotiations.
Leonardo DiCaprio: Look, there's no way I don't agree with you. Absolutely correct. Yes, it's a very difficult argument to present to Americans that we need to change our lifestyle and I would probably argue that it's not going to happen. If we want to solve the climate crisis on, hopefully, that renewables like solar and wind will become cheaper and cheaper as more money is funneled into them and we invest into them, and, ultimately, we will solve that problem. But I … [Narain shakes her head]. You are shaking your head, obviously…
Sunita Narain: I'm shaking my head Indian style, which means "no." Who will invest? Let's be real about this. Who will invest? And how will they invest? We are doing more investment into solar today. China is doing much more investment in solar today than the U.S. is. What is the U.S. doing which the rest of the world can learn from? You are a fossil-addicted country, but if you are seriously disengaging, that's something for us to learn from. And it's leadership that we can hold up to our government and say if the U.S. is doing—and the U.S. is doing it—then, despite all the pressures, then we can do it as well … But it's just not happening. People like us, we are rich enough to withstand the first hit of climate change. But it's the poor of India, it's the poor of Africa, the poor of Bangladesh, who are impacted today in what I believe are the first tides of climate change … We need countries to believe that climate change is real and it is urgent. It's not a figment of their imagination
The scene concludes with DiCaprio musing on his conversation with Narain:
"There's no doubt we have all benefitted from fossil fuels. I know I have. My footprint is probably a lot bigger than most people's. And there are times when I question what is the right thing to do. What actions should we be taking? There are over a billion people out there without electricity. They want lights. They want heat. They want the lifestyle that we've had in the United States for the last hundred years. If we are going to solve this problem, we all have a responsibility to set an example. And, more than that, help the developing world to transition before it's too late."
4. Prof. Gidon Eshel

It is well known that DiCaprio has donated a significant proportion of his wealth and time to various habitat conservation projects, notably focused on oceans and tropical forests. So it isn't a surprise that he visits such locations in Before the Flood.
He views dead coral with marine biologist Jeremy Jackson. ("We're pushing this system really hard"). He flies over Sumatran forests being cleared by palm oil plantations with HAkA's Farwiza Farhan. ("I've never seen anything like this"). He feeds baby orangutans at a rescue center in the Mount Leuser National Park with Dr. Ian Singleton. ("They are refugees from the burning forest").
The message is clear. Lifestyle choices are damaging these carbon-absorbing habitats. Boycott companies which use palm oil to make their products, urges DiCaprio. Switch from eating beef to chicken.
This particular suggestion is put forward by the next person DiCaprio visits. Gidon Eshel, a professor of environmental science and physics at Bard College in New York, was the lead author of a study published in 2014 in the Proceedings of the National Academy of Sciences. It made headlines around the world and found that beef is about 10 times more damaging to the environment than any other form of livestock. Eshel said:
"Of all the reasons for tropical deforestation, the foremost is beef. Beef is one of the most inefficient use of resources on the planet. In the U.S., 47 percent of land is used for food production and, of that, the lion's share is just to grow feed for cattle. The things that we actually eat—fruit, vegetables, nuts—it's a percent. Most importantly, cows produce methane. And methane is a powerful greenhouse gas … About 10-12 percent of total U.S. emissions is due to beef. It's staggering … Maybe not everyone is ready to eat tofu 24/7. I get that. But even if you just have to have some flesh between your teeth, if you switch to chicken, you will have eliminated 80 percent of what you emit, depending on where you are coming from."
5. Elon Musk

DiCaprio in now looking out across Los Angeles from a vantage point up in the Hollywood hills.
"Every single light that you see has to be completely different—has to come from a new power source. We need to build all those things differently. All the cars that are on the road need to be different. This is one city. If you zoom out to a map of the world at night, you see electrification all over the world. And we're fighting powerful fossil fuel interests who basically want to keep doing business as usual. How are we possibly going to turn all this around?"
Next he is in the Nevadan desert visiting the "gigafactory," the latest project of Tesla founder Elon Musk. Once at full operation by 2020, the vast factory aims to be producing annually 500,000 electric vehicles and batteries/cells equal to 85 GWh/yr. Musk explains why this could be a game-changer:
Elon Musk: What would it take to transition the whole world to sustainable energy? What kind of throughput would you actually need? You need a hundred gigafactories.
Leonardo DiCaprio: A hundred of these?
Elon Musk: A hundred. Yes.
Leonardo DiCaprio: That would make the United States…
Elon Musk: No, the whole world.
Leonardo DiCaprio: The whole world?!
Elon Musk: The whole world.
Leonardo DiCaprio: That's it?! That sounds manageable.
Elon Musk: If all the big companies do this then we can accelerate the transition and if governments can set the rules in favour of sustainable energy, then we can get there really quickly. But it's really fundamental: unless they put a price on carbon…
Leonardo DiCaprio: … Then we are never going to be able to make the transition in time, right?
Elon Musk: Only way to do that is through a carbon tax.
[Carbon Brief has asked Tesla to explain how Musk arrived at this "100 gigafactory" claim. This article will be updated, if a reply is received].
To drive this point home, DiCaprio then speaks to Gregory Mankiw, a Harvard economics professor, who has long argued for a carbon tax. ("Let me get this straight, you're a Republican who wants more taxes?") During a "call to action" segment at the end of the film before the credits roll, a link to Carbotax.org is shown.
6. Barack Obama

When you're Leonardo DiCaprio you can request a meeting with anyone on the planet. Which other filmmaker could include personal conversations with the U.S. president, the Pope and the UN secretary general in one film?
However, given the imminent entry into force of the Paris agreement on climate change, it is DiCaprio's exchange with Barack Obama at the White House which provides the most insight.
Barack Obama: [Paris] creates the architecture. I was happy with that. The targets set in Paris are nowhere near enough, compared to what the scientists tell us we need to solve this problem. But if we can use the next 20 years to apply existing technologies to reduce carbon emissions and then start slowly turning up the dials as new technologies come online and we have more and more ambitious targets each year, then we're not going to completely reverse the warming that now is inevitable, but we could stop it before it becomes catastrophic … Even if someone came in [to the White House] denying climate science, reality has a way of hitting you on the nose if you're not paying attention and I think the public is starting to realize the science, in part because it is indisputable.
Leonardo DiCaprio: You have access to information. What makes you terrified?
Barack Obama: A huge proportion of the world's population lives near oceans. If they start moving, then you start seeing scarce resources are subject to competition between populations. This is the reason the Pentagon has said this is a national security issue. And this is in addition to the sadness I would feel if my kids could never see a glacier the way that I did when I went up to Alaska. I want them to see the same things that I saw when I was growing up.
7. Dr. Piers Sellers

There are very few people who can say they've had the privilege of being able to look down at the Earth from space. Piers Sellers, the British-born astronaut, spent a total of 35 days in orbit in the 1990s on three separate flights aboard the space shuttle. But back on Earth, he has spent much of his professional life modeling the climate system at NASA's Goddard Space Flight Center in Maryland. Earlier this year, he wrote in theNew York Times about how being diagnosed with terminal cancer has sharpened his thinking on climate change.
Sitting in front of a huge screen showing NASA visualizations of the Earth's climate in motion, Sellers explains to DiCaprio how he views the current changes to the climate as a scientist.
Dr. Piers Sellers: I realized that, as the science community, we have not done the best job, frankly, of communicating this threat to the public. When you go up there and see it with your own eye, you see how thin the world's atmosphere is. Tiny little onion skin around the Earth … [Sellers shows a visualization]. Here's an example of one thing we can see—ocean surface temperature, as measured from space. You can see the poles melting.
Leonardo DiCaprio: Wow.
Dr. Piers Sellers: This is the way to do it, man. This is the way to really see what's going on. This is the Gulf Stream. Look at this. This is the motion of the ocean.
Leonardo DiCaprio: This is like a great piece of art.
Dr. Piers Sellers: It is, isn't it? The biggest impact will be here. [Sellers points].
Leonardo DiCaprio: In the Gulf Stream.
Dr. Piers Sellers: This current … the dumping of ice off Greenland could stop this conveyor belt and the Gulf Stream would slow down and stop its transport of heat from here to there and then Europe would get cold toes because there is a lot of heat transport from across the tropics, across the north Atlantic that keeps Europe warm.
Leonardo DiCaprio: Europe would get colder? A big misconception with climate change is that everything gets warmer.
Dr. Piers Sellers: And here's the most advanced precipitation satellite in the world. It's very important, because we think the biggest impact from climate change is the moving of the precipitation belts from the equator to further out. We're already seeing more persistent drought…
Leonardo DiCaprio: …more drought in places that are already too hot?
Dr. Piers Sellers: Yes. And there are a lot of papers written in the States and elsewhere about how that same drought has help to fuel conflict in the Syrian civil war, Darfur, Sudan, all these places that are short of water and short of food.
Leonardo DiCaprio: Is just here or across the whole planet?
Dr. Piers Sellers: We are expecting elsewhere. Bits of India. In the U.S., in Oklahoma, the Dust Bowl region, we expect that to be much, much drier over the next few decades.
Leonardo DiCaprio: Oh my god. And what about my home state of California?
Dr. Piers Sellers: Not looking great, I'm afraid. Our models predicted persistent drought in the Dust Bowl and here 50 years from now. But we're just seeing the worst drought in 900 years here right now, so it's coming a bit earlier than we thought. We're talking about this happening over the period of a few decades…
Leonardo DiCaprio: This is not great news.
Dr. Piers Sellers: People get confused about the issue, but the facts are crystal clear—the ice is melting, the Earth is warming, the sea level is rising—those are facts. Rather than being, "Oh my god, this is helpless", say, "Ok, this is the problem, let's be realistic and let's find a way out of it". And there are ways out of it. If we stopped burning fossil fuels right now, the planet would still keep warming for a little while before cooling off again.
Leonardo DiCaprio: Would that Arctic ice start to then increase again?
Dr. Piers Sellers: Once the cooling started, yeah.
Leonardo DiCaprio: So there really is a possibility to repair this trajectory that we're on? Interesting.
Dr. Piers Sellers: Yeah. There's hope … I'm basically an optimistic person. I really do have faith in people. And I think once people come out of the fog of confusion on this issue and the uncertainty on this issue and realistically appreciate it on some level as a threat, and are informed on some level on what the best action is to do to deal with it, they'll get on and do it and what seemed almost impossible to deal with becomes possible.
Before the Flood opens in cinemas on Oct. 21 and will be broadcast on the National Geographic Channel on Oct. 30.

Reposted with permission from our media associate Carbon Brief.

By Kaisa Kosonen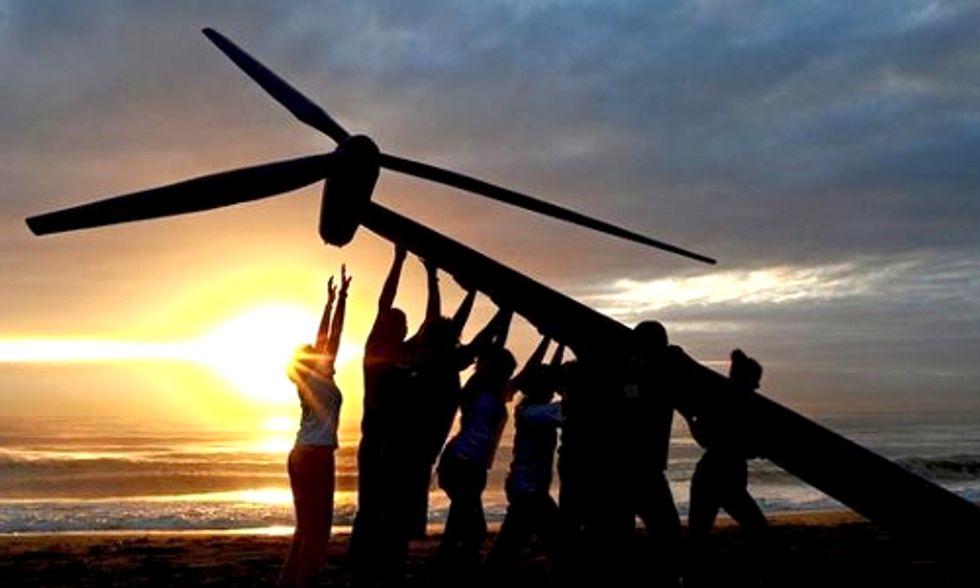 Unprecedented heatwaves, widespread food shortages, more intense cyclones and shifting rain patterns causing either floods or droughts are just some of the future problems outlined in the World Bank's latest climate report, released yesterday.
Following its groundbreaking report that warned about a four degrees Celsius warmer world, the bank has now looked at what that warming would mean for South Asia, Southeast Asia and Sub-Saharan Africa. The picture is dramatic, with climate change threatening the future prosperity of these regions.
Four degrees may not sound like a lot, but it almost compares to the temperature difference between the last ice age and today—and happening during one person's lifetime.
For the regions in question, two degrees would already cause severe problems, which is why we must limit warming to less than two degrees. The World Bank says this is still feasible and it calls for bold action and countries to adopt aggressive targets to cut greenhouse gas emissions.
But what about the bank's own actions?
The World Bank President, Dr. Jim Yong Kim, pledged yesterday that the bank will do everything it can to prevent the bleak future from materializing. Kim pledged the bank will step up its climate work as it increasingly looks at its business through a "climate lens."
Well, we've done that already, and here's what we found: the World Bank is still fueling climate change, big time.
Despite efforts to increase its renewable energy lending, in the past five years the World Bank Group still financed fossil fuels by a total of US$18 billion—nearly half of its energy lending. Since 1994, the group has financed a total of 29 coal-fired power plants in Asia alone. But this financing understates the bank's contribution to dirty coal development, as its loans are usually a small part of the total funding package.
The latest support includes two of the biggest dirty power plants: 4800 megawatts (MW) Medupi in South Africa and 4000 MW Tata Mundra in India—both of these plants will end up high on the list of the biggest carbon dioxide (CO2) sources on earth.
The Kosovo lignite power plant project in Europe will be the first real test for Kim's climate pledges. The bank is planning to grant guarantees for a low-efficiency coal power plant that has CO2 emissions well exceeding the average of new power plants in China, and air pollution emissions up to twice as high as those allowed under either U.S. or Chinese regulations.
The bank claims that building a new, dirty coal power plant is the only way to provide electricity to Kosovo, while even the bank's own former renewable energy expert has shown that practical and affordable renewable energy and energy efficiency options are available and can be implemented in time.
We have been truly impressed by the efforts of Kim to bring climate change onto the political agenda again, warning about the severe consequences of the current path we're on, but action speaks louder than words.
Together, with about 60 development, faith, human rights, community and environmental groups from more than 20 countries, Greenpeace expects the World Bank to lead by example. This means it must end support for all fossil fuel projects unless the projects are solely focused on directly increasing energy access for the poor. In most cases, including Kosovo's, better solutions exist.
It is renewable energy and energy efficiency that truly deliver for the poor—not dirty fossil fuels that are causing our climate to change.
Visit EcoWatch's CLIMATE CHANGE page for more related news on this topic.
——–
Click here to tell Congress to Expedite Renewable Energy.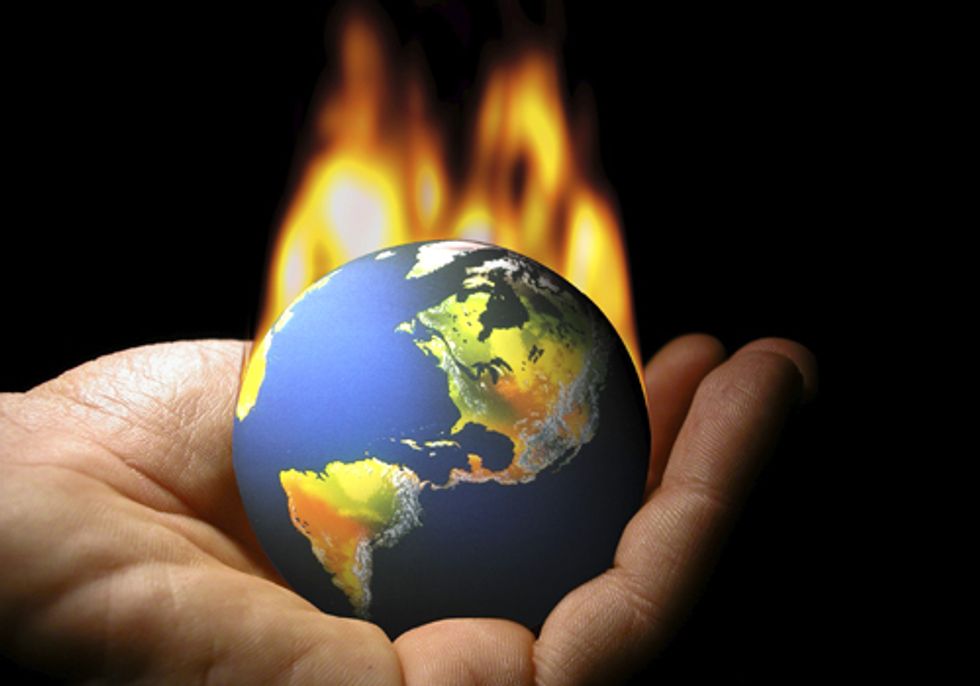 Look back on 2011 and you'll notice a destructive trail of extreme weather slashing through the year. In Texas, it was the driest year ever recorded. An epic drought there killed half a billion trees, touched off wildfires that burned four million acres, and destroyed or damaged thousands of homes and buildings. The costs to agriculture, particularly the cotton and cattle businesses, are estimated at $5.2 billion—and keep in mind that, in a winter breaking all sorts of records for warmth, the Texas drought is not yet over.
In August, the East Coast had a close brush with calamity in the form of Hurricane Irene. Luckily, that storm had spent most of its energy by the time it hit land near New York City. Nonetheless, its rains did at least $7 billion worth of damage, putting it just below the $7.2 billion worth of chaos caused by Katrina back in 2005.
Across the planet the story was similar. Wildfires consumed large swaths of Chile. Colombia suffered its second year of endless rain, causing an estimated $2 billion in damage. In Brazil, the life-giving Amazon River was running low due to drought. Northern Mexico is still suffering from its worst drought in 70 years. Flooding in the Thai capital, Bangkok, killed more than 500 and displaced or damaged the property of 12 million others, while ruining some of the world's largest industrial parks. The World Bank estimates the damage in Thailand at a mind-boggling $45 billion, making it one of the most expensive disasters ever. And that's just to start a 2011 extreme-weather list, not to end it.
Such calamities, devastating for those affected, have important implications for how we think about the role of government in our future. During natural disasters, society regularly turns to the state for help, which means such immediate crises are a much-needed reminder of just how important a functional big government turns out to be to our survival.
These days, big government gets big press attention—none of it anything but terrible. In the U.S., especially in an election year, it's become fashionable to beat up on the public sector and all things governmental (except the military). The Right does it nonstop. All their talking points disparage the role of an oversized federal government. Anti-tax zealot Grover Norquist famously set the tone for this assault.  "I'm not in favor of abolishing the government," he said. "I just want to shrink it down to the size where we can drown it in the bathtub." He has managed to get 235 members of the House of Representatives and 41 members of the Senate to sign his "Taxpayer Protection Pledge" and thereby swear never, under any circumstances, to raise taxes.
By now, this viewpoint has taken on the aura of folk wisdom, as if the essence of democracy were to hate government. Even many on the Left now regularly dismiss government as nothing but oversized, wasteful, bureaucratic, corrupt, and oppressive, without giving serious consideration to how essential it may be to our lives.
But don't expect the present "consensus" to last. Global warming and the freaky, increasingly extreme weather that will accompany it is going to change all that. After all, there is only one institution that actually has the capacity to deal with multibillion-dollar natural disasters on an increasingly routine basis. Private security firms won't help your flooded or tornado-struck town. Private insurance companies are systematically withdrawing coverage from vulnerable coastal areas. Voluntary community groups, churches, anarchist affinity groups—each may prove helpful in limited ways, but for better or worse, only government has the capital and capacity to deal with the catastrophic implications of climate change.
Consider Hurricane Irene—as it passed through the Northeast, states mobilized more than 100,000 National Guard troops. New York City opened 78 public emergency shelters prepared to house up to 70,000 people. In my home state, Vermont, where the storm devastated the landscape, destroying or damaging 200 bridges, more than 500 miles of road, and 100 miles of railroad, the National Guard airlifted in free food, water, diapers, baby formula, medicine, and tarps to thousands of desperate Vermonters trapped in 13 stranded towns—all free of charge to the victims of the storm.
The damage to Vermont was estimated at up to $1 billion. Yet the state only has 621,000 residents, so it could never have raised all the money needed to rebuild alone. Vermont businesses, individuals, and foundations have donated at least $4 million, possibly up to $6 million in assistance, an impressive figure, but not a fraction of what was needed. The state government immediately released $24 million in funds, crucial to getting its system of roads rebuilt and functioning, but again that was a drop in the bucket, given the level of damage. A little known state-owned bank, the Vermont Municipal Bond Bank, also offered low-interest, low-collateral loans to towns to aid reconstruction efforts. But without federal money, which covered 80 to 100 percent of the costs of rebuilding many Vermont roads, the state would still be an economic basket case. Without aid from Washington, the transportation network might have taken years to recover.
As for flood insurance, the federal government is pretty much the only place to get it. The National Flood Insurance Program has written 5.5 million policies in more than 21,000 communities covering $1.2 trillion worth of property. As for the vaunted private market, for-profit insurance companies write between 180,000 and 200,000 policies in a given year. In other words, that is less than 5 percent of all flood insurance in the U.S. This federally subsidized program underwrites the other 95 percent. Without such insurance, it's not complicated—many waterlogged victims of 2011, whether from record Midwestern floods or Hurricane Irene, would simply have no money to rebuild.
Or consider sweltering Texas. In 2011, firefighters responded to 23,519 fires. In all, 2,742 homes were destroyed by out-of-control wildfires. But government action saved 34,756 other homes. So you decide—Was this another case of wasteful government intervention in the marketplace, or an extremely efficient use of resources?
Facing Snowpocalypse Without Plow
The early years of this century have already offered a number of examples of how disastrous too little government can be in the face of natural disaster, Katrina-inundated New Orleans in 2005 being perhaps the quintessential case. 
There are, however, other less noted examples that nonetheless helped concentrate the minds of government planners. For example, in the early spring of 2011, a massive blizzard hit New York City. Dubbed "Snowmageddon" and "Snowpocalypse," the storm arrived in the midst of tense statewide budget negotiations, and a nationwide assault on state workers (and their pensions).
In New York, Mayor Mike Bloomberg was pushing for cuts to the sanitation department budget. As the snow piled up, the people tasked with removing it—sanitation workers—failed to appear in sufficient numbers. As the city ground to a halt, New Yorkers were left to fend for themselves with nothing but shovels, their cars, doorways, stores, roads all hopelessly buried. Chaos ensued. Though nowhere near as destructive as Katrina, the storm became a case study in too little governance and the all-too-distinct limits of "self-reliance" when nature runs amuck. In the week that followed, even the rich were stranded amid the mounting heaps of snow and uncollected garbage.
Mayor Bloomberg emerged from the debacle chastened, even though he accused the union of staging a soft strike, a work-to-rule-style slowdown that held the snowbound city hostage. The union denied engaging in any such illegal actions. Whatever the case, the blizzard focused thinking locally on the nature of public workers. It suddenly made sanitation workers less invisible and forced a set of questions—Are public workers really "union fat cats" with "sinecures" gorging at the public trough? Or are they as essential to the basic functions of the city as white blood cells to the health of the human body? Clearly, in snowbound New York it was the latter. No sanitation workers and your city instantly turns chaotic and fills with garbage, leaving street after street lined with the stuff.
More broadly the question raised was—Can an individual, a town, a city, even a state really "go it alone" when the weather turns genuinely threatening? Briefly, all the union bashing and attacks on the public sector that had marked that year's state-level budget debates began to sound unhinged.
In the Big Apple at least, when Irene came calling that August, Mayor Bloomberg was ready. He wasn't dissing or scolding unions. He wasn't whining about the cost of running a government. He embraced planning, the public sector, public workers, and coordinated collective action. His administration took unprecedented steps like shutting down the subway and moving its trains to higher ground. Good thing they did. Several low-lying subway yards flooded. Had trains been parked there, many millions in public capital might have been lost or damaged.
The Secret History of Free Enterprise in America
When thinking about the forces of nature and the nature of infrastructure, a slightly longer view of history is instructive. And here's where to start—in the U.S., despite its official pro-market myths, government has always been the main force behind the development of a national infrastructure, and so of the country's overall economic prosperity.
One can trace the origins of state participation in the economy back to at least the founding of the republic—from Alexander Hamilton's First Bank of the United States, which refloated the entire post-revolutionary economy when it bought otherwise worthless colonial debts at face value; to Henry Clay's half-realized program of public investment and planning called the American System; to the New York State-funded Erie Canal, which made the future Big Apple the economic focus of the eastern seaboard; to the railroads, built on government land grants, that took the economy west and tied the nation together; to New Deal programs that helped pulled the country out of the Great Depression and built much of the infrastructure we still use like the Hoover Dam, scores of major bridges, hospitals, schools, and so on; to the government-funded and sponsored interstate highway system launched in the late 1950s; to the similarly funded space race, and beyond. It's simple enough: big government investments (and thus big government) has been central to the remarkable economic dynamism of the country.
Government has created roads, highways, railways, ports, the postal system, inland waterways, universities, and telecommunications systems. Government-funded R&D, as well as the buying patterns of government agencies—(alas!) both often connected to war and war-making plans—have driven innovation in everything from textiles and shipbuilding to telecoms, medicine, and high-tech breakthroughs of all sorts.  Individuals invent technology, but in the U.S. it is almost always public money that brings the technology to scale, be it in aeronautics, medicine, computers, or agriculture.
Without constant government planning and subsidies, American capitalism simply could not have developed as it did, making ours the world's largest economy. Yes, the entrepreneurs we are taught to venerate have been key to all this, but dig a little deeper and you soon find that most of their oil was on public lands, their technology nurtured or invented thanks to government-sponsored R&D, or supported by excellent public infrastructure and the possibility of hiring well-educated workers produced by a heavily subsidized higher-education system. Just to cite one recent example, the now-familiar Siri voice-activated command system on the new iPhone is based on—brace yourself—government-developed technology.
And here's a curious thing—everybody more or less knows all this and yet it is almost never acknowledged. If one were to write the secret history of free enterprise in the U.S., one would have to acknowledge that it has always been and remains at least a little bit socialist. However, it's not considered proper to discuss government planning in open, realistic, and mature terms, so we fail to talk about what government could—or rather, must—do to help us meet the future of climate change. 
Storm Socialism
The onset of ever more extreme and repeated weather events is likely to change how we think about the role of the state. But attitudes toward the Federal Emergency Management Agency (FEMA), which stands behind state and local disaster responses, suggest that we're hardly at that moment yet. In late 2011, with Americans beleaguered by weather disasters, FEMA came under attack from congressional Republicans, eager to starve it of funds. One look at FEMA explains why.
Yes, when George W. Bush put an unqualified playboy at its helm, the agency dealt disastrously with Hurricane Katrina back in 2005. Under better leadership, however, it has been anything but the sinister apparatus of repression portrayed by legions of rightists and conspiracy theorists. FEMA is, in fact, an eminently effective mechanism for planning focused on the public good, not private profit, a form of public insurance and public assistance for Americans struck by disaster. Every year FEMA gives hundreds of millions of dollars to local firefighters and first responders, as well as victims dealing with the aftershock of floods, fires, and the other calamities associated with extreme weather events.
The agency's work is structured around what it calls "the disaster life cycle"—the process through which emergency managers prepare for, respond to, and help others recover from and reduce the risk of disasters. More concretely, FEMA's services include training, planning, coordinating, and funding state and local disaster managers and first responders, grant-making to local governments, institutions, and individuals, and direct emergency assistance that ranges from psychological counseling and medical aid to emergency unemployment benefits. FEMA also subsidizes long-term rebuilding and planning efforts by communities affected by disasters. In other words, it actually represents an excellent use of your tax dollars to provide services aimed at restoring local economic health and so the tax base. The anti-government Right hates FEMA for the same reason that they hate Social Security—because it works!
As it happens, thanks in part to the congressional GOP's sabotage efforts, thousands of FEMA's long-term recovery projects are now on hold, while the cash-strapped agency shifts its resources to deal with only the most immediate crises. This represents a dangerous trend, given what historical statistics tell us about our future. In recent decades, the number of Major Disaster Declarations by the federal government has been escalating sharply—only 12 in 1961, 17 in 1971, 15 in 1981, 43 in 1991, and in 2011—99! As a result, just when Hurricane Irene bore down on the East Coast, FEMA's disaster relief fund had already been depleted from $2.4 billion as the year began to a mere $792 million.
Like it or not, government is a huge part of our economy. Altogether, federal, state, and local government activity—that is collecting fees, taxing, borrowing and then spending on wages, procurement, contracting, grant-making, subsidies and aid—constitutes about 35 percent of the gross domestic product. You could say that we already live in a somewhat "mixed economy"—that is, an economy that fundamentally combines private and public economic activity.
The intensification of climate change means that we need to acknowledge the chaotic future we face and start planning for it. Think of what's coming, if you will, as a kind of storm socialism.
After all, climate scientists believe that atmospheric concentrations of carbon dioxide beyond 350 parts-per-million (ppm) could set off compounding feedback loops and so lock us into runaway climate change. We are already at 392 ppm. Even if we stopped burning all fossil fuels immediately, the disruptive effect of accumulated CO2 in the atmosphere is guaranteed to hammer us for decades. In other words, according to the best-case scenario, we face decades of increasingly chaotic and violent weather.
In the face of an unraveling climate system, there is no way that private enterprise alone will meet the threat. And though small "d" democracy and "community" may be key parts of a strong, functional, and fair society, volunteerism and "self-organization" alone will prove as incapable as private enterprise in responding to the massive challenges now beginning to unfold.
To adapt to climate change will mean coming together on a large scale and mobilizing society's full range of resources. In other words, Big Storms require Big Government. Who else will save stranded climate refugees, or protect and rebuild infrastructure, or coordinate rescue efforts and plan out the flow and allocation of resources?
It will be government that does these tasks or they will not be done at all.
--------
Christian Parenti, author of the recently published Tropic of Chaos: Climate Change and the New Geography of Violence (Nation Books), is a contributing editor at the Nation magazine, a Puffin Writing Fellow, and a professor at the School for International Training, Graduate Institute. His articles have appeared in Fortune, the New York Times, the Washington Post, TomDispatch, and the London Review of Books, among other places. To learn more about Christian Parenti's work, visit his website by clicking here.

Cross-posted with permission from TomDispatch.com.