This website uses cookies to ensure you get the best experience while browsing it. By clicking 'Got It' you're accepting these terms.


The best of EcoWatch, right in your inbox. Sign up for our email newsletter!
SHEALAH CRAIGHEAD
By Elliott Negin
On July 19, President Trump hosted Apollo 11 astronauts Buzz Aldrin and Michael Collins and their families, along with the family of their deceased colleague Neil Armstrong, at a White House event to commemorate the 50th anniversary of the first manned landing on the moon.
By Jenny Shalant
Let's say you've got a problem that's, well, big league. As in an all-out assault on the very air you breathe, the water you drink and the ground you stand on. Your representatives in Congress can help—especially after their phone lines get lit up by citizen activists. Need proof? Just look at the GOP's reversal of its decision to eliminate the Office of Congressional Ethics and the withdrawal of a bill to sell off public lands—both of which were influenced by public outcry and lots and lots of phone calls. Here's how to join the resistance and make your voice heard.
Exit the Echo Chamber.
On Facebook, Twitter or whatever social media platform you're obsessively logging into these days, you've shared articles about the shaky future of the U.S. Environmental Protection Agency (EPA), the reauthorization of the Dakota Access and Keystone XL pipelines and all of the week's bad environmental news in Trump vs. Earth. (So have we—hey, we wrote them). Sure, your digital voice matters—there's power in the vast numbers of tweets, emails and petition signatures. But to really make your voice heard, congressional staffers advise that you talk instead of type.
Focus.

If you don't channel your shock, your fears and your anger, it's easy to feel overwhelmed by all that's currently at stake. What issues matter most to you personally? To keep up with pertinent legislation affecting those issues, consider registering with Countable, one of many newly hatched civic-activism websites and apps that send you regular updates on where your lawmakers stand and developments on related bills moving through Congress.
Put Your Representatives on Speed Dial.
The civic sites GovTrack and Vote Smart offer comprehensive details on members of Congress, including how to get in touch with them. Former congressional staffer Sarah Gray, who worked in U.S. Senator Barbara Boxer's Los Angeles office, recommends that you use your lawmaker's local district office as your main point of contact, since constituent relations is top priority for these offices. Enter the numbers for your two U.S. senators and one U.S. representative into your phone contacts with "Politician" in front of the official's last name so you have all three grouped together on your contact list.
Jot Down Your Thoughts.
Include a few details you'll highlight when you call, with a note about why the issue at hand matters to you personally. That'll help make your story memorable for the person on the other end, whose job it is to convey your message to the congressperson. Remember that the staffer will be matching your concern with one of the topics on his or her spreadsheets. Be specific about the issue or bill number you're calling about so you're presenting a clear path to action—e.g., "Vote no on ... " or "Support the bill to ... " Also mention your zip code (the staffer will probably ask) so the congressperson can track the issues of greatest concern to his or her voting districts.
Introverted? Read From a Script!
You can crib one from a website like The 65 (named for the 65 million Americans who rejected Trump on Election Day) or Indivisible (which applies lessons derived from the Tea Party's obstruction of efforts by the Obama administration). The website 5 Calls (which recommends you "spend 5 minutes, make 5 calls") goes a step further and tells you whom to call on which issues, based on your location and what's important to you, plus what to say once you get through.
Make These Calls Part of Your New Daily Routine.
Consult your congress members' websites to find their business hours and decide on a time to call that's convenient for you. Maybe that's at lunchtime or during your midmorning coffee or after a cataclysmic news cycle. But don't be too reactive—former congressional staffer Emily Ellsworth, who worked in the state offices of Rep. Jason Chaffetz (R-Utah) and Rep. Chris Stewart (R-Utah), reminds phone activists to be mindful of what role the given official plays in the federal government and make sure the lawmaker is in a position to deliver on your request. For instance, don't call a member of the House to discuss a Supreme Court nominee, since confirmation hearings take place in the Senate.
Don't Give Up After You Dial.
With Congress reporting a surge of constituent calls in the era of Trump, persistence is key. Be prepared to hold the line as you wait to be connected and if you're directed to voicemail, try again tomorrow. If you're calling with a question that the person on the phone can't answer, ask to speak with a senior staffer in charge of the issue. Don't forget your manners and remember to keep it snappy, for the sake of the busy staffer's time―and your own. If you can limit your speech to one minute, you'll be more likely to make a habit out of placing these calls.
Up Your Game: Show Up in Person.
Members of Congress routinely hold town hall meetings and host public forums at their "mobile offices" in order to hear from constituents. Check your representatives' websites for schedule info, or consult this list maintained by the Town Hall Project, which compiles all upcoming town halls and tele-town halls (conference calls with the representative) as well as some ticketed events. It's best to prepare for these rare face-to-face opportunities to talk with your elected officials. Rehearse your pitch—the people at the podium are more likely to remember compelling personal stories about how a given policy or course of action will affect their constituents. Go with a group to make more of an impact, craft a clever sign, order that T-shirt, lift your voice and don't be afraid to ask questions. If you have something important to share, seek out a member of the congressperson's staff before the meeting, if possible—you can hand that person a business card and talking points or a memo to pass on to the legislative assistant who handles the relevant issue. Remember that the squeaky wheel gets the grease.
By showing up at rallies and marches, along with dozens or hundreds or millions of other concerned citizens, you can also make a strong impression on your representatives. Some cities, like New York, are creating websites to keep citizens in the loop about the next protest happening in their area. These events will not only uplift you and your perspective but also serve as a barometer of how strongly people feel on a current issue. So speak up. Congress is listening.
Jenny Shalant is a senior editor for the Natural Resources Defense Council.
EcoWatch Daily Newsletter
By Deirdre Fulton
Lawmakers have come up with a compromise to avoid a potential government shutdown and provide long-awaited aid for Flint, Michigan—though the band-aid measure will still keep that community, which has been grappling with a lead-contamination crisis for more than two years, waiting for funds at least until November.
According to news outlets, U.S. House leaders on Tuesday night struck a deal to allow a vote on an amendment adding $170 million in infrastructure funding under the Water Resources Development Act (WRDA), to help Flint and other cities with water emergencies.
The agreement followed days of tense talks, and came after Senate Democrats earlier on Tuesday blocked a vote to advance a stopgap spending bill to keep the government running after Friday, citing the GOP's refusal to include funding for Flint. The legislation does include emergency flood assistance for Louisiana, West Virginia and Maryland.
House Speaker Paul Ryan (R-Wis.) said the breakthrough on Flint "will help unlock" the short-term spending bill. Indeed, the Washington Post reported that while "Senate Democrats have not yet examined the House amendment ... a senior aide said leaders are 'optimistic' that the deal could offer a path to avert a shutdown."
And Rep. Dan Kildee (D-Mich.), who has been outspoken in his call for Flint funding (and about the cause of the crisis in the first place), said the deal "is a step forward to ensuring that Flint families get the resources they need to recover from this crisis."
"The people of my hometown have waited over two years for their government to help them in their time of need," Kildee said. "We will continue to fight until Flint aid reaches the president's desk."
That may not be until December, the Post reported, as the House and Senate versions of the WRDA must still be resolved, and Congress is about to depart on recess until after the Nov. 8 election.
And as Michigan Public Radio notes:
If [the WRDA] passes, it's unclear how long it will take for the money to reach the city of Flint.
As of Tuesday, the city had replaced 155 lead service lines. It's estimated there could be 10,000 pipes connecting Flint homes to city water mains that continue to leech lead into the city's drinking water.

"The people of Flint deserved assistance more than a year ago, and they require assistance now, without further delay," a coalition of 86 civil rights, public health, and environmental groups wrote in an open letter to Congress this week. "Therefore, it is critical that aid comes now so that other children and families will not suffer."
The full House is set to vote on the Flint amendment on Wednesday.
Reposted with permission from our media associate Common Dreams.
Today, Congress chose to favor the interests of the food industry over consumers' right to know what's in the food they eat and feed their families when the House approved the Senate's version of the DARK Act. The bill now goes to President Obama.
With this legislation, both the House and the Senate have voted to do away with basic transparency about how food is produced. They've also revoked a popular and clear state labeling law that is already in effect in Vermont, nullifying future state labeling requirements.

The majority of Americans support labeling for GMOs and will hold their elected officials accountable for stripping away this transparency.
If this bill becomes law, the food and biotech industries win what are essentially voluntary requirements. This so-called "compromise," does not mandate recalls, penalties or fines for noncompliance and many loopholes in the bill will likely leave many GMO ingredients exempt from any labeling requirements. The bill gives companies the option to use discriminatory and cumbersome QR codes that require a smartphone to access basic information about the food on store shelves.
We urge President Obama to remember his campaign promise to let consumers know what they are eating by rejecting this bill. This is his final chance to get it right when it comes to food policies that protect people over corporations. He'd do just that by vetoing the DARK Act.
UPDATE: On Friday, July 29, President Obama signed into law S. 764, which overturns Vermont's GMO label law and directs the Sec. of Agriculture to come up with a national labeling standard at some point in the next two to three years.
UPDATE: The U.S. House of Representatives passed the bill by a 306-117 vote Thursday. The bill now heads to President Obama's desk.
Looks like we're finally getting GMO labels on food products—just not the kind you can actually read.
President Obama is expected to throw his weight behind a controversial bill that allows businesses to use a smartphone scannable QR code instead of clear, concise wording that informs consumers if a product contains genetically modified ingredients. The bill would also nullify state-by-state GMO labeling mandates such as Vermont's landmark law that took effect on July 1.
"While there is broad consensus that foods from genetically engineered crops are safe, we appreciate the bipartisan effort to address consumers' interest in knowing more about their food, including whether it includes ingredients from genetically engineered crops," White House spokeswoman Katie Hill told Bloomberg in an e-mail. "We look forward to tracking its progress in the House and anticipate the president would sign it in its current form."
The House of Representatives is voting today on legislation from the Senate, which voted 63 to 30 in favor of the bill on July 7, less than a week after Vermont enacted its GMO label law. The bipartisan "compromise" bill was conceived after years of negotiations by Democrat Sen. Debbie Stabenow and Republican Sen. Pat Roberts and is supported by the very industry that produces and profits from such products, including the powerful Grocery Manufactures Association and world's largest seed producer and pesticide giant Monsanto.
Yesterday, the House voted 242-185 on a rules resolution to bar amendments to the bill, meaning it would not have to go back to the Senate. After the House vote today, Congress will be on summer recess until Sept. 8.
Some House Democrats have criticized the bill.
"In order to access the information through the QR code, an individual must have a smartphone and must have access to the internet," Rep. Jim McGovern (D-Mass.) said during a floor debate Wednesday, reported The Hill. "The reality is that not every American has access to a smartphone or the internet," he said, adding that consumers who do have a smartphone would have to painstakingly scan every item they'd like to purchase to see if it contains GMOs.
Many consumer and environmental groups have nicknamed the looming mandate as the "Deny Americans the Right to Know," or DARK Act, as the bill goes against the majority of Americans who support clear labeling for GMOs.

While the influential Organic Trade Association (OTA) unexpectedly endorsed the Stabenow-Roberts bill, the group's backing has been viewed as highly suspicious. Just yesterday, the farmer-controlled Organic Seed Growers and Trade Association announced that it withdrew membership from the OTA, citing "betrayal" over the "Monsanto-backed" bill.
The group also accused the OTA's board members of endorsing a "dangerous" Senate bill as, "recent revelations have made clear that the OTA has created numerous close partnerships with Monsanto including intensive lobbying efforts by the notorious biotech-linked lobbyist Podesta Group on behalf of the deal brokered by Senators Stabenow (D-MI) and Roberts (R-KS)."
The U.S. Food and Drug Administration (FDA) has also expressed concern that the Roberts-Stabenow bill is ridden with loopholes. In its technical comments, the FDA pointed out that the bill has a narrow and ambiguous definition of "bioengineering" that would exempt many foods from GMO sources.
Stabenow has brushed aside the FDA assessment. According to Politico, "she asked the USDA, which will be tasked with implementing the measure, to respond to the FDA assessment's major points ... The USDA's general counsel [said in a letter that] regulatory officials will follow the spirit of the law when crafting rules and require labeling of all GMO ingredients that gain USDA approval as well as those developed with novel technologies."
Still, the bill even has conservative critics. Right wing think tank Heritage Foundation came up with six problems with the labeling bill, with one reason being the "implication is that there's something wrong with [genetically modified] crops."
Despite its flaws, it appears that the bill will soon land on President Obama's desk, as the Republican-controlled House is likely in favor of passage. Last year, the House voted 275-150 to pass an anti-labeling bill.
Bloomberg reported that Republican Mike Conaway of Texas, the chairman of the House Agriculture Committee, has indicated his support of the bill meaning that it will likely pass the lower chamber.
Conaway and House Ag Committee ranking member Collin Peterson told Agri-Pulse that they expect a majority of both Republicans and Democrats to vote for the legislation on final passage. Agri-Pulse noted, however, that the final GMO bill is bunched with "a far more controversial abortion-related measure that Democrats broadly oppose," so stayed tuned for how the final vote tallies.
Meanwhile, a number of major food companies such as General Mills, Campbell Soup, Kellogg, Conagra Foods and Mars have voluntarily added GMO labels on their packages. This marks a larger trend of businesses complying with consumer demand of transparency and organic food.
Sales from organic farms across the country have boomed in recent years, with consumer spending up 72 percent since 2008. Just yesterday, the meat brand Applegate announced its commitment of removing GMOs from its entire supply chain, from animal feed to finished product and gain third-party certification.
Today, yogurt maker Dannon announced that its products in the U.S. that have GMO ingredients will be clearly labeled and has unveiled its first Dannon and Oikos branded products containing more natural and non-GMO ingredients.
"Shoppers are our main ingredient, and what is important to them drives what we do. For this reason, the range of products we make is evolving to provide even more choices," said Dannon CEO Mariano Lozano. "Transparency is the key word for this shift. To show to our consumers that in order to make a real choice, we need clear labels, today we are making a bold change and candidly discussing how transparency from brands is essential for shoppers to make real choices."
Environmental Working Group's President Ken Cook agrees. "While we support a national, mandatory GMO labeling system, we cannot support this proposal because food companies would be permitted to make a GMO disclosure through a means that is unavailable or unfamiliar to many Americans," he said.
"While the proposal clearly intends to require a disclosure on more foods than are covered by state GMO labeling laws, we are concerned that loopholes could undermine Congress' intent."
Despite Vermont's historic GMO labeling bill coming into effect June 1, Senate Agriculture Committee chairman Pat Roberts (R-Kan.) and ranking member Debbie Stabenow (D-Mich.) are vigorously lobbying to get their industry-approved GMO labeling deal passed before Congress's summer break.
Senate Ag leaders Pat Roberts and Debbie Stabenow hope to pass legislation allowing food companies to label their products containing GMOs with a QR code instead of on-package labels.
According to POLITICO's Morning Agriculture blog, the Senate Ag leaders are using "every part of the lobbying playbook," with "letters being sent, staffs briefed, reports and FDA assessments flaunted, and farmers and consumers are being encouraged to inundate lawmakers with phone calls."

Roberts has been reportedly distributing a flier touting that the bill will nullify the "dangerous"Vermont law and stop other states from passing similar legislation.
Even though Vermont's mandate comes into effect Friday, the Senators's bill still has a small window of passage as Vermont's attorney general will not start forcing producers to label their food products containing genetically engineered ingredients until the start of 2017.

A confident Stabenow told POLITICO that enough votes will be secured for the deal to move forward, while Roberts said, "We had 46 [Republicans] last time, and we're hoping to get a few more." Last March, the Senate voted down Roberts's previous bill that would have prohibited states from requiring genetically modified food labels. The bill required 60 votes for passage but failed 48-49.
Roberts said his latest GMO bill will be the first order of business next week and Senate Majority Leader Mitch McConnell will set up a cloture vote, according to this tweet from Agripulse senior editor Philip Brasher.
While Democrat Senators Claire McCaskill of Missouri and Sherrod Brown of Ohio announced support for the bill, it is not clear if it will gather enough votes to pass. And not to mention, the bill has to pass the House and be signed by President Obama before it becomes law.

Vermont's own Sen. Bernie Sanders has announced he will try to block Senate consideration of the bill. In a statement on Tuesday, the Democratic presidential candidate said:
I am very proud that Vermont has led the country in GMO labeling. This bill would preempt what Vermont and other states have done. GMO labeling exists in dozens of countries around the world. It is not controversial. Already major food companies in our country have begun labeling their products. People have a right to know what is in the food they eat. I am going to do everything I can to defeat this legislation.
By putting a hold on the bill, Sanders can block it from coming up for debate unless the proponents can muster up 60 votes.
The Roberts-Stabenow bill has been described by opponents as another version of the Denying Americans the Right to Know (DARK) Act as it includes provisions that would establish a federal program based on QR codes, a symbol, 1-800 numbers or a statement on packages referring people to websites.

While many major food companies have already started labeling their products to comply with Vermont's labeling mandate, under the new federal scheme proposed by the Senators, food makers can change their labels to a QR code.
In fact, both Campbell's and General Mills have already said they support the new proposal.
"We need consistency across the country. And without this national solution, we risked having a system of 50 different regulations impacting our packages," General Mills' Mike Siemienas told The Olympian.
"We will continue to comply with Vermont's law until Congress and the president enact legislation that pre-empts and replaces it," Tom Hushen of Campbell's said. "With or without new federal legislation, the Vermont label will continue to appear on shelves across most of the country and well into the future."
YOU MIGHT ALSO LIKE
Glyphosate Given Last-Minute Approval Despite Failure to Secure Majority Support
Monsanto vs. People Power: EU Glyphosate License Set to Expire June 30
DARK Act Compromise Could Preempt Vermont's GMO Label Law
Monsanto Issued Two GMO Permits Despite Objection From 5 Million Nigerians
Tomorrow, Vermont's historic GMO labeling law goes into effect. This is the first law enacted in the U.S. that would provide clear labels identifying food made with genetically engineered ingredients. Indeed, stores across the country are already stocking food with clear on-package labels thanks to the Vermont law, because it's much easier for a company to provide GMO labels on all of the products in its supply chain than just the ones going to one state.
Alexis Baden Mayer
But this victory may be fleeting. The Senate will vote next week on a federal bill that would nullify Vermont's law and other state labeling efforts percolating, thanks to the heavy hand the ag-biotech industry wields over our congressional representatives.

With a vote for this so-called "compromise" bill, Congress would effectively be pulling transparent GMO labels from grocery stores. This legislation is in effect a voluntary disclosure bill since there are no penalties for companies that decide not to comply with the mandate to provide even the most meager disclosure mechanisms, like QR codes or 1-800 numbers. And the definition of GMO in the bill is so flawed that many products containing GMOs would not be covered.
The Senate should not vote to roll back the popularly enacted Vermont law and replace it with a giveaway to the agriculture industry. The majority of Americans support labeling for GMOs and will hold their elected officials accountable if they vote to strip away transparency about how their food is produced. We urge the Senate to reject this bill.
YOU MIGHT ALSO LIKE
Glyphosate Given Last-Minute Approval Despite Failure to Secure Majority Support
Perdue Unveils Ambitious Animal Welfare Plan … But Is It Enough?
Appeals Court Urged to Strike Down Idaho's Ag-Gag Law
With This App You Can Buy High-Quality Food at Massively Discounted Prices
A group of 31 of the country's top science organizations sent a letter to Congress this week highlighting the dangers of climate change and urging immediate action. The letter, representing millions of scientists, mentions several impacts of climate change, including extreme weather, sea level rise and wildfires.
Photo credit: Shutterstock
"The severity of climate change impacts is increasing and is expected to increase substantially in the coming decades," the letter goes on to say.

The effort was spearheaded by the American Association for the Advancement of Science, whose leader, Rush Holt, is a former member of Congress. The signers of the letter range from the American Public Health Organization to the American Meteorological Society.
For a deeper dive: AP, Washington Post, Independent, Huffington Post, InsideClimate News
For more climate change and clean energy news, you can follow Climate Nexus on Twitter and Facebook, and sign up for daily Hot News.
YOU MIGHT ALSO LIKE
Louisiana's Vanishing Island: America's First Climate Refugees
Pink Snow a Bad Sign for the Future, Scientists Say
DNC Platform Calls for Fossil Fuel Investigations, 100% Renewable Energy
Senate Finance Committee Chairman Ron Wyden has officially begun consideration of legislation to reinstate a suite of tax credits that big polluters and their allies succeeded in getting Congress to let expire, including vital, commonsense policies that promote clean energy. 
These tax credits grow the economy by cutting pollution and their absence in the committee's initial bill draft belies the broad, bipartisan support renewable and energy efficiency continue to attract.  As final legislation takes shape, Congress should remain clear just what is at stake: clean energy is central to meeting our obligation to defend the next generation from the dangerous pollution that threatens our climate, health, and economy. The nation's tax code is an important tool and it should be used to promote progress, not turn back the clock on our children's future.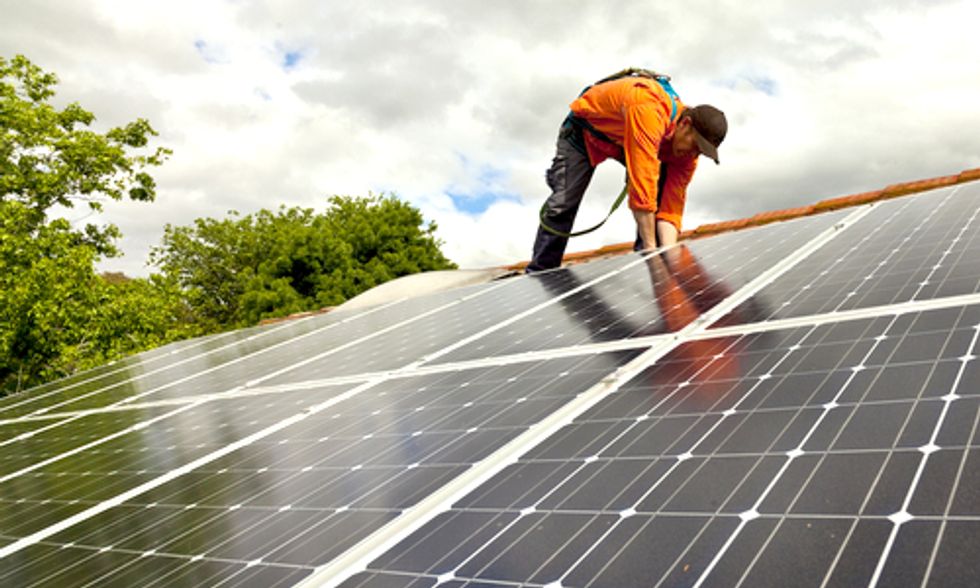 Photo courtesy of Shutterstock
Continued support of America's critical renewable and energy efficient tax policies – and for a period longer than what unfortunately has been traditionally limited to a one-year extension-- also will provide the market signals  and stability necessary for significant job creation and technological advances to further advance a clean energy future. It's time to stop permanently subsidizing big polluters and instead double down on using our tax code to support clean energy.
Below is a list of the clean energy credits that Congress must ensure are included in any final package:
 Support for wind and other renewable energy:
The Renewable Electricity Production Tax Credit (PTC) offers a per-kilowatt-hour tax credit for electricity generated by qualified energy resources, including wind and geothermal. It has played a valuable role in advancing wind power and nurturing an industry that now provides jobs to more than 80,000 Americans. In 2012 alone, the tax credit helped the wind industry catalyze $25 billion in private investment in our economy. More than 70 percent of U.S. congressional districts have either a wind project or wind-related manufacturing facility, bringing local economic development to the region.
The Business Energy Investment Tax Credit (ITC) is a crucial strategy to launch the U.S. offshore wind industry, although it also applies to other resources like solar and geothermal. Considering that the Atlantic coast in particular has strong winds with an estimated potential of more than 1,300 gigawatts of energy generation, harnessing just 52 gigawatts offshore could power about 14 million U.S. homes and create more than $200 billion in new economic activity along the coast. Solar projects and other technologies supported through the ITC should also be eligible if they begin construction prior to the end of the credit period.
The Deduction for Commercial Buildings (179D) allows private building owners and public building designers who cut energy use by 50 percent, compared with what would be consumed if the building were constructed under the 2001 building code, to take a tax deduction of up to $1.80 per square foot. The savings are accomplished through changes in the lighting, heating, cooling, and ventilation systems, or in the building envelope—insulation, external windows and doors and/or roofing material. With more than 4.8 million commercial and other nonresidential buildings in the United States, the energy-saving potential is huge.
The Credit for the Construction of Energy Efficient Homes (45L) provides a $2,000 tax credit to builders who achieve a 50 percent reduction in heating and cooling energy use compared with a home built to the 2006 code. Studies since the 1980s have shown energy efficiency can increase a home's value by roughly 9 percent.
The Credit for Residential Energy Efficiency Improvements (25C) offers homeowners a tax credit for 10 percent of the cost of energy efficient building envelope improvements and replacement equipment that meet certain criteria, with a $500 maximum over the life of the credit.
Credit for the Manufacture of Energy Efficient Appliances (45M) offers a per-unit credit to builders of high-efficiency dishwashers, refrigerators, and clothes washers, according to energy savings. Enacted with industry support, this incentive boosts U.S. manufacturing as well as energy efficiency. The Association of Home Appliance Manufacturers says 40,000 jobs are affected by this incentive: at least 17,000 direct manufacturing jobs and 23,000 support jobs.  
Incentives to help grow the alternative-fuels sector:
The Second-Generation Biofuel Producer Credit (Section 40) provides a $1.01 tax credit per gallon of cellulosic or algal biofuel production. Although it could benefit from several changes, the credit is the bedrock tax incentive for potentially sustainable alternatives to petroleum.
The Alternative Fuel Infrastructure Tax Credit (Section 30C) helps individuals and businesses invest in recharging infrastructure that supports electric vehicles. Ideally, a multi-year extension would provide the necessary certainty to reinforce private investment across the electric and fuel cell vehicle markets.
The Incentive for Fuel Cell Vehicles (26 USC 30B), which expires this year,provides a substantial tax credit to defray the cost of new fuel cell vehicles. Because it is performance-based, it provides a greater incentive for light duty fuel cell vehicles that achieve greater mileage performance. These vehicles represent an opportunity to shift the transportation sector from petroleum to hydrogen.
Commuter Transit and Parking Benefits
Monthly commuting costs are reduced by excluding them from federal taxation. Drivers benefit from this provision via cheaper parking at their sites of employment. Providing this benefit for transit and vanpool users as well puts them on par with drivers and delivers an effective incentive for choosing these cleaner and more energy-efficient means of transportation, benefiting communities and the environment as well as workers.
In short, we need every wind turbine, solar panel, electric vehicle, and energy-efficient heater if we're going to cut the carbon pollution driving climate change and to move the U.S. closer to a more stable and prosperous future. Both chambers of Congress should follow Chairman Wyden's lead and waste no time reinstating the full suite of clean energy credits.
——–
YOU ALSO MIGHT LIKE
Obama's 2015 Budget Proposes Billions in Clean Energy Funding
50,000 Wind Energy Supporters Call on Incoming Senate Committee Leader to Extend Tax Credit
Congressman Declares Wind Tax Credit 'Dead'
——– 
The Center for Food Safety applauds the passage of a pollinator protection amendment Wednesday that was offered by Rep. Alcee Hastings (D-FL) to the Farm Bill currently being considered by the U.S. House of Representatives, a fitting and positive development during National Pollinator Week.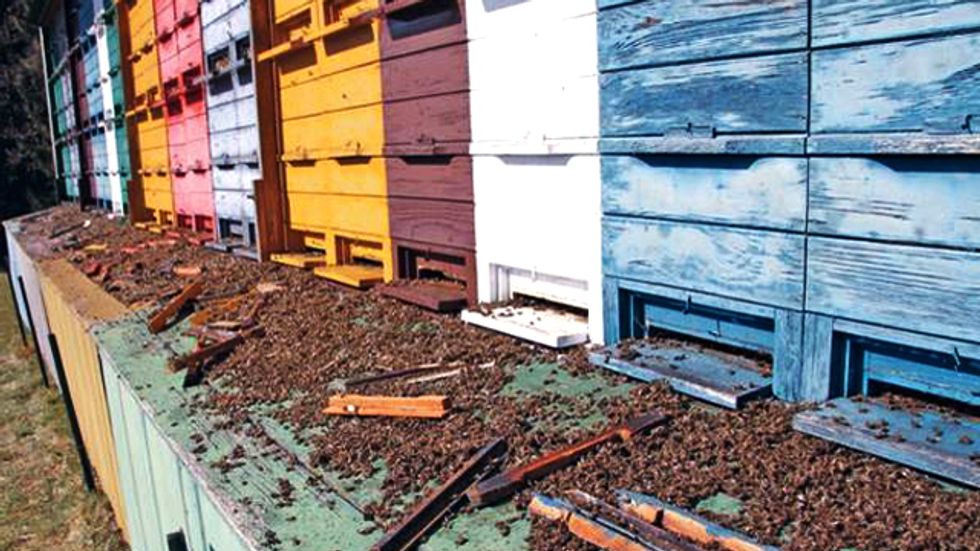 "Honey bees and other pollinators have been suffering record-high population losses," said Andrew Kimbrell, executive director of Center for Food Safety. "Pollinators are vitally important to agriculture and are an integral part of food production. These critical species are at the front lines of pesticide exposure and it is high time that the government do more to protect them."
The Hastings amendment, which passed 273-149 with 81 Republicans and 192 Democrats voting in favor, seeks to better improve federal coordination in addressing the dramatic decline of managed and native pollinators as well as direct the government to regularly monitor and report on the health of pollinators including bees, birds, bats and other beneficial insects.
In the U.S., pollination contributes to $20-30 billion in agricultural production annually. In North America, honey bees pollinate nearly 95 kinds of fruits, including many specialty crops like almonds, avocados, cranberries, oranges and apples.
"This year has shown the highest honey bee losses since colony collapse began; it is a clear message that we need to do more to protect pollinators. The Hastings amendment is a much needed win for pollinators everywhere and we hope it compels the government to do more to protect these vital species," added Kimbrell.
Earlier this month, Sen. Barbara Boxer (D-CA) filed a nearly identical amendment to the Senate Farm Bill but it was not voted on prior to the Senate passing its bill. The House has yet to vote on final passage of the bill, which is expected to come early next week. The Center for Food Safety is confident that the Senate will support the pollinator protection language when the two bills go to conference.
Visit EcoWatch's BIODIVERSITY and FARM BILL pages for more related news on this topic.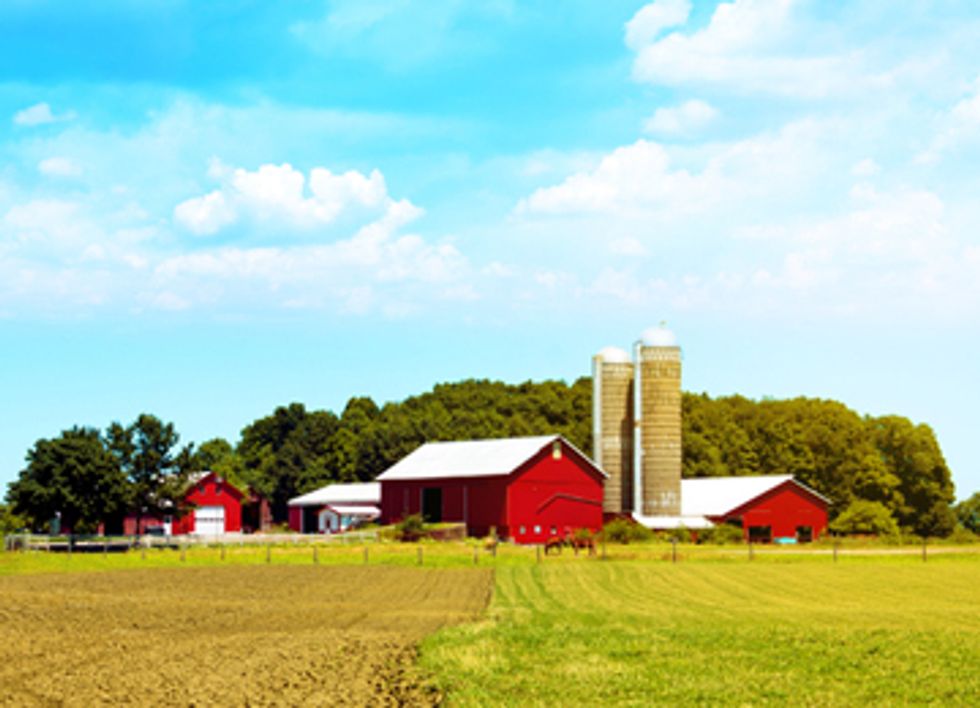 Photo courtesy of Shutterstock
The budget-busting farm bill headed to the House floor next week is bad news for taxpayers. Here's why this bill, officially H.R. 1947, shouldn't pass. 
This bill would:
Send crop insurance subsidies soaring to nearly $100 billion over the next decade. Right now, the U.S. Department of Agriculture (USDA) covers, on average, two-thirds of a farmer's premium. The bill proposes to increase revenue guarantees to 90 percent of a farm's income, provide 80 percent of a cotton farmer's premium subsidy and create a new peanut insurance program tied to the price of peanuts in Rotterdam.
Fail to limit insurance subsidies so the largest farm businesses would continue to collect the lion's share. Under current law, some farmers reap more than $1 million in premium support, and roughly 10,000 farmers receive more than $100,000 in premium support. While the top one percent of farmers annually receives, on average, more than $200,000, the bottom 80 percent collects just $5,000.
Increases price guarantees so close to market prices that even a small decline in crop prices would trigger billions of dollars in government spending, erasing any savings from eliminating long-discredited "direct payments" for corn, soybeans, wheat and rice. This so-called "price loss" program would boost already sky-high price guarantees for cotton and peanuts by 30 and 80 percent, respectively. The bill would even create a new price guarantee for sushi rice.
Extend direct payments for cotton farmers for two more years at a cost of nearly $1 billion. Direct payments would continue to be paid to cotton farmers regardless of need—or even whether a farmer harvested a crop. Other farmers would have to limp by unlimited insurance subsidies and eye-popping price guarantees.
Conceal names of subsidy recipients, among them, members of Congress. Recipients of direct payments, conservation payments and other farm programs are made public but the House Agriculture Committee has refused to divulge the identities of those who receive crop insurance subsidies that now comprise two-thirds of the farm safety net.
Weaken the conservation compact. Since 1985, farmers have agreed to adopt basic environmental protections in exchange for nearly $300 billion in farm subsidies. But, unlike the Senate farm bill, H.R. 1947 would not require that farmers receiving generous insurance premium subsidies protect wetlands or reduce soil erosion.
Reasonable reforms would provide farmers a robust safety net but at far less cost to the taxpayer than H.R. 1947. A bipartisan group of House members hopes to improve the bill via amendments to limit crop insurance subsidies to $50,000 per farmer, subject crop insurance subsidies to means testing, end windfall profits and require USDA to disclose the names of subsidy recipients. When combined with other reforms, these amendments could save the taxpayers more than enough to spare conservation and nutrition programs from proposed cuts and meet deficit reduction targets.
Visit EcoWatch's FOOD and FARM BILL pages for more related news on this topic.